One of the most beautiful beaches on the island of Crete is Damnoni Beach, located in an idyllic bay just a few kilometers from the more famous resort of Plakias and about 35 km south of the city of Rethymno, on the southern coast of the island. Backed by the mountains and closed in by splendid rock formations, with white sand and turquoise waters, the beach of Damnoni and the several smaller beaches that can be found nearby are truly astonishing.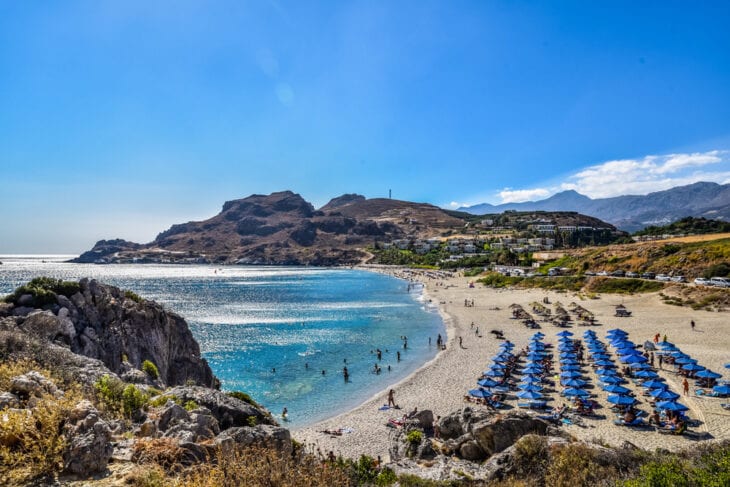 Another advantage of visiting Damnoni is that it is relatively uncrowded for most of the year and it has a lot of tourist services and activities available. You can certainly spend your entire holiday in this marvelous area of Crete, with accommodation and taverns available right by Damnoni Beach. Below you can find the most important information about this destination and what you can experience in the area.
Where is Damnoni Beach
Damnoni beach is located on the southern coast of Crete, in the region of Rethymno and about 35 km south of this city. It is just a few kilometers from the seaside resort of Plakias, with many other villages in the nearby area. You can rent a car to Damnoni Beach from the capital of Heraklion, which is about 115 km away. There are other amazing beaches and interesting sights near this splendid beach, including several small secluded coves where one could find complete privacy.
How to Get to Damnoni Beach
Getting to Damnoni by Car
Damnoni Beach can be easily reached by car from the main cities on the northern coast, passing though Rethymno and then driving south over the mountains. On the way, you will also pass through the spectacular gorge of Kourtaliotiko. The best choice is to get to Damnoni Beach with a Heraklion car rental or the airport and you can choose to take the northern coastal road to Rethymno and then drive south, or drive south and then head west. The distance to the capital is about 115 km and it usually takes around two hours by car.
Hiring a car is definitely the best option to get to Damnoni. You will also have the advantage of visiting other amazing sights in the region.
Getting to Damnoni by Bus
There are no direct buses that reach Damnoni from either Chania or Heraklion, so you will first have to take a bus to Rethymno, then change buses and go to Plakias, which just a few km from Damnoni Beach.
Considering the time and hassle to change a few buses, you better book a rental car and get there.
Best Things to Do in Damnoni Beach
The beach of Damnoni is one of the most beautiful on the southern coast of Crete, truly impressive through its superb scenery and characteristics. It features white coarse sand and turquoise waters that change shade and depth relatively quickly.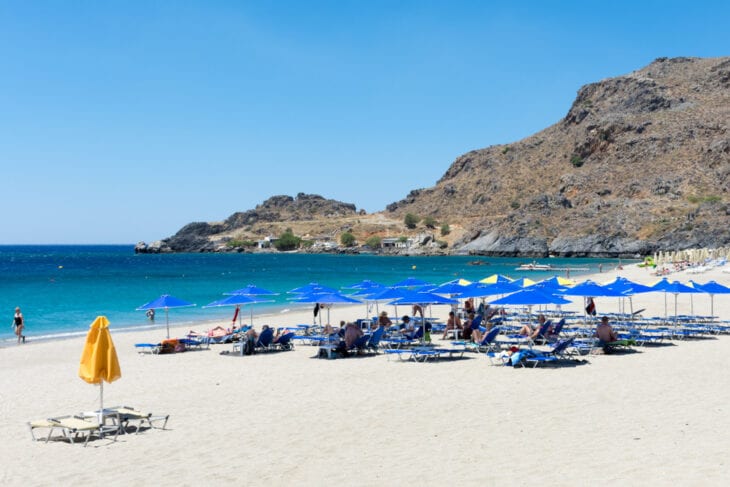 The beach is closed in by two rocky capes, with several smaller sandy coves to the east. Backed by the mountains and with a small river flowing into the sea on its western side, it makes for a wonderful destination.
You will find plenty of sunbeds and umbrellas on Damnoni Beach, with enough rooms for everyone, including those who like a little more privacy. The 500 meters long beach is divided by a rocky peninsula from the beach of Plakias, while to the east, you can find the small beaches of Ammoudaki, Kleisidi and Ammoudi, which can easily be reached on foot. While this is an excellent beach for family holidays, it must be noted that the water deepens relatively fast and special attention is needed.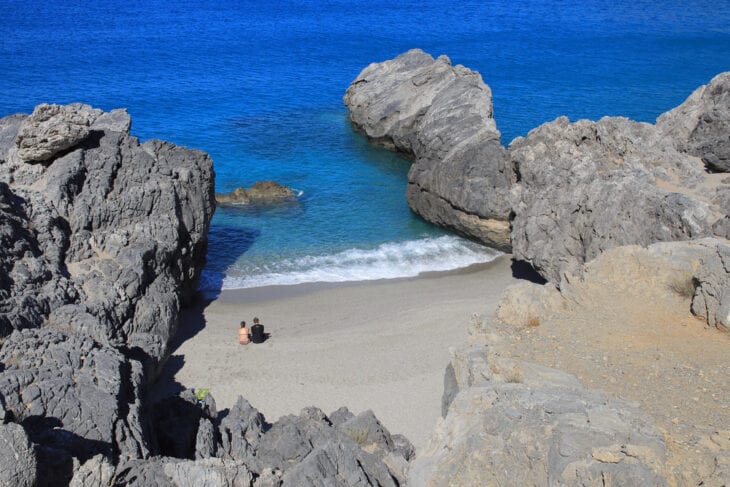 There are also exciting activities available on Damnoni Beach, including windsurfing, paddling, kayaking and scuba diving. You will also find several restaurants right behind the beach and there are some trees that offer shade in the area.
Explore the Kourtaliotiko Gorge
The spectacular gorge of Kourtaliotiko has been created by the same river that flows into the sea at Preveli beach. Over the course of millennia, it has created this deep gorge for about 3 km, creating some magnificent natural wonders along the way. The gorge starts from the village of Koxare and there are several hiking trails following the gorge along with the road, to discover its treasures.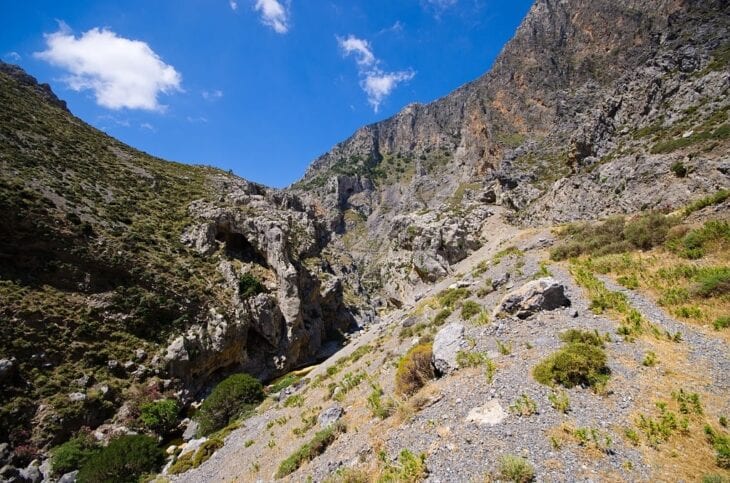 The steep ridges on each side sometimes reach over 600 meters high and are filled with caves, preserving unique vegetation and wildlife, including vultures. There are also small churches, old ruins, stunning waterfalls and unforgettable panoramas along the way.
Visit the Preveli Beach and Monastery
One of the most splendid areas of Crete, the beach of Preveli and its surrounding attractions are well worth discovering. The fine sand and clear blue waters are perfect for swimming and even snorkeling, while the charming palm trees give shade in hot summer days.
There are no sunbeds or umbrellas on this small beach because it is located inside a natural protected area, yet the cold river that forms a lagoon and the charming palm trees make for an unforgettable experience.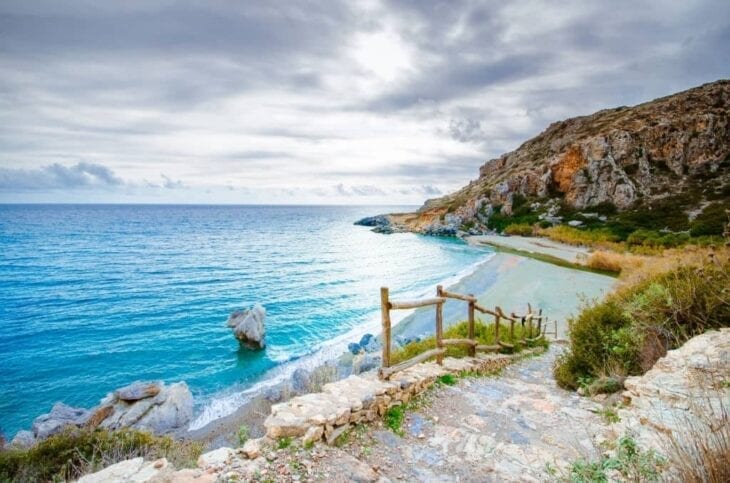 Although smaller than the gorge of Kourtaliotiko, the canyon of Preveli is also spectacular, while the old stone Venetian Bridge is also an interesting attraction. One of the oldest and holiest monasteries in Crete, the Monastery of Theologos as it is also known, was founded in the 17th century, on the site of an older 10th century chapel. Visitors admire the church, the icons and other relics inside the museum and the ruins of Lower Preveli Monastery.
Explore the Peninsula between Damnoni and Plakias
The rocky peninsula between the beaches of Damnoni and Plakias has several trails crossing it, taking you to several exceptional attractions and breathtaking views. First of all, you could visit the so-called Pirate Fjord, a small cove between two steep ridges, today included in a superb hotel featuring a small beach and a scuba center.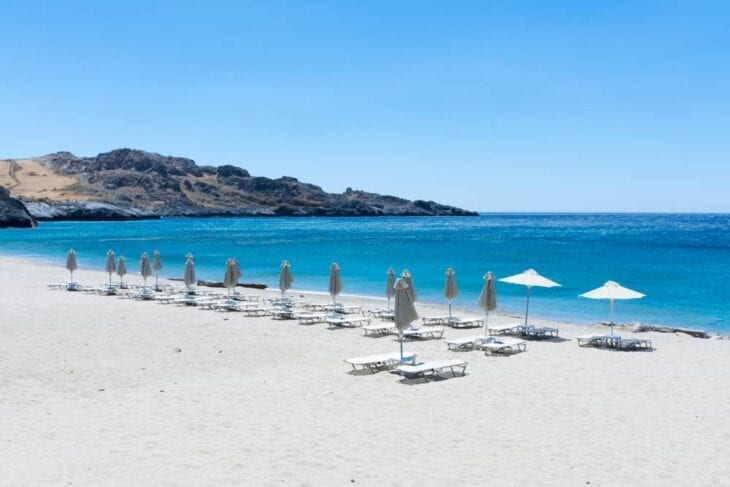 The peak of the peninsula is over 200 meters tall and you will get an amazing panorama of the beaches from there. You can also reach the furthest stretch of this rocky cape, while on its northern side, there are some old tunnels once used to transport coal.
Discover Other Beaches Nearby
If you decide to stay in the area of Damnoni Beach, you should also consider exploring the other beaches along the coast, some of them being considered among the best in Crete. To the east, after the three small coves that can be visited on foot from Damnoni, you can find the astounding Skinaria Beach, with its crystal blue color and rocky bed where you can find exciting scuba diving experiences.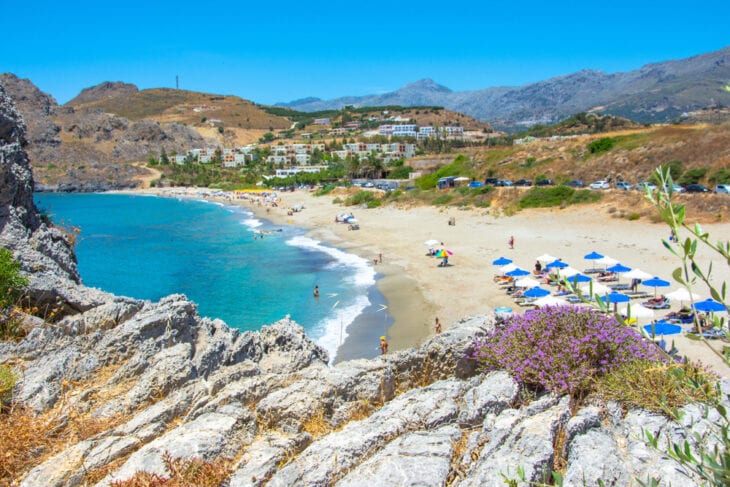 From here, the coast is mostly rocky for many kilometers, up to the exotic beach of Preveli, with its river and palm trees. Just a few kilometers to the west of Damnoni Beach, you will find the village of Plakias, with its endless stretch of sandy beach. Further to the west, you could also visit the beach of Souda, located in a small lush valley with palm trees.
Where to Stay near Damnoni Beach, Crete
You actually have a lot of options for accommodation in the area around Damnoni Beach, with several amazing resort hotels and plenty of small guest houses available. Near the beaches of Damoni, Plakias and Souda, there are a lot of places to stay, catering to all preferences and budgets.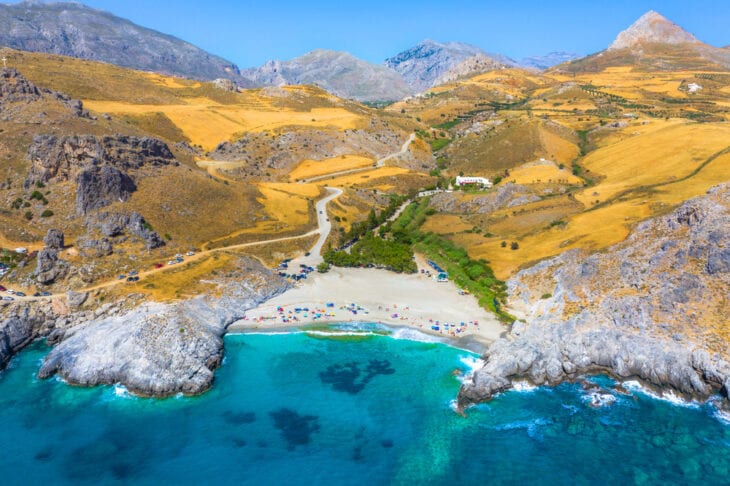 While being an extremely beautiful area of Crete, it is usually not too crowded, even during the peak season, yet you should consider booking accommodation for Damnoni Beach in advance.
Hapimag Resort
This exceptional resort is truly impressive, located in western part of Damnoni Beach, along the lush river valley, right on the beach. It features 1 to 3 rooms apartments with complete comfort, including kitchen area and dining room. The resort also has a large swimming pool, a restaurant, a tavern and a pool bar, as well as plenty of activities organized.
☏ +30 2832 030000
website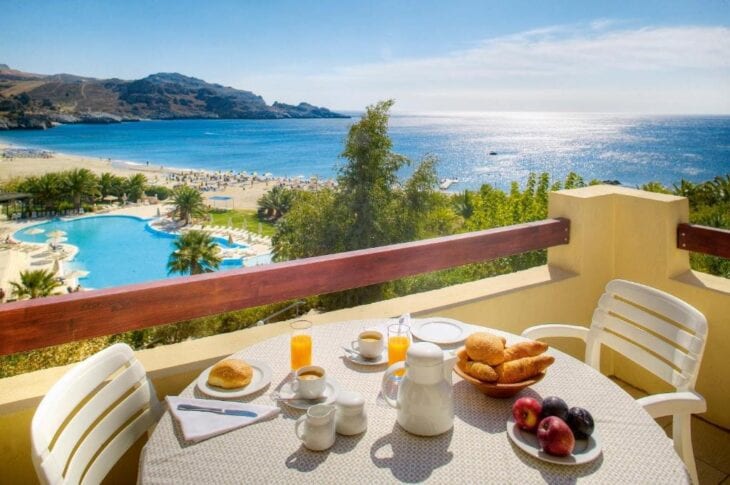 Anna Angeliki Hotel
Very appreciated by its guests, this family hotel is located in a quiet and pleasant area, about 500 meters from Damnoni Beach and 1 km from Plakias Beach. It features amazing studios and apartments with all amenities, as well as a nice garden.
☏ +30 2832 031866
Booking.com
Plakias Bay Hotel
Situated at the southern end of the splendid Plakias Beach, this excellent hotel is just a few km from Damnoni, featuring 28 perfectly equipped rooms with Cretan ambiance, many with balconies and superb views of the sea.
☏ +30 2832 031215
website
Where to Eat near Damnoni Beach
Violakis 1967 Tavern
A traditional Greek tavern that is located right in the center of Damnoni Beach, it is very well reviewed by its guests, offering delicious fresh food in a very welcoming atmosphere.
☏ +30 2832 031685
website
Damnoni Tavern
Located right on Damnoni Beach, this amazing tavern offers traditional Greek and Mediterranean food in a pleasant ambiance, with tables set at the shade of trees right off the beach.
☏ +30 2832 031222
website
Mythos Tavern
This excellent tavern is located in Triopetra, just a few minutes from the beach of Damnoni and it offers great Greek food and excellent hospitality.
☏ +30 2832 032150
website
Best Time to Visit Damnoni Beach
The island of Crete is astonishing for most of the year, with relatively warm winters, yet to visit the beaches, you should arrive between April and October, with most people visiting in July and August. Nevertheless, during those peak months, the weather can bee too hot for many hours. Damnoni Beach is almost never too crowded and there are few other beaches around if you wish for a more private experience.