Kotsifou Gorge is a gorge on the southern side of the western part of the island of Crete. It is noted for the high number of Cretan endemic plant species that grow in the area. The road in Kotsifou Gorge runs through a narrow slit in the mountains. It is located west of the mountain of Kouroupa, north of the town of Plakias. It is on the road between Sellia and Angouseliana.

Furthermore, it is one of the most beautiful gorges on the island of Crete. When planning to visit the Kotsifou Gorge, a rented car is advisable to go around the road and enjoy the view. The beautiful roads and landscapes make the gorge very accessible to visitors. It is a highly recommended place to visit, especially for nature lovers. A little Orthodox chapel is right on top of the hill, popular with tourists. Although it has some pretty good reviews about the Kotsifou Gorge, some tourists find it not worth a memorable trip. The extraordinary landscapes and flowering bushes growing on the hillsides make Kotsifou Gorge a nice place to visit. The best time to visit Kotsifou Gorge is June or September to October. Mostly in early summer, when beautiful wildflowers are spotted throughout the area. Tourists can drive for 3 hours on the beautiful road of Kotsifou Gorge. The Kotsifou Gorge has easily accessible highways and a manageable level of difficulty when planning hiking.
Travelling to Crete's beautiful destinations is best enjoyed by driving a rental car. Car rental in Crete offers convenient and easy driving. Travellers are free to go to Crete's best places using a rented vehicle. There are even roads running through several Crete famous canyons; travellers are able to appreciate the beauty of nature with a rental car. Almost all Crete gorges require a lot of walking and hiking. Tourists will need a car to get to their location and explore the island. Car rentals are very accessible on the whole island of Crete. They offer different kinds of services, and packages depending on the location a tourist would visit. In Crete, a car can be rented for just a day trip, up to an entire month-long holiday. Car rental in Crete is highly recommended for tourists who are not fans of hiking and adventure. Tourists drive around the beautiful island of Crete and enjoy the gorgeous view of the gorges using a rented vehicle. Renting a car in Crete is so simple. One must provide all the requirements and meet the legal age of 18 to drive to Crete. When renting a vehicle, documents such as a valid driving licence, a credit or debit card, a passport, or identification must be presented. Kotsifos Gorge is one of the many gorges in Crete that are easily accessible by car. People who love to go on road trips must visit the Kotsifo Gorge.
What is the archaeology of Kotsifos Gorge?
The Kotsifos Gorge starts from the village of Kanevos Agios Vassiliou, and ends north of Plakias, on the beach of which the Kotsifou stream flows. It is relatively narrow at its starting point, with a width of about 10 m. It gradually increases, and the canyon becomes 600 m at its point of departure. Kotsifos Gorge total length is approximately 1,800 m. The road leading through the Kotsifou Gorge is doubtlessly one of Crete's most picturesque routes. From the northern side, hikers must cross the narrowest point of this gorge, where the sharp walls are not more than 10 metres apart. There is an interesting chapel located in the southern part of the gorge, dedicated to St. Nicholas. This small stone building partially concealed under a rock overhang creates such an unusual view that most tourists travelling this road for the first time stop to capture it in a photo. Kotsifou Gorge is in the southern part of Rethymno Prefecture. Rethymno is a city in Crete that is full of history. One particular event in Rethymno was during the "Battle of Crete". The "Battle of Crete" was during World War II, wherein Cretans, alongside Australian forces, defended the town of Rethymno against German troops. Crete fell to the Germans. The German occupation was savaged, firing squads executed many Cretan civilians, and many others were killed in reprisals and atrocities.
How is the Kotsifos Gorge preserved?
The gorge of Kotsifos is smaller than the neighbouring Kourtaliotiko gorge, but equally impressive. It is located between the peaks of Kouroupa (984 m) and Krioneritis (1.312 m) and is 2 kilometres long. The elevation difference between the route's highest point in the gorge and the outlet is 390 metres. It is noted for the high number of Cretan endemic plant species that grow in the area. The Greek law for the protection of biodiversity [3937/11 (Governmental Gazette 60/Α/31-3-2011)] prohibits the collection and selling of endemic plants. It is only possible when these plants are essential for local production and consumption, and only when other Greek or European legislation or specific action plans for these plants do not forbid these activities. The forest services of the country are in charge of issuing permits for plant collection. Permits should be given for scientific research of these plants in their natural environment.
How does the Kotsifos Gorge map look?
The Kotsifos Gorge offers scenic drives and hiking, native plants, and a wintertime waterfall. A spectacular gorge offers several gorgeous views if visitors stop at three or four available stops. Hawks usually sail near the peaks, and a small river breaks right towards the sea just below. The rock overhangs are beautiful, with many rock falls, caves, and stunning rock sculptures.
Below is the image map of Kotsifos Gorge.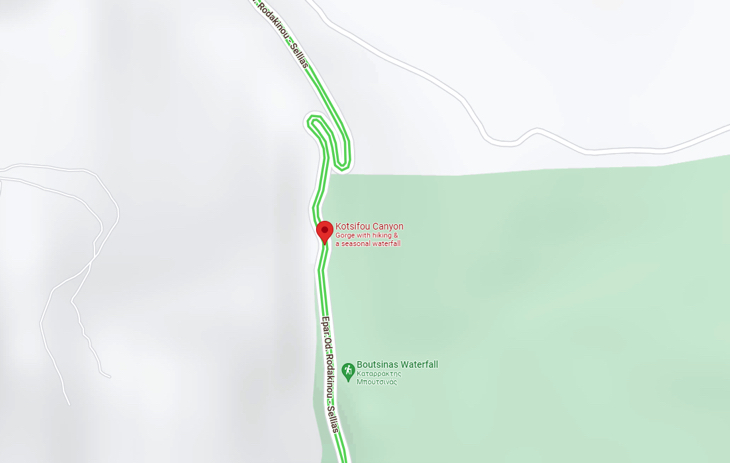 What are the nearby attractions in Kotsifou Gorge?
Listed below are the nearby attractions in Kotsifos Gorge.
Preveli Beach: Preveli Beach: Preveli beach, commonly known as Palm Beach, is located on the south side of Crete. The Preveli beach is a lovely crescent of sand with turquoise blue clear water. A river surrounded by palm trees separates the beach from a magnificent gorge. Preveli Beach is one of Crete's most gorgeous beaches and one of the hardest to reach. Preveli Beach is among the top attractions and things to do in Preveli Monastery.

Lake Kournas: Kournas Lake is known to be the only freshwater lake in Crete. It was known as Lake Koressia, but later took its current name from an Arabic word meaning lake. It is located in the beautiful scenery, lying in a valley among the hills. Kournas lake is about 4 km from Georgioupolis in Chania Prefecture. The lake is relatively small, with a length of 1,087 m and a maximum breadth of 880 m. Kournas lake business is open every day. It is generally shallow, with only 22.5 m at its deepest point. Although, it is an excellent place to visit all year round. The best time to visit Lake Kournas is during summer, an ideal place to enjoy summer days on its river banks.

Plakias Beach: It is located 900 metres away from Agapitos Villas. It is an attraction for tourists due to its deep crystal water. Plakias beach features a wide variety of little pebbles. Visitors should be careful, though, because the water gets deeper suddenly and the waves reach higher when it blows from the north.

Triopetra Beach: Located on the South coast of Crete is Triopetra Beach. The name Triopetra was derived from the three sea-rocks. Triopetra is perfect for holidays away from mass tourism. The beach is never overcrowded, even during high season. Triopetra features a sandy beach. There are few amenities in the area, only a few tavernas on the Triopetra beach.

Frangokastello Beach: Frangokastello, which means "castle of Franks", is a golden sand and not overcrowded beach. Frangokastello Beach is located in the South-West of Crete. The beach features clear shallow water, ideal for families with small children. Getting to Frangokastelo beach requires a private or a rented car because almost no public transport is available. The beach has plenty of parking space, and sunbeds and umbrellas are available on the main beach.

Kourtaliotiko Gorge: The gorgeous Kourtaliotiko Gorge is in the central part of the Southern coast of Crete. It is about 100 km from the capital of Heraklion, 80 km from Chania, and 25 km south of Rethymno. The canyon starts south of the Koxare Village and exits into a slight depression known as the Asomatos Gorge. The fascinating cliff of Kourtaliotiko Gorge reaches 600 metres and is breached by several caves. Visitors who arrive at the Kourtaliotiko Gorge will hear a specific sound like the clapping of hands upon entering. This sound is created when wind passes through the high caves. A few portions of the gorge are very narrow, and hikers must pass through the water. There are many things to discover in the Kourtaliotiko Gorge, which include lush vegetation, vultures, and other birds. The entire hike through the canyon is about two hours.

Damnoni Beach: One of the most worthy places to visit on the island of Crete is Damnoni Beach. Located in an idyllic bay, a few kilometres from Plakias, and approximately 35 km south of Rethymno city. Damnoni Beach is truly astonishing with its white sand and turquoise waters. For most of the year, the beach is not too crowded. The beach has several tourist services, and activities available.

Skinaria Beach: Skinaria Beach is 33 km south of Rethymno, 3 km south of the village of Lefkogia, in the eastern part of the Plakias area. It is a small beach lying in a natural bay formed by two rock formations on both sides. Skinaria beach has a soft grey-beige sand and fine pebbles, with deep blue water. The north part of the beach is sandy, while the seabed is rocky. Skinaria Beach hosts blackfish, octopus, giant morays, and almost all types of local marine biology. There are small ponds on the beach with water from springs from the Kouroupa mountain. Skinaria Beach The beach is quite organised with a tavern providing a few umbrellas and drinks.
What are the trekking routes for Kotsifos Gorge?
Crete is the biggest island in Greece by area. Numerous resorts, convenient beaches, and historical and natural attractions are prominent on the island. Crete's natural attractions were formed due to the limestone rocks that make up the island. Therefore, tourists and independent travellers often organise hikes in the gorges of Crete, which are open to the public. Visitors get to this gorge in Crete via car. There is no bus service available nearby. It is recommended to buy light snacks and drinks before the trip. The hiking time is approximately two hours. This is how much the standard excursion program takes.
How long does it take to trek the Kotsifou Gorge?
It will take approximately two hours to trek the Kotsifou Gorge. The hike starts at the village of Kannevos and ends in Plakias. In the initial part of the journey, hikers will see how narrow the gorge is. Its width does not transcend 10 metres, and then it expands. Its total length is 1.8 km, and the height of the cliffs is up to 600 m. A little river flows in the area, perfect for organising picnics. Hikers must remember that the site is most of the time windy.
Do you need a guide to trek the Kotsifos Gorge?
No, a guide is not necessary to trek Kotsifos Gorge. Kotsifu Gorge is on the route between Rethymno and Agios Nikolaos. To reach it, hikers need to conquer Kourtaliotiko Gorge, pass the Monastery of Preveli, move to the village Mirfio, and from there – to Agios Nikolaos, where one will locate the entrance to the gorge. In some areas, the canyon is so narrow that the distance between the rocks is just ten metres. The wind in the area howled continuously, creating a sound similar to clapping hands. On the road, the sight of the Church of St. Nicholas is seen, which is slightly covered in a rocky grotto.
When is the best time to visit Kotsifou Gorge?
The best time to visit the Kotsifos Gorge is during Summer. Like the rest of Crete, the Kotsifos Gorge enjoys a warm Mediterranean climate with hot, dry summers and mild winters. The weather in the southern part of Crete is ideal from June to September. The riverbed is usually dry during the hot summer, so crossing it is easy. Another perfect time to go for cooler temperatures is in the spring and autumn.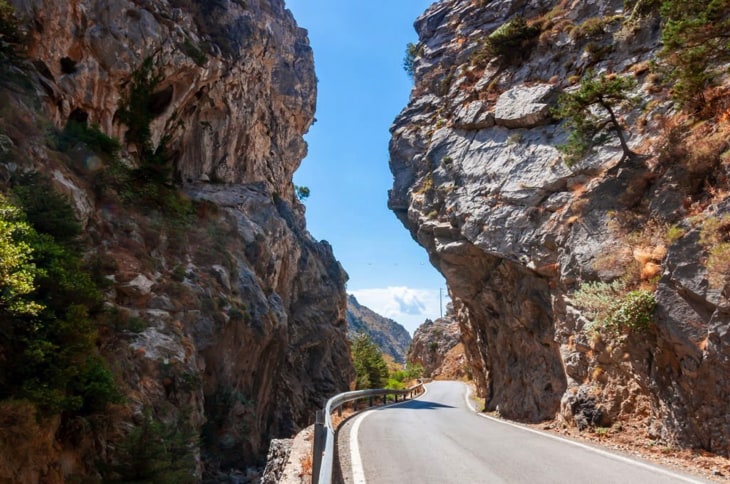 What is the importance of Kotsifos Gorge to the history of Crete?
Kotsifos Gorge hosts many Cretan endemic plant species that grow in the area. The Orthodox Church of San Nicola is one of the many churches frequented by tourists in Crete due to its clever position. There are no particular historical events relating to Kotsifos Gorge. However, Rethymno region, where Kotsifos Gorge belongs, is rich in ancient history. One significant history in Crete is the "Battle of Crete". It was part of Crete's battle during World War II. Australian and Greek forces defended the town of Rethymno against German attacks.
What are the myths about the Kotsifos Gorge?
No particular myths refer to Kotsifos Gorge, but the whole island of Crete is full of myths and legends. One famous myth about the island is Talos, a bronze giant made by Vulcan, and offered to King Minoas as a gift. According to Cretan mythology, Talos was assigned to guard Crete. The giant went around the island three times a day. This giant monster set upon the foreign visitors by throwing rocks and wood, and finished them off by burning them.
What are the factors to consider before renting a car in Crete?
Crete is a beautiful island in Greece that is a must place to visit who love the rich culture and its historical past. There are different ways to explore the majestic island, but one way to enjoy it is by renting a car. Learning how to choose the right vehicle to rent in Crete will definitely make the most of one's time enjoying the beautiful tourist spots.
Listed below are the factors to consider before renting a car in Crete.
Insurance: Car rental insurance is essential, as it protects a passenger against the cost of damage when renting a car. Crete car rental includes insurance for collision damage waiver, and a driver's credit card is required as a guarantee.
Driver's age: The legal age requirement when driving in Crete is 18 years old. However to be able to rent a car in Crete the driver must be at least 21 years old and have a valid driving licence for at least 12 months. A passport or national Id card is also required.
Driver's gender: Women and men are permitted to drive in Crete. As long as the driver is of the legal age of 18, driving is allowed in Crete, regardless of gender.
Car type: Travelling with groups or family members requires a much bigger car. Car rental companies in Crete offer a variety of vehicles to choose from. Selecting a smaller car is best when driving in Crete. The reason for that is that some Greek roads are narrow. Travellers must learn how to choose the right car to rent in Crete to have a comfortable driving experience.
Documents needed for renting a car: One important document required for renting a vehicle is a valid driving licence. However, a credit or debit card may be presented as well, including a passport or an ID card.
How much does a car rental in Crete cost?
The island of Crete is best travelled using a rented vehicle. Visitors get faster to Crete's top destinations using a rented car. Crete car rental costs vary depending on the number of persons, itinerary, car type, destination, and duration. The average cost of renting a car in Crete is around €30 to €40 per day. A car rented for a whole week will cost an average of €250. Renting a vehicle for the weekend will cost around €78. Crete car rental rates differ depending on the car type. Car rental companies offer a variety of cars depending on customers' liking. Most car rental shops in Crete provide an online booking system, whenever customers want to book a car. Simply follow the process and instantly book a vehicle on their website. Before availing of a rental car service in Crete, check and secure all the requirements.
Is overnight car rental in Crete allowed?
Yes, overnight car rental in Crete is allowed. Most car rental companies in Crete provide flexible schedules for car rental. Rental days are calculated on a 24-hour basis. Rented cars must be returned on time to avoid incurring additional charges. Customers are free to visit some of the websites of several car rental companies in Crete to access basic information regarding car renting.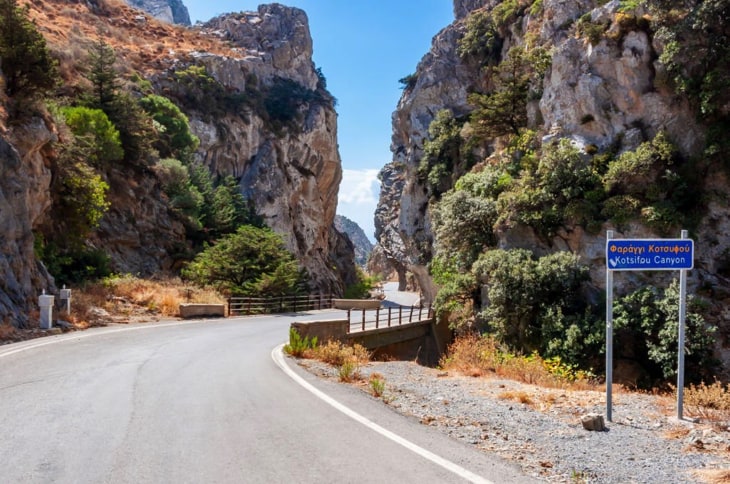 Does renting a car provide you with the leisure you seek when travelling?
Yes, renting a car gives travellers the leisure they seek when travelling. Among the many advantages of renting a vehicle is the convenience it provides. Renting a car allows one to fully maximise their trip without following a specific schedule. Travellers have the luxury of privacy when renting a car. They don't have to share a ride with the crowd as most tourist buses do. Renting a vehicle allows travellers to go to difficult-to-reach areas.
What are the nearest traveller's inns to Kotsifou Gorge?
Listed below are the nearest traveller's inns to Kotsifou Gorge.
Hotel Alianthos Garden: Hotel Alianthos Garden provides expansive facilities such as an onsite restaurant, a refreshing pool, and friendly bilingual staff. Rooms have modern amenities with a private balcony or terrace for guests to relax with an unparalleled sea view. Hotel Alianthos Garden provides 24-hour reception, and room service including laundry, ironing, and dry cleaning services.
Sofia Hotel: The beautiful Sofia Hotel is located in the heart of Plakias, and 2.1 miles (3.38 km) from Kotsifou Gorge. Sofia hotel offers elegant, comfortable, and newly renovated rooms with balconies. The location of Sofia Hotel is perfect as a starting point for exploring the enchanting Crete island. A standard double room that accommodates two people costs €57.58 per night.
Hapimag Resort Damnoni: The Hapimag Resort Damnoni is located in Agios Vasilios Rethymnon. It is 1 hour and 35 minutes away from Chania Airport and 1 hour and 40 minutes away from Heraklion Airport. The resort is family-friendly with accommodations, including a Wi-Fi connection, TV, bathroom essentials, weekly linen change, and hairdryers. Guests with babies are provided with baby equipment upon request. A one-bedroom apartment which accommodates two people costs €95 per night.
Morpheus Apartments: Morpheus Apartments and Studios are found in the heart of Plakias, one of the most cosmopolitan areas of Southern Crete. Morpheus Apartments and Studios is just two steps away from the gorgeous long sandy beach. Morpheus Apartments and Studios offers several accommodations, including a two-bedroom apartment, a studio, a studio plus, a kitchen studio polus seaview, and a balcony with seaview.
Costas & Chrysoula: Costas & Chrysoula has been a family business since 1986. It was recently renovated to make its guests more comfortable during their stay. The apartment studios are on the tranquil side street and are mainly used by guests. Costas & Chrysoula is ideal for families with children. The studios are equipped with kitchenettes and are always clean and tidy. A cosy swimming pool is available all day till late in the evening. Indoor facilities include a baby cot, air conditioning, internet, a satellite TV, a hair dryer, a fridge, and a safe. Rooms are cleaned every day. A twin room which accommodates two persons costs around €45 per night.
Is it possible to hire a hiking guide in Kotsifos Gorge?
Yes, hiring a hiking guide is possible in Kotsifos Gorge. However, it is not a requirement. Hiking in Kotsifos Gorge is considered to be a relatively easy level of difficulty. Independent hikers mostly hike the area without a hiking guide.
What kind of car should you rent when visiting Kotsifos Gorge?
Any kind of car is ideal to rent when visiting the Kotsifos Gorge. However, a compact car like the Fiat Panda is perfect for a family of four. Fiat Panda is a small but fuel-efficient vehicle with advanced safety features and excellent power output. The Kotsifos Gorge is one of the most accessible Gorge in Crete using a vehicle.
Can elderly people hike the Kotsifos Gorge?
No, hiking the Kotsifos Gorge is not recommended for people with reduced mobility, like the elderly. Although hiking through the Kotsifo Gorge is considered a manageable level of difficulty, it is not recommended for the elderly. Hiking, in general, is an activity that requires strength and endurance.
Can a couple hike the Kotsifou Gorge?
Yes, couples can hike to Kotsifou Gorge. The majestic landscape of Kotsifou Gorge is perfect for couples. It is a romantic place where couples can walk and appreciate the canyon's beauty. Unlike other technical gorges of Crete, Kotsifos Gorge requires no special hiking tours. However, hikers must wear a particular protective shoe ideal for hiking.
Is hiking Kotsifos Gorge child-friendly?
Yes, hiking in Kotsifos Gorge is doable for children. Kotsifos Gorge is a beautiful landscape to discover on the way and the road. The area is very much accessible by car. Children accompanied by adults will surely enjoy the hiking experience in Kotsifos Gorge. The Kotsifos Gorge is a must-visit canyon that offers a spectacular view.