Crete, Greece's largest island, is very easy to reach. While there are many flights to Crete's international airports, by far the most "authentic" way to reach the island is by ferry. And it is also by far the most festive and relaxing way to travel. If you have not been on a Greek ferry, then you are in for a pleasant surprise. Here is our guide to taking Ferries to Crete.
Taking Ferries to Crete: Great Ferry Connections
While the route from Piraeus (Athens) to Heraklion may be the most popular route, it is by no means the main way to get to Crete by ferry. First of all, this large island has several ports: in addition to the Port of Heraklion, there is the port of Rethymno and the port of Souda bay – serving Chania town, as well as the small port of Kissamos, to the west. The eastern side of Crete is served by both the ports of Agios Nikolaos and Sitia.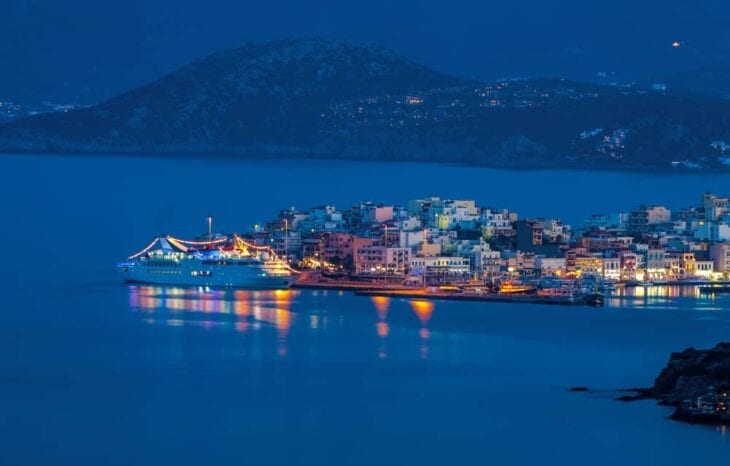 Then, in the south, you have the smaller ports of Sougia and Sfakia. These ports connect with a total of 59 other ports – from as close as Gavdos – a tiny island to the south – and as far as Thessaloniki in the north, depending on the season.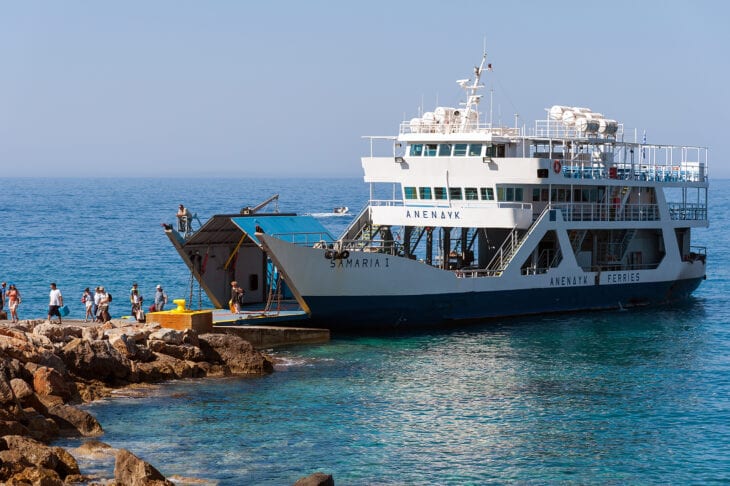 An Island-Hopping itinerary can easily include a visit to Crete.
Ferries to Crete from the Athens' Ports
Piraeus, the largest port of Greece, has constant connections with Crete. You'll have your choice of connections. There are 2 ferries a day from Piraeus to Heraklion, 2 a day to Chania, 2 per week to Kissamos, and two per week to Sitia. There are also ferries from the port of Rafina to Heraklion.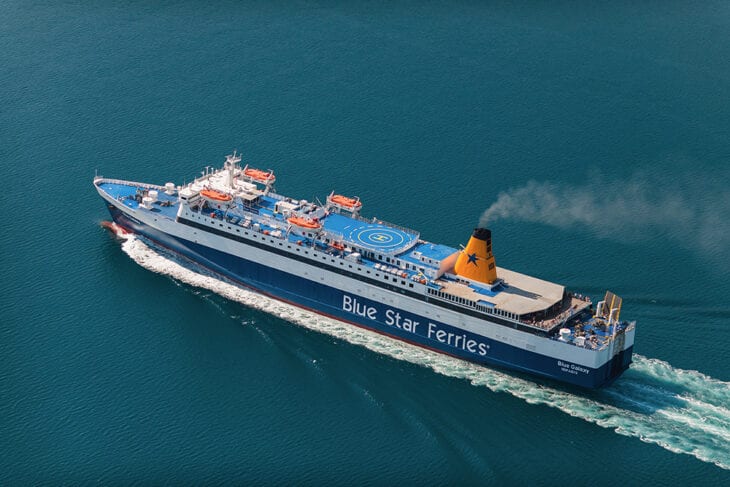 Getting to Crete by Ferry from the Most Popular Greek Islands – the Cyclades
In the high season, you can reach Crete from the major islands daily, and in some cases, there are several ferries per day. The Cycladic Islands have great connections. For example, there are sometimes as many as four per day from the port of Thira (Santorini) to Heraklion. From Mykonos, there are as many as three ferries a day in high season, as well as from Paros to Heraklion.
Milos has ferries two times a week departing for Heraklion.
From Naxos, there is a ferry to Heraklion nearly every day. It's even easy to reach Crete from the smaller Cycladic Islands, with two weekly routes from Anafi to Heraklion, for instance, and one from Anafi to Sitia, and another from Tinos to Heraklion.
It is advisable to check ferry connections prior to making your travel plans, as due to current measures, some connection routes may not be available.
Getting to Crete by Ferry from the Dodecanese Islands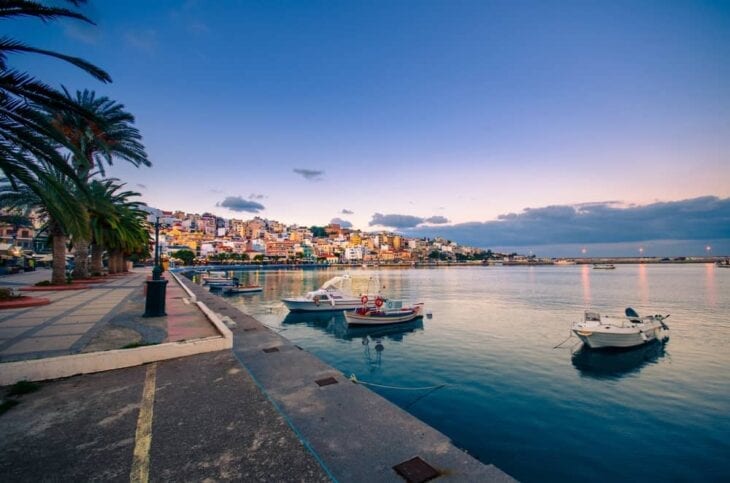 Similarly, it is very easy to get to the ports of Crete from the islands of the Dodecanese, many of which are quite close to the eastern side of Crete. Rhodes connects to the port of Sitia several times a week, and to Heraklion once a week in high season. Kasos, westernmost of the Dodecanese, has several ferries a week to Sitia. This is also a great bargain – many are just €11. Karpathos connects to both Sitia – a few times a week – and Heraklion – twice a week.
How Long Does the Ferry to Crete Take?
The time is the best part of taking the ferry. Either it is quick and pleasant – imagine sipping a frappe and watching the endless Aegean horizon. Or, it is slow and relaxing. Travel like the Greeks and bring a deck of cards! There is also time for enjoying a hot meal (ferries in Greece usually have good traditional home-style cooking).
The quickest routes can be just over an hour – like the high speed from Kasos, or less than two hours – such as the high speed from Santorini. A conventional ferry from Santorini or Tinos, by contrast, takes about 6 hours.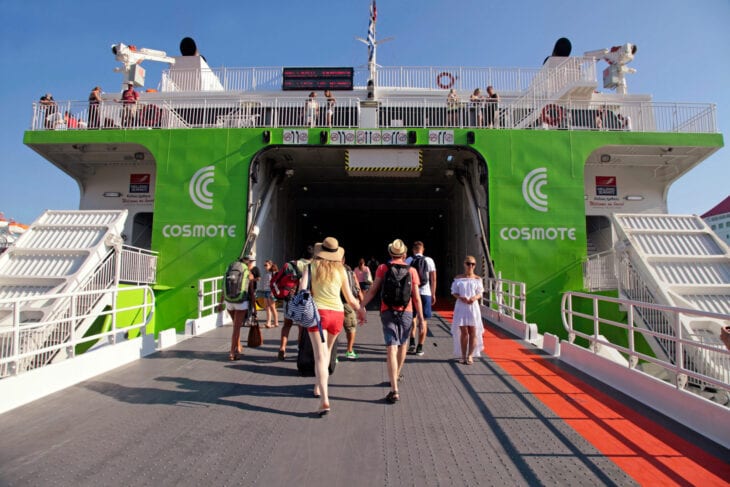 From Piraeus, there are a number of options. First of all, you can travel in comfort and arrive at dawn, refreshed, on a night boat. There are comfortable cabins available. These journeys take between 9 and 10 hours.
The day boats take between a little less than 8 hours and up to nearly 10. Some of the ferries offer a terrific opportunity for some sight-seeing. One in particular makes stops at Syros, Tinos, Mykonos, Paros, Naxos, and Santorini before arriving at the port of Heraklion.
How to get from Crete to Santorini?
You can get from Crete to Santorini either by boat or by airplane. By boat from Heraklion or Rethymno Port and by plane from Heraklion Airport, Chania Airport or Sitia Airport with a layover in Athens International Airport. During the summer, there are at least two ferry departures per day from Crete to Santorini. Minoan Lines, Seajets, Anek / Superfast, Aegeon Pelagos and Golden Star Ferries are the main operators on this seasonal route. During the winter only Anek / Superfast offers a slow ferry boat to serve the route. It is much more expensive to fly from Heraklion to Santorini than to take the ferry. Flying takes about the same amount of time as taking the ferry, but it is more expensive and emits more damaging pollutants to the environment. The fast ferry (Seajets, which is a catamaran) takes roughly 2 hours to arrive.
What Are the Costs of a Ferry to Crete?
There are a number of factors determining the costs of ferry tickets. It is not necessarily always so much the length of the journey as it is the speed – the high-speed boats can cost quite a bit more than the conventional ferries. They can also cost quite a bit if they make a large number of stops.
Roughly speaking the journey from Piraeus to Heraklion, for example, can cost between €28 and €68 for an economy deck ticket. There are also premium seats available for an additional charge. A cabin will add to both the fun of the trip and the expense – for example, an additional €65 per person in a two-bunk cabin without a window, but with a shower.
Do Ferries to Crete Run in the Winter?
This is a good question, because Crete in the off-season is also a fantastic destination. And the answer is yes! Imagine, Greece is a nation of islands – over 200 inhabited islands! For generations, the Ferry has been the only connection between the islands and the mainland. While we take the Ferry for vacation, you will see that the vehicle deck is filled with huge trucks carrying anything from milk and newspapers to clothing, paint, and anything else you can imagine.
Going back from Crete, these trucks are filled with oranges, olive oil, wines, and all the other riches that Crete has to share with the rest of the world. So, although there are of course fewer ferries during the winter as there is less demand from travellers, there are still many students and others traveling frequently during all the months of the year, as well as all of the commerce that relies on ferry boats.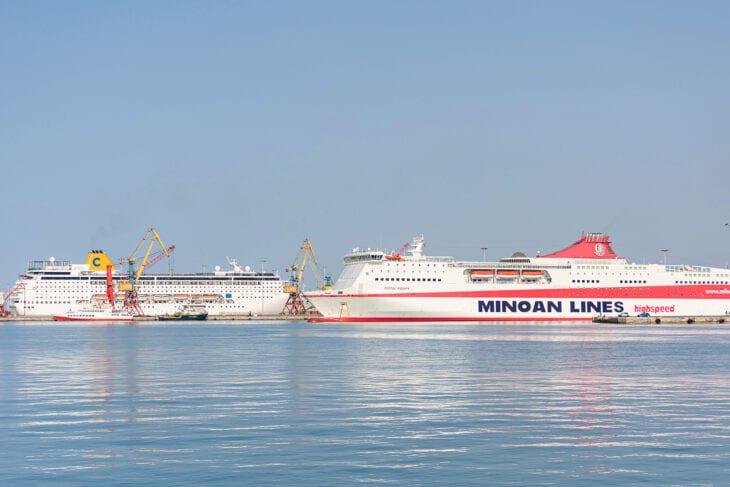 There will almost certainly be daily boats connecting both Chania and Heraklion with Athens, and boats from other larger islands will also run, although with less frequency.
The advantages of winter travel on the ferry to Crete is that it is far less crowded, and a very relaxing experience. The possible disadvantage? You may need some 'sea legs' if the crossing is rough.
Are Crete Boat Trips fun?
A boat trip is always fun. Specially in Crete where the are hundreds boat trips options. Explore Crete from the sea with a best rated Crete Boat Trip. You can select your departure point from the major cities like Heraklion, Chania, Rethymno and Agios Nikolaos, or smaller like Hersonissos, Elounda, Gouves, Kissamos, Ierapetra and Sfakia.
How Reliable is the Ferry Schedule to Crete?
The connection between the biggest island in Greece and the capital is an important one. Schedules are quite reliable – meaning that the boats leave and arrive at the scheduled hour (weather permitting, of course).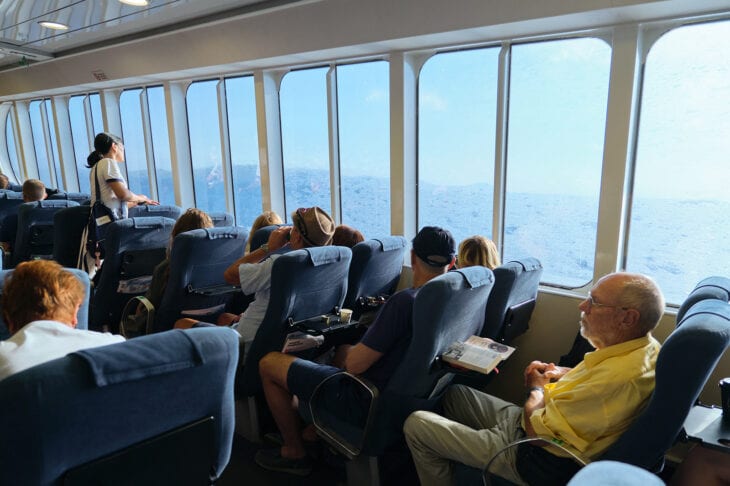 However, the schedules themselves are subject to change. Demand is one factor, and also other unforeseen factors can affect the ferry schedule to Crete as well as elsewhere. For example, on account of the pandemic, some routes have been temporarily suspended.
Which brings us to our final topic ….
Is Ferry Travel to Crete Safe?
Ferry travel to Crete is 100% safe. All the Ferry Companies have implemented the strictest measures of safety. Safety at all times – readiness for an event at sea – is always paramount. And this nation of seafarers never takes safety for granted. But apart from that, the ferry companies have responded with great professionalism to the current pandemic.
Not only are measures enforced for the health and safety of all, but there is always ample hand sanitizer available, and appropriate distancing measures when necessary to ensure comfort and peace of mind.
Links for ferry companies and tickets
Sfakia to Loutro / Agia roumeli / Sougia / Paleochora / Gavdos / Agia Galini / Plakias
https://anendyk.gr/?page_id=111
Heraklion to Pireaus
https://www.minoan.gr/
https://www.anek.gr/en/
https://www.superfast.com/
Chania to Pireaus
https://www.minoan.gr/
https://www.anek.gr/en/
https://www.superfast.com/
Crete to Santorini / Paros / Naxos / Ios / Mykonos / Milos
https://www.minoan.gr/
https://www.seajets.com/