Ferma, along with many other fishing villages in Crete, is a place where time seems to standstill. Nestled on the southeast coast of Crete, this secluded village is the perfect place to unwind and relax. With several shops, tavernas, and a beach, there is everything you need to enjoy a tranquil holiday. However, you shouldn't visit the area without knowing a bit about its basics. As such, we've made this quick guide on everything you need to know about Ferma and Ferma Beach.
Where is Ferma Located?
Ferma is located 10 kilometers east of Ierapetra and 45 kilometers south of Agios Nikolaos. It is a little seaside community located 4 kilometers south of Agios Ioannis, built just next to the steep shores. The surrounding area is densely forested and lushly vegetated, creating a green oasis within Eastern Crete's arid landscape.
There are several small bays along the region's coastline, the longest of which being Livadi Beach, also known as Ferma Beach or Xerokamara. It should not be confused with Livadi beach near Bali. It's a lovely beach with fine pebbles and crystal clear deep water, set in the stunning scenery of towering smooth rocks and high cliffs, and surrounded by dense flora.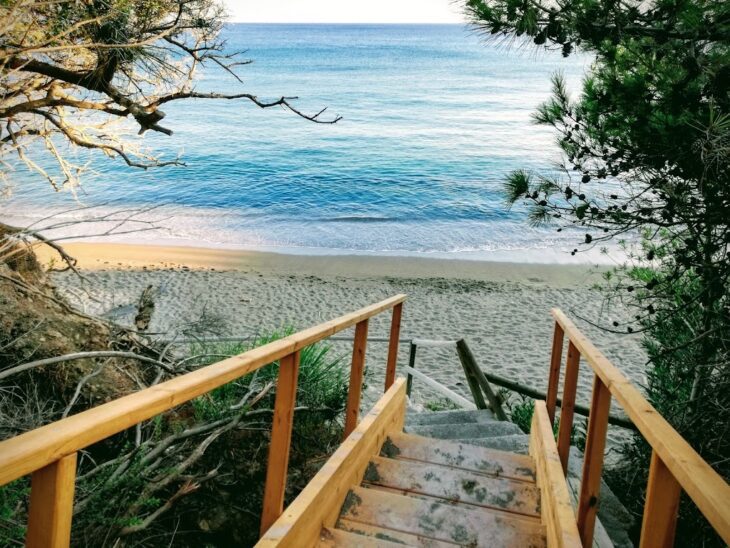 Things to Do & Near Ferma
Whatever your hobbies are, you'll find something to do in Ferma. Many tourists choose this village as their holiday destination because of its relaxed and quiet atmosphere. However, there are still plenty of activities to keep you busy during your stay.
Explore the Nature
One of the best things to do in Ferma is to explore the outdoors. With its dense vegetation and towering cliffs, the area is perfect for hiking and climbing. You'll be able to see rare Cretan plants and flowers, as well as stunning views of the Libyan Sea. If you're lucky, you might even catch a glimpse of the area's wildlife which includes goats and deers.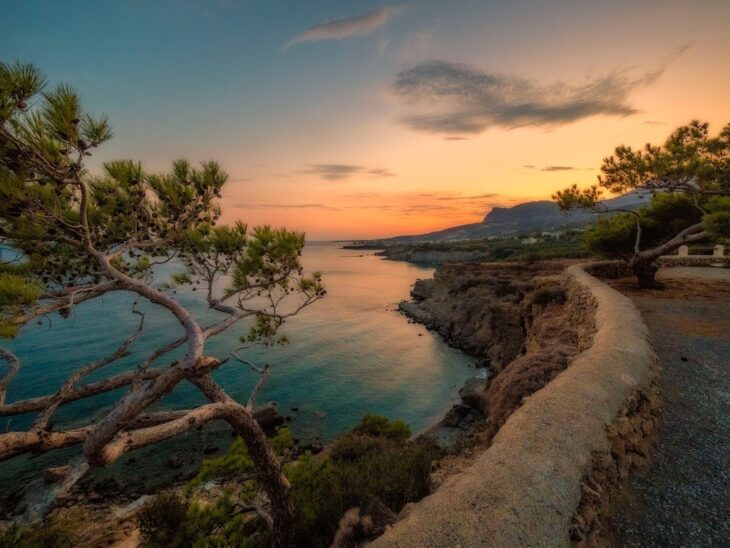 Visit Lake Voulismeni
Since Lake Voulismeni isn't too far from Ferma, it's definitely worth a visit. This natural saltwater lake is one of the most important wetlands in Crete. It is located right at the center of Agios Nikolaos and many taverns, cafes, and restaurants surround it. The perfect place to enjoy the sunset with a view of the lake.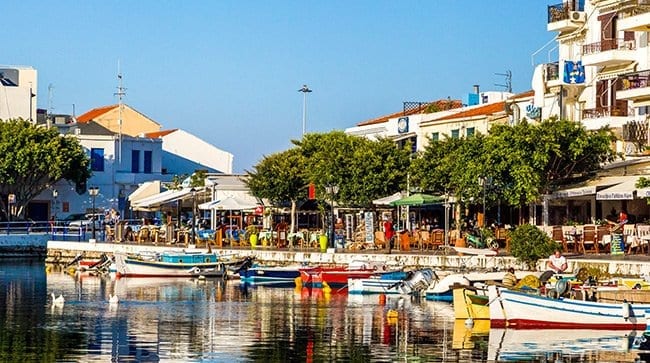 Check Out the Archaeological Collection Of Ierapetra
History buffs will enjoy a visit to the Archaeological Collection of Ierapetra. It houses a wide collection of artifacts from the Neolithic, Minoan, and Roman periods. Some of the most notable pieces in the collection are a Cycladic figurine, Roman lamps, and some figurines.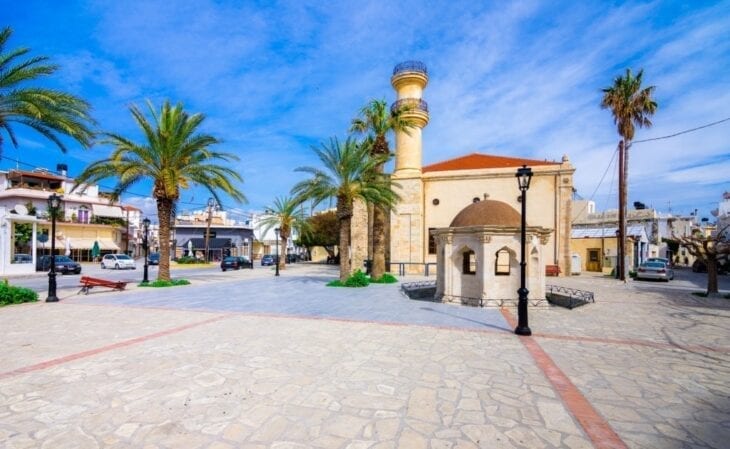 Beaches in and near Ferma
Taking a refreshing dip in the sea is one of the best things to do in Ferma. The village's coastline is dotted with many small bays and coves, each offering its own unique charms. Here are some of the beaches you should check:
Ferma Beach (Livadi Beach)
Ferma beach is the village's main beach. It is a great place to relax and soak up the sun. With pebbled shores and crystal-clear waters, it's no wonder why this beach is one of the most popular in the area. You can expect shallow waters, lush vegetation, and plenty of rocks to explore.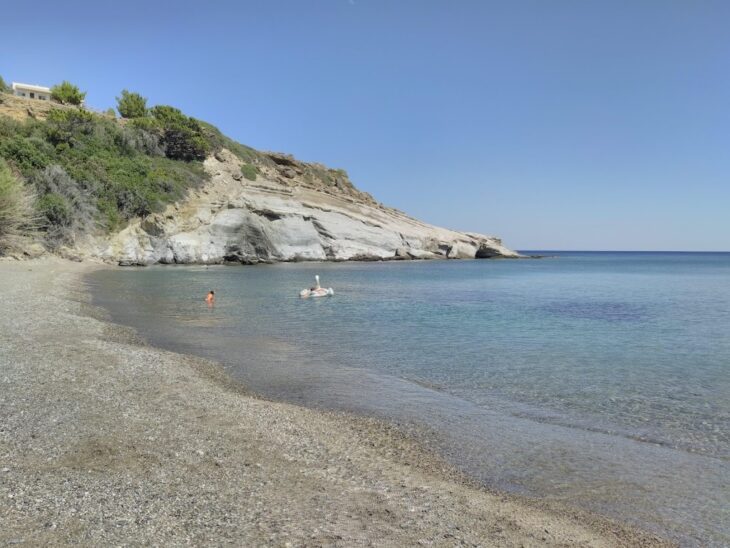 Agia Fotia Beach
Agia Fotia is popular beach is only a short drive from Ferma. It's well-known for its clear turquoise waters and lovely sandy shores. There are also some sun loungers and parasols, making it the perfect spot to relax and enjoy the view. You can read more about Agia Fotia beach in this post.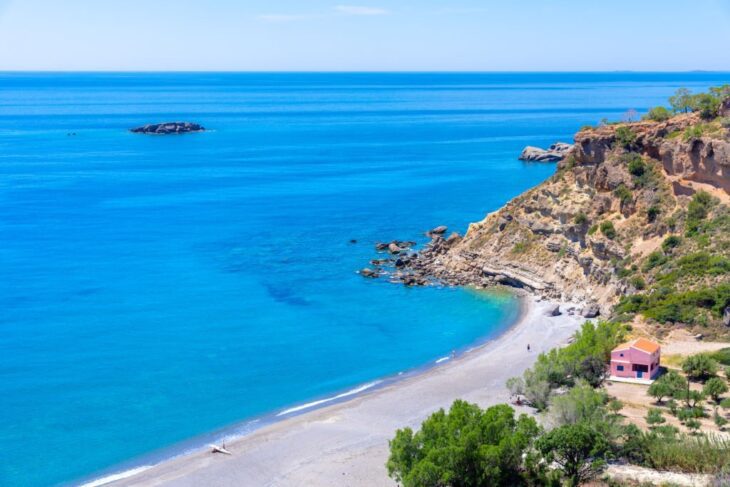 Koutsouras Beach
Koutsouras is the perfect place to relax and enjoy the Mediterranean lifestyle, without the worries of huge crowds. If you want to learn more about the village and the pebbly beach read this post about Koutsouras.
Kaki Skala Beach
Kaki Skala beach might be a bit far from Ferma but it's still worth a visit. It's one of the most beautiful and unspoiled beaches in the area with its blue waters and secluded setting. You can bring your children here as the waters are shallow and there are no harsh waves.
How to get to Ferma
You can get to Ferma with 3 modes of transportation. These are by car, by taxi and by bus.
By Car
A rental car is the best form of transportation to reach Ferma. You can get a rental car at Heraklion Airport upon arrival. Once you get your rental car, just follow the road sign to Agios Nikolaos, Ierapetra and Koutsounari. You'll see road signs leading to Ferma from there. The whole trip will only take you 90 minutes.
By Taxi
If you don't like to drive, taking a taxi is another option. Taxis in Crete are comfortable and reasonably priced. You can hail a taxi on the street or book an airport transfer from Heraklion Airport. The fare from Heraklion Airport to Ferma costs €104 and the duration of the trip is 81 minutes.
By Bus
It is not advised to use the public transportation to Ferma, as there is not direct bus routes. You need to get to Ierapetra, with intermediate stop to Agios Nikolaos, and then a local bus to Ferma. It is quite long and exhausting.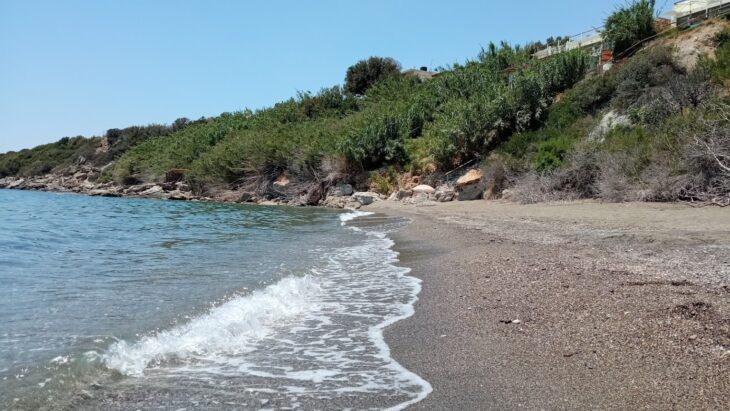 Where to Stay in Ferma
The area of Ferma isn't really populated with many hotels but there are still some great places to stay. Here are our top three picks:
Elena's Beach Garden
A popular resort located right on the beach. It offers self-catering apartments with a kitchenette, a private balcony, and a view of the sea. Guests can also enjoy the resort's outdoor pool, garden, and other modern facilities.
Address: Ferma, Ierapetra, Crete 72200 Greece
Website: https://www.booking.com/hotel/gr/elena-39-s-beach-garden.html
Contact: +30 2842 061244
New Aurora Apts Studios
Affordable with a touch of elegance, New Aurora Apts Studios is perfect for those on a budget. The rooms are spacious and decorated with modern furnishings. Guests can enjoy the hotel's restaurant, sun terrace, and free Wi-Fi in all areas.
Address: Ferma, Ierapetra, Crete 72200 Greece
Website: https://newaurora.gr/en/
Contact: +30 2842 307373
Kastello Kalliste (Wine Dark Sea Villas)
Leaning more on the luxury side, Wine Dark Sea Villas offers guests a stay in one of their elegant villas. Each villa comes with its own fully-equipped kitchen and a spacious living room. You'll also be treated to stunning facilities such as their pool, bar and lounge area, and on-site restaurant.
Address: Ferma, Ierapetra, Crete 72200 Greece
Website: https://www.winedarkseavillas.gr/luxury-villas-in-greece/villa-kastello-kalliste
Contact: +30 698 161 0050
Where to Eat in Ferma
Several restaurants and cafes can be found in Ferma. Whatever you may be in the mood for, you're sure to find it here. Here are some of the best places to eat in Ferma:
Taverna Psaropoula
Taverna Psaropoula is one of the most popular restaurants in Ferma. It is known for its delicious Greek food. Be sure to try their various meats that are cooked over a charcoal grill. The perfect place to relax after a long day at the beach.
Address: Ferma, Ierapetra, Crete 72200 Greece
Contact: +306977500272
When is the best time to visit Ferma
As a traveler, knowing the best time to visit your destination can be very helpful. For Ferma, the busiest season is usually from June to August. This is when the weather is at its finest and the beaches are most crowded. However, if you're looking to avoid the crowds, you can visit in spring or autumn instead. The weather will still be pleasant and you'll get to enjoy the quieter side of Ferma.