Convenient to visit and also as a place to stay while holidaying in Crete, Kokkini Hani is a tranquil seaside village, minutes away of Heraklion. This privileged position makes it an ideal place to choose for a stay in Crete, from where you can reach several landmarks on the island without the need to stay in the more busy center of town. Let's discover all there's to know about Kokkini Hani.

Where is Kokkini Hani
Kokkini Hani is located only 10 km from Crete's main airport, you just need about 10 minutes on the road to drive there. The seaside village is close to more important towns on the northern coast of Crete, including Chersonissos, Malia, and Stalida.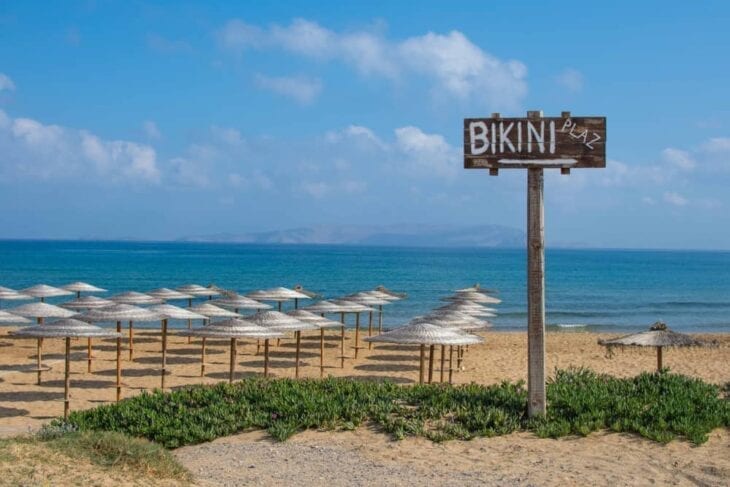 Since it's only minutes away from the capital of Crete, a relaxing holiday in Kokkini Hani can offer both great beaches to explore, cultural activities in the city center, archaeological sites in the area, and dancing nights in the nearby Malia.
Those landing at the airport of Heraklion airport should definitely consider renting a car to explore the village as well as the whole Heraklion area.
How to get to Kokkini Hani
Getting to Kokkini Hani by car
It's super easy to get to Kokkini Hani with a rental car from any point in town as well as from the port and the airport of Heraklion airport. It's a fast 10 minute ride to the east of the island.
Getting to Kokkini Hani by bus
It's also possible to get to Kokkini Hani by bus. There are daily buses departing from Heraklion Central Bus Station. The ticket is 2 euros and buses depart every 20 minutes. The ride can take up to half an hour if you consider the capital's heavy traffic.
Best things to do in Kokkini Hani
Although Kokkini Hani is a small village, with quite a limited nightlife and not much to do other than relaxing on the beach, there are still a few things you can do in the area to add a bit extra adrenaline to your holidays.
If you're traveling with the family, the beach in Kokkini Hani is wide and quite safe. Kids will definitely enjoy spending some time on the pristine coast of Kokkini Hani.
For afternoon activities, it's quite easy to get on your car and visit places like Malia, Stalis or Chersonissos for them to spend time at game arcades or other attraction places for kids.
Discover Skotino Cave
About 13 km inland from Kokkini Hani lies Skotino Cave, considered to be one of the biggest and more spectacular caves on the island. It's located up on a hill, towards the north of the small Skotino village.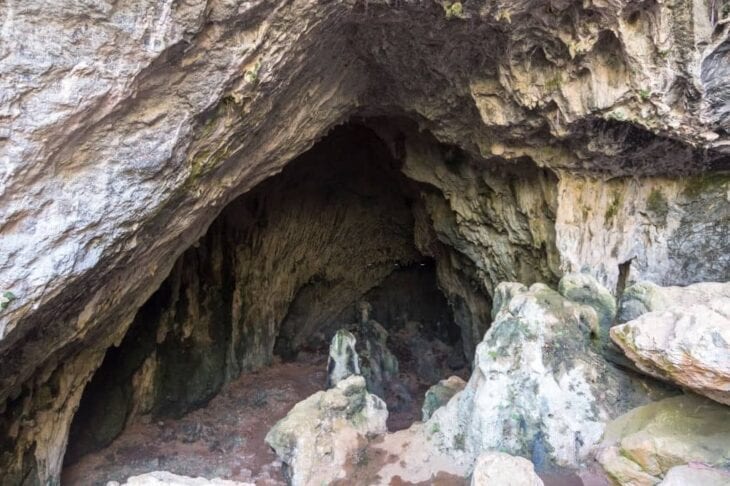 Locals also know the place as Agia Paraskevi cave since there's a small chapel dedicated to that saint built on top of the cave.
The size of the cave is quite impressive, it's about 160 meters deep and 36 meters wide. Among the different findings that were unearthed in the cave, some of them include bronze and ceramic figures who are thought to dabe back as far as the Minoan period. This suggests that the cave, as many other caves on Crete, might have been a sacred place of worship due to the different votive offerings found in it.
Spend a day at Water City
Another great place to visit when staying in Kokkini Hani is one of Crete's most popular water parks, Water City.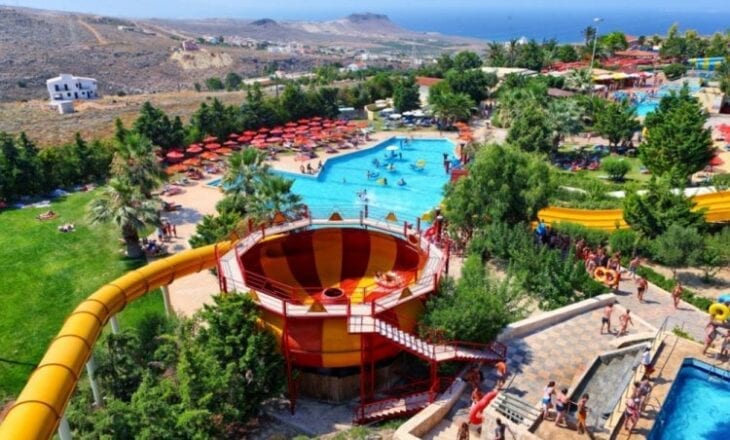 A favorite both for kids and for adults, Water City offers endless opportunities to have fun even if you're not at the beach. There are special pools for children, playground areas, and zones for adults to chill and relax.
✆ 0030 2815 000200 Website
Discover Malia's Minoan Palace
Malia is a lively seaside town located 23 km east from Kokkini Hani. It's the ideal archaeological site to visit if you want to avoid the huge crowds that gather at all hours in the most popular Knossos Palace.
A visit to the third biggest Minoan Palace on Crete is great to get a closeup look at the rests of the Minoan civilization that dwelled in Crete thousands of years ago.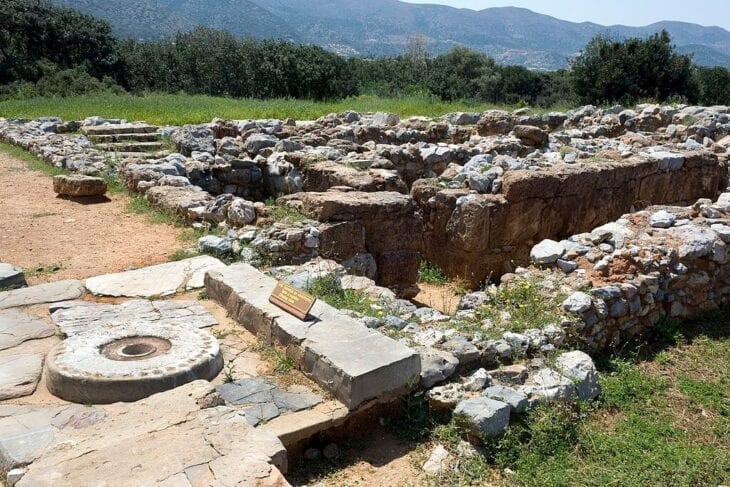 If you're into archaeological findings, museums, and cultural visits don't postpone a visit to the fantastic Archaeological Museum of Heraklion, in the center of town. Exhibits include objects found in Malia, but also in Knossos, Faistos, and other archaeological sites scattered all over Crete.
Visit Crete's magnificent Knossos Palace
If crowds are not a problem for you, then Knossos is arguably Crete's most important landmark and a must-visit site during any holiday to Crete.
Just under 16 km from Kokkini Hani, it's quite easy to reach Knossos with your car.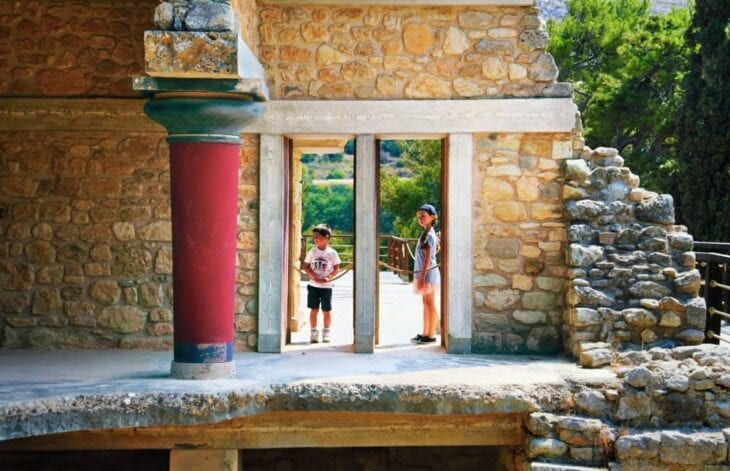 Spending a day at Knossos will allow you to discover the past of the island, learn about the way one of the first European civilizations survived and prospered on Crete. Since the Palace is the second most visited archaeological site in all Greece, queueing is common.
Get ready for a visit carrying a hat, sunscreen and enough cold water as you will be spending most of the visit walking under the sun. To avoid extreme temperatures, arrive early in the morning or at sunset.
Check out Karteros Gorge
Only 11 km from Kokkini Hani, it's possible to discover a wide archaeological complex made of several gorges, including Karteros Gorge, Astrakiano and Kounaviano in the area of Mount Giouchtas in Archanes.
Karteros gorge is the longest of the complex of gorges and it also belongs to the Natura 2000 program of protected areas.
The best way to access the gorge is from the Karteros village, although it's also possible to access from Aitania bridge (in Aitania village), as well as from Peza.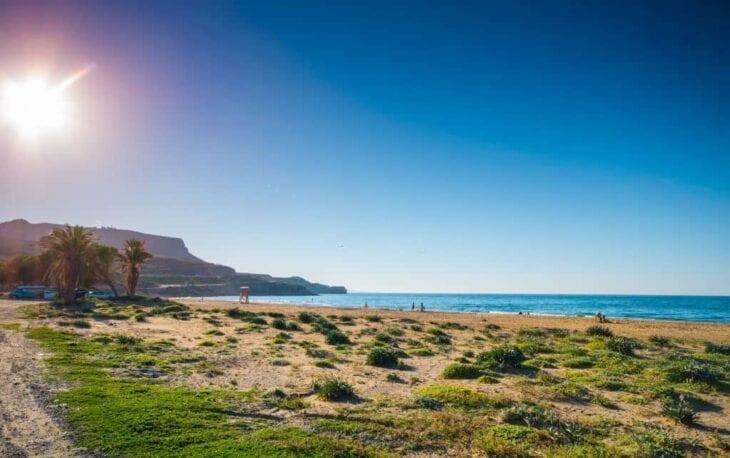 The gorge is perfect for mountain biking and for hiking. The journey to cross the gorge is about 4 hours and the trail is fairly easy, which makes it a great excursion for families with kids. There are bridges, wooden railings and security traits along the well marked path, so the hike is ideal also for people with no hiking experience whatsoever.
Discover the best beaches in Kokkini Hani
There are several beaches to explore in the area other than the more popular Kokkini Hani, take a look and choose the one that's just right for you!
Analipsi Beach
About 9 km east of Kokkini Hani, there is more than 1 km of soft sand mixed with gravel and pebbles. It's Analipsi, a nice, clean shore with pristine blue waters although it can deepen rather fast in some points.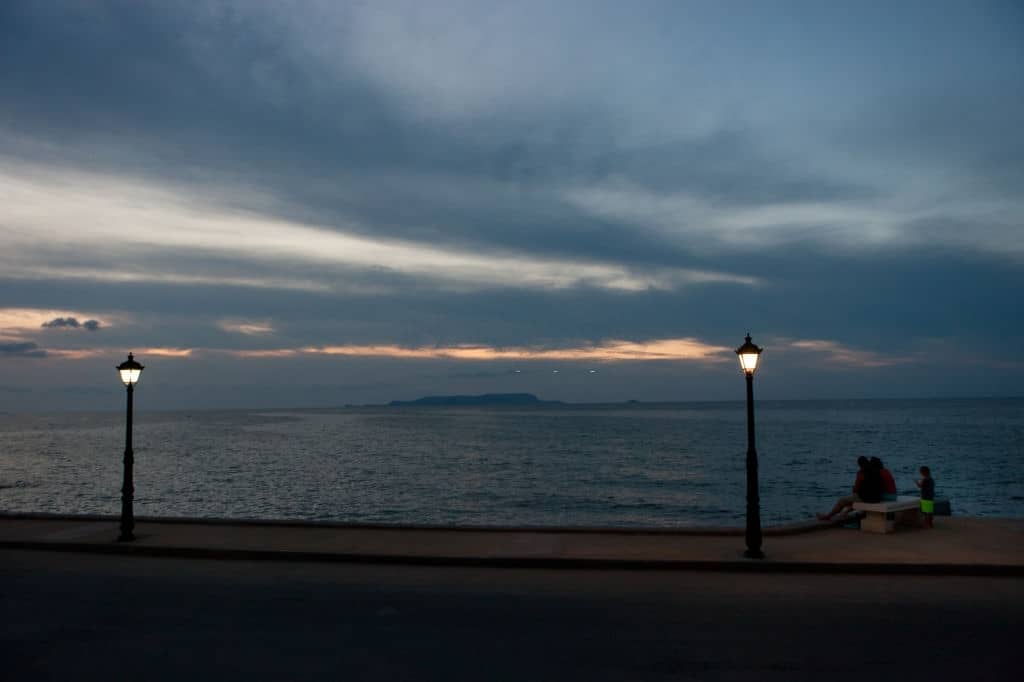 Parts of the beach are organized, so it's possible to hire a sun-bed and an umbrella for the day. Analipsi's main landmark is a beautiful, little church, which stands very close to the water.
Arina Beach
Just a couple of km west of Kokkini Hani, Arina Beach is another shore you should definitely put on the list of beaches you should visit in the area.
Families with small kids love Arina Beach because it's really safe. The beach is well organized, and those driving there will be happy to learn that parking spaces are also available.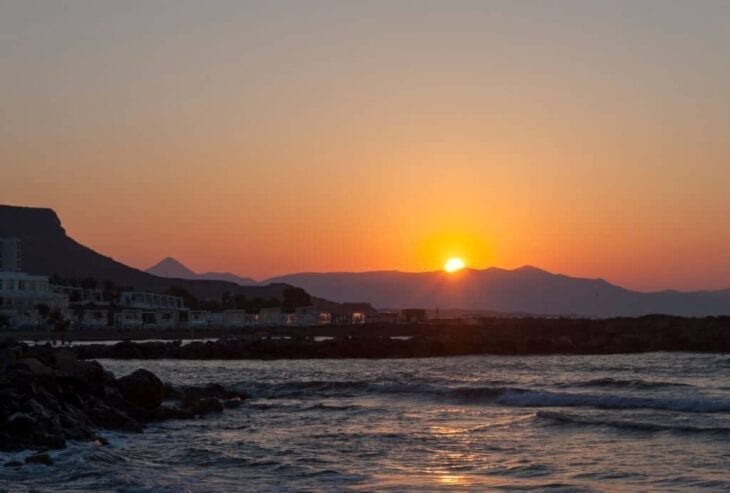 On the beach, it's possible to rent sunbeds and umbrellas or enjoy a cold drink or a couple of snacks at the small beach bar.
Tobrouk Beach
Right after Arina Beach it's possible to spend a day in Tobrouk Beach, another great area to swim and sunbathe close both to Heraklion and Kokkini Hani.
Tobrouk is the perfect place for those who love soft golden sand and transparent waters. The beach has a good organization, so you don't need to pack much to enjoy the day at Tobrouk.
Of course, these are not all the beaches, the list goes on. Having a car that gives you the freedom to explore is a great idea when trying to find the perfect beach. You just need to drive around and look around to find the kind of beach you're looking for. Other nice beaches in the area are Amnissos Beach, Stavromenos, Vathianos Kampos, and the wide bay of Kokkini Hani, awarded a Blue Flag for the quality of the sea.
Reach Malia for some fun at night
Kokkini Hani might look a bit quiet for young travellers, so driving to Malia for a cocktail, a dinner or a dancing night can always be a good idea.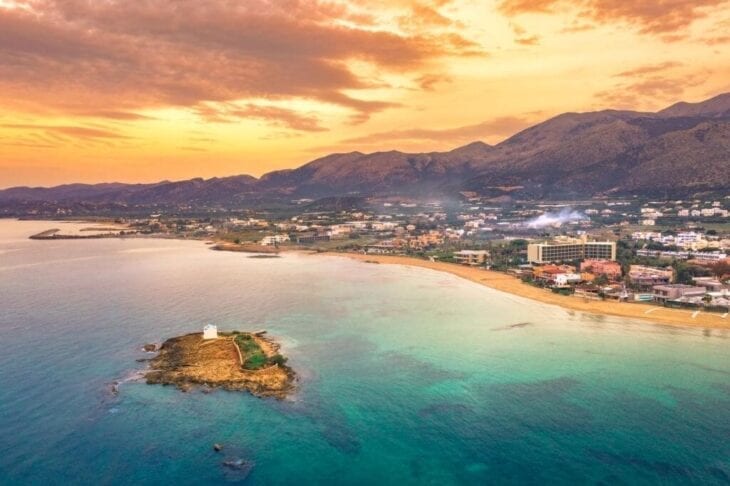 Malia is Crete's most important seaside resort when it comes to things to do at night on the island, with a wide selection of discos, pubs, and beach bars for all tastes and ages. Check our article about Malia to discover the best nightclubs and entertainment venues in town.
Where to stay in Kokkini Hani, Crete
Although Kokkini Hani is a small village, accommodation opportunities don't miss in the area. The offer ranges from nice family hotels to self-catered studios and apartments to rent. It's also possible to stay in an all-inclusive facility.
The following list includes our favorite places to stay in Kokkini Hani. Remember that booking your accommodation in advance is always a great idea to find better deals and more available options.
Themis Beach Hotel
Themis Beach Hotel is a 4-star property right on the beach of Kokkini Hani. Despite being a big structure, it's a family run hotel.
Rooms offer great views of the sea and the beach10 km from the airport. The view is a combination of blue sea with the amazing beach of Kokkini Hani.
The highlight of this hotel is the magnificent swimming pool directly facing the Sea of Crete.
✆ 0030 2810761412 – Website
Zorbas Island
Zorbas Island has earned a name for being one of the few accommodations in the area that remains open all year round. It's 9 km from Analipsi and only 16 km from the center of Heraklion.
✆ 0030 697 678 8033 – Website
Mitsis Rinela Beach Resort & Spa
This fantastic 5-star resort in Kokkini Hani is a perfect getaway for a relaxing holiday.
Mitsis Rinela Beach is a great place to breathe the authentic Cretan atmosphere. It has been built following the architectural style of the island, perfectly incorporating the surrounding landscape.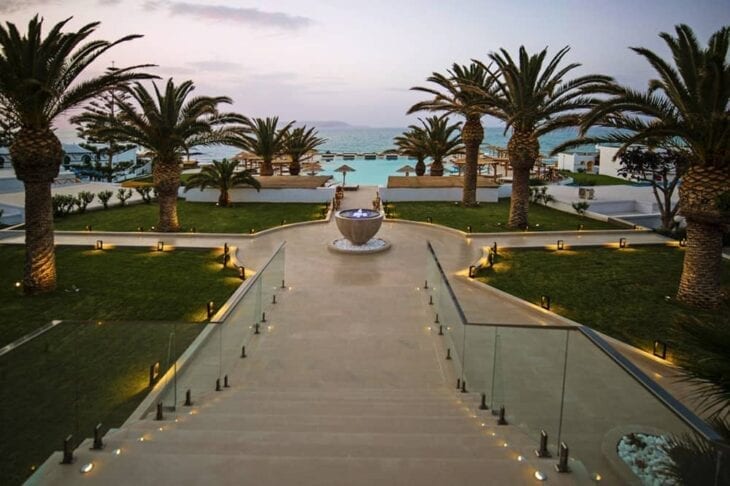 An all-inclusive holiday with every detail taken care of, great restaurant service with local and international dishes, a relaxing spa area, a gym, and a beautiful swimming pool. The hotel also offers private access to the beach. The hotel is set surrounded by beautiful gardens and offers daily beach BBQ, unlimited fine wine, champagne and sushi bar.
✆ 0030 2810 761713 – Website
Where to eat in Kokkini Hani
Kontra Flokos
Right on Kokkini Hani beach road, this restaurant has a great atmosphere and it's a good choice for families.
Eat right on the sand and enjoy traditional Cretan flavors, grilled meat, salads, and pasta.
✆ 0030 697 321 5631 – Website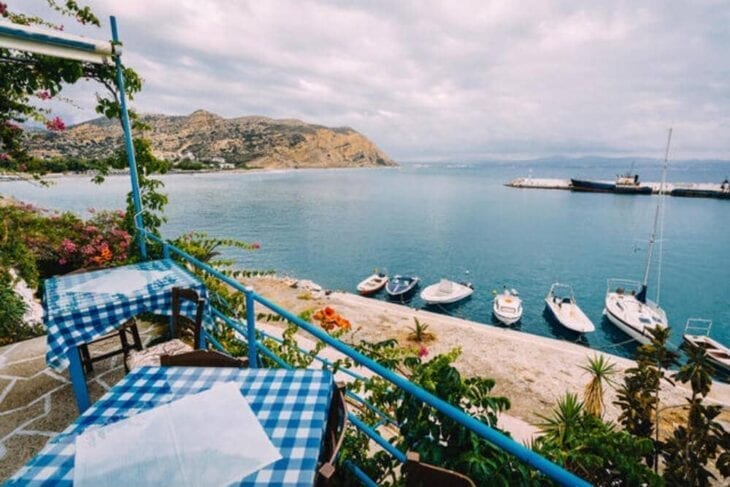 Taverna Nikolas
Also on the beach front area of Kokkini Hani, this taverna has excellent reviews and is a great place both for lunch and dinner.
Try their varied selection of mezedes (marinated fish, tzatziki, zucchini fritters and Cretan salad) with a cold beer.
✆ 0030 2810 762565
Arkadi Restaurant
Arkadi is a popular taverna-style restaurant in Kokkini Hani located on the beach road Heraklion-Agios Nikolaos.
They have a fantastic selection of pizza, grilled meat, and fresh salads. It has a relaxed atmosphere and it's a popular choice among visitors to Kokkini Hani.
✆ 0030 2810 761131 – Website
When is the best time to visit Kokkini Hani
When it comes to beachside resorts and villages in Crete, summer is always the best season to visit. In case you didn't know already, Cretan summers are quite long and tend to be very hot and dry. Those who travel with small kids and older travellers might find it more comfortable to visit in early September or at the end of autumn (late May).
The peak season in Crete is July and August, that's when the island is most crowded, so pick the right season for you according to the holiday style you prefer. Those interested in meeting people, having fun until late at night and don't mind overcrowded spaces, will enjoy the peak of Crete summer.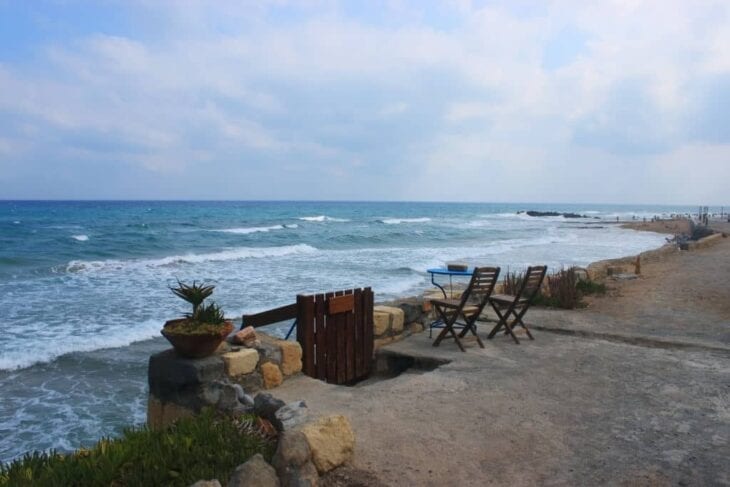 Remember that the region of Heraklion is not as wet as the west of Crete, so there are less rains in autumn. This allows you to enjoy long days at the beach even in October, when the sun has been heating the sea all summer and the water temperature is so pleasant that you will hardly feel like going out of the sea.
If you prefer to visit when the season is just starting (April and May), don't forget that the temperatures won't be as high as in the middle of summer, so it's always a good idea to pack a small jacket to keep a hand.