One of the busiest tourist destinations in Crete, Malia is a favourite, with young travellers seeking an exciting vacation filled with long days spent lazing on the beach and vibrant nightlife. Malia is the best location in Crete for partygoers and not your typical Cretan town with a slower, more peaceful pace.
However, there is much more to Malia than just partying. The town is known for its long history, the remains of which are a major tourist attraction as well. A notable example of this is its Minoan palace.
Malia has something for everyone, which is why it should be on your list of towns to visit in Crete. But how would you get there? To make the most of this visit, make sure you rent a car. With a car rental, you can enjoy Malia without compromising on your comfort.
What is the history of Malia?
Malia was a significant Minoan settlement and palace, having both a harbour and a location close to a productive plain in northern Crete. The area has been inhabited since the Neolithic period (6000 BCE), and the first signs of its architecture date back to 2200 BCE. The site's greatest era of excellence was between 1900 and 1675 BCE, during the palatial periods. Unfortunately, after earthquakes and fires, the location lost importance and was eventually abandoned around 1250 BCE.
The settlement's original name has been lost, and the current name comes from the adjacent contemporary village of Malia. The names Milatos and Tarmara have been suggested as the original names. According to Greek mythology, Sarpedon, the younger brother of Minos of Knossos and the son of Zeus and Europa, served as Malia's first monarch. Malia was one of the most significant Minoan cities, along with Knossos, Phaistos, and Zakros.
Where is Malia located?
The town of Malia is on the northern coast of the island of Crete, near the borders of Mount Selena. It is located 35 kilometres east of Heraklion and is one of Crete's busiest tourist destinations. It is 29 km northwest of Agios Nikolaos, 12 km east of Chersonissos, and only 3.5 km east of Stalis. If you are still having trouble locating it, the coordinates of Malia are 35.2832° N and 25.4629° E.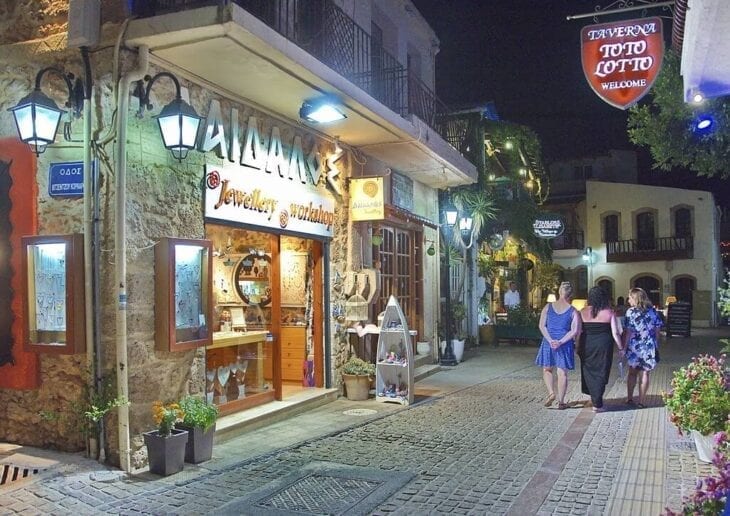 How many people live in Malia Crete?
According to a census conducted in 2011, the total population of Malia is 3,224. Of course, you'll see a lot more people when you're there, owing to its popularity.
What to know before going to Malia?
Malia is a great place to visit, but there is a lot you need to know about it before you decide to go there. For one, you need to know exactly what to pack. When packing, consider the season you'll be travelling in. For instance, to accommodate the local weather, you could pack shorts and light clothing between May and September. On the other hand, you'll need to pack warmer things if you are travelling during the colder months. You'll need a swimsuit for the beach and flip-flops, which you can switch out for walking shoes for those walks.
Other than the beaches, the breathtaking gorges and mountainous landscape of Malia are great for hikes. Bring a pair of hiking shoes with decent grip if you want to enjoy that kind of walk. In fact, a pair of solid sneakers would do as well. In many of your excursions, these will prove to your loyal companions. Don't plan to go on these long walks wearing sandals or, worse, flip-flops.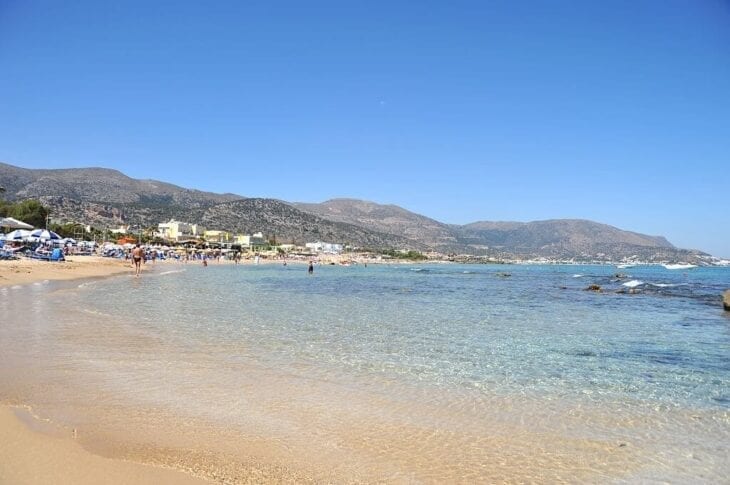 Another very important thing to know about Malia is the type of food you should be eating. If you miss out on the native cuisine, you'll be missing out on an important part of Malia. It would be like travelling to Thailand and always dining at McDonald's. Make sure you try out the traditional cuisines and the local street food as well. If you are having trouble finding the best eating spots, simply go where you see the most local people lined up.
Facts about Malia
Health and Safety: Before you leave, double-check your travel and health insurance coverage. Obtaining a free European Health Insurance card (EHIC) before travelling to Greece is also a smart idea if you are coming from another European nation. However, this is not a replacement for insurance. This will provide you the right to receive any medical care that could be required while you're travelling. But if you need continuing medical care, the EHIC won't cover it. So if you regularly take medicine, make sure to pack enough for the duration of your trip.
Police and security: Speak with the front desk employees at your hotel if you are concerned about any security problems. Check ahead of time to see if the hotel has its own security personnel. Suppose there is a serious issue, dial +302897022222 to reach the local police station. You can also call 100 or 112 to reach emergency services in case of an emergency.
ATMs: There are several ATMs in Malia, but before using one, find out how much your bank will charge you to withdraw money. This is because most ATMs also add on a transaction fee. You can use your card to make purchases in some nightclubs, pubs, and restaurants, but not all of them will. So always have both cash and a card on hand. You may also use prepaid currency cards while you're there to keep track of your expenditures and top them off.
How many hiking routes are there near Malia?
If you are fond of hiking, then Malia is the place for you. Besides having amazing beaches, its hiking routes are also famous. There are 3 hiking routes near or around Malia. The following 3 trails are the most popular ones.
Trail Mochos-Malia
The residents of Malia and the town of Mochos had strong ties even before beach tourism reached Crete's northern coast. This was because of agriculture. Locals constructed a stone road to better connect the two locations in the nineteenth century. The route is now a top attraction for hikers travelling to this region of Crete. The primary reason for this is that it has been well kept to this date.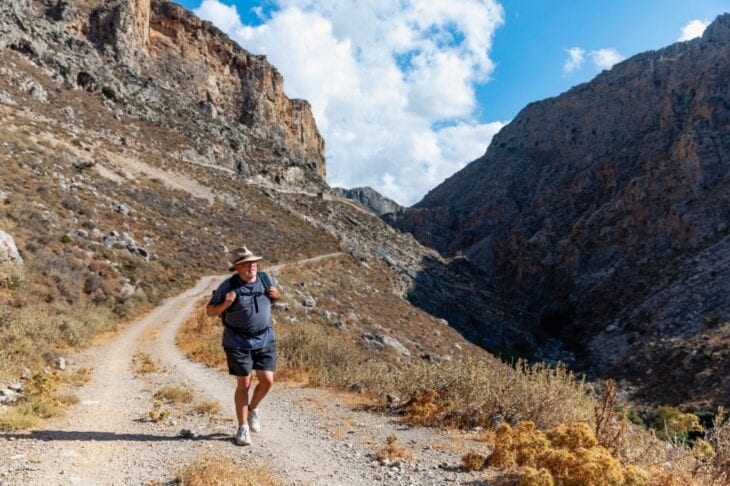 Trail Of Bulgarian
There is another beautiful hike in the close by area, from Mochos down to Stalis. The history of this trail is derived from Bulgarian army prisoners who were sent to Crete during World War I. They were used to re-establish this historic route that was formerly the only link between the two communities. Later, the practical use of the path ended since a major road was built instead. However, since then, it has become a famous hiking trail.
Krasi, Azilakodasos, Chamoprina Trail
Starting in the Chamoprina Woods outside of Malia, this challenging hike follows a well-maintained trail. The route offers breathtaking views of Crete's northern shore as it passes through a holm-oak forest and breathtaking scenery.
Is Malia safe for tourists?
Yes, it most definitely is. While the place has earned the reputation of being a bit rowdy with partying young adults, this does not affect its safety.
When is the best season for visiting Malia?
As with any beach resort in Crete, the peak of Summer is the best place to visit. Remember, though, that summers in Crete are quite long. Therefore the local season starts early in May and ends sometime in the middle of October.
If you're looking to meet new people, make friends, and go dancing, the months of July and August are the best time to visit. You'll be able to enjoy the warm seas of Crete, pristine beaches, and a myriad of night places where you can be certain to spend an unforgettable summer holiday.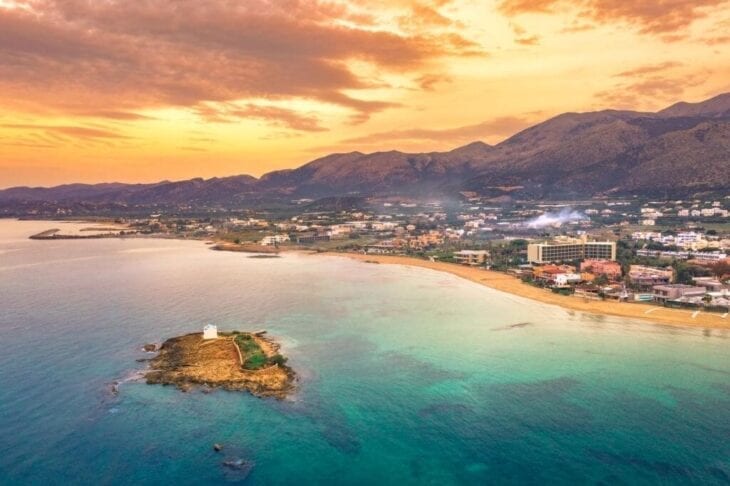 Take into account that Malia offers great opportunities also for those travelling during the shoulder season. The village is close to Heraklion, the busy capital of the island, but also not far from the coastal towns of Chersonissos, Sissi, and the city of Agios Nikolaos.
Those visiting at the beginning of the season (April and May) or late in October should remember that temperatures won't be as hot as in the middle of summer, but the places will certainly be much less crowded and easily enjoyable.
How to get to Malia
Getting to Malia by car
Getting to Malia from the Heraklion airport (and from the port of Heraklion, too) is quite easy. It's a 35 km ride, and it can take you from 30 to 40 minutes to get there. The journey is really straightforward, and it's impossible to miss the exit if you follow the road signs.
Reserving a car hire in Malia is the easiest way. Rental Center Crete offers free delivery and collection service to your accommodation in Malia.
Getting to Malia by bus
There is a direct bus that departs from Heraklion, which operates on a daily basis. However, buses depart every four hours, so it's always a good idea to check the bus schedules ahead. The ride is about an hour, and the tickets cost 5 euros.
Getting to Malia by Taxi
While taking a bus from the airport to Malia does save you some money, it can be a bit uncomfortable as well. Getting a taxi ensures that your ground transportation will be secure and enjoyable, and you won't even have to worry about driving. You can get a taxi once you arrive at Heraklion or Chania airport, or you can book one in advance to avoid any last-minute trouble.
Best things to do in Malia
Malia is a small but quite lively seaside resort where it's possible to find everything you need for your holiday, from great beaches to restaurants, tavernas, beach bars, clubs and lots of shops.
For families, kids have the option to also spend some time in the different video game arcades or splurge on delicious ice creams in one of the many parlours in town.
Being such a popular destination among British tourists, there are endless places in Malia where you can have a traditional and classic full English breakfast. There are also several pubs serving beer, fast food joints, and coffee points as well.
When it comes to evenings, nights come alive not only in the beach bars set directly on Malia's coast but along Dimokratias Avenue, the main road in town.
It's possible to explore different discos and pubs and take part in the many special events that most venues propose every evening, featuring international DJs or themed nights.
Interact with the animals in Amazonas Park
About 25 km from Malia, on the road that connects the town with Agios Nikolaos, it's possible to spend a fun morning in Amazonas Park.
Although many like to call it a zoo, the place is, in fact, a park and rescue centre where visitors can interact with animals instead of just witnessing them in cages. On some days, it's even possible to feed them. And you won't just see the local fauna but also several exotic species, including lemurs, parrots, and monkeys.
Visit the Minoan Palace of Malia
Malia is home to the third biggest Minoan Palace unearthed on the island, right after the imposing Knossos Palace (quite close to Heraklion) and Faistos, always in the Heraklion Region.
During a visit to the archeological site, it's possible to discover the rest of the buildings, magazines, storage rooms, and quarters where the Minoan civilization prospered thousands of years ago. There's also a small but interesting museum at the entrance of the site, well worth a visit.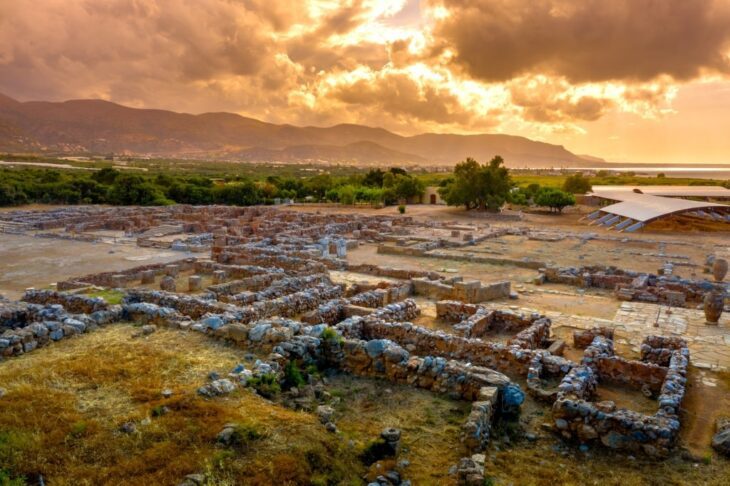 Those interested in knowing more about the Minoans and this particular archaeological site would certainly enjoy booking a tour of the Archaeological Museum of Heraklion (about 45 minutes away from Malia).
The museum, one of the most important in Greece, exhibits hundreds of Minoan objects, such as huge storage vases, everyday objects, and some unique and intricate pieces of jewellery that were discovered at this site. The high level of craft and detail in some of the pieces is simply stunning.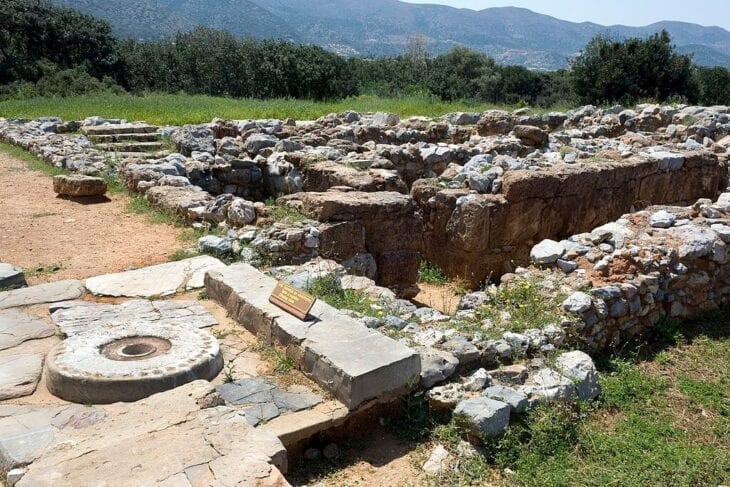 Try canyoning at the Roza Gorge
Although the Roza Gorge bed cannot be hiked due to its steep descents, it's still possible to experience extreme canyoning in the rappels of Roza. The largest of them all is about 15 metres high.
There are several canyoning schools, both in Heraklion and in Malia, that organise group descents. Check in advance what equipment you would need to bring with you to make an attempt at Roza Gorge.
Spend a day at sea and visit Dia Island
The small island of Dia is located a few miles off the coast of Heraklion, and a visit to the island can be an excellent opportunity to spend a different day on Crete.
There are several boat trips available, including private yacht trips, that offer sailing tours on the northern coast of Crete and that have a stopover at Dia as their main feature.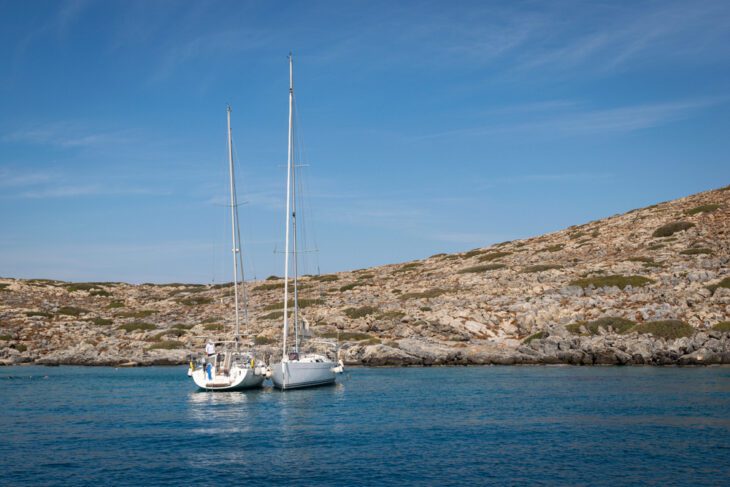 You can participate in the activities that tours include, such as snorkelling or fishing, or you can just swim in the crystalline waters, relax under the sun, and spend a gorgeous day in a place of unique beauty.
One of the main features of Dia is Saint George Bay, a small shore with sparkling turquoise waters. Tours usually include a typical Cretan lunch in their fees.
Check Potamos Beach
You can simply explore the coast of Malia to discover your favourite beach in the area. Or you can take your car to explore some more remote beaches in the area for a day of complete relaxation.
Take our word and spend a day in the beautiful coves at Potamos Beach, less crowded than the Malia beaches and with a completely different atmosphere.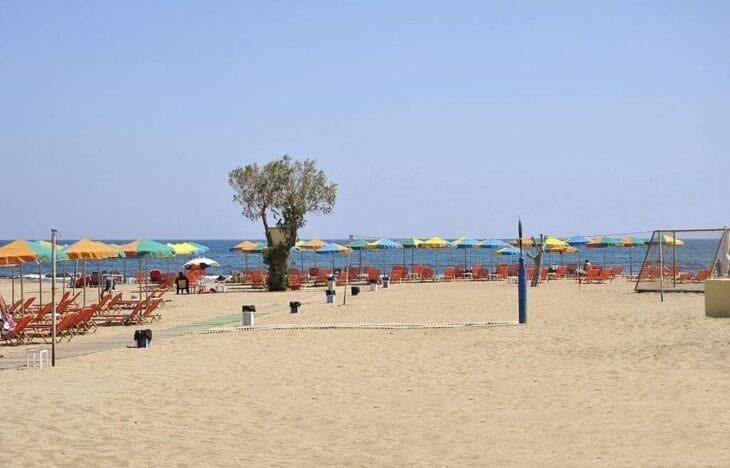 If you're looking for a beach with crystal clear waters, wide, clean, and relaxing, then Potamos is the place you've been looking for. The beach is organised, so it's possible to rent a sunbed and umbrellas. There's also a taverna serving simple dishes but delicious, as well as a beach bar for cold drinks and snacks.
Do you need to book in advance to visit The Malia?
Yes, you do. At least if you want to stay on the safe side. The days of visiting Malia and being able to haggle over the cost of a hotel room are long gone. Even if you do end up getting a place to stay at the last minute, it won't be the best deal. The best lodging options frequently sell out well in advance of your arrival on the island. There are better offers online, as can be expected. Just make sure you do your homework before selecting the hotel you will be staying in.
What is the best vehicle for visiting Malia?
The best vehicle for visiting Malia is a Compact class car like Toyota Yaris or Volkswagen Polo. The best way to explore Malia is by driving a compact car. It will make exploring the city more fun with its cute and compact size. Travellers driving cars going to Malia will be free from schedules to explore historic sites and old villages. Crete Car Rental is one of the many car rental companies that offers the best affordable prices. They have a website, wherein one can easily reserve a booking by following simple procedures. Car Rental Crete provides many options, especially for tourists who wish to rent a car to go around the island and visit tourist attractions.
Can you rent a car to go to Malia?
Yes, you can! There are many rental car companies that allow you to rent cars. All you have to do is meet some minimum requirements that are mentioned below.
What are the factors to consider before renting a car in Crete?
Before going to get a rental car in Crete, make sure you know exactly what you need. We advise you to think carefully about a few key factors so that you are ready for whatever is required. Continue reading!
Insurance
Collision damage waiver insurance is included with car rentals, and a driver with a debit or credit card is needed as a guarantee. You should ask the Crete vehicle rental company for full insurance, which is also available at an additional cost. Luckily, this does not require a credit card. Keep in mind that damage to mirrors and glasses is not covered by either type of insurance. In the event of an accident, you should call the company where you got the rental car as soon as you can. Also, make sure you remain there until a representative arrives.
Driver's Age
In Crete, you don't just need a driving licence to rent a car. In addition to that, the driver must be older than 21 and have held their licence for at least a year. If you are between 21 and 23 years old, make sure you ask the employer about any restrictions since some companies want the driver to be at least 23 years old.
Necessary Documents
The main issue facing vacationers looking to hire a car is that they mistakenly believe a driving licence to be the sole requirement. However, keep in mind that in order to offer a guarantee, you must also have a credit card in your name. You may still hire a car in your name using your credit card if you forget your licence, but another driver with a valid licence is permitted to take the wheel. Of course, driving without a licence is not permitted in Greece.
Car type
In Crete, most rental car companies have cars with manual transmissions. This will not be an issue if you are fine with driving them, but most people cannot drive a manual transmission. Automatic cars offered by rental companies are sometimes more costly. Apart from this, they are fewer in number. So make sure you have made your reservation in time.
How much does a car rental in Crete cost?
The company you select and the vehicle you rent will have a big impact on the cost of your rental car. The days you require the car may also affect the cost. Plus, the busiest travel times can occasionally be more expensive than off-peak times. On average, this might range in price from €15 to €22 each day.
A small car costs as little as €14 per day, whereas an economical car costs between €7 and €9. Keep the phrase "from" in mind since most of the time, there are some additional fees. A normal car will cost around €26 per day, whereas intermediate models often start at €19.
SUVs and minivans cost an average of €23 and €34, respectively, making them more costly. A full-size SUV can cost up to €45 to rent at first, while a luxury vehicle can cost up to €75 per day. A mini may be rented for as low as €7, while a convertible typically starts at about €31 on average.
Again, a number of factors, including the company you select to rent a car in Malia from, will affect the price you pay. Your daily prices will often be less expensive if you rent your car for a week or longer. Remember, changing your number of days may affect your pricing.
What are the nearest attractions in Malia?
When visiting Malia, remember that there are many places you can go to which are very close to the town. Here are our top three picks:
Mochos Village
The village has maintained its distinctive color, and since it is bordered by olive groves, vineyards, and fruit trees, you can witness nature wherever you look. Visitors may stroll through the picturesque, winding alleyways of the village, taking in the well-preserved old churches and stone-built Cretan homes before resting in the village square.
The temple of the Annunciation-St. Paraskevi dominates the vast, paved, and tree-lined square in the village's center. Old, traditional cafés and taverns may be found in the plaza, where guests can enjoy Cretan cuisine. The Cretan musical culture is another aspect of Mochos village that makes it a place worth visiting.
Lychnostatis Open Air Museum
Visiting Lychnostatis Open Air Museum will be an entirely different experience. This is because the museum is based on the personal collections of an ophthalmologist and his wife. This museum's collections focus on Cretan folk culture, nature, the environment, tradition, and ethnology.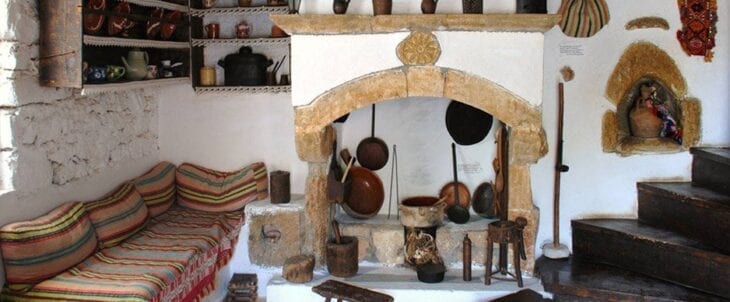 The 150-seat auditorium, wine, and olive presses, merchant homes, weaving and pottery workshops, library, folk art gallery, stone and mineral exposition, 250-seat theatre, café, and store at Lychnostatis Open Air Museum make it more intriguing and distinctive from other museums in Crete. Additionally, they host a variety of activities, including wine and grape tastings, various theatre productions, Greek dance performances, and an annual celebration called "Traditional September."
Stalis Beach
The beautiful Stalis beach, also known as Stalis beach, is located between Malia and Hersonissos, approximately 30 kilometres east of Heraklion. Stalis, which was once a little beach community founded by the people of Mochos, has now combined with Malia town to become a well-known tourist destination. But what sets this place apart from Malia beach? Stalis is more family-friendly and has a more peaceful atmosphere. The resort has a great mix of big and small hotels, eateries, pubs, and taverns. You can also enjoy the sun on the long, sandy beach with shallow water that stretches all the way to Malia in the east.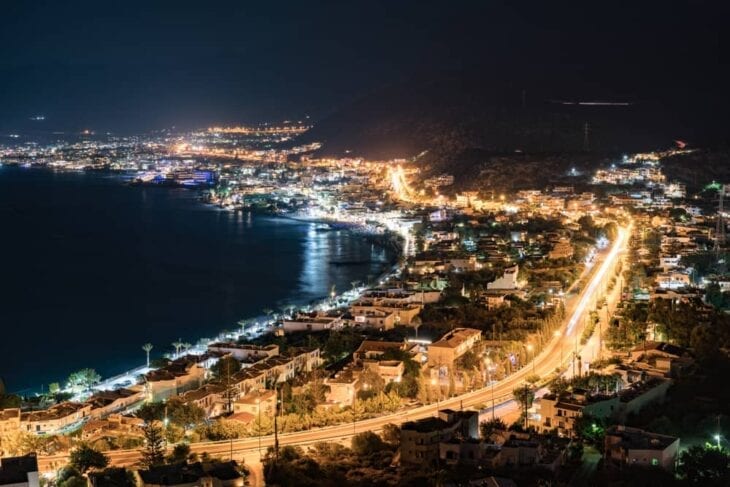 Popular restaurants in Malia
There are plenty of restaurants and local tavernas to eat in Malia. Here are some of the best we collected for you.
The Brasserie
A popular taverna for pizza, pasta, and grill, as well as for a quick lunch. Located in the central area of Malia, at number 2, Tsagkaraki Street.
Telephone: 0030 2897 029696
San Giorgio Taverna
Nor right in the center position, this is among the most popular tavernas to enjoy a typical Cretan dinner when visiting Malia. It's located on 28th of October Street, and it's a great place if you're visiting with kids.
Telephone: 0030 2897 032211
The Loft
One of the most popular eateries in Malia, The Loft is located on Mattheou Zachariadi Street in the center of Malia, and the portions are super huge… we warned you!
Telephone: 0030 2897 033808
Popular nightclubs in Malia
Malia is well known for its nightlife, probably as much as Ibiza and Magaluf. It is famous as one of Crete's and Europe's most visited tourist destinations. Young people from Northern Europe and Great Britain are the predominant visitors. The popularity of well-known DJs and events solidifies Malia's position as one of the top destinations for nightlife in Europe. Numerous pubs, clubs, taverns, and restaurants may be found on the Main Strip.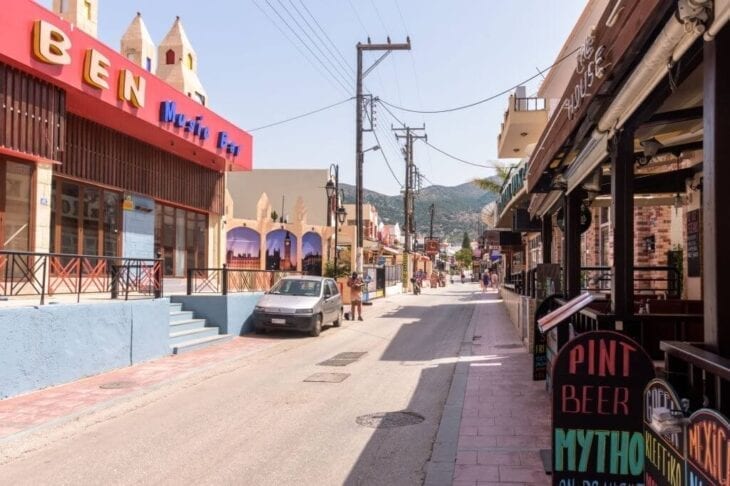 The Saltire Lounge – Malia's only Scottish Pub
A great place to chill right after or before your crazy night in Malia's nightclubs. You'll find anything from fish and chips to Scottish pints and whisky. The pub also features Sky TV for live sports, a Scottish size pool table, karaoke, and dart boards.
Corkers Nightclub
One of the most popular discos in town and a favourite among the younger crowds.
Zig Zag Club and Lounge
Great mood and choice of music for another popular venue along Malia's main nightclub strip. Cocktails are tasty, and prices are convenient.
Warehouse Club
This is another superb venue for your Malia nights. The public appreciates the music choice, the drinks, and the atmosphere.
Oasis Pool Bar
Ideal for those looking for pool parties and loads of fun. The place is especially popular among very young adults and teens.
Apollo Club
Featured as Malia's Unique Urban Club and described by partygoers as the best club in Malia, Apollo is a classic in town for alternative music and long dancing nights.
Mango Cocktail Bar
Another Malia classic that has built a great reputation for the endless cocktail list with unique tastes and combinations. A cozy, relaxing atmosphere to spend a great time with friends before hitting the dance floor.
Candy Club
Another classic in town when it comes to popular dance floors. Check out the theme nights at Candy Club, such as Wednesday Malia Live, Saturday UV, Malia Live Festival after party, and Majestic Monday.
Popular hotels in Malia
There are several hotels, studios, and apartments to rent and all-inclusive resorts for you to book for your holiday in Malia.
Possibilities range from fantastic seaside accommodations where everything is included to more modest options for those travelling on a budget.
Since Malia is such a popular place among young crowds, the area is usually packed during the months of July and August. The first weeks of September are also quite popular with young travellers because prices are definitely more convenient.
Late September is often better for those less interested in nightlife, but more into adventure holidays, relaxation at the beach, and a more authentic Cretan atmosphere.
No matter when you choose to travel, it's always best to book your room in advance to get better fees and plenty of availability. These are some of our favourite places to stay in Malia.
Malia Mare Hotel
If you're looking to immerse in lush green gardens, this is the hotel you might be looking for. Just 1 km from Malia Beach, this is one of the best hotels you can choose in town for a convenient yet classy holiday. Complimentary parking places are a great feature for those driving their rental car in Malia.
Address: Dimokratias 10 – Malia
Telephone: 0030 2897 031809
website link
Sun Village Malia Boutique Hotel and Suites
Comfortable sun lounges by a stunning swimming pool amidst the green gardens are one of the main beautiful features of this elegant and comfortable boutique hotel in the heart of Malia.
Address: Tsagkaraki Street – Malia
Telephone: 0030 6932 528383
website link
Sirens Hotels Beach & Village
A great all-inclusive resort in Malia, this hotel features beautiful gardens along the Bay of Malia, as well as a bungalow with comfortable terraces to enjoy the stunning sea or mountain views. Family rooms are also available. The hotel has a private beach area, a gym, a spa, and a taverna-style restaurant.
Address: Tsagkaraki Street – Malia
Telephone: 0030 2897 035100
website link
Popular Beach Bars in Malia
Malia is full of bars on the main street and plenty of beach bars. Here are the most popular ones.
Dolphin Beach Bar
Located right on the main beach of Malia, the place is excellent both for a plentiful breakfast by the sea as well as for a quick lunch or a pint of beer at sunset time.
Telephone: 0030 2897 033775
Thalassa
Thalassa is located at the end of Malia's main road, also on the beach. Popular and usually crowded, Thalassa is a great place to relax after a day at the beach. They also serve quick dishes and traditional Greek souvlaki.
Telephone: 0030 690 7003873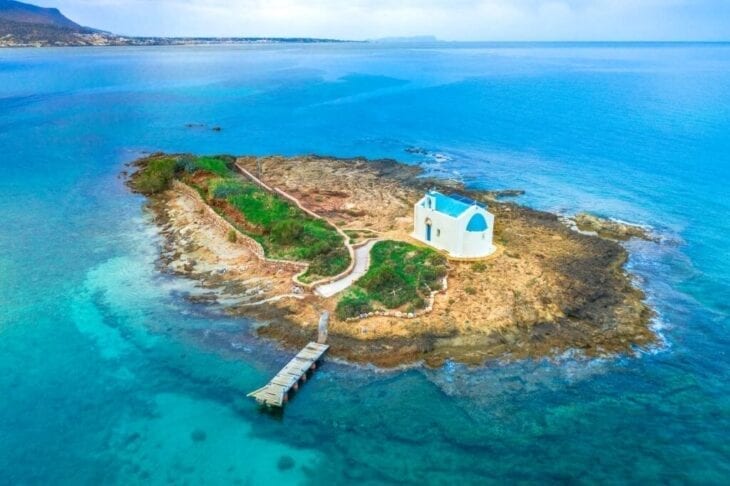 Why is Malia considered an archaeological site?
Malia is considered an archeological site because of the Palace of Malia archaeological site, which is located three kilometres to the east of the village of Malia. The Palace of Malia is the third-largest Minoan palace in terms of size and is regarded as its most "provincial" counterpart. It had a 7,500 sq. m. area. The Palace of Malia is a prominent must-see Minoan monument and one of the most famous archeological sites to visit in the area.
Is Malia in UNESCO World Heritage Sites?
While the Malia archeological palace is in the UNESCO World Heritage Sites, the town of Malia is not.