Cretan Villages have a unique charm and some interesting tales to tell. Seeped in culture and steeped in history, these villages will make you feel like you've stepped back in time as soon as you enter them. From quaint cobbled streets to photogenic views of the sea, discover the beauty of old Cretan villages for yourself. Here are our top picks for old and historic villages that should be on your Crete trip itinerary!
Which are Crete's Old and Traditional Villages?
There are a bunch of old and traditional villages scattered throughout Crete's colourful landscape. Stone houses, narrow streets, and traditional architecture define these villages. Crete's heritage is also celebrated in a number of cultural festivals. Visit one of Crete's old and traditional villages if you're into history, culture, or just want to experience a unique and authentic travel experience. So, here is the list for Crete's old and traditional villages:
Vamos
Vamos is a unique destination, nestled in the foothills of Crete's beautiful White Mountains. With it being just 25 km away from the city of Chania and at 300 metres altitude, its lush surroundings are sure to provide an unforgettable experience. It is believed that the first inhabitants were Arab pirates back in the 8th century, as noted by Venetian census records from 1573, which estimated 271 residents at the time.
The period of Ottoman rule in Vamos was an era filled with progress and advancement. In 1863, the pasha Savvas chose Vamos as a military and administrative headquarters for Sfakia, seeing the potential to make it a thriving area. The people of Vamos expressed their enthusiasm by outwardly displaying evidence of wealth and prosperity, such as mansions built in the neoclassical style. Despite this apparent luxury, however, revolts against Ottoman rule were being staged across the region. They eventually found success in Vamos when the Cretans were liberated from Ottoman rule after a successful battle in 1896. Thus ends an era marked by evidence of growth as well as a testament to their strong patriotism.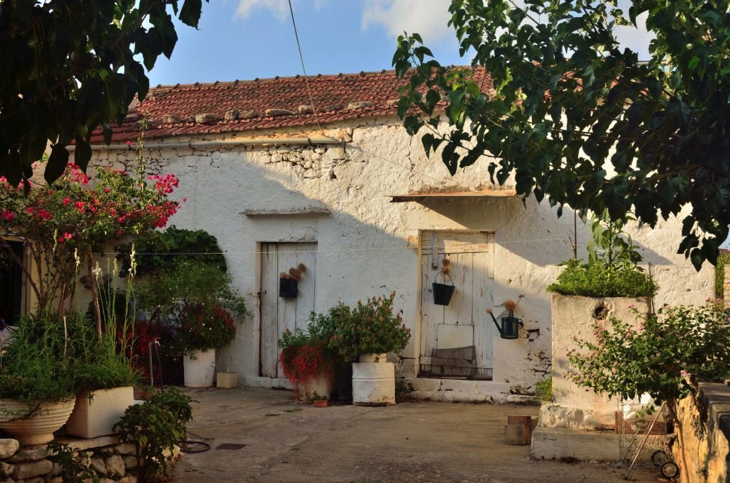 Admirers of architecture will be enthralled by the village of Vamos, which the Venetians have greatly influenced up until the 19th century. Here, one will find a treasure trove of well-preserved houses and lovingly crafted neighbourhoods and gardens. The old district of Vamos is of particular interest to visitors – an absolute must-see – along with the Parthenou Marias chapel, a 13th-century monument. Let's not forget the Karydi monastery that boasts an extraordinary arrangement of twelve arches and remains of an ancient olive press. Nearby at Karydi can also be found Agios Georgios monastery where, after having been abandoned for many years, it was reborn in 1996. Cited as one of the foremost examples of folk architecture in Chania, it affords tourists a truly unique opportunity to enjoy this wonderful piece of cultural legacy. So whether you're looking to explore nature or history, Vamos is diverse enough to provide a perfect escape.
Anogia
Anogia village, located in Rethymnon of Crete, is certainly one of the most popular tourist attractions around. It is perched on the slopes of Psiloritis with an altitude of 700 metres, allowing it to remain distinct by preserving the local music, folk art and tradition since ancient times. The locals here have managed to differentiate themselves from other Cretans in terms of their customs and dialects. However, this village holds a tragic past – it had gone through two devastations by Turks as well as Germans during World War II when they had abducted a German General called Krieppe, which led to all men being rounded up and killed as a result. Despite its sorrowful tale, Anogia remains one of the most sought-out destinations today due to its exquisite beauty and unique culture.
The picturesque village of Anogia is one of the most interesting places in Crete. The locals are mainly engaged in agriculture and have maintained a strong traditional character amidst modern development. Here you will find plenty of examples of traditional Cretan hospitality and even people who wear traditional costumes! Furthermore, the women in this community still weave exquisite weavings, which can be found for sale in various shops around the village – hence why the first ever women's cooperative was founded here. Visitors to this area can also enjoy many other nearby sites, such as the Nida Plateau, Ideon Cave, Skinakas Observatory and the ruins of ancient Zominthos. Notably, it is also the birthplace of two famous Cretan singers and musicians: Nikos Xylouris and Psarantonis.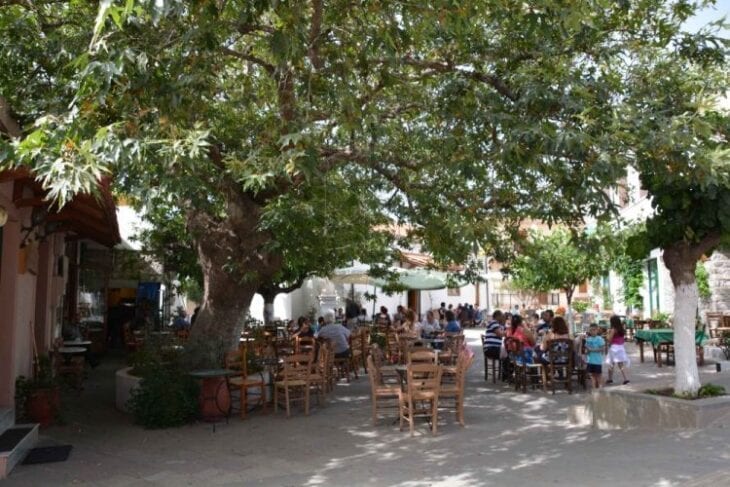 Those looking for a truly traditional Greek experience should make their way here. The air is refreshing and fragrant, the local Raki deliciously strong, and the food is cooked with local ingredients. Tavernas in the lower part of the village are especially noteworthy, as many offer tantalising lamb dishes cooked to perfection. Taking a break in the square is a perfect opportunity to admire local life up close while enjoying coffee and galaktoboureko. During the summer, music lovers can come together to enjoy traditional Cretan music in concerts at the open theatre or festivals throughout August. The cultural club of Anogia organises regular cultural nights, which have gained much attention from both locals and tourists alike – an evening must-see! Finally, those who arrive in July will be fortunate enough to attend Yakinthia, an annual artistic event held at Fourni.
Zoniana
Nestled in the best of nature's beauty, Zoniana is a picturesque mountain village perfect for those looking to immerse themselves in traditional countryside living. It lies 43 km from Heraklion and 52 km from Rethymno, right at the foot of Mount Ida (Psiloritis). Here, its inhabitants partake in professions such as livestock rearing and agriculture – it's no surprise that both contribute to Zoniana's natural bounty. In 2011 its population amounted to 1,117 people, which goes to show just how popular this rustic jewel is with locals and travellers alike. Conveniently located near Anogia further up north, Zoniana is a peaceful haven for experiencing Crete's old-world charm.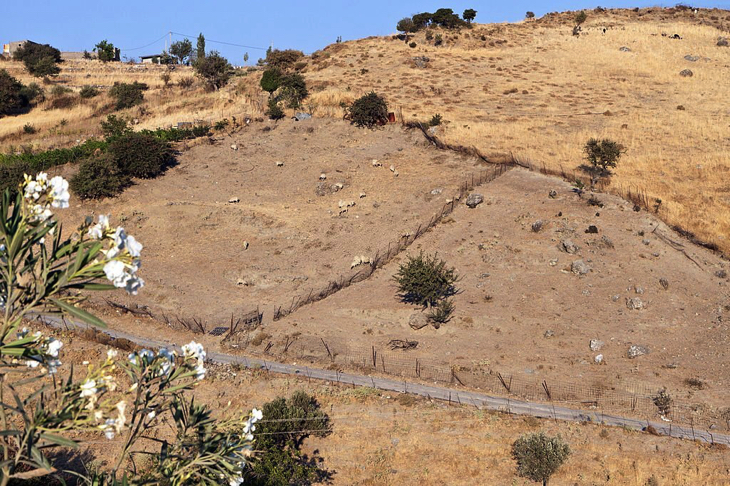 The small village of Zoniana is known by its current name, but it has a long and distinguished history. It was originally named Zuliana, after the shepherd Za who discovered water at the site. It then took the name Zoutolakkos, meaning "Zou in the pit", finally leading to the predecessor 'Live God' in local expression, which was derived from Zeus. During 1821-1866, locals revolted against the Turks and thirteen Zonians fell during battles for independence in 1912, including the 1928 Minority Campaign and Seventeen Personnel in World War II. The legacy of this tiny village continues in tribute to those who have passed their courage through generations of family and friends.
The village of Zoniana is truly a must-see destination for history buffs. The entrance alone is full of wonders; it contains the cave of Sfendoni, or "the Spenton or the Hole", which is filled with beautifully formed stalactites and stalagmites. Furthermore, traditional "Shotons" are celebrated every year with theatrical performances and lively celebrations. And to top it all off, Mr Dionisis Potamianos has even gone as far as to create his own wax museum in Zoniana named the "Potamianou" Museum, consisting of 87 waxworks in natural size depicting scenes from Crete's fascinating history. So if you have an interest in learning more about this historic Mediterranean region – head to Zoniana!
Sfakia
Chora Sfakion is a picturesque town located on the island of Crete in Greece, about 75 km from Chania town. It is located in the south part of Chania region, the capital of its proud and unique region known as Sfakia. With its vibrant colours, stunning views, and rich historical connections, this charming little town has much to offer visitors. From beaches perfect for taking an afternoon dip to archaeological sites pre-dating existing written records, even seasoned travellers are sure to be impressed with what Chora Sfakion has to offer. It's steeped deep in history and far removed from the bustle of metropolitan life – a perfect place to escape and relax while embracing some of the most beautiful landscapes around the Mediterranean Sea.
This village in Sfakia has a remarkable history of insurrection, struggle and resistance against the Venetians and Turks throughout the centuries. Daskalogiannis, a well-known Cretan hero and symbol of liberation from tyranny, was born in Anopolis, only ten kilometres away. During World War II, the people here remained strong during the gruelling Battle of Crete. They continued to honour his legacy even after his execution by the Ottomans. Tourists can still witness many monuments honouring this period of solidarity today. The history of this small seaside village is truly unique – a testament to its distinctive character then and now.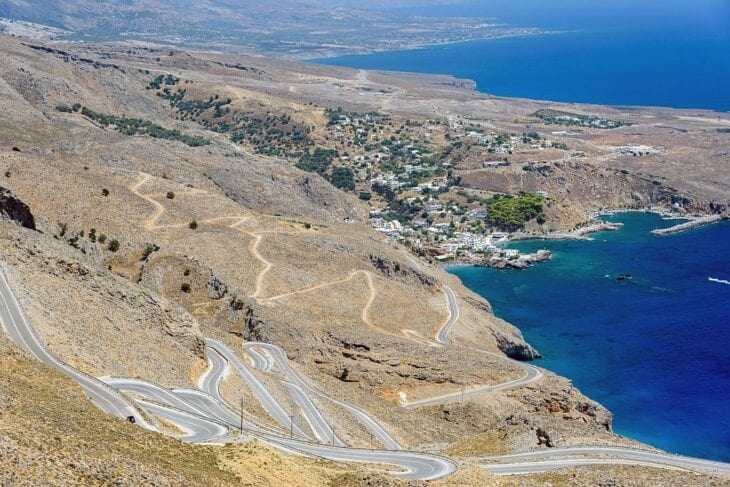 Sfakia is a perfect blend of old-world charm and modern industry. Despite its small size, Sfakia hosts several small industries, from fishing to sheep herding, olive production and even tourism. Visitors here tend to be explorers looking for a truly authentic experience not offered by average hotels or structured trips. The locals take pride in their hospitality and tradition, warmly welcoming visitors with open hearts, as they have done for centuries. So why not take the plunge and visit yourself? Your inner explorer will thank you later!
Archanes
Archanes is a charming town located in the Heraklion regional unit of Crete. It is situated about 15 kilometres away from the city of Heraklion. It sits at an elevation of approximately 400 metres between the majestic peaks of Mt. Psiloritis and Mt. Spathi. With its truly stunning mountain landscape, visitors are able to explore both the fascinating and beautiful interior of Crete while still being close enough to access many breathtaking beaches along both the northern and southern coasts. Archanes offers a remarkable view of the surrounding countryside, making it an ideal spot for travellers seeking to directly experience Crete.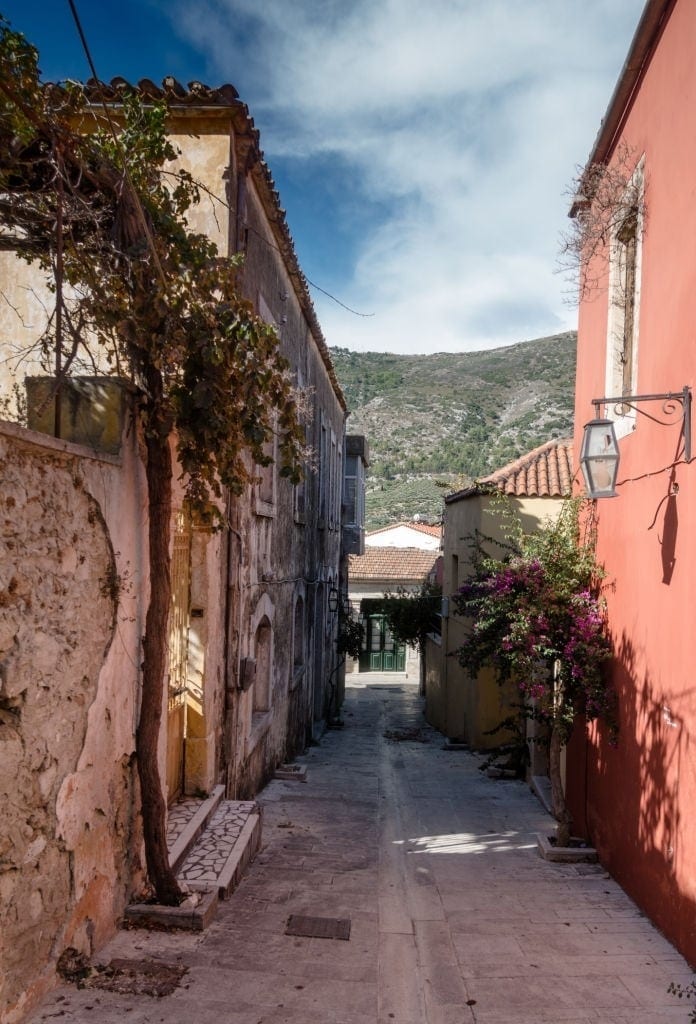 Archanes will remain an important place to visit for anyone curious about uncovering ancient Greek history. In 961, the city saw a momentous event as Nikiforos Fokas liberated it from the Arabs and paved the way for Venetian control in 1205. This period was characterised by the construction of several ornate churches that remain today. Archanes played an undeniably important role in the revolt of 1897 against the Ottoman rule, with a defence committee based here coordinating operations throughout east Crete. Archanes was again at the centre of the action during World War II. It served as both a command post for German forces and an underground hub for espionage activities. Understandably so, Archanes is steeped in centuries of well-preserved history that serves as an interesting reminder of its remarkable past.
Arkadi
Laying amongst the majestic mountains of Crete lies the gorgeous Arkadi Monastery, known far and wide for its beauty and historical importance. Located at the base of Mt. Psiloritis, also known as Mt. Ida, this spiritual centre is near Margarites and Kapsaliana, around 25 km southwest of Rethymnon. Records place the establishment of this idyllic Monastery as early as the 5th century though its name origin still remains uncertain. There are several conjectures regarding the naming of this wonder. Many speculate that it may have been built during or in tribute to Roman Emperor Arcadius' reign from 385 to 408. Others propose it was founded by a monk named Arkadios. Nevertheless, today, this great fortress stands proud and can be visited by all tourists.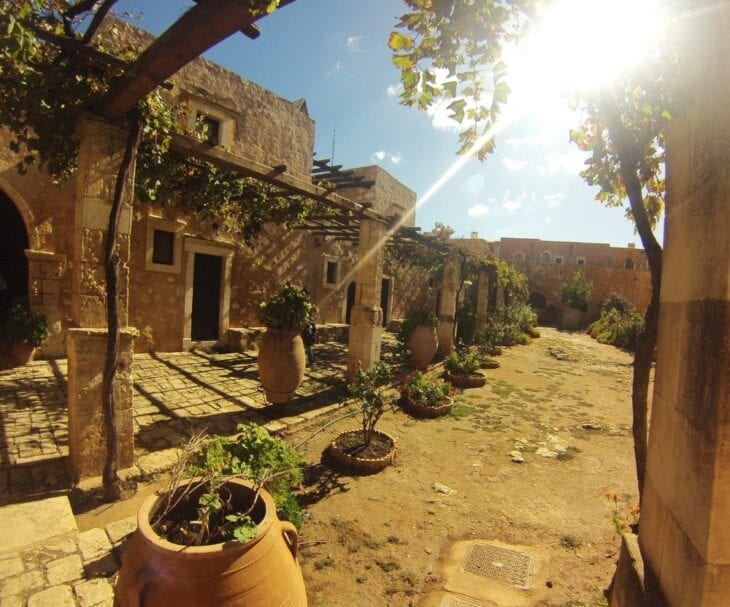 During the Byzantine period, the small village of Arkadi flourished and nearby was another monastery, Moni Arseniou. In 1648, the region was conquered by the ottomans. However, surprisingly, Arkadi Monastery still experienced success as it was renamed Canli Monastir (which translates to 'the monastery where the bell rings'). This sanctuary was able to sustain itself through agriculture as sources of the time recorded its plentiful resources of wine and oil. However, after a long-stretching of two centuries under Ottoman authority and struggles endured during the Greek War of Independence, significant tragedy ensued at Arkadi. This resulted in what is now referred to as 'The Arkadi Monastery Holocaust'. From this great loss emerged a widespread spotlight on Cretan's fight for freedom on an international level.
The small Cretan town of Arkadi saw a devastating tragedy in November 1866, when tension between their people and the nearby Ottoman Empire rose to its peak. Over two-thirds of the thousand people sheltered in the Monastery were women and children, with only 250 of them armed. After two difficult days, with their munitions eventually running out and many fighters lost, the survivors all closed themselves within the gunpowder room, which was then ignited as an ultimate sacrifice for their beliefs. The events that followed left skulls scattered across the grounds, now proudly stored in an ossuary outside the monastery walls. If you are interested in getting sprung into Cretan history, visiting this memorialised village is a must-do – you will never forget it!
Krasi
Krasi village is a traditional mountain getaway that sits at an impressive altitude of 600 m, providing some incredible views of the north coastline. Sitting 46 km from Heraklion, it's northwest of the base of Mount Selena and only 8 km past Mochos. For those who want to experience the full beauty of the area, hitting the open road towards Krasi is a great idea. It provides a winding journey up from Stalis and towards the Lassithi Plateau – allowing for panoramic views that no camera could ever do justice.
Krasi holds special significance from an archaeological point of view. The Early Minoan Tomb, located next to the western edge, is one of the region's main attractions. Discovered in 1929 by Spryidon Marinatos, this circular arched tomb contains scattered bones and shells from the Minoan Period, reflecting a strong Cycladic effect. Further explorations have unearthed residential and burial artefacts that further emphasise the area's rich history. It goes as far back as 1280 and 1583 when references to Venetian censuses detail 169 inhabitants living in Krasi, and no Turks present during Ottoman domination. This unique archaeological site is a must-see destination for anyone who wishes to explore an important witness of ancient geographical, cultural and Historical evolution.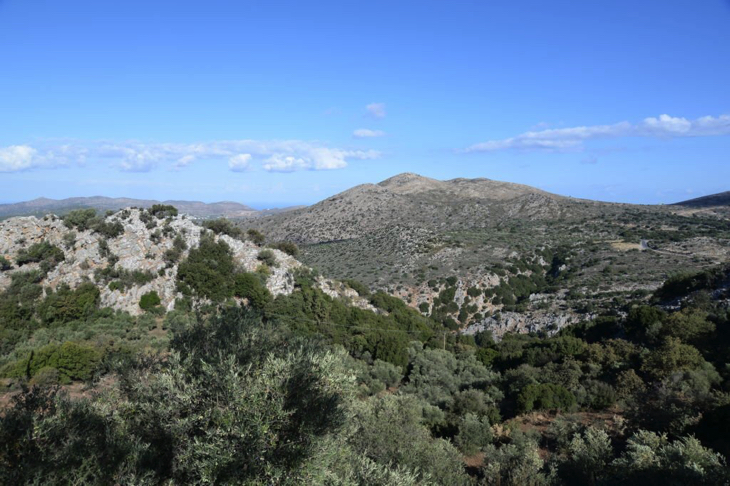 At the village square, three substantial plane trees and two ceramic water fountains command attention, with the largest tree believed to be 2,400 years old. From there, path-lined streets open up to reveal charming residences and churches made of stone. Traditional wood ovens can be found at nearby cafes and taverns, serving up irresistible local dishes that capture the authentically inviting atmosphere of Krasi. The village's famous warmth and hospitality will stay with you long after you've left its precincts. These qualities remain rooted in Krasi no matter when you come back for more.
Spili
Situated in the area of Northern Crete, the traditional mountain settlement of Spili is a true example of an idyllic rural Greek village. Built amphitheatrical on the well-wooded western side of Vorizia Mountain, this beautiful and tranquil place gives travellers a peaceful atmosphere far from the hustle and bustle of modern life. With its lovely cobbled streets, natural springs, and enchanting architecture, it's easy to see why Spili is one of the most sought-after destinations in the Rethymnon prefecture. Moreover, its convenient location, only 30 kilometres from Rethymno, makes it an ideal spot to explore Crete.
The village's long history stretches back to the Second Byzantine Era. Along with this ancient history, written references for the settlement from 1577 exist as well. What is interesting about the village is that it is divided into two areas – "Spili epodes" and "Spili pera" -which reflects its unique history and culture. Furthermore, during both the Turkish and German Occupations from the 19th century onward, local residents had an important part to play in the politics and history of Crete. This rich cultural heritage makes Spili a fascinating destination for travellers seeking something outside the usual tourist traps.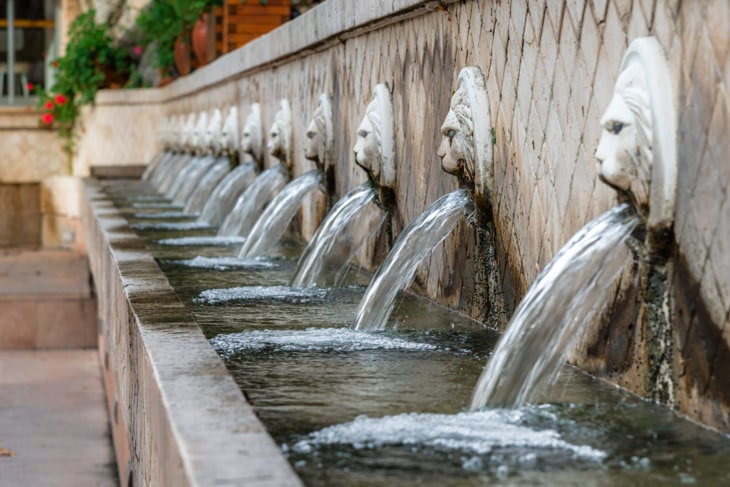 The village with the perennial planes is home to some amazing sights situated in lush countryside. Towering over the small square of the village is an extraordinary fountain decorated with 25 lions' heads, each spewing streams of water from their mouths. Surrounding this spectacle, you'll find many taverns and cafes that have been serving locals for generations, as well as shops of all kinds. It's an exciting experience to wander through these narrow streets and discover grand villas and churches that are hundreds of years old! Last but not least – keeping alive the traditional culture of this region – there are still numerous water mills preserved in this quaint village. Visiting it would be a great opportunity to get some insight into how things were done in bygone times.
Matala
Matala, a beautiful coastal village located approximately 70 kilometres south of Heraklion, is certainly one of Crete's more unique settlements. Known for being a haven for hippies in the past, Matala has since become extremely popular with tourists looking to explore its charms. While many come to gaze at the stunning beach and caves that can be found in the village, there are plenty of other exciting things to do. Visitors can take time to explore the eastern side of the settlement, where various archaeological buildings sit waiting to be discovered. Even more fascinating is what lies beneath – some incredible ruins have been found on the seabed around this area. With so much waiting for you in Matala, it's no wonder that it remains such an intriguing destination today.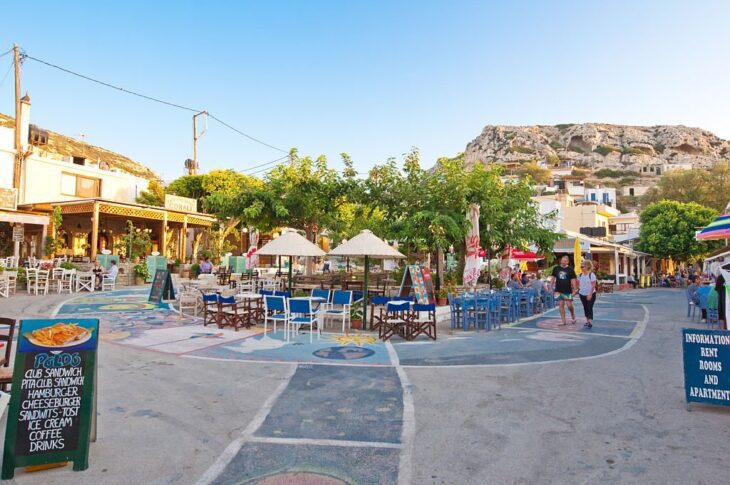 Matala is strongly related to Greek mythology, particularly to Zeus' abduction of a beautiful woman named Europe. After being smitten with her while she was picking flowers in a field, he transformed himself into a white bull and approached her. Europe, realising that this wasn't an ordinary wild bull, made the fateful decision to climb onto its back. Zeus rushed off with his beloved and swam across the sea towards Crete. It is said that the two sailed past Matala en route to the port of Levinos (now known as Lendas). This remarkable story has stood firmly in the collective memory of humanity for ages. It will surely remain there for many years to come.
Matala is a fascinating destination filled with a ton of historical significance. Believe it or not, this small town used to be the seaport for Festos in the Minoan era and Gortyna in the Roman era. The famed boats of Menelaos were said to have been wrecked in this very same area! If you're a particularly spiritual traveller, you must visit the Panagia temple – commonly known as "La Madonna di Matala" – and get your feet washed at the entrance. Not only will this make for an unforgettable experience, but it'll also teach you a bit about the history of the area.
Therisso
Theriso is a small and historically significant Cretan village located 16 kilometres from Chania town in the region of Chania. It holds a special place in Greek history as the birthplace of iconic politician and statesman Eleftherios Venizelos, who sparked a revolution here in 1905. The revolution fought to unite Crete after 400 years of Ottoman rule and subsequent rule by Prince George of Greece. The inaccessible mountain terrain made it difficult to capture. Through this uprising, not only did freedom come for Crete, but it also served as an inspirational example of widespread liberation throughout Greece. It still holds great relevance still to this day.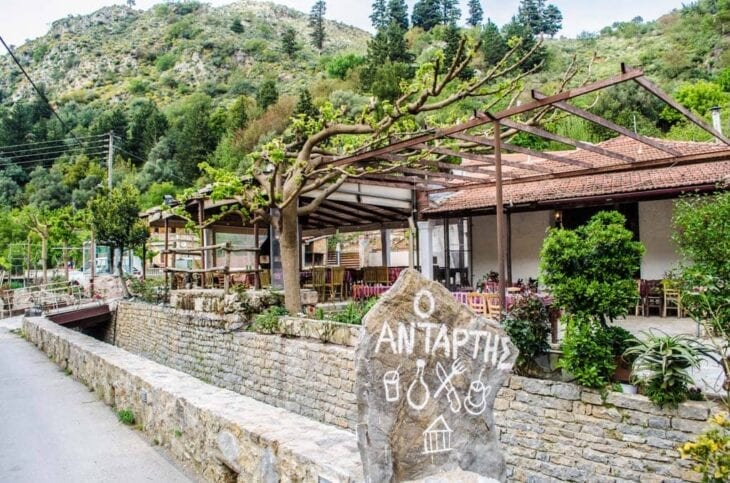 Eleftherios Venizelos' legacy remains strong in the Greek countryside, especially in the village of Therisos. This village of his mother's, Stiliani Ploumidakis, was no doubt close to his heart when it became the centre of unified Crete in 1913. In commemoration of this momentous occasion and Venizelos himself, the villagers created a permanent memorial to their hero in the form of a house – now known as The Eleftherios Venizelos Centre for Independence and The Therisos National Resistance Museum. Both sites honour his memory as well as that of all who were part of Greek liberation, acting as poignant reminders to never forget what was achieved through sacrifice and dedication.
Kritsa
Kritsa is considered one of the oldest and most picturesque villages in Crete. Its remarkable amphitheatre-style layout on a rocky hill, Kastellos, surrounded by olive groves and situated at an elevation of 375 m above sea level, gives Kritsa its magical charm. Dating back to the Middle Ages, Kritsa was a sizable village by Crete's standards then and still has more than 2200 inhabitants today. The village was previously divided into four distinct neighbourhoods, including Palemilos, Koukistres, Christos, and Pergiolikia. Sadly, its unique beauty has come under threat multiple times over the centuries due to its participation in the Cretan revolutions. However, today, it remains a charming reminder of the past, with countless breathtaking views from this historic town.
Kritsa is a historically significant village in Crete, with evidence of occupation as far back as the second millennium BC. Nearby are the ruins of Lato, one of Crete's most powerful Dorian towns, with two acropolis dating back to the 12-13th century BC. Before the entrance of Kritsa is the old Byzantine Church of Panagia Kera, which houses some exceptionally important frescoes from the 13th and 14th centuries. Visiting Kritsa provides a unique opportunity to explore ancient civilizations and gain insights into cultures that span more than 3000 years. From prehistoric settlements to Byzantine churches, you can observe both tangible and intangible layers of history while immersing yourself in Greek culture.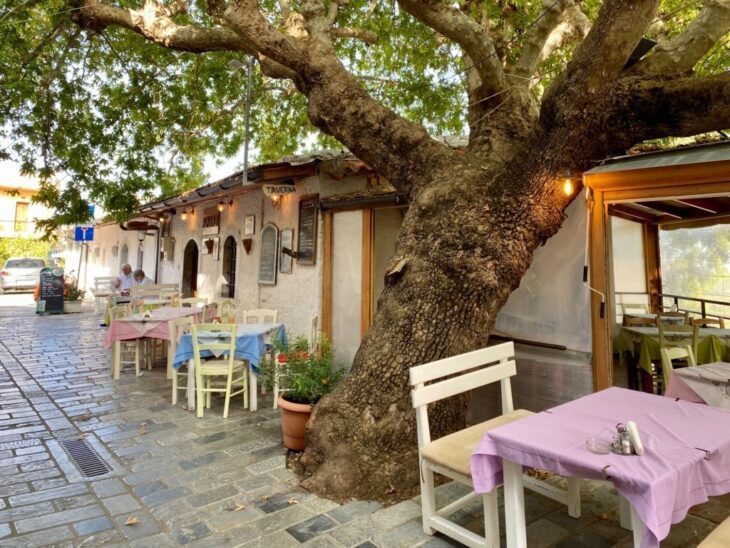 When illuminated in the evening, it takes the form of a scorpion – such an unexpected yet beautiful sight. A major centre for weaving art and home to many traditional customs and cultures, Kritsa is definitely worth venturing to if you find yourself on the island of Crete. Its winding cobbled streets and breathtaking views make it a must-see destination for tourists. From Kritsa, visitors can embark on an unforgettable journey to the Katharo plateau – with remarkable panoramic views of Mirabello Bay, Agios Nikolaos, and Kalo Horio included as extra bonuses! And if that weren't enough, exploring Kritsa Gorge as you pass through Tapes or Lato makes for an even more interesting excursion!
Elounda
Elounda Village is an ideal holiday destination for anyone looking for a beautiful seaside escape to a historical area. Located 11 km from Agios Nikolaos on the north coast of eastern Crete, this tranquil village enjoys a stunning view of Elounda Bay and Kalydon Island, surrounded by mountains and several smaller villages, beaches and bays. Its combination of calm waters, fresh air, and natural landscapes allow visitors to relax and explore all that this mild Mediterranean climate has to offer: sun-soaked beaches, clusters of olive groves, lakeside villas, clear night skies and the unspoiled views of the mountains provide the perfect backdrop for a relaxing retreat. Nestled in the district of Lasithi in the municipality of Agios Nikolaos, Elounda Village is an ideal holiday destination for those seeking a peaceful and historical getaway.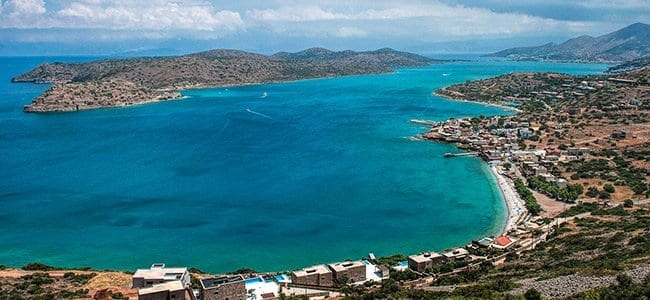 It is believed that the earliest recorded settlement was the ancient Greek city of Olous, which existed in tension with Dorian Lato until a peace treaty was agreed upon. Elounda later fell under Venetian control, during which time the sea claimed much of the ancient city of Olous. At the start of the 1900s, Elounda became a stop-off point for lepers travelling to Spinalonga – an island that eventually acted as a leper colony. Throughout these struggles and conflicts, Elounda has remained remarkably intact, giving contemporary visitors a chance to get a glimpse into its humble past.
Fodele
In a beautiful landscape on the northern coast of Crete, the village of Fodele is thought to be completely surrounded by orange and lemon groves. This quaint community originally developed around a remarkable 14th-century chapel. It continues to be an incredibly popular tourist destination due to its unique atmosphere and rich culture. The village also boasts some of the island's most pristine beaches. Visitors can take in stunning views of Mount Ida or immerse themselves in a mythic history involving Zeus himself. Whether you're looking for a tranquil escape or want to explore ancient Cretan culture, Fodele is the place to go.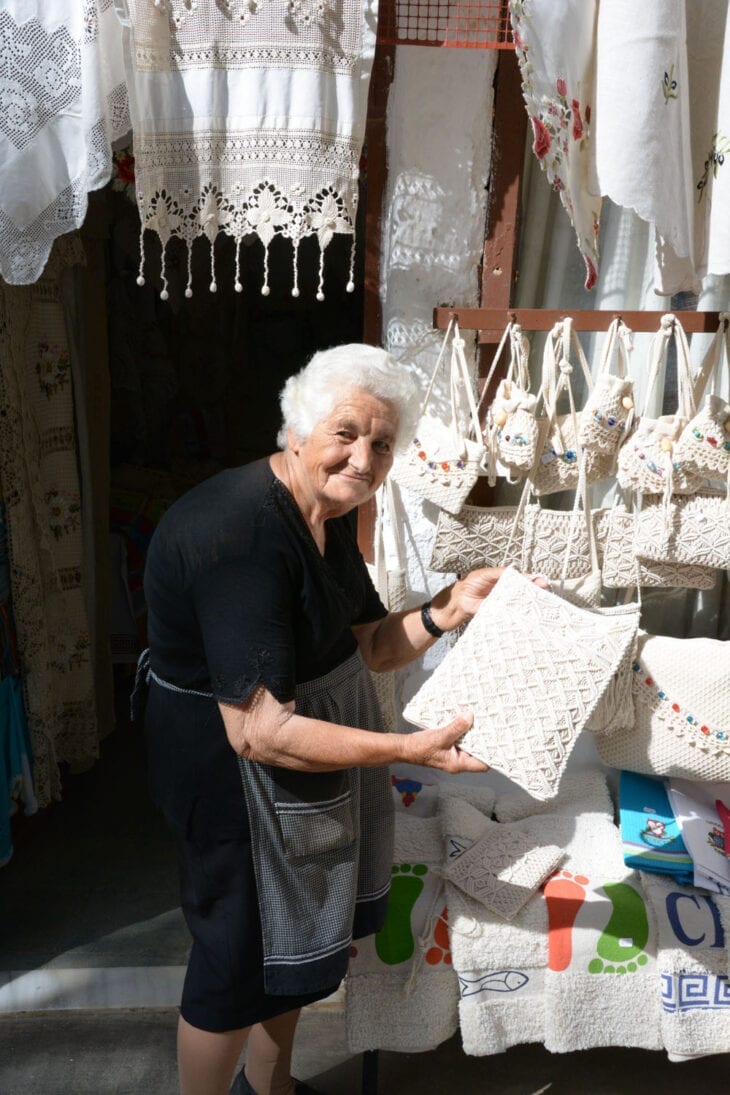 This is a rural village that has a deep-rooted history. Historians have identified it as the birthplace of the ancient town Astali and as the seaport for ancient Axos. In modern times, Fodele is well-known for its charm and makes an ideal spot for both locals and tourists alike to check out. In particular, visitors should not miss the opportunity to visit the El Greco museum dedicated to the famous painter Dominikos Theotokopoulos "El Greco" (1541–1614), who was born in Fodele. And don't forget the old Byzantine church of Panagia and the Holy Monastery of Agios (St.) Panteleimon. It's no wonder that this quaint little village has become such a popular destination!
Margarites
Margarites is a small village with a long history of making pottery and ceramics, going back to Minoan times. Nowadays, it remains one of the most iconic destinations for ceramic art lovers and admirers of traditional Greek craftsmanship. With 17 workshops around town, visitors have the unique chance to marvel at local artisans' expertise and skill as they craft various types of authentic ceramic pieces, ranging from household items to exact replicas of ancient Minoan artefacts. For those seeking an immersive, serene experience, Margarites offers an unprecedented opportunity for exploration into a genuine folk tradition that still persists today in the modern age.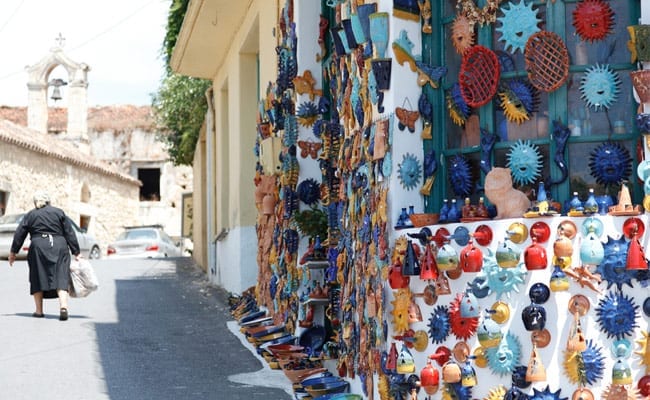 Hidden underneath this small village is a breathtaking site that offers a captivating glimpse into ancient history – the Late Minoan Vaulted Grave. Dating back to 1350 BC, this structure is a marvel of architecture with its long downhill corridor leading to a circular chamber and central vault. Here, researchers have uncovered the bones of four adults and two children, suggesting these individuals came from notable social standing and religious circles. This remarkable grave gives us valuable insight into the culture of this era. It serves as an important reminder of Rethymno's storied past.
If you find yourself in Margarites, buckle up and make sure to pay a visit to the church of Saint Ioannis "Theologos", the oldest church there! The village is brimming with revitalising energy, breathtaking vistas, incredible food, traditional drinks and quite a few surprise heroes from Arkadi buried in the churchyard. And why not treat yourself like royalty and totally surrender to the beauty of this amazing place that's been around for so long? Who knows what surprises await you!
Zaros
Zaros is the ideal destination if you're looking to explore beauty, culture and nature all in one. Zaros is situated 45 kilometres from Heraklion. It boasts impressive Byzantine monasteries alongside an abundance of walking trails for outdoor enthusiasts. The jewel in the crown, however, is undoubtedly Lake Votomos – a picturesque reservoir surrounded by emerald-green waters and offering the perfect starting point for those wanting to take on the challenge of the 5km hike through Rouvas Gorge. Not only that, but farm-raised trout can be found at many of Zaros' tavernas – making this town a must-visit destination.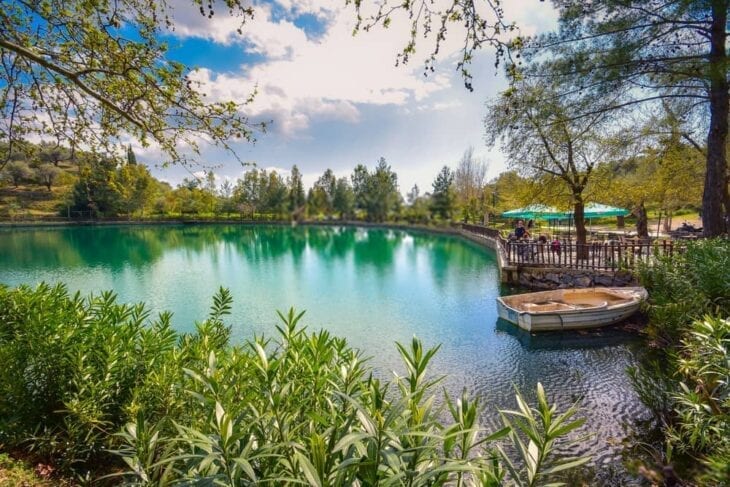 The ancient Gortyna city was equipped with a sophisticated water supply system for its time. Drawing from the Sterna spring in the north of Zaros, the Romans constructed an aqueduct to bring precious resources to the city. Remarkably, some of these ruins have been preserved, which is a testament to their creators' engineering expertise and hard work. It is incredible that a system built so many years ago still provides water in the region today.
The village has recently been put on the map for one very special reason. Water from the village's extraordinary spring has become world-famous. It is now exported to countries all over the globe, from Canada to South Africa and from China to Israel. Visitors from around the world are coming in droves to view this unique phenomenon and fill up on some of its exceptionally pure water – a representation not only of Zaros' current success but of its future potential. Discover paradise in Greece and get ready for an unparalleled experience you'll never forget!
Traditional vs Seaside Villages in Crete
Crete's traditional villages are typically inland, away from the coast, and have been around since ancient times. The traditional villages in Crete tend to have a rich cultural heritage, narrow winding streets, stone houses, and local tavernas that serve authentic Greek food.
A seaside village in Crete, on the other hand, is usually near the coast and geared more towards tourists. Villages like these tend to have wider streets, beachfront hotels and restaurants, and more amenities. There's also a chance they'll have a more relaxed vibe, with a focus on relaxing and enjoying the natural beauty.
Visiting either type of village in Crete offers a different experience. It always depends on what you're looking for.