The region of Rethymno, Crete, is home to various tourist spots that'll make you want to visit the island at least once in your life. However, there's one particular place that'll make you never want to leave, and that is Skaleta. If tranquil beaches, breathtaking sunsets, and charming traditional architecture are what you're looking for, then Skaleta should be the place to visit. Learn everything you need to know about Skaleta by reading below.
Where is Skaleta
Skaleta is located on Crete's north-central coast, about 12 kilometers east of Rethymno. The community has several hotels, restaurants, and shops and is more of a resort area than an actual village.
How to Get to Skaleta
Getting to Skaleta by Car
Among the best and cost-effective ways to get to Skaleta is by renting a car. Car rentals offer you the flexibility of traveling to other spots on the island and also experiencing Crete's famous mountain roads. Plus, you'll have the freedom of choosing your own pace without having to worry about schedules or tour guides.
You can hire a car at Chania Airport or book a car rental in Rethymno and have it delivered to your accommodation in Skaleta. If you choose the former, the drive will take an hour and 16 minutes. Once you get your rental car, follow the signs to the region of Rethymno.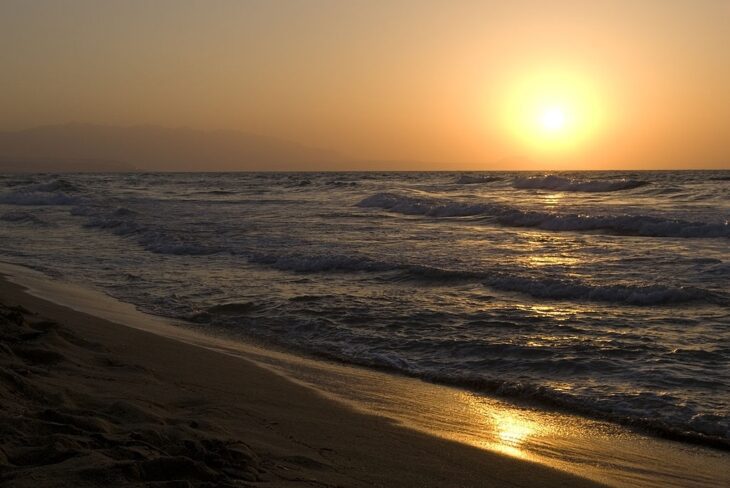 Getting to Skaleta by Taxi
Although going to Skaleta by taxi isn't as cost-effective as renting a car, it's still a comfortable way of traveling, especially when you've got a lot of luggage. Dozens of taxi cabs can be obtained outside Chania Airport and Heraklion Airport, depending on where your flight comes from.
A one-way trip from Chania Airport to Skaleta will cost around €90 and will take about 70 minutes, depending on traffic. On the other hand, a taxi from Heraklion to Skaleta should cost €70, which will take about 55 minutes.
Getting to Skaleta by Bus
If you're traveling on a budget, taking the bus is ideal for reaching Skaleta. However, there is no direct bus (non-stop) going to Skaleta. As such, you'll first need to follow:
Chania Bus Station – Rethymno Bus Station – Skaleta
Heraklion Bus Station – Rethymno Bus Station – Skaleta
You can board a bus in Chania or Heraklion's bus station. Once there, you'll have to inform the driver to drop you off at Rethymno's bus station, which is where you'll get on another bus for Skaleta.
Things To Do in Skaleta
One thing that makes Skaleta a great destination is the wide range of activities it offers. Whether you're into solo traveling, chilling out with friends, exploring the outdoors, or engaging in extreme sports, you'll find it all here. Here are some attractions to check out while staying at Skaleta.
Head to the Beach
The top thing you can do when visiting Skaleta is to relax and unwind at its 11 kilometers-long sandy beach. You can either do this by laying down your towel or lounger on the warm sand, swimming in the crystal clear waters of the Mediterranean Sea and/or by taking a boat ride to get an unparalleled view of the landscape. No matter your preference, visiting the beach is a must-do.
Visit Rethymno for a night drink
When it comes to taverns and pubs, Rethymno is where to go. The quaint seaside village is close to Skaleta, so you'll want to drop by for some nightlife. Many tourists choose to go here for dinner and drinks before heading back to their accommodations in Skaleta.
Check Out Arkadi Monastery
If you're more into historical and religious places of interest, the Arkadi Monastery is that's just 21 mins away, is a must-see. The monastery's architecture and artworks provide a glimpse into Crete's history, culture, and traditions. Plus, it offers breathtaking views of the surrounding area that you can enjoy while walking around with your friends and loved ones.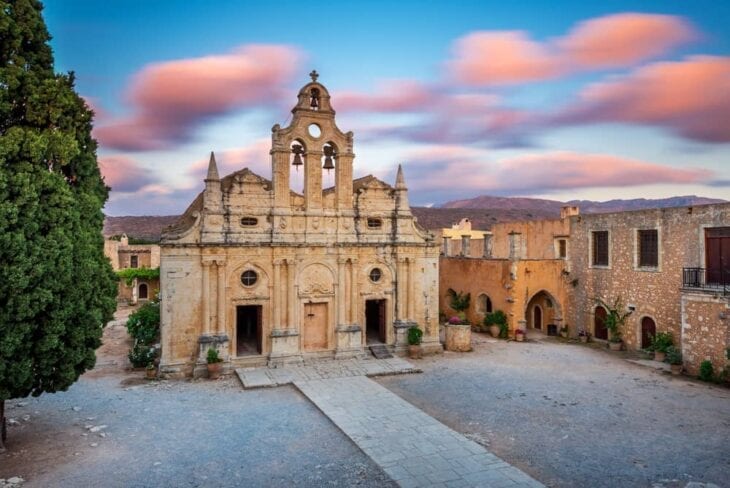 Spend Some Time in the Venetian Fortezza Castle in Rethymno
The Venetian Fortezza Castle of Rethymno is a popular tourist attraction in Rethymno Town. It's not far from Skaleta, so you'll be able to drop by during the afternoon or evening, depending on your preference. This 16th-century fortress was built by the Venetians, and it still serves as a symbol of strength for locals today.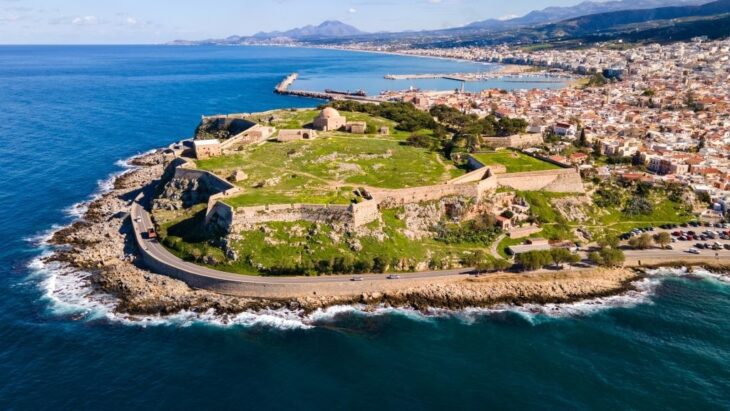 The Beaches near Skaleta
Several beaches can be found in and around Skaleta. With clear, blue waters and fine white sands, you'll always feel rejuvenated and relaxed when hanging out on these spectacular beaches.
Spilies Beach
If you want to awaken the inner adventurer in you by going cliff diving, head to Spilies Beach. It's popular among locals, and it's the perfect place to get a taste of extreme sports. The rocky beach also offers some of the best views of the Aegean Sea that you can enjoy while swimming or just relaxing. Plus, it's only 16 mins away from Skaleta.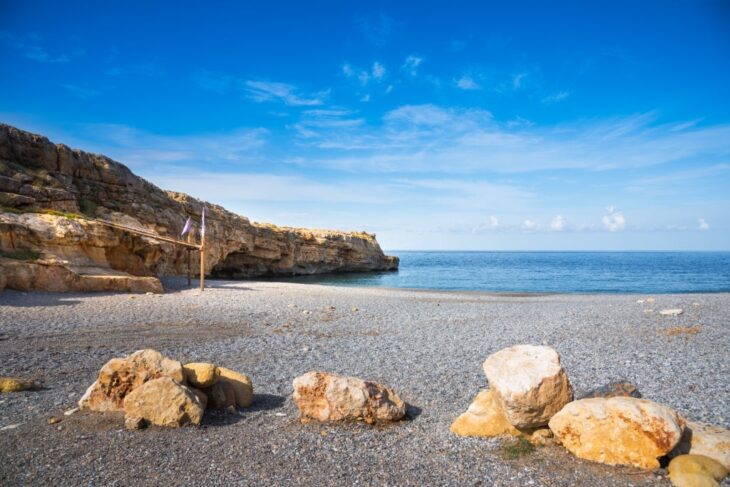 Visit Geropotamos Beach
Located about 17 mins away from Skaleta, the ever famous Geropotamos Beach is one of the best places to go for a relaxing afternoon under the sun. White sand, clear blue waters, and panoramic views all come together to create a peaceful and memorable experience.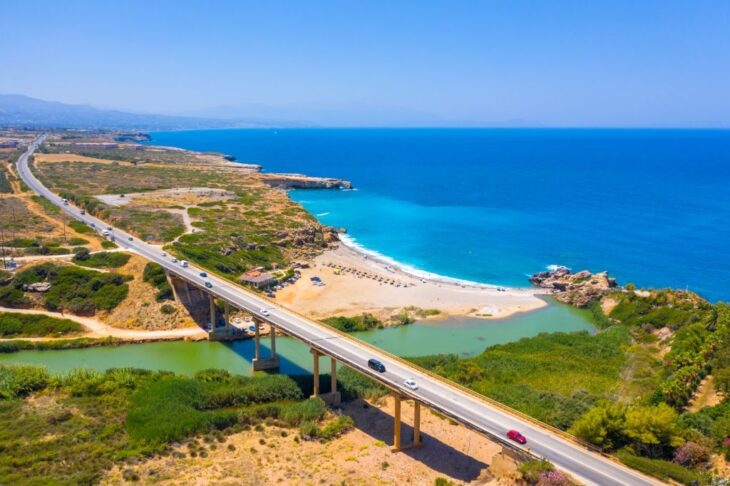 Swim in Platanes Beach
If you've got kids with you, heading to Platanes Beach is a good idea. It's not as crowded as the other beaches, and it's only 11 mins away from Skaleta. The shallow waters and soft sands make this one of the best places for families to enjoy their vacations together.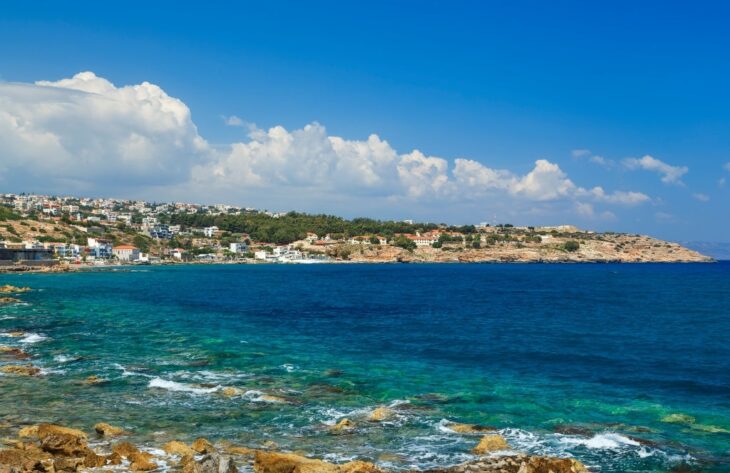 Where to Stay near Skaleta
Accommodation is never an issue with Skaleta. A wide range of options is available, whether you're traveling alone, on a romantic getaway with your partner, or with kids. Here are the ones you shouldn't miss:
Hotel Gortyna
The Hotel Gortyna, located just 100 meters from Skaleta's sandy beach, features a huge swimming pool surrounded by beautiful foliage and a poolside bar. Their facilities are top-notch, and the service is just as excellent.
Address: Skaleta, Rethymno, 74100
Website: https://hotelgortyna.gr/
Contact: +30 2831 071802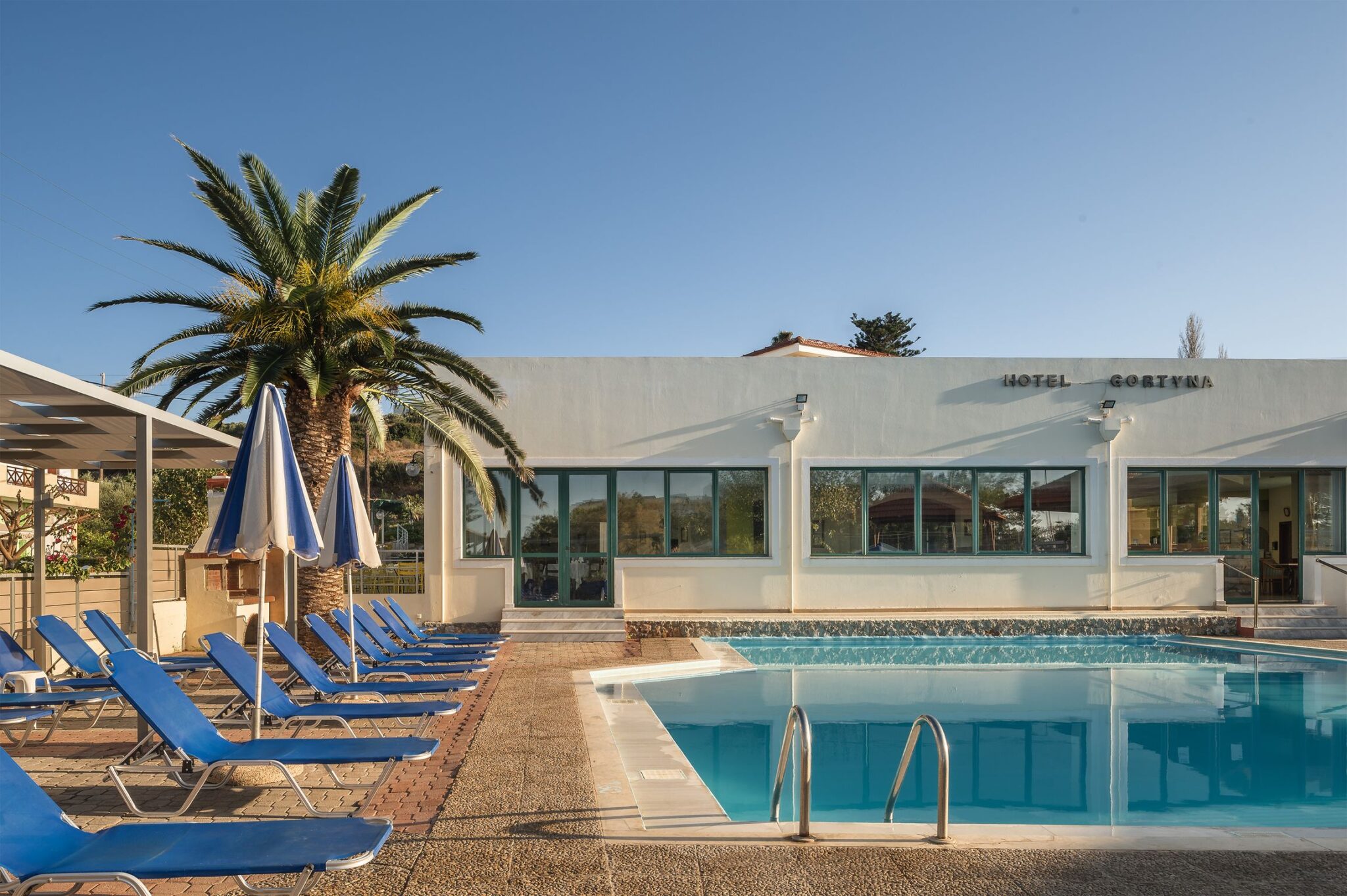 Babis Hotel
Babis Hotel has air-conditioned rooms with free Wi-Fi and is located just 100 meters from Skaleta beach and 11 kilometers from Rethymno. Breakfast and a bar are available at the hotel as well.
Address: Skaleta PB 5167, Rethymno 741 00
Website: https://hotel-babis.gr/
Contact: +30 2831 071193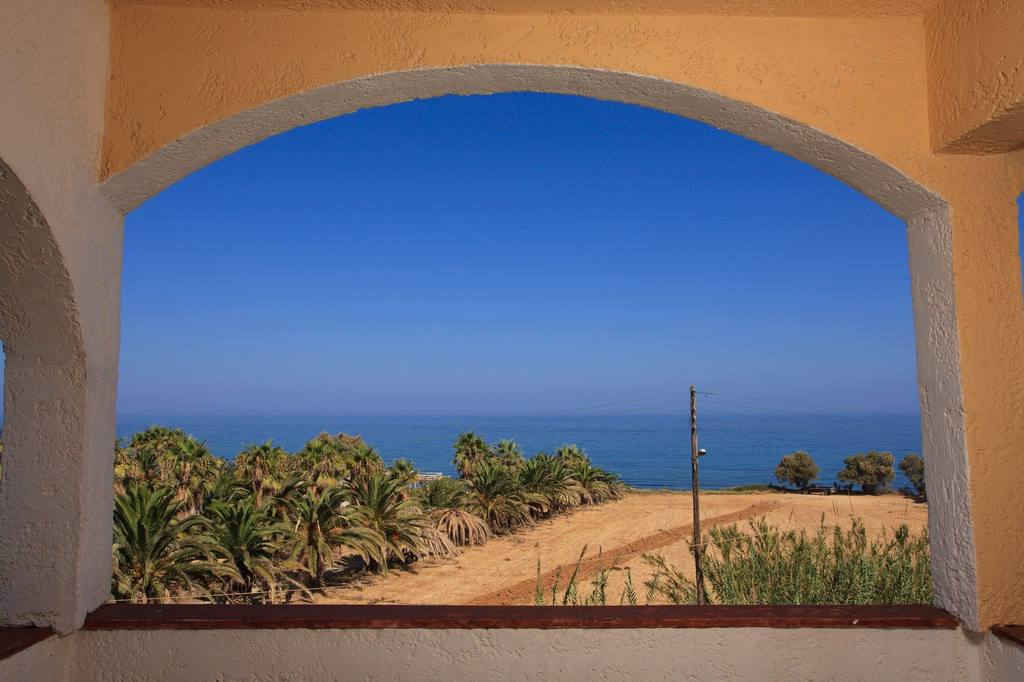 Creta Royal
An adults-only hotel built for couples, Creta Royal, offers charming interiors, luxurious rooms, and fabulous views of the Mediterranean Sea. Romantic and private, this hotel is perfect for honeymoons and anniversaries.
Address: Skaleta, EO Rethimnou Irakliou, Rethymno 741 00
Website: https://www.cretaroyal.gr/en-gb
Contact: +30 2831 071812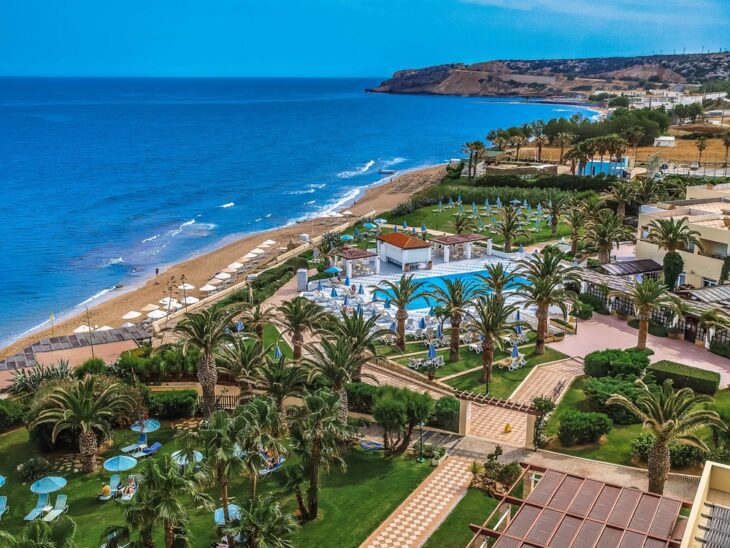 Where to Eat in Skaleta
Are you looking for a place to fill your hungry tummy? There are several options to choose from when it comes to dining in Skaleta. Some of the best include:
Yialos Wine Restaurant
Drinking wine with good food while overlooking the beautiful sea just never gets old. Experience all that Yialos Wine Restaurant has to offer, from Creta Farm wine to seafood delights. Their dishes even include vegetarian and gluten-free options for your dietary requirements.
Address: Akrotiriou 11, Rethymnon, Crete 741 02
Website: https://yialos.gr/
Contact: +30 2831 030476
Pasithea
Outdoor sitting is a popular thing in Skaleta, and it's also a great way to enjoy your meal. Pasithea taverna is one of the best places to eat in Skaleta. Located right by the seaside, Pasithea specializes in seafood dishes made from fresh products and homemade recipes.
Address: Skaleta, Crete 741 00
Website: https://www.facebook.com/pages/Pasithea%20Taverna/113861338704474/
Contact: +30 2831 072132
Pantelis Restaurant
Locals often favor Pantelis Restaurant as a go-to place for a hearty meal. The restaurant is surrounded by lush vegetation and has a very romantic atmosphere. The food is delicious, and the service is excellent. Their dishes range from meat, seafood, salads, and desserts.
Address: Rethymno, Sfakaki, Crete 741 00
Website: https://www.facebook.com/PantelisRestaurant/
Contact: +30 2831 071489
When is the best time to Visit Skaleta
The best time to visit Skaleta would be the summer months (June-September) since weather conditions often allow you to swim and sunbathe. However, this season often means crowding in the beaches, so if you're not a fan of crowded beaches, try going during the off-season months (November-May) where the beach will be less crowded and more relaxing.