Crete is the most extensive island in Greece and is located south of the Aegean Sea. The island is one of the most popular tourist destinations in Greece for its wonderful historical sites, captivating landscapes, architecture, white sand beaches, and delectable cuisines. Apart from that, Crete is also well known for having noble mansions, museums, mountains, and Venetian-type villas. With tourists bustling down the major hot spots in the cities, one could get a little worn down. Enjoying the trip with a splendid meal and beverage in various taverns makes it a worthwhile experience.
1. Avli restaurant
Avli Restaurant is an elegantly renovated Venetian villa located in Rethymno, Crete and has been operating for over 30 years. Over the years, the place has been restored into bright and colourful premises with lush gardens. The tavern offers breakfast, lunch and dinner, as well as late-night meals and drinks. The tourists recommend it for its exquisite Cretan food packed with exceptional flavours and delightful service. The best time to visit Avli according to customers is during lunch and dinner. Avli caters for reservations, outdoor seating and free Wi-Fi. Additionally, visitors can enjoy the bar, which serves a wide selection of drinks. The restaurant ranked second as a contemporary establishment in Rethymno, which makes it a great option for tourists looking for a fine dining experience near the city. Following the health protocols mandated by the establishment, social distancing, usage of masks in public areas and the use of hand sanitisers are a must.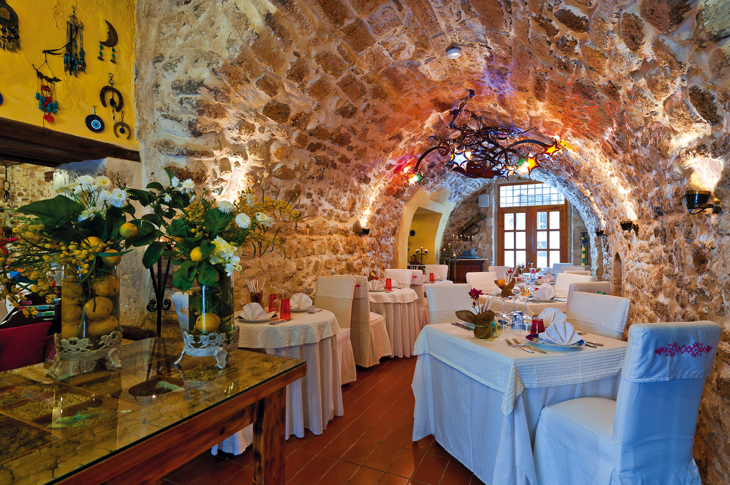 2. Olive and Mint Restaurant
Olive and Mint Restaurant is a successful establishment serving the highest quality of Mediterranean and traditional Cretan drinks and cuisines. The restaurant is located in Skalani, Crete and is just a 10-minute drive from the Knossos Palace. Tourists enjoy the excellent quality of the meals, the total ambience of the place, easy access to the location, as well as good hospitality. Additionally, service is accompanied by friendly staff, and the premises can accommodate many guests and are clean and cosy. The restaurant has an outdoor veranda, which is perfect for visitors that adore the scenery outdoors. Parking spaces are also accessible. The best time to visit Olive and Mint is during lunch and dinner hours, as visitors can have a side trip to the Palace of Knossos after the meal. Guests are required to bring proof of vaccination and expect more safety and health protocols such as social distancing and contactless payments.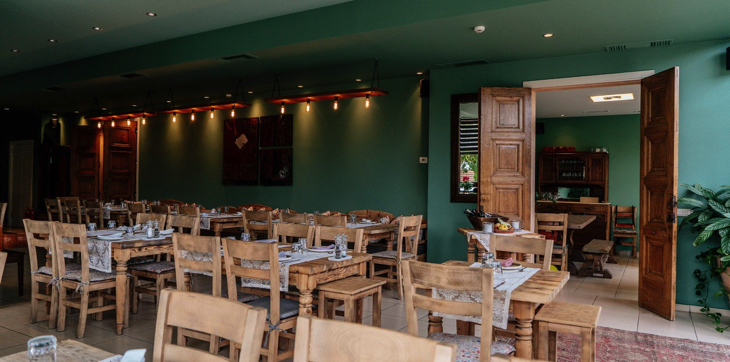 3. Tavern of Dounias
The Tavern of Dounias is located in Drakona and is situated on a high-altitude mountain, in east Therisso in northwestern Crete. Despite the restaurant being on an elevated site, visitors keep coming back for the high-quality traditional food and amazing hospitality. The establishment only offers lunch with vegetarian and vegan, as well as gluten-free options. Other features of the place include outdoor seating, free Wi-Fi, wheelchair accessibility and parking access. Aside from that, guests also enjoy live music while having a beer or wine. The tavern is considered by tourists and local guests an exceptional gastronomic experience in Greece, as traditional Cretan cuisines are slow-cooked to perfection using clay pots and wood-fired stoves. Each meal is authentic and ingredients are grown straight from the farm. The place itself has a tranquil atmosphere and is perfect for family and friend gatherings. The Tavern of Dounias is rated as a traveller's choice on TripAdvisor, as the value of the food and experience itself is exceptional. Health protocols are always mandated when visiting, especially when coming in large groups.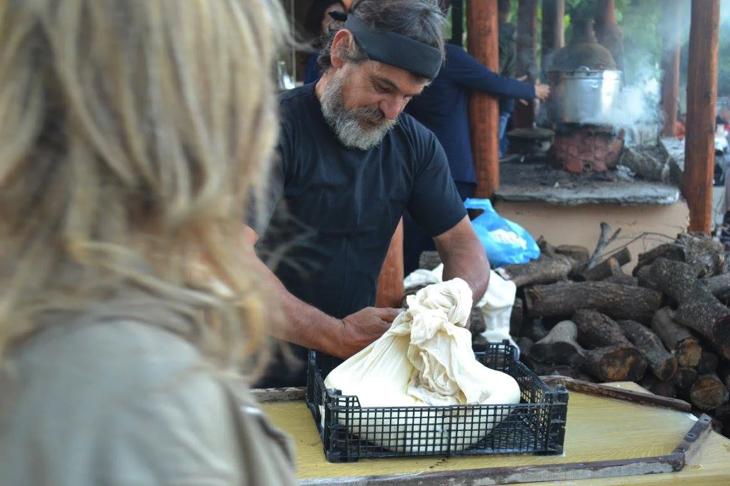 5. Kritamon Restaurant
The Kritamon Restaurant is situated in Archanes, Crete, 7.4 kilometres from the palace of Knossos. The restaurant is cosy-looking, with an open-air courtyard. Guests can choose from a variety of Mediterranean and Greek dishes. In addition, the restaurant also offers vegan and gluten-free options. The best hours to visit are lunch and dinner times. The restaurant is recommended by locals and tourists for its excellent service, great prices and premium food. Located near Archanes square, the Kritamon restaurant is a must-visit.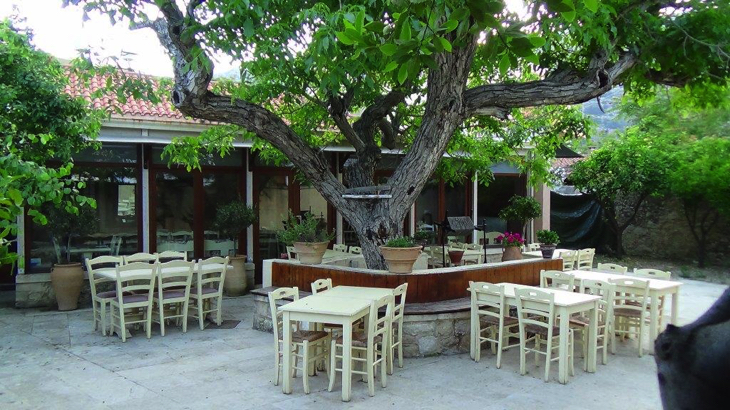 6. Kapsaliana Village Hotel Restaurant
One of the best hotel and restaurant establishments in Rethymno is the Kapsaliana Village Hotel Restaurant. The place is of great value because the structure is derived from the traditional architecture of the island and restored with a stunning foundation. Using locally produced ingredients, the restaurant offers classic and organic cuisines. Guests can enjoy breakfast, lunch, and dinner at the restaurant as well as drinks in the lounge area. The place is perfect for guests that look for a traditional yet luxurious type of accommodation as well as a place to dine and relax. The hotel offers free parking, Wi-Fi, and a taxi service. Furthermore, because of the remote location, visitors must take a short drive to reach local spots and airports like the Amnatos tavern which is 1 kilometre away and Heraklion airport, 79 kilometres away. Hygiene and safety protocols are strictly observed by the staff to ensure great accommodation for all guests.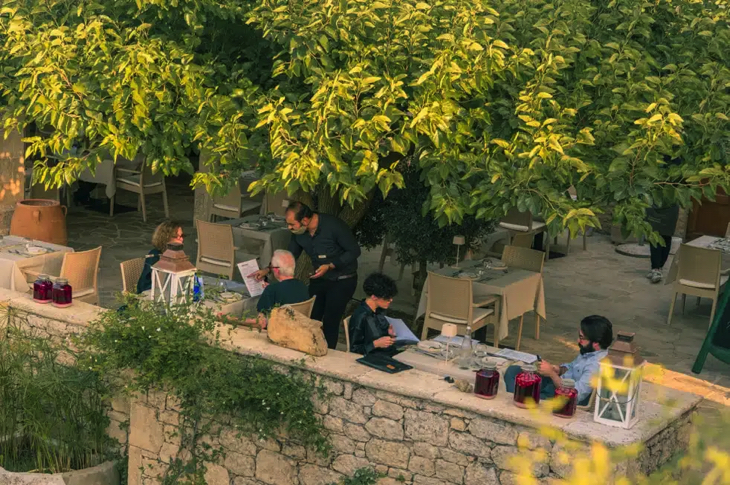 7. I Strofi tis Gefsis
I Strofi tis Gefsis or "The turn of taste" is located in Vizari, Rethymno. The place started operating in 1993 and is best for its traditional organic dishes and locally produced food products such as cheese, wine, salads, meat and many more. The tavern offers breakfast, lunch, and dinner. Additionally, the place has parking spaces available, free Wi-Fi, wheelchair-accessible zones and take-outs. Tourists admire the authentic Cretan foods and drinks, blended with the great atmosphere and setting, while also accompanied by the friendly service and hospitality of the restaurant, both locals and travellers surely would keep coming back. For health and safety reasons, hand sanitisers are recommended for the guests and staff.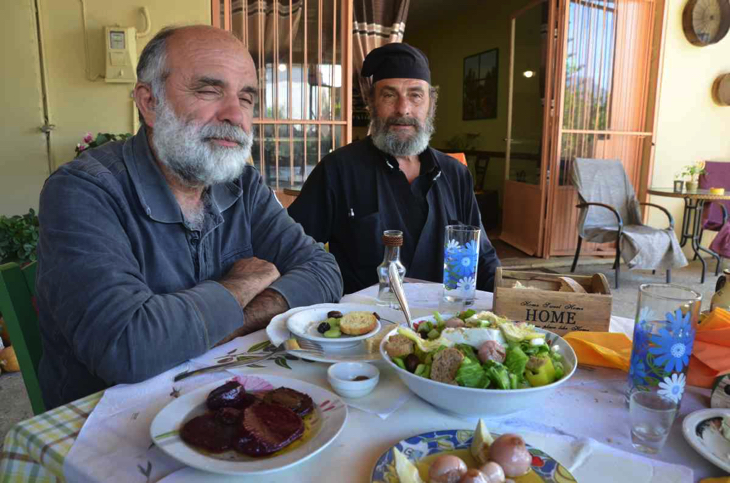 8. Sarandavga Cafenion
Sarandavga cafenion is located in Heraklion and started operating in 1924. The café specialises in Greek and Mediterranean drinks. The establishment offers outdoor seating, free Wi-Fi and takeaways. Alcohol, wine, and beer are enjoyed by both locals and tourists. The café offers breakfast, lunch, dinner and after-hour drinks. Visitors appreciate the traditional cuisines combined with the classic Greek ambience and hospitality. The place itself is 4.9 kilometres away from the palace of Knossos and just within the city market for travellers who are looking for a small detour. Minimum health protocols are observed, such as bringing hand sanitisers.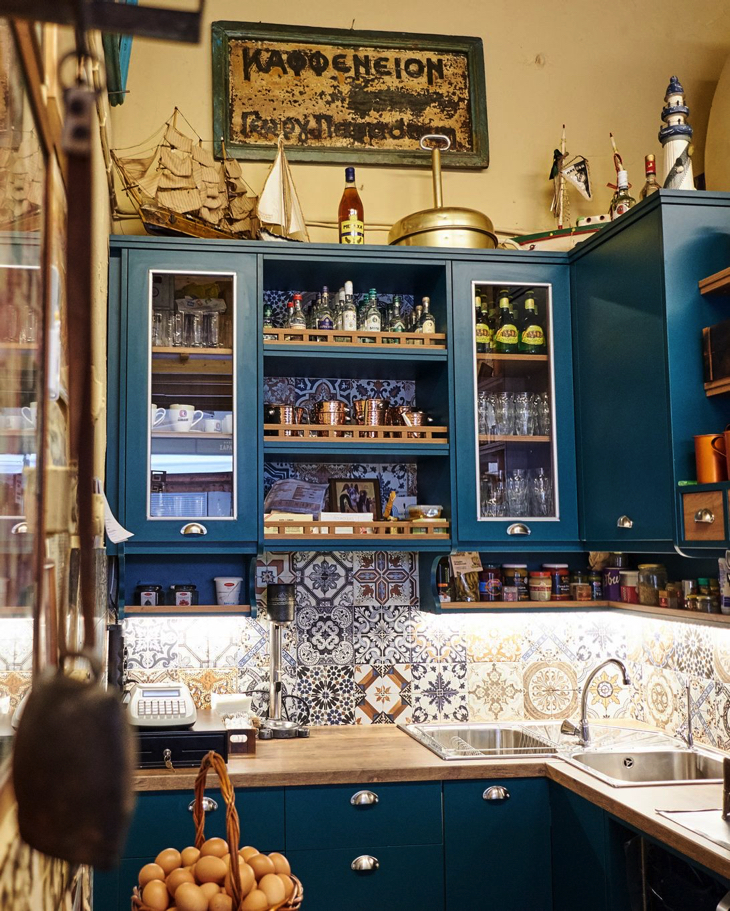 9. Café of Kayambis
Café of Kayambis features authentic Cretan delicacies like salads, snails, hand-cut fries and high-quality wine. The place is located in Monofatsiou 12, Heraklion. The ambience of the café is a unique one, as the walls are filled with historical photos of artists, musicians, and rebels. The Kayambis café is considered one of the best restaurants in Crete, which is perfect for visitors who are looking for a one-of-a-kind café that includes a touch of geographical and historical representation. For safety reasons, all foods are prepared without using shared utensils to monitor health protocols.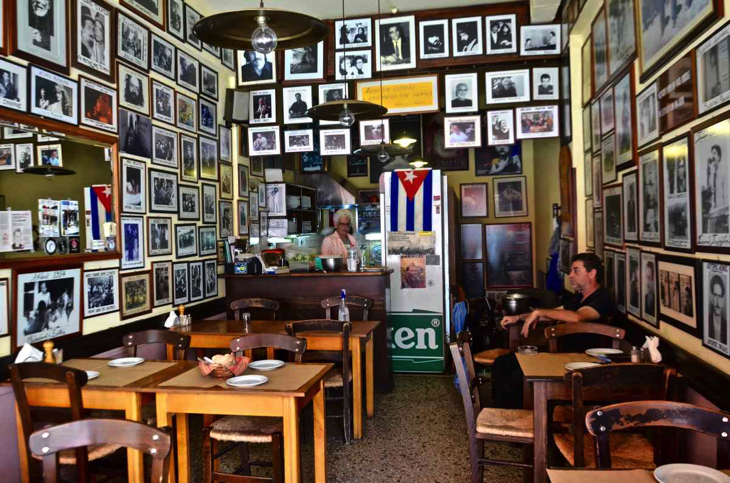 10. Skoulas Café
Skoulas Café is perhaps the oldest café in Anogia, Rethymno. Plastered on the walls of the café are the large photos of Michalos Skoula, an established and long-running coffee maker. Furthermore, small sections from newspaper cut-outs are also posted about the long history of the Skoulas family during the revolutions. The Skoulas café mainly serves coffee and other simple beverages for locals and visitors. The place is best for its rich historical background and traditional Greek hospitality.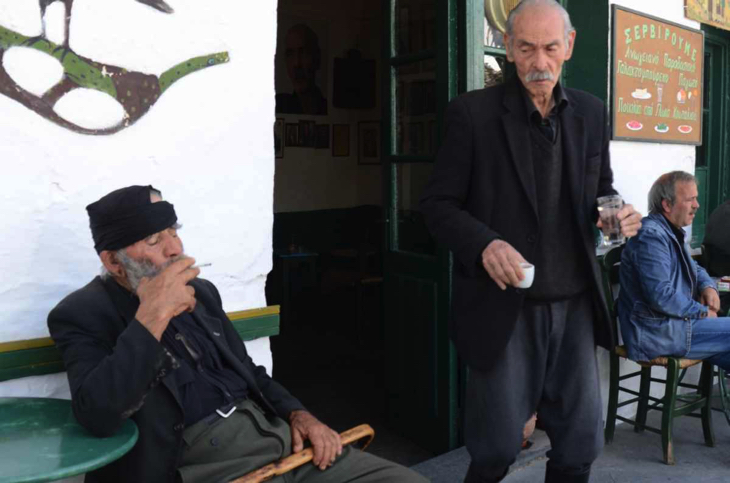 What is the best food in Crete?
Cretan foods are some of the most complex and flavourful foods in the world. With all the organic and locally produced ingredients, the dishes are packed with unique and natural flavours that locals and tourists love. Mezedes is one of the most famous foods in Crete. It comprises small exquisite plates of cheese, olives, figs, tomatoes, cucumber, bread and many more. These small portions can be served as appetisers or main dishes, depending on how it is prepared.
What is the best tavern to visit in Crete?
The best tavern to visit in Crete would be Georgia's traditional Taverna. Visitors of this place recommend it for its high-quality cuisines, especially the salads, pies, and meat dishes. The tavern offers a variety of vegetarian and vegan options. The price is reasonable due to the premium quality of their dishes. All the cuisines are homemade and created from the finest organic and locally produced ingredients in Crete. The place is near Kournas Lake, which is perfect for anyone looking for small side trips. The family tavern offers outdoor seating, free Wi-Fi, and is wheelchair accessible. The atmosphere of the place is sublime and accompanied by good hospitality and friendly staff.
Do you need to rent a car to visit a tavern in Crete?
Yes. It is advisable to rent a car when visiting taverns in Crete. While public transportation is available in major cities, there is nothing else compared to having the freedom to explore any place on the island without the hassle. Additionally, car rentals in Crete are more practical for detours and discovering underrated taverns and spots. Depending on the location, car rentals must be budget-friendly, with no hidden costs.
What are the factors to consider before renting a car in Crete?
Renting a car is essential if visitors want to explore the wonders and hidden gems of Crete. The island is large and comprises several beaches and villages to which travellers must journey to. That is why renting a car is a wise decision to start the trip. Travellers must first consider some things before renting a car to be prepared in case something happens.
Online Booking. Booking the car online not only saves a lot of time, but also money. Numerous discounts are available for tourists to use. Booking the car online is also convenient for instant pick-ups from the airport without the delay.
Driver's Licence. When renting a car in Crete, one must have a valid Driver's License for at least one year. For tourists, an International Driver's licence is required.
Age. The driver must be 21 years old and above with at least a one-year driver's licence in order to use the vehicle.
24/7 Customer support. Customers should have access to road assistance during unforeseen circumstances.
How much does a car rental in Crete cost?
The cost of car rentals in Crete depends on the type of car, the hours it is used, and the number of passengers. The price typically starts from €18 per day for compact cars, which is good for 4 passengers. For visitors coming in groups of 5-9, options ranging from full-sized cars to vans are a good option.