Past Agios Nikolaos towards Crete's easternmost edge is beautiful Sitia, a small coastal town known for the friendliness of its inhabitants and the beauty of its surrounding region. Worthy as the destination is in itself, the drive you take to reach it is also gorgeous!

All You Need To Know About Sitia, Crete
This very small coastal town is an ideal destination for those who want to escape the more touristy areas to the west. This is Crete's most unspoiled location, where life is not built around tourism. Tourists are warmly welcomed, and the facilities and services are excellent. But in Sitia you will be better able to connect to the authentic local culture of Crete. Stunning natural attractions are near Sitia.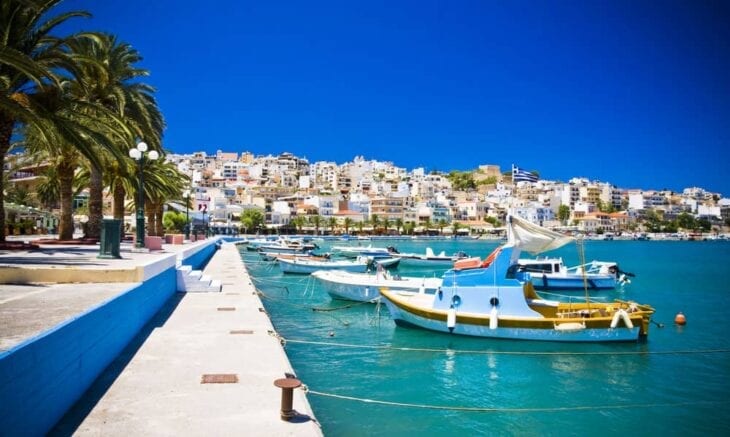 Where is Sitia located?
Sitia is 130 km east of Heraklion — a two hour drive, and 70 km east of Agios Nikolaos– an hour and 20 minutes. This is prime location for visiting Vai, a protected palm forest and beach. Mt. Dikty is the nearest mountain. This is also an ideal starting point for visiting the Minoan palace of Zakros, in its remote location on Crete's Southeastern edge.
How to get to Sitia, Crete
Sitia has its own small airport, but is also easily reached from Heraklion. Renting a car is a particularly great choice for getting to Sitia. The drive, and particularly the stretch from Agios Nikolaos to Sitia, is beautiful. Also, if you rent a car, you'll have the flexibility you need to be able to explore the region and to visit the sights and beaches with ease. You can pick up your car at our rent a car in Heraklion Airport. If you are traveling during high season, it's a good idea to book online in advance.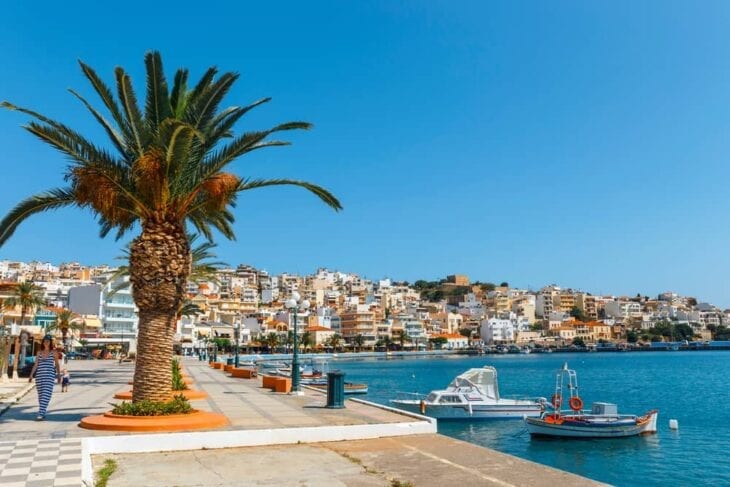 If you'd like to take a bus, you will need to get to the KTEL station, which is near the harbor. There are frequent departures throughout the day. If you arrive in Heraklion by plane, you can take a bus from the airport directly to the KTEL Station. There are at the time of this writing four buses a day, and the trip takes about 3 hours, you can check schedules here.
The History of Sitia, Crete
Such a small town, but such a long history! Sitia actually takes its name from Eteia, the ancient Minoan city. This may have been home to one of the seven sages of antiquity, Myson (some say he was from Laconia, in the Peloponnese). The city prospered throughout the ages due to trade with other ports throughout Greece and the Mediterranean. During the Byzantine era, it continued to prosper, becoming the seat of a Bishop.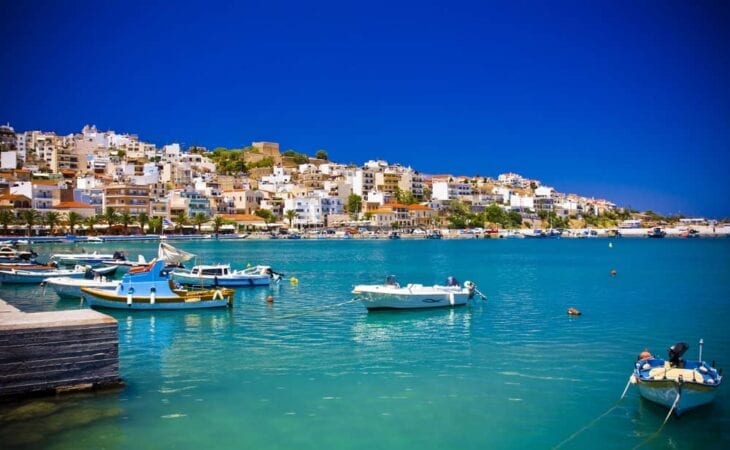 This was a favorite city of the Venetians during their rule, but an attack by the pirate Barbarossa and then a terrible earthquake changed the city's fortunes. During the Ottoman Era, the Pasha Hussein Avni rebuilt the city, calling it Avniye, although of course the Greeks called it Sitia still.
What to See and Do in Sitia, Crete
The only trace left of the Venetians in today's Sitia is the Kazarma fortress. The name comes from "Casa de Arma", and it's now often the site of outdoor concerts and events. The view from here is stunning!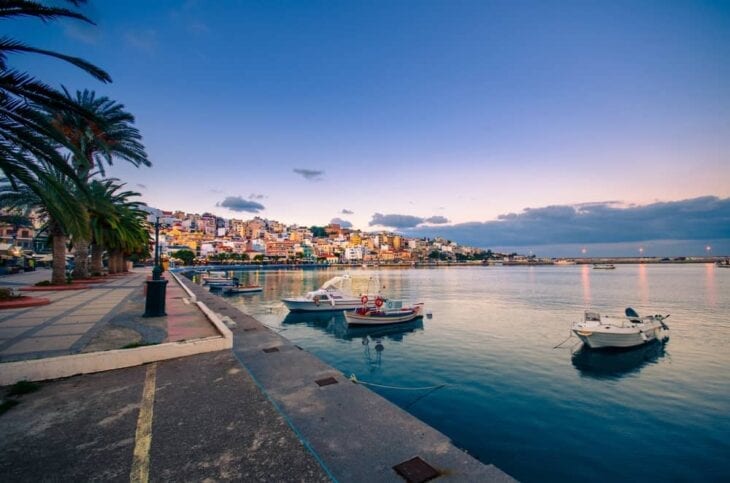 In the city you can find the Archaeological Museum of Sitia, where you can enjoy findings from many eras of the history of the surrounding area, including Bronze Age findings from the tiny island Mochlos (almost certainly formerly connected to the mainland by a narrow strip of land) and Zakros, one of the four Minoan Palace of Crete. The Paleokastro Kouros, a statue found in the excavation of Paleokastro, is another highlight. There are also exhibits from the Geometric Period (ca. 900 – 700 BC) so called because geometric patterns and motifs decorated the pottery. There are also exhibits from the Greco-Roman period.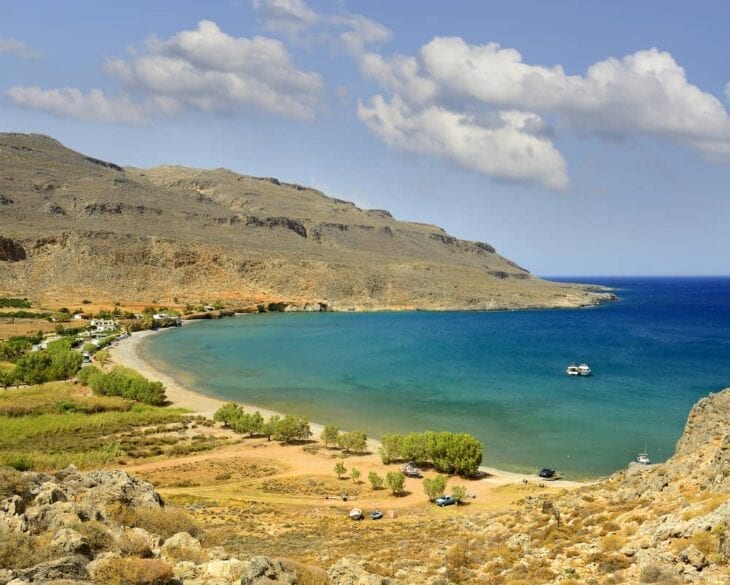 There is also a Folklore Museum, where you can see the high quality Cretan embroidery and weaving, and beautiful folkloric costumes. These are still a part of Crete's traditional life, worn at village festivals where there are also folk dances and excellent music.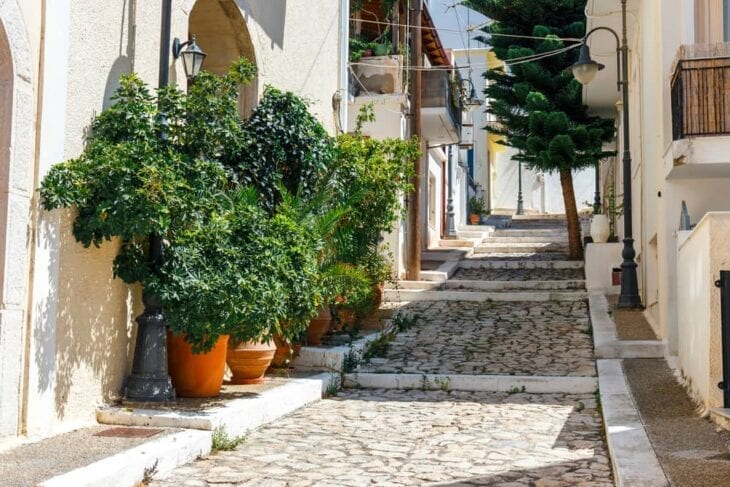 The harbor of this charming town is the place to go for traditional fish tavernas. Make sure to try cretan specialties also. Raki, a distilled spirit of grape marc, is the drink of choice for many Cretans. It's pure, but strong- take it easy at first!
Gorgeous Beaches near Sitia
Don't leave the Sitia region without visiting Vai, 24 km east of Sitia. This tremendous natural date palm forest, europe's largest palm forest, has about 5,000 trees and has been here for over 2000 years. Legend has it that the forest sprung from the pits of dates eaten by the Phoenicians, who traded frequently with Ancient Greece. The beach is also spectacular, unspoiled with pure clear waters.
Itanos Beach – sometimes called Ermoupoli – is just above Vai. It's actually a series of three sandy coves with unspoiled sandy beaches.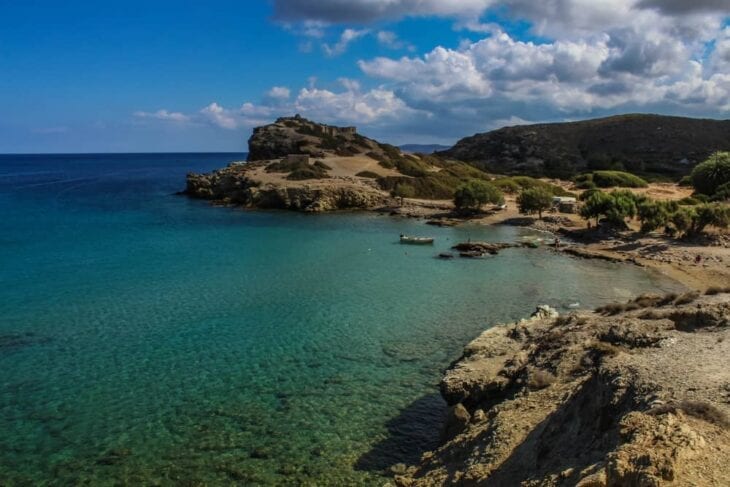 Kouremenos beach is just on the other side of the peninsula (that Vai is on) from Sitia. This long sandy beach is a great favorite with windsurfers from all over Europe. There is also a small fishing harbor and some seaside tavernas.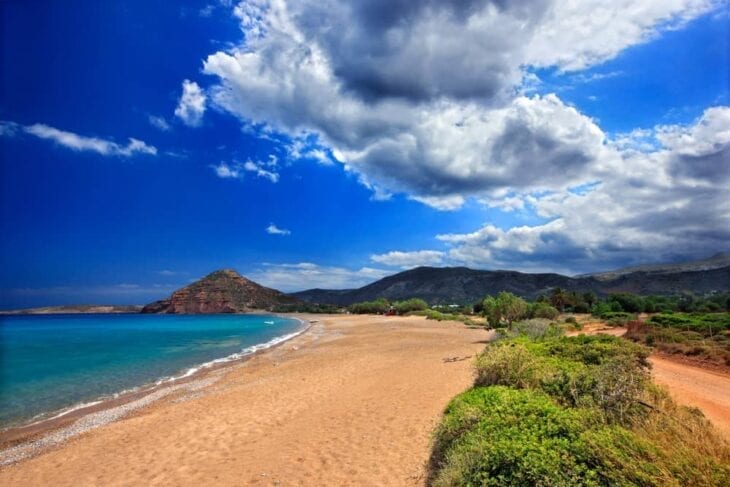 Are you up for a little more adventure? A gorgeous 40 minute drive from Sitia through Palekastro will take you to Chocklakies, a small village. From here, an hour hike through a gorge takes you to one of Crete's most remote and unspoiled beaches.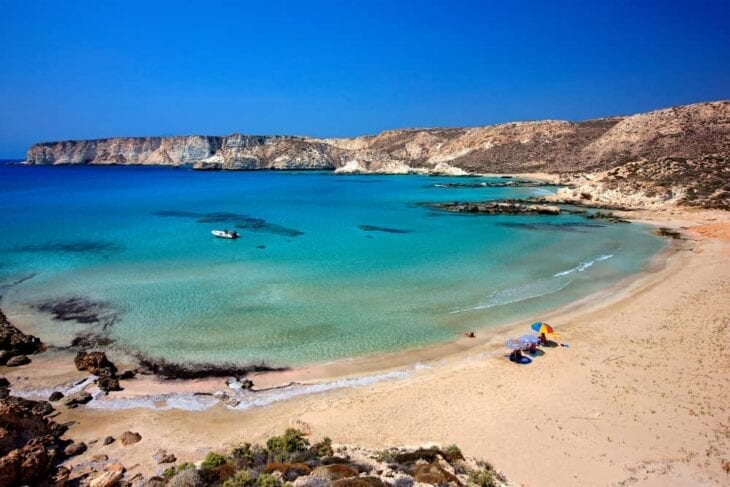 Some of Crete's more remote beaches may not always be serviced with cantinas and bars- always have some water and snacks with you as you explore.
Activities around Sitia
Besides the beaches and maybe trying out windsurfing, there are also beautiful inland destinations in this lovely corner of Crete.
Topping the list is the fabulous Richtis Gorge. Beginning outside the village of Exo Mouliana, this gorge changes 350 m in altitude over three kilometers, for a not very demanding hike of three to four hours. The hike ends at Richtis Beach. A river runs through the gorge, even in summer, so the gorge is filled with flora and the scent of herbs. There is a pool fed by a waterfall to refresh yourself. The entrance to the gorge is a half-hour's drive west from Sitia.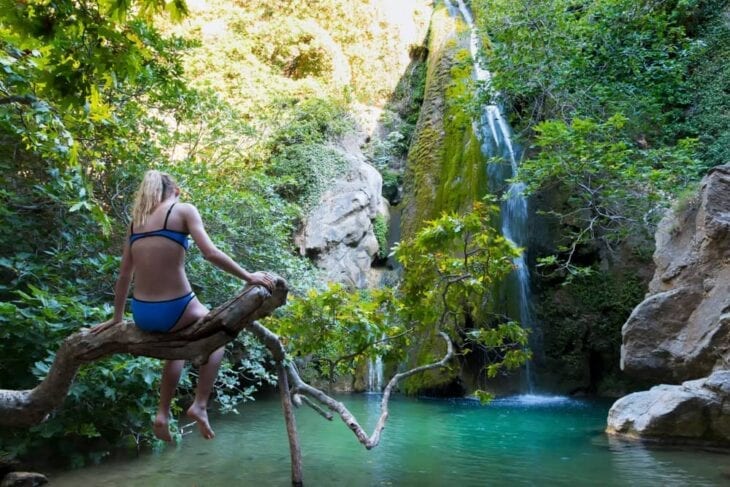 Another gorge for hiking, and for history, is Zakros. It's other name is "The Gorge of the Dead" because the caves high on the cliffs were the final resting places for the Minoans. You can enter the Gorge at Ano Zakros, or, for a shorter hike, though an entrance 4 km away (consult google maps for details). From here, the hike is about 2 hours down to the beach and is steep at first. The end of the hike brings you close to the Palace of Zakros, our next tip.
The Minoan Palace of Zakros is the least known of the four Minoan palaces excavated in Crete. It seems remort now, but its location made it the most important port for trade with the east and a place of great wealth. Most of the findings of Zakros are in the Archaeological Museums of Heraklion, Agios Nikolaos, and Sitia. Although the site was excavated earlier, the Palace was only in 1960 that the Archaeologist Nikolaos Platon. Never looted, it was found with its treasures intact, an exciting discovery.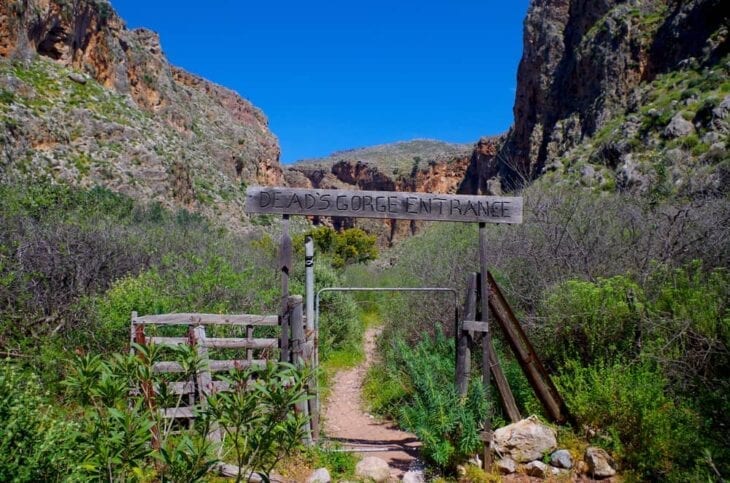 The village of Paleokastro is a 20-minute drive to the east. This traditional village is set amid olive groves and vineyards. It has fine tavernas and a classic "kafeneio" (coffee house) for a very pleasant break. Outside the village, on the way to the beaches, is Roussolakkos, an excavation of a significant Minoan settlement that was the only one to have survived intact under centuries of sediment.
The Toplou Monastery, set in its stark landscape, is a dramatic site. This 15th-century monastery- whose name is taken from the Turkish word for "cannonball" as the monastery had many. Like many monasteries, the monks were crucial both in the uprising against the Turks and during the German occupation during the Second World War. There is a collection of Byzantine Icons and manuscripts, and excellent frescos. The Toplou Monastery is a 20 minute drive to the east from Sitia.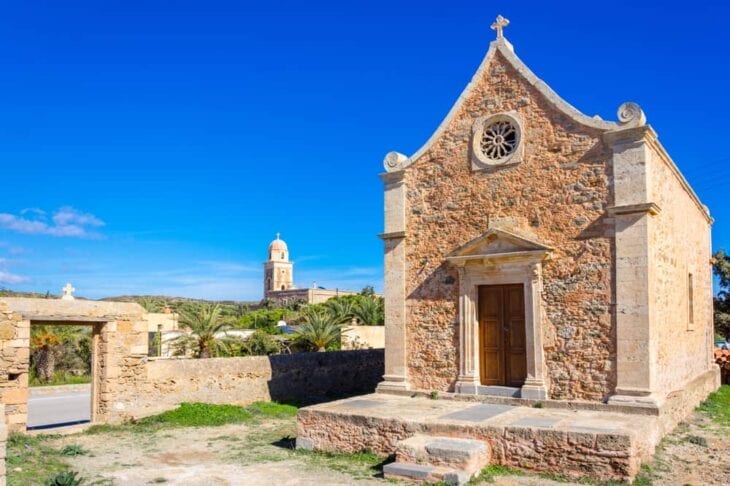 Have you been to this part of Crete? We hope that you find plenty of travel inspiration in our guide to everything you need to know about Sitia.
Where to Stay in Sitia
You don't need to look far to find a great place to stay in Sitia. There are plenty of hotels, apartments, and villas to choose from, all with great amenities and stunning views. Here are some of the top choices you shouldn't miss out on:
Sitia Beach City Resort & Spa
One popular resort option is the Sitia Beach City Resort & Spa. This resort has everything you could want, from a private beach to top-notch amenities like a spa and fitness center. Other than being a sophisticated hotel, Its rooms are also equipped with all the conveniences you could need, like air conditioning, fridge and balcony.
Address: 14 Karamanli Ave, Sitia, Crete 72300 Greece
Website: https://www.sitiabeach.com/
Contact: +30 2843 028821
Hotel El Greco Sitia
Perfect for travelers looking for an affordable yet comfortable stay, Hotel El Greco Sitia is an ideal choice. This hotel has everything you need, including a pool and free WiFi, as well as helpful staff that can assist you with whatever you may need. Plus, their rooms are spacious and come with balconies that offer beautiful views of the surroundings and sea.
Address: 13 Gavriil Arkadiou, Sitia, Crete 72300 Greece
Website: https://www.elgreco-sitia.gr/
Contact: +30 2843 023133
Itanos Hotel & Spa
For a relaxing and luxurious stay, check out the Itanos Hotel & Spa. This hotel offers stunning views of the sea as well as top-notch amenities like a pool, spa, free private parking, restaurant, and more. In addition, their rooms are spacious with Cretan -style furnishings that come with all the amenities you need for a comfortable stay.
Address: 13 Gavriil Arkadiou, Sitia, Crete 72300 Greece
Website: https://www.itanoshotel.com/
Contact: +30 2843 022900
Where to Eat in Sitia
Whatever it is you may crave, you'll be able to find something delicious to eat in Sitia. There are plenty of restaurants and cafes to choose from, all with their own unique menus. Here are some of the best places to get your food fix:
To Limani
If seafood is your thing, then you'll definitely want to check out To Limani. This restaurant offers fresh seafood dishes straight from the sea, as well as a variety of Cretan and international cuisine options. They also have a lovely outdoor seating area with views of the sea that is perfect for enjoying a meal or drink.
Address: Kazatzakis, Sitia, Crete
Website: https://www.facebook.com/Το-Λιμάνι-110191127014842/
Contact: +30 697 154 7413
Dionysos
Authentic dishes that are made with fresh, local ingredients? Dionysos is a great place to enjoy some delicious food that will leave you feeling satisfied. Dionysos restaurant has a variety of dishes to choose from, including soups, salads, pizza, pasta, and more. Plus, they have an extensive beverage list to complement your meal.
Address: Agia Fotia, Sitia, Crete 723 00 Greece
Website: https://www.facebook.com/dionysos.sitias/
Contact: +30 2843 026000
Da Giorgio Restaurant
Providing a romantic setting and delicious food, Da Giorgio is a great place for an intimate dinner. This restaurant has a variety of Italian dishes to choose from, as well as wine and cocktails that will pair perfectly with your meal. The sea view from their restaurant is definitely worth checking out, too.
Address: 14 Karamanli Konstadinou Beach Avenue, Sitia, Crete
Website: https://www.facebook.com/DaGiorgioGreekCuisine/
Contact: +30 2843 025500