With clear, blue water, fine sand, and a few rock formations, Argilos Beach is a great place to spend the day. The beach is not too crowded and offers plenty of space for everyone to enjoy the water and relax. Plus, the terrain here is rich in white clay, so you can try going for a mud bath if you feel like it. It's ideal for families and is especially safe for kids since the waters here are calm and aren't too deep.
Xerokampos is the nearest village to Argilos beach, on the remote southeastern coast of Crete, offering you a secluded holiday. If you ever find yourself in Xerokampos, visiting Argilos Beach should be on your plan.
Where Is Argilos Beach?
Argilos is a beach found west of Xerokampos, on the southeast edge of Crete. In addition, the beach is secluded, and no amenities can be found on the beach. Those who visit must be self-sufficient with their food and drinks.
Why Visit Argilos Beach?
Despite being unorganised, Argilos Beach is Greek perfection. Clear waters, fine sand, and rock formations make it one of the island's best beaches.
Argilos Beach is indeed well-known for its beauty, tranquil environment, and crystal-clear waves. However, there is one feature that sticks out above the rest: the natural clay spa. Clay can be found all over the beach, and the minerals in the clay are said to be good for the skin. You can enjoy a relaxing mud bath by scooping up some of the clay found in the sand and applying it to your skin.
During the day, you can relax on the sand or go swimming in the calm waters. In addition, there are plenty of rocks that create grottoes that you can explore. If you're feeling adventurous, you can even go for a dive and explore the marine life in the area.
If swimming and lounging isn't your thing, there are other activities that you can enjoy at Argilos Beach. However, be sure to bring your own equipment since no rental stations are found on the beach.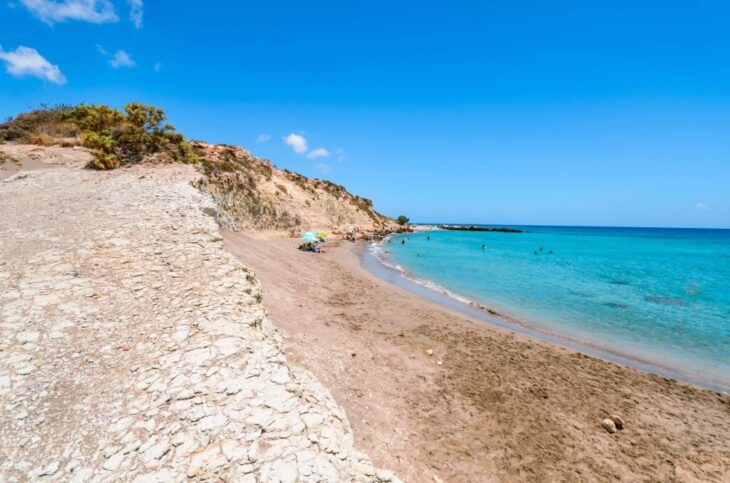 How to Get to Argilos Beach
If you want to make the most out of your trip, hiring a car is by far the best way to see Argilos Beach. It allows you to explore the area at your own pace. It's also cost-effective if you're travelling with family or friends since you won't have to pay extra for transportation.
To get a car rental, you can either book online or in person at the Heraklion Airport. To reach Argilos Beach, you'll have to head to Xerokampos first. If you're coming from Heraklion Airport, the best route to take is to drive up to Pachia Ammos. Once there, turn south across the island to Ierapetra, continuing to Ziros and further up to Xerokampos. When you reach the village, just follow the signs for Argilos beach.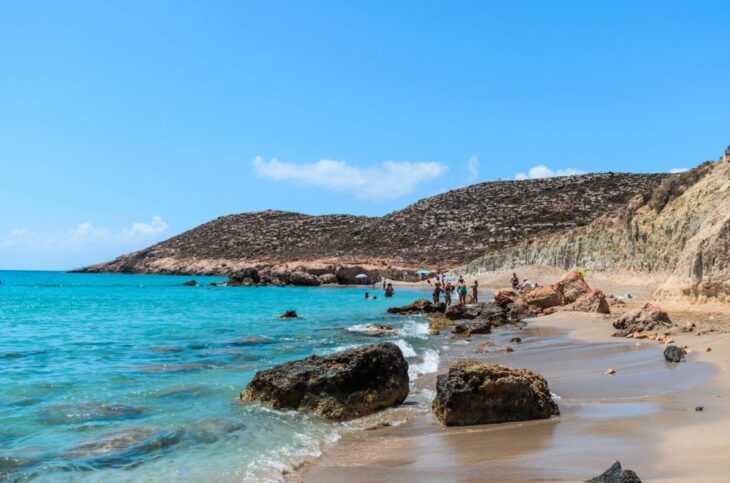 Other forms of transportation to reach Argilos Beach are via bus and taxi. You can quickly get a taxi from any major city in Crete. On the other hand, buses are harder to come by, and there's no public transportation that will take you directly to Xerokampos or Argilos Beach. You will have to catch a bus to Ierapetra first. If you're in Heraklion, you may head to Heraklion Bus Station to do so. Once you reach Ierapetra, ride another bus going to Makrigialos. From there, you can get a taxi to reach Argilos.