One would never go wrong with a beach break and spending a day at Agia Fotia Beach is definitely a good idea. The beach is well-known and popular among locals and tourists due to the beauty it provides. The beach features coarse grayish sand and tranquil, crystal clear water. It is well-organized, with beach bars, taverns, and hotels nearby. The beach's tamarisk trees provide plenty of shade. Beach volley tournaments have been held at the local court every year in recent years.
However, for you to enjoy the beach to its fullest, you need to know a few things. From how to get there, what to do, where to stay, and more, you'll find everything you need in this blog post.
Where Is Agia Fotia Located?
The beach of Agia Fotia lies 45 kilometers southeast of Agios Nikolaos and 12 kilometers east of Ierapetra. It's a little harbor formed at the mouth of a stream that flows down from Thripti's mountain. The town is named after Agia Fotia, a local church (or Agia Fotia). The stream is hidden by massive plane trees, and the bay is bordered by conglomerate cliffs, creating a magnificent landscape.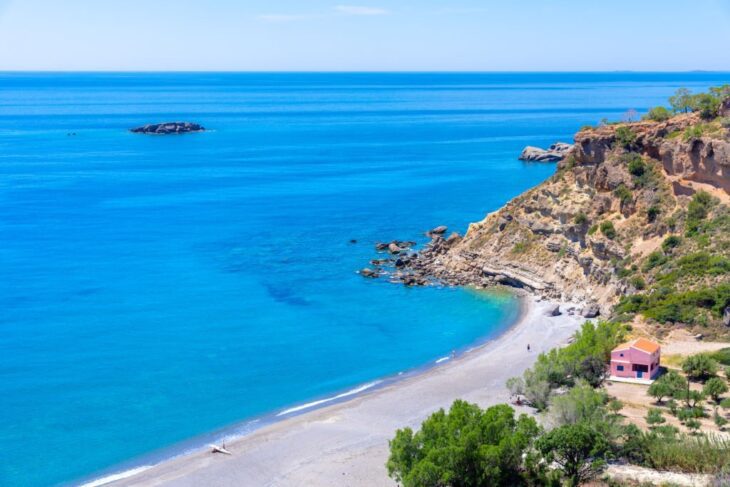 Things to Do in and Near Agia Fotia
Since Agia Fotia is a famous beach spot, you can expect a lot of activities to do while you're there. However, you can also do more fun stuff rather than the standard swimming or sunbathing. Here are some ideas you can try:
Explore Nearby Taverns and Shops
Buying souvenirs such as keychains, magnets, and postcards for your loved ones is a must when traveling. If you walk around the beach area, you'll find many shops selling such items. You can also buy local products like honey, olive oil, and herbs. There are plenty of taverns as well, where you can have a quick bite or enjoy a meal with a refreshing drink.
Go on Boat Trips
Many agencies offer boat rental services in Agia Fotia. You can rent a boat for a few hours or even for the whole day. This is a great activity if you want to explore the nearby islands and beaches. Diving and fishing are also popular activities among those who go sailing.
Visit the Monastery of Agia Fotia
The monastery is located on a hilltop, about a few minutes from the beach. You can walk to the monastery since it's just really close to the beach. The view from the top is breathtaking, so make sure to bring your camera. The monastery itself is filled with history and is definitely worth a visit.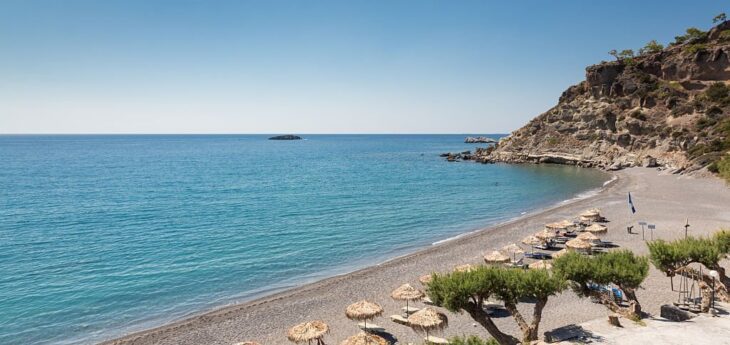 Other Beaches Near Agia Fotia
While Agia Fotia is a great beach, it's not the only one in the area. If you want to explore more, you can visit some of the nearby beaches:
Chrissi Island
Chrysi or Chrissi is an undeveloped Greek island in the South Cretan Sea, located approximately 15 kilometers south of Crete and close to Ierapetra. As such, it's an ideal journey from Agia Fotia. Chrissi island is beautiful and is perfect for swimming, sunbathing, and snorkeling.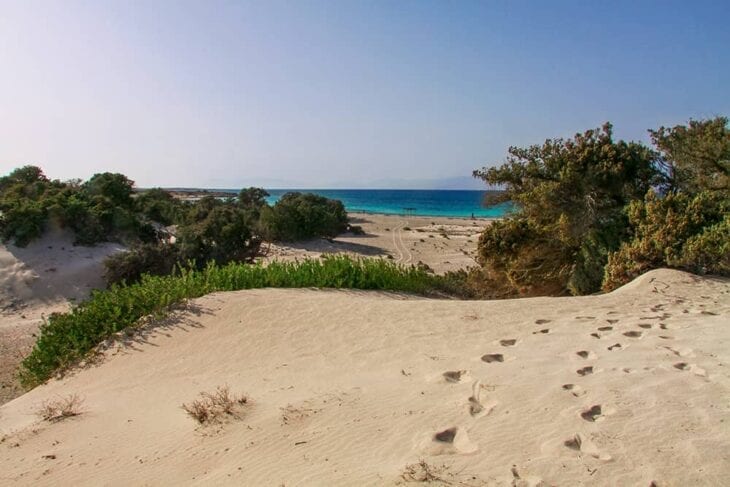 Sitia Beach
One of the most famous beaches in East Crete, Sitia is about an hour drive from Agia Fotia. The long sandy beach is perfect for a relaxing day out. Don't forget to try the delicious food in the restaurants by the beach.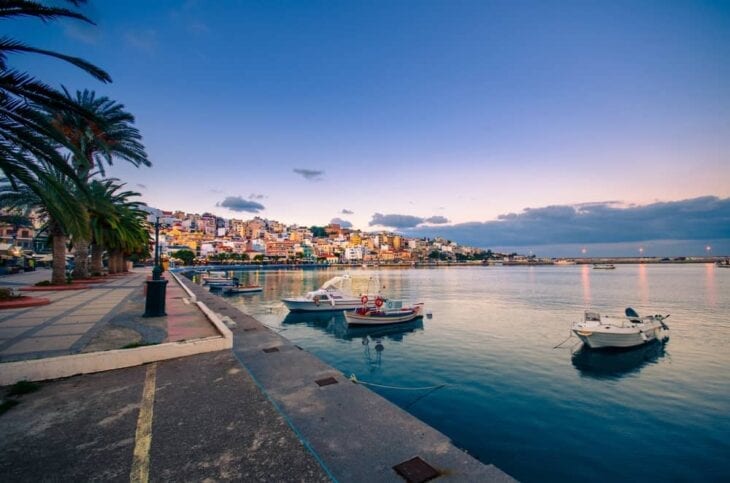 Platani Beach
Blue, crystal clear waters, and soft sand make Platani Beach a must-visit. The marine life this beach holds treats snorkelers and divers with a fantastic view. You can also find many beach bars, where you can enjoy a refreshing drink while listening to good music.
Other Beaches
Other great beaches to visit around Agia Fotia are: Xerokambos beach, Argilos beach, Kouremenos beach, Koutsounari beach, Koutsouras beach, Makrigialos beach, Ferma Beach, Kato Zakros beach, and Myrtos beach.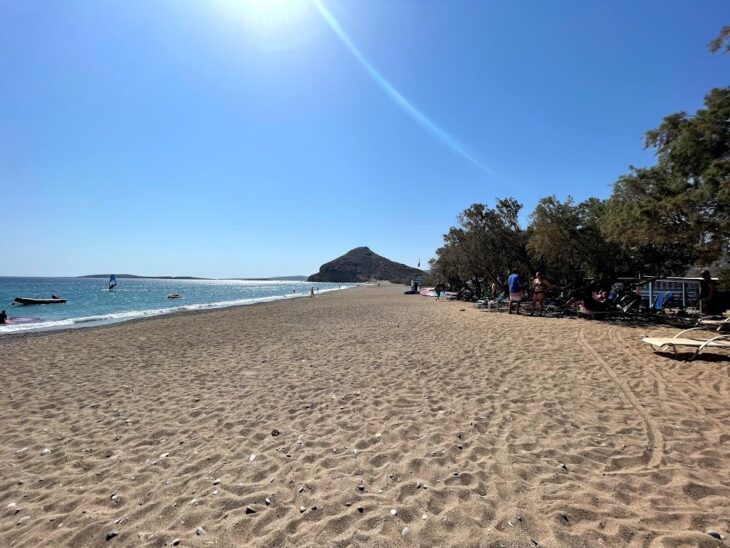 Getting to Agia Fotia
By Car
One of the easiest and most convenient ways to reach Agia Fotia is by rental car. Booking a rental car allows you to have more freedom and flexibility with your time. You can make stops along the way and take detours if you want. You can find road signs leading to Agia Fotia from Makrigialos. The drive is very scenic, so make sure to enjoy the views.
By Taxi
If driving isn't your thing, then you can take a taxi. This is probably the most expensive option, but it's good enough if you don't plan on traveling a lot. There are many taxi services in Ierapetra so you won't have a hard time finding one. The journey will take you 1 hour and would cost 96 EUR.
By Bus
If you're on a budget, then the best way to reach Agia Fotia is by public bus. However, there is no direct bus going from Ierapetra to Agia Fotia. As such, to reach Agia Fotia, you'll have to catch a bus from Ierapetra Bus Station to Makry Gialos. Once you arrive, take a taxi to Agia Fotia, which is only a 35-minute drive. The whole trip will take you an hour and 35 minutes since stopovers will be made.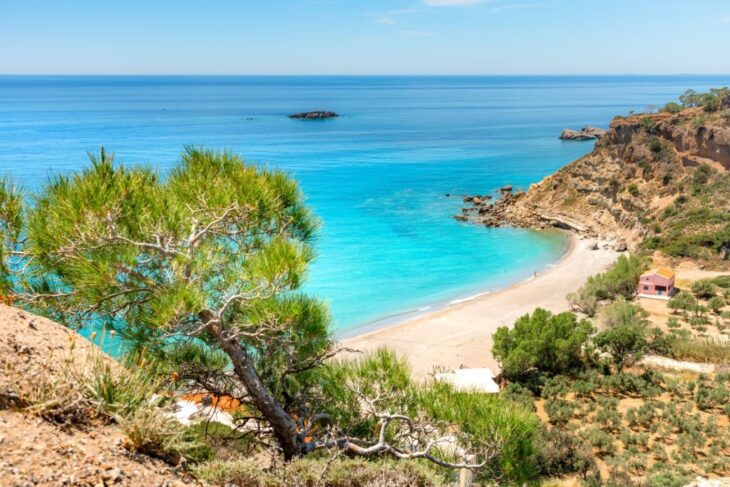 Where to Stay Near Agia Fotia
Whether you're looking for a budget-friendly hotel or need a luxurious suite for your vacation, the area near Agia Fotia has it all. Below are some of the best accommodation options near the beach:
Cretan Villa Hotel & Apartments
Combining, comfort, style, and affordability, Cretan Villa Hotel & Apts is a great option for those traveling on a budget. The hotel is located close to the beach, making it easy to go back and forth. Plus, there's a pool in the area and their rooms are designed to give you the best experience.
Address: Oplarchigoy Lakerda 16, Ierapetra 722 00,
Website: https://www.cretan-villa.com/
Contact: +30 284 202 8522
Markos studios
Another budget-friendly accommodation worth considering is Markos studios. Located a few minutes from the beach, this place is perfect for those who want to enjoy the sun and the sea. Their rooms are comfortable and clean, and their staff is friendly and accommodating.
Address: Agia Fotia 722 00, Greece
Website: https://www.markos-agiafotia.com/
Contact: +30 698 852 1860
Aaron Studio Apartments
A 4-Star hotel offering you a luxurious stay, Aaron Studio Apartments is one of the best places to stay near Agia Fotia. With a pool, restaurant, and a bar in their facilities, you'll surely have a relaxing time. Plus, their rooms are spacious and well-equipped with everything you need.
Address: Agia Fotia 722 00, Greece
Website: https://www.aaron-studios-apartments.gr/
Contact: +30 6931832335
Where to Eat Near Agia Fotia
Food will never be a problem in Agia Fotia since there are many restaurants and cafes in the area. You can find anything from traditional Greek cuisine to international dishes. Here are some of the best places to eat near Agia Fotia.
Restaurant Elias
You'll never go wrong with Restaurant Elias. This place is known for its delicious food and amazing service. They have a wide variety of dishes to choose from, so you'll definitely find something to your taste.
Address: Makry Gialos 720 55, Greece
Contact: +30 6931832335
Kastro Castle Taverna
A restaurant that overlooks the sea, Kastro Castle Taverna is the perfect place to enjoy a romantic dinner or a night out with friends. They have an extensive menu that includes both Greek and international dishes.
Address: Makry Gialos, Sitia 720 55, Greece
Contact: +30 2843 051401
Dasaki Taverna
With trees and a garden surrounding it, Dasaki Taverna is a great place to enjoy a meal in nature. They have both indoor and outdoor seating, so you can choose whichever you're more comfortable with. Their menu includes traditional Greek dishes made with fresh ingredients.
Address: Makry Gialos, Sitia 720 55, Greece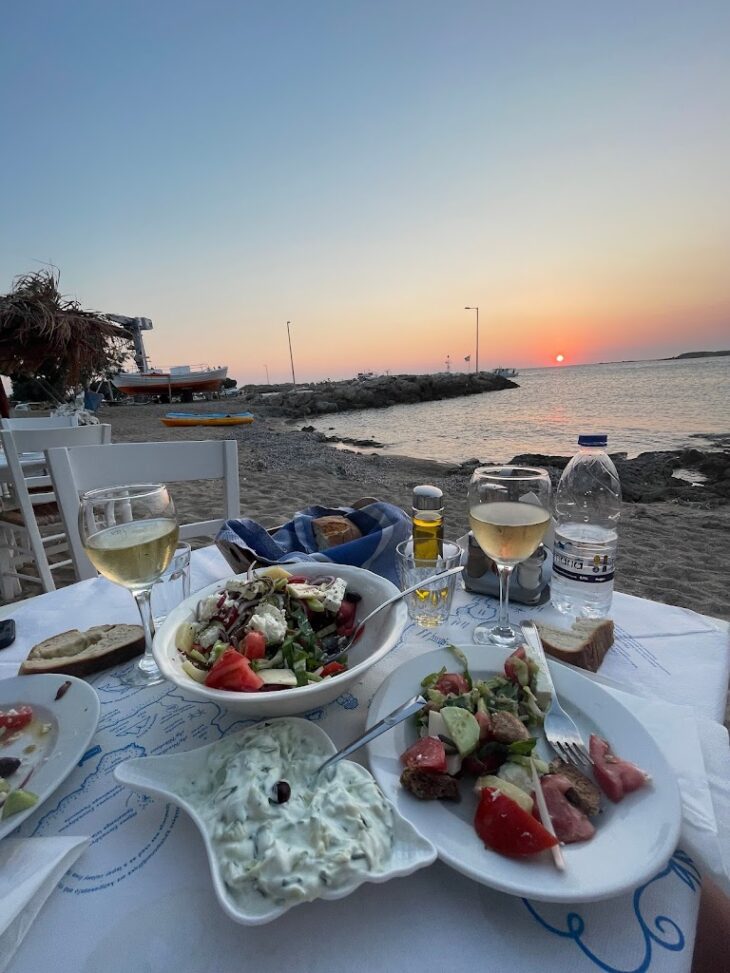 The Best Time to Visit Agia Fotia
Although you can visit Agia Fotia all year round, the best time to go is from June to September. This is when the weather is perfect for swimming and sunbathing. If you're looking for a more quiet time, visit in the shoulder months of May and October. Whatever month you choose to visit, you're sure to have a great time.