With a history spanning thousands of years, and a cultural and culinary tradition synthesising some of the best food of the Mediterranean, Crete is the place to enjoy great sites, sounds, views, vistas, and delectable cuisine.
In Crete's breathtaking port capital of Heraklion, restaurants are plentiful! And while many may be within walking distance to your hotel or accommodations, renting a car in Crete and heading out to further locales will be more than worth your trip.
How you can dine like an authentic Cretan!
Perhaps a wiser option when you have spent the day exploring some of Heraklion's one-of-a-kind attractions. Let us examine the culinary delights of the storied city of Heraklion!
Heraklion's history and (gastronomic) background
Heraklion is Crete's largest city, and also it's head of administration and government. Heraklion is a tourist destination that is ever-growing in popularity. And once you set foot here in this incredible city, you will soon see why.
Heraklion is located nearby the ancient palace complexes of Knossos, the Minoan capital city. This ancient empire once used Heraklion as a bustling port, before the pier was destroyed by a tsunami and was caught in the upheaval of the Minoan civilization's collapse.
In later centuries, Roman invaders would renovate the port city. Heraklion would then go on to be used as a port by all of Crete's subsequent rulers from the Byzantines, to the Arabs, to the Venetians, to the Ottomans, into today. Heraklion features art, architecture, and cuisine indicative of all of its previous eras of rule. Heraklion is also distinguished in its valiant defence against a Nazi invasion during World War II. So, Heraklion has a story to tell!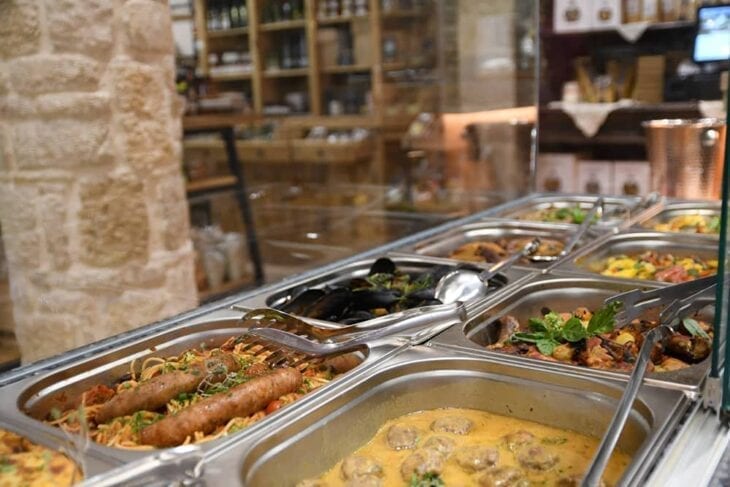 And while today, Heraklion features modern amenities like public transit and a bus system, renting a car in Heraklion and exploring the city on your own is a fun and exciting way to get to know the city first-hand.
Once you have your accommodations and mode of transportation settled, you can see what the capital city of this ancient and mythical Greek island has in store for your tastebuds, too!
Where to eat in Crete's Heraklion
Thigaterra
Thigaterra is a new restaurant in Heraklion that specializes in slow food. For those who don't yet know, the slow food movement prioritises local ingredients and traditional cooking.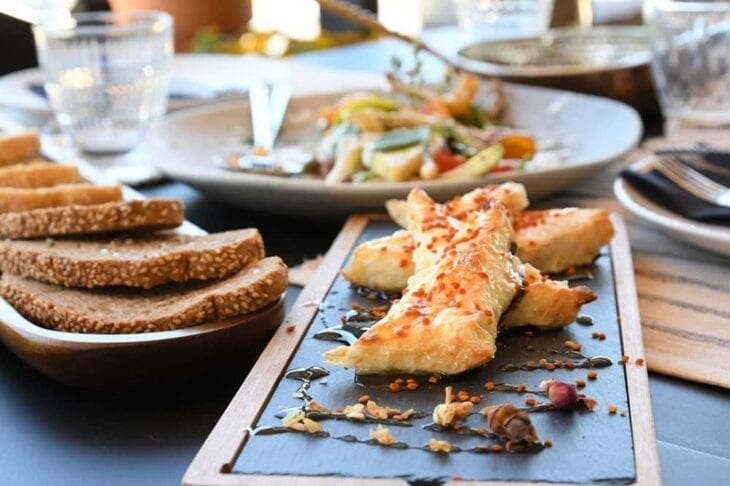 Thigaterra does slow food incredibly well! The restaurant serves up a modern take on traditional foods in their contemporary dining space. You can enjoy a glass of red wine with your meal at Thigaterra's expansive outdoor patio and, when you are all full of the best Cretan food in the area, you can shop at Thigaterra's grocery store.
Link to their site: https://www.facebook.com/Thigaterra/
Ligo Krasi Ligo Thalassa
Situated right by the harbour, this restaurant is beloved by locals and travellers alike. Featuring classic Cretan fairs like the famous fried snails known locally as Chochlioi Boubouristi, dakos, which is like bruschetta's ancient and more Herculean brother, and other great dishes from both mainland Greece and Crete.
Portions here are said to also be of Herculean size<, so come with friends and family to enjoy excellent Cretan food and wash it all down with some raki, Crete's specialty pomace brandy made from the noble remnants of wine.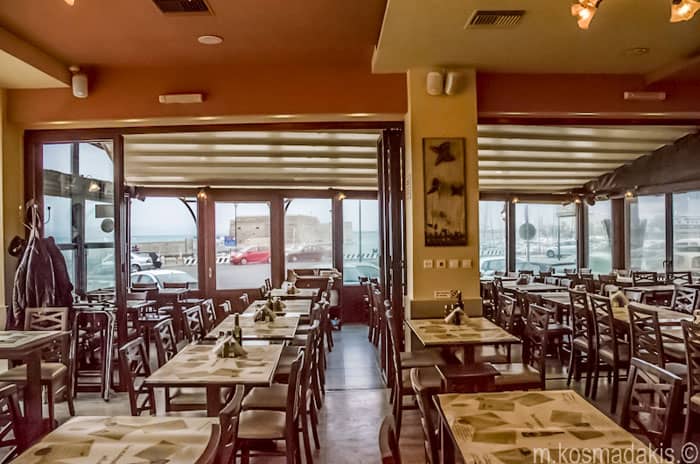 Spoiler alert! Just about every restaurant on our list and elsewhere on Crete will serve a raki shot after each meal!
Link to their site: https://www.ligokrasiligothalassa.gr/en
Peskesi
Are you looking for just the authentic and traditional? Then hop in your sharp and chic rental car and head over to Heraklion's Peskesi. This jewel serves a traditional Cretan fair, but it also sources all of its food from small and local Cretan farms, making it a more sustainable and greener alternative.
And because this paradigm of Cretan cuisine features local and freshly produced food and ingredients, the menu tends to change and shift with the seasons. If an ingredient or item is out of season, you will have to opt for something else!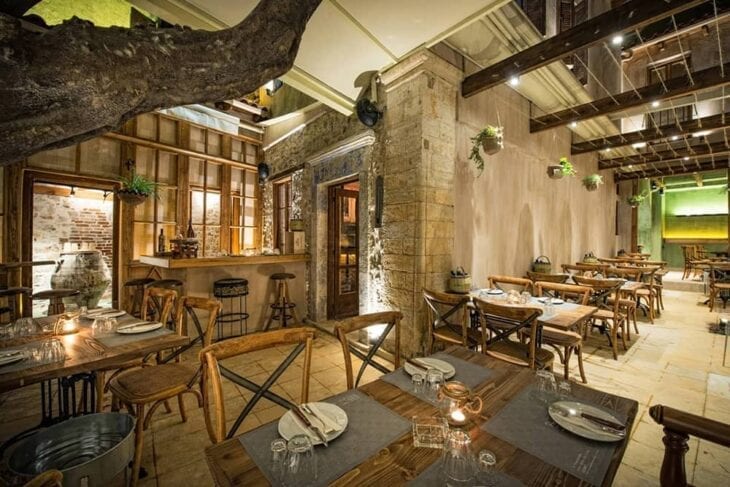 But the silver lining of this is knowing you are helping local farmers achieve a more sustainable food experience, and one that preserves Crete's ancient food history, too! And the food, like lamb and kalitsounia (cheese pies), are not the only local fairs to indulge in, but take a moment or two to appreciate the wine produced by local vineyards and, of course, a digestif of raki!
Link to their site: https://peskesicrete.gr/en/
7 Thalasses
With a name meaning, "7 seas" in Greek, this restaurant evokes Crete's maritime heritage and Heraklion's port history while also serving up some superb seafood, of course! Try the saganaki, a shrimp dish often served as an appetizer but delicious enough to be a full meal.
In addition to saganaki, 7 Thalasses has incredible grilled fish, calamari, and even sushi. While maybe not a fixture of traditional Cretan cuisine, the sushi prepared and served here is worth trying!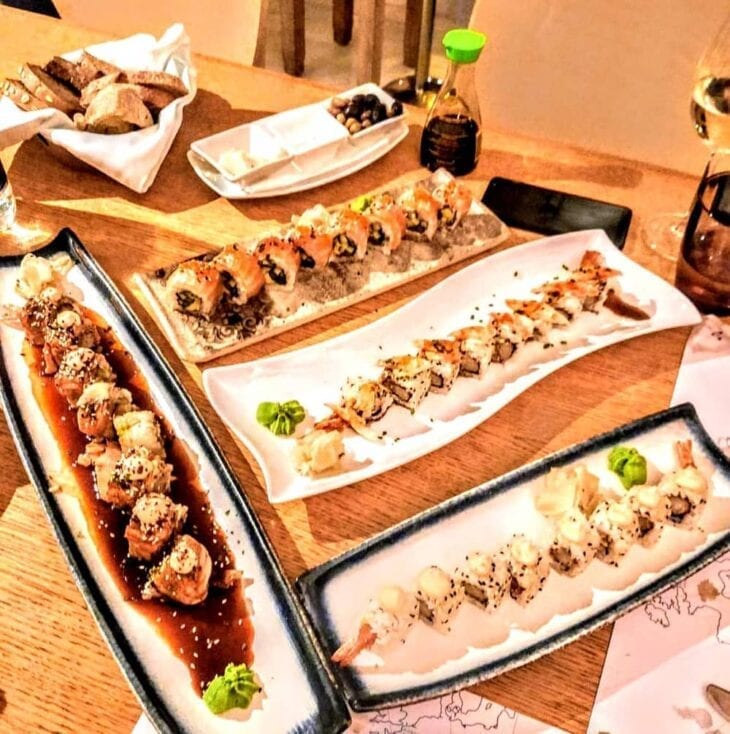 And the languid and pleasant atmosphere completes the ensemble to make 7 Thalasses one of the best restaurants in Heraklion.
Link to their site: https://7thalases.gr/en/
Alla Ki Alla
Experience a full cultural treat here at Alla Ki Alla. This incredible locale opened in 1980 and is a window into the traditional with Cretan cuisine and even live Cretan music performed on certain nights.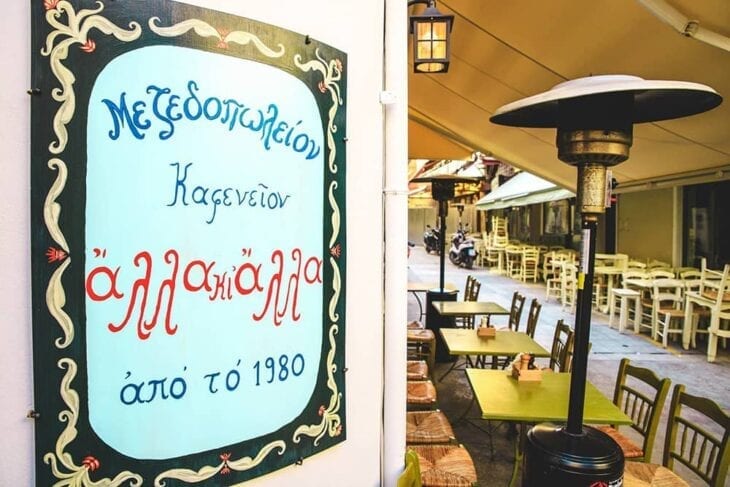 The music featured are traditional Cretan songs and a fantastic accompaniment to many of the dishes prepared here at Alla Ki Alla. Enjoy some of Alla Ki Alla's scrumptious meze, similar to bruschetta and other delicious small plate dishes along with that classic beverage of Crete, raki!
Link to their site: https://www.facebook.com/AllakiAlla1980/
Pantopoleio Geyseon
Pantopoleio Geyseon is an authentic experience ripe with plate after plate of exceptional culinary delights. Pantopoleio Geyseon is another great Cretan restaurant that you must visit on your next trip to Heraklion.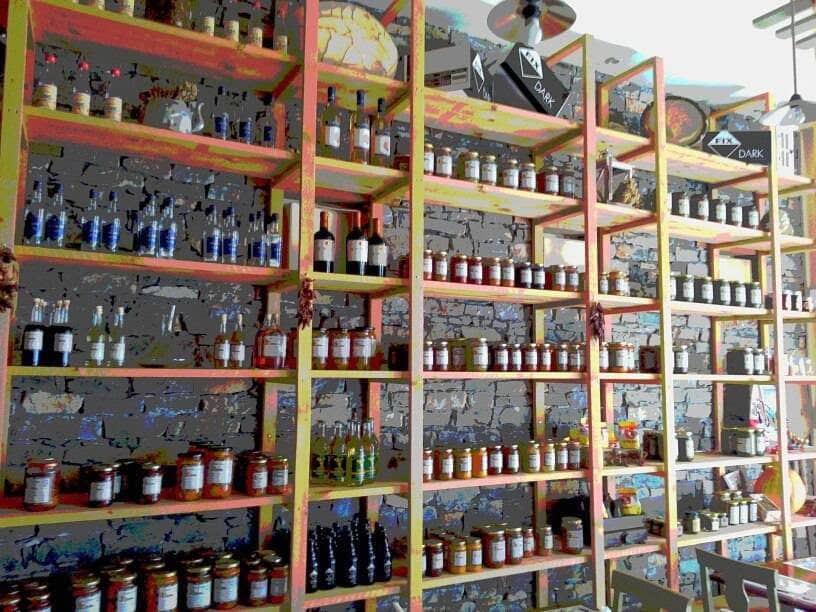 Here, the interior decor charms while the live bands perform traditional Cretan music, all of which make for an unforgettable dining treat. The dish to try is the pork marinated in honey sauce, with other fairs like halloumi cheese, dakos, and mainland Greek dishes like chicken souvlaki.
Link to their facebook page: https://www.facebook.com/PantopoleionGeuseon/
Kalamaki Meat Bar
Seafood is excellent, especially when you visit an ancient port city! But for those missing their turf while they enjoy a healthy helping of surf can visit here, Heraklion's own Kalamaki Meat Bar!
Grilled meats galore are featured at the Kalamaki Meat Bar, mostly serving up wraps similar to the mainland Greek gyro.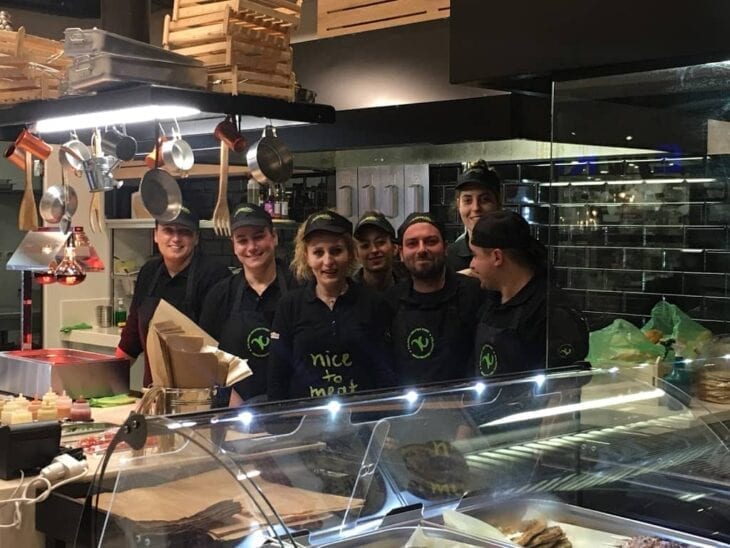 Come and enjoy the meat bar once you have sampled as much meet food and bread as you can if that is indeed possible! Raki may or may not be included, but we will let you use your best judgment if you'd like to supply some yourself with a takeout wrap!
Link to their site: https://www.facebook.com/kalamakimeatbar/
Parasties
The name, "parasties" refers to a Cretan word meaning traditional cooking. And traditional Cretan cuisine is precisely what you will find here at Parasties. The plates to get here are the grilled mushrooms and the traditional pie. Both of these are expertly prepared and give you a sense of the island's long and rich culinary legacy in the best way possible, through your tastebuds! And don't forget, the final dessert and digestif include raki of course, as well as some fruit and other delights.
Link to their site: https://parastiescrete.gr/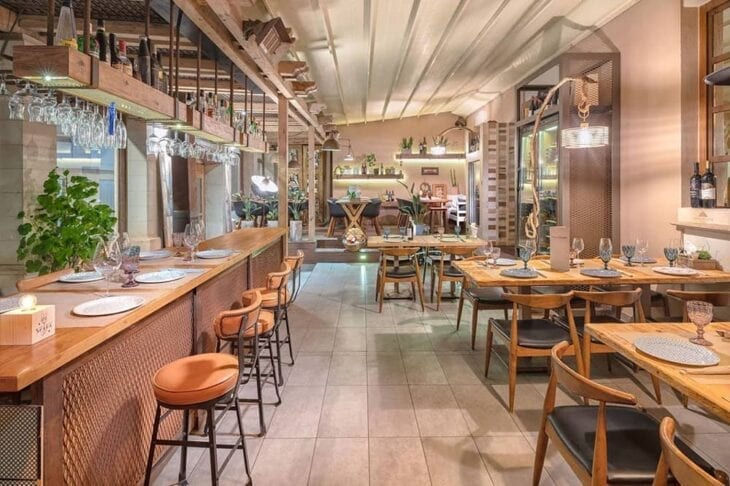 Heraklion's storied food lineage
From the ancient palaces of Knossos to the modern capital city and the hustle and bustle of hot tourist hubs, Heraklion is one electrifying city. Merging the modern with the ancient, the laid back with the fast-paced, this city has it all.
And for many a gourmand and gastronome, it may become one of their favorite cities in the whole wide world. Visit one of the many excellent restaurants we mentioned today and taste the island's long and mythical history.
The Mediterranean hosts some of its most delectable and exciting flavors and food experiences right on Crete, so don't miss out! Take a stroll from your accommodations or rent a car for a comfortable, affordable, and indeed, stylish way to arrive at any one of these amazing restaurants.
Enjoy Heraklion's many historic sites, scenic natural wonders, picturesque views, and educational museums. But don't forget to explore Heraklion's cultural tradition of food when you do. A shot of raki will be waiting!