In the remote southeastern corner of Crete, this beach resort on the Libyan Sea is famous for its beach. In fact- that's its name. "Makry" + long and "Gialos" + beach. Sometimes it is spelled as two words, to avoid confusion with the other Makrigialos, far away in the Pieria region in Northern Greece.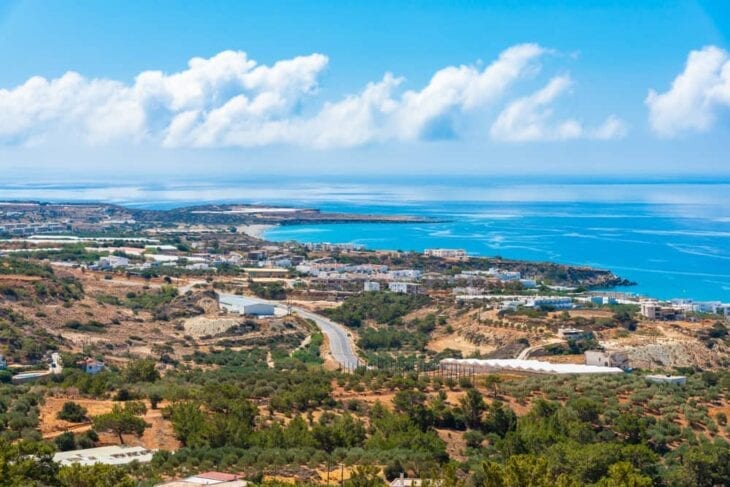 All You Need to Know about Makrigialos
Embraced in the curve of a lovely bay is a spectacularly long sandy beach. The south coast is known for having deep waters, but not Makrigialos- this is a shallow beach. Nice for families. The port is picturesque and charming.There are many excellent places to eat wholesome and delicious local cuisine. And there is also good nightlife, centred around lively beach bars. The nice thing about Makrigialos is that it is suitable for everyone- families enjoy the beach and the tavernas, and younger people enjoy the livelier side of the town.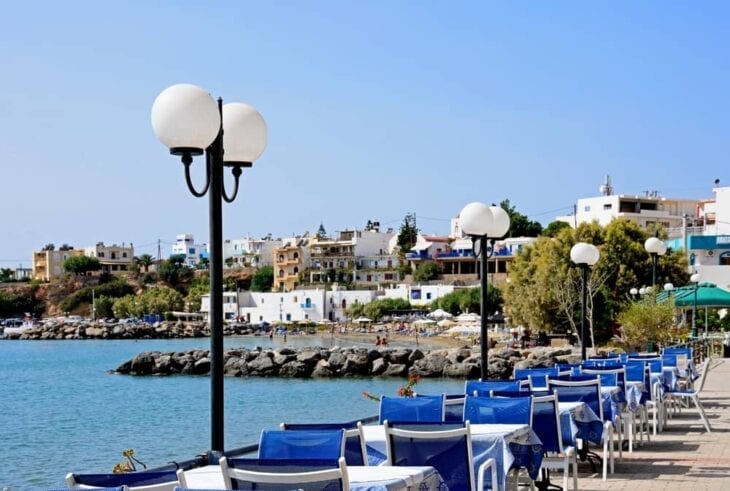 The town is not large, and has a welcoming mood. One thing that helps it to have an authentic character is the fact that there are few hotels. Most of the accommodations are pensiones, apartments, and rooms. This makes the mood more intimate and less impersonal like many large beach resorts.

Where is Makrigialos Located?
The great thing about Makrigialos is that is feels like it is at the edge of the world. It actually is at the edge of Europe. The Lassithi regional unit at Crete's eastern edge is the most remote and untravelled, and the south coast is quieter than the north coast. Makrigialos is on Lassithi southern coast. Of course, we are still on an island- so even though it feels remote, Makrigialos is not difficult to reach.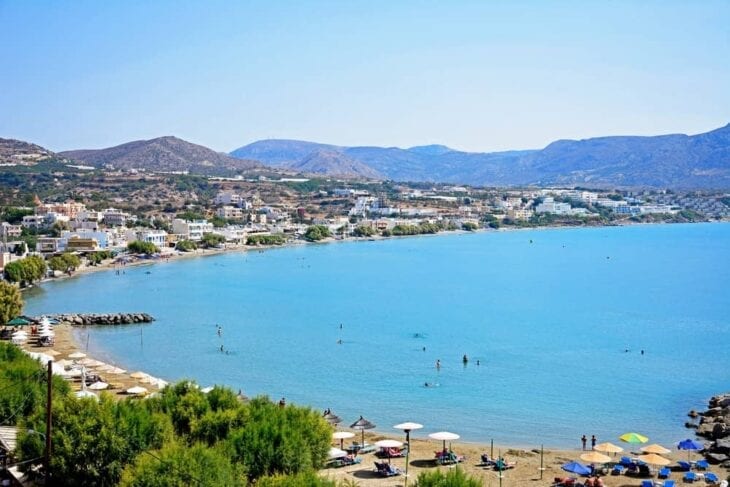 How to Get to Makrigialos
The easiest way to reach Makrigialos is by car from the Heraklion airport. The rental office is right at the airport. From there, the drive is about an hour and 45 minutes. An alternative route via country roads over the mountains takes a little over two hours but it's a very beautiful and quiet drive. Alternatively, you can take the KTEL bus service to Ierapetra– there are several departures daily, and the trip takes about two and a half hours. Or you can take the KTEL to Sitia– there are fewer daily departures. Makrigialos is on the line that runs between Sitia and Ierapetra. From Ierapetra, you'll need to take another KTEL to "Marki Gialos" (note they call it by this name on the Ktel site). And from Sitia, this is the link.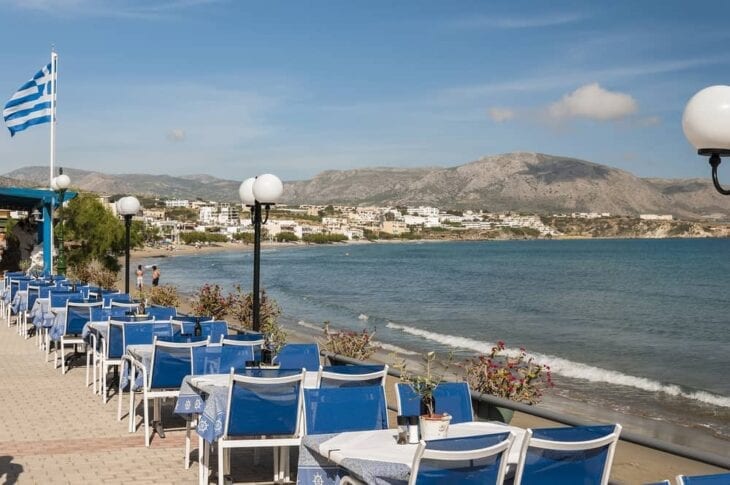 The KTEL station is near the harbor of Heraklion, easily reached from the airport.
There is a small airport in Sitia, and Makrigialos is just over 45 minutes by car from there.
The History of Makrigialos
Like much of Crete, the history of the region around Makrigialos stretches back to Minoan times and even earlier. The Minoan culture was an advanced Bronze Age civilization that was at its height from 1700 – 1500 BC (They were around for ages though- 3500 -1100 BC). To put it into perspective, this is over 1,000 years before the Golden Age of Athens, when the Parthenon was built. One of the 4 major Minoan Palaces was not far from Makrigialos, and the ruins of a Minoan villa have been found right outside Makrigialos itself.
What to See and Do in Makrigialos
Makrigialos is all about the gorgeous beach! This is a great place for watersports and boat trips. There are activities for every age and level of skill, from peddle boats to snorkelling to jet ski.
The harbor is completely charming for a stroll, and there are many god tavernas, cafes, and beach bars.
Enjoy a Beach Holiday: Gorgeous Beaches Near Makrygialos

Makrigialos is a great beach, but it is not the only beach! It's a great idea to have a car so you can go and explore, because Lassithi is marvelous for beaches with unique character. Vai, with its palm forest (Europe's largest), is one of the most famous beaches on the island. Silky sands and palms and emerald waters make Vai truly magical. Vai is about an hour away by car. Kalo Nero means "Good Water" and it is. This is one of the easternmost beaches on the south coast and worth visiting. Bring water and an umbrella and everything else you think you might need because this is a wild, unserviced beach. It's about 12 minutes away by car. Xerokampos beach probably takes its slightly Italian-sounding name from the Venetians. Rugged, remote and splendid, it is in the southeastern end of Lassithi, an hour away by car. People love Ammoudi- also called Dragon's Beach – for its white sands! It's just about ten minutes away by car. Voulisma beach, a full-service beach on the north coast, is one of the most popular beaches on the island because of its clear waters with astonishing color and its beautiful sands. It's less than an hour away by car.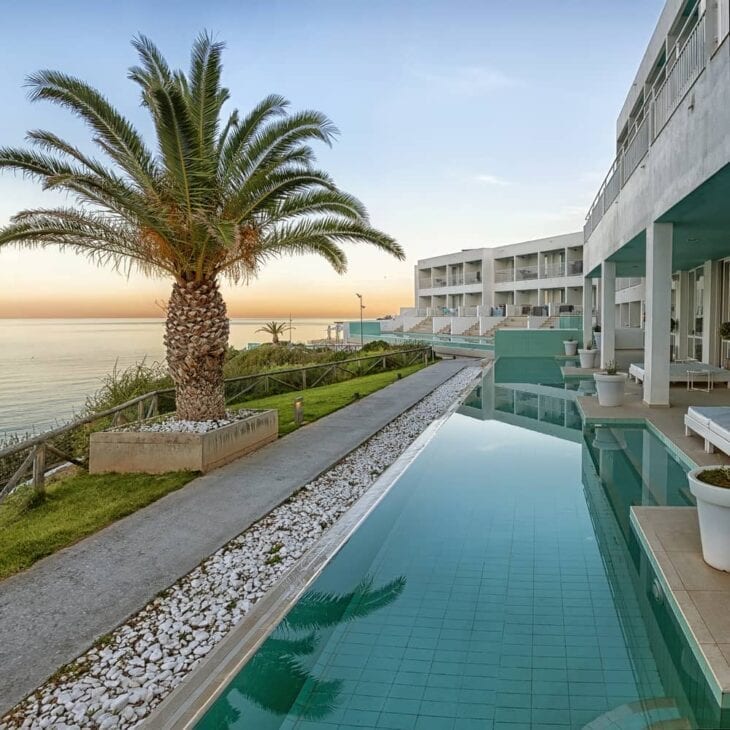 Activities Around Makrigialos
Discover the wild natural beauty of Koufonisia, a small island that is a protected Wildlife Refuge and part of the Natura 2000 network. Day cruises leave from Makrigialos for an unforgettable experience. It's hard to pull yourself away from the beautiful beaches, but Crete really does have astounding nature. Explore the inland with a hike around the dramatic and unspoiled Milonas Gorge. A 25 minute drive to the west brings you to this gorge famous for its waterfall and pool. Another gorge begins at the village of Hammetoulo and ends at Xerokampos for a 3 km hike.
Cultural Excursions around Makrigialos
There is Minoan palace complex in Gournia that was excavated extensively in the early 20th century, revealing some 60 homes and a central palace. A major site for those interested in Archaeology is the Minoan Palace of Zakros. The last of the four major palaces to be excavated, it's also the smallest. The palace was never looted, so the findings were extraordinary. The magnificent findings include objects considered masterpieces of Minoan art. They are now housed at the Archaeological Museum of Sitia. Near Sitia and an hour's drive from Makrigialos is the 15th century Toplou Monastery, with its 33 meter high tower, amid a dramatic and barren landscape. There is also a winery here, with informative tours. Very close to Makrigialos – just a15 minute drive – is the Kapsa Monastery, built into the side of a cliff with views to the Libyan sea and Koufonisia.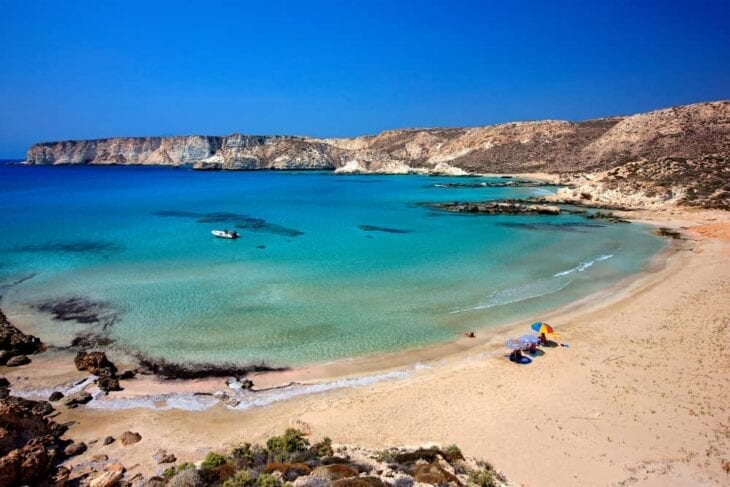 Explore Makrigialos
This remote and unspoiled part of Crete is perfect for exploring by car. The drives are beautiful, and there are many things to do within a short distance. Come and explore this special corner of Crete.