Ierapetra has traditionally been a significant island center, advantageously positioned and endowed with favourable natural conditions. It has developed into the biggest town in south Crete and a significant travel hub. This is a great place to visit, especially if you are looking for a town that is livelier than Agios Nikolaos or Sitia.
The name Ierapetra means sacred stone, which pretty much describes how special it is. Getting a rental car on your trip to Ierapetra is a great idea since it can give you the comfort and freedom you need to enjoy your vacation. So, what are you waiting for? Read our article below and visit this beautiful Cretan town as soon as possible!
What is the history of Ierapetra?
Ancient Ierapetra, known then as Kyrba, was a well-known and important city that was connected to the island of Rhodes. Kyrbas, according to tradition, was one of the Telchines who arrived in Crete from Rhodes and established the modern-day city of Ierapetra. Due to the ancient temple that formerly stood there, the city was later given the names Pytna and then Hierapytna, both of which mean "Sacred Hill."
Ierapetra was one of Crete's primary ports by the first century BC, and it made use of its advantageous location to conduct business with the kingdoms of both the East and South Mediterranean. Ierapetra put up a valiant fight when Rome came knocking on Crete's door in the first century BC, but it eventually fell into Roman hands in 66 BC. Recognizing its strategic significance, the Romans reconstructed the city, allowing it to prosper for the second time in its existence.
Later, St. Titus, the first Bishop of Crete, founded the See of Hierapytna in Ierapetra in the first century AD. Because of its remarkable geographic location, Ierapetra continued to be powerful during the Byzantine period. Unfortunately, its significant position drew several enemies who wanted to annex Crete and the East Mediterranean. The Arabs arrived at Ierapetra in the ninth century, followed by the Venetians in the thirteenth and the Turks in the seventeenth.
Ierapetra is now divided among the two different parts of Pano Mera and Kato Mera. The historic district on the southwest headland is called Kato Mera. It is distinguished by a mediaeval street design that has modest dwellings, cul-de-sacs, and narrow lanes, giving the area a village-like feel. On the other hand, the significantly larger new town of Pano Mera has wider streets and three- and four-story homes. The area of Pano Mera is still growing towards the west, north, and east.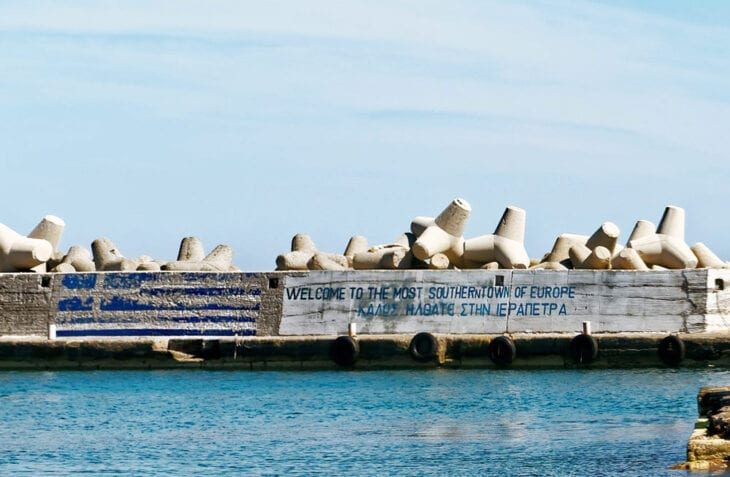 Where is Ierapetra located?
The town of Ierapetra is situated along Ierapetra Bay's beach on Crete's southeast coast. It is southwest of Sitia at a distance of 60 km and south of Agios Nikolaos, roughly 30 km away. Ierapetra is 96 km away from Crete's capital, Heraklion. If you are having trouble finding the town, use the coordinates 35°00'42.70″ N 25°44'32.42″ E, and you're good to go.
How many people live in Ierapetra Crete?
According to the 2011 census, the municipal unit of Ierapetra has a population of 23,708. This municipal unit includes the town of Ierapetra, many villages, and Chrissi Island.
What to know before going to Ierapetra?
Doing your research in advance is usually a smart idea whenever you visit a new location. By doing this, you will be ready and have nothing to worry about when you arrive. Ierapetra's temperature changes throughout the year, so make sure to pack appropriately. Ideally, your trip should be in the summer, so bring breathable, light clothing and a swimsuit for the beach.
Just because you're going to visit the beach doesn't mean you should limit your footwear to sandals or flip-flops. Packing a decent pair of comfy sneakers is an excellent idea because you'll probably be walking about a lot. Oh, and don't forget the hiking boots—you won't want to pass up the opportunities for treks that this location presents.
Since there are many options to choose from when it comes to food, you won't have to worry about what you're eating while you're there. However, for obvious reasons, we will always advise visitors to enjoy the local Cretan food. Can you really say you visited Ierapetra if you didn't try their famous local dishes?
What are the facts about Ierapetra?
Health and Safety: Verify your travel and health insurance coverage before you depart for Ierapetra. If you are travelling from another European country, getting a free European Health Insurance card (EHIC) before visiting Greece is also a good idea. This, however, does not take the place of insurance. With this, you will have the right to get any necessary medical treatment while you are travelling. However, the EHIC won't pay for ongoing medical care. If you have some medicine that you need to take regularly, make sure you bring enough so that you will not have to worry about it while you are there.
Police and security: If you are worried about any security issues, talk to the staff at your hotel's front desk. Find out in advance if the hotel has its own security staff. If you are not satisfied with their response, you can always call the local police at 28420 90160-2.
ATMs: Several ATMs can be found in Ierapetra, but before using one, you should first check how much your bank will charge you to withdraw money. This is due to the fact that most ATMs charge a transaction fee. Although most bars, restaurants and cafeterias will accept your card for payment, it is not a good idea to rely on that completely. Therefore, always carry both cash and a credit card. You also have the option of carrying prepaid currency cards, which allow you to keep track of your spending.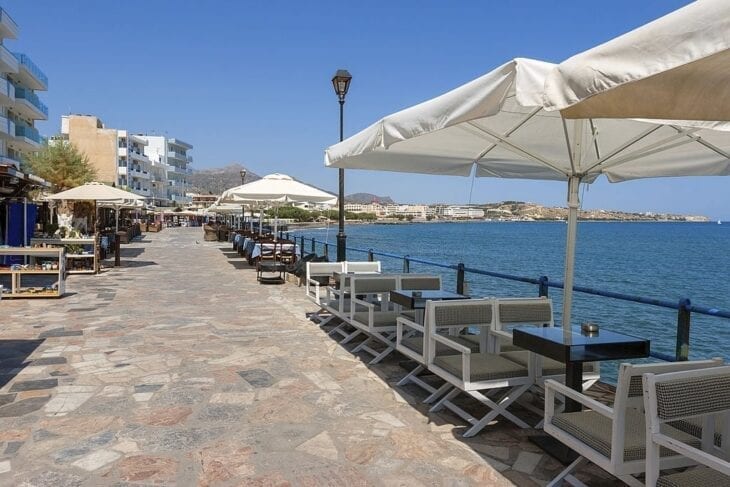 Is Ierapetra safe?
Yes, Ierapetra is a safe place for you to visit as a tourist. Of course, like every other place in the world, there may be some minor thefts, but nothing serious for you to worry about.
What is the best season for visiting Ierapetra?
The best season to visit Ierapetra is summer. From mid-May to the end of October, the water in Ierapetra is warm and pleasant, making it perfect for swimming and time at the beach. However, every season in this town is unique; spring and fall are particularly well-liked for outdoor sports. If at all possible, avoid visiting Ierapetra in the busiest summer months, which are July and August. Instead, go in May, June, September, or October. In these months, you will get to enjoy summer there without being overwhelmed by huge crowds. Nevertheless, Ierapetra is still one of Crete's less crowded summer vacation destinations.
How to get to Ierapetra?
There are 3 ways to get to Ierapetra. These are by bus, by taxi and by avbar rental.
By Bus
There are daily buses from Heraklion towards Ierapetra, and some of them will also pass by Heraklion airport, where most international travellers arrive. The bus trip from Heraklion to Ierapetra takes a little over 2 hours, and a ticket costs 12 Euro per person. The buses tend to get crowded in high season, so you need to be prepared for that scenario.
By Taxi
While you may save some money by taking a bus from the airport to Ierapetra, the entire exercise of having to find a bus and wait for it can be a bit tiring. On the other hand, by taking a Crete taxi to Ierapetra, you can rest easy knowing that your ground travel will be safe and pleasurable. The best part is you won't even have to worry about driving. Once you land at the airport, you may either get a taxi right there or book one ahead of time to prevent any last-minute hassle.
By Car rental
You can easily reach Ierapetra with a Heraklion car rental or Heraklion airport. The capital is located about 96 km away, and the trip takes about 1.5 hours. The petrol needed for a medium size car for this trip is 6 litres and this would cost around 11 euros. A modern road runs along the northern coast and then continues towards Ierapetra, making the road trip extremely pleasant. Considering how many splendid beaches and sights there are near the town, renting a car in Crete is the best choice for getting to Ierapetra.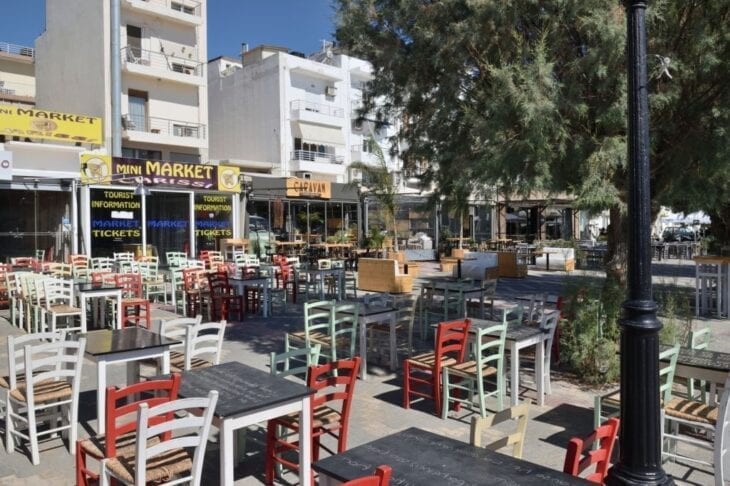 How to get from Heraklion to Ierapetra?
Take the main route to Agios Nikolaos if you're coming from Heraklion. Instead of going inside the town, turn right and go south to Ierapetra. A very excellent road connects Heraklion with Ierapetra across 96 kilometres. Another route you can take is through Ano Viannos, Myrtos, and Ierapetra from Heraklion. Although the trip is notably longer, it is also significantly more picturesque, allowing you to view numerous charming mountain villages in the southern Heraklion and Lassithi Prefectures.
How to get from Agios Nikolaos to Ierapetra?
Once you decide to head out to Ierapetra from Agios Nikolaos, you must head northeast on Filellinon, going toward Arkadiou for around 12 metres. Next, turn right onto Arkadiou and continue for another 81 metres. After that, you need to turn right, this time onto 28is Oktovriou. After around 8 metres, you will see a roundabout. Take the first exit, which will take you onto Merarchias. Now, keep going onto Kontogianni and turn right until it becomes Roussos Kapetanaki. Next, you will have to turn left onto Palea EO Agiou Nikolaou Sitias after which you will continue onto Kritsas. After around 0.2 km, you will see another roundabout. Continue straight onto Kon/nou Karamanli for 0.8 km. You will now find yourself merging onto E75/EO90. Keep driving on this highway for 19.3 km until you see a sign that tells you to turn right for Ierapetra. You will now be on the Epar.Od. Ierapetras – Pachias Ammou road. Stay on this road for 13.9 km until you turn right onto Grigoriou Afxentiou. Your destination will be on the right.
What are the best things to do in Ierapetra?
The town of Ierapetra is one of the most enchanting destinations in Crete, a sunny place that offers unforgettable summer holidays. Combining enchanting beaches with fascinating sights, Ierapetra is a complete experience. You will surely love the Paralia Ierapetras, the main beach that is located right next to the port. It's a gorgeous and large black-pebble beach, well organised, although it can get quite crowded during the high season. There are several other small beaches spread along the seafront of Ierapetra. A simple stroll through the snaking streets of the old town is also a lovely experience, revealing other fascinating sights that are worth visiting.
The sites we recommend are the Ottoman Mosque at Kato Mera, the Church of Afentis Christos overlooking the harbour that was built in the 14th century and still holds to the custom of burning an effigy of Judas at Easter, the Ottoman School built in 1899 that is now home to the town's Archaeological Collection, where the most outstanding exhibit is the beautiful statue of the goddess Persephone in a veil. We also recommend the Venetian Fortress Kales, the Gournia Archeological site, Myrtos Village, Ha Gorge, Chrissi and Koufonissi islands!
Still in the Kato Mera old town, a small building is known as the House of Napoleon, and according to local legends, the emperor stayed here undercover during one of his trips to Egypt and, upon leaving, left a note stating his name. Other interesting landmarks of Ierapetra include several old monasteries and churches.
Visit the Venetian Fortress Kales
The old fortress of Ierapetra is located at the edge of the ancient port, being built at the beginning of the Venetian rule over Crete. Some locals even claim that it was built in 1212 by a Genovese pirate. After being renovated in 1626 following a previous earthquake, the fortress fell under Ottoman rule a few years later, thus also the name of Kales that it is known today. The fortress is the symbol of Ierapetra, and during the summer, it also houses cultural events.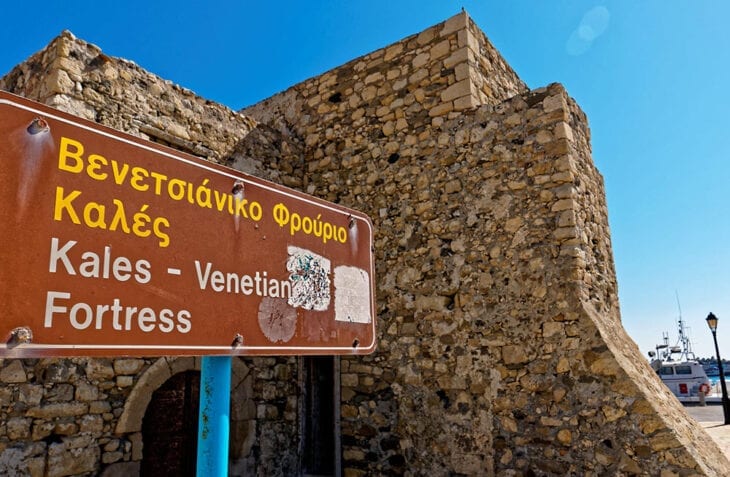 Explore the Gournia Archeological site
The Gournia Archaeological Site is located on the north coast of the Isthmus of Ierapetra in Crete. Found on the site are preserved houses, cobbled streets, a court, a palace, and a cemetery. The site is open Tuesday to Sunday from 8:30 A.M. to 3:30 P.m. The entrance costs around 2 euro for all regular tourists, and 1 euro for senior citizens and students.
Visit Myrtos Village
Myrtos (or Mirtos) is one of Europe's southernmost frontiers. It's located on the south coast of Crete, on the Libyan sea. Myrtos is in the Lassithi prefecture, known for its pristine scenery and wild beauty. It is near the town of Ierapetra, and is easy to reach by car from Heraklion. The area around Myrtos has been inhabited since Minoan times. The Minoans were the advanced Bronze Age civilization of Crete. The beach of Myrtos itself is a very well known beach that has been awarded the Blue Flag for purity of waters and also for environmental protection. Mirtos is a great place to enjoy local life in the traditional cafes and authentic tavernas. Near Myrtos to the east, you'll find one of these wilder beaches, this one with small pebbles and tamarisk trees. Tertsa, less than 15 minutes to the west by car, is a small traditional village with four beaches.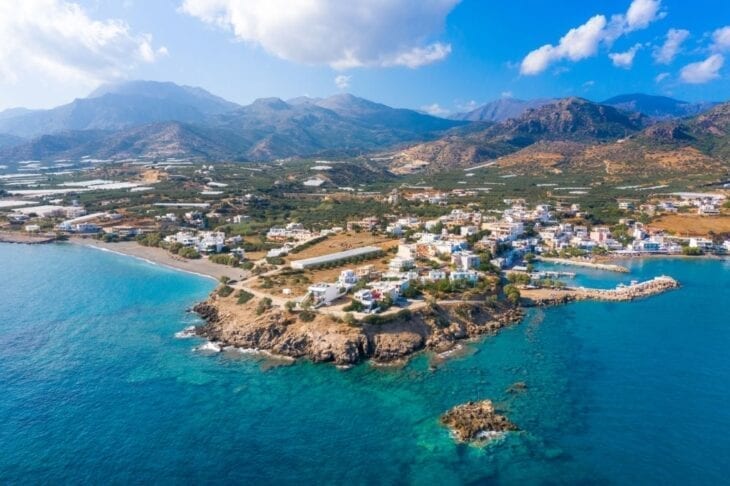 Hike the Ha gorge
Ha Gorge is located on the west slope of the Thrypti mountain range. It exits east of Vasiliki village in Ierapetra, Lassithi Crete. Compared to some gorges in Crete, Ha Gorge is considered the most technical. It is about 33 rappels. The largest has a height of 35 metres. The gorge is home to many endemic and migratory birds. The south side of Mt. Thripty is a designated Wildlife Refuge and Special Protection Area. The Ha Gorge is considered the most stunning technical gorge on the island of Crete. Crossing it entails special skill and training, plus canyoneering tools. Hikers must be well-skilled and have the proper tools to cross the gorge. One of the hiking routes in Ha Gorge will start in Thripty and will exit in Monastiraki. The best time to visit Ha Gorge is during winter, between the months of January and May.
Take a boat to the little Chrissi Island.
The gorgeous desert island of Chrissi island (or Golden Island) makes for an enchanting cruise trip from Ierapetra, being just under an hour away. Known by locals as simply the "Island", this uninhabited and protected paradise offers superb white sand beaches and turquoise waters, a lonely church, a lighthouse, as well as a bar, and a tavern. There are some umbrellas on the north side of the island, but they are limited. There are only two ferries each day from Ierapetra, so make sure you catch them for your return trip, or you might have to spend the night on the island.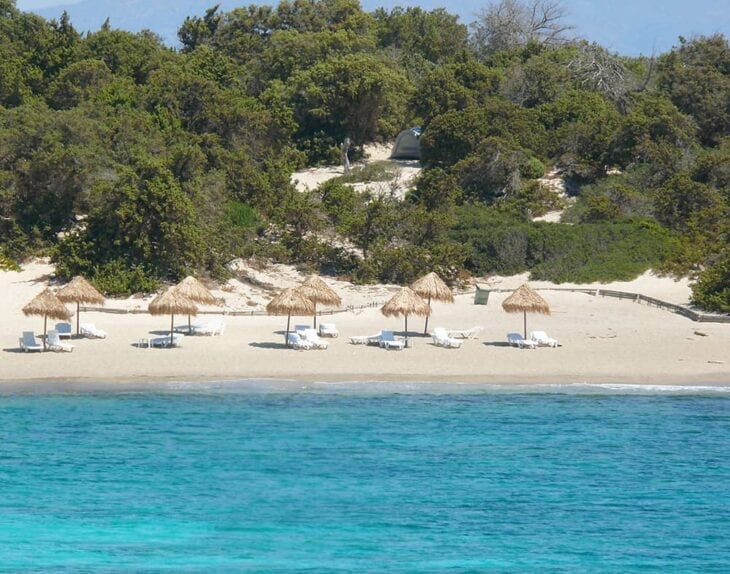 Take a boat trip to Koufonissi Island.
Located about 25 km away from Ierapetra, the marvellous island of Koufonissi is a protected wildlife refuge of unique beauty. It has over 30 mesmerising beaches with perfect sand and crystal clear waters, some of them considered among the best in Europe. It is a habitat for migratory birds and unique plant species. It also features amazing ancient ruins that are worth exploring, with old theatres, temples, and a little church. There are cruise ships that go to the island during the summer season, although there are no tourist services there, and it is uninhabited.
Discover other activities around Ierapetra
With a car or even a scooter, there are Crete activities in the general vicinity, and a particularly enchanting place is the picturesque seaside villages of beautiful Anatoli, Oreino, Psychro, Schinokapsala, Agios Ioannis and Pefkous villages high up in the mountains, offering fabulous views of the sea and the surrounding area.
Another favourite escape is the area between Makrigialos beach and Goudouras, home to the Monastery of Agios Ioannis Kapsas, on a hillside near the exit to the Perivolakia Gorge, overlooking the Libyan Sea and the islet of Koufonisi.
The islet of Gaidouronisi or Chrissi is included in the European Union's Natura 2000 network of protected areas for its natural beauty, its azure waters, and wonderful beaches. There's also the Minoan settlement of Gournia, one of the most important archeological sites in Crete, just 15 kilometres north of Ierapetra.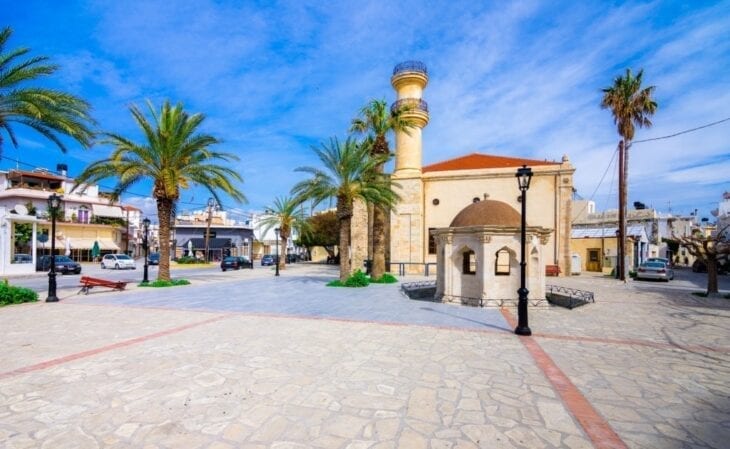 What are the best beaches near Ierapetra?
The beaches in and around Ierapetra are particularly well-known, especially because of the great experience they offer in the summer. Ierapetra's beaches extend down the south coast for roughly 51 kilometres, from Myrtos to Ferma's Megali Paralia. We have compiled a list of the best beaches this town has to offer, given below.
Agia Fotia beach. The beach in Agia Fotia lies 12 kilometres east of Ierapetra and 45 kilometres southeast of Agios Nikolaos. It is a little harbour that is created at the mouth of a stream that flows from the Thripti mountain. The beach is named after the nearby Agia Fotini Church (or Agia Fotia). Huge plane trees cover the stream, and conglomerate cliffs surround the bay, creating a magnificent view. The beach is quite well-known and well-liked among both Ierapetra city residents and tourists. The ocean is tranquil, and the sand is gritty and grey. There are hotels, restaurants, and beach bars nearby, and the beach is known to be well-organised. Every year at the nearby court, beach volley events have been held in recent years.
Peristera beach. Another calm and beautiful beach that you can find in Crete's east Ierapetra region is the Peristeras beach. Ierapetra City is 2 km away from this beach, while Makrigialos is 27 kilometres away. This is a remote location with tall cliffs all around. There are a few smooth rocks scattered around the sandy beach as well, which add to its beauty. These various rock shelters with unique rock formations create a stunning landscape. Even though they are relatively close to the main road, the bays in the region are not that well-known. You will hardly ever see a lot of tourists here, which makes this place a great retreat.
Koutsounari beach. Located near the charming town of Agios Ioannis in the Thripti Range, Koutsounari beach is a beautiful, long beach located 6 kilometres east of Ierapetra and 43 kilometres southeast of Agios Nikolaos. It lies about 1 km north of the South Cretan Sea coastlines, on a beautiful green hill surrounded by numerous olive orchards and pine trees. This beach has the lovely coarse, greyish sand that is a characteristic of southern Crete. It is also well-known for its tamarisk trees that are present in numerous locations. Another great thing about this beach is that because of its length, no matter how many people visit this beach, it never seems crowded. There are also several hotels, restaurants, mini-marts, and a camping area all around Koutsounari beach. You may find some moderately planned spots here and there, normally closer to the hotels.

Myrtos beach. At the end of a broad valley dotted with greenhouses and citrus groves and traversed by the River Kryos, which runs through the massive Sarakina Gorge, 13 km west of Ierapetra, is where you'll find the lovely Myrtos beach. It is a little beach community that, thankfully, has not changed its historic charm despite some moderate recent development. The lovely beach of Myrtos has won admirers from all over the world for its gritty, grey sand that doesn't stick to the body. Perhaps the best thing about this beach is that it has all the facilities you may need on your visit. These include small hotels, pubs, cafés, restaurants, supermarkets, a petrol station, and a clinic, among many other things.
Tholos beach. It is also known as Kavoussi beach, is 26 kilometres east of Agios Nikolaos and 4 kilometres north of the settlement Kavousi. This beach is formed by a rich valley's outflow, which is encircled by historic olive orchards and vineyards. The area has seen little growth in tourism and is perfect for a restful vacation. Tholos beach has a small port and is pebbly and sandy on its west side. You may get shade behind a number of tamarisk trees that are located close to the shore. Taverns and several rooms for rent are also available nearby. Due to the undersea freshwater springs that emerge from the Thripti mountain range, the water is often blurry with a distinctive pale blue color.
Kouremenos beach. In close proximity to Ierapetra you will find Kouremenos beach. It is a beautiful beach just 1km east of the little village Palekastro. It is at a distance of 91 kilometres from Agios Nikolaos and 21 kilometres east of Sitia. The beach, which is bordered on the north by Cape Tenta and on the south by Cape Plaka, is the longest in the vicinity, with a coast of more than 1.5 kilometres. Like many other beaches in this region, it also has several tamarisk trees nearby, nice brown sand, and shallow blue seas. Not only are there many options for lodging, dining, and entertainment in Palekastro, but there are also a number of brand-new hotels close to the shore. With umbrellas, showers, and beach bars, certain areas of this beach are a little organised. In addition, the location is popular amongst windsurfers and kite surfers from around Europe due to the area's high wind.
Koutsouras beach. As another beach in East Crete, Koutsouras beach is situated 20 kilometres east of Ierapetra and 55 kilometres southeast of Agios Nikolaos on the main route connecting Ierapetra and Makrigialos. It is a beach community located on the southern slopes of Mount Thripti. It has been developed in a valley with pine trees, greenhouses, and olive orchards. Despite having a police station, drugstore, hospital, hotels, restaurants, supermarkets, etc., the community is still rather quiet and peaceful. There are beaches with rough black sand and calm waves all around the village. West of the village, in front of the old settlement, is where you'll find the main Koutsouras beach. This is close to the ancient settlement and hence, well organised.
Ferma beach. Located in Ferma village, the local Ferma beach is situated 45 kilometres southeast of Agios Nikolaos and 10 kilometres east of Ierapetra. It is a little beach community 4 km south of the village of Agios Ioannis, located near the rocky shoreline. The place is surrounded by a thick pine forest and lush flora, creating a green haven amid the otherwise barren terrain of Eastern Crete. There are a number of small bays along the area's shoreline, the longest of which is on Livadi beach, also known as Ferma beach or Xerokamara. The majority of the area's hotels are located close by. The beach is stunning, known for its fine pebbles and deep, clear water, and is encircled by lush flora in a surreal setting of big, polished rocks and high cliffs.
Makrigialos beach. Makrigialos beach is situated 23 kilometres east of Ierapetra and 58 kilometres southeast of Agios Nikolaos. It is a little community next to the Pefki Canyon's beautiful entrance. Makrigialos, which was formerly a little harbour without any roads in the 1950s, has seen rapid expansion and is now one of the main tourist attractions in the area of southeast Crete. Large and small hotels, taverns, restaurants, bars, and cafés, as well as supermarkets, bakeries, ATMs, doctors' offices, and pharmacies, may all be found in Makrigialos. The beach stretches for a kilometre. Although it is called Makrigialos, you could hear residents refer to it as Hani or simply Long Beach. It is a well-kept little beach with lovely golden sand that is encircled by many cafés and eateries. Showers, water sports, umbrellas, and large tamarisk trees are all available here. Even in the winter, the temperature is warm, while the water is relatively calm and shallow. The Makrigialos beach is, therefore, ideal for families with young children.
Psari Forada beach. Psari Forada (aka Sidonia beach) is a popular beach destination for those who wish to have a flexible trip filled with a lot of activities. It is located 88 kilometres south of Heraklion and 58 kilometres west of Agios Nikolaos. The beach is long and sandy, and it is protected from high winds by capes on both sides. The beach is well-organised, with plenty of loungers and umbrellas. The water in the area is relatively deep so swimming with children must be done with precaution.
Listis beach. Listis Beach lies on the shores of the Libyan Sea, on the dramatic south coast of Crete. This pristine and untouched part of the island is truly a remarkable place to visit. The geology is enchanting, with rock formations both on shore and in the sea to swim around. Listis beach is a remote beach. The region around Listis beach, though quiet today, is full of history. There are plenty of things to do near Listis Beach, including churches, ruins, and charming villages. The island was also inhabited in antiquity and through the Byzantine period. The Vigla Fortress was built to defend Crete from the Arabs in 961 AD. The Hondros Tower was built during the German occupation of WWII as it commands an excellent view of the region.

Dragon's Cave (Ammoudi) beach. Ammoudi beach is located near a sizable and well-protected harbour only 1 km north of the center of Agios Nikolaos. Both residents and tourists love to visit this little, sandy beach because of its shallow water. It is surrounded by tall tamarisk trees and charming buildings, and there are numerous places to stay and dine there. Apart from this, you will also find water sports facilities available at the beach too.
Kato Zakros beach. The traditional fishing community of Kato Zakros lies 40 kilometres east of Sitia and 107 kilometres east of Agios Nikolaos. It is the charming harbour of Ano Zakros, a town 7 kilometres to the west, which is set in a rich valley with olive orchards and is encircled by rugged mountains. It is one of Crete's most isolated regions, making it perfect for anyone seeking peace and quiet away from the busy everyday life of towns. Families will fall in love with this place! Do not expect luxury; instead, you will discover a little community with all the basic necessities here. A large sheltered bay forms the lovely Kato Zakros beach on the settlement's edge. It mostly has a pebbly terrain with occasional rocks in places. The water here is incredibly calm, even in August. This beach is also a great place to go if you enjoy fishing.
Gorges near Ierapetra
Crete is known for its astounding gorges, which can be called monuments of nature. If you're interested in getting a chance to explore them, then it's a good thing you are visiting Ierapetra since it has many gorges around it. If you are into adventure, you will have the time of your life exploring them. The most notable Crete gorges and canyons near Ierapetra are listed below.
Orino Gorge
The Orino gorge is one of southeast Crete's most well-known canyons. Its entrance lies in the Koutsouras forest, which is 6 kilometres from Makrigialos and barely one kilometre from the village of Koutsouras on the coast. The village of Orino is just 2 km away from the end of this gorge. Once you set out on your hike, you will witness wonderful scenery and several little waterfalls along the way. Explore the 11.6-kilometer out-and-back hike, which typically takes 3 hours, and 57 minutes to complete. If you ask around, people will tell you that this hike is regarded as fairly difficult. Although this is a popular gorge to visit, you may still find some peace and quiet during the slower periods of the day. The route is lovely to explore at any time of the year and is open all year.
Achlia Gorge
The short and somewhat wide gorge of Achlia begins at position Kipos, which is located west of the settlement of Skinokapsala. The galini beach at Ahlia marks the end of the gorge's pine-forested section. Waters from the Thripti Range create a river that has multiple waterfalls along it throughout the winter (ranging from 5 to 8 metres high). There is no need for canyoning equipment because the sandstone walls are not very thin, making trekking quite simple.
Sarakinas Gorge
The little Sarakina Gorge begins not far from the village of Mythi or Mithi, which is located 16 kilometres to the west of Ierapetra. Many tourists see it as the best hiking gorge in Crete. Although it is just 1.5 km long, visitors will still get to see the breathtaking wonders of Cretan nature. There is also a sculpture created naturally by water over a period of millions of years. Usually seen in technical gorges, Sarakina has formidable cliffs that exceed 150 metres in height and extremely small pathways (needing canyoneering equipment). You will probably be surprised by the amount of water this gorge has, which is present all year long. It creates stunning waterfalls and ponds that are perfect for swimming, especially in the heat. Because of this water, it is difficult to cross the gorge in the winter without becoming soaked.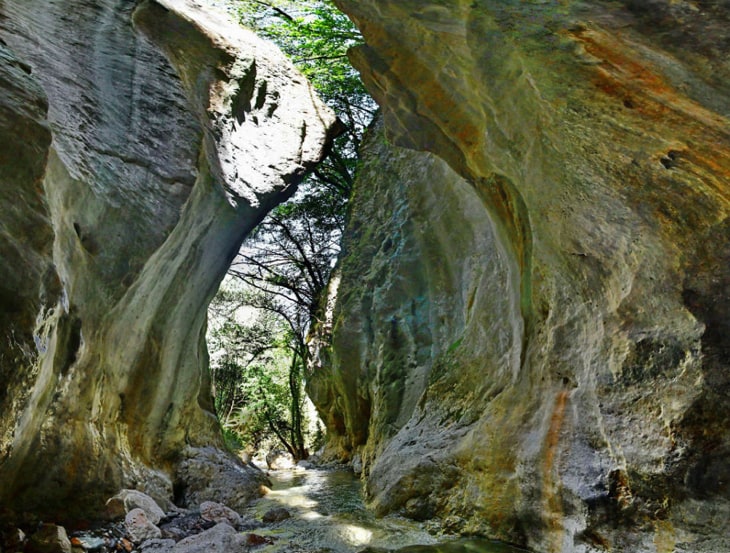 Ha Gorge
The massive Gorge of Ha is said to be Crete's most stunning gorge. It is created on the western slope of Mount Thrypti and carries water from the Thripti plateau to the Ierapetra isthmus, where it is subsequently transferred to the Pachia Ammos beach. The Byzantine church of Saint Anne (Agia Anna) and the European route E4 that connects the Minoan towns of Vasiliki and Thripti are both below the gorge's entrance, which is situated at an elevation of around 800 metres. The end of the gorge is at the height of 100 metres, just adjacent to the settlement of Monastiraki, looking like a knife that has split the mountain in half. The gorge creates waterfalls, and crossing it demands specialised gear and training in canyoneering.
Perivolakia Gorge (Kapsa Gorge)
The wild and magnificent Kapsa Gorge lies 8 to 9 kilometres east of Makrigialos and 33 kilometres (km) east of Ierapetra. Because of its proximity to the remote and charming village of Pervolakia, the gorge is also known as the Pervolakia gorge. When in the area, take a stroll around the surrounding historic Pezoulas village with its stunning homes. In the Libyan Sea, the gorge's opening is close to the Kapsa Monastery. You may also go swimming right in front of the gorge exit, on the lovely, serene pebbly beach. The gorge is around 4 km long, and hiking through the canyon is not very difficult. If you decide to hike from the southern exit (Monastery) to Perivolakia, it will take you approximately two hours.
Selekano Forest
Selakano is located on the southeast side of the Dikti mountains at an elevation of 930m, about 20 kilometres inland from the coast. Selakano is the name of both the charming tiny village and the wooded mountain region. Between Selakano and Metaxochori, there is a gorge named Parsas that is a great place for you to hike. There is a trail that leads there, passing the "rock of the bees" (which is also the subject of a legend), freshwater streams, a stunning and spectacular view, and the densest section of the pine forest.
Do you need to book in advance to visit Ierapetra?
Since a lot of people are now beginning to go to Crete for their vacations, it is always a good idea to make sure you have made reservations. When you go to Ierapetra, make sure you book in advance so that you don't have to pay a higher price.
What is the best vehicle for visiting Ierapetra?
Compact class vehicles like the Toyota Yaris or Volkswagen Polo are the ideal choice for travelling to Ierapetra. If you drive in a smaller car, you may explore Ierapetra to the fullest. Due to its cute and little size, touring the city will be more enjoyable. By getting a rental car, you will have more time to visit old towns and historical attractions because they won't be constrained by schedules. One of the many rental vehicle agencies that provide the finest deals is Crete Car Rental. They offer a website where one may quickly make a reservation by following a few simple steps. For those who want to rent a car to drive about the island and see tourist spots, Car Rental Crete offers a variety of possibilities.
Can you rent a car to go to the Ierapetra?
Yes, you can! You may rent a car from one of several rental car agencies. All you need to do is fulfil the minimal requirements listed below.
What are the factors to consider before renting a car in Crete?
Of course, it's not like you can walk into a rental car agency and get a car for rent without meeting certain requirements. If you plan on renting a car in Crete, make sure you know all about it!
Insurance. Rental cars do come with collision damage waiver insurance, which needs a driver with a credit card as a guarantee. When you go to rent the car, you should also ask about complete insurance, which is also offered at an extra fee. Fortunately, a credit card is not necessary for this. Remember that neither form of insurance will pay for damage to mirrors or glasses. If there is an accident, you should contact the rental car agency as quickly as you can. Additionally, be sure to hang around until a representative arrives at the scene.
Driver's Age. To rent a car in Crete, you require more than just a driver's licence. The driver also has to be above 21 and should have had their licence for at least a year. This minimum age requirement varies from company to company as well. While some need you to be at least 21, others require a minimum age of 23. Make sure you verify this from the company.
Car Type. Most of the rental car agencies in Crete have vehicles with manual gearboxes. If you are comfortable driving them, this won't be a problem. However, the majority of individuals are unable to operate a manual transmission. Car rental agencies may charge more for automatic vehicles. In addition, there are fewer of them, so if you show up at the last moment to get one, chances are, it won't be available. Therefore, be sure to book your reservation in advance.
Documents needed for renting a car. People who want to rent a car typically run into trouble at the last moment because they think that a driver's licence is all they need. However, keep in mind that you must also have a debit or credit card in your name in order to provide a guarantee. If you forget your licence, you can still rent a car using your credit card. In this case, another driver with a valid licence will be allowed to take the wheel because, obviously, it is illegal to drive in Greece without a licence.
How much does a car rental in Crete cost
The pricing of your rental car will be strongly affected by the company you choose and the type of car you rent. The price may vary depending on how many days you use the car. Furthermore, often the most popular travel times are more expensive than those that are not very popular. This may cost, on average, between €15 and €22 each day. A smaller car may be rented for as cheap as €14 per day, while an economical car runs between €7 and €9. Remember, there are often extra charges as well. Normal cars typically cost €26 per day to rent, although intermediate models usually start at €19. SUVs and minivans are more expensive, with average prices of €23 and €34, respectively. Renting a full-size SUV may cost up to €45, whilst renting a luxury car can cost up to €75 each day. A convertible normally begins at around €31 on average, while a mini may be rented for as little as €7. If you rent a car for a week or more, your daily rates will typically be less costly.
What are the nearest attractions in Ierapetra?
If Ierapetra is on your list of places to visit whilst in Crete, make sure you know about the different attractions in Ierapetra. Not only does it have amazing beaches and gorges, but there are several archaeological sites near Ierapetra as well. So if you are fascinated by history and historical attractions, make sure you check out the places mentioned before.
Archaeological Museum of Ierapetra
The Educational Association of Ierapetra was established by the antiquities-loving citizens of Ierapetra in the late 19th century, marking the beginning of the Archaeological Collection of Ierapetra. The club's objectives were to collect, maintain, and develop a museum collection of the area's artefacts. The museum is now situated in the iconic Ottoman School or Mehtepi building, which was constructed in 1899. It houses the items that have withstood destruction and theft, dating back all the way to the 3rd millennium BC.
The Mosque of Ierapetra
When the Turks occupied Ierapetra at the end of the 19th century, they renovated the church of Saint John (Agios Ioannis) for their religious needs. This is now known as the mosque of Ierapetra, which was constructed in the ancient city (Kato Mera). It continues to be kept in a rather excellent condition. The marble lintel at the entryway features a Muslim inscription taken from the Koran. Its towering minaret, which was restored in 1953, dominates the area. There is a Muslim fountain opposite the mosque that has also been renovated. This is another place you must visit during your trip to Ierapetra.
Kales the Venetian Castle
Ierapetra is known for Kales Fortress. To keep an eye out for hostile ships and defend the harbour against Arab pirates, the Venetians erected Kales Fortress on the port's northern sea wall. It is thought that a previous fortress formerly stood where this castle now stands. A relic from the era, the fortress of Kales was built entirely of stone without any ornamentation or ornamental work. The fortress was changed significantly after the Turks acquired control of it, but they left it standing since it fulfilled their defensive requirements. They also kept a lot of Venetian characteristics. It will be a great idea to visit this landmark since it serves as a reminder of the challenges the nation and the community have faced in the past.
The house of Napoleon
Napoleon Bonaparte, the French Emperor, launched his war against the Mamluks in Egypt during the summer of 1798. It is reported that he spent the night in a home in Ierapetra while on his journey to the east. After he left, the family who had been hosting him discovered a handwritten message that said, "If you wish to know who your stranger was, know that I am Napoleon Bonaparte". Nobody had realised it was him before that. Although this rumour hasn't been verified, Ierapetra's Napoleon mythology is still very much alive. The home is located in the Kato Mera area, close to the harbour, and was purchased by the municipality of Ierapetra.
The Church of the Virgin of the Kales
The church of the Virgin of the Kales, which has three aisles and a dome atop the nave, is situated to the south of Kritsas at a distance of about 500 metres. The church had a thorough renovation that included the reconstruction of the dome in the beginning of the 14th century. The first layer, which is dated to the middle of the 13th century and is largely intact in the sanctuary, is made up of scenes from the Twelve Great Feasts. Because of its enormous and well-preserved wall painting décor from several Byzantine art eras, the church is one of the most significant and often visited buildings in Crete.
Church of Afentis Christos
The Virgin of the Fortress (Panagia tou Kale), also known as the church of Afendi Christo, is the oldest in the community and was constructed between the 12th and 14th centuries. Its two red tiled domes are its major reason for fame. When you enter the 14th-century structure, you can see the exquisitely carved iconostasis and the paintings that cover the walls. It looks to be in excellent shape and is situated in a gated courtyard. Additionally, it has a second campanile that was constructed in the Dodecanese islands' more typical "wedding cake" design. There are no documents indicating that it was ever converted to a mosque while it was under Turkish administration, but it is the oldest church in Ierapetra and the whole Lassithi Prefecture. You will need a street map to locate it, and the ten minute walk from the seafront is well worth the effort.
Where to eat in Ierapetra
There is one thing you never forget about your vacation, and that is the food. Ierapetra has several great places to eat, including tavernas and restaurants. We have compiled a list of all the best places you can eat in Ierapetra. So keep reading and enjoy your food!
Napoleon
One of the most popular and appreciated restaurants in Ierapetra, it is located right by the beach and close to the fortress. It offers delicious Mediterranean cuisine, with fresh seafood, fish, and other cretan recipes.
☏ +30 2842 022410
tripadvisor link
Vira Potzi
Located right next to the sea and the Venetian Fortress, this highly praised restaurant features amazing traditional recipes, with fresh fish, seafood, grilled food, and vegetarian food, and also has great views from the tables.
☏ +30 2842 028254
tripadvisor link
Zorbas Seaside Restaurant
One of the best restaurants in Ierapetra, it offers authentic Cretan food in an enchanting romantic ambiance by the sea. They serve regional Greek and local Cretan cuisine for lunch and dinner, with amazing seafood, fish, grills, and other delicacies.
☏ +30 2842 028542
website
Are there any hotels to stay in Ierapetra?
Ierapetra is the fourth settlement in Crete and the biggest town on its southern coast. It has plenty of tourist services, including excellent accommodation. This includes hotels, villas, studios, and apartments. So no matter what the size of your group is, you will have something available for you. However, during the peak of the tourist season, places can get fully booked, and you might want to book your accommodation in advance. There are plenty of options, from private rooms to exclusive hotels and guesthouses. There are also plenty of other services in Ierapetra, including restaurants and shops.
El Greco Boutique Hotel 4*
One of the most prestigious and well-reviewed hotels in Ierapetra, it offers high-quality services and amazing rooms fully equipped with all facilities. It has a great restaurant, a bar, internet access, bike rental, and a great location right next to the beach.
☏ +30 28420 28471
website
Galaxy Hotel
Located just 50 metres from the main square and 5 minutes from the beach of Ierapetra, this hotel offers 47 comfortable fully-refurbished rooms, a bar, breakfast service, and much more.
☏ +30 28420 26541
website
Astron Hotel
Located in the central part of Ierapetra, the hotel offers 66 rooms and suites completely renovated, with all the necessary facilities, including panoramic views, wi-fi, satellite TV, and more.
☏ +30 28420 25114
website
Is there a shopping center or a shopping street in Ierapetra?
Ierapetra's main shopping street is Koundouriotou. Another thing which makes a trip memorable is the shopping experience. Unfortunately, there aren't any malls, but Ierapetra has several shopping centres, mini markets, supermarkets, and tourist shops where you can buy memorable souvenirs. Its main market street is Koundouriotou, so make sure you check that out and buy some Crete souvenirs you can always remember your vacation by.