Chania's Ioannis Daskalogiannis International Airport is a convenient and efficient airport, well located about 20 minute's drive from the center of downtown Chania, with easy access to the National Roads VOAK/E75 and the E65, with connections for all destinations across Crete.
A Guide to Chania International Airport (CHQ) – Ioannis Daskalogiannis
The Chania International Airport – CHQ – is on the Akrotiri Peninsula. Many people arrive here en route to other parts of Crete – which is very convenient as there is a rental center directly at CHQ so you can be on the road right away.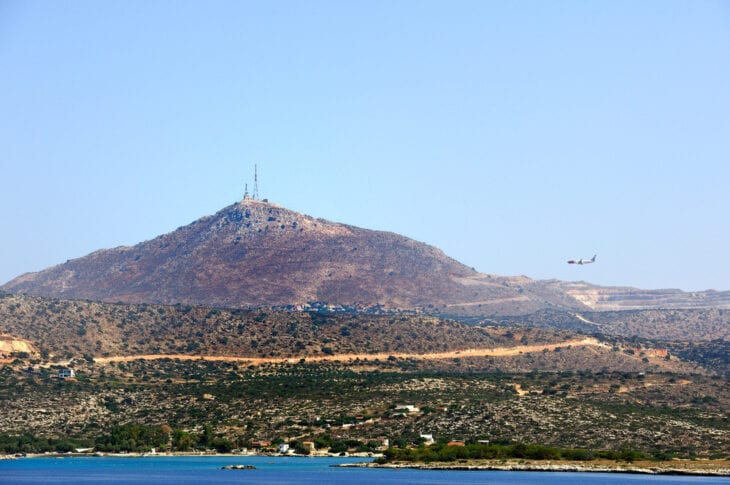 However, the Akrotiri peninsula in itself is an excellent destination in Crete, with several worthwhile attractions. It's close to excellent shopping and dining. You'll find great places to stay, places for a drink in lovely surroundings, even famous beaches for a quick swim preflight or as soon as you land. Even if CHQ is just your entry point and you are just passing through on your way to other destinations, or if you have some time or even an overnight stay before an early flight out, you can make the most of your time near the Chania airport with this guide.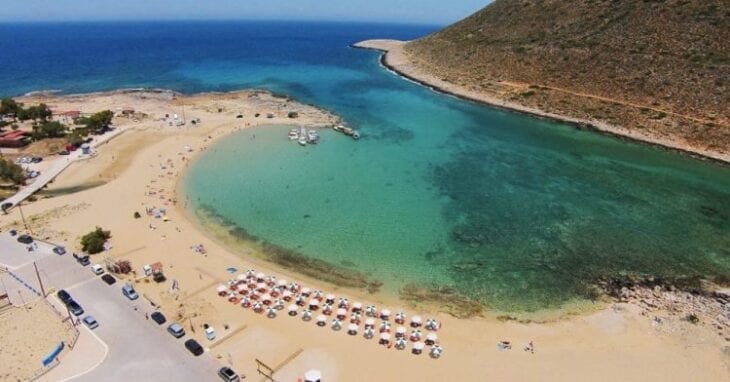 Shopping Near the Chania International Airport
Chania is one of the prime destinations of Crete, with terrific shopping. It's just 20 minutes or so from the airport and is a fantastic shopping destination we'll look at below in detail. But if you really are short on time and need something nearby then we have a novel shopping suggestion for you – the Agia Triada Tzagaroli Monastery. True, a monastery is not the first place you think of for shopping. But actually, this 17th century monastery – one of the loveliest of all Crete and built at the height of the Cretan Renaissance – is a prime shopping destination. That is, if you like the very finest in authentic Cretan traditional products. The monks produce top quality organic extra-virgin olive oil, honey, wine, vinegar, and even wonderful olive oil soap (easiest to stash in your carry-on at the last minute). You'll also find devotional items such as icons.
The Agia Triada Tzagaroli monastery is just 5 minutes from the Chania Airport (5 km), and of course there is very easy parking directly at the monastery gate.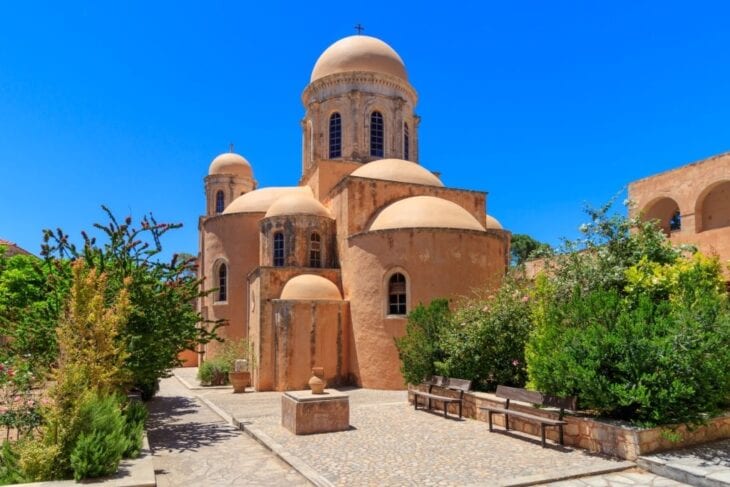 Needless to say, this is first and foremost an inspiring spiritual destination – try to leave a little time to take it in. It's also a first-rate cultural and historic destination, which includes a small museum.
Shopping in Chania Town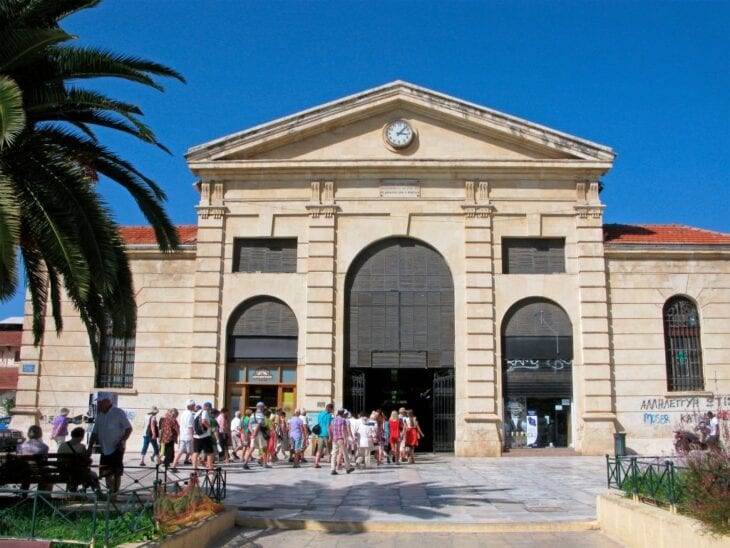 The very heart of Chania is the central Agora, a beautiful, traditional covered marketplace that some say is modelled on the market of Marseille. It opened in 1913, coinciding with the liberation of Crete from the Ottomans and its union with the new Greek State, and so it marks a wonderful period in Cretan history. It's also a great place to shop. Of course, most of the market stalls deal in fresh things such as fish and meats that are not suited to travel. But there are plenty of transportable delights here too – for bringing home or for stashing in the car as you travel around the island. Cheese stores have Cretan graviera and other specialties – sometimes in smaller whole wheels that are easier to transport. There are also shrink-packed Cretan olives, bathed in tangy lemon. You'll also find dried herbs, honey, oils, soaps, and other traditional agricultural products. And fresh "paximadia" – rusks of barley.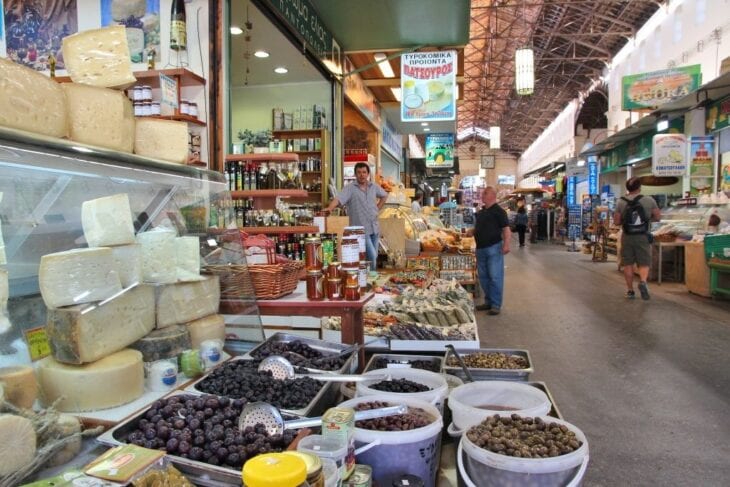 Near the central agora, there is the famous leather market centered around Sridlof street – to find it, you go straight through the central market and out the back, then turn left and follow the scent. Leather artisans have been making goods here for generations. There are well-priced wallets, handbags, belts, even hand-made sandals. Shop around of course for the best price.
Through the back of the market and to the right, in the direction of the neighborhood "Splanzia" is the "Macheradika".
"Machairi" means knife, and this stretch of shops sell hand-crafted knives and ceremonial knives of the type older men of the villages still wear as part of their traditional Cretan dress. A knife whose handle is from the horn of a goat makes a wonderful souvenir (but do check airline restrictions, even on contents of checked bags).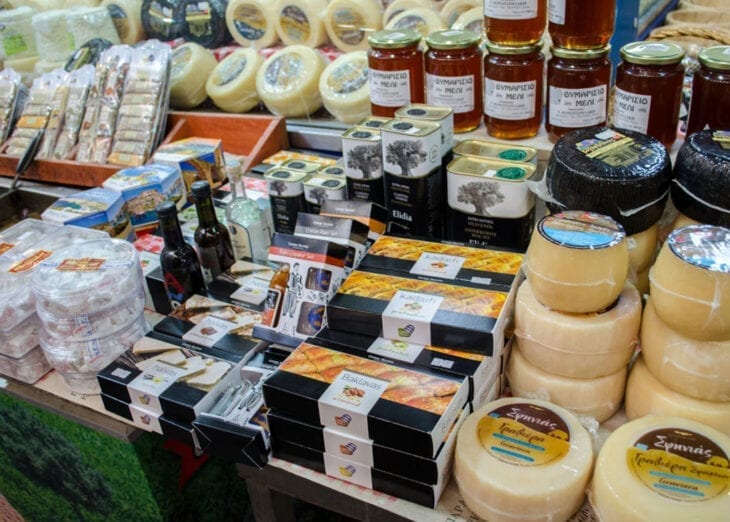 Jewelry abounds in the old town of Chania, with many fine artisans turning out unique pieces. The lovely winding alleys of the Venetian port are your best bet for browsing.
Parking at the Chania Airport and in Chania
There is a convenient parking lot directly at the Chania Airport.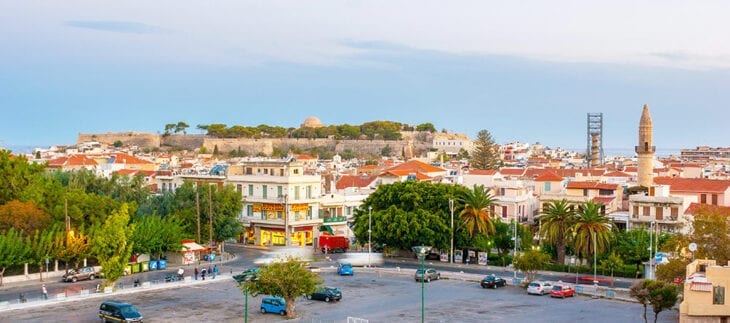 If you would like to stop in Chania town, bear in mind two things. The Venetian old town was built long before cars and is full of pedestrian zones, making for charming wandering and no parking. But the other thing to bear in mind is that China's downtown is very compact, so parking at the edges of the center will still give you easy access to the town center on foot. You'll find parking in the west of the central harbor, directly behind the Nautical Museum at the mouth of the Venetian harbor on the west side. There is also parking to the east of the Venetian boatyards and also to the east by the open air public theater Anatolikis Tafrou. From here, the Central Market is just 600 meters away.
What to Eat Near Chania Airport
Where do we start? There is no end of great things to eat in and near Chania. If you are in Chania town, a local favorite for a lovely meal of traditional Cretan dishes is "Karnagio" – it means "boatyard" and it is in fact in the heart of the Venetian boatyards, the prettiest part of the port.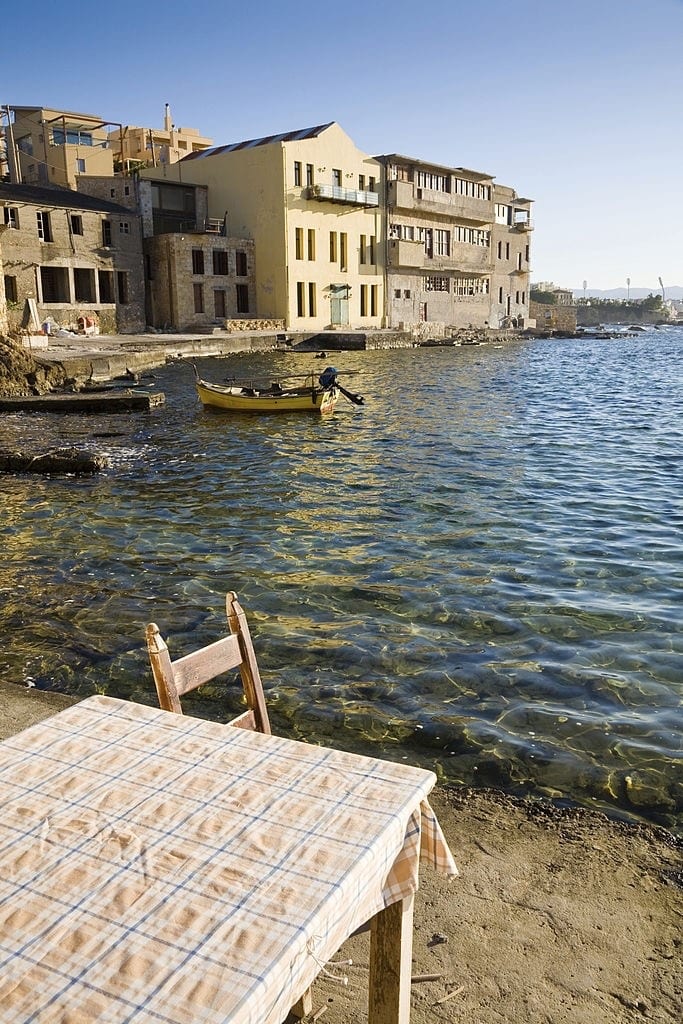 For something unbelievably romantic, you can drive to the Halepa neighborhood and make your way down to the "Tabakaria" – the neighborhood of the atmospheric abandoned tanneries is now the hotspot for great dining at the water's edge. Thalassino Ageri is a favorite.
If you are looking for something closer to the airport, you also have an excellent selection as many fine restaurants are on the Akrotiri peninsula – a favorite dining destination for locals. "Nychterida" has been a favorite since 1933(!) for traditional Cretan cuisine prepared with flair in elegant surroundings. It's about 15 minutes from the airport – 12 km. Almyriki, by the shore, is just under 15 minutes from the airport, in Stavros at the peninsula's northern tip. Enjoy stellar fresh caught seafood under the tamarisk trees, beside an old windmill.
Having a Drink Near CHQ
For one of the loveliest views of Chania and the most romantic sunsets, try the aptly-named Carte Postale, which is directly by the tomb of Eleftherios Venizelos and the 15th century church of Profiti Elias, or Koukouvaya ("Owls"), also directly on site. These are both ten minutes from the Chania Airport.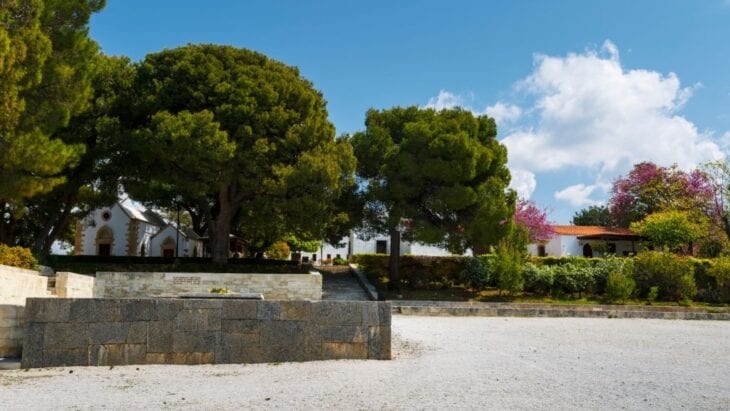 Staying Near the Chania International Airport
Because Akrotiri is a beach and tourism destination in its own right, there are many fine places to stay near the airport that are not necessarily just "airport hotels" even though they are very conveniently located nearby. Just 5 km from the Chania airport is Casa Manolesos, a family run hotel in Chorafakia with views, a pool, and top ratings from guests. Areti suites, less than 3 km from the airport, is another popular choice. It also has a pool, and guests rate it very highly for comfort, service, and a great breakfast.
Car Rental at Chania Airport in Greece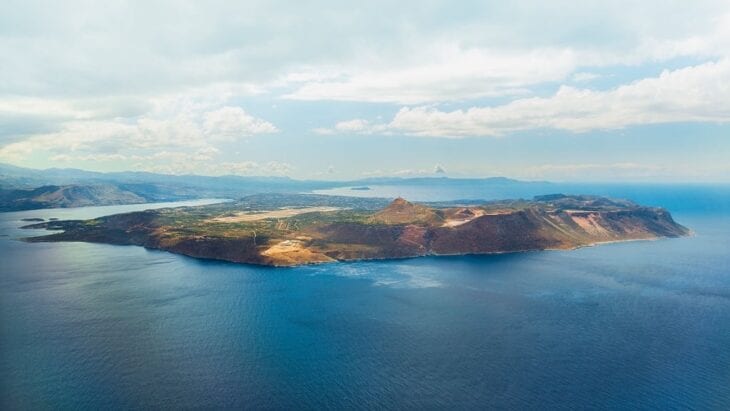 To really discover and enjoy the bountiful attractions that Crete has to offer, we recommend that you rent a car during your holiday in Crete. Our car rental is conveniently located at the Chania International Airport where you can easily pick-up and drop-off your car.
By pre-booking your car online you will have a car waiting for you upon your arrival at the Chania Airport.