There is nothing better than experiencing the serene tranquility of a beach, especially if it is as beautiful as Filaki beach in Crete. This gorgeous pebble beach is one of the official nudist beaches in the island of Crete. Located 3 kilometers away from the village of Chora Sfakion, this beach is the crown jewel of the south coast of Crete. The beach boasts sheer magnificence with its rock formations found under the water.
The water itself offers an aesthetic appeal with its blue and green shades. Furthermore, it is a well-built area, with infrastructure to enjoy your time there. From parking lots, sling chairs, bars, and water closets, Filaki Beach is a perfect naturist beach for you to enjoy your day and soak in that sun. The name "Filaki" in Greek means "Prison". It was named like this due to its remote location.
Where is Filaki Beach?
The beach can be found 3 kilometers east of the village of Chora Sfakia and 75 KM south of Chania. This natural marvel is located on the south coast of Crete, and the area is convenient to get through transport. If you are staying in Chora Sfakion, it is an easy walk to the beach. There are also options of renting a car or taking public transport that leaves or the beach every day at 2 pm. It is a part of the famous Vritomartis Naturist Resort in south Crete.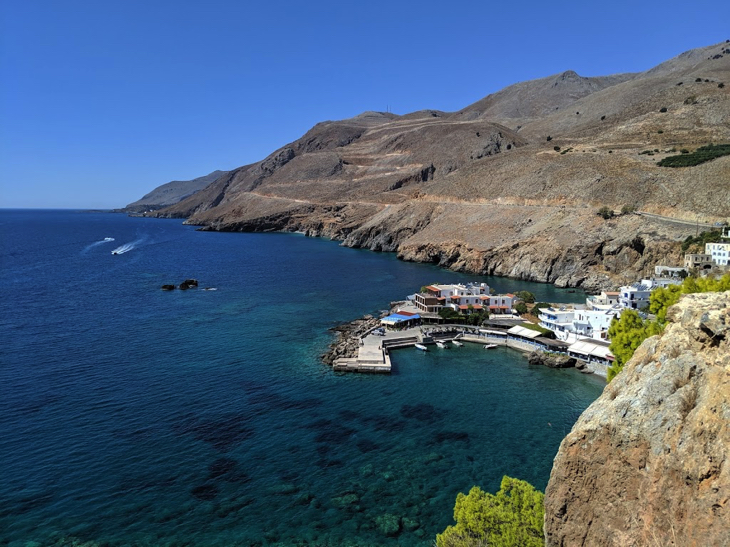 Things to do in & near Filaki Beach
You have several options to choose from when visiting the south of Crete. From beaches to monasteries, it has it all. If you are interested in religious history, the Chrisoskalitissa Monastery is a beautiful place to visit. It is situated on a massive rock, making it a beautiful place to visit. If historic monuments aren't your thing, then a hike at Sougia Gorge is exactly what you need when visiting this beautiful island. Whether you want to take a peaceful walk or enjoy the peace that Sougia offers, this place is a must-go. Finally, Filaki Beach has several attractions to enjoy if you are more inclined to stay close to the beach. From licensed naturist taverns that offer delicious cultural food to activities such as snorkeling and spearfishing are all available in the area. There is a lot to do in the area, and there is never a dull moment.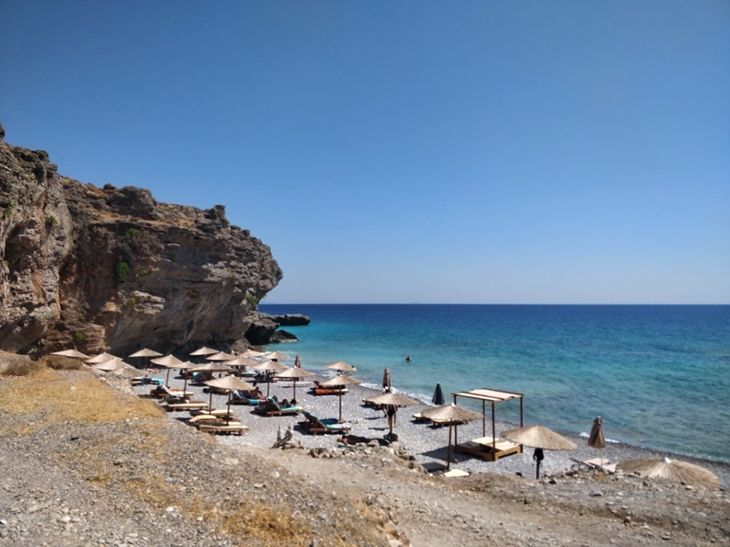 How to get to Filaki Beach
There are several ways to get to Filaki beach. If you are staying in Sfakion, you can probably walk, but here are our top 3 picks for getting to the beach.
By Bus
Public transport such as buses can be a great way to move around the island, and public transport in Crete is surprisingly effective. If you are looking to Filaki beach, you can always get on a bus to Chora Sfakion from Chania at 2 pm, daily.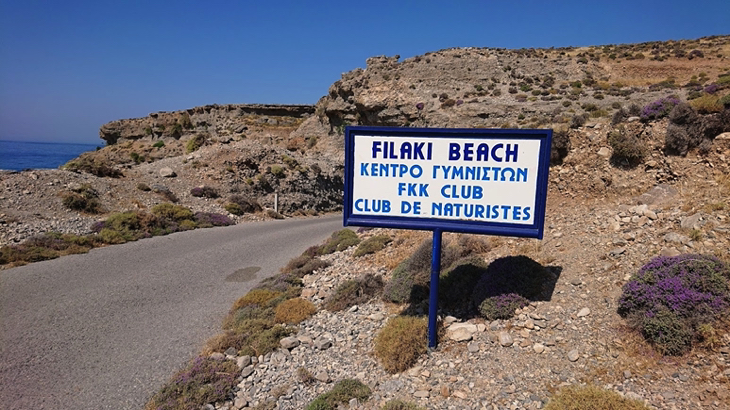 Rental Car
This is the best option to both travel around all of Crete and get to Filaki beach. Booking a rental car and giving yourself more freedom, allowing for stops along the way to enjoy the scenic beauty.
Taxi
Taxis are the second-best option to travel around after rental. Since it is a tourist destination, buses tend to get overcrowded, not to mention the lack of time flexibility.
Best time to visit Filaki Beach
Most people tend to visit Crete in May. While the temperatures can reach the upper 40s, it is still not as bad on the beach. That said, the area can get a bit crowded during the holiday season. The best time to visit would be late spring or early summer, which would let you enjoy the weather and avoid the rush of the holiday season.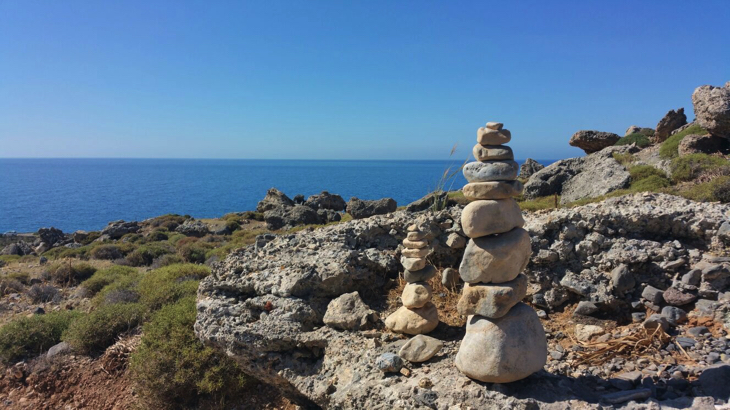 Naturists beach in Crete
While there are not many official nudist beaches in Crete, there are many beaches that are nudism-friendly. This means you'll definitely feel comfortable bathing nude, but you may not necessarily have the kind of tranquility many look for in a nude bathing experience. In Crete, there is a wonderful landscape, and there are so many remote and entirely secluded beaches you come across, particularly if you are a hiker and have a sense of adventure. Discovering the beaches is a wonderful part of the experience. Many people find nudism is an ideal way to connect with nature.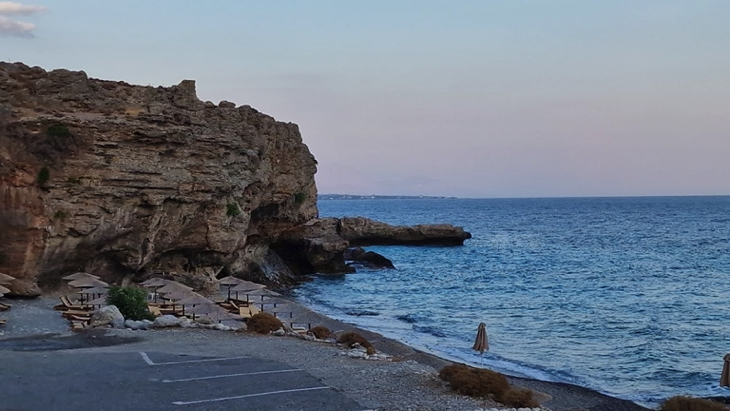 Other beaches near Filaki Beach
Glyka Nera Beach
Situated 4.6KM from Filaki Beach, the Glyka Nera Beach is a wonder crafted by nature. It has been dubbed 'Little Paradise' and is between Sfakion and Loutro. The beach is accessible by boat or foot and offers a romantic ambiance with jaw-dropping scenery. The beach serves as the perfect honeymoon destination for naturists couples. The beach is surrounded by high cliffs, making it inaccessible to cars. The trip to the beach can be an adventure for hikers. The beach also includes a quaint tavern where you can get food and drinks to enjoy.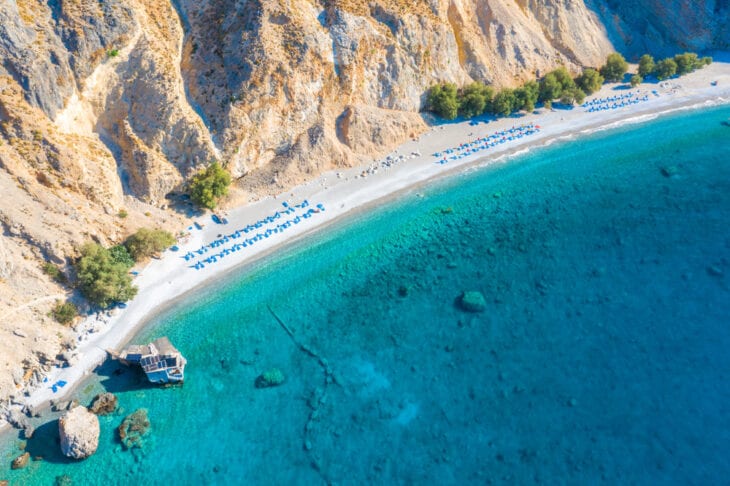 Ilingas Beach
The Ilingas beach is located at the end of the Kavi Gorge and is found 1 kilometer west of the Sfakion village. This beautiful gravel beach boasts turquoise water and a soul-soothing ambiance. Ilingas is also a nudism-friendly beach with taverns and water stalls for refreshments and meals. You can also find caves that are a great source of shade from the blazing sun in the summer. Ilingas beach is a beautiful location that you must visit when in Crete.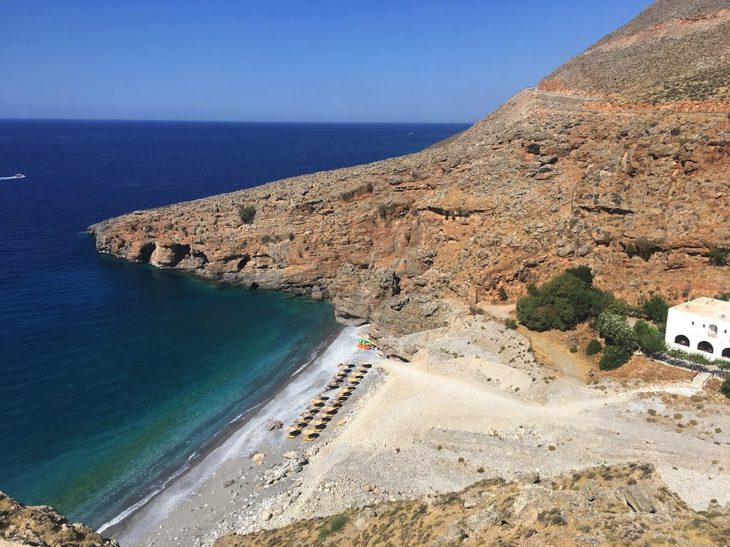 Agios Charalambos Beach
Located 1.5 kilometres west of Chora Sfakion village, this beach is clustered with several coves. Agios Charalambos is the perfect mixture of a beautiful beach accompanied by history. The only way to get to the beach is on foot, and it is the only official nudist beach in Crete after Filaki. The beach is relatively dormant, and while there may be no accommodation, it is a great place to relax and listen to the winds. You can also find temples built on the coastline in honor of Saint Charalambos. The beach is pebbly with beautiful seawater, creating a blissful serenity for the visitors.
Vrissi Beach
Stepping onto the dock of Chora Sfakion, this is the first beach you will see. While it may be a relatively smaller beach, it does not take away from the natural magnificence this beach holds. The fine silicone pebbles and the cool water makes this a great beach to visit and prepare you for the many other beaches you will visit during your stay. Not only is there natural beauty, but the top of the beach has a memorial commemorating the evacuation of the last Australian, British, and New Zealand forces after the battle of Crete.
Fragkokastello Beach
The beach of Frangokastello is one of the most charming in Crete, with clear shallow waters that go for almost 100 meters. The turquoise shallow water, the perfect fine golden sand and the mountain background with the ancient Venetian fortress makes it an amazing location for swimming. The village of Frangokastello is shadowed by the imposing White Mountains of Kallikratis. It is one of the most thrilling roads in the whole of Crete, with 11 km filled with 27 hairpin turns that get you from sea level to 800 meters in less than 30 minutes. There are many other small beaches that can be discovered and are practically unknown to most tourists.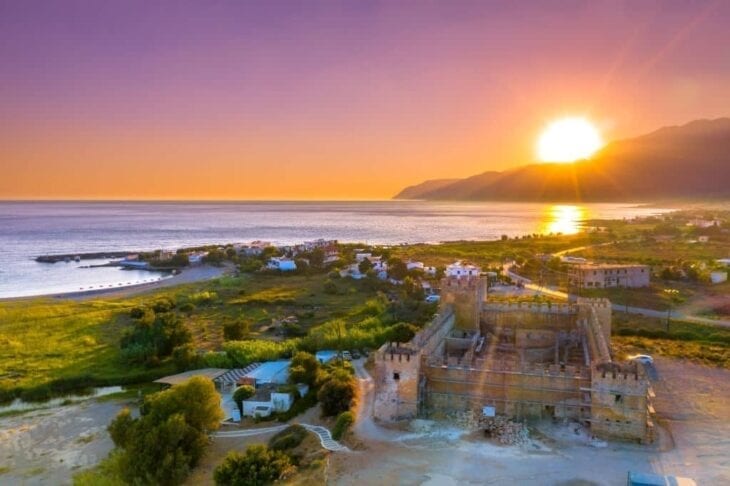 Plakias Beach
Plakias is situated directly on the south coast of Rethymnon, approximately 30 kilometres from Rethymnon town. Plakias village enjoys a prime location within close proximity to the gorges of Preveli, Kourtaliotiko and Kotsifos. From here you can also enjoy day trips to the mountain village of Spili and the small traditional villages which dot the hills on the way to Sfakia.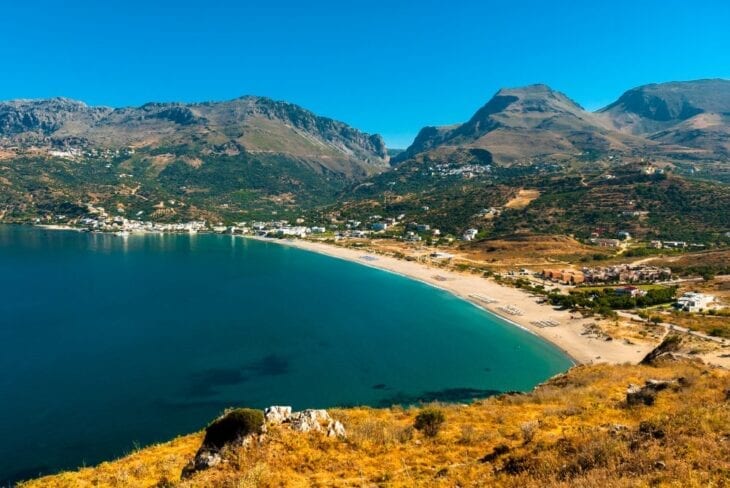 Ammoudi beach
Ammoudi beach offers serenity and basic tourist facilities. It is alternatively called Sfakiano Ammoudi, due to the proximity to Sfakia village. Ammoudi beach is located 75 kilometres from Chania and 1.5km from Chora Sfakion. This area is famous for its several pebble beaches adjacent to each other. If you are staying in Chora Sfakion, you can easily take a small walk to the beach. The second-best option you can go for is calling a taxi. You'll have more time flexibility, and tourists can avoid overcrowded buses, especially during the high season.