Ilingas is a mesmerising beach located 1km west of Chora Sfakion and almost 74km south of Chania city. It is located at the end of Kavi Gorge, which starts close to Anopolis. This beautiful beach has gravel, pebbles, and breathtaking turquoise water. The water is usually calm and creates a soothing ambiance. Ilingas beach provides facilities such as various accommodation options nearby and local food and water stalls nearby. It also offers a nudism-friendly environment and is ideal for snorkelling and spearfishing.

Moreover, you can head east where there are a couple of caves by the beach, large enough to protect you from the blazing sun. The beach is accessed via a short and easy-to-walk paved road that starts from the road which connects Chora Sfakion with Anopolis.
Where is Ilingas Beach
It is located in the southern part of Chania, in western Crete. At a distance of 74 kilometres from Chania, and a 1.5-hour drive from the city of Rethymno. The nearest town, Fragkokastello, is approx. 17km away from the beach. This high connectivity allows for easier accessibility to the beach.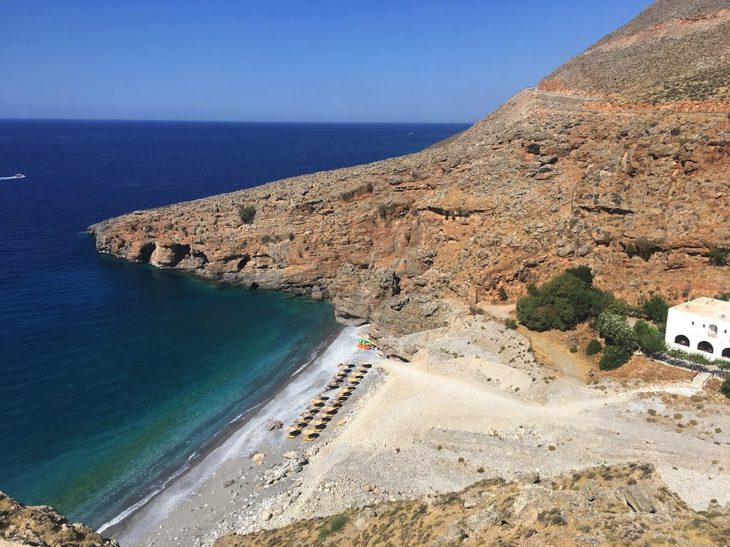 Things to do in & near Ilingas beach
There are many activities for you to indulge in while visiting these captivating, scenic views. You can spend a relaxing day in the picturesque Loutro village in southwestern Crete. The crystal-clear waters and relatively inaccessible beach would freshen up your mood and your tastebuds with traditional food from a tavern. For hiking lovers, visits to Samaria and Aradena Gorges will be invigorating. The 16-kilometre hike in Samaria gorge, with its circuitous path and wooden steps, is sure to enrich your hiking experience. On the way, the ravine narrows to a stretch named "Iron Gates", where the gorge tapers to a mere four metres across. The gorge of Aradena is located in the region of Sfakia. It is much quieter than Samaria and is more difficult for people without any walking experience. But it sure allows for a secluded, peaceful walk.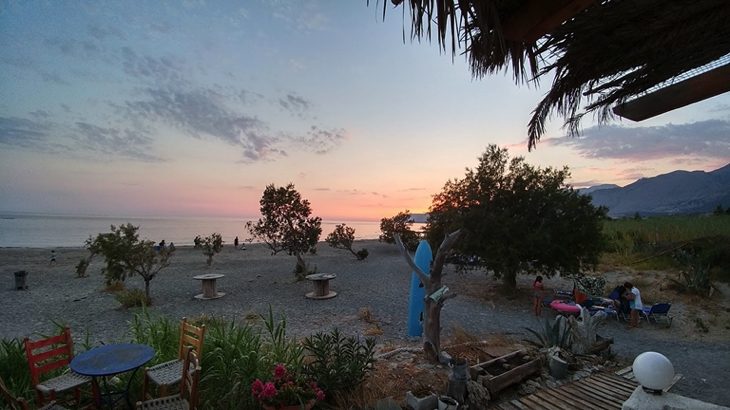 Other beaches near Ilingas Beach
Glyka Nera Beach
Dubbed as 'Little Paradise' by tourists, this beach is located on the southwestern coast of Crete, between the villages of Chora Sfakion and Loutro. Glyka Nera beach is only accessible by foot or boat. Still, with its gorgeous views and romantic ambiance as well as the alluring scenery, this splendid beach is worth visiting. This 'sweet water' beach is the perfect getaway destination on the island. As the beach is surrounded by high cliffs, it is inaccessible by car and can be quite an adventure for the hikers to walk on foot along the treacherous coast from either Loutro in the west or Chora Sfakion in the east. Apart from the enchanting views, the beach has a small tavern where food and drinks are available. Sunbeds are also present on the beach for rent.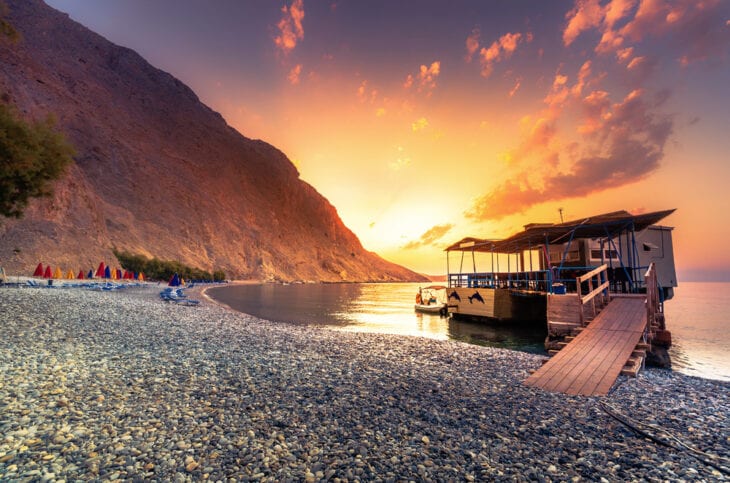 Chora Sfakion
Located on the south coast of Chania, Chora Sfakion or Sfakia is a small town with heavenly waters, unspoiled villages, and breathtaking views. Its solitary beaches provide the tourists with an unmatched relaxing experience. It is situated on the south coast near the end of the Sfakiano Gorge. Among its beaches, Vrissi is the main beach, with gravel and pebbles adding to the beauty of the place. A ferry runs from its harbour to Agia Roumeli, Sougia, Paleochora, and Gavdos Island. Above the beach is a memorial commemorating the evacuation of the last Australian, British, and New Zealand forces after the battle of Crete.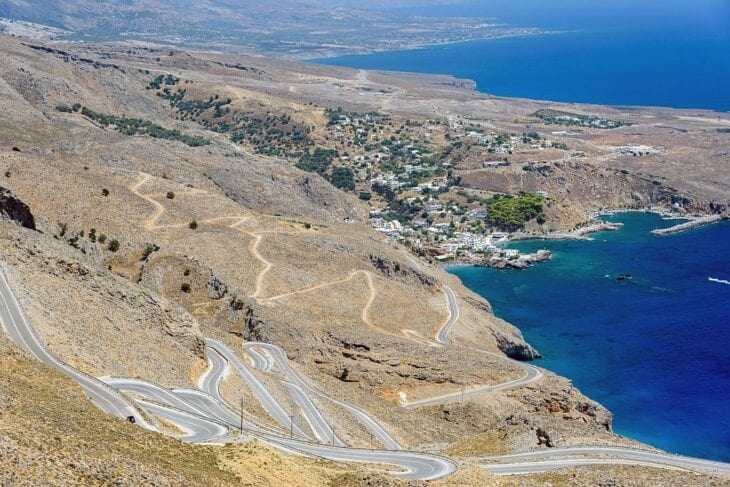 Frangokastello beach
Named after the stunning seaside Venetian castle, this beach is more than a holiday destination. Fragkokastello beach is located 13km east of Hora Sfakion and 80km southeast of Chania. With its fine golden sand and less crowded vicinity, this beach offers a calming aura. This may be attributed to its long way from the airports and mass tourism on the north coast of the island. There are three small beaches, one on the western side which is 600m long, the other located below the Venetian fortress, and the third beach to the east, called Orthi Ammos, which is around 700m long. The sandblasting due to occasional katabatic winds from the North may be the only problem you encounter here as these transport sand from the beach.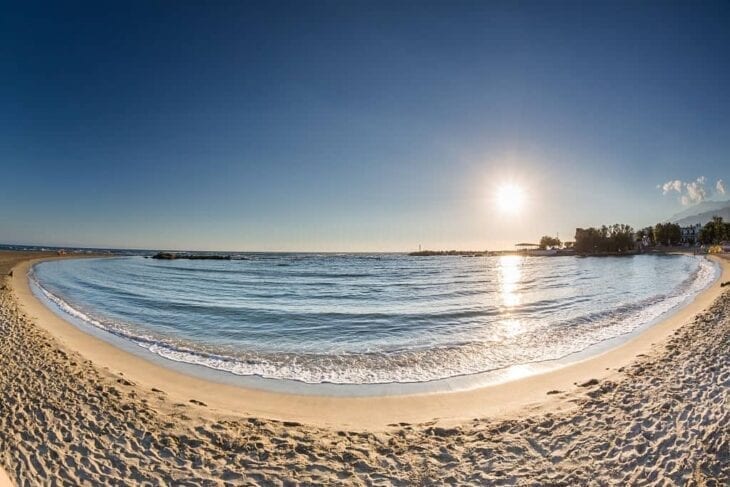 Loutro Beach
Loutro is a remote seaside village located 71km south of Chania. The ancient city of Phoenix was situated in Loutro. Later, it was popularly known as the 'winter' port for Chora Sfakion, as the small island at its entrance and enclosed bay created a natural harbor for the ships to take refuge during bad weather conditions. It has a small beach right in front of it and a long beach to the east side called Keramos. The beaches are amazingly well-organised and calm. Moreover, one can visit close by beaches of Likos, Finikas, and Marmara. Read more about Loutro here.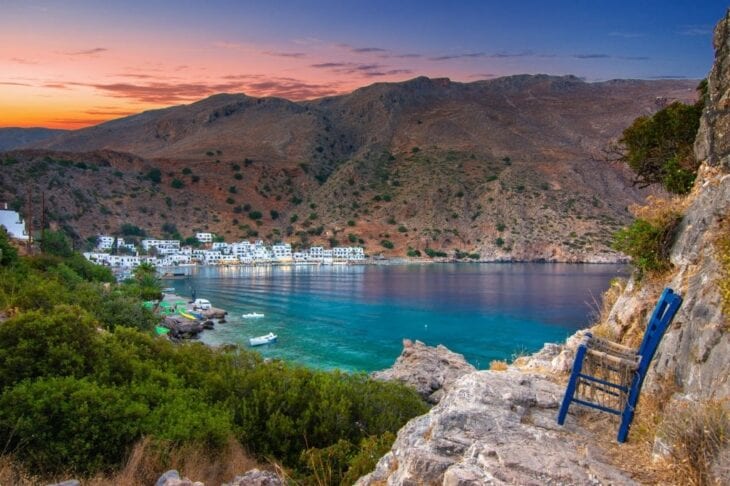 How to get to Ilingas Beach
The three most feasible ways to get to the beach are via bus, rental car, and taxi.
By Bus
Buses are an efficient way to move around the island. Public transport in Crete is surprisingly effective and costs about 16 euro per adult. Central Bus stations can be found in Heraklion, Agios Nikolaos, Rethymno and Chania.
Rental Car
This is definitely the best option to travel around is to rent a car. It allows more freedom and enables more pit stops on the island. With Rental Center Crete, you have several car rental pick-up options like all Crete's major airports, ports and cities.
Taxi
Taxis are the second-best option to travel around after rentals since buses can be overcrowded or would not allow time flexibility.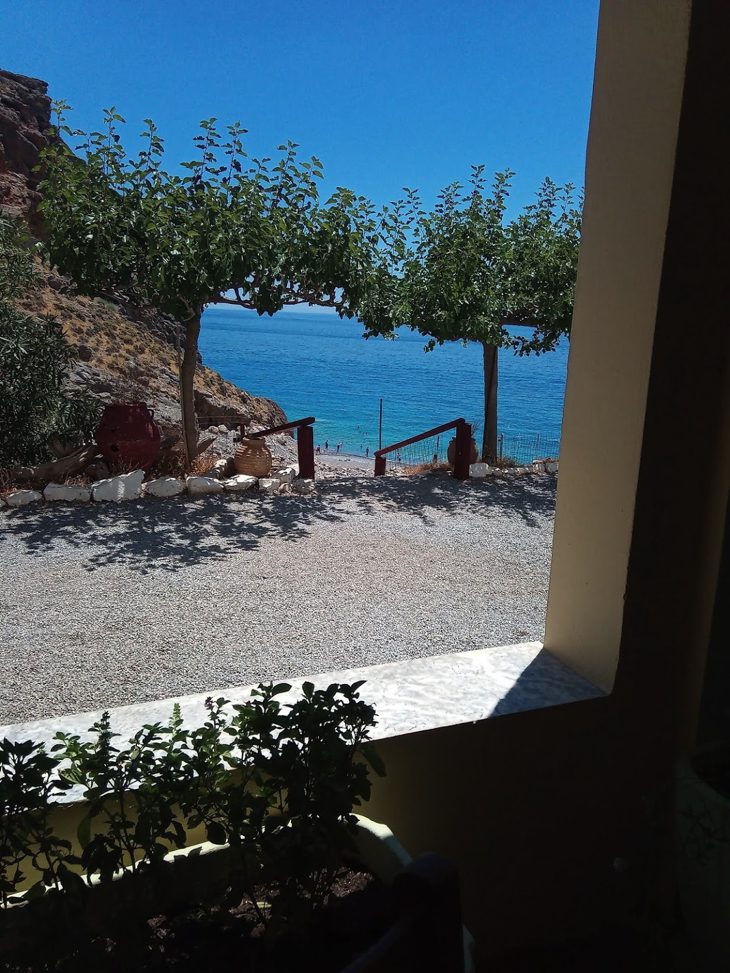 Best time to visit Ilingas Beach
The most popular times to visit Ilingas beach are during the late spring, summer, and early fall months. During this time, the weather is ideal for the beaches in south Crete, and tourists enjoy summers on the crystal-blue beaches.