With such glorious beaches and crystal seas, you may want to have nothing at all between you and the natural splendor of Crete. If you are a fan of naturist bathing, you will find many nudism-friendly beaches in Crete. If you have never bathed textile-free, you may find that Crete's nudism-friendly beaches inspire you to give it a try.
Everything about Nudist (or naturist) Beaches in Crete
Naturism and Etiquette in Crete
While there are not official nudist beaches in Crete, there are many beaches that are nudism-friendly. Another thing to consider is that beaches can change from year to year. It could be that a new remote beach is discovered and it is an ideal naturist beach. Or, an existing popular beach becomes more and more nudism-friendly. It could also be that a once-remote beach becomes more and more popular by word of mouth. As a beach becomes more popular, it may also become more conventional, with more families and children. Size up the beach and who is on it before you decide to go textile-free.
Key Takeaways
There are a lot of nudism-friendly beaches in Crete, although there are no official nudist beaches.
Naturist beaches in Crete may be remote and lack amenities such as shops and beach bars, so it's important to bring enough supplies.
Glyka Nera beach and Filaki beach are well-known nudism-friendly beaches on the island.
Beaches in Crete, from year to year, may change and become more or less popular, so it's important to check before visiting.
The southern coast of Crete, particularly the west coast, has many remote, rugged and secluded beaches that are suitable for nudism.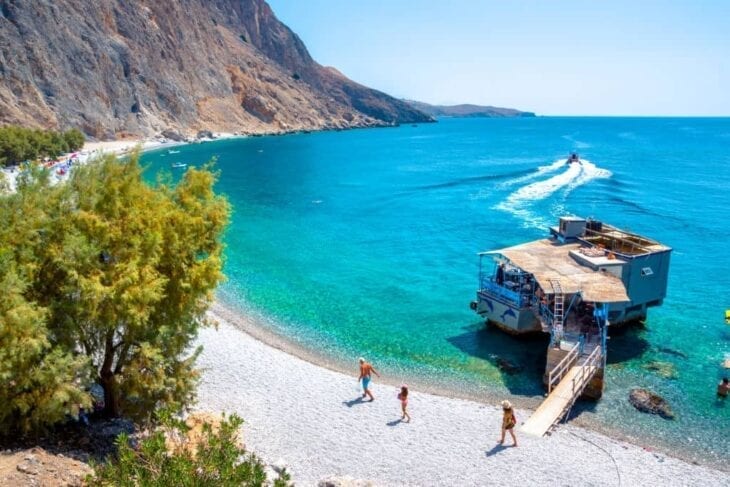 What to Bring to a Naturist Beach on Crete
Apart from your bathing suit – everything you can think of. What makes many of these beaches so special is the pure experience of nature – that means, no beach bar, no cantina, no shops – no civilization of any kind. It may also mean limited cell-phone reception. You'll need lots of water and sunscreen, snacks, plus anything else to make your stay comfortable and enjoyable – such as a beach umbrella.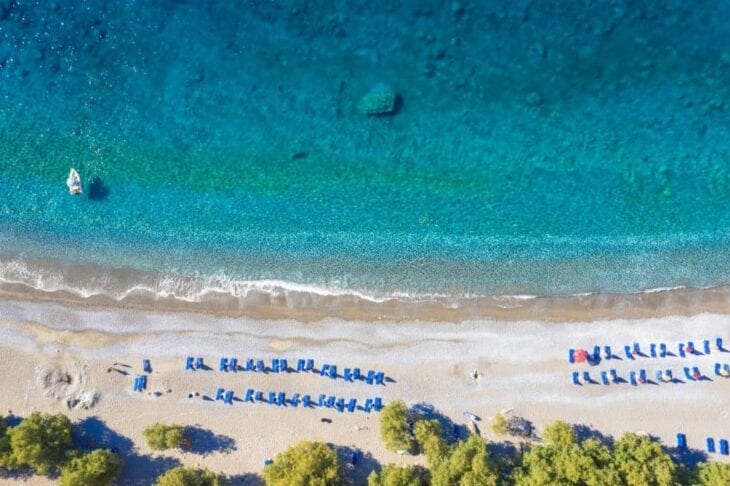 Some of these beaches are so remote you'll need to hike to them, so you need supplies for that also – bring even more drinking water. It is hard to estimate the strength of the sweet Cretan sun. Combined with the dry air and breezes, keeping hydrated is essential.
Want to sunbathe naked in Crete?
Check the following map for the most popular nudist beaches in Crete.
Filaki Beach
Agios Charalambos Beach
Ilingas Beach
Glyka Nera beach
Kalogeros Beach
Domata beach
Sougia Beach
Elafonisi Beach
Chalikia Beach
Falassarna Beach
Choni Beach
Ravdoucha Beach
Agios Pavlos beach
Menies Beach
Triopetra beach
Ligres beach
Pirgos Beach
Gialopotama Beach
Souda beach
Pefkias beach
Trafoulas Beach
Red beach
Psalida beach
Kalami beach
Livari beach
Karoumes Beach
Crete's Northern Coast
The north coast of Crete, where the four main towns are located and connected by a large road, is the most populated part of the island. It is also the most crowded with visitors during the summer time. The majority of the beaches of the north coast are organized, many with beach bars, cafes, sun loungers, and … bathing suits. However, there are a few wilder remote beaches that are nudism friendly.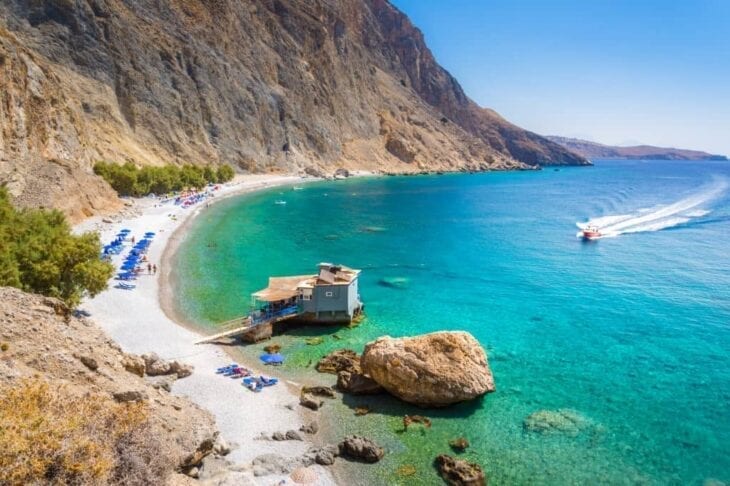 The South Coast of Crete – A Naturist's Paradise
Among the many more rugged and remote beaches of Crete's south coast, you'll find several nudism-friendly options, and especially in the west of Crete.
Chania Regional Unit – South Coast
Filaki and Agios Haralambros
On either side of the more populated Chora Sfakion there are lovely naturist beaches. To the east are Filaki beach and Agios Charalambos. Filaki beach is one of the most well-known naturist beaches on Crete, and in fact there is a nudist resort next to the beach. This means you'll definitely feel comfortable bathing nude, but you may not necessarily have the kind of tranquility many look for in a nude bathing experience.
Iligas and Glyka Nera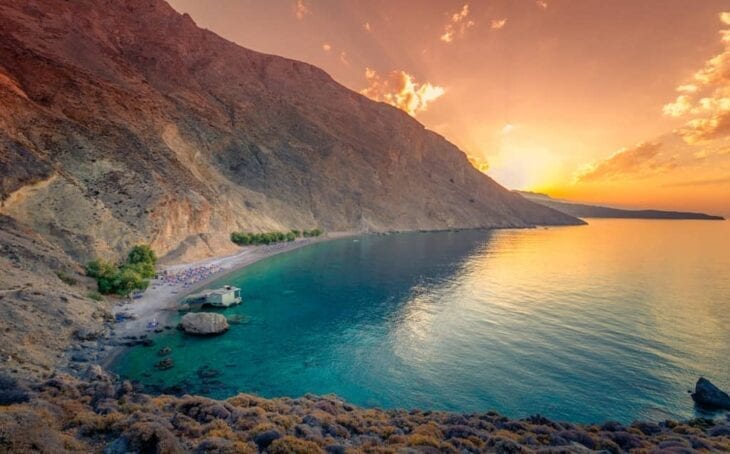 To the west of Chora Sfakion are Iligas and Glyka Nera. Glyka Nera means "sweet water", for the cool stream that feeds into the beach. Iligas is at the end of the lovely Kavi gorge. It's actually three beaches, separated by sea caves.
Kalogeros, Fournoti, Domata, Sendoni, Sougia
West of Agia Roumeli are six beaches in a row that are all nudism-friendly. Most of them are wild and secluded. Kalogeros and Fournoti are extremely secluded and can only be reached by boat. Each has a beach of fine pebbles and unparalleled crystal blue waters. Domata – named for its beautiful rock formations – is even harder to reach, via a challenging hike through the Gorge of Klados, part of the E4. Sendoni can also be reached by a long and challenging hike, and of course both can be reached by boat. For a taste of civilization (mini markets, tavernas, etc) try Sougia, in a small village at the foot of Agia Irini Gorge.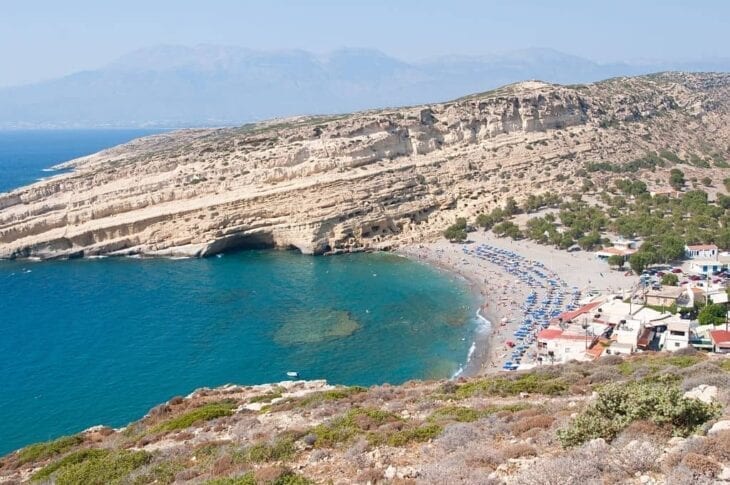 Sougia – Elafonissi
Most of the southern coast of the Chania Regional Unit, as well as the west coast, is very naturist-friendly. From Sougia to the world-famous Elafonissi, there are ten beaches, of which just one (Halikia) is not naturist-friendly. A couple, Viena and Agios Ioannis, can only be reached by boat, but the others, for the most part, can be approached by car (rough roads usually) and a minimal hike.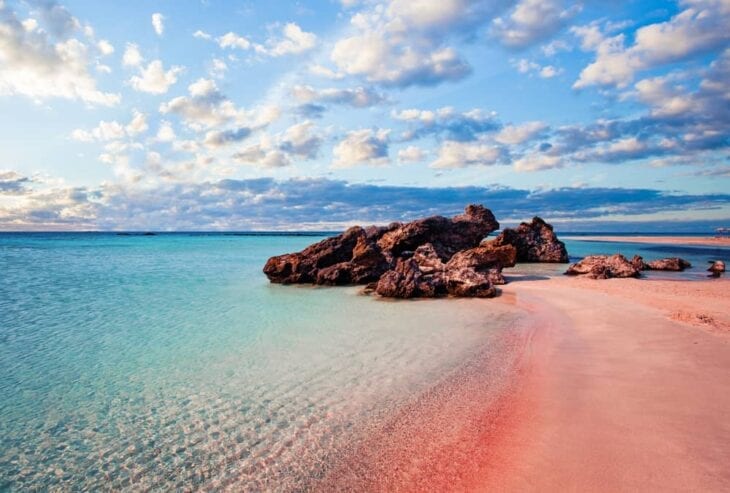 Elafonissi is an extremely popular organized beach and not nudism-friendly at first glance, but there are so many areas – the lagoon, the beach on the open sea, the island – that the naturist can find seclusion.
Chania – West Coast
Elafonissi – Falassarna
This section also has ten beaches, just four of which – including the crowded Falassarna beach – are not suited to the naturist. These wild and beautiful beaches can be reached by rough roads, and if not by car, then by motorbike and a small hike.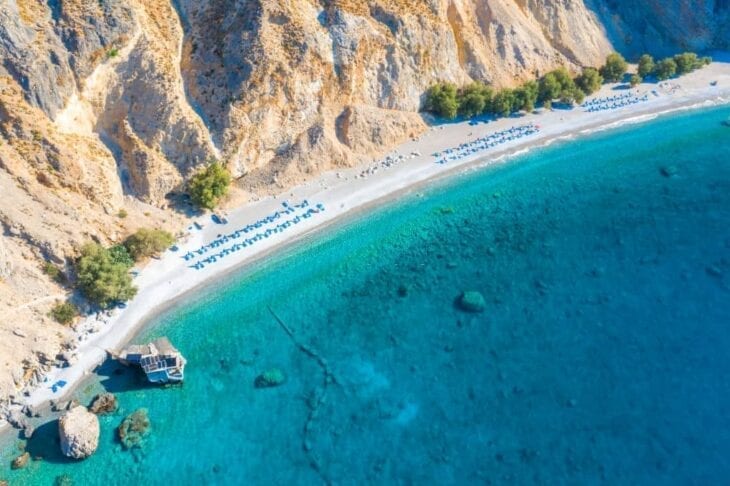 Chania – North Coast
The Rodopo Peninsula – Chania
On the western end of the north coast are two peninsulas. The larger one, to the east, is called Rodopo, and it has a few beaches that are reported to be nudism-friendly. These are, west to east – Choni, Ravdoucha, Agios Pavlos and Menies. Agios Pavlos, a secluded cove, is easiest to reach by boat.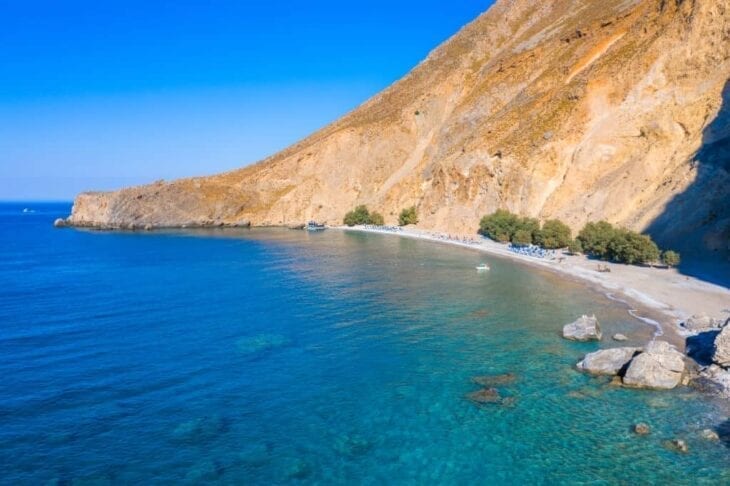 Rethymnon – South Coast
Just west of the popular beach Agios Pavlos are three naturist beaches in a row: Sandhills, Triopetra, and Ligres. Sandhills has coves around the beach for added privacy – this is a popular spot for nudists. Triopetra means "Three Rocks" – the beach is named for the three rocks jutting dramatically from the sea. Remote Ligres is hard to reach, along a rough road. It's worth the trouble, with a waterfall on the beach's west end.
Next to Preveli: Pirgos, Gialopotama, Drimiskos
Preveli was once a beach known only to locals and a few back-packers. Now, this beautiful beach with a palm forest in a canyon is extremely popular and too crowded to comfortably be a naturist beach. However, the three beaches just to the west offer the same crystal waters and far fewer crowds. Drimiskos is a series of small beaches separated by rocks and reefs – the snorkelling here is beautiful. It is hard to reach, and therefore something of a secret paradise.
Gialopotama has a rocky sea floor and more beautiful snorkelling. The eastern section with the huge boulders is popular with naturists. Along the rocky shore, you can walk to the next beach, Pirgos – equally well-suited to snorkelling and nude bathing.
West of Preveli: Souda and Pefkias
Not to be confused with Souda Bay of the north coast, next to Chania, Souda beach is sandy and expansive with astonishingly clear waters. Reached by a dirt track or by boar are several smaller beaches. The main beach if Pefkias is called Red Rock, for the rock at the east end of the beach. Next to the rock is a smaller beach with a cave and a few date palms.
Heraklion Regional Unit, South Coast
Katari
Wonderfully secluded, this wild beach amid a barren rocky landscape is best reached by boat, or you can hike to it from the neighboring beach of Tripiti, about 2.5 kilometers to the west. A very rough dirt road does go near the beach.
Trafoulas
A rough road and a gorgeous walking path will take you to Trafoulas, a wild beach by a canon on Cape Trafoulas. According to mythology, King Minos bathed here.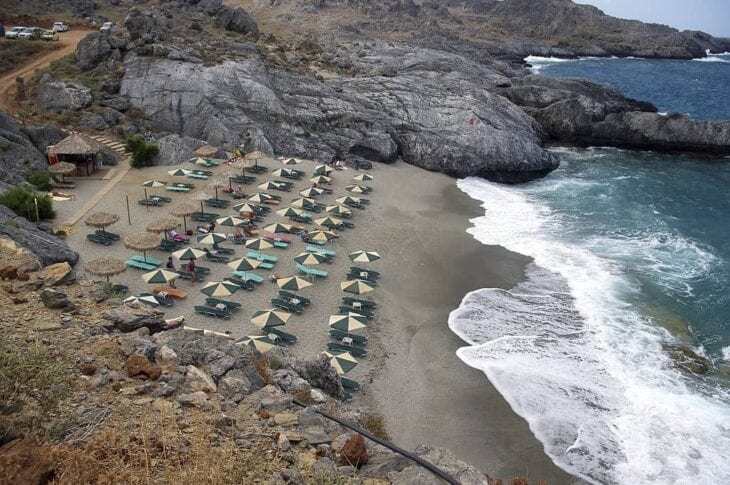 Red Beach
Next to Matala, and reached by a pleasant hike along a path from Matala for a little less than half an hour, this stunning beach is secluded and dramatic. You may find high winds coming from the west, adding to the drama of the place.
Lasithi, South Coast
Just to the east of Ierapetra, a charming town on the south coast, are two Nudism-friendly beaches – Peristeras, and Katharades. Peristeras is part of the long Ierapetra beach called Agios Andreas. The eastern end of Agios Andreas is called Livadia, and just beyond this is a secluded section surrounded by high cliffs- this is Peristeras. Katharades has a series of small beaches, and very few people – but it could be that the strong winds of this section keep them away.
Psalida
This remote sandy beach past Makrigialos is surrounded by low dunes and shrubs. It is reached via a dirt road, past greenhouses and after the small beach called Spilia ("cave").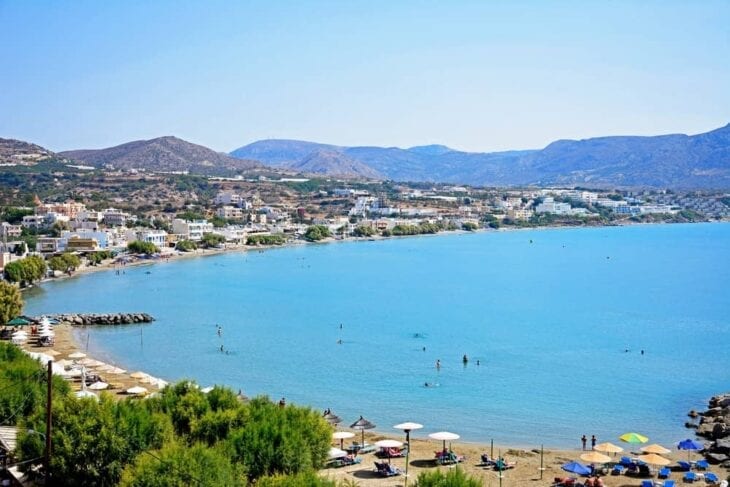 Kalami and Livari
Kalami means "reeds" – this small pebbly beach also has shade from large rocks. It's just off the main road, close to Goudoures.
Livari is farther east, and consists of two pebbled beached plus several smaller coves. Livari is a wonderful beach, with beautiful surrounding nature and a view of the island Koufonissi. The water is lovely
Lasithi – East Coast
This most remote section of Crete has wonderful wild beaches.
Karoumes
The splendid gorge of Chochlakies – part of the E4 trail – opens onto Karoumes beach. This is a fantastic beach, with nearly always calm waters as it is on the east coast, and trees for shade. Karoumes really is a remote beach – you'll need to take a beautiful hike of approximately 3.5 kilometers to reach it.
Naturist Beaches in Crete
This is such a wonderful landscape, and there are so many remote and entirely secluded beaches you come across, particularly if you are a hiker and have a sense of adventure. Discovering the beaches is a wonderful part of the experience. Many people find nudism is an ideal way to connect with nature.
Is Crete Gay Friendly?
Crete is an LGBTQ tourist hub. Heraklion and Chania, are particularly gay-friendly. Religious views are prevalent in the more remote places in Crete. The Greek Orthodox Church wields considerable power, and many locals have traditional views on homosexuality. Crete is flooded with people from all over the world throughout the summer. Check out our gay-friendly guide to the island.
Also Read: