Rethymnon is known for its beautiful beaches. However, if you want to try something that's out of the ordinary, the city has indeed a lot of other activities to offer. One of the best things you can do in Rethymno is to visit incredible museums that highlight the rich history and culture of the region.
Whether you're into historical paintings and ancient relics or just in it for the fun, Rethymnon museums provide a unique experience that you will not find anywhere else. With that being said, here are the best museums in the city you have to check out:
Archeological Museum of Rethymnon
Just like Heraklion, Rethymno also has its own Archeological Museum. This museum is considered the most important museum in the region and is housed in Agios Fragkiskos, a church located in the heart of the Old Town.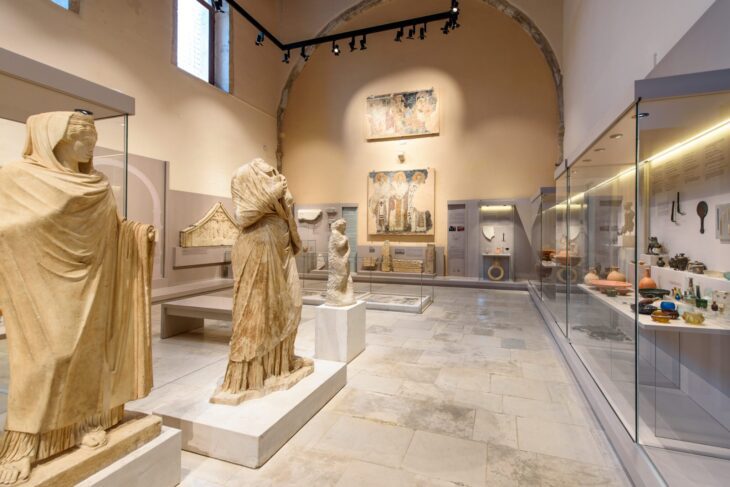 Once inside, you'll see an extraordinary variety of exhibits that are historically arranged from the Neolithic era to the Late Roman period. You can mainly see collections of sculptures, ceramics, and coins, as well as some Egyptian artifacts and a glass Phoenician pavilion. Educational Associations obtained these items by purchases and even donations.
The museum can help you understand the history of Rethymnon because its displayed collections include discoveries from caverns and ancient sites from all over the region.
Location: St. Francis Church – 4 Agiou Fragiskou str, Rethymno
Operating Times:
> Winter: Tue-Sun: 8 AM – 3 PM
> Summer: Mon-Sun: 10 AM – 6 PM
Tickets: Standard ticket price – €2
Military Museum of Chromonastiri
If stories of war and old armaments are what you are looking for, then the Military Museum of Chromonastiri is a good choice for you. The museum is dedicated to Crete's numerous wars and battles from the Venetian era until WWII. It's located in the beautiful little village of Chromonastiri, about 10 kilometers outside of Rethymnon.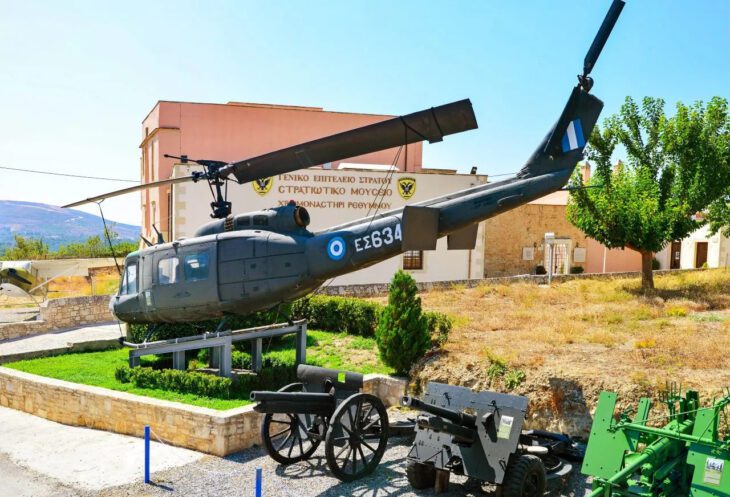 The museum is housed in the famous Villa Claudio, a splendid Venetian villa from the 17th century that once belonged to the aristocratic family "Clodius," who later on granted the place to the Greek army.
Inside, you'll find unique models of weapons, ammunition, and military equipment that are sure to spark your interest. There is also a significant collection of vintage photographs that can give you a glimpse of how life was during the war. Perfectly maintained military vehicles can also be found in the yard.
Location: Central Square, Chromonastiri village
Operating Times: Tue-Fri: 9 AM – 5 PM, Sun: 10 AM – 2 PM
Tickets: Standard ticket price – €3
Folk Museum of Spili
When visiting the Folk Museum of Spili, it will give you an unforgettable experience as if you've traveled back in time. This museum is located in the spectacular mountain village of Spili, about 33 kilometers from Rethymno. It is housed in an old Cretan home and shows how locals used to live centuries ago.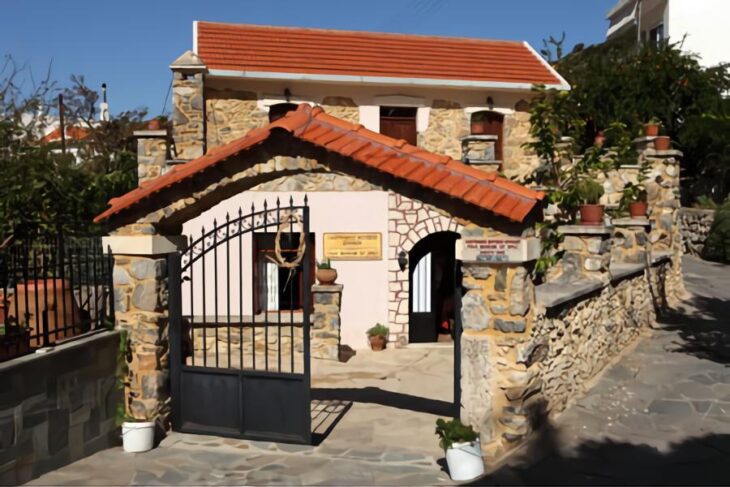 You'll be able to see an authentic traditional Cretan kitchen, bed chambers, workshops, attics, dining rooms filled with typical Cretan furniture, as well as many historical items that date back to the 1800s. In addition, you can even discover how traditional, beautiful carpets were made in the past, giving you an authentic vibe of the old Cretan times.
Location: Agiou Charalampous, Spili
Operating Times: Mon-Sun: 10 AM – 6 PM
Tickets: The entrance fee is free
Museum of Contemporary Art of Crete
For all those lovers of art, the Museum of Contemporary Art will be a great addition to your Crete experience. It is located in the city center of Rethymno and is one of the must-visit places in the region. The museum has many exhibitions that are constantly changing and permanent collections that include pieces from several artists that originate from Crete.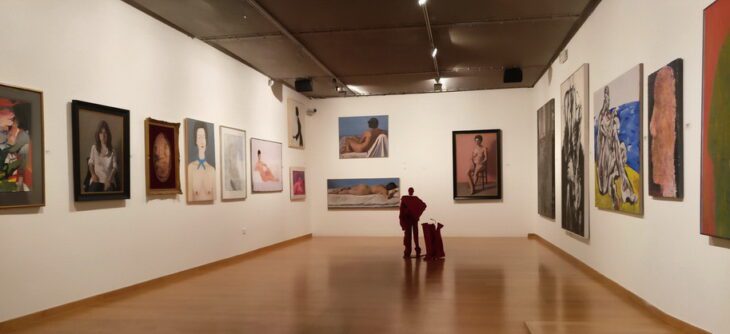 You can see a vast array of Modern Greek Art from the 1950s up to the present. It even includes stunning pieces of Abstract and Geometric art as well as neoexpressionism. If you're more into digital art, you'll definitely adore this place since they feature a section that is completely devoted to Digital and Conceptual art.
When inside, take time to admire the extraordinary paintings of Rethymnon's pride, Lefteris Kanakakis. Visitors from all around the world often come to see the collection, so don't miss out on this one.
Location: 32 Mesologgiou str, Rethymno
Operating Times:
> Winter: Tue – Fri: 9 AM – 2 PM, Wed: 9 AM – 2 PM & 6 PM – 9 PM, Sat – Sun: 10 AM – 3 PM
> Summer: Tue – Fri: 9 AM – 1 PM & 7 PM – 10 PM, Sat – Sun: 10 AM – 3 PM
Tickets: Standard ticket price – €3
Stagakis Cretan Lyra Workshop and Museum
Traditional Cretan music instruments are undoubtedly worth checking out, and the Stagakis Cretan Lyra Workshop and Museum is just what you need. The Stagakis family is known as the greatest Cretan Lyra artisans, and in this place, you can discover the whole process of how they create this beautiful instrument.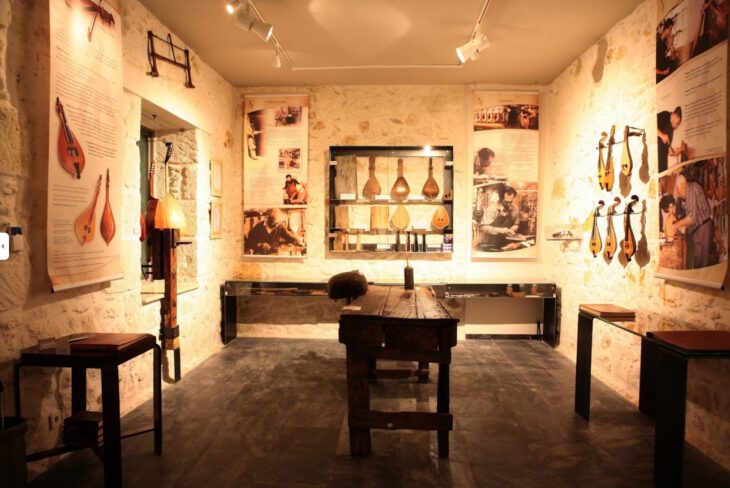 The workshop features traditional handcrafted string instruments such as the Cretan Lyra, as well as a small museum section where you can learn about the history of the creation of this one-of-a-kind musical instrument. Manolis Stagakis, the museum's owner, has worked hard for several decades to keep this long-lost practice alive, making this museum truly unique.
In addition, the owner would gladly tell you exciting stories about the Lyra and even show you how to play it. This place is ideal for kids, too, since the owner often allows them to try some instruments.
Location: Giannari 45, Rethymno 741 00
Operating Times: Monday: 12 PM – 2 PM & 6 PM – 8 PM, Tuesday: 12 PM – 2 PM, Wednesday: 12 PM – 2 PM & 6 PM – 8 PM, Thursday – Saturday: 12 PM – 2 pm
Tickets: Entrance is free
Paleontological Museum of Rethymnon
Although this museum may be small, fossils from the prehistoric era can be found inside it, giving you a glimpse of the rich natural history of Crete.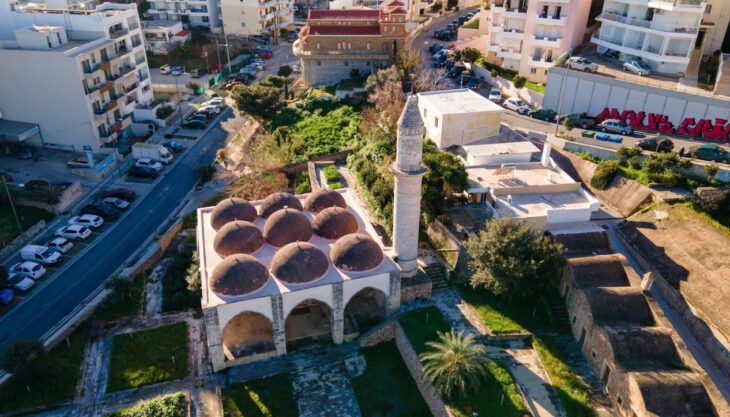 The Paleontological Museum of Rethymnon houses several important finds such as skeletons and bones from animals like polymorphic deers, bears, dwarf elephants, and pygmy hippopotamuses. You'll also come across many other fossils such as turtles, trilobites, and even ammonite shells.
You can also learn some fascinating and little-known facts about Greek mythology and legends.
Adults and children can even attend educational programs and workshops at the museum, making it a truly unique experience for all visitors.
Location: Satha & Markellou str, Rethymno, 741 00
Operating Times:
> Winter: Tue -Thu: 9 AM – 3 PM, Saturday: 9 AM – 3 PM
> Summer: Mon – Sun: 9 AM – 3 PM
Tickets: Standard ticket price – €3
Museum of Wooden Sculpture in Axos
The Museum of Wooden Sculpture can be found in Axos, a traditional village known for its fantastic workmanship in wood. Visitors will have the chance to admire some of the finest pieces, all made using traditional carpentry techniques.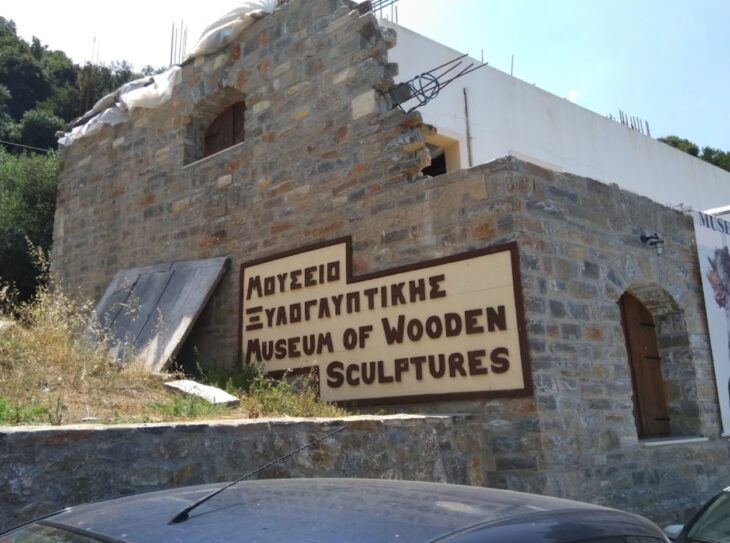 The museum features a variety of small and big wooden sculptures from different areas on Crete. Each object is handmade and has a unique story behind it which the owner, Georgios Koutantos, will happily share.
Georgios draws inspiration from everyday life as well as Cretan and Greek customs and even mythologies. This is a great place to stop if you're exploring Rethymnon's mountain villages.
Location: Axos village, 740 51
Operating Times: Mon-Sun: 8 AM – 9 PM
Tickets: Standard ticket price – €4
Museum of Ancient Eleftherna
Eleftherna, or Eleutherna, was among the most important cities found in ancient Crete. The magnificent Museum of Ancient Eleftherna exhibits artifacts discovered during excavations at the neighboring old site of Eleftherna city.
In the museum, you can find many beautiful artifacts dating back to the Geometric and Archaic eras. You'll learn about the history of Eleftherna and get a glimpse of their everyday life as well as the customs and beliefs of ancient times.
It's also worth noting that several items discovered at Eleftherna are linked to events identified by Homer in The Iliad and The Odyssey. Holograms, interactive videos, and movies are even shown in the museum, so you can learn more about why the city was considered very important.
Location: Epar. Od. Aggelianon-Elefthernas 123, Eleftherna
Operating Times: Monday: 8:30 AM – 3:30 PM, Wed-Sun: 8:30 AM – 3:30 PM
Tickets: Standard ticket price – €2
Arkadi Monastery
Arkadi Monastery is not only a sacred site but also a significant historical landmark. You may tour the monastery and stroll through its chambers and cells, learning about its inhabitants' daily lives.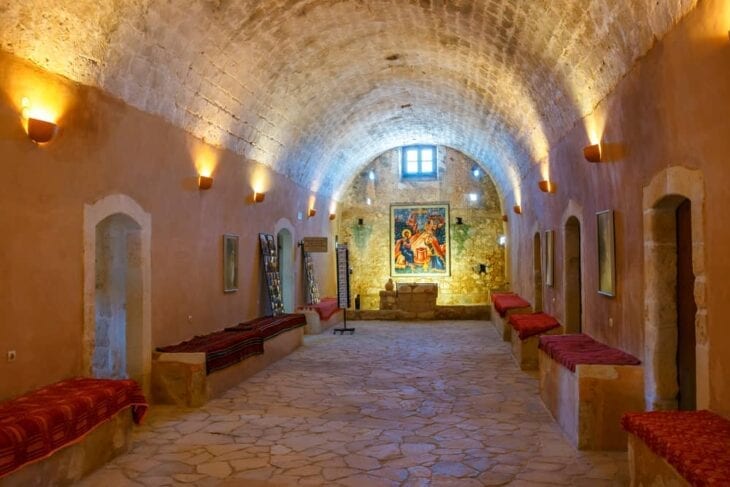 A museum can also be seen inside the building, which showcases holy icons and relics, giving visitors a glimpse of its rich, religious history. The monastery dates all the way back to the 16th century, but it houses much older items.
A separate area is devoted to the Battle of Arkadi, an epic combat remembered throughout Cretan history as a symbol of bravery, self-sacrifice, and incredible heroism.
Location: Arkadi 741 00
Operating Times:
> Winter: Mon-Sat: 9 AM – 5 PM, Sunday: 10 AM – 5 PM
> Summer: Mon-Sat: 9 AM – 2 PM, Sunday: 10 AM – 8 PM
Tickets: Standard ticket price – €2
Historical and Folk-Art Museum of Rethymnon
Despite being small, the Historical and Folk Art Museum of Rethymnon is one that's worth checking out.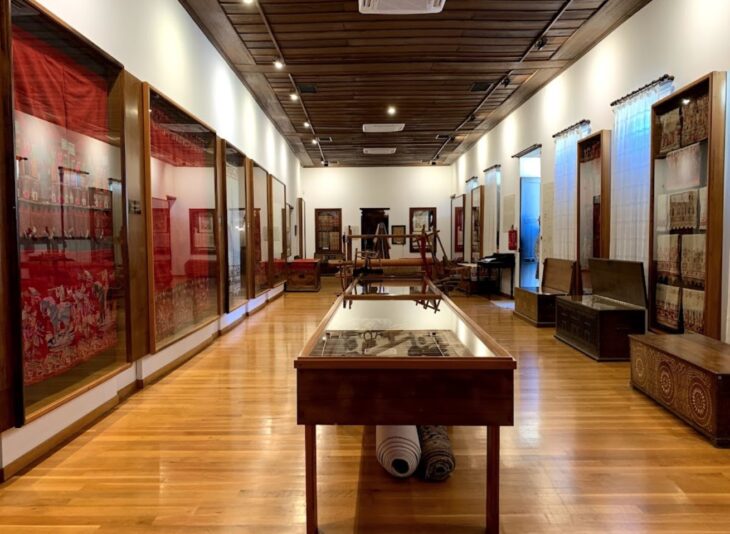 This museum features a variety of different items from the ancient ages to the 20th century. You can see a majority of exhibitions showcasing collections of tools connected to farming and traditional vocations.
There is also a section of the museum that's dedicated to musical instruments and even folklore art. If you're more interested in recent events, you can find a collection that focuses on Cretan wars, such as the Battle of Arkadi and even the resistance during World War 2.
Location: 30 M. Vernardou Street, Rethymno
Operating Times: Mon-Sat: 10 am – 3 PM
Tickets: Standard ticket price – €4
Preveli Monastery Museum
The beautiful Preveli Monastery was built in the 16th century, but its location is what makes this site stand out. You can view the sea from the monastery, making it an ideal place to visit if you'd like to enjoy some scenic views.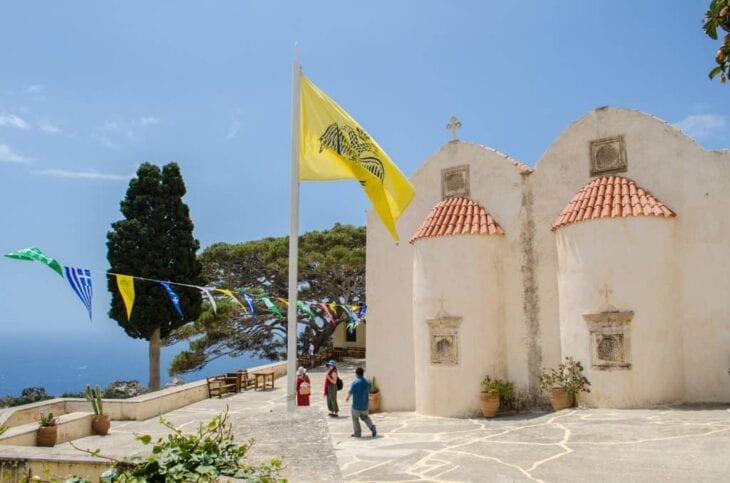 A monastery museum can even be found inside its walls, where you'll find a collection of Cretan artifacts that date back to the 17th century. The museum also houses religious relics, icons, and other essential artifacts from orthodox churches.
Location: Piso Moni Preveli, 740 60
Operating Times: Mon – Sun: 8 am – 1:30 PM & 4 PM – 7 PM
Tickets: Standard ticket price – €2.5 and Free during the winter season
Things to Take Note When Visiting Rethymnon's Museums
When visiting museums in Rethymno, there are certain things that you should take note of before going. Here are some of them to keep in mind.
If you're traveling with kids or if you're a student, many museums usually have a reduced ticket price. Be sure to bring a valid ID or a document that shows you qualify for discounts if you're visiting with a child or a student.
Museums in Rethymnon have a particular schedule, so it's best if you check the hours of operation before going so you can plan accordingly.
Keep in mind that museums might change their prices and schedule, so it's good to check their official website or speak to locals when visiting.
Most museums offer free admission during certain days of the month, such as national holidays or the last week of September.