Crete is an island graced with summer sun and beautiful beaches. Many tourists flock to Crete to enjoy its sunny weather and Mediterranean atmosphere. With a rental car, cruising through Crete as the locals do is an experience not to be missed, particularly when the sun is shining. But what happens when it rains? Despite its reputation for sunny weather, Crete does experience rain, especially in the winter months.
However, even when it rains in Crete, there are plenty of things to see and do. Crete isn't just known for its beaches, but also for its amazing archaeological sites, stunning natural landscapes, and delicious food. So if you find yourself caught in a rainstorm while on vacation in Crete, don't despair! We have here some of the best things to do on a rainy day in Crete, as well as other useful information when you're planning to visit the island.
Does It Rain in Crete?
Crete is a Greek island in the Mediterranean Sea's southern region, near North Africa. The island is split into two distinct zones by high mountains, each with its own climate. North Crete is found close to the European region, with wetter and colder winters than the south, which has milder weather all year. In some parts of southern Crete, there is hardly any rain. For example, the city of Ierapetra is recognised for having over 300 sunny days throughout the year.
So to sum it all up, yes, it does rain in Crete. However, the island's southern region experiences significantly less rainfall than the north.
How Often Does it Rain in Crete?
The island's climate is lovely all year. Rain and even storms are more likely to occur in the fall and early spring. The rainy season in Crete usually begins in November and lasts until March, although it rarely rains in the summer.
Rainfall can be fairly heavy throughout the winter months, beginning in November. The average rainfall in December is 86 mm, and the same can be said in January.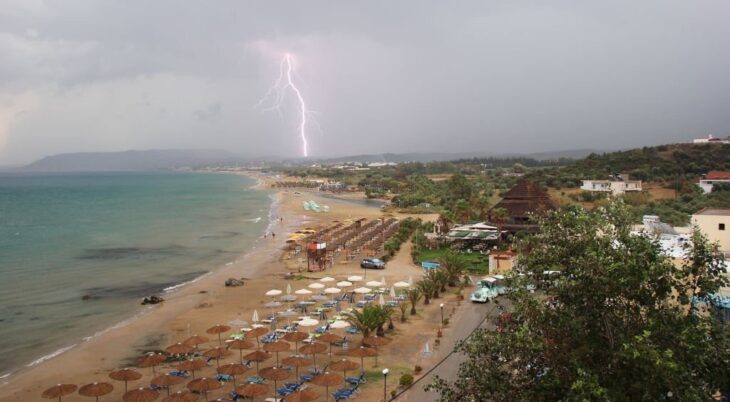 An Overview of the Weather in Crete
The island of Crete is noted for its moderate winters along the coast. On the other hand, snowfall in the mountains (both in late autumn and winter) is not uncommon.
Winter has fewer hours of sunlight and more gloomy days, but the sun nevertheless shines for at least a few hours nearly every day. All you need is a little sunshine on the island for temperatures to rise immediately, making the use of winter coats unnecessary.
Top Things to Do in Crete When it Rains
Now that you have an idea of what the weather is like in Crete, here are some activities to keep in mind for a rainy day. This can come in handy, especially if you're travelling with children.
Check Out the Old Venetian Harbour
Chania's charming Old Venetian Harbour is surrounded by a marina with beautiful boats floating in the water. It is located in the midst of what many believe to be one of Crete's most picturesque towns. Thankfully, the structure is gorgeous even when it's raining.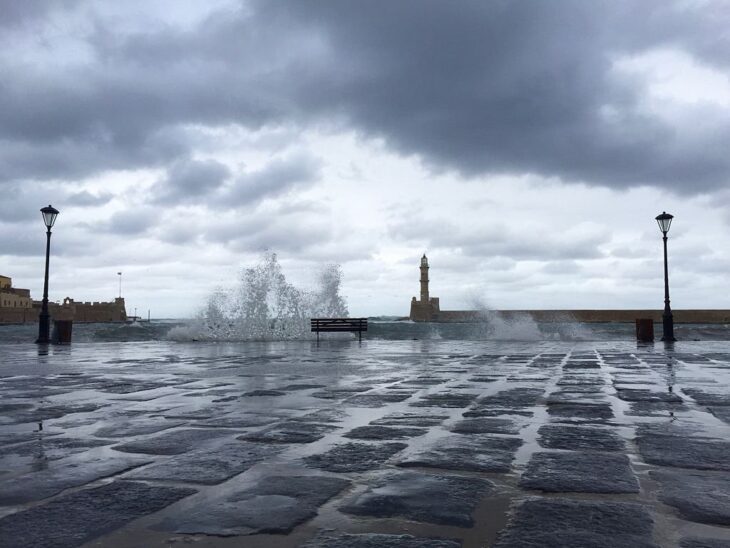 Take a seat at one of the lively café-tavernas that line the cobblestone quaysides. They provide a shady spot to enjoy exquisite Greek coffees while admiring the 16th-century Venetian Lighthouse that can be seen just across the street. Head over the old walls with your umbrellas to observe the waves of the Mediterranean slamming against the port walls. Whatever you choose, spending time at the old Venetian harbour when it's raining is always a good idea.
Visit the Archaeological Museum of Heraklion
The Archaeological Museum of Heraklion is one of Europe's most significant museums, as it is home to an extensive collection of artefacts from Greek antiquity, with an emphasis on Crete. Many of the greatest antiquities uncovered at neighbouring Knossos, Crete's most renowned archeological excavation, are housed in the Heraklion Archeological Museum. This massive and well-known museum is built above the harbour in Heraklion, the island's capital. There are 20 rooms beyond a large Bauhaus-style entry hall, some of which date back over 8,000 years.
The Phaistos Disc – a cryptic Bronze Age code cipher – and the frightening statues of serpent goddesses created circa 1,600 BC are among the most impressive exhibits. Bull's heads, along with projecting horns, are also found in the museum. EU students receive discounted entrance tickets, on the other hand, full-access prices start at roughly €12.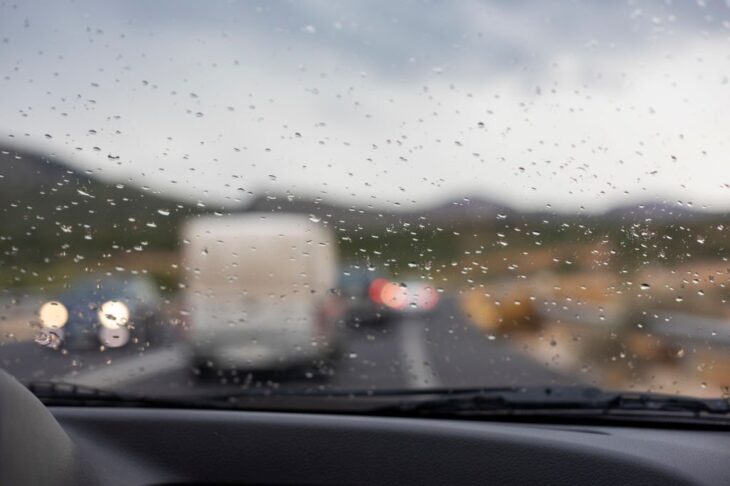 Head to Sfendoni Cave
Going underground in Sfendoni Cave is among the best methods to avoid the storm clouds in Crete. Its trail goes through the northern Cretan hills, passing beneath the soaring Mount Ida and rising above the idyllic village of Zoniana.
The cave structure that is open to visitors is more than 270 metres long in total. Different colours of neon lights illuminate the entire region, with crystallites and mineral pillars plunging through the tunnels. Along the way, you'll learn about the area's remarkable geological history, as well as stories of how the tunnels were used by Romans and guerrilla forces during the revolutions of Greece.
Check Out the Best Tavernas & Restaurants
A trip isn't complete without good food and drink, and there's no better way to enjoy these than in a traditional Greek taverna. Thankfully, Crete has no shortage of incredible places to eat and drink. From Mediterranean fare to international cuisine, you can find just about anything on the island.
Cretan food is some of the best in Greece, with local specialties that include dolmadakia (stuffed vine leaves), gemista (stuffed tomatoes and peppers), kalitsounia (cheese pies), apaki (smoked pork), and staka (creamy chicken and egg dish). Of course, you can't visit Greece without trying some of the country's world-renowned wines. Crete is home to a number of excellent vineyards, producing both red and white wines.
You can find tavernas mostly everywhere in Crete, but some of the best restaurants are located in Chania, Heraklion, Rethymnon, and Agios Nikolaos. No matter where you go, be sure to order some mezedes (tapas style dishes) to start your meal. These small plates are perfect for sharing and trying a little bit of everything.
Check out the best …
▹ Heraklion restaurants
▹ Chania restaurants
▹ Rethymno restaurants
▹ Agios Nikolaos restaurants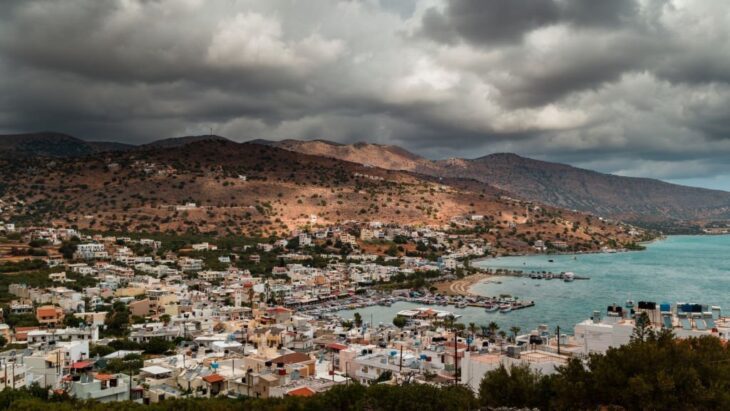 Spend Some Time at the Nautical Museum of Crete
The Nautical Museum of Crete is located in the heart of Chania, on the historic harborside of town. It's a comprehensive introduction to the region's extensive nautical history. Search for the entryway in the ochre-painted home beneath Firkas Fortress's half-ruined walls.
Here, you'll be transported on a journey through time, from Bronze Age settlers to the difficult times when German landings devastated the island. The section about Venetian rule, however, is perhaps the best of the collection. This is very significant for understanding Chania's history.
Check Out Paraschakis Olive Oil
A visit to Crete isn't really complete without sampling the native olive oil. Fortunately, the family growers at Paraschakis Olive Oil are just a 30-minute drive east of Rethymno from Crete's north-coast beaches.
The day trip will reveal how oils have been manufactured in Crete since ancient times. You'll see samples of donkey-pulled presses and stone grinders, as well as get the opportunity to learn about how olives are grown in the present era, which will be accompanied by sampling sessions. The gift shop of Paraschakis Olive Oil is fantastic, with oils and even powerful raki available.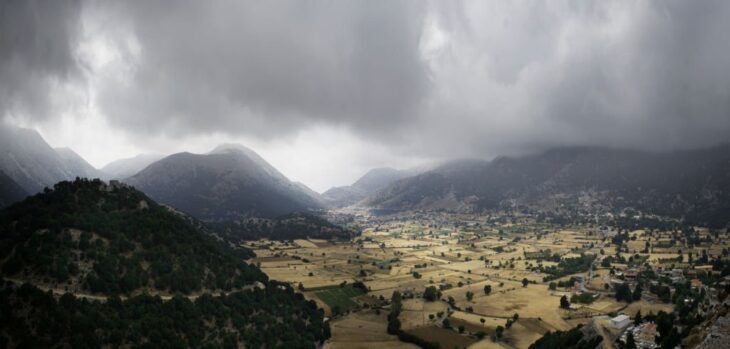 Make Your Way to the Cretaquarium
The national aquarium is among the greatest locations to visit on a rainy day if you're vacationing in the Heraklion region. It's known as Thalassokosmos or Cretaquarium, and it's just a couple of minutes from the downtown area in the village of Gournes, just a short drive from Gouves resort town.
Whether you're visiting Crete with kids (or without), the aquarium will keep you entertained. The location allows you to have a close glimpse of the Mediterranean's aquatic life. Octopus, jellyfish, seahorses, and much more can be seen in the said aquarium. The aquarium provides a once-in-a-lifetime opportunity to learn about underwater Cretan scenery.
Explore a Cretan Monastery
Many monasteries can be found on the island of Crete, so no matter where you're staying, chances are there's one nearby. These Crete monasteries offer a look into the religious history of the island and are often set in beautiful locations.
The Monastery of Arkadi is one of the most popular, located just inland from Rethymnon. The monastery was built in the 16th century but has been through a lot in its 500 years, including being used as a fortress in the Greek War of Independence. Today, it's a peaceful spot for exploring and taking in the views.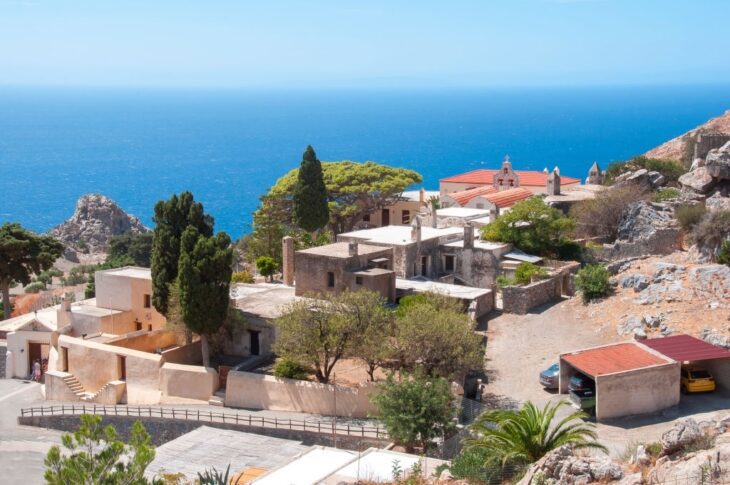 If you're interested in seeing a more traditional monastery, head to the Monastery of Preveli, located on Rethymno. This monastery is still an active site, with monks living and working there. It's set in a beautiful location on a mountainside above the sea.
Should you rent a car in Crete on a rainy day?
Definitely yes! As you can see, there are many things you can do in Crete on rainy days. Whether you're interested in history, culture, food, or just want to relax, you'll find plenty to do. So, don't let a little bad weather ruin your vacation – book a Crete car rental and explore all the wonders of Crete.