This beautiful beachside village on Mirabello Bay is a wonderful home base for exploring the exciting eastern end of Crete. A great variety of pristine beaches and enchanting coves awaits you, along with excellent home-style tavernas, charming accommodations, and all the services and conveniences you need for a comfortable and relaxing holiday.
Where is Istron Located?
Istron is conveniently located less than 10 kilometers southeast from Agios Nikolaos, the capital of Crete's easternmost regional unit. Istron is on the famous Mirabello Bay. The name means beautiful view in Italian, and the Venetians named it correctly. This is a stunning bay of pristine waters, dotted with secret coves, gorgeous beaches, enchanting villages, and world-class resorts. As desirable a location as Mirabello Bay is, it still retains plenty of its authentic character. It is developed with excellent taste and respect for the natural environment.
How to Get to Istron, Crete
Istron is just under an hour's drive from Heraklion's Nikos Kazantzakis International Airport. There is a car rental depot directly at Heraklion airport so you can get on the road at once. Alternatively, if you are arriving by boat, a car rental in Heraklion Port can be brought to you when you disembark.
The drive to Istron follows a gorgeous stretch of coastline before cutting across a lush peninsula to Agios Nikolaos, the capital of the region. From there, a short coastal drive that runs past some excellent beaches brings you to Istron.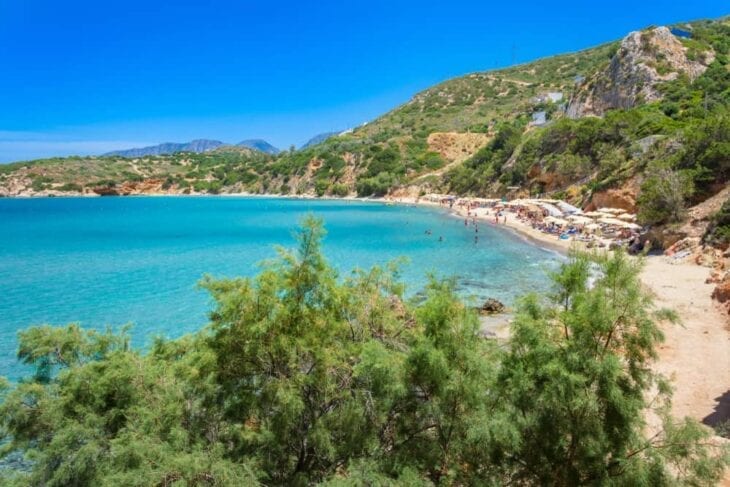 There is good service between Heraklion and Istron and between Agios and Nikolaos and Istron, with several KTEL buses leaving daily. For KTEL schedules, please check here.
The History of Istron, Crete
This is a fascinating region of Crete with a rich history. Like much of Crete, the area around Istron and Mirabello Bay was inhabited by both the Minoans, and the Dorians. The Minoans were an advanced culture that flourished on Crete during the Bronze Age. The Dorians one of the four ethnic groups of Classical Greece (along with the Ionians, Achaeans, and Aeolians). You will recognize their name perhaps from the Doric columns. The Dorians invaded Crete, and built the ancient city of Lato, the ruins of which still overlook Mirabello Bay. The Dorians, seeking a harbor, came down from Lato to the coast.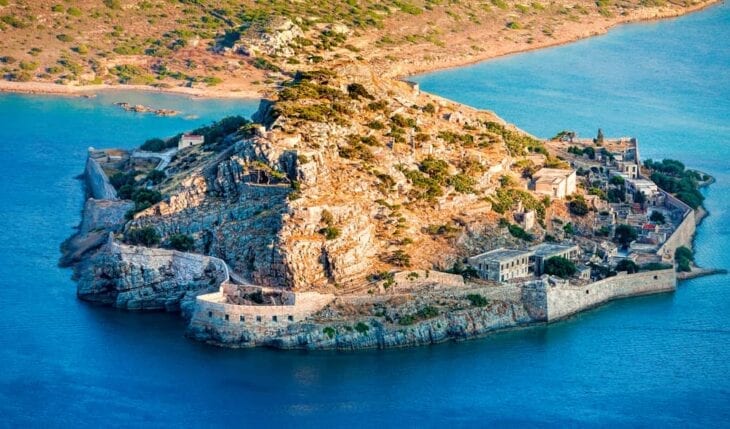 After the decline of both the Dorians and the Minoans, this whole region entered a very quiet period. Settling there in earnest was difficult, due to the frequent raids of the Arab Pirates who controlled the seas. Eventually, by the 15th century, the seafaring Venetians saw the value of this beautiful region. First they developed great salt pans in the sea. They defended them from both the pirates and the Ottomans by building a great fortress on Spinalonga Island in the later half of the 16th century. Spinalonga became one of the most important fortresses of the entire Mediterranean.
In 1715, the Ottomans finally conquered the area, like much of Crete. Crete finally gained its independence in 1898, after the Greek War of Independence of 1821, and the Cretan Revolt of 1866 – 1869.
What to See and Do in Istron
This is one of Crete's most beautiful and unspoiled regions. Of course, the beaches around Mirabello Bay are glorious. But make sure to take the opportunity to drive inland to explore the countryside and traditional villages, like beautiful Fourni.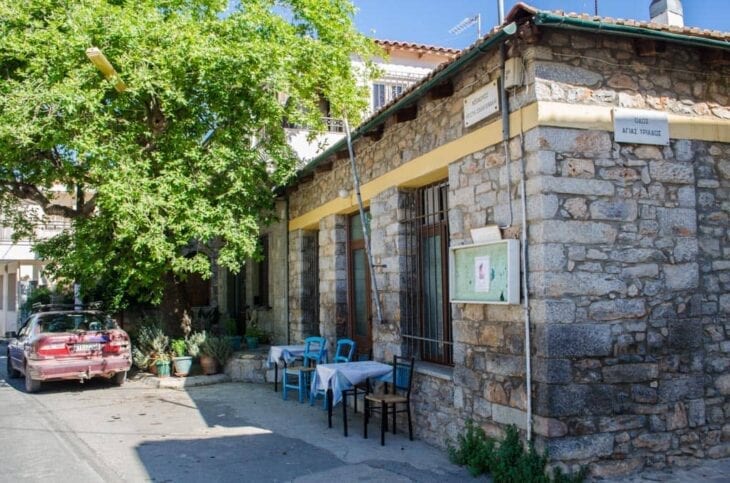 This region of Crete is famous for caves – in fact, there are over 300 caves that have been explored, and many more.
There are also gorges for incredible hikes alongside streams and old watermills, or though dramatic rocky ravines.
For some culture and agricultural education, visit a winery – this generous land has many lush vineyards.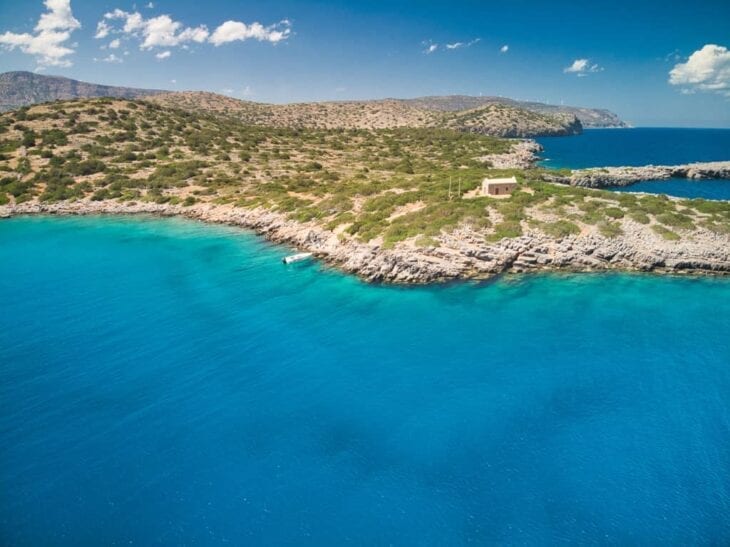 Don't forget the sea itself! In addition to enjoying the beaches, this is an excellent place to take a private boat trip to explore secret coves and even glimpse underwater ruins. You can also try watersports and scuba diving.
Enjoy the Beautiful Beaches near Istron, Crete
This is one of the best areas for beach-lovers. Not only are the waters pristine and shimmer in almost impossible to believe jewel-tones, but there is also a great variety. Just get in the car with some sunscreen and beach towels and explore and you'll find the beach that is perfect for you.

In Istro itself there are two beaches – one is a pebble beach, and there is also a sand beach with sun loungers and umbrellas. Nearby is Voulisma or Golden Beach – a long beach named for its lovely sands. This beach too has sun loungers and umbrellas.
To the north, towards Agios Nikolaos is Ammoudara beach, often sheltered from the wind and a good choice for watersports, although it is small and can get full.
Continuing your drive past Agios Nikolaos brings you to Elounda Bay, famous for more beaches.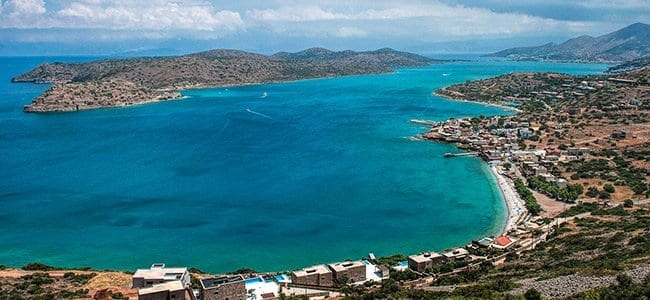 As you drive east, very close to Istron you will find Pacheia Ammos, which means "thick sand". This beach is on a protected bay and has a small fishing harbor.
Continue to one of the most famous beaches in the world – definitely worth the beautiful drive to take you there. Vai, at Crete's easternmost tip, is about an hour and a half from Istron. Here you will find a lush forest that is a unique habitat for a species of date palm – truly a small paradise.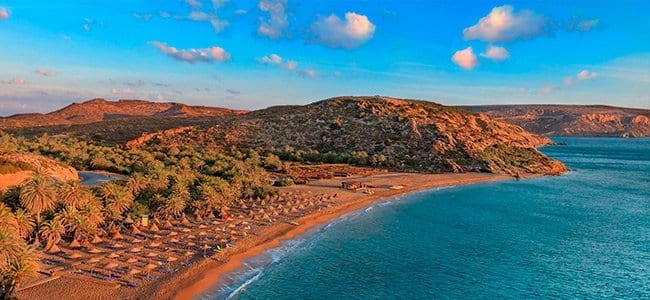 Crete is very narrow at the point around Istron, and the wilder beaches of the south coast are only a short drive away. Ierapetra, on the coast of the Libyan Sea, is just half an hour away. Ierapetra offers a stunning choice of blue flag beaches with pure waters. Some are fully serviced with sun loungers and umbrellas, and some are more wild and pristine. Explore Ferma, Agia Fotia, Koutsounari and Makrigialos, among many.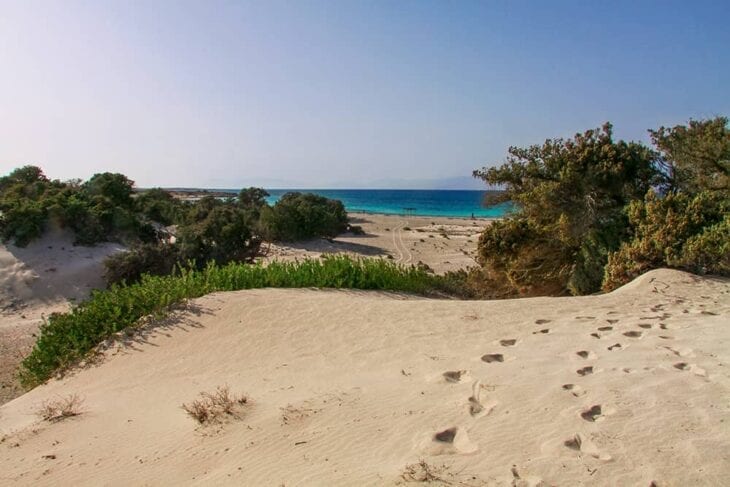 Some say the finest beach of Ierapetra is on the coastline at all, but is on its own island – Chrissi. This brings us to our next topic:
Activities Around Istron
The diversity of landscapes around Istron is truly stunning.
While you are exploring the more rugged south coast, you'll definitely want to take a boat trip to Chrissi island. Just 8 miles off the coast of Ierapetra, this uninhabited island of dazzling white sands and brilliant turquoise waters is a habitat for a rare type of Lebanese Cypress. The swimming is excellent. Frequent boat service from Ierapetra can take you there, and you will find a Cantina to refresh yourself with a cool drink after your swim.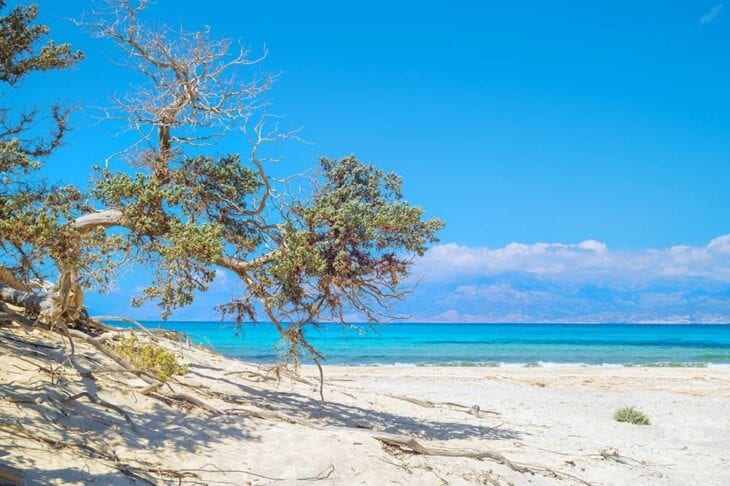 How about some caving and some mythology in one? Psychro cave is one of two caves thought to be the birthplace of Zeus (the other one is Ideon cave on the slopes of Mt. Ida). Psychro cave a little over an hour's drive from Istron.
The Sitia Geopark is a fabulous region to explore, 350 square kilometers of diverse ecosystems and rare wildlife. The geopark encompasses gorges for hiking, beaches for exploring, wetlands for bird watching, and many other diversions for nature lovers.
For hiking, the Richtis gorge provides plenty of drama and beauty, taking you past a stream and leading to a dramatic 20 meter waterfall and a refreshingly cool pool. The Richtis gorge is about an hour's drive to the east.
Cultural Excursions Around Istron
For some history, culture, and oenology in one, visit the Toplou Monastery, an hour and a half's drive from Istron and very close to Vai beach. At this 15th century monastery, you can see precious Byzantine icons, then sample wines with local delicacies.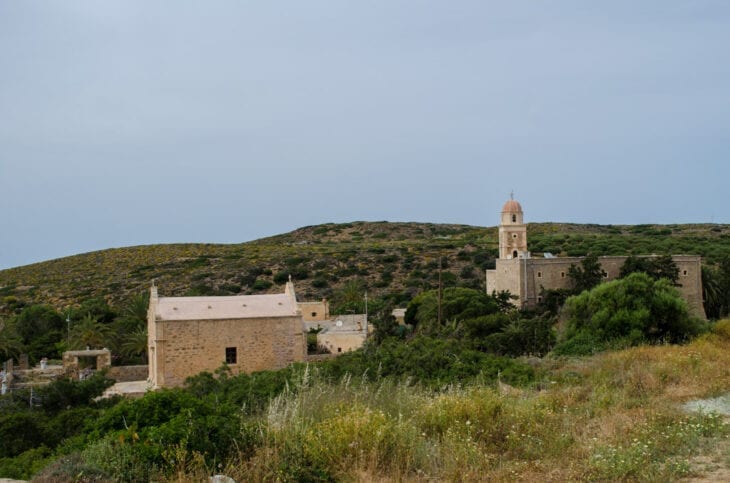 Agios Nikolaos itself is a wonderful place to visit. This charming harbor town, the smallest of Crete's regional capitals, has a wonderful "lake" in the center (it's actually connected by a narrow channel to the sea). Agios Nikolaos has a small and lovely archaeological Museum with Minoan finds from nearby excavations.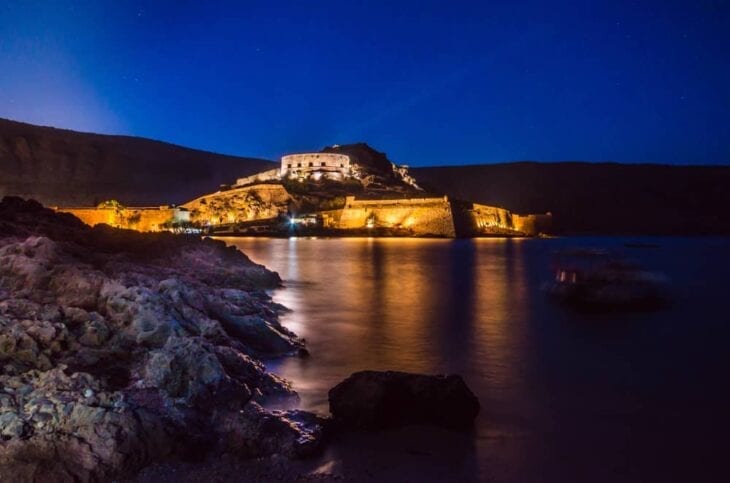 No trip to the Mirabello Bay region is complete without a trip to Spinalonga Island. This impressive Venetian Fortress of the 16th century is actually more famous for its period as a leper colony in the early half of the 20th century. Learn more about this moving period in the island's history, and explore the glorious Venetian ruins – the entire island is a museum.
Where to Stay in Istron
Since Istron is just a few kilometers away from Agios Nikolaos, it's never too hard to find a place to stay. From budget-friendly hostels to luxury resorts, there's something for everyone in Istron. With that said, here are the top ones you shouldn't miss:
Istron Bay Hotel
Among the most popular and most-preferred resorts in Istron is the Istron Bay Hotel. This luxurious resort offers a romantic environment with a variety of facilities tailored for travelers like you, and it gives a great balance of value, comfort, and convenience. Each room is aesthetically designed and comes with a minibar, fridge, private bathroom, and a balcony.
Address: EO Agiou Nikolaou Sitias 109, Ag. Nikolaos
Website: https://www.istronbay.gr/
Contact: +30 2841 061303
Elpida Village
Even when you're on a budget, you can still enjoy a comfortable and convenient stay in Elpida Village. The accommodation is located in Kalo Chorio's Istron region, barely 10 kilometers from Agios Nikolaos. This village-style resort is placed on the slopes of a magnificent hill with a spectacular view of Mirabello Bay. A pool, bar, and restaurant can be found on-site.
Address: Kalo Chorio, Istron, Agios Nikolaos, Crete
Website: https://www.elpidavillage.gr/
Contact: +30 2841 061403
Kounenos Apartments
If a comfortable place to stay is solely what you're looking for, then Kounenos Apartments is the perfect spot for you. This place boasts studios and apartments equipped with air conditioning, kitchenettes, TVs, and balconies overlooking the village or the sea. They also offer a pool bar and free Wi-Fi in public areas.
Address: Kalo Chorio, Istron, Agios Nikolaos, Crete
Website: https://kounenos-apartments.gr/
Contact: +30 2841 061350
Where to Eat in Istron
A wide range of taverns and restaurants can be found in Istron, serving traditional Cretan dishes as well as international cuisine. Here are some of the best places to eat in Istron:
Pelagos
Found in Agios Nikolaos, just a few kilometers from Istron, Pelagos is a restaurant that will make your taste buds jump for joy. They serve meat, seafood, and vegetarian dishes from all over the world. The atmosphere is cozy, and the service is impeccable.
Address: Stratigou Koraka 10, Agios Nikolaos, Crete
Website: https://www.facebook.com/Pelagos-331674793603958?_rdc=1&_rdr
Contact: +30 2841 082019
Meraki
Meraki is a laid-back, elegant, and modern restaurant/cafe in Istron that offers a unique blend of traditional Cretan cuisine with international flavors. The dishes are artistically plated and absolutely delicious. What's more, the staff is amiable and welcoming.
Address: Saint Nicolas Kalo Chorio, Istron, Agios Nikolaos, Crete
Website: https://website-7651045289787761741145-restaurant.business.site/
Contact: +30 697 673 0140
Taverna Kavos
From seafood to meat dishes, Taverna Kavos has it all. This tavern is located in the heart of Istron and offers a great ambiance, friendly service, and reasonable prices. It's an ideal place for a casual meal with family or friends.
Address: Kalou Xwriou, Istron, Agios Nikolaos, Crete
Website: https://www.tripadvisor.com/Restaurant_Review-g1191579-d2061357-Reviews-Taverna_Kavos-Istron_Agios_Nikolaos_Lasithi_Prefecture_Crete.html
Contact: +30 2841 061330