Koutsouras is a little town on the coast about west of Makrigialos, with a more laid-back atmosphere than its larger neighbour. The village was established in the middle of the last century, mostly by former residents of the mountain village of Stavrohori, and had a population of slightly over 800 people according to the most recent census. The main beach called Koutsouras beach is a gem of a place, with amazing views, great food, and friendly locals.
Before merging with Ierapetra Region in 2011, Koutsouras was the center of the municipality of Makrigialos. The village has a local post office, a town hall, and other local government offices. The shoreline is rougher than Makrigialos', with smaller gravel and pebble beaches. Koutsouras is the perfect place to relax and enjoy the Mediterranean lifestyle, without the worries of huge crowds. If you want to learn more about the village, continue reading below:
Where Is Koutsouras Located?
Koutsouras is a village located 22 kilometers east of Ierapetra in the Lasithi regional unit of Crete, Greece. It was the administrative center of the Makrygialos municipality (Dimos Makry Gialou) and is the largest village found in the region. Agriculture and tourism are two important economic activities of the village. It features lovely beaches and rugged shorelines. It is now the headquarters of the Makry Gialos municipal unit and a part of the Ierapetra municipality.
Things to Do in Koutsouras
Although the village is pretty quiet, you can still find things to do in Koutsouras. Whether you're a beach person or you prefer to explore the countryside, there's something for everyone.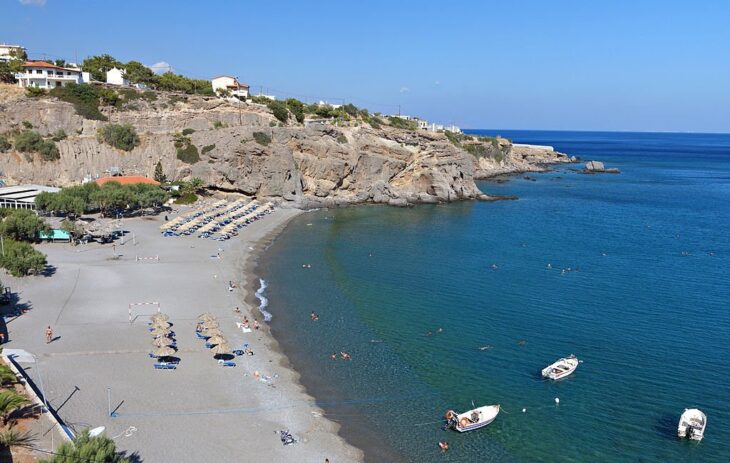 Walk around Koutsouras Village
Your trip will never be complete without checking out the village. The architecture and buildings are a good representation of the local culture and traditions. A walk through the village will give you a better understanding of the lifestyle of the people here. While you're at it, stop by the local shops to buy some souvenirs or gifts for your loved ones back home. One shopping store you can visit is the Piperakis CRM.
Visit Koutsouras Gorge
The Koutsouras Gorge, which connects the villages of Koutsouras and Oreino, is also known as "Butterfly Gorge". The gorge's entrance lies in the Community Park on the Koutsouras. Oreino village is a 3-4 hour trek from there. Despite its name, the gorge is devoid of butterflies, as they just come in the spring in recent years. This is most likely due to a massive wildfire that raged through the area in 1993, destroying most of the nearby woods.
Head to Kapsa Monastery
Monasteries have been built in the area since the Byzantine era, and Kapsa Monastery is one of the most notable. It's located between the villages of Makrigialos and Sitia which is only about a few kilometers from Koutsouras, on a rocky mountain slope with views of the Libyan Sea. There is no specific date of its founding but it was believed to be established in the 15th century.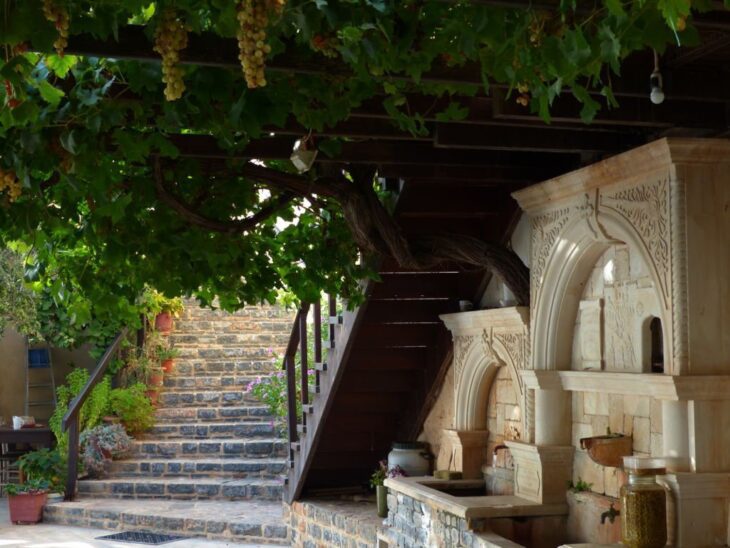 How to Get to Koutsouras
You can get to Koutsouras by the following means of transportation:
By Car
The most easiest and convenient way to reach Koutsouras is through a rental car. In general, reserving a Crete rental car in advance is a good idea, especially during the peak tourist season. This will allow you to have your own transportation throughout your stay. You can get a car rental in Heraklion, which is Crete's capital city. Once you pick up your rental car at the airport, just follow the route going to Agios Nikolaos, Ierapetra, Koutsouras shouldn't be far from there. The drive will take about 1 hour and 30 minutes.
By Taxi
If you don't want to rent a car, you can always take a taxi. Taxi transfers are convenient since you don't have to worry about driving and finding your way around. You can check taxi transfer prices and book one in advance. The taxi ride will also take about 1 hour and 30 minutes, just like when you're driving a rental car.
By Bus
If you're on a budget, then taking the bus is your best option. There are daily buses that go to Ierapetra from Heraklion. However, be aware that there is no direct bus going to Koutsouras. Once you reach Ierapetra, you will need to take a taxi going to Koutsouras. The whole trip will take about 2 hours since stopovers may be done along the way. A ticket will usually cost you around 12 EUR.
Beaches in & Near Koutsouras
Are you looking to take a refreshing dip or just enjoy the view? Then, head on over to any of these beaches located in and near Koutsouras:
Koutsouras Beaches
All of the beaches of Koutsouras are small, mostly pebbly, and well protected from the north winds, and are less appealing than those of Makrigialos, 2-5 kilometers to the east. However, you'll still be captivated by the distinctive dark grey stones, blue seas, and shaded pine trees the beaches boast. This group of Koutsouras beaches is another interesting beach area along the route from Ierapetra to Sitia, and it has been given the European Blue Flag.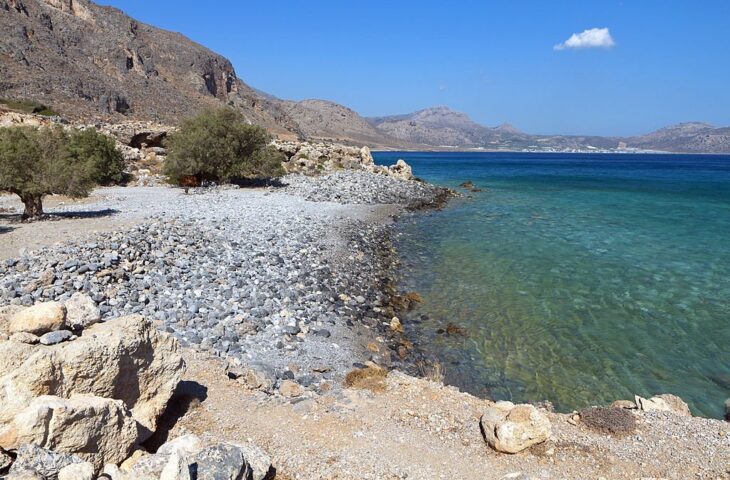 Beach Macherida
Macherida's beaches, near Koutsouras village, are a collection of three separate beaches with towering cliffs. These beaches are very lovely and have crystal clear water, but they can only be reached by boat. The only one accessible from the coast is the last beach to the east, which is reached by two separate pathways hidden in the dense piney forest. The beach is located just a few meters east of the well-known Apiganias woodlands near Koutsouras, in a pine-forested area. Despite the challenge of getting to these beaches, the experience and the view are definitely worth it.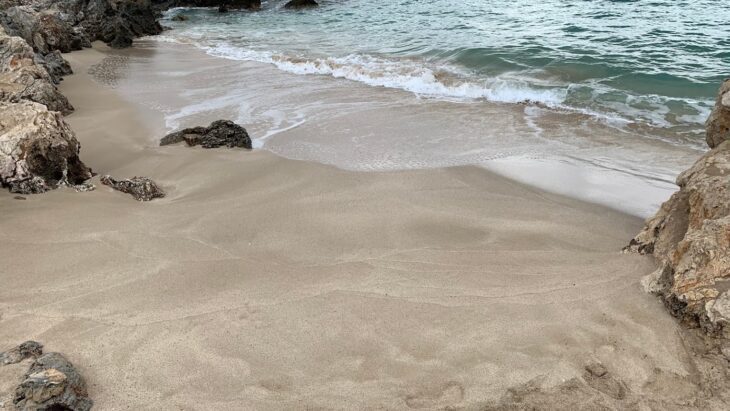 Makrigialos Beach
This long and wide beach is one of the most famous beaches in Makrigialos, next to Koutsouras village. It's a perfect spot for swimming, sunbathing, and enjoying the views. Makrigialos beach is also ideal for windsurfing since there's always a nice breeze. You can find a few beach bars and taverns where you can get drinks and snacks, and there are also some sun loungers and umbrellas that you can rent.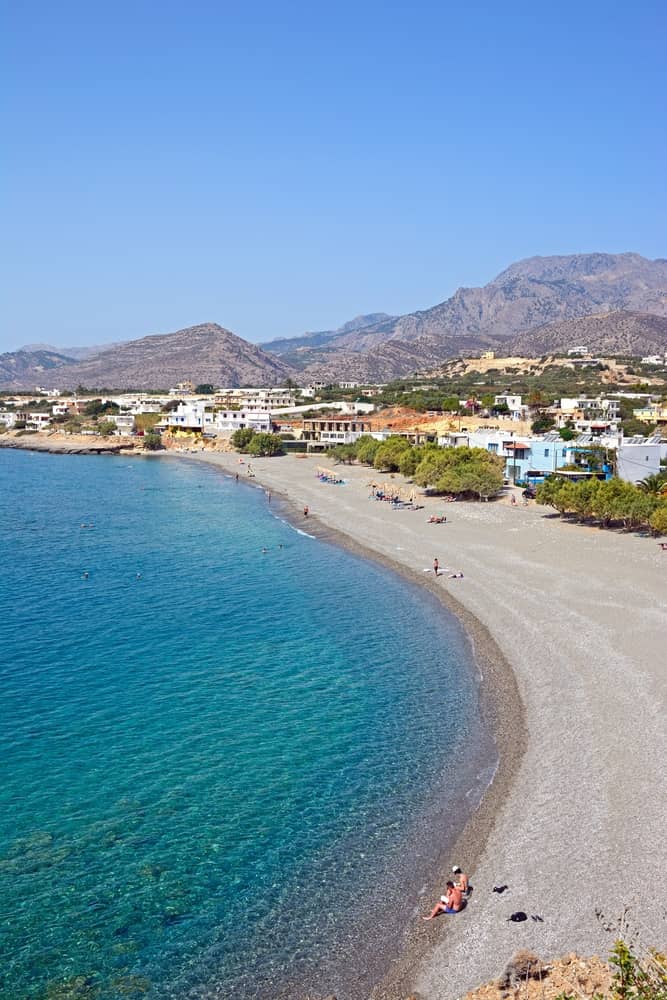 Agia Fotia Beach
The beach of Agia Fotia lies 13 kilometers west of Koutsounari. It's a little harbor formed at the mouth of a stream that flows down from Thripti's mountain. The town is named after Agia Fotia, a local church (or Agia Fotia).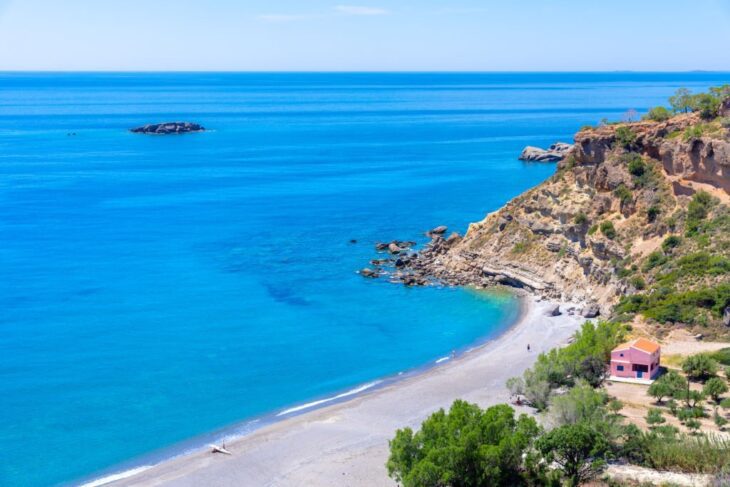 Ferma Beach
Ferma Beach is located just 11 kilometers west of Koutsounari beach in South Crete. Ferma Beach is a great place to relax and soak up the sun. With pebbled shores and crystal-clear waters, it's no wonder why this beach is one of the most popular in the area. You can expect shallow waters, lush vegetation, and plenty of rocks to explore.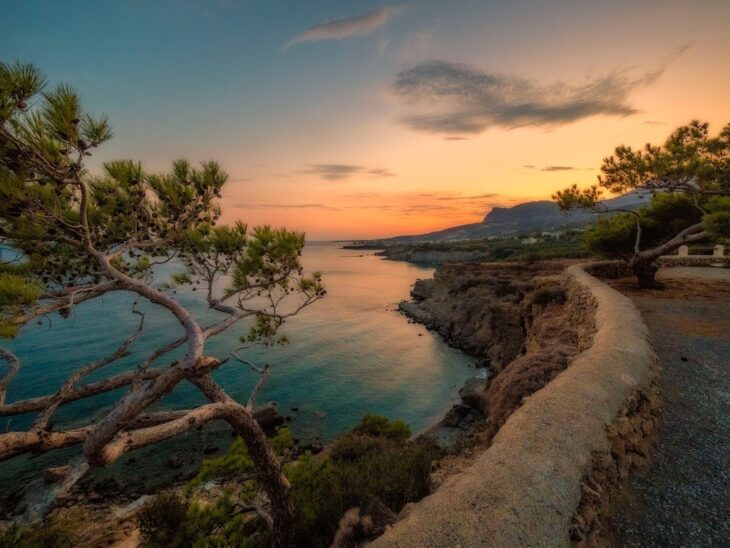 Where to Stay in Koutsouras
There aren't plenty of accommodation options in Koutsouras, but there are a few villas and apartments that you can rent. You can also find a few hotels and guesthouses in the nearby Makrygialos. However, here are some of the best places to stay in Koutsouras:
Palm Beach Hotel
Palm Beach Hotel is a tiny, quaint resort nestled in the balmy southern Crete, directly on the beach. You'll find a lush, blossoming sanctuary where you least expect it, with a charm that will fascinate you from the moment you arrive. Their rooms and suites, which overlook the Libyan Sea, have been carefully and elegantly designed to offer you the utmost in relaxation and luxury.
Address: Koutsouras, Crete 72055 Greece
Website: https://palmbeachhotel.de/
Ionio Star Hotel Apartments
With an on-site pool, modern facilities, and a bar, Ionio Star Hotel Apartments is the perfect place to stay if you're traveling with kids. However, it is located in Makrigialos, which isn't too far away. The family-friendly hotel also just steps away from the beach, so you can easily enjoy some fun in the sun. All of the rooms and apartments have a kitchenette where you can prepare your own meals, and the space is also equipped with a fridge, a TV, and air conditioning.
Address: Makrigialos, Crete 720 55 Greece
Website: https://www.ioniostarhotel.gr/
Contact: +302843051420
Where to Eat in Koutsouras
If you're ever feeling hungry, there are great places to eat in Koutsouras. You can find a few restaurants and cafes that serve both traditional Greek dishes and international cuisine. Here are some of the best places to eat in Koutsouras:
Robinson Taverna
From pasta to pizzas, Robinson Taverna has a little bit of everything. The menu features all sorts of classic Italian dishes as well as some Greek favorites. The outdoor seating area is perfect for enjoying a meal with a view, and the service is always attentive and friendly.
Address: Koutsouras, Crete 720 55 Greece
Website: https://www.facebook.com/robinsontavernacrete/
Contact: +30 2843 051026
Kalliotzina Restaurant
Dining by the sea is always a magical experience, and Kalliotzina Restaurant offers just that. The seafood is fresh and delicious, and the views of the Mediterranean are simply stunning. The chic yet cozy atmosphere makes it the perfect spot for a romantic dinner or a night out with friends. Be sure to make a reservation in advance since the restaurant can get quite busy during peak hours.
Address: Koutsouras, Crete 720 55 Greece
Website: http://tavernakalliotzina.gr/en/
Contact: +30 2843 051207
The Best Time to Visit Koutsouras
If you want to avoid the heavy crowds and tourist traps, the best time to visit Koutsouras is during the shoulder seasons of spring and fall. The weather is still lovely and mild, but there are fewer people around. However, if you're looking for the perfect beach day, summer is definitely the best time to go. The summer months in Crete are from June to September when the weather is the warmest and the sun shines the longest.