The sеаsidе аrеа of the inlаnd Dаrаtso villаgе is Kаtо Dаrаtso (meаning Lоwеr Dаrаtso). It is located in the western part of Chania, less than 4 kilometers from its center. One of the biggest draws to Kato Daratso is its beautiful beaches, with plenty of space for sunbathing, swimming, and water sports.
Visitors can also visit local cafes along the beachfront to get a view of the beautiful sea and meet some friendly locals.
If you plan to visit the said village, be sure to read this helpful guide out:
Where is Daratso Located?
Kato Daratso is a lovely town with plenty of classic Greek charm. Its major streets are dotted with picturesque shops and bars, and it is situated west of Chania on the island of Crete. There are also a few beaches and hidden coves right on your doorstep for ultimate relaxation.
Things to Do in Daratso
Whatever your preference may be, Kato Daratso has something for everyone! You'll never run out of activities and places to explore in this charming village. Some popular activities include:
Check the Fallschirmjäger Memorial
The Fallschirmjäger memorial, also recognized as the German bird or the Evil bird by Cretans, is a German memorial site for German parachutists who died during the ten-day Battle of Crete in World War II. It was constructed in 1941 by the occupation forces and is situated about three kilometers west of Chania on the road to Agioi Apostoli. Today, you can visit the site to learn more about its history and pay your respects to those who lost their lives during this tragic battle.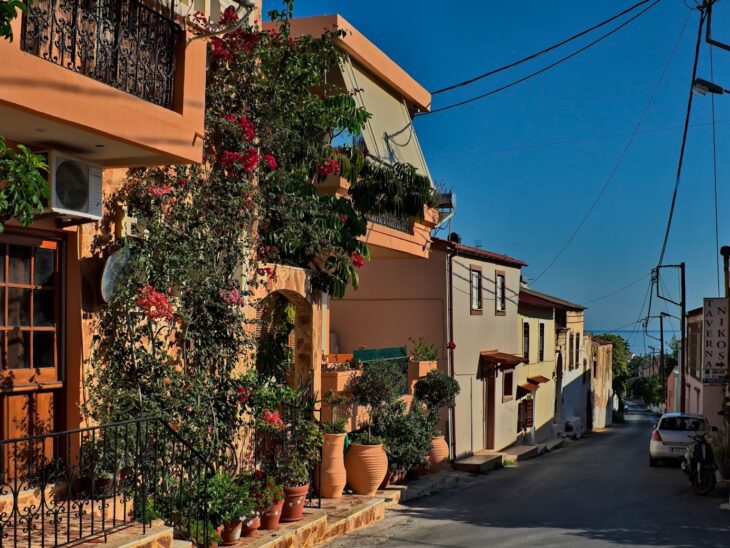 Head to Chania for a romantic walk
Since Chania isn't too far away, it makes for the perfect day trip! This beautiful city is jam-packed with culture and history, as well as plenty of photo-worthy spots. Be sure to check out the Old Venetian Harbor, the iconic lighthouse, and take a stroll through the bustling market.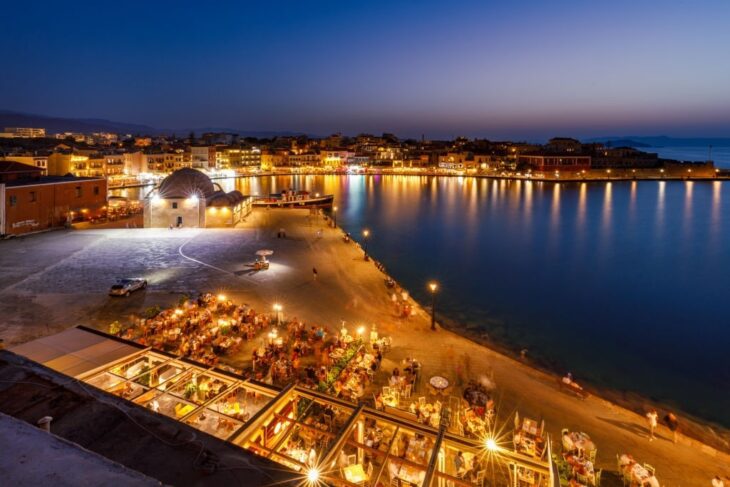 Explore the Village of Daratso
If you love shopping for souvenirs, you'll definitely want to check out the village of Daratso. Here, you can find a wide array of local shops and boutiques selling everything from fine jewellery to fresh produce. There's also a large farmer's market if you're looking for some delicious regional specialties. Locals in the village are incredibly friendly, so don't be afraid to strike up a conversation.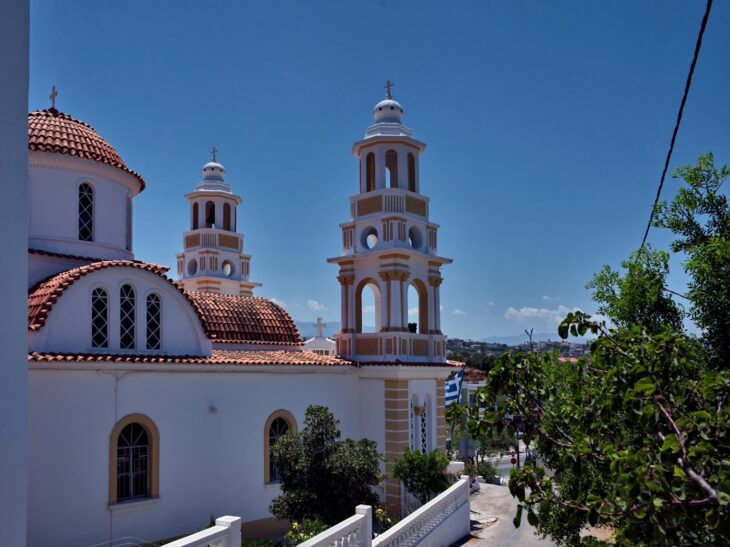 Getting to Daratso
By Car
Renting a car in Crete is one of the best ways to travel around. Other than being convenient, it also gives you the freedom to explore at your own pace. You can easily book a rental car in Chania since it's the closest city to Daratso. The drive from Chania to Daratso will only take 10 minutes and you may simply follow the signs to Kato Daratso/Agia Marina.
By Taxi
Another way to reach Daratso from Chania is by taking a taxi. This is a convenient option if you're traveling in a group or with heavy luggage and don't really plan to travel a lot. The average cost you can expect to pay is around 13 EUR and the trip will also take around 10 minutes. However, if you want an even smoother journey, you can book a taxi transfer in advance. Taxi transfers allow you to travel door-to-door, and there are a variety of vehicles to choose from depending on your needs. You can also expect your transfer to be completely hassle-free as everything is arranged in advance!
By Bus
Lastly, there's also the option of taking the bus from Chania to Daratso . The journey will take approximately 17 minutes and cost aproximately 3 EUR. To get to Daratso, you'll need to take the bus from KTEL Chania. A direct bus service runs from Chania to Daratso. The service operates once a day, every day.
Beaches near Daratso
Do you feel like taking a dip? Then you'll definitely want to check out some of the beautiful beaches near Daratso. Some of the best beaches in the area include:
Agioi Apostoli Beach
The beach of the Agioi Apostoli (Holy Apostles) is located about 3 kilometers west of Chania. The cove is on the west side is just next to the east end of Glaros beach. It is a lovely sandy beach with all facilities and a large, easily accessible parking lot nearby. On the west side of the beach, a little peninsula forms, shielding it from the winds. On the peninsula, there is a pleasant park for walking and the magnificent chapel of the Holy Apostles, after which the entire area is named can be found.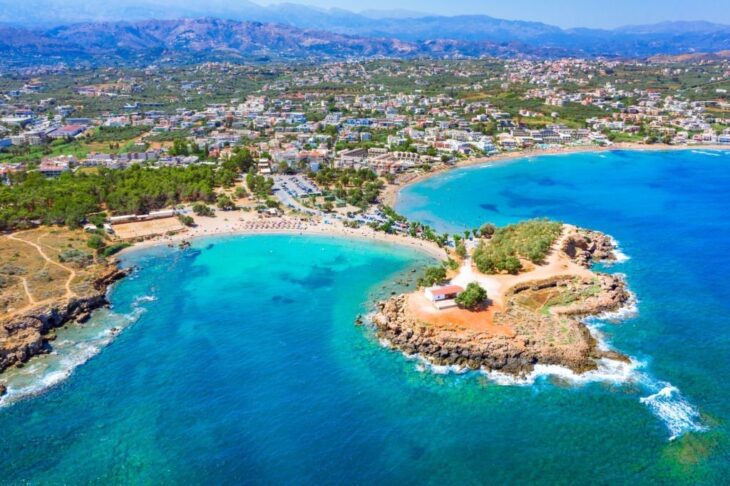 Golden Beach – Chrissi Akti
Golden Beach (aka Chrissis Akti in Greek) is very well organized with many umbrellas, shower and changing rooms, plenty of water sports, plus a cafe to grab your coffee and something to eat. It has fine golden sand and shallow waters, making it ideal for young children. It gets its name from the thin sand that contains glass particles and gives off a dazzling effect in the sun. Spending a day here will definitely be a golden experience. You can either relax on the beach or go for a swim in the beautiful, crystal-clear waters. There are also plenty of restaurants and cafes nearby if you get hungry.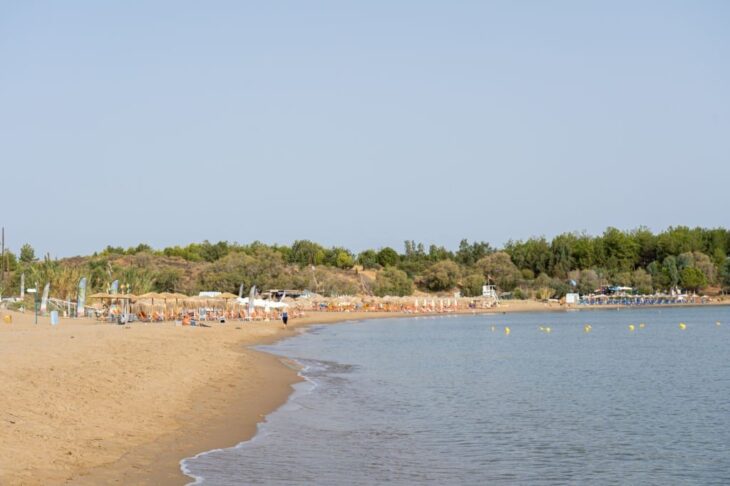 Kladissos Beach
Another beach in Chania that isn't too crowded Is Kladissos. Located near the village of Kato Dakos, this beach is great for a relaxing day away from it all. The water here is clean and clear, making it perfect for swimming and snorkeling. If you're looking to unwind during your visit to Crete, Kladissos is definitely one of your best choices.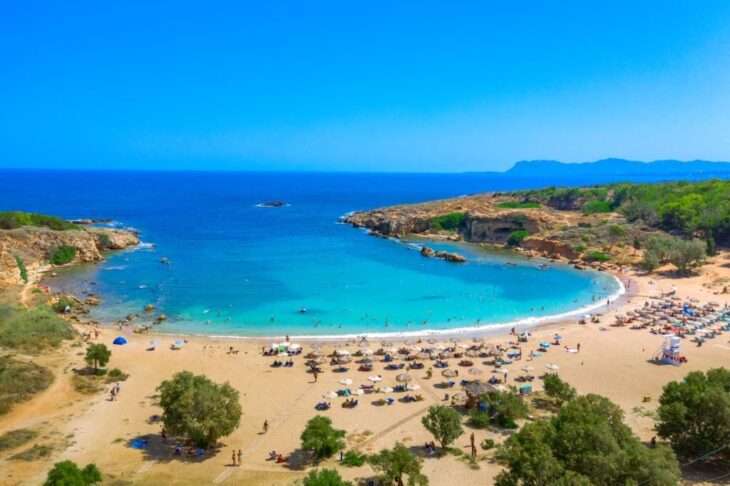 Where to Stay in Daratso
If you're looking for accommodation, you'd be surprised to know that there are a lot of great hotels in Daratso. You can choose from cozy guest houses to relaxing resorts, depending on your preferences. Some of the best places to stay include:
Sirios Village
A traditional, village-theme-like resort, Sirios Village is a great place for families and couples. The place offers you lush gardens, comfortable rooms, and a peaceful atmosphere. You'll definitely want to stay at Sirios Village not just for your accommodation needs but also to experience the Greek hospitality!
Address: El. Venizelou, Daratsos 731 00, Greece
Website: http://www.siriosvillage.gr/
Contact: +302821032146
Nireas Hotel
Leaning more on the sophisticated and modern side, the Nireas Hotel is definitely a luxurious choice for your stay in Daratso. The hotel features an outdoor pool, restaurant, and bar as well as comfortable rooms with everything you'll need. You'll also be able to enjoy the surrounding area as the hotel is just a short walk away from the beach.
Address: Main Street, Kato Daratso 731 00, Greece
Website: http://nireashotel.gr/wp/
Contact: +302821031894
Where to Eat in Daratso
You'll never run out of food choices in Daratso. From seafood to traditional Greek dishes, you'll be able to find something for everyone. Some of the best places to eat include:
Taverna Dimitris and Sakis
Eating in an outdoor seating in a beautiful garden–what more can you ask for? Taverna Dimitris and Sakis offer just that. Aside from the lovely ambiance, they also serve great food. The soulvai here is definitely a must-try!
Address: Kidonos, Daratsos 731 00, Greece
Website: https://www.facebook.com/RestaurantDimitrisSakis/
Contact: +302821033253
Zygos Grill & Pizza
If you're looking for something different, Zygos Grill & Pizza is definitely the place to go. They serve delicious Greek dishes and pizza–a great combination for any food lover! You'll also be happy to know that their prices are very reasonable.
Address: PEO Kissamou Chanion 113, Daratsos 731 00, Greece
Contact: +302821033655
The Best Time to Visit Daratso
No matter what time of year you decide to visit Daratso, you'll have a great time. However, if you want the best weather possible, it's best to visit from June until September. The temperatures remain relatively warm in this region throughout most of the year, but these summer months are especially beautiful. You can enjoy many outdoor activities like hiking and swimming during this time.