The region of Heraklion is not only known for its historical ruins, amazing archaeological sites, and impressive monuments. It is also home to some of the best beaches that Crete has to offer. One popular beach worth mentioning is Kommos. This well-favoured yet secluded spot is a favourite of locals and tourists alike due to the naturist-friendly atmosphere that it provides. However, for you to experience such a beach to the fullest, knowing more about its location and what it offers is a must.
Learn everything there is to know about Kommos Beach by reading below.
Where Is Kommos Beach?
Kommos Beach lies 66 kilometres southwest of Heraklion, 2 kilometres north of Matala, and near the village of Pitsidia. It is, in fact, the furthest south part of Crete and the most secluded stretch of Messara Bay's extensive shoreline.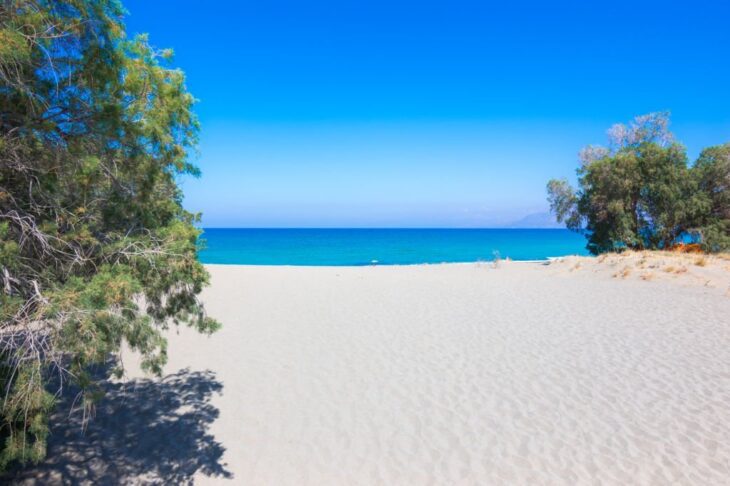 Why Visit Kommos Beach?
Due to the ancient site and prohibitions on private enterprise in the area, the beach of Kommos is unexpectedly undeveloped but still fairly stunning. Compared to Matala beach, Kommos is much more peaceful and quiet, making it a perfect place for a relaxing afternoon. On this beach, you can truly enjoy the calm and soothing atmosphere of nature like no other.
Rock formations and other natural curiosities can be found all around the area. However, the whole oceanfront of Kommos is exposed to the area's predominant westerly winds. Therefore, due to the rough seabed in some areas, precaution is advised when swimming.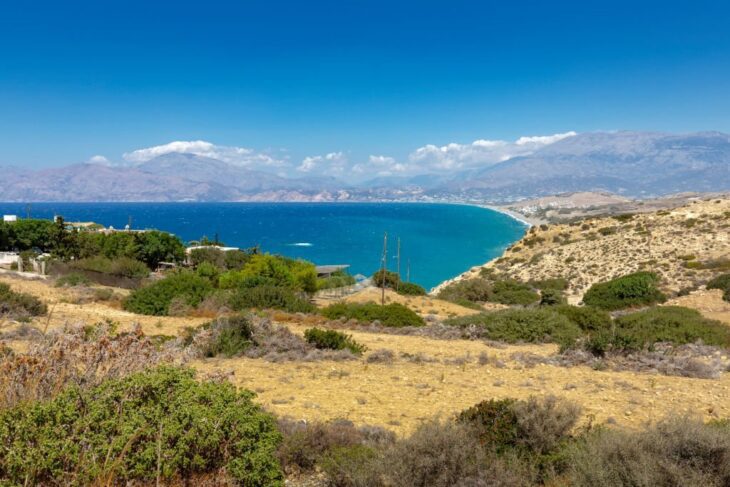 Kommos Beach also offers an area for nudists. The area is relatively large, so continue walking until you see where the nudist section of the beach is. Plus, One of the areas where the Caretta-Caretta turtle lays its eggs is Kommos Beach. The archaeological sites where this has occurred have been marked so the eggs cannot be disturbed.
Accommodations in the form of hotels, flats, and studios can be found not far from Kommos Beach. Therefore, you can enjoy not only the nature-friendly atmosphere of the beach but also nearby amenities without any difficulties.
People come to Kommos not only to swim but also to see the magnificent scenery and watch the sunset. The beach stretches around the Bay of Messara, with the great blue Libyan Sea stretching out in front of you. The Paximadia islands appear to change shape depending on your position and viewpoint, which tricks viewers. The sunsets behind the islets late in the afternoon, providing one of Crete's most beautiful sunsets.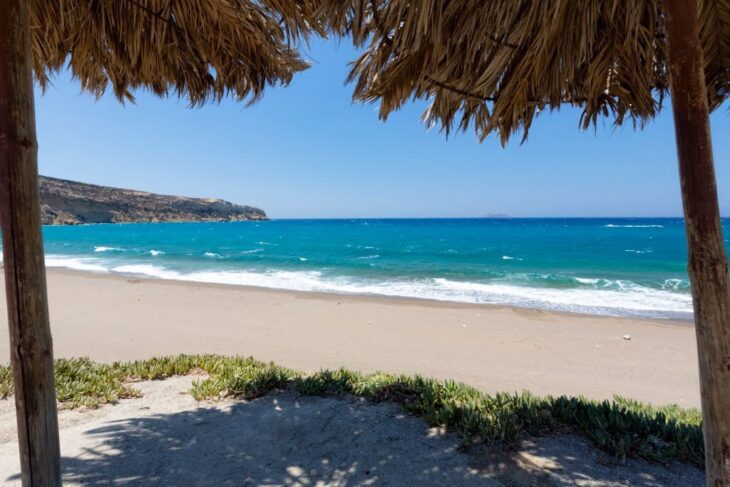 The northern part of Kommos, Potamos or Potamoserma, has been a popular naturist destination in Crete ever since hippies inundated the area in the 1970s. Because Kommos is a protected archaeological area with building restrictions, only a few tamarisk trees are around the site. A well-organised beach with umbrellas, sunbeds, toilets, showers, a canteen, and a lifeguard is located south of Kommos.
How to Get to Kommos Beach
The best and most cost-effective option to get to Kommos Beach is by rental car. This includes travelling at your own pace and even exploring other nearby beaches while sightseeing other spots as well. Plus, you won't have to deal with the hassle of finding public transport, especially when you're carrying a lot of stuff.
Kommos beach is around 65-70 kilometres from Heraklion. Once you start driving, take the route to Messara, passing through Tymbaki and Moires. Continue on to Pitsidia and Matala after passing Moires. After passing through Pitsidia, take a route through the beautiful olive orchards, following the road signs to Kommos Beach.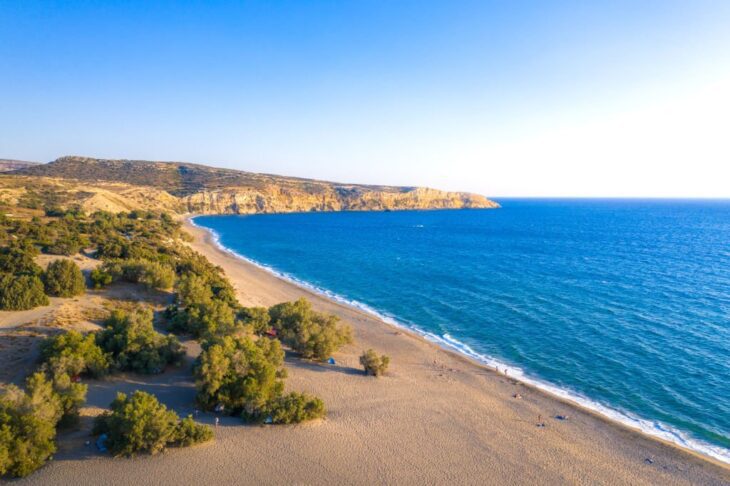 If you prefer public transport rather than a rental car, then you may either take a bus or a taxi. There are many taxi services scattered around central Heraklion, so finding a ride shouldn't be a problem. The trip will take around an hour and will cost you around 65 Euros, depending on the traffic.
There are no direct buses from Heraklion to Kommos Beach. As such, you'll have to take a bus from Heraklion Bus Station to Matala. Once there, take a taxi going to Kommos Beach. Opting for a bus will take about 2 hours travel time, and the ticket will cost you around 8 Euros.
Is there an archaeological site near Kommos beach?
Yes. In approximately 2 kilometers away from Kommos beach, there is the Kommos Archaeological Site. Kommos archaeological site was an important Minoan port during the Bronze Age and has been the subject of extensive excavations since the 1970s. The site includes the remains of a large palace complex, administrative buildings, residential areas, and storage facilities. Kommos also boasts a well-preserved harbor and is known for its impressive architecture, including the Minoan-style buildings and a large central courtyard. The site provides valuable insights into the daily life, economy, and political structure of the Minoan civilization, and is a popular destination for tourists and scholars alike.