With a touch of history, culture, and breathtaking views- Crete is one of the most visited places in Greece. Hundreds of mesmerizing beaches surround the island, but for those looking for something off the beaten path – Kedrodasos beach would be the piece of paradise you didn't know you needed. The beach itself is located in the south-western part of Crete, a few kilometers away from Chania and the ever famous Elafonissi beach. In addition, it has a few accommodations nearby, making it the perfect place for any traveler.
Kedrodasos is a series of coves and beaches formed around sand dunes on the south Crete coast. The main beach runs for hundreds of meters, while most other cove beaches are smaller. Kedrodasos gives you the chance to embrace nature like never before; it has crystal clear blue waters, amazing flora and fauna, spectacular rock formations, and a unique charm that makes it a space of its own.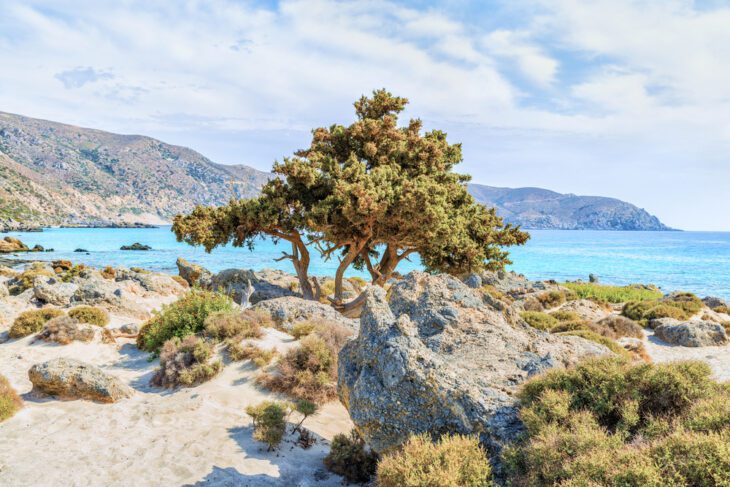 The most significant information about this location and what you can experience in the area is provided below.
Where is Kedrodasos
Kedrodasos is a beach found on the southern coast of Crete. It's located in a relatively secluded area and is approximately 73.4 kilometers from Chania, the nearest city to the location. The beach lies 500 meters away from Elafonissi, a lively resort, and renowned tourist destination. Kedrodasos beach is 110 acres in size and can be accessible by a dirt road.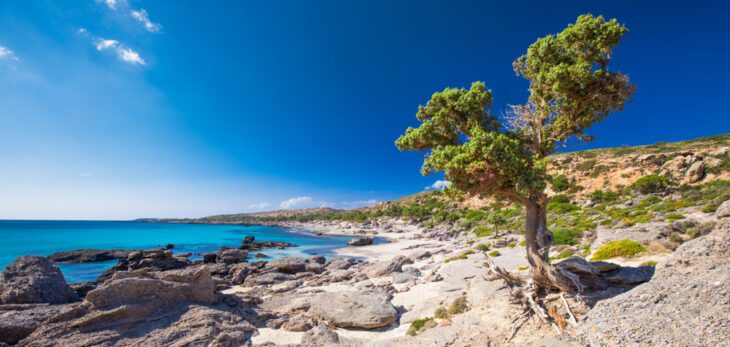 How to Get to Kedrodasos
Getting to Kedrodasos by Car
The easiest and most convenient way to reach Kedrodasos would be by hiring a car in Chania or directly at Chania airport. Once you pick up your rental car, you need to follow the Chania – Kissamos – Elafonissi route, which will take around an hour and a half drive. Approximately 500 meters before you arrive in Elafonissi, you will see a paved small road on your left. The first 5 kilometers will be a smooth drive, but the road will continue to be dirty after that.
When you see the said road, take a turn. Then take another left turn. Once a stone wall is in view, continue straight and make a right turn. Finally, make the last left turn. When you do, you'll see a car park in front. The whole distance of the main road to this location is approximately 2.5 km. The Kedrodasos beach should be visible from this point, and you'll need to go down a path from the parking lot to reach it.
Getting to Kedrodasos by Bus
Another alternative for getting to Kedrodasos is to board a bus in Chania. Unfortunately, there are no buses that travel directly to the beach since the bus will pass the left-hand turn for Kedrodasos; instead, your journey will stop in Elafonissi, where you'll be faced with two options; either you walk the same road as previously mentioned or you follow the E4 trail, a coastal route which connects the two beaches.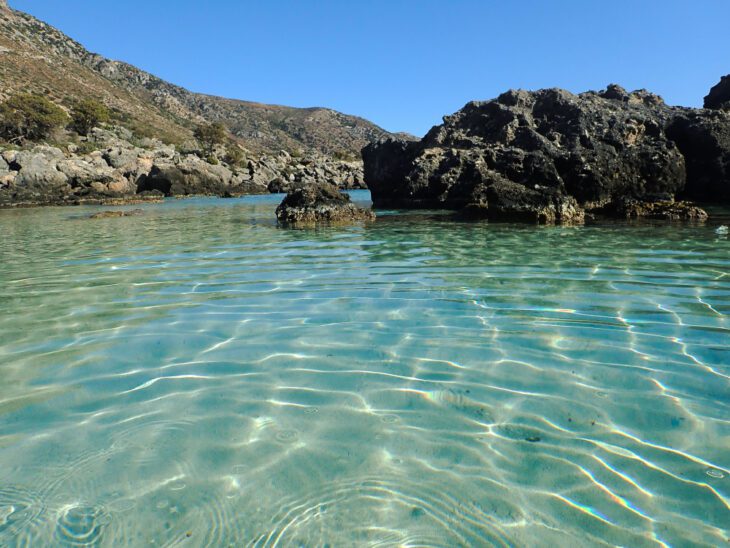 However, take note that bus availability is often limited, depending on the time of year you travel. Therefore, it's best to just rent a car to prevent any problems and save time.
Getting to Kedrodasos by Boat (+ walking)
To reach Kedrodasos by boat, you need to board one in Paleochora and head towards Elafonissi. Once you reach Elafonissi, you can continue on foot and walk the E4 trail, which will give you a scenic view of the sea. But, beware that the hike can be difficult for novice trekkers since rock formations are present on the path.
The boat trip will take around 1 hr and 5 minutes before you reach the destination, while the hike would take around 30-45 minutes, depending on your physical fitness and speed.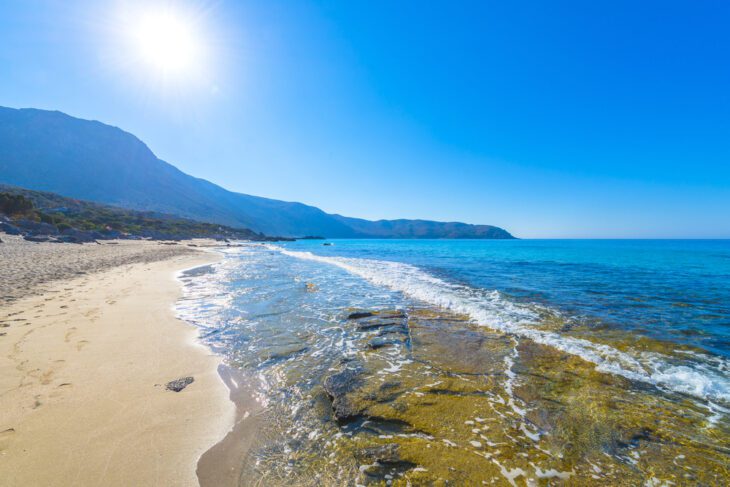 History & Facts about Kedrodasos
Kedrodasos is one of Crete's oldest beaches and is considered a "hidden paradise" due to its remoteness. While the name Kedros means 'cedar grove' in Greek, there are no cedar trees here, only juniper trees, which are a similar species of tree. In addition, there are no infrastructures nearby; instead, rock formations and pristine nature surround the area.
Kedrodasos is shielded from the winds that normally blow on a neighboring beach, Elafonissi. In recent years, Kedrodasos' reputation has grown, as has the number of visitors.
Best Things to Do in Kedrodasos
Kedrodasos isn't a beach that is focused on modern tourism or nightlife. Rather, it's a place where you can get acquainted with nature and experience the Cretan landscape in its full glory. You can expect a quiet and peaceful atmosphere surrounded by rock formations, green trees, and a beautiful blue sea with clear waters. All sorts of marine life can be found here, including fish, turtles, and even crabs, making it great for photo ops and exploring.
Kedrodasos has something for everyone, whether you're looking for an adrenaline-pumping adventure or want to relax on the sand all day long under the beautiful Greek sun. You can engage in activities like trekking, windsurfing, snorkelling, or diving. Kedrodasos is also surrounded by other beaches and islands, such as the famous Elafonissi, with several tourist attractions like bars and restaurants.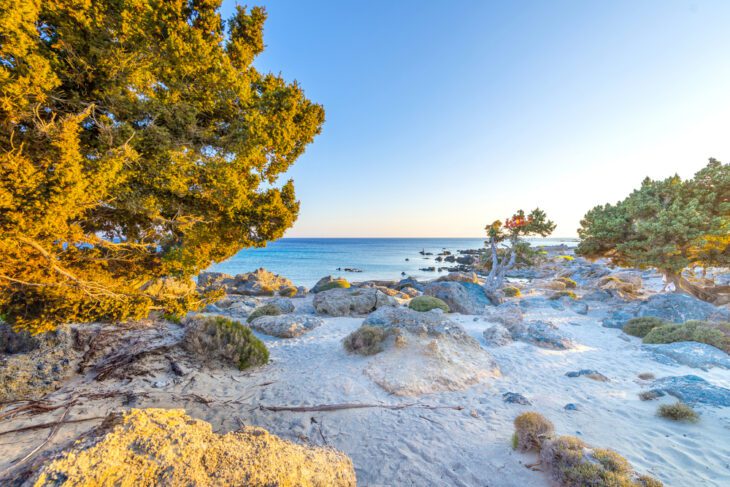 Camping
Since Kedrodasos is filled with hundreds of Juniper trees, camping is an amazing experience here. You can pitch a tent on the sand and enjoy your time under the stars. In addition, there are no tall buildings nearby, so taking pictures of the night sky is guaranteed to be sensational.
Windsurfing
If you're a fan of windsurfing, you'll definitely enjoy Kedrodasos. The beach is a popular spot for beginners and pros alike since it isn't very crowded, so you can definitely find your own spot to ride the waves and learn new tricks. The water is also pretty shallow for a long way out, which means that you're never too far from land if something does go wrong.
However, if wind sailing seems to be your best bet, then you might want to take a look at Elafonissi instead, a more popular destination with stronger winds.
Snorkeling
Although it's not the best snorkeling spot, Kedrodasos is still a great place to go if you're interested in underwater exploration. The water tends to be calm, so it'll feel like floating on your back and admiring the sea life around you – an activity that will delight both adults and children alike!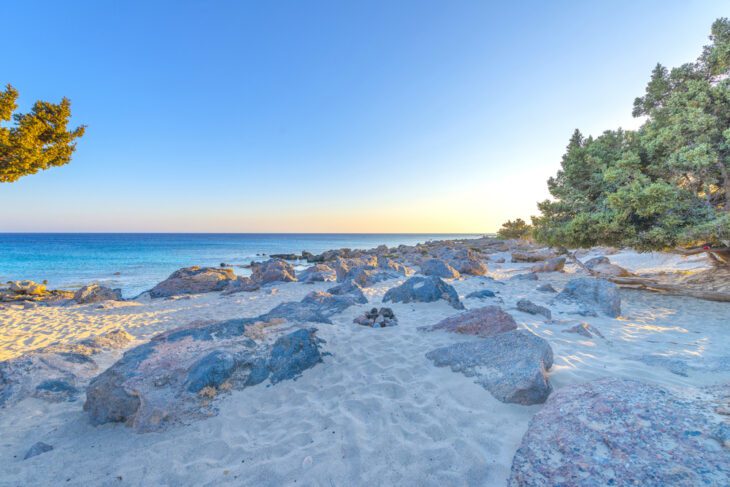 Hiking
Kedrodasos may lack infrastructures such as hotels or resorts, but one thing's for sure: this beach has some of Crete's most beautiful hiking trails. You just need to follow the E4 trail, leading all the way to Elafonissi, and enjoy the beautiful nature that surrounds you.
Discover the Beaches near Kedrodasos
While the beach of Kedrodasos is loved by many tourists, it's surrounded by several other beaches that are just as beautiful. Some of these beaches include Preveli beach, Balos beach, Elafonissi beach, and Frangokastello beach.
Each of these beaches has something unique and different to give, so you're certain to never get bored in Crete. With so many beaches to choose from, it's easy to understand why Crete is quickly becoming one of Greece's most popular tourist destinations.
Preveli Beach
Preveli beach is located southwest of Crete, a couple of miles away from Kedrodados. The Preveli gorge and palm forest behind it are among the features that make this beach stand out, giving the place a hidden and private feel. The water is clear and shallow, while the surrounding area abounds in vegetation that makes for a great landscape. In addition, there is a restaurant that serves traditional Cretan dishes, as well as a wide variety of snacks and drinks.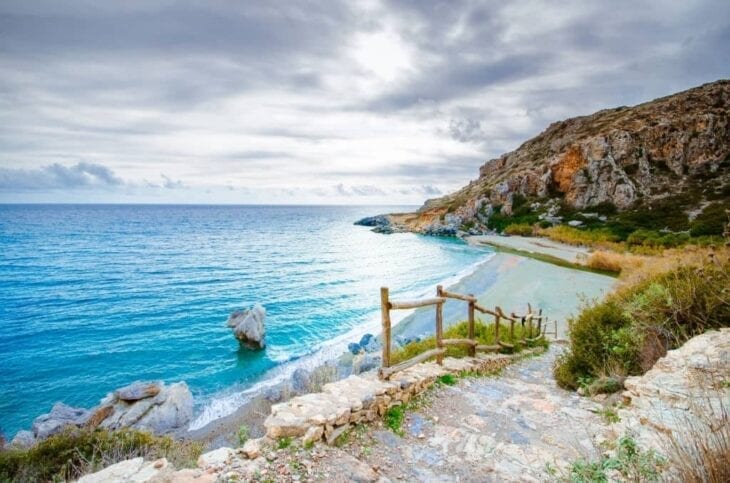 Balos Beach
Balos beach is quite famous for its turquoise waters and exotic appeal. Although the road going to this beach is extremely steep, rough, and unpaved, once you see the beauty of this natural paradise, you'll be blown away. You can go snorkeling, swimming, and just enjoy the sun all day long. In addition, you may even see Caretta-caretta turtles on its sandy shores, which is something you certainly don't want to miss out on.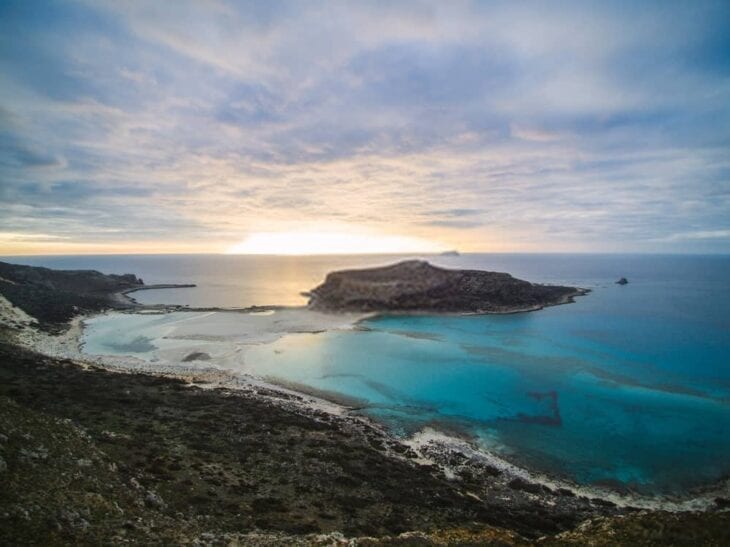 Elafonissi Beach
The picturesque beach of Elafonissi is located about 2.2 kilometers from Kedrodasos. The sand of this beach is a blend of white and pink colors caused by Foraminifera shellfishes. These shellfishes leave behind their reddish shells once they reach the end of their life cycle, which are then crushed in the white sand, merging to produce a unique pink color. As a result, it creates a breathtakingly gorgeous scene that is unlike any other. In addition, fun activities such as wind sailing can also be enjoyed here since strong winds blow through the area.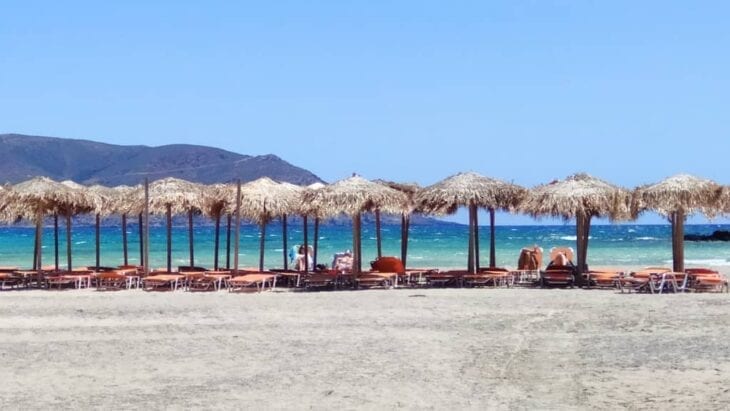 Frangokastello Beach
Frangokastello is a long, beautiful sand beach highlighted by the presence of a Venetian castle, and since it is located in southern Crete, the beach is never crowded. Therefore, this place is ideal if you want to spend some time in peace and serenity, away from all the noise of the busier resorts. Its clear waters and beautiful landscape make this beach worth visiting, especially if you are looking for a place to relax.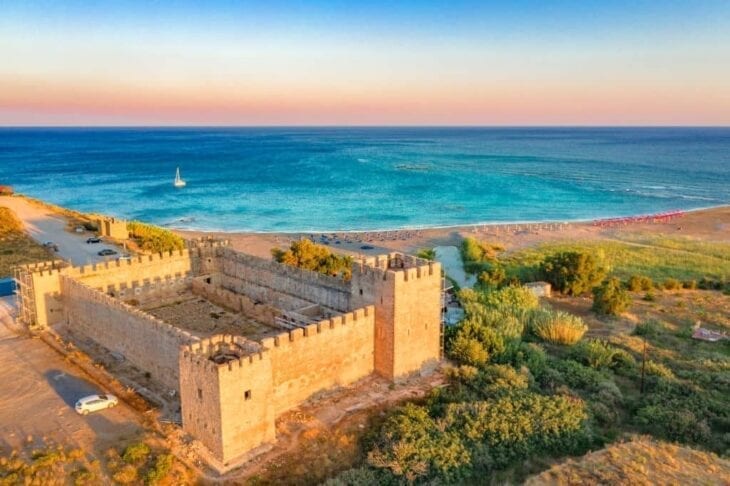 Where to Stay Near Kedrodasos
There are only a handful of hotels and accommodations available in the area of Kedrodasos, but you'll most likely find an available room if you book in advance. In addition, you can also spend the night at nearby Elafonissi, which has more options available for every budget and taste. Staying in this area of Crete allows you to avoid the crowds and commotion of the northern coast's popular resorts, giving you a chance to relax and unwind on your holiday.
Elafonissi Resort
With a touch of coziness and luxury, Elafonissi Resort is the best accommodation you can find near Kedrodasos. It's only 1.5 km away, and the hotel has 2 bars and a lavish restaurant, where you can enjoy traditional Cretan dishes. The rooms are comfortable, and it provides a great view of the sea.
Website
☏ +30 2822 061274
Glykeria Hotel
Another option for accommodations near Kedrodasos is the Glykeria Hotel, just 5.2 km away from Kedrodasos. This hotel has an excellent location, being close to both Elafonissi and Kedrodasos beaches. The hotel has a pool and a poolside bar that's great for cooling off during the hot summer days, and their rooms are styled with comfort in mind. Balconies are also available for an even better view of the nearby beaches.
Website
☏ +30 694 794 9614
White Lake Holiday House
White Lake Holiday House is located 4.7 km away from Kedrodasos, in a quiet neighbourhood with an amazing view of the sea. The house has been renovated to provide maximum comfort, and it has a private garden with a pool. Unfortunately, it only has 2 bedrooms available, but it's a perfect option for those looking for a much more affordable stay that doesn't sacrifice quality.
Website
☏ +30 698 394 2033
Where to Eat Near Kedrodasos
Kosmos Fish Tavern
A beach trip is never complete without experiencing exquisite seafood, and the Kosmos Fish Tavern is a fantastic place to do so. The tavern is located in Elafonissi and serves a broad range of seafood to both locals and tourists. They also provide Greek, Mediterranean, and grilled dishes that taste just as good.
Website
☏ +30 699 941 9685
Taverna Stomio
Located 4.4 miles away from Kedrodasos, Taverna Stomio is a traditional restaurant that offers delicious Greek and Mediterranean food at affordable prices. The restaurant's ambiance gives you a sense of ancient Crete, which is ideal for a romantic date or to catch up with family and friends.
Website
☏ +30 694 908 8233
Taverna Kochilas
Nothing matches the sensation of eating wonderful food while gazing out over the sea, and Kochilas is a restaurant that's perfect for just that. This tavern serves fish, meat, and salads, all with a touch of authenticity and freshness. Kochilas is located in Elafonissi, 3.3 miles from Kedrodasos beach.
Website
☏ +30 2822 061288
Best Time to Visit Kedrodasos
You may visit the island of Crete all year round since the weather and temperature are pretty stable throughout the year. The only exception is during winter, where it tends to be much colder compared to the summer months. Nonetheless, during April to Mid-November, you're certain to enjoy the weather of Kedrodasos, which is typically warm and sunny.