Each traveler is different. Some love the thrill of partying in the city while others enjoy getting lost in nature. However, there are also people who enjoy visiting ancient monasteries, taking into account the peace and stillness that comes with it. If you are one of those people, then Odigitrias Monastery found in Asterousia Mountains should definitely be on your list of places to visit.
An Overview of Odigitrias Monastery
The Odigitrias Monastery was built in the 14th century. It is one of the most important and popular monasteries in Crete. The name of the monastery was most likely inspired by a replica of the famous image of the Monastery Odigon in Constantinople, which was attributed to the Evangelist Luke and was among the most famous miraculous icons in the Byzantine Empire.
The monastery was built in the style of a fortress, and a portion of its wall may still be seen. The monastery's central two-aisled church, devoted to the Assumption of the Virgin Mary and the Apostles Peter and Paul, is surrounded by the complex's structures.
The mythical Tower of Xopateras with its epic story can be found near the entrance gate. You'll also see the bakery, the olive mill, the wine press, many warehouses, the cheese cellar, a little well used in the monastery's sieges, the guest house (the old abbot cell), the library, the monks' cells, and the abbots' tombs in the area. The monastery's official site is imodigitrias.gr .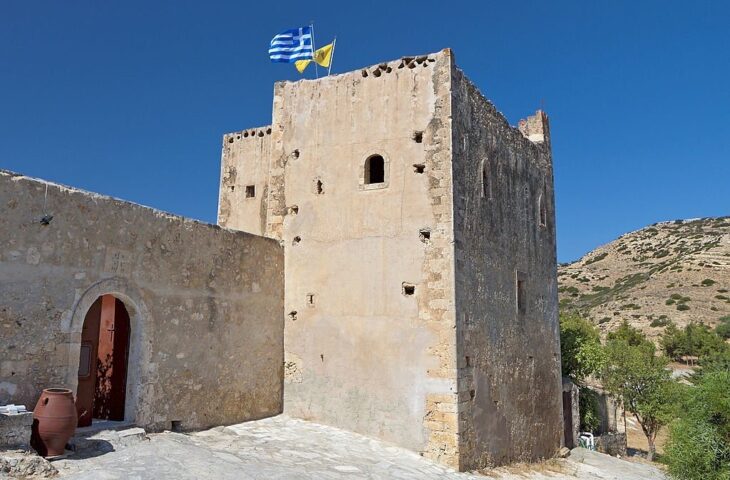 Where is Odigitrias Monastery Located?
Found at an altitude of 250 meters, Odigitria Monastery is a male monastery set in a sheltered position of the Asterousia Mountains. The monastery is located in Messara Plain, near the settlement of Sivas. It is one of Crete's most historic monasteries, with a large estate, multiple chapels, and a vast land holding in the Asterousia Mountains.
How to Get to Odigitrias Monastery
There are a few ways and transportation means to get to Odigitrias Monastery. These are:
By Car / Rental Car
Renting a car is the fastest and most convenient way to reach the monastery. Hiring a car allows you to explore the island at your own pace and make stops along the way. You can get a rental car at Heraklion or even book one online, whatever is more convenient for you. Once you get your rental car, follow the route: Heraklion – Zaros – Moires – Matala- Sivas. The trip is estimated to be just about 55 minutes, depending on traffic conditions.
By Taxi
If renting a car isn't your preference, taking a taxi will do. There are many taxi services available right outside the airport and even in the city of Heraklion. The taxi ride will cost around 65 EUR and will also take around 55 minutes to reach. Just tell the driver to take you to Odigitrias Monastery and he or she will know exactly where to go.
By Bus
Another way to reach the monastery is by bus. This is a great option if you're looking to save money. You can catch a bus at Heraklion Central Bus Station going to Matala. Once you're there, take a taxi to reach the monastery. The bus trip alone will take about 2 hours due to stopovers and will cost around 7 EUR.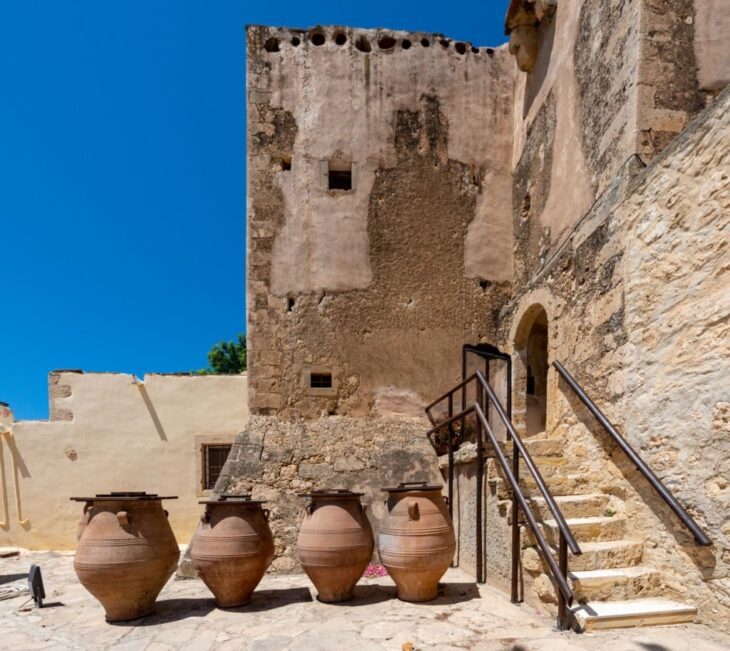 Things To Do In Odigitrias Monastery
Even when you're not a religious person, the serenity of monasteries can be a breath of fresh air. If you're looking for things to do in Odigitrias Monastery, then we've got you covered:
Learn About the Monastery's History
You'd be amazed at how much history monasteries have. Odigitrias Monastery is no exception. The monastery was constructed in the 14th century and has been around for decades, so there's definitely a lot to learn about it. There are also tour guides available who can give you a more in-depth history of the monastery.
Take In The Breathtaking Views
The location of Odigitrias Monastery is simply breathtaking. The Asterousia Mountains are a sight to behold and offer some stunning views. If you're looking for a place to take some amazing photos, then this is the best spot to be.
Walk Around the Grounds
The monastery is a fortress-monastery made in a Venetian style design. You can see the different chambers, the bakery, the winepress, and more. There is also a small chapel that's worth checking out. If you're looking to explore, then this is the place to do it.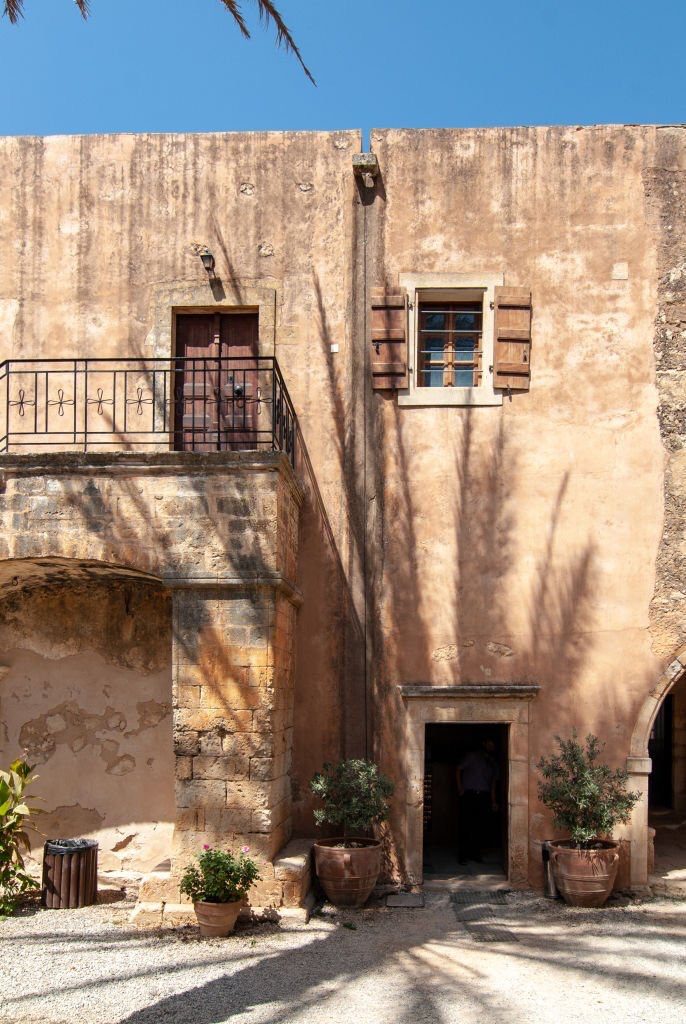 Beaches Nearby Odigitrias Monastery
Since the monastery is located near the coast, there are some amazing beaches nearby that you can visit. The beaches listed below are among the ones you shouldn't miss out on:
Matala Red Beach
A beautiful beach with red-toned sand, Red beach is perfect for a relaxing day by the sea. With crystal-clear waters and stunning views, this beach will take your breath away. You can spend the day swimming, sunbathing, or simply relaxing in the peaceful surroundings.
Katalyki Beach
Katalyki Beach is a mesmerizing spot that is worth a visit. With its soft golden sand, crystal-clear waters, and lovely views, Katalyki Beach is perfect for friends and family looking for some fun. Sun loungers can also be found here, as well as walking-distance cafes and taverns. Plus, it's only 17 mins away from Sivas.
Matala Beach
If you've got kids with you, then Matala Beach s the perfect beach for you. It's one of the most family-friendly beaches around and offers a wide range of activities for kids of all ages. From swimming and snorkeling to playing in the sand, there's something for everyone here.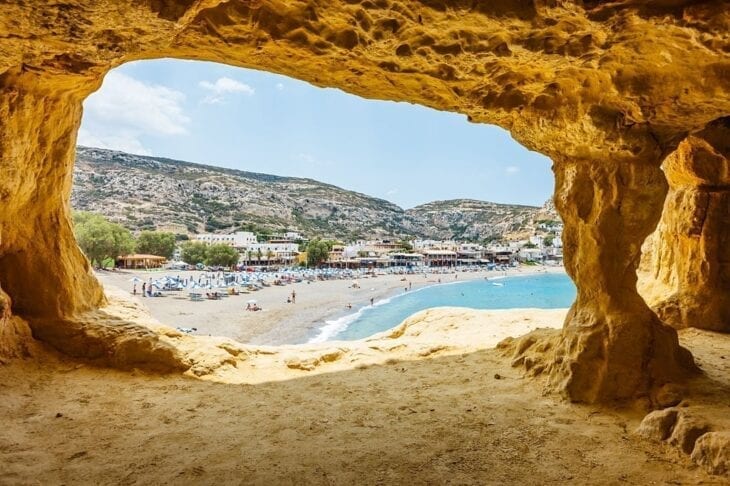 Where to Stay Near Odigitrias Monastery
You'll never have to worry about where to stay near Odigitrias Monastery. There are plenty of accommodation options available, ranging from budget-friendly to luxurious. Here are some of our top recommendations:
Korfes Apartments
If you're on a budget but need somewhere to stay near Odigitrias Monastery, then Korfes Apartments are a great option. The apartments are comfortable and come with all the amenities you need, including Wi-Fi and air conditioning. What's more, the views from this place is beyond stunning.
Address: Kamilari 702 00, Greece
Contact: +30 694 347 7787
BellaVita Style
Another great option for those looking to splurge is BellaVita Style. This lovely hotel offers quality facilities and services around. It is pet friendly and even has a coffee shop that offers exquisite beverages and dishes. You'll certainly have a great time here. Their rooms are spacious and elegantly developed. Therefore, it is the perfect place to relax and unwind. Plus, It's only 1.6 miles away from Sivas.
Address: Pitsidia, Crete 70200 Greece
Website: https://www.bellavita.gr/
Contact: +30 698 247 7174
Alexandros Beach Hotel
A budget-friendly hotel that doesn't sacrifice quality, Alexandros Beach Hotel is perfect for couples looking for a romantic getaway. With its secluded setting and luxurious amenities, this hotel is sure to please. In the vicinity, you can expect to find a beach, pool, restaurants, and lounge. It's also not far from Sivas, located only 2.8 miles away.
Address: Kalamaki, Crete 70200 Greece
Website: https://www.alexandros-kalamaki.com/
Contact: +30 2897 032134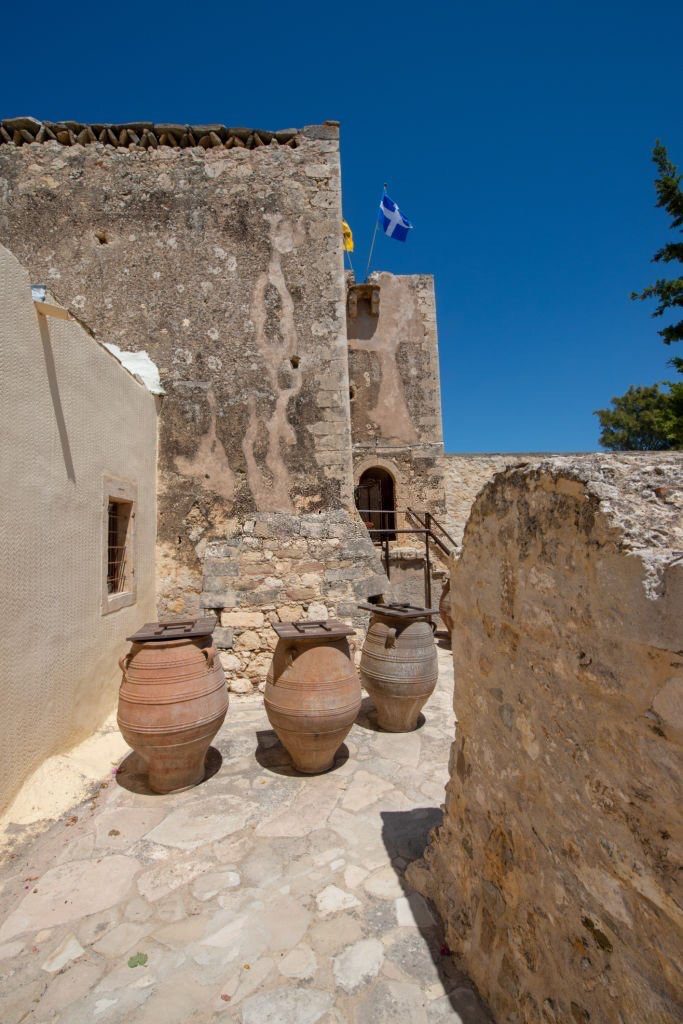 Where to Eat Near Odigitrias Monastery
Of course, food is an important part of any trip and you'll never have to worry about where to eat near Odigitrias Monastery. There are plenty of restaurants and taverns available, serving up a variety of local dishes.
Vafis Tavern
Cretan cuisine at its best, Vafis Taverna offers some of the best food in the area. With traditional dishes such as moussaka and dolmades, you'll be spoilt for choice. Not to mention, their menu is extensive and sure to please any foodie.
Address: Square, Sivas, Crete 70200 Greece
Website: http://www.vafis-restaurant.gr/
Contact: +30 2892 042614
Mikes Taverna
Meditteranean food could never taste better than it does at Argentina Kapenekis. This restaurant offers a wide range of dishes, from fresh grilled fish to even pizza. The ambiance this gives off is romantic, so you can enjoy a lovely evening out with your partner.
Address: Pitsidia Square, Pitsidia, Crete 702 00 Greece
Website: https://www.facebook.com/Mikes-taverna-1447362038868345/
Contact: +30 2892 045007
Loggia
A family run-restaurant, Loggia provides some of the best food around, all made with fresh ingredients. Serving up traditional Cretan dishes, this restaurant is a must-try. Plus, their prices are very reasonable, making it a great option for those on a budget.
Address: Kamilari, Crete 70200 Greece
Website: https://www.facebook.com/Loggia-Kamilari-108331321043107/
Contact: +30 2892 042878
The Best Time to Visit Odigitrias Monastery
Although you can visit Odigitrias Monastery at any time of year, the best time to go is definitely in the spring or summer. This is when the weather is warm and sunny, making it perfect for exploring the area. Plus, there are plenty of festivals and events taking place at this time, so you'll never be bored.