If you're looking for a beach that provides you with the right balance of all the essential amenities and stunning scenery, Psari Forada Beach is an ideal option. Psari Forada (aka Sidonia beach) is a popular beach destination for those who wish to have a flexible trip filled with a lot of activities. It's an ideal holiday spot for families and friends alike, as there is something for everyone here.

Learn more about Psari Forada Beach, where it is located, what to expect and how to get there by reading below:
Where is Psari Forada Beach Located?
Psari Forada Beach is located 88 kilometres south of Heraklion and 58 kilometres west of Agios Nikolaos. It is found in the quiet fishing village of Sidonia in Crete. The beach is long and sandy, and it is protected from high winds by capes on both sides.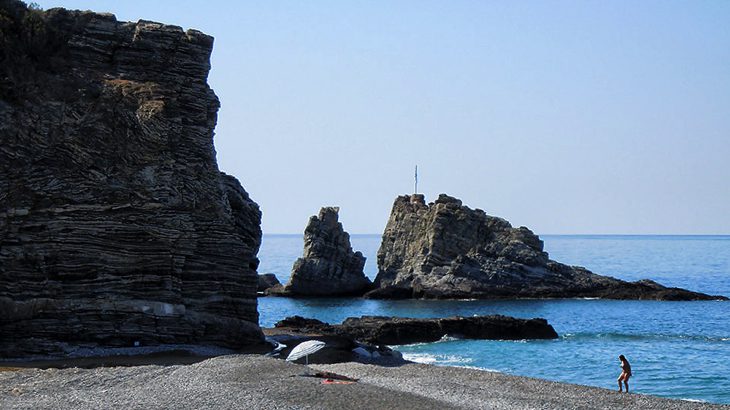 Why Visit Psari Forada Beach?
Psari Forada is believed to be located in the ancient town of Sidonia. It was once a seaside village of fishermen and farmers who came from the nearby village Kalami. The region's mild temperature is ideal for cultivating olive trees, subtropical fruits like bananas, and even outdoor vegetables. In recent years, the Psari Forada has seen minor tourism development and is currently a classic quiet setting, perfect for families looking for a quiet holiday.
The beach is quite large and undoubtedly impressive, with dark-colored sand and deep, blue waters, and is surrounded to the west by the hill of Sidonia and to the east by Cape Theophilos. It is also well-organised, with plenty of loungers and umbrellas. There are also rental rooms and tavernas, all within walking distance. Several tamarisk trees may be found near the shore, providing you some shade from the sun. The beach at Psari Forada is suitable for children, while the calm waters make it ideal for people who would like to swim.
If you want more peace and quiet, proceed eastwards, past Cape Theophilos and the little lighthouse, to Thiofilo, a beautiful isolated beach. A big rock, known as Psaroharako by the locals, is beside Thiofilo. You can swim and snorkel in its crystal-clear waters, and can enjoy a wonderful view of the lighthouse. The water in the area is relatively deep so swimming with children must be done with precaution.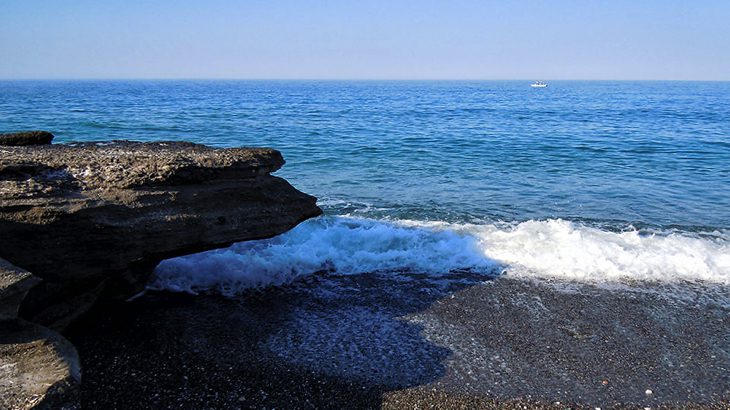 How to Get to Psari Forada Beach
There are several ways to reach Psari Forada. However, the best and most cost-effective option would be to rent a car. Renting your own vehicle allows you to travel at your own convenience and pace. It also allows you to explore all the other attractions in Heraklion. Plus, if you're travelling in a large group, you can easily save money by hiring a car in Heraklion rather than taking taxis or buses to travel to different destinations.
The ride from Heraklion to Psari Forada will take you around 1 hour and 22 mins. However, travel time may be affected depending on the time of day and traffic conditions.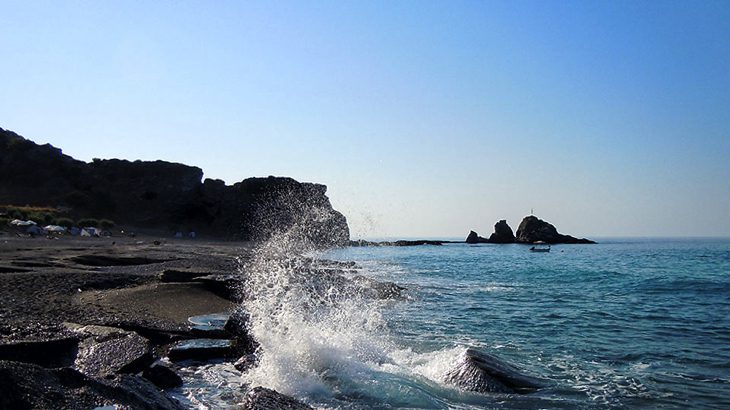 On the other hand, if renting a car isn't possible for you, or if you prefer not to drive, your other option is to take a taxi from Heraklion. Many taxi services are available all throughout the city center, so finding one shouldn't be a problem. The cost for a ride going to Psari Forada Beach is 68-70 Euros.
Another option is to take a bus from Heraklion. There are frequent buses that leave for Sydonia and Psari Forada Beach. You may catch one in Heraklion Bus Station, as well as in some of the other bus stops scattered all throughout the city. Travel time is around 2 hours and may cost approximately 15-17 Euros per person.