One of the most beautiful fishing villages on the northern coast of Crete, Agia Pelagia is an immensely picturesque seaside settlement, that is incredibly authentic and scenic. A popular resort area, Agia Pelagia has a multifaceted appeal. With ties dating back to the ancient Minoan era, it was once used as a quarry ground as well as for growing crops. In the Venetian period it took on a more monastic character, while it has survived natural calamities, at least twice. Focusing on its fishing wealth that has sustained its local inhabitants for a long time, Agia Pelagia has since developed its charm to become one of the quaintest seaside villages in Crete and is considered one of the top regions to experience some truly relaxing holidays, fairly close to Heraklion city.
Everything you need to know about Agia Pelagia, Crete
Where is Agia Pelagia located?
You will find Agia Pelagia 23 km west of Heraklion and its airport. Tucked away below Cape Souda, Agia Pelagia remains tranquil, as it is harboured by the winds. It belongs to the Heraklion prefecture and provides a lovely alternative for locals living in the city to spend a day basking in its pleasant, laid back ambiance, despite its popularity.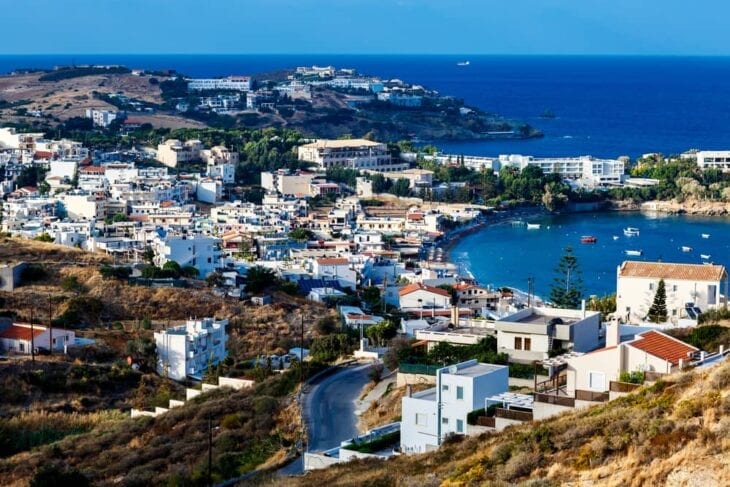 How to get to Agia Pelagia
You can reach Agia Pelagia by a short drive from Heraklion. It sensational location lends itself for getting there by renting a car in Heraklion, Crete, as it reveals itself from the main road as the landscape topples down to the sea. You can also reach Agia Pelagia by the public bus service called KTEL, however, renting your own car in Agia Pelagia will also allow you to explore the area at your own pace and leisure. Also bus services do not run in the evenings, so having your own car allows you the luxury of flexibility.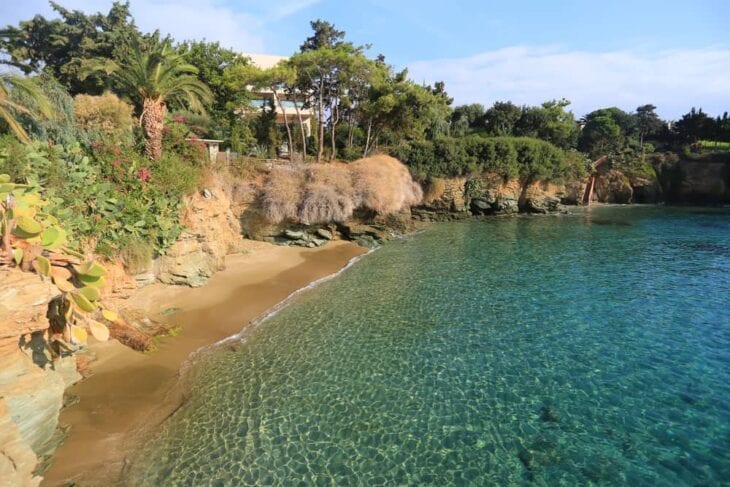 History of Agia Pelagia, Crete
Once linked to the ancient Minoan civilization and with a great natural wealth in Greenschist rock that helped build the foundations of its economy, during the Venetian period it became a place with monastic interest. In more recent times, Agia Pelagia experienced occasions when it was wiped out by earthquake-born tidal waves, but today it is a calm area to enjoy amazing visuals. It became a place of touristic interest in the mid 20th century gradually, and now boasts an array of lovely hospitality facilities that do not, however, retract from its authentic charm. Having been transformed by all this history, Agia Pelagia is a vibrantly soothing place that will excite those who seek a holiday near the beach, that is also bears great diversity in its heritage. The mesh of culture and the variety of experiences to be had make it an irresistible place to visit.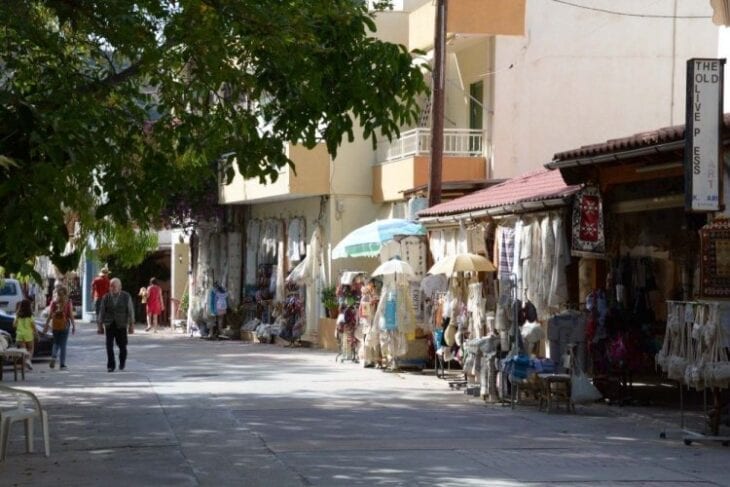 What to see and do in Agia Pelagia, Crete
When visiting Agia Pelagia, there are various things to see and do. From cultural attractions to its wonderful beaches, your day can be as involved or as lazy as you choose it to be. For those wishing to discover its more spiritual side, the homonymous church of Agia Pelagia in the Monastery of Savvathiana is on top of the list. Dating back to the 1600s, the Monastery of Savvathiana belongs to a greater number of monasteries that were built during the Venetian period. It is situated in a serene spot, at an altitude of 400m above the village of Rogdia, while it is known to be one of the most beautiful monasteries in Crete. Covering a large expanse, the Monastery of Savvathiana lies amidst verdant gardens and orchards, while its naturally fortified position, conveys a reclusive sense which is fully in line with its use as a place of spiritual retreat for monks.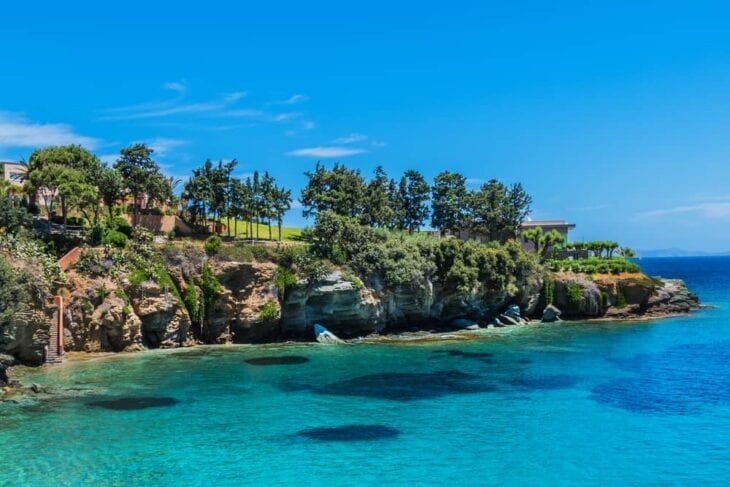 Museums to visit near Agia Pelagia, Crete
The top museum to visit near Agia Pelagia, Crete is definitely the house of El Greco located in the village of Fodele. Although it does not contain the world acclaimed originals of work, there you will be able to browse through his most famous pieces.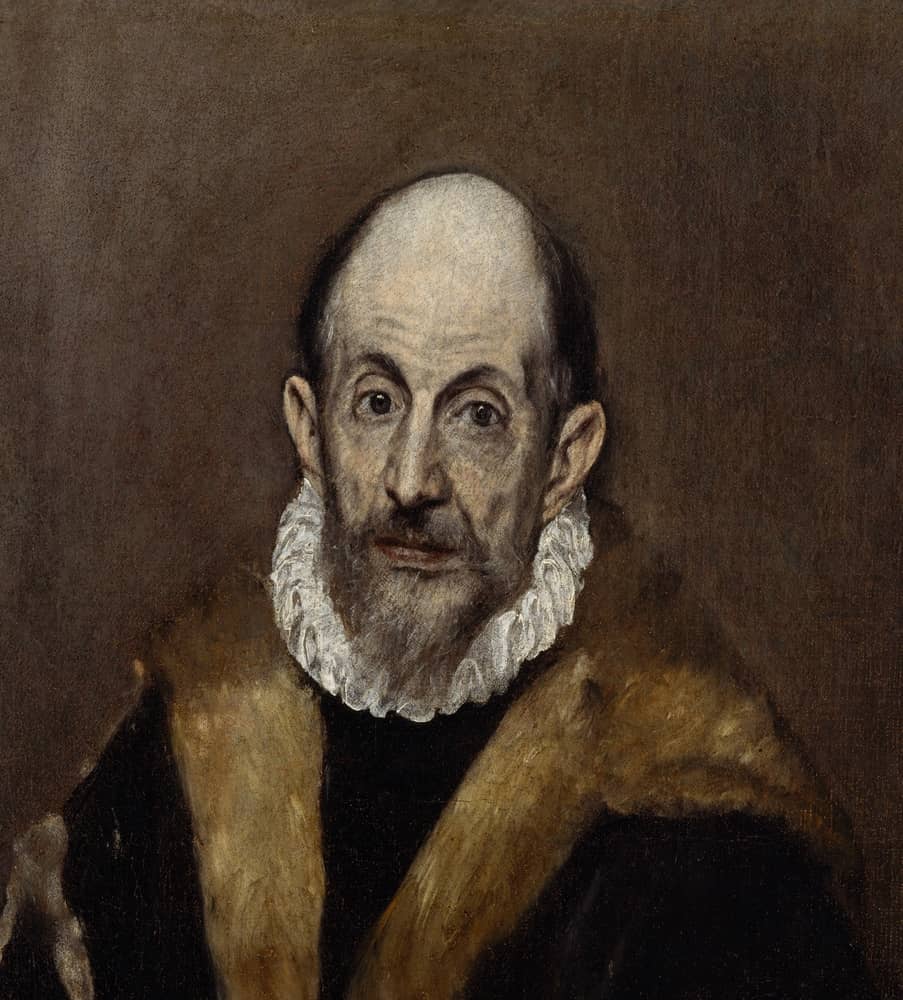 Considered to be the birthplace of the famous Domenikos Theotokopoulos, the true name behind the El Greco phenomenon, it will provide for a pleasant pastime for a couple of hours. The house of El Greco also has a small Byzantine chapel within its grounds.
Beaches in Agia Pelagia, Crete
As a popular resort spot, Agia Pelagia couldn't be without some amazing beaches within a 5 km radius. It is situated at the center of a small gulf and is surrounded by two other little coves that form two more quaint beaches to its east and west. The namesake beach of Agia Pelagia is shaped like a horseshoe and boasts thick, dusky sand. It is the main beach of the area and features an array of beachfront tavernas as well as beach amenities such as sunbeds and parasols. Ligaria beach is situated closer to Heraklion, and is a smaller beach that is perfect for snorkelling as well as being family-friendly and a bit quieter than Agia Pelagia beach. Psaromoura beach is on another gulf towards the east, with azure waters that resemble an almost tropical scene.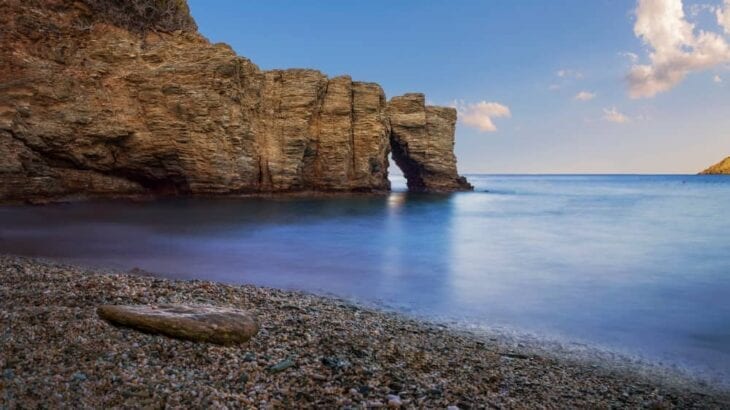 Although the actual beach is relatively small, it is embraced by a rocky landscape, giving it a pristine look. It has a nice beach bar and sunbeds to soak up the sun in comfort. Mononaftis, Fodele and Paleokastro beaches are also great choices. Fodele beach can be sensational if it not a windy day as it is more vulnerable to the occasional breezes which is also the case for Mononaftis, while Paleokastro beach is one that has a fortification built into the cliff on the eastern side of the small bay.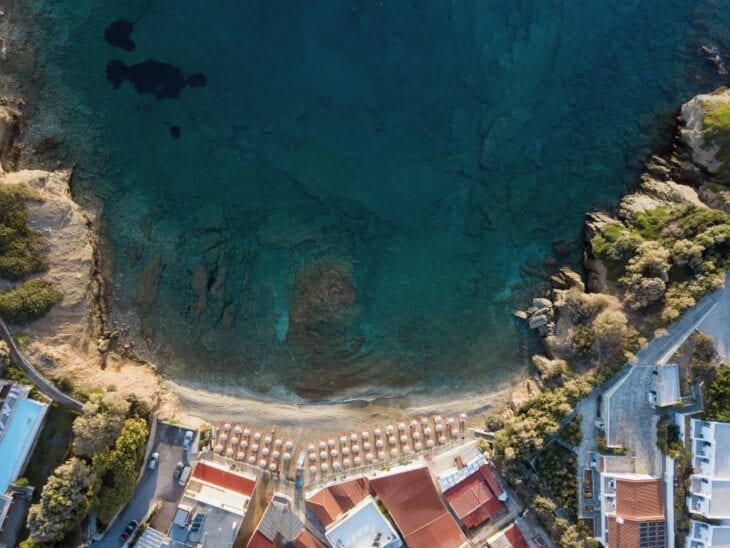 Activities in Agia Pelagia, Crete
Agia Pelagia is mostly a place to relax in and enjoy the endemically tranquil vibes as well as the wonderful choices for enjoying meals by the sea. However, for those who seek a bit of an active fix, scuba diving and snorkelling is highly recommended in Agia Pelagia, due to the cleanliness of its waters. You can spend many hours observing the seabed, discovering the unspoiled marine world of Crete. If it is caves that intrigue you, Evresi cave is found very close to Agia Pelagia, where it was said that the icon of Agia Pelagia was found. Further away, but worth the distance, is Melidoni cave that has archeological interest too.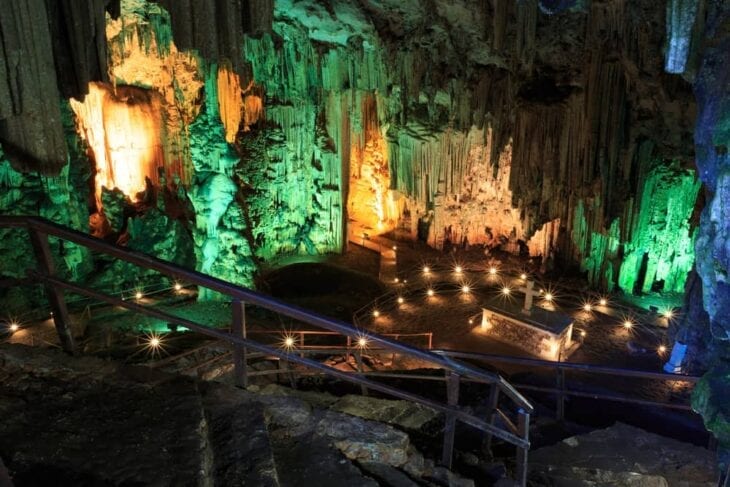 Cultural excursions in Agia Pelagia, Crete
Agia Pelagia can offer a handful of cultural excursions to nearby places of interest. The ancient Minoan site of Knossos is of course one of the top attractions to experience, found 25 km from Agia Pelagia. If you have visited Crete before, chances are you may have already visited Knossos Palace as it is one of the most iconic landmarks of Crete. Therefore, discovering the villages of Rogdia, Achlada and Fodele may be of more interest to you. Rogdia is closest to the Monastery of Savvathiana so combining it on the same excursion is the smartest way to strike two things off your bucket list. It is set high above sea level and will offer some stunning visuals overlooking the landscape as far as the eye can see. It features traditional Cretan buildings and has alluring authentic atmosphere. Achlada village is another picturesque little village, that is quite significant to the wider area of Agia Pelagia since it was that its residents slowly began to buy land on the seafront, helping to create what Agia Pelagia stands for today.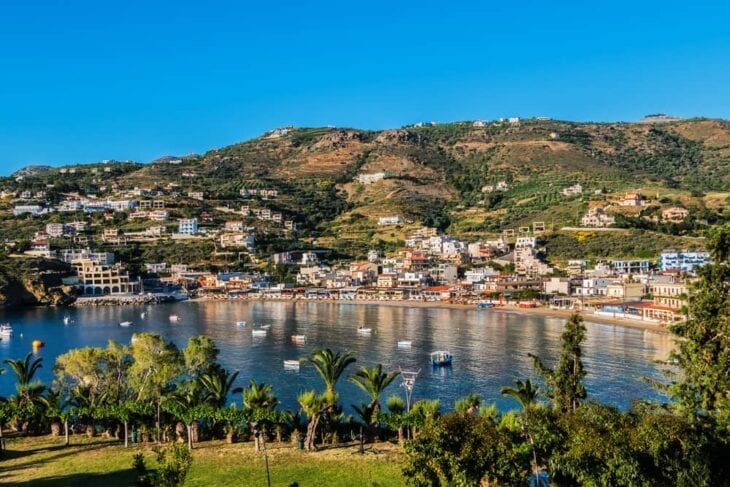 Explore Agia Pelagia, Crete
For exploring the best that Agia Pelagia has to offer its visitors, there is also one other exclusive spot to visit, on the tiny but immensely beautiful bay found at the foot of OUT OF THE BLUE, Capsis Elite Resort. It enjoys a private location on its own little peninsula, west of the main Agia Pelagia beach and offers an up-scale experience of its guests. There is however a spot that non-guests can enjoy, although since it is a very small, almost hidden cove, access is tricky and you can only reach it by swimming there, or by pedal boat.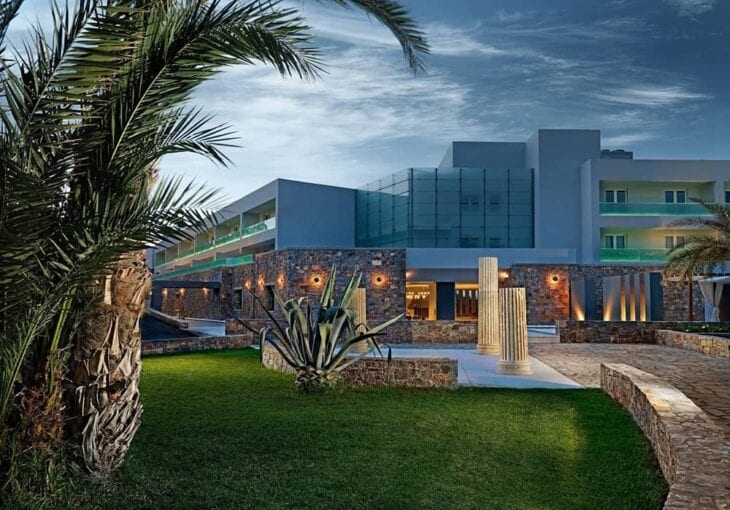 Have you been to this part of Crete? If not we hope to inspire you to explore the charming Agia Pelagia.