Just a few kilometers west of Heraklion center, Ammoudara beach is one of the most popular resorts in the area. Since the city of Heraklion actually lacks a good beach next to the city, Ammoudara is the first option that visitors have to check the seaside of Crete upon arrival.
Let's discover all there's to know about Ammoudara Beach in Heraklion.
Where is Ammoudara
Ammoudara is located only 7 km from the center of Heraklion, the capital of Crete, and about 11 km Heraklion Airport.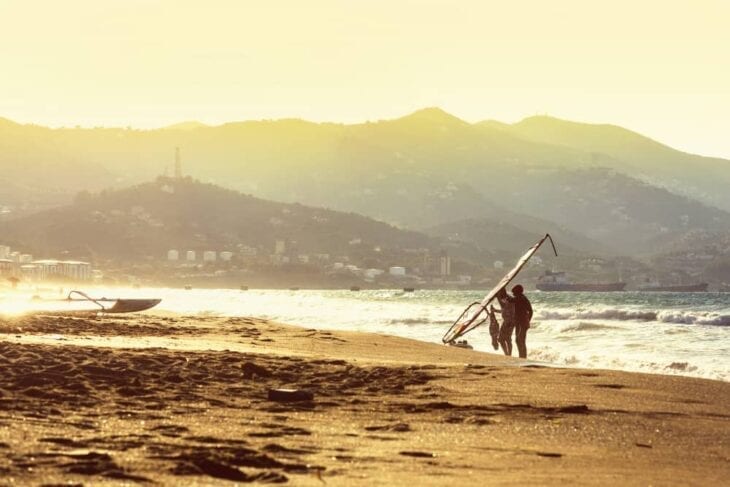 Less than 10 minutes are enough to reach the city center if you're staying in Ammoudara.
This small village is a convenient place to stay near to Heraklion if you are keen on exploring the area without necessarily staying in the center of town. There are several resorts you can pick for a day trip in the area, including the fantastic beaches of Paliokastro and Agia Pelagia, as well as the more relaxed bay of Fodele.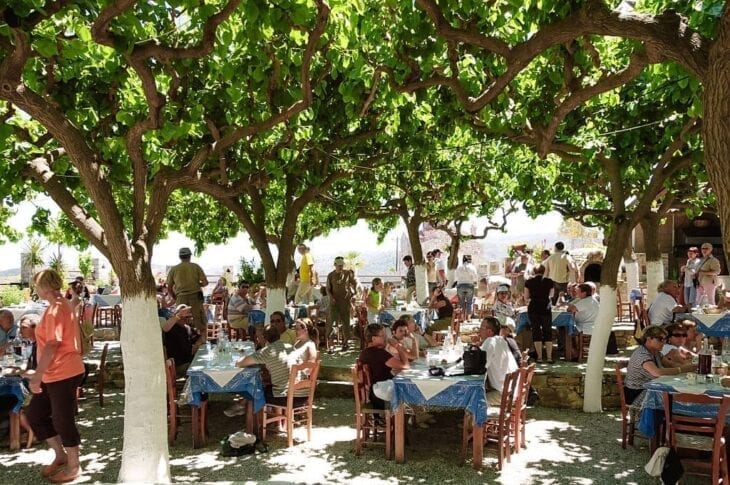 Since Ammoudara is truly close to Crete's main city, Heraklion, there are endless opportunities to enjoy a holiday packed with interesting activities and entertainment.
Whether you're arriving by sea at the port of Heraklion or landing at the capital's international airport, don't overlook the possibility of renting a car to explore mountain villages, other beaches, the wine region of Heraklion and any more attractions in the area.
How to get to Ammoudara
Getting to Ammoudara by car
There's no secret road to get to Ammoudara, the place is really easy to access from any point in Crete. It's rather simple to get to Ammoudara with a rental car in Heraklion or from any area of the city center or from Heraklion Airport. The trip never takes less than 10 minutes.
Getting to Ammoudara by bus
Bus number 6 takes you directly to Ammoudara from the center of Heraklion, the ticket is 2€ and the ride can last up to half an hour considering that Heraklion is one of the cities with more traffic in Crete.
Best things to do in Ammoudara
Ammoudara is a great place to spend a relaxing holiday in Crete. Most people choose the area because although it's super close to the capital, it's still rather far so as to avoid the buzzing city atmosphere.
Besides, being right opposite a wide, long beach, Ammoudara is a great compromise to get the best of town and the best of the beach… at the same time!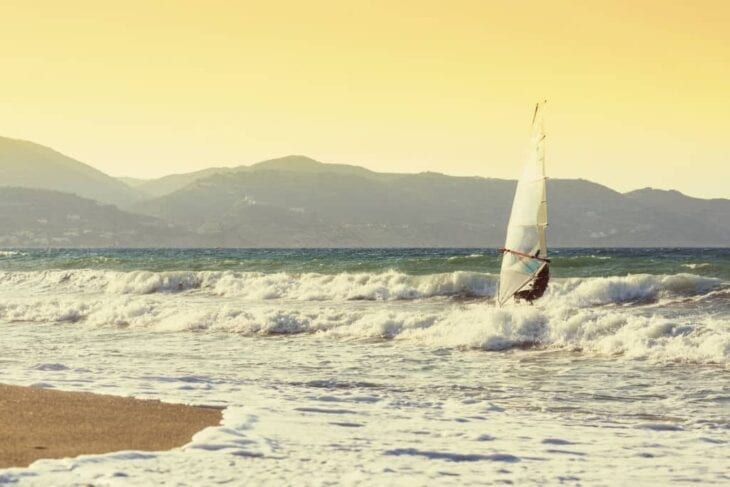 However, Ammoudara won't disappoint you if you're looking to do something more than just lazily spending your days on the sand. These are some of the things you can do in the area to liven up you holidays in Crete.
Explore the Historical Museum of Crete
Heraklion is a city with an agenda full of interesting places to discover all year round. The city hosts several fantastic museums that are ideal to visit during your holidays. One of those venues is the Historical Museum of Crete, which is housed in an aristocratic neoclassical building in the city of Heraklion.
The museum features a permanent collection dedicated to the history of the island spanning from the fourth century AD until world War II.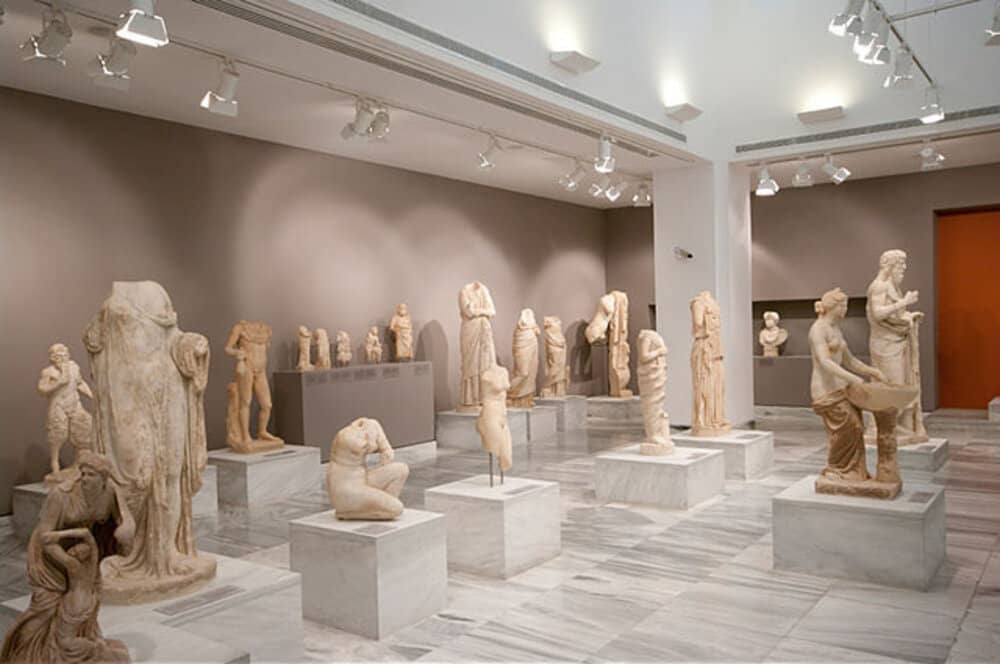 Exhibits are displayed in an orderly fashion according to their date of origin, while visual document and multimedia enhance the exhibition. Among the things you can discover, there are remarkable sculptures, coins, jewellery, and paintings as well as manuscripts and a fantastic reconstructed interior of a Cretan rural home.
If you're a fan or art, it's good to know that the finest pieces in the museum are two paintings by El Greco (born as Doménikos Theotokópoulos) who was born in the area remains one of the most remarkable exponents of the Spanish Renaissance.
27, Sofokli Venizelou Ave. Heraklion ✆ 0030 2810 283219 – Website
Discover the Natural History Museum in Heraklion
This important museum at the entrance of Heraklion is one of the most favorite places for children on the island. Within a modern and interactive frame, the Natural History Museum features important collections as well as interactive workshops and interesting information about the natural environment of the island.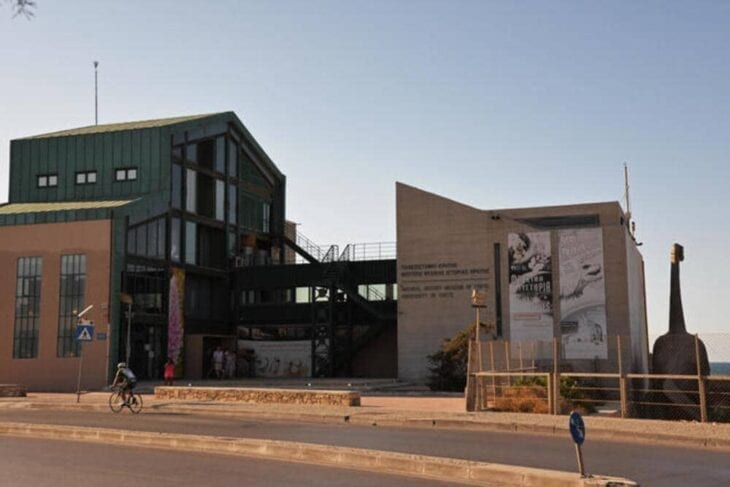 The most popular exhibitions are the visual Mega Dioramas as well as the Seismic Table where visitors can experience the thrill of an authentic earthquake that's been reproduced in total safety for small kids.
The Natural History Museum is right opposite the Historical Museum of Crete, also on Sofokli Venizelou Ave. ✆ 0030 2810 282740 – Website
Pay a visit to El Greco Museum
The nearby small village of Fodele is an oasis of orange groves and not far from Ammoudara. The village is about 22 km west of Ammoudara and it's quite simple to reach the area with your own car.
Two are the features that you should check when visiting the village. Your first stop should be the beautiful Byzantine Church of the Panagia, a sanctuary dating back to the eleventh century, known for its ancient frescoes that still adorn the old walls of the building. The church stands on top of an Early Christian basilica dating back to the sixth century.
Right opposite the Byzantine church of Fodele, El Greco Museum is set, according to the locals, in what was the original house of the famous Cretan painter Doménikos Theotokópoulos, who grew in the village of Fodele.
Pirgos, 271 00 ✆ 0030 281 052 1500 Website
Enjoy a day at Fodele Beach
Since you're already visiting the village of Fodele you might as well spend a day at the sandy bay of Fodele. It's quite a tranquil shore, quite well protected from rough winds, so ideal for children and those who are not outstanding swimmers.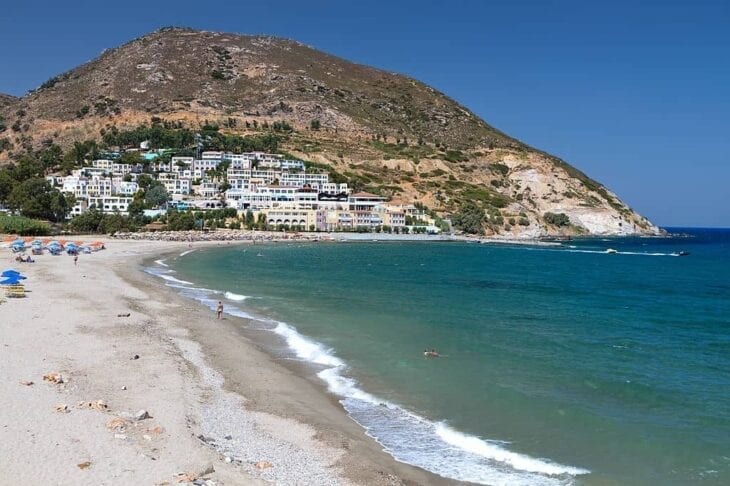 Check out the fishing village of Agia Pelagia
The village and beach of Agia Pelagia are among the most popular places in the Heraklion region for those who want to spend their holiday on the northern coast of the island. It's just 16 km from Ammoudara and a day trip to the area can prove a fantastic way to relax and enjoy water sports.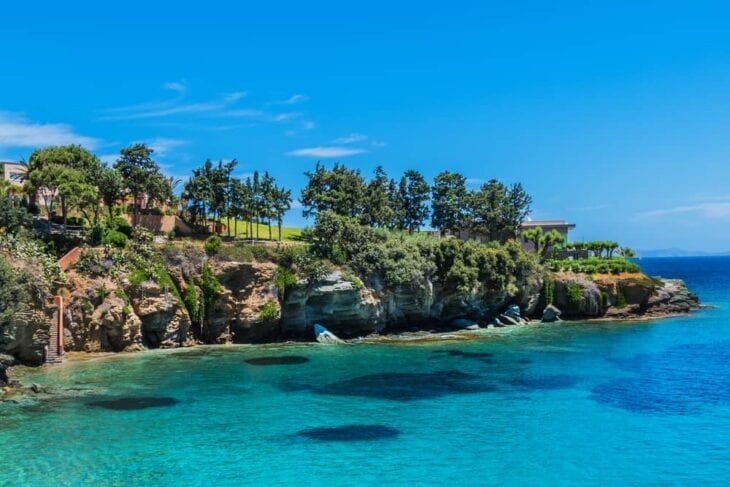 The small Psaromoura cove, not far from the main Agia Pelagia beach is a great place to practice SUP surfing or to rent a kayak. The pristine emerald waters are calm and truly safe for kids.
If you're looking for a great place to eat at the beach, check any of the several seaside tavernas located right on the main beach of Agia Pelagia.
Kotsanas Museum (Museum of Ancient Greek Technology of Heraklion)
Another unique museum that kids love in Crete is the odd exhibition of Ancient Greek Technology which features endless unique mechanisms from the Ancient Times such as the Antikythera Mechanism among others.
The place truly awakens the curiosity of young children and adults alike.
✆ 0030 281 022 0610 – Website
Tylissos Snail Farm
A great day trip from Ammoudara is the one that takes you up in the mountains of Heraklion until you reach the small village of Tylissos. Here, you can pay a visit to Tylissos Snail farm to learn everything about snails, one of Crete's staple dishes.
In the farm, you will be able to learn how they are kept and how they are cooked too. You can also try different dishes made with local snails.
✆ 0030 281 082 1788 – Directions
Where to stay in Ammoudara Beach, Crete
There are a lot of accommodation options to choose from along the beach road of Ammoudara. There are hotels for every pocket, from exclusive resorts to more convenient options, family apartments to rent, studios, and more.
These are our favorite places to stay in the area of Ammoudara.
Civitel Creta Beach
Civitel Creta Beach is a wonderful 4-star accommodation on the coast of Ammoudara, catering to every need for a top class holiday.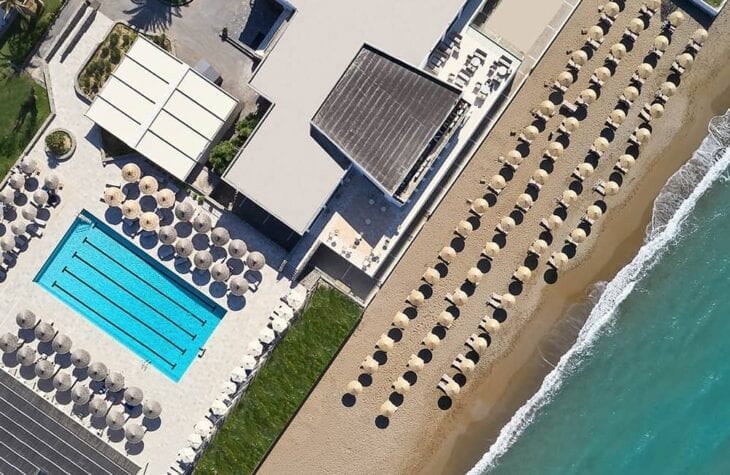 Among the facilities, guests can enjoy a nice swimming pool, a free parking lot, a fantastic spa center, and direct access to the beach.
Leof. Andrea Papandreou 74 ✆ 0030 281 025 2302 – Website
Agapi Beach Resort
Check one of Heraklion's most beloved seaside resorts and book a room to spend a magnificent holiday in Crete. At Agapi Beach Resort, Cretan hospitality lives at its best. This premium all-inclusive manages to maintain an atmosphere of warmth and familiarity that reflects the distinctive culture of our island.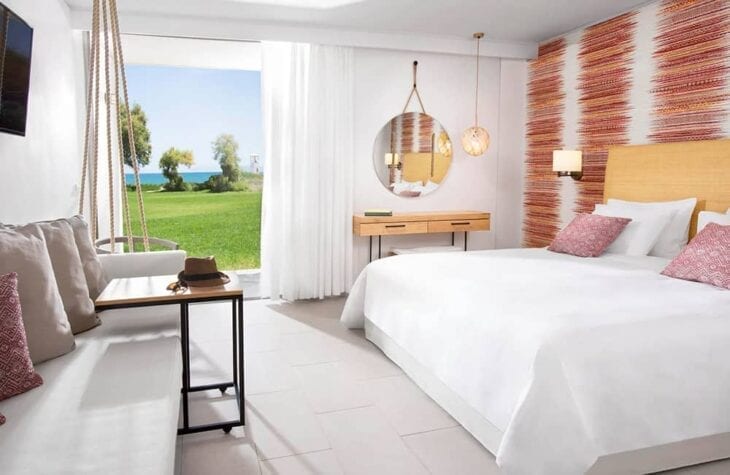 This resort is located on the beach of Ammoudara, a few minutes from Crete's main airport and capital Heraklion.
76, Andrea Papandreou Street ✆ 0030 281 025 0502 – Website
Oasis Hotel Adults Only
If you're looking for total relaxation without spending a fortune, Oasis Hotel next to Ammoudara Beach offers the perfect balance of Cretan hospitality, beach holidays and convenient room fees.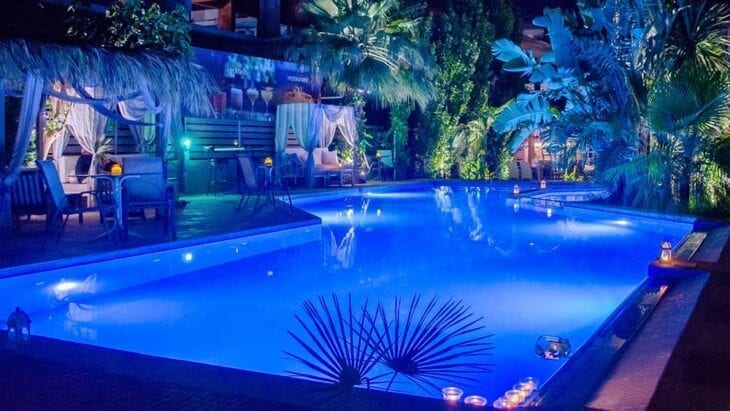 50 Andrea Papandreou Street ✆ 0030 2810 372700 – Website
Where to eat in Ammoudara
No visit to Crete is complete if you don't indulge in the pleasures of the Cretan diet.
Discover local dishes full of authentic flavours, fresh products made in Crete, top quality extra virgin olive oil, and delicious wines from Heraklion's vineyards.
These are our favorite places to eat in Ammoudara
Aris Katerina Traditional Taverna
Right in the heart of Ammoudara, discover the family atmosphere and the excellent dining experience of this traditional Cretan taverna.
Check their meat dishes, pies, and salads both for lunch and for dinner
Vagias 19, Gazi ✆ 0030 697 677 5886 – Website
Sea Breeze
A cozy atmosphere, great for children or couples, Sea Breeze is an excellent food choice to dine in the area of Ammoudara.
One of the best places in town for souvlaki or gyro plates, and grilled meat.
Leof. Andrea Papandreou 153 ✆ 0030 694 021 2914
Kritiko Spiti
Kritiko Spiti is another favorite place to eat around Ammoudara. They serve great typical dishes from the Cretan tradition, right the same way Cretan grandmas still prepare them today at home in every Cretan village
Leof. Andrea Papandreou 187 ✆ 0030 2810 314233
Petousis Restaurant
This is one of the best restaurants to visit in Ammoudara. Either as a tourist or as a local. Petousis offers an extended traditional Greek menu and local ingredients. There is also an indoor playground to keep your kids busy while you have a tasty lunch or dinner.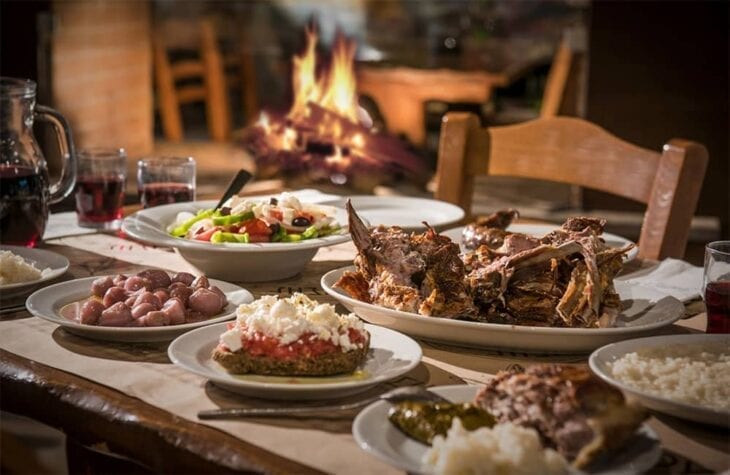 Andrea Papandreou 140 ✆ 0030 2810821376 – Website
When is the best time to visit Ammoudara
Summer is definitely the best moment to discover Crete's seaside villages and resorts. However, since the island enjoys a fantastic climate most of the year, those who prefer to explore Crete without risking huge crowds and traffic will certainly find Spring to be the beast season to enjoy the island
If you're traveling with kids that still don't attend school, spring and late autumn are the seasons when the weather is more pleasant. Temperatures are not as high as in August and prices tend to be more convenient too.
Heraklion is one of the regions in Crete that enjoys the mildest climate all year round, with few showers and pleasant temperatures also in winter, a holiday in Crete during the colder season can mean long walks along the beach, empty archaeological sites and museums, and plenty of time to enjoy the company and the conversation of locals.