We all love to have a beer or two on a nice summer evening. However, nothing compares to drinking in one of the many bars and pubs that Chania has to offer. The delightful mix of Greek and European charm, combined with traditional handmade drinks, is just what any visitor would hope for.
The city of Chania is full of adventures and places where you can dance the night away, with the warm Mediterranean breeze touching your skin and the inviting sounds of music in your ears. From speakeasy pubs to up-market clubs, here are our best picks on where to go for a drink in Chania:
Barfly Rock Bar
A small bar found in a back street quiet nook of the Old Town, the Barfly Rock Bar is a classic. Far from the noise and parties, it is a haven for any music lover who wants to have a chat or just chill out with friends over a beer. The drinks here are affordable, and the place itself definitely has a relaxed vibe to it!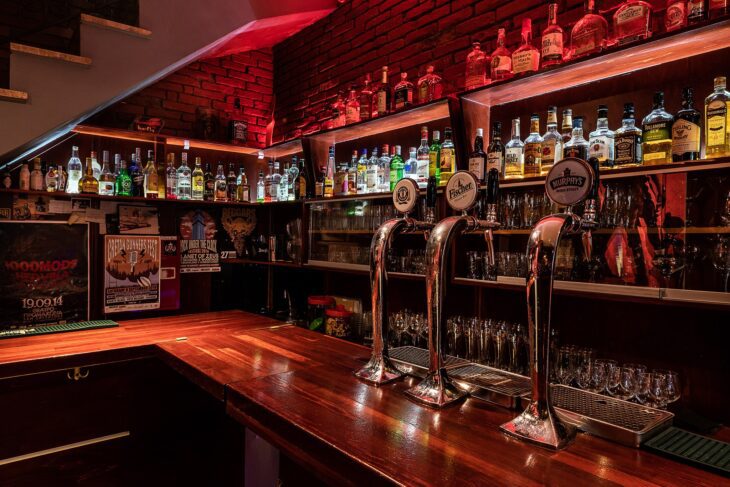 Despite being hidden from the crowd, Barfly Rock Bar doesn't seem to be a secret, as it is filled regularly with many locals. You may also enjoy the finest bottled and draught beers they offer from a wide selection, providing you the opportunity to try something new every time you visit.
In addition, Rock n' Roll music is played regularly, adding more character to this already delightful bar.
Address: Potie 14, Old Town, Chania
Website: https://www.facebook.com/BarFly-647220555368302/
Klik Scandinavian Bar
As a disco bar that gives off a modern-day ambiance, Klik is a great place to go with your friends for a crazy night out. It is set apart from the rest as being unique and full of fun, thanks to the wide range of drinks it offers. The bar often gets crowded with many international and local visitors during the night, so you are definitely in for a memorable experience.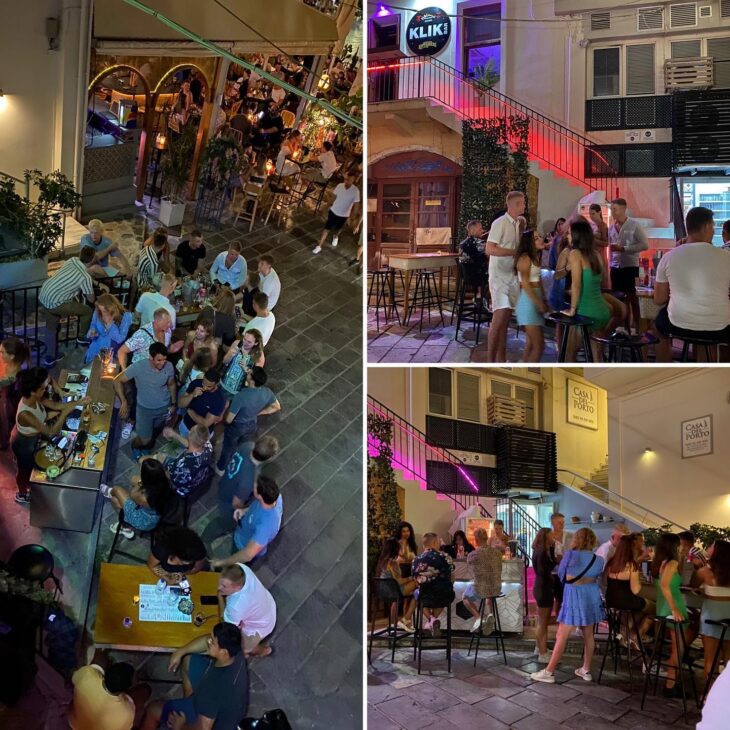 When inside, you can expect a very modern styled bar that has a minimalistic look. The bar has long wooden tables and stools with dim lighting to give you that intimate feel. Their friendly staff serves drinks and food, and when it comes to cocktails, this bar really delivers!
Besides the main dance floor, there is an exquisite balcony where you can rest and enjoy your drink. Klik also has its own DJ who creates lively soundtracks by combining pop tunes and popular music. What's more, you can also request a song if you feel like it!
Address: Sourmelis 2, Old Town, Chania
Website: https://www.facebook.com/klik2011/
Bras de Frères Cocktail Bar
If you're an avid fan of delightful cocktails, then a visit to Bras de Freres in Chania is a must. The bar is located in the old Venetian harbor and is well decorated with a European-style theme.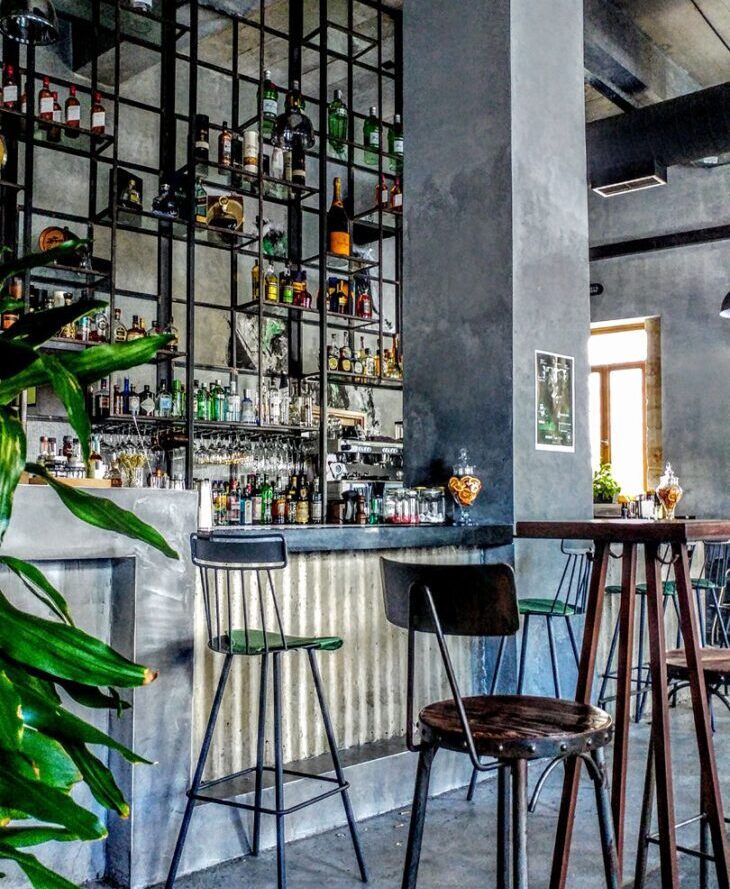 The cocktails here are delicious, made from original recipes with aromatic liqueurs or infused fruit juices, combined with other ingredients to add that distinctive flavor that will make you come for more!
Also, the owners frequently organize events at night, giving you the chance to meet new people and have a great time.
Address: Epimenidou 2, Old Town, Chania
Website: https://www.facebook.com/BrasDeFreres/
Peacock Tail Bar
Despite its funny name, this local bar is known to offer some of the finest drinks in Chania. The bar is located right in the Old Town, so it's pretty easy to find.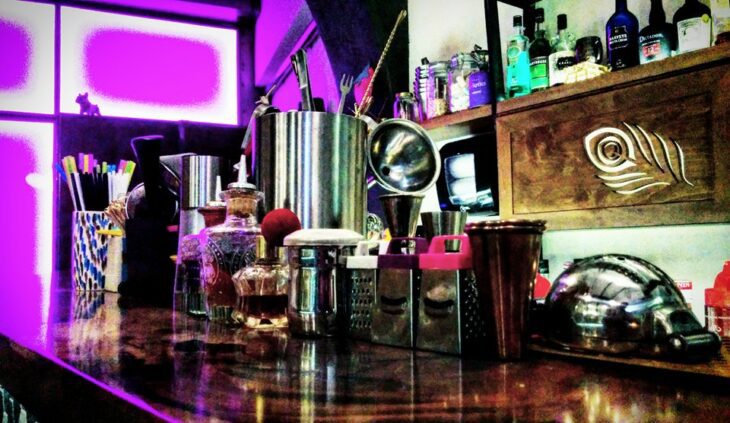 As for drinks, you can have your regular beer or explore their wide range of flavored beverages, including cocktails and shots, which are guaranteed to surprise you.
The friendly bartenders are always happy to help you choose the right drink, while at other times, they would go out of their way to make you a customized cocktail.
Address: Kanevarou 7, Chania
Website: https://www.facebook.com/peacocktailbar/
Sinagogi Open Air Bar
If you want a more relaxed time out while enjoying a breath of fresh air, Sinagogi Open Air Bar is the place to go. The bar was established in 1995 and has been a local favorite ever since. It is located not far from Chania's Old Town Venetian port and is built near the old synagogue.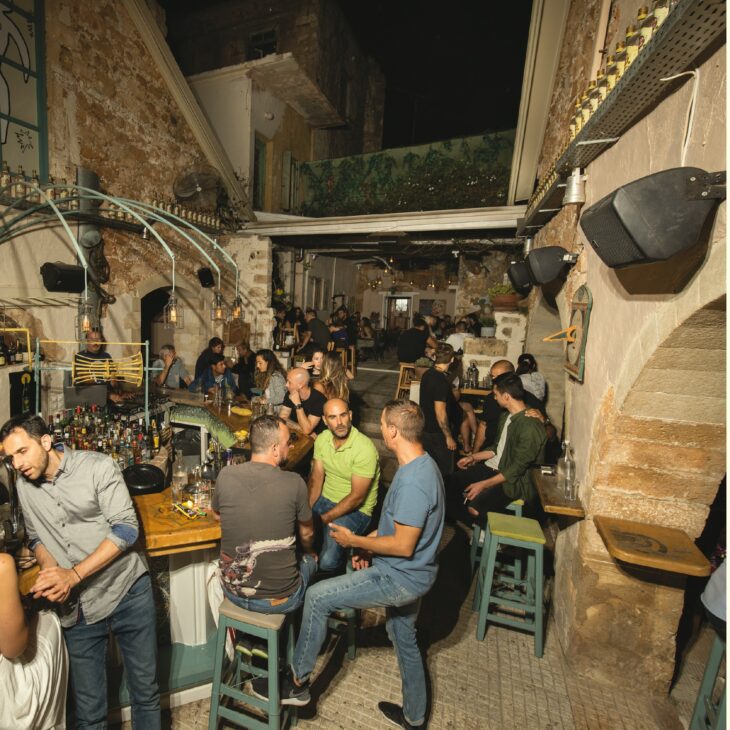 The bar serves drinks at affordable prices and has a very laid-back vibe that will undoubtedly please anyone looking for an escape from their busy day-to-day life. You can enjoy your drink with peers and take the opportunity to have the ultimate chill time while listening to quality music.
Address: Parodos Kondilaki, Old Town, Chania.
Website: https://www.facebook.com/sinagogibar/
Splendid Bar
Splendid is a famous spot for the younger crowd in Platanias, among the most popular places found in northern Crete. The bar offers a wide range of drinks and cocktails made from various fruit liqueurs. During the day, you can have a peaceful drink while enjoying the view of the town's main square, while at night it transforms into a fantastic disco club.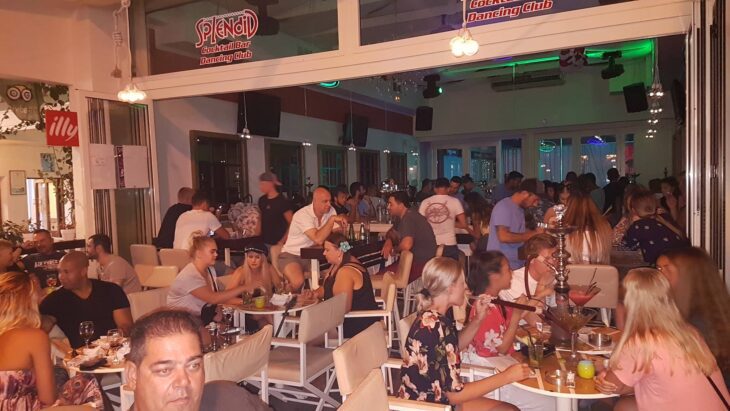 The DJs in this bar are known for their unique mixes, and they play tunes that will keep you dancing all night long! Their extensive range of cocktails and drinks, along with their music and dance floor, will make you want to come back for more.
Address: Platanias Square, Platanias
Website: https://www.facebook.com/splendidchania/
Ka Mon Irish Pub & Bar
With live music, great drinks, and an excellent atmosphere, Ka Mon Irish Pub & Bar is one of the hippest bars you'll ever come across. The place has a unique Bohemian vibe that will make you want to party all night long.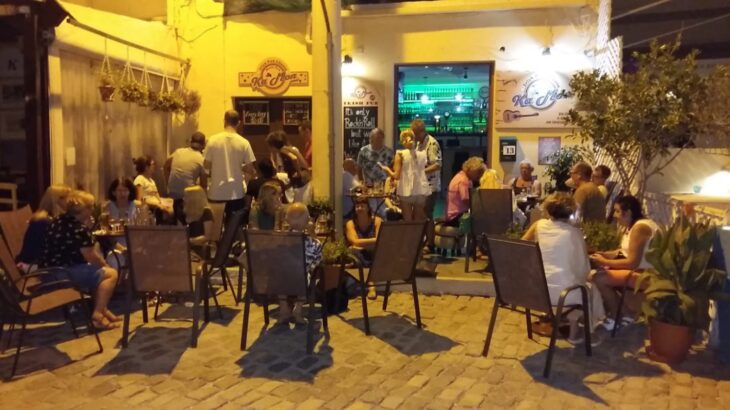 The place is decorated with high-quality wooden furniture and has a relaxed feel so you can really enjoy your drink in peace. This Irish pub has guitars available for everyone to play. You can even request your favorite song, and the owner will gladly play it for you.
Address: Pl. Katechaki 13, Chania
Website: https://goo.gl/maps/N42uYyV2S2iqmtVg6
Baralia Beach Bar
Besides pubs and nightclubs, Chania is home to the best beach bars in all of Greece. One of these is Baralia Beach Bar which is situated right on Nea Chora beach.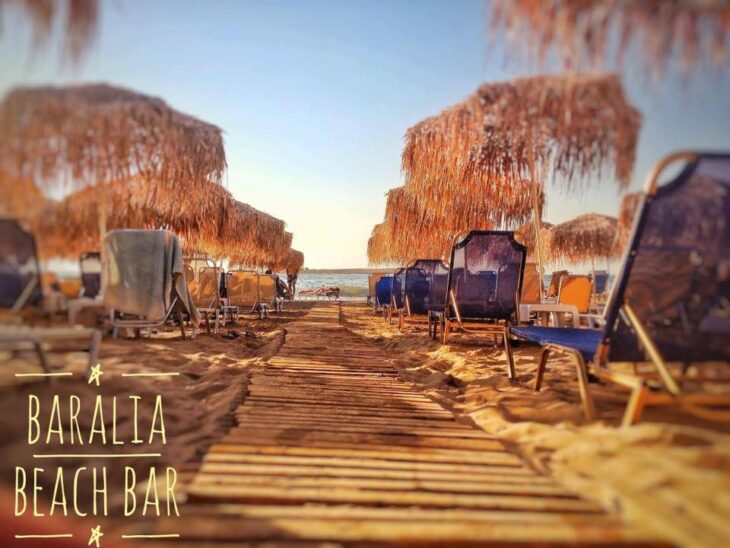 The place offers an amazing view of the sea, and many tourists visit here just to relax while sipping their favorite beverages. Baralia Beach Bar has an extensive range of food and drinks for everyone to enjoy. You can sit by the bar or rest on one of their sunbeds while listening to some upbeat music.
In addition, you can take a dip in the sea and enjoy the freshness of the water. This is certainly one place you must visit if you plan to spend a day out in Chania!
Address: Akti Papanikoli 27, Chania.
Website: https://www.facebook.com/143baralia/
Carte Postale
If you want to take a little adventure out of the Old Town, you must visit Carte Postale. As a local favorite, this bar is located on top of a hill in the western part of Chania. Carte Postale offers a picturesque view of the entire city, giving you the chance to enjoy your drink while taking in the stunning scenery.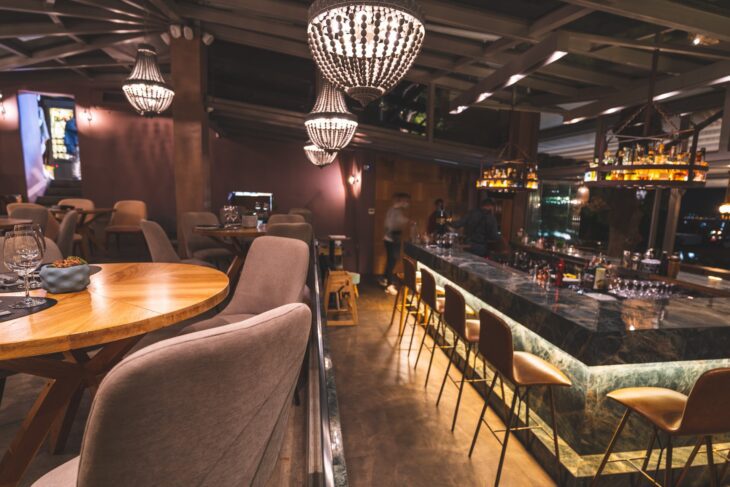 The bar-restaurant has a cool vibe that you will certainly enjoy. If you're visiting during spring or summer, then you can take advantage of their outdoor seating area, which is surrounded by vines and is the perfect way to relax after a long day out!
Carte Postale provides a wide selection of food, but their cocktails are what visitors love the most here! So whether you're looking forward to a good drink with friends or want to take in an epic view while enjoying some mouth-watering food, this place is just what you need.
Address: Michail Kalorizikou 2, Chania
Website: https://www.facebook.com/carte.postale.chania/
Fagotto Jazz Bar
Are you more of a jazz enthusiast? If you are, then the Fagotto Jazz Bar is a must-visit for you! This Jazz Bar is hidden away on a backstreet behind the Venetian port and is great for those looking for a romantic spot to have a few drinks.
In addition to their exquisite jazz music, this place also has a wide range of drinks to offer. You can also order light snacks to accompany your drinks.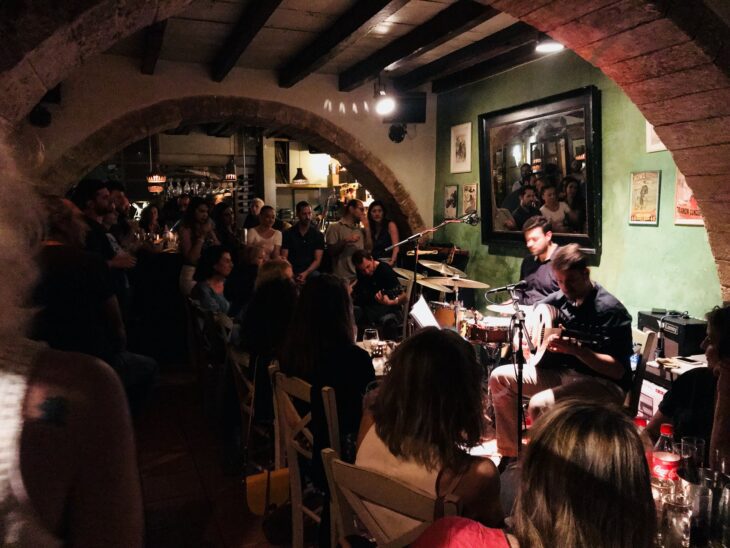 You have the choice of sitting inside the comfortable and air-conditioned bar section or using the tables found along the walkway. Whatever you choose, Fagoto Jazz Bar is designed to amaze you with its high-quality music and ambiance.
Address: Aggelou 16, Old Town, Chania
Website: https://www.facebook.com/Fagotto-Jazz-Bar-Chania-508196042653755/
Eclipse Bar
Just like the Old Town, the village of Platanias is also home to many bars and nightclubs that offer great entertainment; one of these is the Eclipse Bar.
The Eclipse Bar provides a modern outdoor seating area with pop music playing in the background. It is ideal to enjoy one of their refreshing cocktails while catching up with friends on a summer night.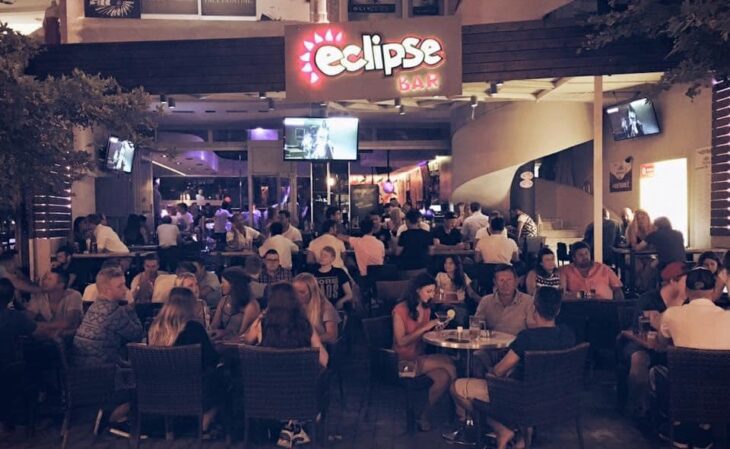 Inside, a bar counter with colorful neon lighting will give you the energy to party for hours. The bar proves to be an ideal location for those looking to party during the night or enjoy a relaxed evening with friends.
Address: Platanias Square, Platanias
Website: https://www.facebook.com/EclipsePlatanias/
Mamouth Bar Chania
If you want to have a refreshing drink during the day, then you should definitely pay a visit to the Mamouth Bar, located in Chania's Old Town.
Mamouth Bar is a bar that offers drinks and refreshments with prices at an affordable price. It's known for playing energizing music and giving visitors a great time.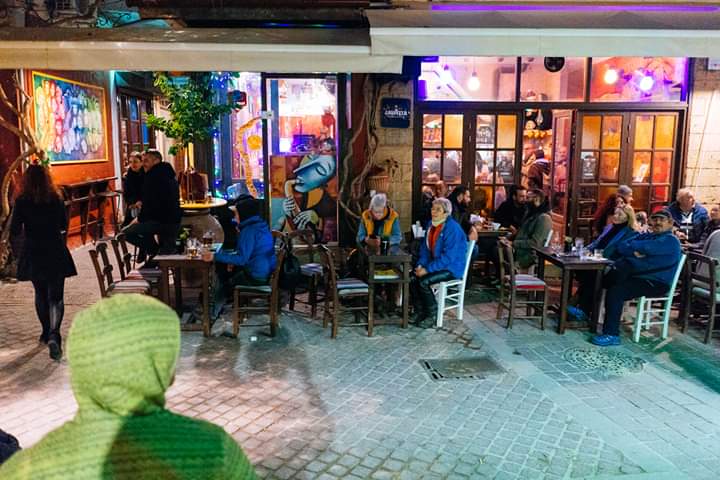 Their menu includes every drink you could ever imagine and more: beers, cocktails, whiskeys and tequila shots, and much more.
If working up an appetite while drinking is your thing, then you need to try out Mamouth's food! They have a wide variety of snacks and even serve breakfast dishes for those spending the night out drinking.
Address: Potie 4, Old Town, Chania
Website: https://www.facebook.com/OdosPottie/
Mylos Dance & Night Club
During the day, Mylos Dance & Night Club serves as a pleasant pool and beach bar. At night, however, it transforms into one of Crete's most spectacular clubs that's sure to give you an unforgettable experience.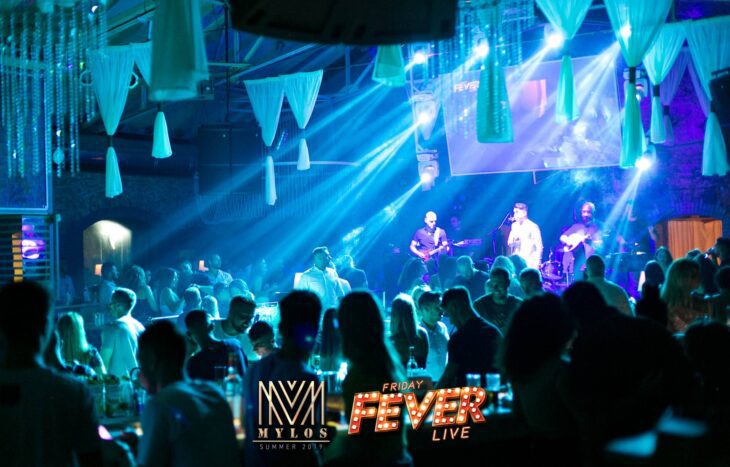 Regardless of what time you visit, the club offers premium drinks and a wide range of cocktails that you can choose from. You can enjoy your drink in one of the modern couches by the sea or hit the dance floor and show off your moves.
If you happen to be in Chania during the summer, then Mylos is a place not to miss out on! The club has terrific music, the food they serve is delicious, and the drinks are incredible.
Address: Platanias, Chania, Crete
Website: https://www.facebook.com/myloschania/
The Monastery of Karolos
The Monastery of Karolos is situated on the old patio of a beautiful monastery and is one of Chania's most fascinating sites. It is facing a magnificent ancient minaret that's quite popular with tourists.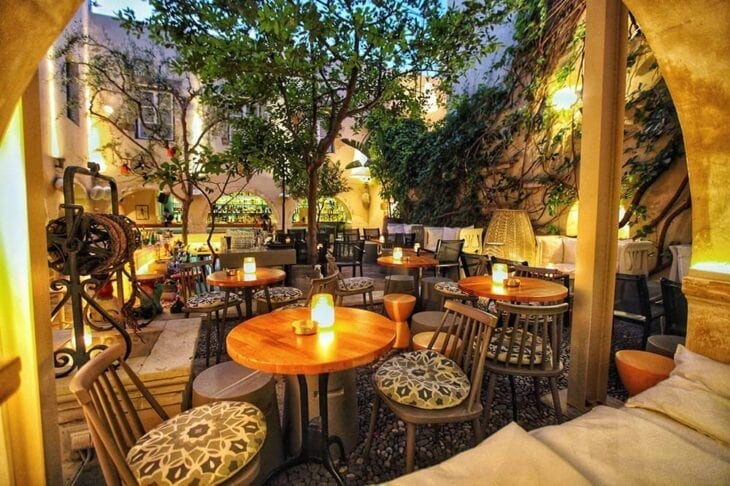 You can sit beside an old well or have a glass of wine in one of the lovely taverns surrounding the central yard. It's a great place to visit during the evening for a drink with friends and family.
The Karolos Monastery has been transformed into a modern wonder throughout the years, giving visitors an equally enchanting experience.
Address: Xatzimichali Daliani 22, Old Town, Chania.
Website: https://www.facebook.com/-The-Monastery-of-Karolos-374272224322/
Utopia Cocktail Bar
With a tropical vibe and colorful decor, the Utopia Cocktail bar is a fun place to visit in Chania.
Located in Platanias, the bar is decorated with plants and palm trees that give you the impression of being in the tropics. Their huge cocktail menu not only includes drinks but desserts as well!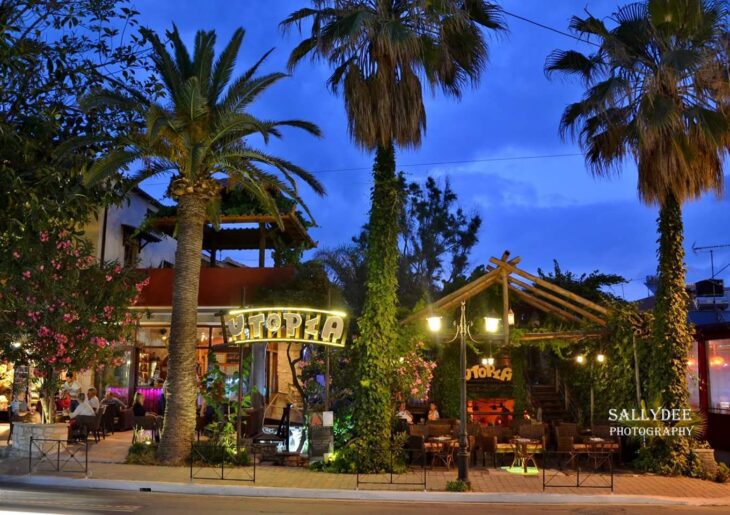 Utopia Cocktail Bar has an outdoor seating area with couches where you can snack on some delicious food or have a drink during one of their many events that are held there throughout the year.
It's a great place to hide away from the Cretan heat, and their staff is very welcoming and hospitable, making the Utopia Bar a must-visit for any tourist!
Address: Platanias
Website: https://www.facebook.com/macydogvip/
Prassein Aloga
A must-visit in the Old Town, Prassein Aloga is one of the most fascinating bars in Chania. It's an open-air bar decorated with beautiful plants that's just a few minutes from the harbor.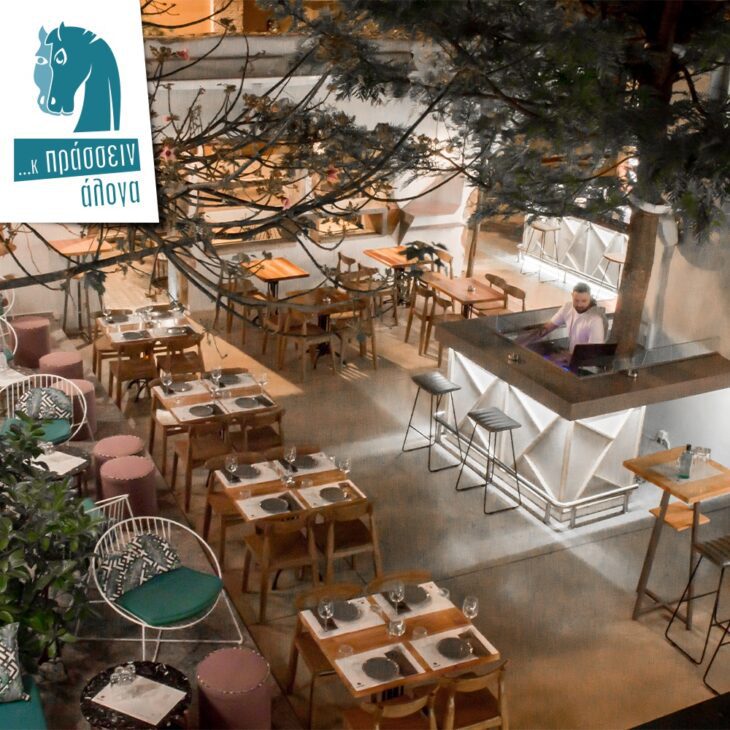 Prassein Aloga is a place where every visitor wants to come back to, no matter how many times they've already visited Crete. It's famous for its delicious cocktails and tasty snacks that will keep you full all night long.
You can dance and listen to live music or simply sit back and relax with a drink in your hand. The bar itself is stunning, and the staff is welcoming, creating a wonderful overall atmosphere that will give you an unforgettable experience.
Address: Kallergon 20-22, Old Town, Chania
Website: https://www.facebook.com/prasseinalogachania
Aramis Billiard Club
Are you looking for a place to play pool with your friends? Then Aramis Billiard Club is the perfect spot for you. The club offers exquisite cocktails, delicious desserts, and mouth-watering meals that are sure to keep you satisfied throughout the night. It is located on the road leading to Kissamos but still near to the city center and the peaceful neighborhood of Nea Chora.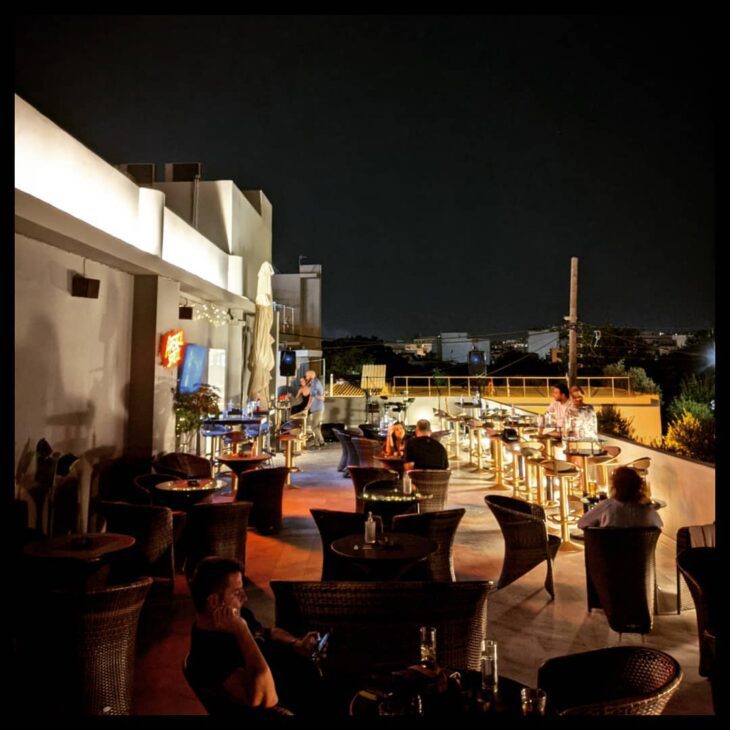 The venue, suitable for those seeking a more peaceful ambiance, features a beautiful patio with stunning views of the White Mountains, as well as over 15 pool tables for a stylish and unique evening in Chania.
Address: Kissamou and Saridantoni, Chania.
Website: https://www.facebook.com/aramischania/
Aktaion Theory Cafe-Bar
Located right in front of Koum Kapi beach, Aktaion Theory is a fantastic spot to spend your evening in Chania.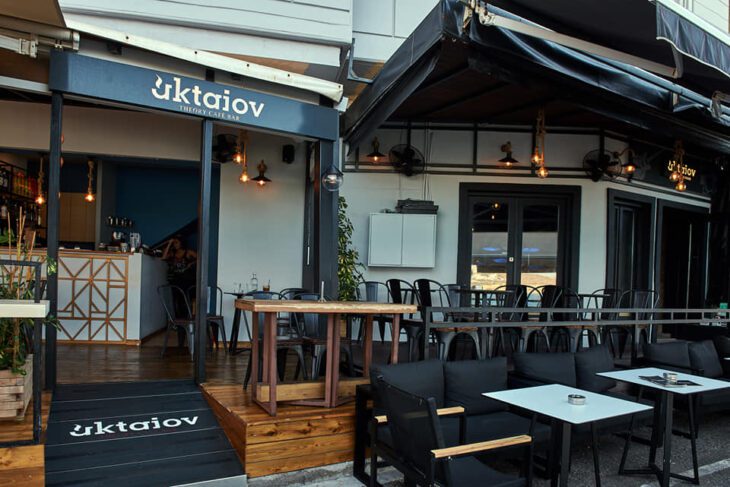 Offering gorgeous views of the sea and unique drinks, this bar will give out an enchanted feel. The bar's interior decoration is made of neutral colors, giving it a clean and elegant look. Aktaion also has a fully-stocked bar with delicious drinks that will satisfy every visitor's needs.
The feeling of the Aegean sea breeze and the view of the bay is bound to take your breath away. Whether you're into cocktails, coffee, desserts or Cretan meals. This bar has everything for you.
Address: Location: Akti Miaouli 12, Chania.
Website: https://www.facebook.com/aktaiontheorycafebar