Agia Pelagia is a small fishing village which doesn't really qualify as a mainstream tourist resort – and that's a good thing. Situated 23 km west of Heraklion, it has a rich history going back to Minoan times when, because of its strategic and sheltered location, it was an important harbour.


Nestled in the curve of a wide bay at the foot of a hill, its picturesque setting was noticed by a few intrepid businessmen who understood the area's potential in the burgeoning tourism industry of Crete. Slowly but surely, hotels and restaurants were built but never too many and so the area has kept its charm. Today, it is a popular destination for families and couples who prefer a quieter getaway.
Agia Pelagia Nightlife
This is not to say that Agia Pelagia is boring. Most of the town's social life centres around the shore which means wherever you go, the sounds and sights of the water will colour your evening. There are tavernas and restaurants whose menus include a range of traditional Greek dishes as well as international fare. Dine out on a balmy summer evening in a different one each night with the sound of the sea lapping nearby. There are no loud nightclubs to mar the peace but rather friendly bars and cafes where you can sip a cocktail or two and watch the setting sun perform a spectacular light show on the sea and sky.
Agia Pelagia Beaches
There are nine beaches and coves within walking distance of the centre of Agia Pelagia. The main beach is in the centre and surrounded by tavernas and bars so it is very convenient. Because of this, however, it can get very busy and noisy with the water sports on offer. The beach is sheltered from the north winds which can be a nuisance in other parts of Crete so the water is calm and safe. If you prefer quieter places, you can explore to the left and right of the village to find smaller, more intimate beaches, bays and coves.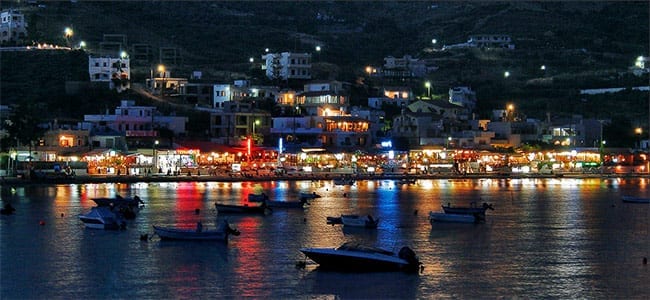 Agia Pelagia Facilities
There are a few gold and silver shops as well as souvenir shops in Agia Pelagia and you will find that the facilities in the village are adequate to cover your needs. However, for some serious shopping therapy you may prefer to go into Heraklion or one of the bigger cities to the west such as Rethymnon and Hania.
Getting Out and About
Within Agia Pelagia itself, there is the natural beauty of the area and picturesque churches to explore. In order to go further afield, it is necessary to take one of the few buses into Heraklion and then catch another bus to wherever you would like to go. There are sights to see in every direction of the island to suit every taste – archeological sights, water parks, the traditional 'old' towns of Rethymnon and Chania, the rugged coast to the south to name just a few.