Crete is a magical place to visit with your family. The stunning beaches, awe-inspiring mountains, and historical sights are just a few of the reasons why this Greek island is such a popular destination. If you're planning a trip to Crete with kids, here's a complete guide to help you make the most of it.

Is Crete a Good Destination For Families With Kids?
Crete is, indeed, a perfect destination for families with kids. Many people often wonder whether or not Crete is a good destination for family trips. Since the island is much known for its fun and carefree nightlife, many people assume that it's not a family-oriented destination. Of course, you can go clubbing and partying with your friends if you desire, but Crete caters to visitors of all ages, as well as kids.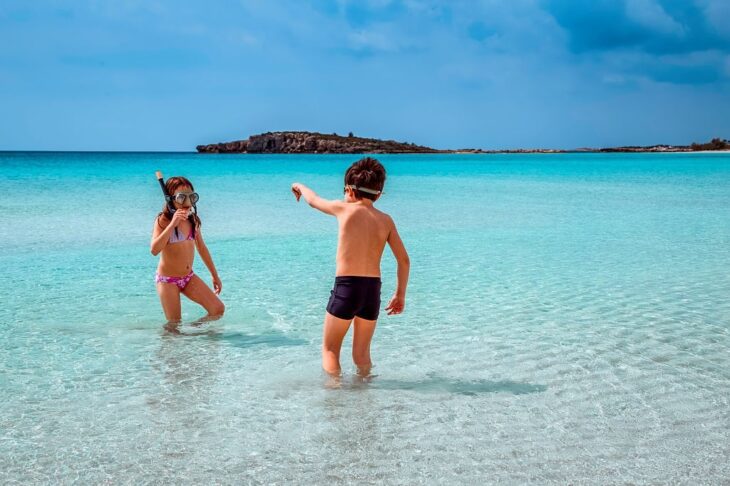 Kids will enjoy the beautiful beaches and spectacular landscapes during the day. They also love learning about Greek mythology and visiting historical sites. At night, they'll have plenty to do as well: there are several amusement parks scattered across Crete which keep kids entertained throughout their stay.
You don't need to worry about safety since Crete is a very safe destination. In fact, it's considered to be one of the safest places in Europe. Of course, you should always keep your eyes open and exercise caution as you would anywhere else, but as far as safety for kids goes – Crete is as good as it gets. Authorities are vigilant when monitoring potentially dangerous areas, and tourists are always well taken care of. For a comfortable and easy ride in Crete, consider renting a family car or an SUV. from a local car rental company like Rental Center Crete.
The Best Places in Crete to Visit With Kids
Although different regions offer a wide range of attractions, some places are truly exceptional. The most popular cities such as Heraklion, Rethymno, Chania, and Lasithi are always bustling with fun activities for all ages. If you're looking for rustic surprises, head to one of these mentioned places below:
Heraklion with Kids
Palace of Knossos
Archaeological Museum of Heraklion
Koules Fortress
Morosini Fountain
Palace of Phaistos
Cretaquarium Thalassocosmos
Natural History Museum of Crete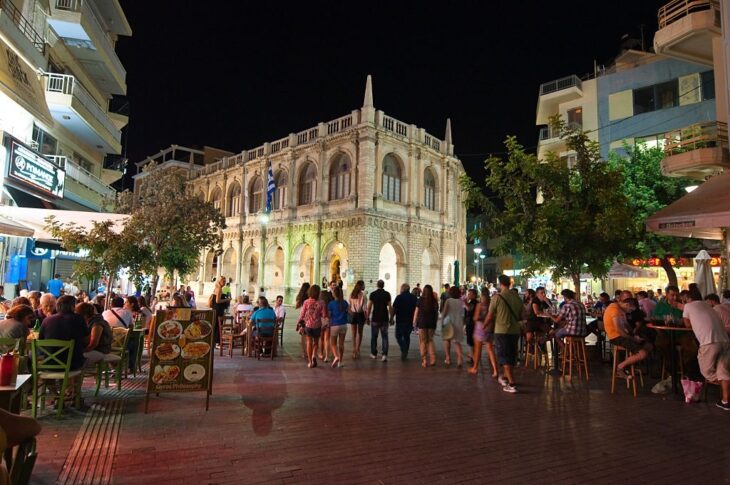 Heraklion is the capital of Crete and is home to some of the most popular tourist attractions on the island. Your kids can spend an entire day at the Palace of Knossos and learn all about ancient Greek myths and legends. This palace was once the home of King Minos and was rumoured to be where the Minotaur was kept.
You can also visit the Archaeological Museum of Heraklion, which is one of the largest in Greece. It's home to various artifacts from ancient Crete, including pottery, jewelry, and even weapons.
There are many fortresses in Crete and one that's an ideal place to visit is the Koules Fortress. It is found near the entrance of the old port. This was a Venetian fortress built in the 16th century and offers excellent views of the harbor.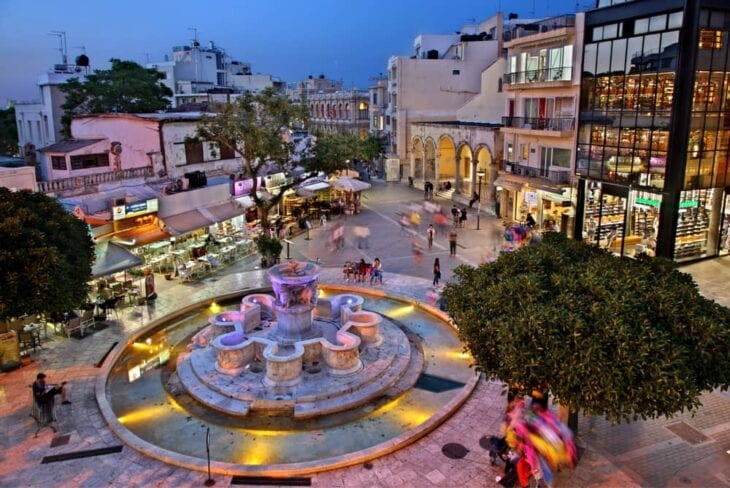 After a long day of walking, taking a break near the elegant Morosini Fountain will feel great. Your kids will especially love the lively ambiance and the beautiful architecture. Several restaurants in Heraklion are also located within close walking distance, so you can easily find a place to eat without having to drive. Whether you're looking for activities for the day or things you can do in Heraklion at night, this region doesn't fail to impress!
Others Spots in Heraklion to Visit with Kids
Palace of Phaistos
Several Minoan palaces are found in Crete and another one happens to be in the region of Heraklion. This palace was also built by the Minoans in 2000 BC and shows ancient influence that can still be observed to this day. Unlike the Palace of Knossos, Phaistos is not as well preserved, but it's still worth a visit. It is located on a beautiful hillside with views of the deep blue Libyan Sea and the rocky heights of Mount Psiloritis.
Cretaquarium Thalassocosmos
If your kids love marine life, visiting the Cretaquarium in Heraklion will definitely delight them. This aquarium houses over 2,500 fish from the undersea world of the Mediterranean. It also features exhibits, interactive touch screens, and even tours where kids can learn all about the different sea creatures.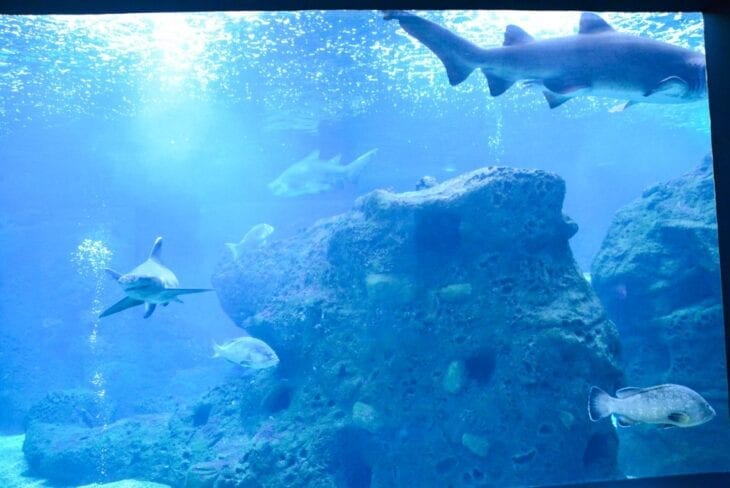 Natural History Museum of Crete
Museums in Heraklion are known to be plenty, but planning a trip to the Natural History Museum of Crete is a good idea. This stunning modern museum, located directly on the seaside, shows the finest of Crete. A tsunami and earthquake simulator is one of the fun activities kids and adults can enjoy. Furthermore, an entire level is dedicated to stuffed creatures that inhabit or used to exist in the Mediterranean region.
Chania with Kids
Chania Venetian Harbor
Hike Mt Pachnes
Archeological Museum of Chania
Elafonissi Beach
Samaria Gorge
Minoan's Words 3D Museum
Botanic Park & Gardens in Chania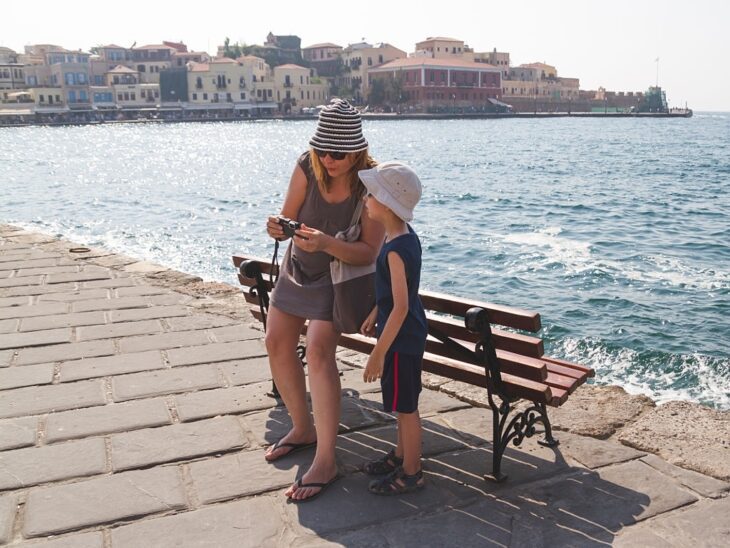 A beautiful region filled with Venetian and Ottoman architecture, Chania is a city that's definitely worth exploring. The Venetian Harbor is one of the most picturesque spots in all of Crete and is home to some astounding restaurants with terraces overlooking the harbor.
The old town of Chania is also a great place to wander around. It's filled with narrow streets, colorful houses, and small squares. The variety of restaurants in Chania will make traveling less hassle since it offers great dishes ideal for kids. If you're looking for something a little more adventurous, take a hike up to Mount Pachnes. At 2,345 feet high, this is the highest peak in the region and offers stunning views over the entire island.
Your kids will also love checking the Archeological Museum of Chania, which contains artifacts from the Neolithic to Roman periods. The museum is located in the San Francesco Church, a bright and open domed space constructed by the Venetians and afterward used as a mosque by Turks.
If you still have time, don't forget to visit the ever-famous pink beach of Elafonissi. This marvellous place is kid-friendly and features great swimming points and activities in Crete for everyone to enjoy. The vivid contrast between the pale pink sand and turquoise waters will leave you speechless.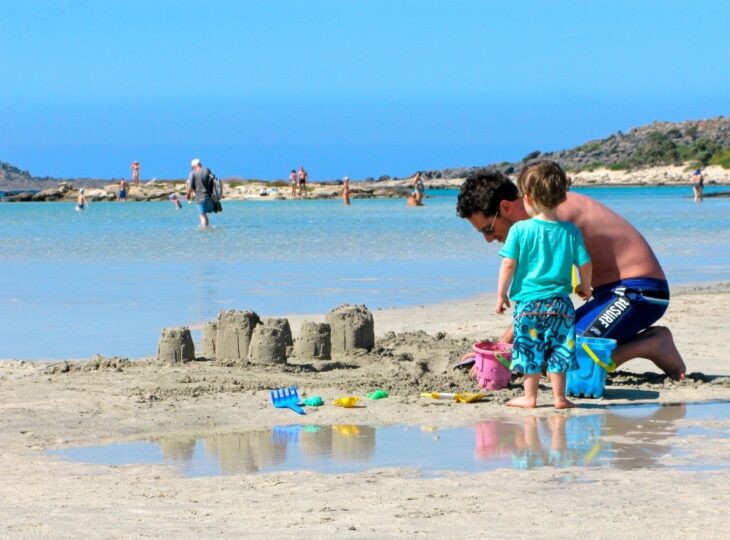 Other Kid's Friendly Places to Visit in Chania
Gorge of Samaria
Give your kids a true taste of adventure by hiking the Gorge of Samaria. This 18-kilometer long gorge ends at the village of Agia Roumeli where a mesmerizing black-sand beach awaits.
Minoan's World 3D Museum
This is a fantastic place for families with kids to spend a day. A unique and fascinating introduction to Greece's ancient history is presented in a way that everyone can appreciate. In the museum's first section, interesting displays allow for wonderful photo opportunities. After that, you'll be shown a 9D movie that will stimulate all of your senses.
Botanic Park & Gardens in Chania
The Botanic Park is found right at the foot of the White Mountains, this park is a great place for families with kids. Beautiful green gardens and exotic flowers await, along with a restaurant-cafe for visitors to enjoy.
Rethymno with Kids
Old Venetian Harbor of Rethymno
Rimondi Fountain
Fortezza
Archeological Museum of Rethymno
Historical & Folk Art Museum of Rethymnon
Arkadi Monastery
Kournas Lake
Biotopoi Nature Park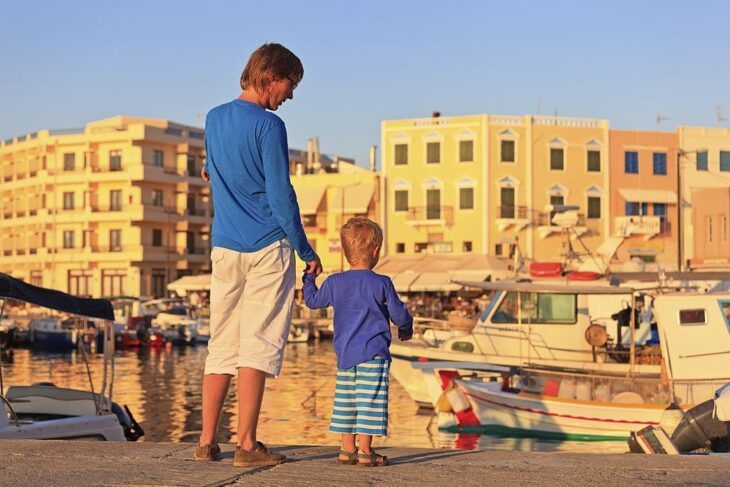 A region that screams medieval history, Rethymno is one of Crete's best-kept secrets. This wonderful old city is home to impressive Venetian and Ottoman architecture which your kids will love exploring. There are many things to do in Rethymnon at night, as well as during the day. For starters, you can visit the Old Venetian Harbor, where the best restaurants in Rethymno are found.
The Rimondi Fountain found deep within the old city is also a great place to stop at. The fountain holds three lions that pour water from their jaws. It was constructed in the early 1500s and can still be seen to this day.
Apart from the old city, Rethymno also has some historical sites you shouldn't miss. One worth mentioning is the Fortezza. The Venetians constructed this massive fortress between 1573 and 1580, complete with strong bastions, to secure it from the Turkish invasion and provide a safe haven for the town's people.
Just like Chania and Heraklion, Rethymno has an extensive option of museums. Such an example would be the Archeological Museum of Rethymno. Kids can indulge their inner history buff by exploring its extensive collections of artifacts from the Neolithic to the Roman periods. You may also check out the Historical & Folk Art Museum of Rethymnon. The museum showcases tools and equipment used by old Cretans in their everyday life.
Other Kid's Friendly Places to Visit in Rethymno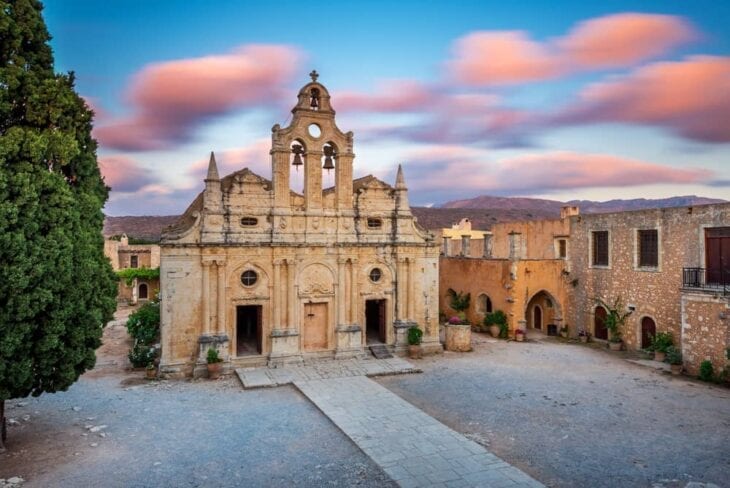 Arkadi Monastery
Kids will love exploring the historical atmosphere of the Arkadi Monastery. It's a peaceful and picturesque place that is perfect for a day-trip from Rethymno. You can also enjoy a majestic view of the town from here.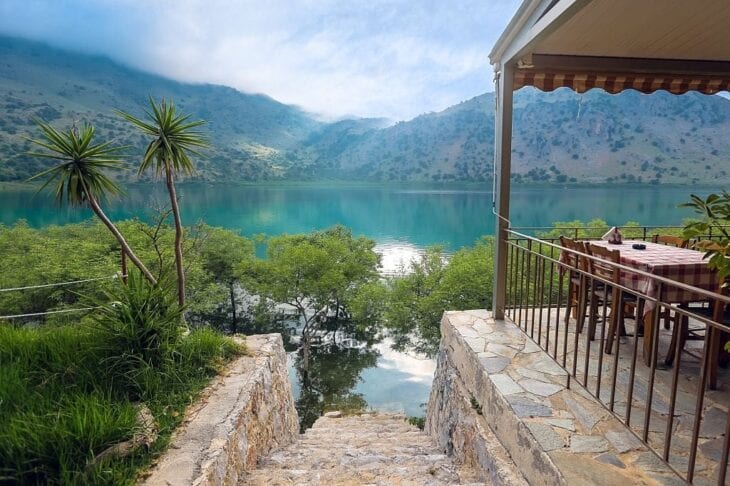 Kournas Lake
Kournas Lake is a large and beautiful lake that's well-known in Rethymno for its peaceful surroundings and relaxing atmosphere. Kids can also try out some watersports here, such as kayaking.
Biotopoi Nature Park
The park is based on the idea of Crete's rich biodiversity ecology. Visitors are led through the park's diverse natural environment, which includes a plethora of plants and flowers. Kids can learn a lot about nature by exploring this park.
Lasithi with Kids
Boat ride in Lake Voulismeni
Archaeological Site of Itanos
Dikti Mountains
Spinalonga – Leper Island
Minoan Site of Lato
Kazarma Fortress in Sitia
Milatos Cave
From white sand beaches to spectacular mountain ranges, Lasithi has something for everyone, especially kids! You can visit Lake Voulismeni and stroll around its peaceful waterfront or take a boat ride. If you want your kids to develop an interest in history, then checking the Archaeological Site of Itanos is a fantastic idea. The archaeological site features remains from city walls, old houses, and Christian churches. It's a great site for kids to explore and learn about the history of Crete.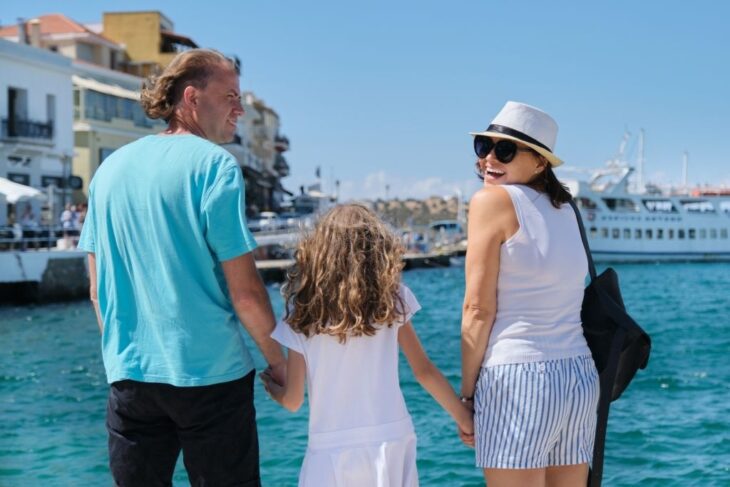 For kids who love outdoor activities, then taking them to Dikti Mountains is a must. The mountain range is an ideal place for hiking, giving visitors a chance to explore a wide range of flora and fauna.
If you're more inclined to nature, be sure to check out Spinalonga. This island is located just off the coast and is known for its stunning beaches, crystal-clear waters, and lush vegetation. Plus, its history is just as remarkable. The island was once fortified by the Venetians but was used as a leper colony from 1903 to 1957.
Other Kid's Friendly Places to Visit in Lasithi
Minoan Site of Lato
Another historical site in Crete loved by locals and tourists is the Minoan Site of Lato. The ruins date back to the Early Minoan period, making it a great place for kids to sneak a peak of Crete's rich history.
Kazarma Fortress
A place that feels just like a castle in Sitia, Kazarma Fortress was once the base of Venetians who ruled the island. The medieval building will bring kids back in time to a more adventurous era.
Milatos Cave
If you have kids who are interested in geology, then visiting the caves of Crete will delight them. Milatos Cave is one place you should check out. Kids will love exploring its cavernous space filled with geological formations. A small place of worship is found right inside the cave too.

Kid's Friendly Beaches in Crete
Whatever region you plan to visit, you'll never run out of beaches in Crete. The island is blessed with white, sandy beaches and turquoise waters that make kids want to stay all day long.
Be sure not to miss the following beaches:
Vai Beach (Lasithi)
With long, green palm trees flocking the area, Vai Beach is a postcard-perfect stop on your travels. The beach is known for its soft white sand and crystal-clear waters. Your kids can also enjoy snorkeling, swimming, and sunbathing here. Plus, sunbeds and umbrellas are available for rent.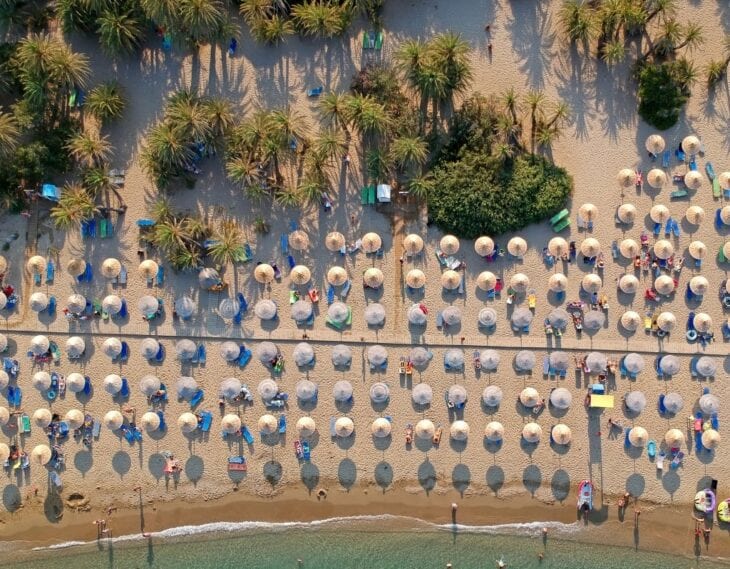 Balos Lagoon (Northwest of Chania)
This charming Balos lagoon is located in a secluded bay and can only be accessed by hiking. The trail may be a bit rough, but it's definitely worth it. Kids can enjoy the beach's clean waters and relaxing atmosphere. Its shallow waters are perfect for toddlers since they can safely play around.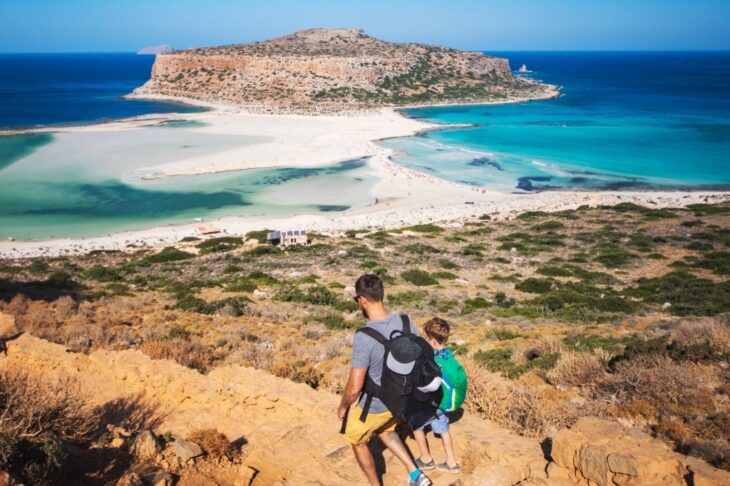 Falasarna (Chania)
If you want an easy-to-access beach, then Falasarna is a fabulous choice. The beach is located just an hour away from the town of Chania and has all the amenities you need, such as sunbeds, umbrellas, showers, and toilets. In addition, kids will love swimming in the crystal-clear waters and playing on the fine sand beaches.
Plakias Beach (Rethymno)
Plakias Beach is a long, broad crescent located in a wide bay. It is situated along the south coast and faces south, towards Africa, providing lengthy days of sunshine that are not always available on the north shore, specifically at beaches with cliff walls. The prevailing wind is offshore; therefore the waves are usually modest. Kids can play in the sand, swim in the sea, and explore the coastline.
Agiofaraggo (South of Heraklion)
Agiofaraggo can be reached by going through a deep gorge surrounded by jagged rock formations that are safe to cross. Once you get to the beach, you'll find crystal-clear waters, white sand, and shady trees. The beach is perfect for swimming, sunbathing, and snorkeling.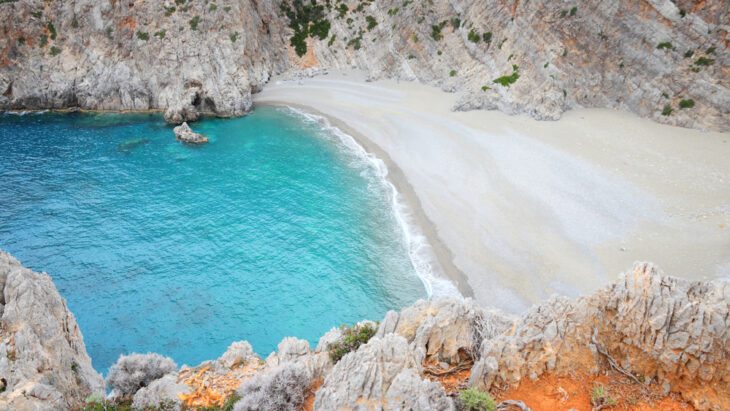 Triopetra (Rethymno)
A breath-taking site in Crete, Triopetra is made up of three large rocks rising from the sea. The area is perfect for kids since it's not always so crowded and can be easily accessed. The rocks create a cave-like structure perfect for playing and exploring.
Other Attractions For Kids in Crete
Crete offers also fun water parks and amusement parks that will keep the kids entertained for hours on end.
Water Parks are Great For Kids
One of the must-visit water parks can be found near Heraklion. Watercity is located in Anopolis, a village approximately 20 minutes from Heraklion. Adults may enjoy a variety of water games at the park. In addition, there are two pools and slides for children, with more than 15 different water games, some of which are geared at older children and adults. A comprehensive collection of water games may be found there.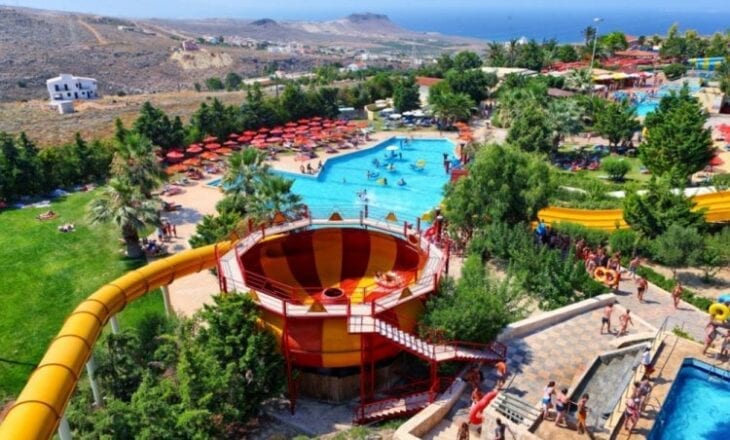 Watercity offers discounted pricing for children, as well as a variety of snack bars and a mini-market. Above all, there are fully qualified lifeguards on hand in case of an emergency.
Acqua Plus is another great water park that is perfect for kids. Located in Hersonissos, the park is open from early morning until late at night and offers a variety of slides, pools, and games for all ages. Restaurants are available on-site, so finding a place to eat after a fun day is never an issue.
Although smaller than the previously mentioned water parks, Bravo Water Park is still worth a visit. Located in Ammoudara, the park offers a range of activities for children, such as pools with slides and water games. Moreover, you don't have to worry about your kid's safety because lifeguards are always on standby to help.
Fun Amusement Parks for Kids
If you're looking for a park that offers more than just water games, then head over to one of these fun themed parks perfect for kids of all ages:
The Labyrinth Theme Park is a family-friendly destination featuring attractions and activities for all ages. After paying the basic admission fee, you can access all the fun games in the park. Labyrinth Theme Park is located in Hersonissos and is easy to find. The park's core concept is based on the Minoan Labyrinth, as its name indicates.
The Minoan labyrinth enables you to spend some time attempting to uncover hidden chambers and riddles from Greek mythology, giving your kids an educational opportunity in a fun and entertaining environment.
If your children love dinosaurs, checking Dinosauria Park will be a no-brainer. Once you enter, you will see a wide range of dinosaurs, each of which is massive and well-designed. The dino hospital provides a unique insight into the world of these magnificent creatures. A 5D theater, a restaurant with kid-friendly cuisine, and a playground are also available on site.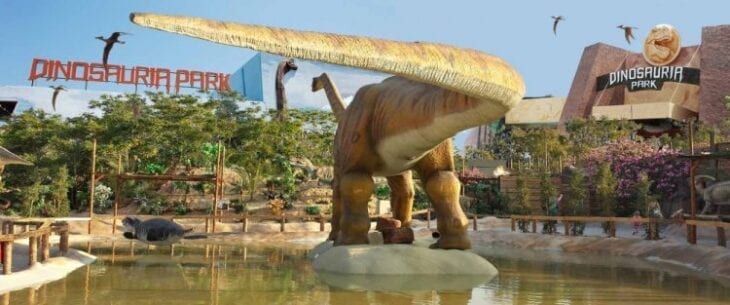 Where to Stay in Crete with Kids
You don't have to worry about accommodation because you can find all types of hotels and resorts in Rethymno, Chania, Heraklion or anywhere in Crete that's perfect for families. From small yet cozy studios to luxurious hotels, you can find a resort that matches your needs and budget.
The best places to stay in Crete would be in the heart of the city since most of the family-friendly attractions are located there. Hersonissos, Malia and Agios Nikolaos are some of the most popular towns on the island, with a range of resorts to choose from.
No matter where you stay on the island, Crete has countless things to offer, making it perfect for family holidays.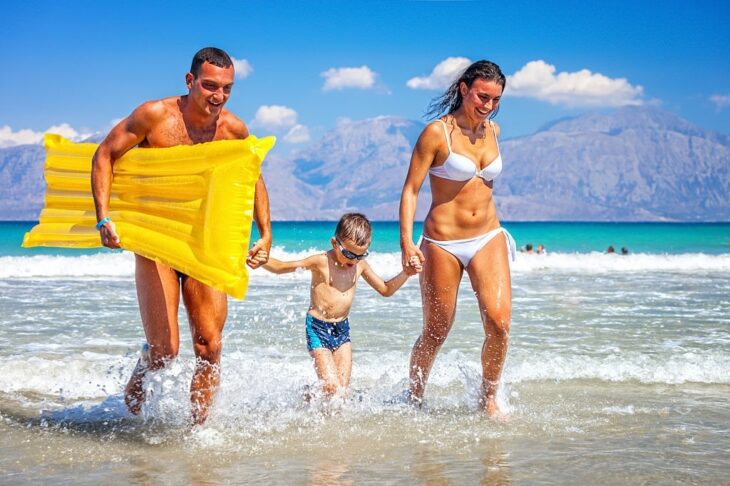 The Best Time to Visit Crete With Kids
The hot season is probably manageable for older children. May and June, on the other hand, are cooler months perfect for small children, though still hot enough to enjoy beach activities. There are also fewer tourists, which is ideal for avoiding lines and overcrowding.
September is also a great month to visit Crete since kids in Greece, as well as Europe, will start their school year in the second week. As a result, less people will be on holiday. Plus, the heat levels are more tolerable. Although there may be occasional rain, it isn't enough to kill your motivation to enjoy the island's best attractions.