West Crete is undoubtedly the most famous section of this wonderful island. Many of the most famous beaches are in the western part of Crete, but that's not all – western Crete is also full of other activities, like one of the most famous gorges of Greece, not one but two beautiful Venetian port cities, and many cultural destinations.
Western Crete – Getting Oriented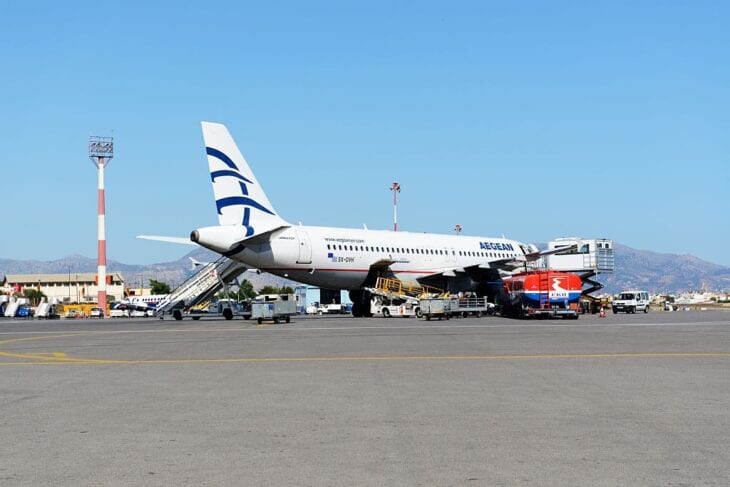 It's very easy to get to Western Crete. There are international airports in both Heraklion – the capital, thoroughly in the middle of the island, and in Chania, the westernmost city. Whichever you choose, you'll find a car rental directly at the airport, so you can be in your car and ready to explore in no time at all. Alternatively, if you're arriving by boat in the harbor of Souda, a hire car can be waiting for you at the port when you arrive.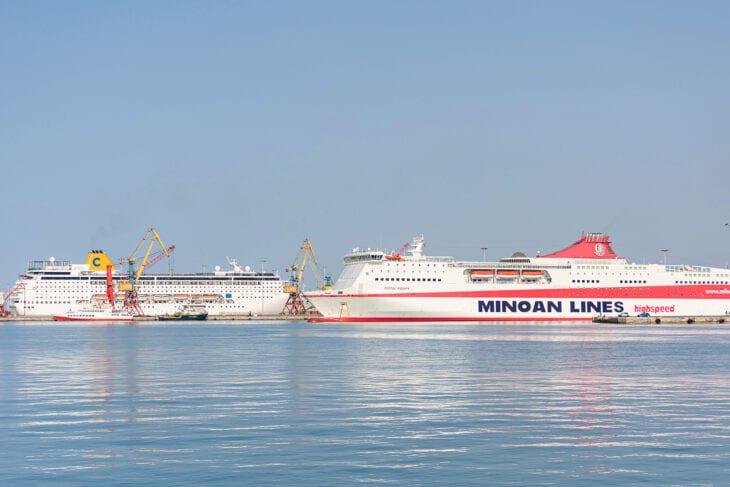 Many activities in Crete and points of interest are concentrated along the north coast. But by all means do drive to the south, for some rugged and breathtaking terrain, and stunning beaches. In fact, you'll find some of the best beaches in Greece in Western Crete, both north and south.
Where to Stay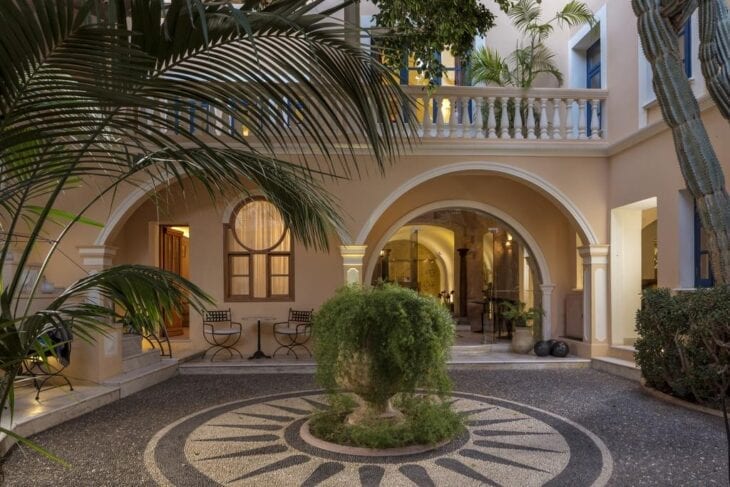 Both the towns of Rethymnon – midway between Chania and Heraklion – and Chania make perfect home bases. They offer easy access to the highways and also have a host of excellent accommodations to suit every budget and every travel style. You'll find superb boutique hotels in both cities. For a wonderful splurge, you might try the Rimondi boutique hotel in Rethymno, or the Casa Delfino or the Monastery Estate in Chania.
All of these accommodations are in the historic locations of their respective cities, and in beautifully restored elegant historic buildings.
Alternatively, there are many excellent hotels in Rethymno, as well as beach hotels on the edges of each town.
Points of Interest
Of course the beaches are calling, but taking time for historic sites makes a rich travel experience. Some of the most beautiful monasteries of Crete are in the West.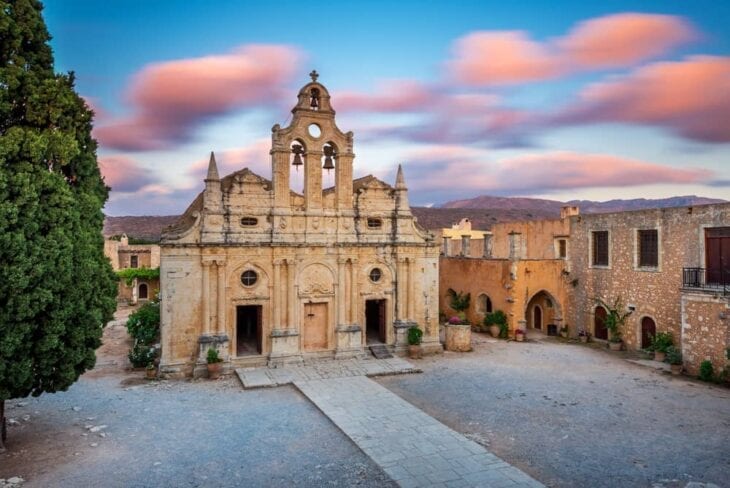 Monasteries, while first and foremost places of worship (modest dress is required for both men and women), are magnificent cultural, historic, and architectural destinations, and often in excellent locations. Near Rethymnon is the historic Arkadi Monastery, a splendid example of the beautiful architecture of the "Cretan Renaissance".
Near Chania, you'll find the famous Monastery of the Holy Trinity of Tzagarolos. This magnificent Venetian fortress on the Akrotiri peninsula outside of Chania has a magnificent church but is also an excellent place to buy wines and buy olive oil – products of the monastery. It's a favorite destination of many visitors.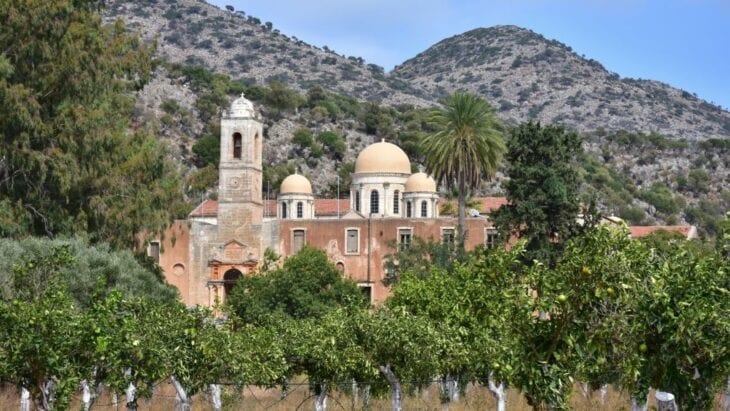 Yet another monastery experience awaits in the south – the Preveli Monastery is on a cliff high above the Libyan sea – spectacular.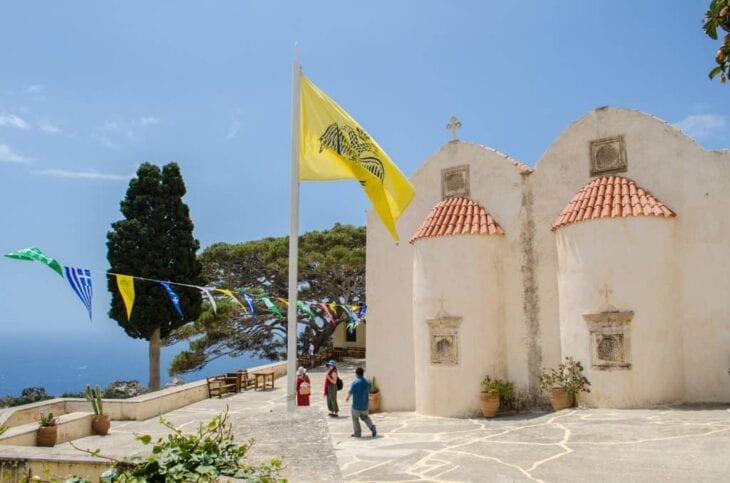 How about something modern?
Crete's Museum of Contemporary Art is in Rethymnon. Here, you can learn all about Geek art from the 1950s and beyond. While in Rethymnon one can also visit the Historical and Folklore Museum of Rethymnon, for a completely different sort of cultural experience. Other museum experiences include the Byzantine and Post-Byzantine museum of Chania and the Archaeological Museum of Chania. Another place that captures the Cretan's seafaring spirit is the Nautical Museum of Crete, in a wonderful location on Chania's Venetian harbor front.
Things to Do in Western Crete
While the beaches beckon and the Venetian harbor towns charm us, most locals will tell you that the true Cretan spirit is to be found in the villages. Join them!
Several villages we love are Margarites, near Rethymnon.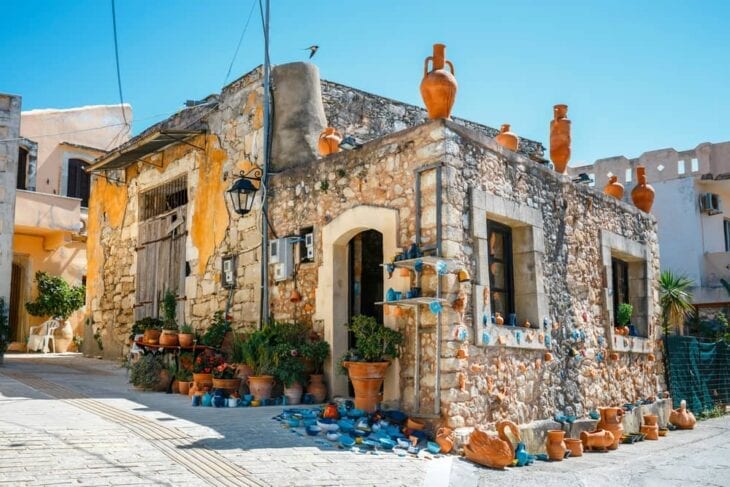 Here, craftsmen carry on a centuries-old tradition of creating fine ceramics – there are workshops all over town that you can visit. For a great meal, locals from Chania drive through the gorgeous Therissos gorge to the little village of the same name. A historic town because of its association with the great Greek statesman Eleftherios Venizelos, there are a couple of small museums. But honestly, everyone is here for the superb meat at the several rustic tavernas.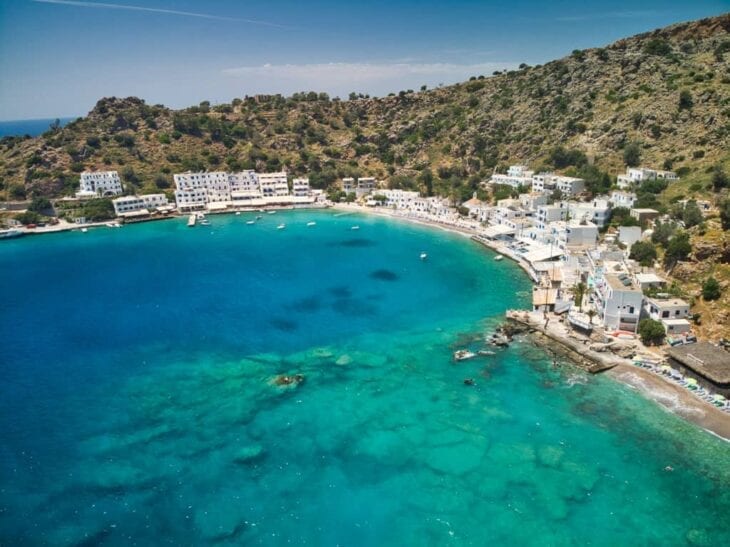 Driving itself is an activity – some of Crete's finest experiences are just watching the dramatic landscape unfold as you go through the mountain passes. Some of our favorite drives are from Rethymnon to Preveli in the south, and from Chania to Sfakia in the south. From Sfakia, you can catch a boat to the absolutely enchanting car-free port village Loutro, and then on to Agia Roumeli.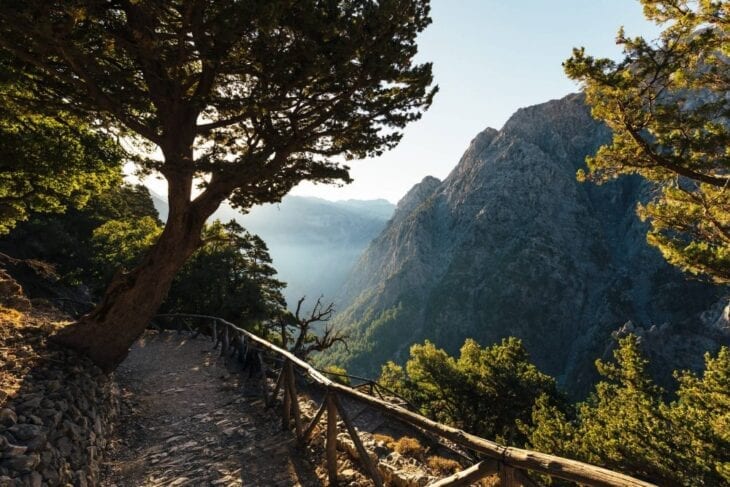 Speaking of Agia Roumeli- this is where the Samaria Gorge meets the sea. But to experience this epic hike, you need to start 17 km above, at Xyloskalo. Planned excursions take you there in the early hours, and one returns by boat from Agia Roumeli to Sfakia, and then back to Chania by bus. This is one of the best things to do in West Crete – truly an experience of a lifetime.
Where to Eat in West Crete
Cretan food is absolutely delicious. This largest island of Greece has its own distinctive cuisine. Seek it out at these local favorites. As mentioned above, Chaniotis love the lamb and goat specialties at the traditional tavernas in Therisos. For homestyle cooking, Aetofolia in the village of Samonas, above Crete, draws insiders who love their succulent "stifado" – hare simmered in wine and tomato.
In Chania for a romantic night? Try the fish tavernas in the ruins in the former tanneries in the Halepa district, directly on the water. In Rethymnon, for a romantic and memorable meal you can try La Boheme, in the courtyard of a historic Venetian house. Pigadi is in another traditional house, and specializes in Cretan cuisine and Mediterranean dishes.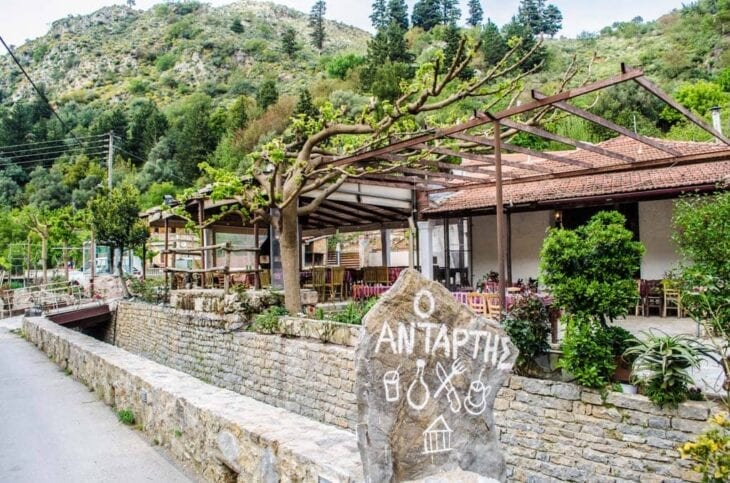 Best Beaches in Western Crete
Seitan Limania
Several of the most stunning beaches in all Greece are within a short drive of wherever you may be staying in West Crete. The "new" Seitan Limania beach was once just known to a handful of local fishermen. This dramatic narrow harbor shaped like a lightning bolt is like nothing you've even seen! Go early to avoid the crowds, and wear sturdy shoes to make the somewhat challenging climb down to the beach in safety.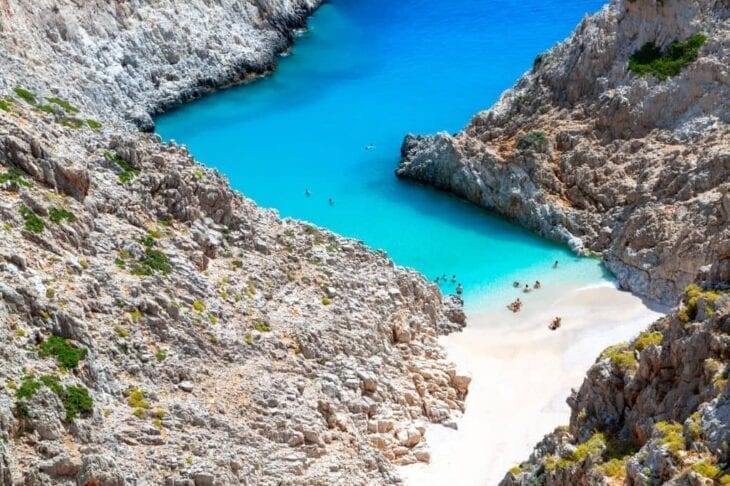 Elafonissi
Elafonissi is another world-famous beach destination. This pink paradise on the southwest corner of the island is a Natura 2000 protected area, consisting of an island covered with rare wildflowers, a dreamy lagoon, and a windswept beach. And why pink? The sands! Falassarna, on the western coast of Crete, is also among the most famous beaches.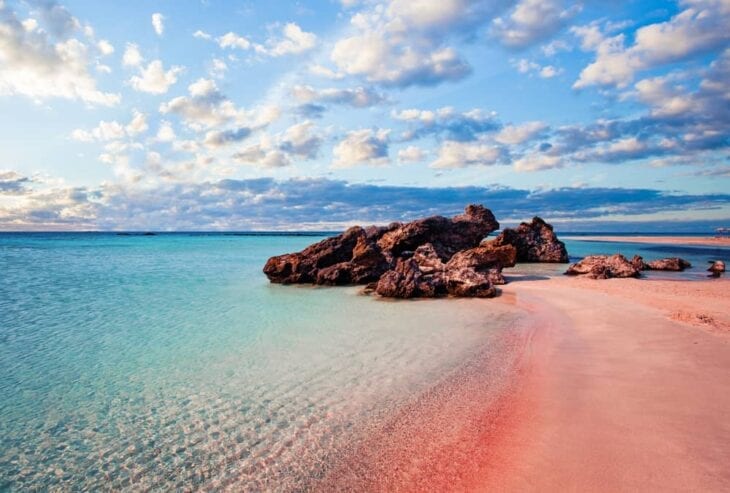 Falassarna
Falassarna with its white sands is actually a series of beaches, culminating in an archaeological site to the north. Right below the Preveli monastery is Preveli beach. Many flights of stairs descend the cliff down to a beach. A gorge with a river lined by palm trees runs into this gorgeous beach on the Libyan sea.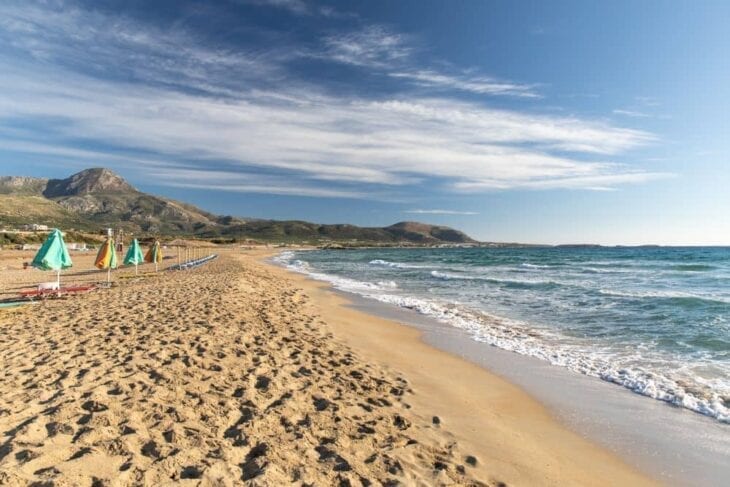 While you're on the south coast of West Crete, you may also want to visit Souda – a popular destination for locals who love the pure waters and the shade of the Tamarisk trees lining the beach. The south coast has altogether a more wild feel, and is great territory for discovering your own secret coves and beaches. Pack up plenty of extra water, sunscreen, and an umbrella and discover your own private Crete.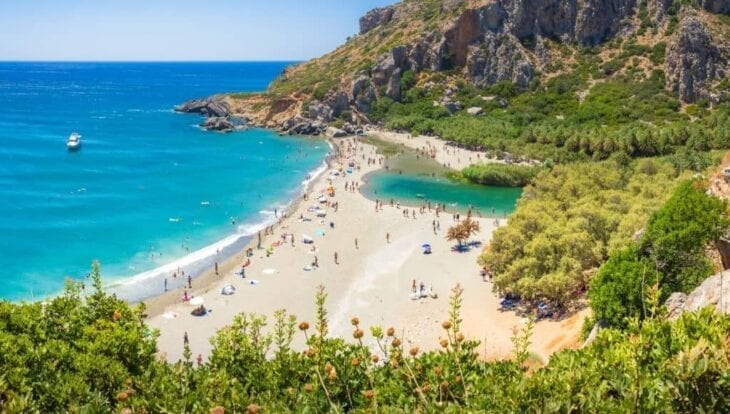 West Crete
This half of Crete is altogether a perfect mixture of the cultured and civilized – with the Venetian architecture and famous sights – and the rugged wild beauty of the island. It's a perfect place to discover by car, enjoying some of the Mediterranean's finest scenery along the way.