Eastern Crete is a revelation. This less visited part of Crete is an unusual and delightful mix of luxury resorts and unspoiled nature, authentic charming villages, and fascinating history.
The region of Mirabello Bay is one of the loveliest in Crete and in fact all of Greece. This is home to some of the most famous and exclusive luxury hotels and resorts, on account of the idyllic natural setting, a curved and rugged coast dotted with dramatic cliffs and pristine blue flag beaches. The water glitters with the hues of precious jewels. Spinalonga is a small and storied island with a poignant history.
The area has been developed with restraint and excellent taste, with respect for the natural surroundings.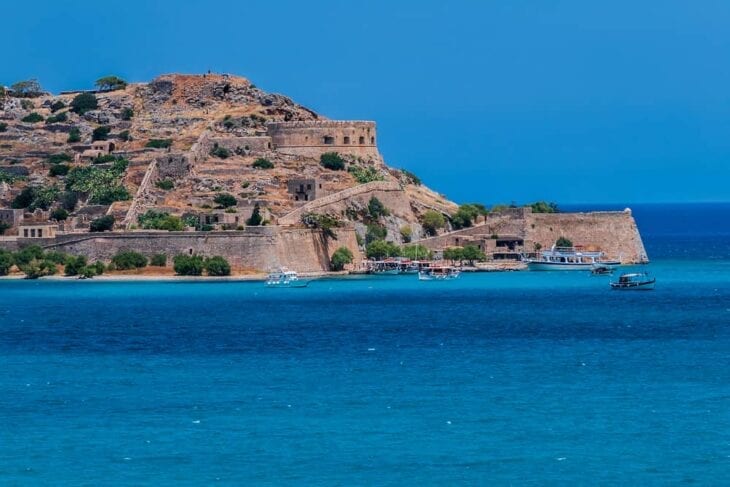 What is Mirabello Bay?
Mirabello Bay – named by the Venetians – is one of the loveliest areas of Crete. A coastline of around 30 km curves around the sea, punctuated by the small and wonderful city of Agios Nikolaos – capital of the region and Crete's smallest city, behind Heraklion, Chania, and Rethymnon. At the bay's northern end, about 10 km north of Agios Nikolaos, is the Lagoon of Elounda, formed by Korfos, nearly an island, attached to the mainland by a tiny strip of land. Off the shore of Korfos is the Island and Castle of Spinalonga, which is the top attraction around Elounda city.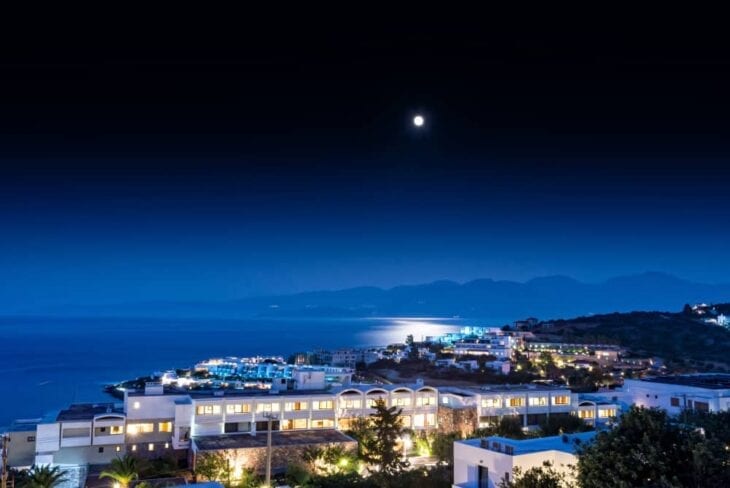 How to get to Elounda?
Elounda is an hour east from Heraklion's Nikos Katzanzakis international airport, and it's a stunning drive. Rental Center Crete has a car rental branch at Heraklion airport, so you can get on the road right away.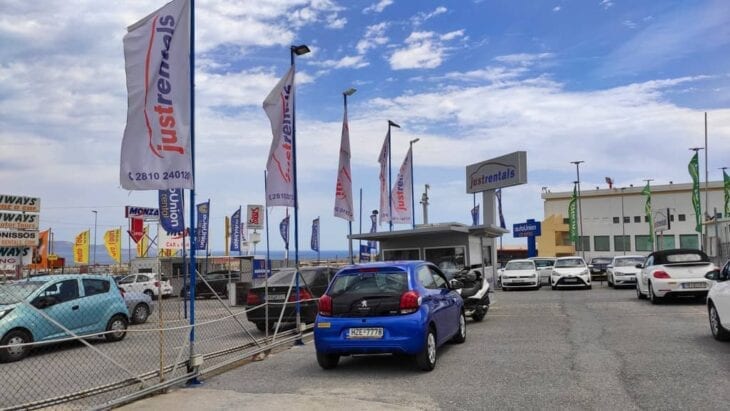 Alternatively, you can take public transportation from the airport to the KTEL bus station of Heraklion, and from there take the bus to Agios Nikolaos, which takes about an hour and a half- click here for a schedule. From Agios Nikolaos, you can transfer to a bus to Elounda – see here.
The History of Elounda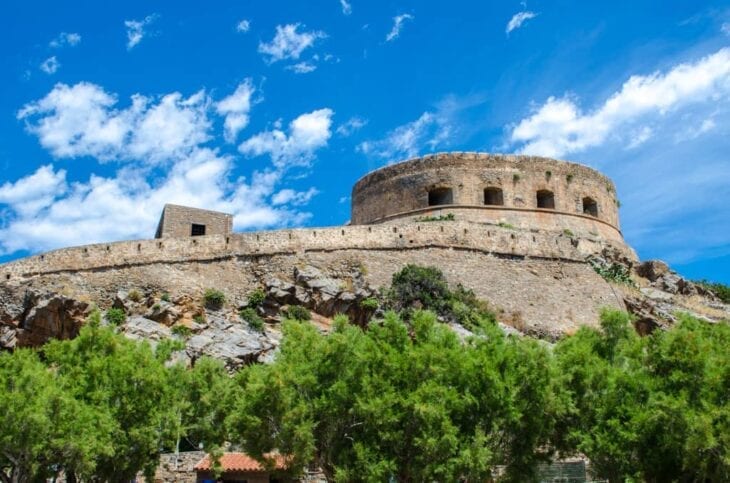 The ancient city of Olous was very near Elounda, and in fact it's still close. Ancient Olous sank, and its ruins can be seen at the bottom of Mirabello Bay's clear waters. Olous was for a time in conflict with the Dorians, who built ancient city Lato, the ruins of which can still be seen, overlooking Mirabello Bay. Spinalonga, the nearest castle to Elounda, was fortified in ancient times in order to protect the port of Olous.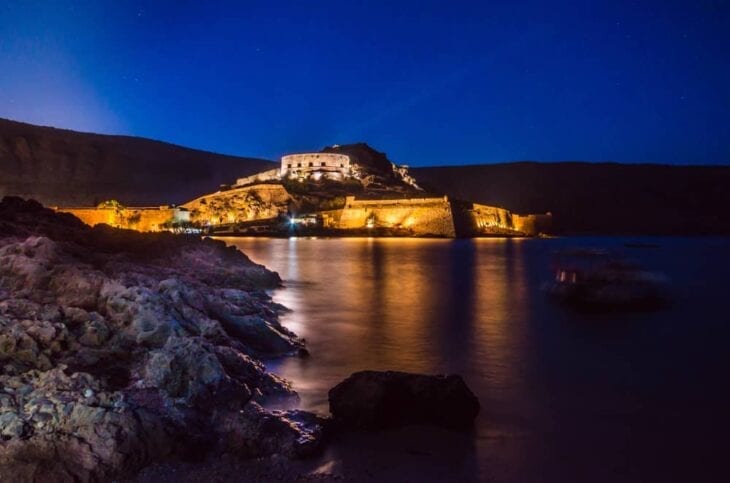 This gorgeous era was virtually abandoned in the 7th century because of the frequent raids of Arab pirates. Only in the 15th century was it once again inhabited, this time by the Venetians. They made salt pans in the lagoon. The area became more commercially viable. In response to the continued threat of pirates as well as the threat of the Ottomans, the Venetians began fortifying the island in the second half of the 16th century, ultimately turning it into one of the most important and formidable fortresses of the Mediterranean basin.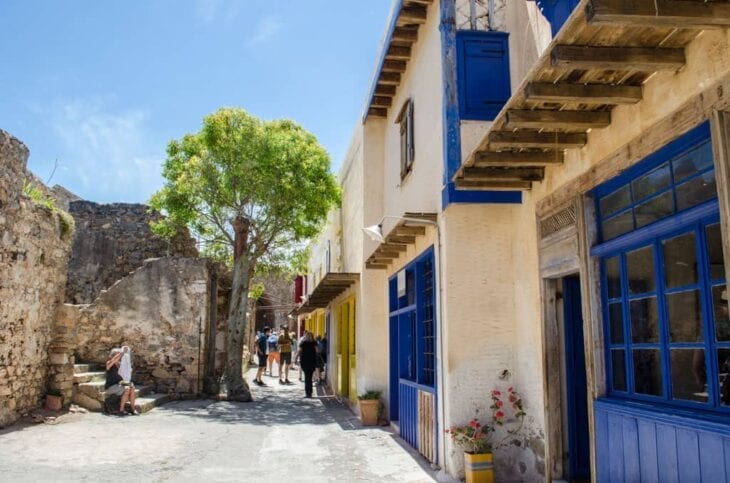 Does the name sound Italian to you? Venetian documents suggest that the origin of the same is from the Greek "Stin Elounda" ("at," or "to" Elounda).
The Spinalonga Castle was captured by the Ottomans in 1715, and was inhabited by Ottoman families until the very beginning of the 20th century.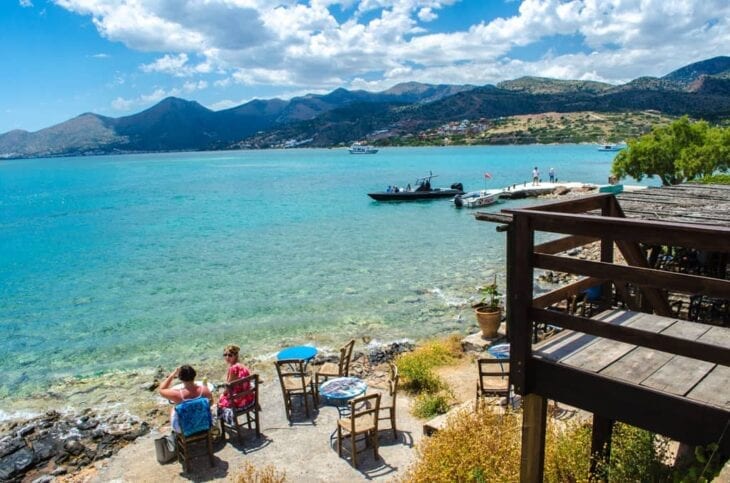 The Spinalonga island entered the phase of its history for which it is now best known. It was a leper colony from 1903 to 1957, and was the setting for the 2005 novel "The Island", by Victoria Hislop.
What to See and Do in Elounda?
The Elounda region is full of natural beauty, glorious beaches, interesting cultural excursions, and adventurous activities.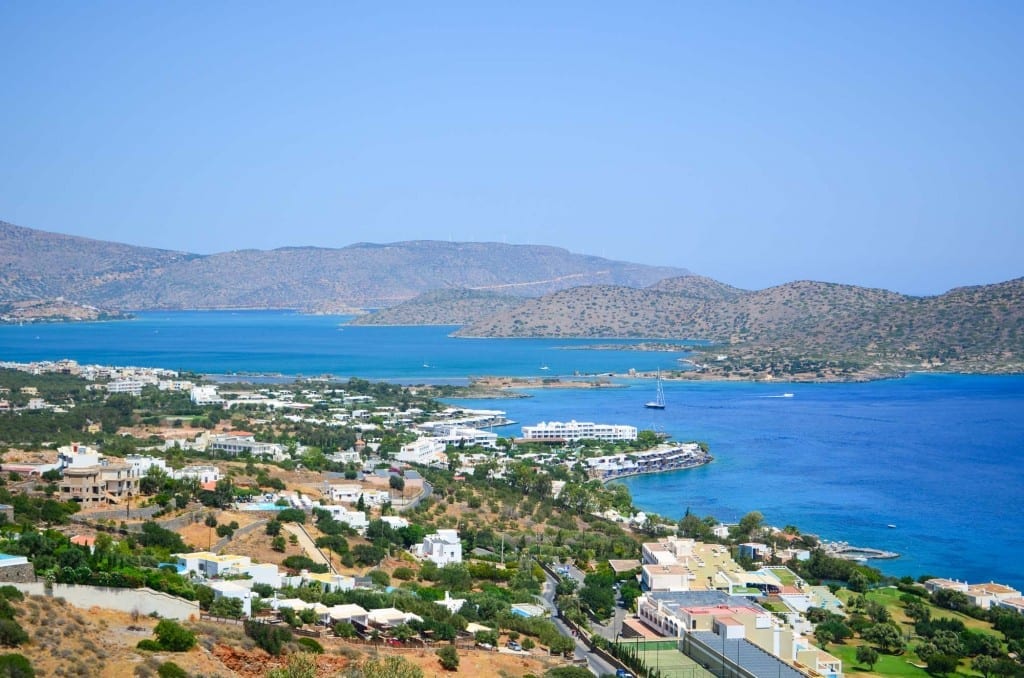 Beaches around Elounda
Elounda's main beach is lovely, and fully serviced with sun loungers and umbrellas, cafes and tavernas nearby.
Just across from the small island of Kolokytha is a beach of the same name, alternatively called the beach of St.Luke for the church close by. The beach is not organized and has the shade of just a couple of trees. Mornings and later afternoons can find it relatively secluded, but it fills up in the middle of the day with visitors arriving from organized boat trips.
Driros Beach is just across from Spinalonga island. It's shaded with pine trees and has lovely sands. There are many watersport activities.
The clean pebbled beaches of Plaka has magnificent waters and a lovely view of Kalydon island. Plaka itself is picturesque with lovely old houses and traditional tavernas.
Activities around Elounda
This is such an amazing coastline. Explore this section of Mirabello bay with an excursion by boat. There are many private boat excursions that can be arranged for a very special experience, including seeing some of the underwater ruins.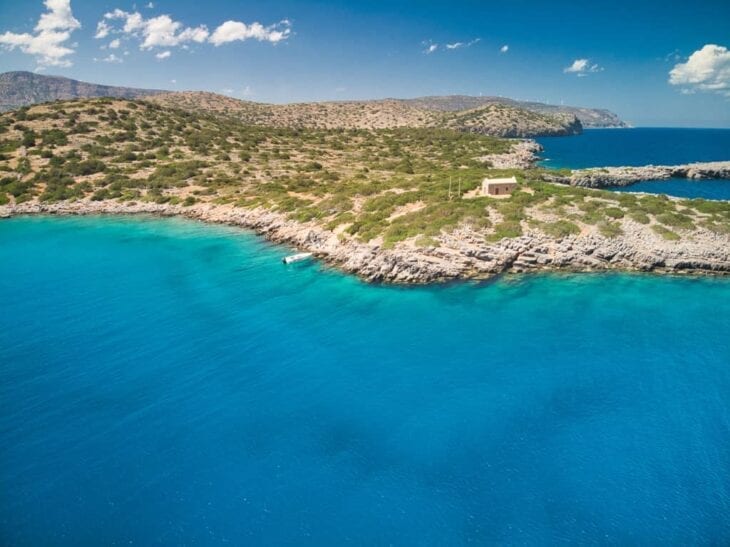 This is a great place to try scuba diving – there are well-equipped facilities with experienced and patient instructors. You can even have one-on-one instruction. It's a magical experience.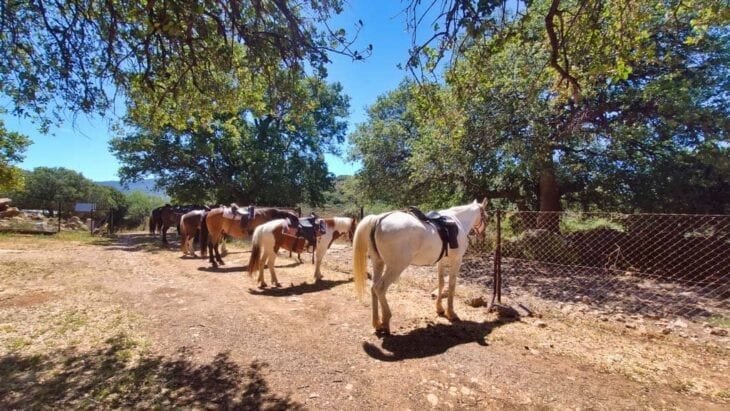 Of course, we're here for the coastline. But the inland area is spectacular- green and unspoiled with sweeping vistas of olive groves and mountains. The village of Fourni is one of the prettiest traditional towns of Crete – quiet and not touristy. Explore the beauty of the Cretan countryside on horseback. There are wonderful horseback riding excursions for riders of every skill, even absolute beginners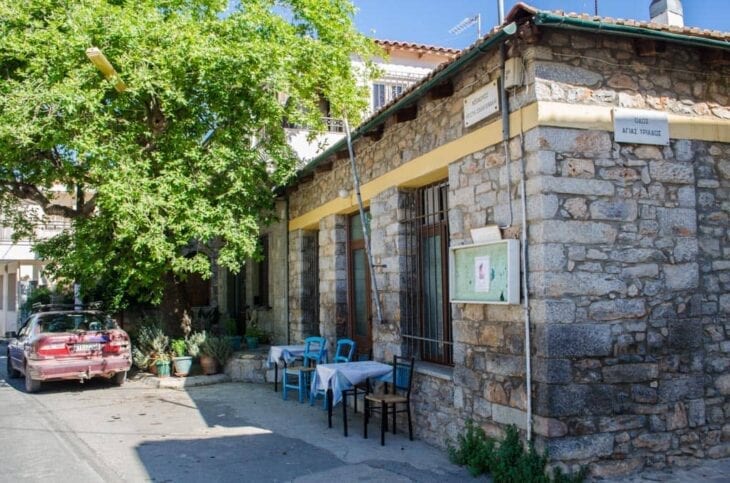 Cultural Excursions around Elounda
One of the best excursions to do around Elounda is to visit Spinalonga island, which is a protected site under the auspices of the Greek Ministry of Culture and Sport.The whole of the islet is gloriously fortified and a site of great natural beauty. The poignant and inspiring chapter of its history as a leper colony is fully explored through exhibits and text in the atmospheric stone rooms of the former facilities.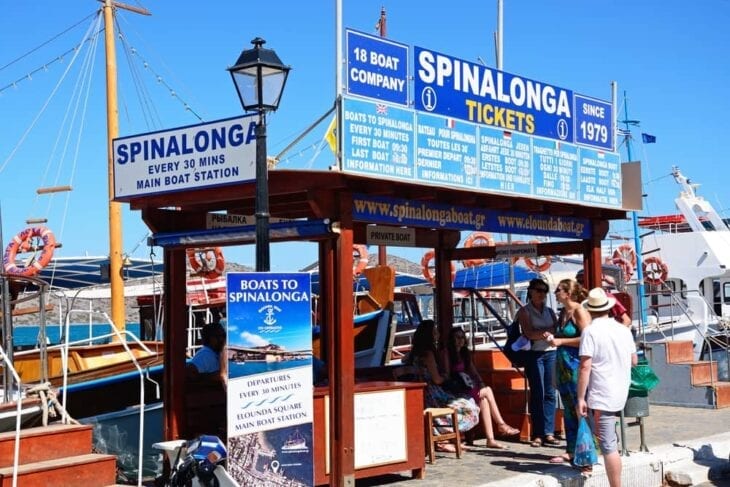 Another excursion is to the Ancient city of Lato, a city of the Minoan period, flourished after the Dorians arrived. This was one of the most important Doric city-states, and is one of the best preserved sites of the classical and Hellenistic eras in Crete (5th – 1st centuries BCE).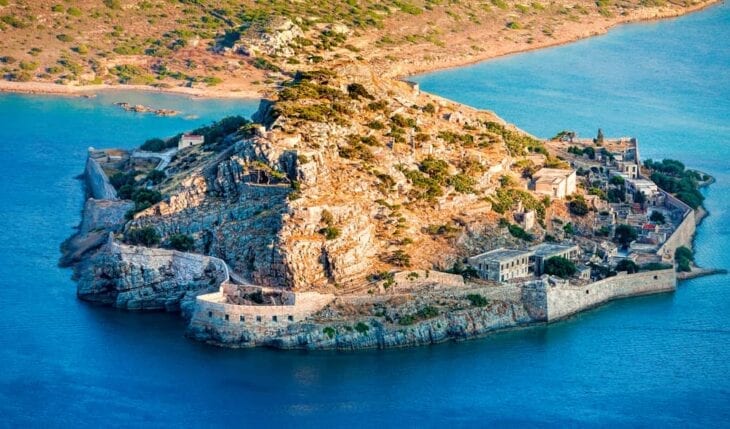 Where to Stay in Elounda
Elounda is an area flocked with luxury hotels, most of them offering world-class service and amenities. Here you can find some suggestions on where to stay in Elounda that will ensure your holidays are luxurious and exciting.
Cayo Exclusive Resort & Spa
A resort built for relaxation, Cayo Exclusive Resort & Spa is a luxurious hotel in Elounda that offers breathtaking views over the Aegean Sea. Lush gardens with wonderful traditional architecture surround the resort. It features an outstanding pool overlooking the sea and spacious suites with private balconies where you can enjoy your breakfast or simply unwind after a long day of traveling.
Address: Plaka, Elounda, Crete
Website: https://www.cayoresort.com/
Contact: +30 2841 044700
Elounda Bay Palace
Elounda Bay Palace is a good option if you're seeking for a romantic hotel for you and your loved one. The hotel rooms have a flat-screen TV, air conditioning, and a minibar, and access to the internet is simple thanks to free wifi. While staying at Elounda Bay Palace, guests have access to an outdoor pool, bar, restaurant, spa facilities and more.
Address: Elounda, Crete 720 53 Greece
Website: https://www.eloundabay.gr/
Contact: +30 2841 067000
Domes Aulus Elounda
This adults-only resort will have you pampered with white-glove service. With its private beach and spa facilities, Domes Aulus Elounda is the perfect choice for an unforgettable holiday. The rooms are luxurious and feature unparalleled views of the sea, while the suites offer secluded gardens with plunge pools. The food served at this hotel is exceptional too.
Address: Aghia Paraskevi, Elounda, Crete
Website: https://domesresorts.com/domesauluselounda/
Contact: +30 231 081 0624
Where to Eat in Elounda
From cafes and taverns to restaurants and bars, Elounda offers a myriad of dining options for all tastes and budgets. Here are some you should try out:
Ariadne Pizzaria Restaurant
If you're into pizza and pasta, you could never go wrong with Ariadne Pizzaria Restaurant. It is a locally-run restaurant in Elounda that serves delicious home-made pizza and pasta with fresh vegetables, traditional sauces prepared by top chefs, and many other meals. The place is popular among locals and tourists for its generous portions and affordable prices.
Address: Andrea Papandreou 64, Elounda, Crete
Website: http://www.elounda-ariadne.gr/
Contact: +30 697 208 8399
Isla Bistrot & Cocktail Bar
Food and drinks by the sea are always a good idea. And with Isla Bistrot & Cocktail Bar, you can have delicious meals while admiring the beautiful sea views. Flavorful seafood is certainly something to experience here with the restaurant offering many Mediterranean dishes.
Address: Epar Od Agiou Nikolaou – Vrouchas 52, Plaka, Elounda,
Website: https://www.facebook.com/people/Isla-bistrot-cocktail-bar/100038930846219/
Contact: +30 2841 044600
Dimitris Steak House
Dimitris Steak House is a local fave best known for its succulent meats and superb steak. Their meat is cooked to perfection, with the service and ambiance drawing in customers from all around. The restaurant is family-friendly and offers a large menu with soups, salads, traditional Greek dishes and much more.
Address: Omirou 2, Elounda, Crete
Website: https://dimitris-steak-house-restaurant.business.site/
Contact: +30 2841 041822
Explore Elounda
This wild and beautiful region, dotted with picturesque villages and hidden coves, is made for exploring. Make an itinerary for the highlights, but leave plenty of time to drive around and make discoveries of your own.