Crete is the largest and most populous island in Greece. It is ranked 88th largest island in the world. Crete hosts the largest number of gorges in Greece. For years, hiking has been a tourist attraction in Crete. More and more tourists, mostly from German-speaking countries, come for hiking. Most Crete Gorges hikes start in the mountains and end at sea. Some gorges will require mountaineering equipment to climb. Other gorges can be accessed by walking on easy trails for just a few hours. The Samaria Gorge National Park is one of the most prominent gorges in Crete. It has been Greece's National Park since 1962. Most hikers will love the Samaria Gorge National Park because it offers many hiking trails with majestic views. The Samaria Gorge National Park can be considered a Crete budget-friendly gorge. The Topolia Gorge, in the inland area of Kissamos, offers an impressive landscape. Topolia Gorge is known to locals as the "Gorge of Caves", due to the many caves found along its route. According to local traditions, Topolia Gorges hosted fairies and the magical Minoian Goddess Vritomartis. The Ha Gorge is located on the west side of the Thrypti mountains near Vasiliki and the small village of Monastiraki. The gorge is very narrow, and the walls rise hundreds of metres. The area inside Ha Gorge is an important wildlife habitat. Crete has the best gorges every tourist needs to visit.
On the island of Crete, there are even roads running through several Crete popular gorges; one can appreciate the beauty of nature with a rental car. Almost all Crete gorges require a lot of walking and hiking. Tourists will be needing a car to get to their location and explore the island. Car rentals are very accessible on the whole island of Crete. They offer different kinds of services, and packages depending on the location a tourist would visit. In Crete, a car can be rented for just a day trip up to a whole month-long holiday. Car rental in Crete is highly recommended for tourists who are not fans of hiking and adventure. One can go driving around the beautiful island of Crete and enjoy the gorgeous view of the gorges.
1. Samaria Gorge National Park
One of the most scenic national parks in Europe, the Samaria Gorge National Park stretches more than 10 miles into the southern coastal region. Samaria Gorge National Park has been Greece's National Park since 1962. It is located on the island of Crete, a famous tourist attraction of the island, and a World Biosphere Reserve. It offers many hiking trails for tourists and locals.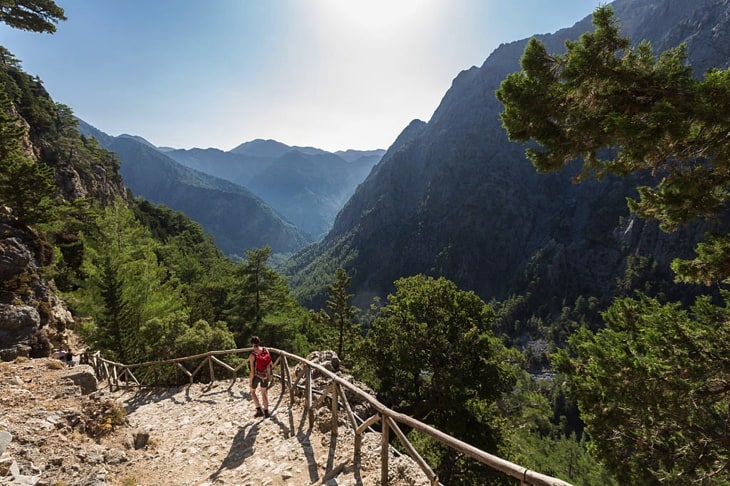 Local tourist operators provide organised tours to Samaria Gorge. The tour package includes bus transportation from one's hotel to the entrance. There will be a bus connection waiting for hikers after they disembark the ferry boat in Sougia or Sfakia. There is also a one-day round trip from Chania or from Sougia or Paleochora, in case a tourist wants to be on their own. Samaria Gorge National Park is Crete's second most visited tourist spot and the most popular walk by far. Every day there may be up to 2000 or more people walking through the gorge of Samaria. The best time to visit the National Park is between May 1 and October 15 each year, it is open from 6 am until 4 pm. Most tourists gave positive reviews to Samaria Gorge National Park. The stunning view of the park makes the long hike worthwhile. Other reviews state that hiking is definitely not easy, especially if one is not a seasoned hiker. There are strict rules that need to be followed inside the Samaria Gorge National Park. One of the health protocols against the Covid-19 virus is the mandatory use of a mask for both employees and visitors in all areas. An average walk takes 6 to 7 hours in Samaria Gorge National Park, which includes some recreational points inside the park where visitors can stop for a while to rest and appreciate the breathtaking scenery. Tourists and other visitors who have experienced hiking in Samaria Gorge Park described it as a medium-difficult hike. The hike is mostly downhill and the most challenging part is the first 6 km of the trail.
2. Topolia Gorge
The Topolia Gorge is located in West Crete, and it runs along the road leading to Elafonisi via Elos. It is located in the inland area of Kissamos. The Topolia Gorge is impressive, and it has wild landscapes. The vertical walls have a height of 300 metres and the width of the stream bed varies between 5 and 50 metres. It has a thick watercourse with plane trees and other Cretan countryside typical plants. The many shallow caves and hollows in the walls are the characteristics of Topolia Gorge. There are two points of access to Topolia gorge, one in the north located near Omalos plateau, and one in the South, near the coastal village of "Agia Roumeli". The north entrance is accessible by car, but the south entrance is only accessed by boat. There are buses that operate one daily from Kissamos to Topolia. Many tourists appreciate driving along the winding road compared to hiking. The majestic path is located south of Kissamos and the scenery consists mostly of vegetation. One of the most impressive features of Topolia Gorge is the shadows that fall onto its rock faces mid-afternoon. Tourists describe it as a gorgeous sight to behold. The best time to visit Topolia Gorge is during springtime in August. The average walk in Topolia Gorge will take 3 hours. The Greek Ministry of Tourism has released specific health protocols against Covid-19 to be applied and followed by the whole Greek tourism industry. Wearing a mask is still mandatory in all areas. Most visitors generally considered Topolia Gorge a moderately challenging route.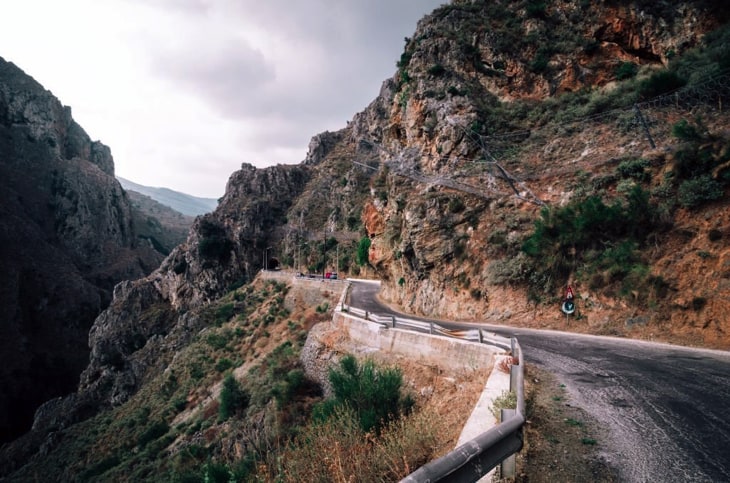 3. Ha Gorge
Located on the west slope of the Thripty mountain range, Ha Gorge is a rich and diverse flora and fauna. It is a narrow gorge at the Monasteraki Dakos, located on the eastern part of Crete island, in Greece. The gorge is on the north end of the Isthmus of Hierapetra and access to the geological fault is extremely difficult. The road leading to the gorge is 110 kilometres along the national highway. The Gorge can also be accessed by walking. The imposing Gorge of Ha is considered the most beautiful technical gorge in Crete. Visitors can experience the beauty of Ha Gorge by trekking from its exit at Monastiraki. While adventure seekers, tourists can try gorgeeering in the waterfalls. The Ha Gorge is one of the most beautiful gorges in Crete, but most tourists will be needing technical equipment for gorgeeering to enjoy the waterfalls. Reviews from tourists claimed that they can also see the lovely view only from a distance, it is dangerous to enter the gorge, especially if a tourist is not an experienced climber. The best time to visit Ha gorge is during summer and winter. Ha Gorge is full of water after rainfall and snowmelt, like most Cretan gorges. Like other tourist spots in Crete, when visiting Ha gorge, wearing a mask is still mandatory indoors, except for children ages 4. Although tourists from other countries are no longer required to present vaccination certificates in most establishments.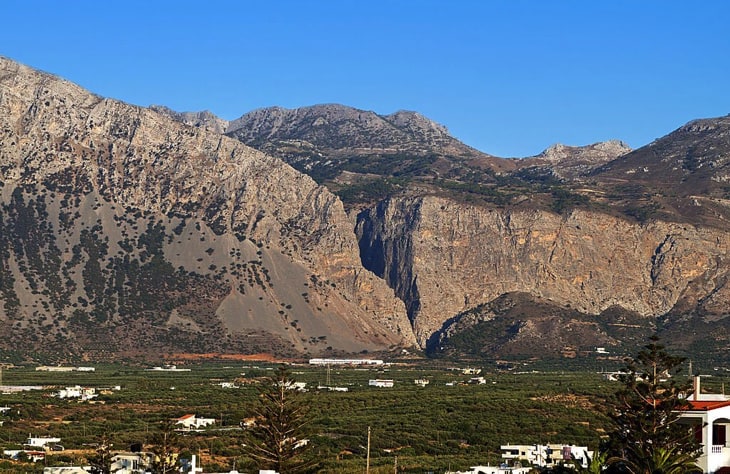 Ha gorge is an easy hike. It is not considered a long hike. Visitors can walk for about 2 hours. One needs to be an experienced climber when trying to climb Ha Gorge, it has about 33 rappels and the largest is 35 metres high. The level of difficulty is high when climbing because technical equipment is required.
4. Gorges of Theriso
The Gorges of Theriso are located near the city of Chania. Theriso is a tiny Cretan village and has a remarkable history with the freedom and independence of the people of Crete. Visitors can go there by car. There are also bus services on the island and car rentals. The main gorge is 6 kilometres long. The beautiful Gorges of Theriso has dramatic mountain scenery and gorges. It is a wonderful place to go for a walk and is popular with hikers, and rock climbers. The Gorges of Theriso are known for its many traditional tavernas in the small village, where they serve famous Cretan lamb and abundant local fresh produce. The tourists' reviews of Gorges of Theriso are relatively nice due to its relaxed and quiet ambience. There are good reviews about the peaceful and historical village of Theriso. The food also receives good reviews, mainly because of the fresh ingredients used. The majestic landscape of Gorges of Theriso makes it a popular tourist destination. The best time to visit the trail is March through November. Like any tourist spot in Crete, wearing a mask is still required in indoor areas in Gorges of Theriso. Most visitors enjoy driving through the lovely gorge for about 20 minutes. Then it will lead to the small village where visitors can do a 3 hr hike into the high mountains. The Gorges of Theriso are a must-visit place with an easy level of difficulty.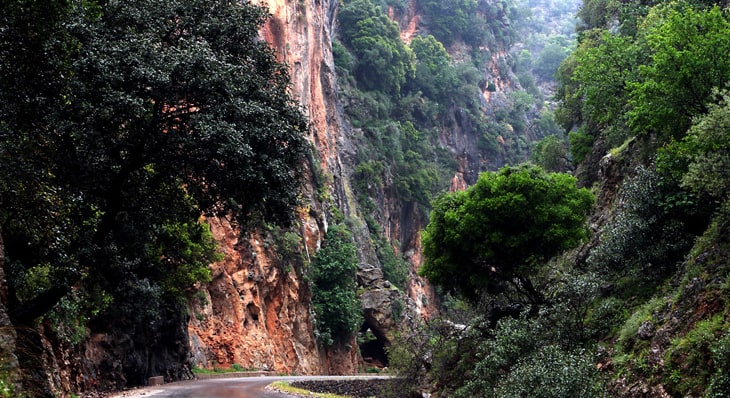 5. Gorge of the Dead
Gorge of the Dead also known as Gorge of Kato Zakros, starts a short distance from Ano Zakros, 100km southeast of Agios Nikolaos church, and ends at Kato Zakros beach. It is an exceptionally beautiful gorge, with its high walls with big caves. Tombs from the Minoan era have been found there; that is why it is called "Gorge of the Dead". The beauty of the landscape and it's easy accessibility makes it popular with tourists. Gorge of the Dead is accessible by car. Just leave them at the entrance and walk down the gorge. There are also buses and taxis available. Gorge is known as an archaeological site located in the area of Zakros on the far east side of Crete. Tourists mostly gave Gorge of the Dead good reviews due to its majestic views and its historical value. The beautiful gorge is an excellent place to hike, and it is surrounded by flowers during springtime. Tourists gave Gorge of the Dead good reviews and recommendations. One of the main attractions of Gorge of the Dead is the burial grounds in the caves and the gorgeous mountain view. The best time to visit the Gorge of the Dead is during spring and summer, when most riverbeds are dry. Like most places in Crete, there are still health protocols when visiting the gorge. Covid-19 protocols are still observed, like the wearing of masks in indoor public areas. The Gorge of Dead is an approximately 2-hour hike of medium difficulty, suitable for young and old in good fit.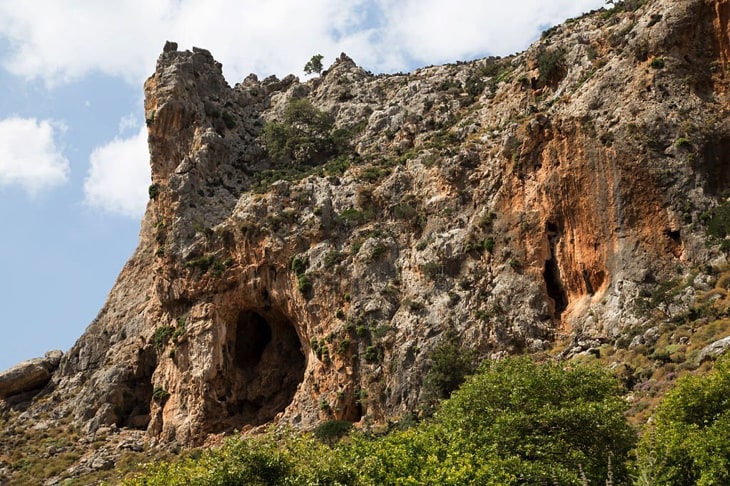 6. Kotsifou Gorge
Kotsifou Gorge is a gorge on the southern side of the western part of the island of Crete. It is noted for the high number of Cretan endemic plant species that grow in the area. The road in Kotsifou Gorge runs through a narrow slit in the mountains. It is located west of the mountain of Kouroupa, north of the town of Plakias. It is on the road between Sellia and Angouseliana. Furthermore, it is one of the beautiful gorges on the island of Crete. When planning to visit the Kotsifou Gorge, a rented car is advisable to go around the road and enjoy the view. The beautiful roads and landscapes make the gorge very accessible to visitors. It is a highly recommended place to visit, especially for nature lovers. There is a little Orthodox chapel right on top of the hill that is popular with tourists. Although it has some pretty good reviews about the Kotsifou Gorge, there are some tourists who find it not worth a special trip. The cool landscapes, and flowering bushes growing on the hillsides, is what make Kotsifou Gorge a nice place to visit. The best time to visit Kotsifou Gorge is from mid-May to June, or from September to October. Mostly in early summer, when beautiful wildflowers can be spotted throughout the area. Tourists can drive for 3 hours on the beautiful road of Kotsifou Gorge. Health protocols are still observed anywhere in Crete. In Kotsifou Gorge, tourists are no longer required to present their vaccination cards when entering an establishment, but the mandatory wearing of a facemask is still observed. The Kotsifou Gorge has easily accessible roads and has an easy level of difficulty when planning to go hiking.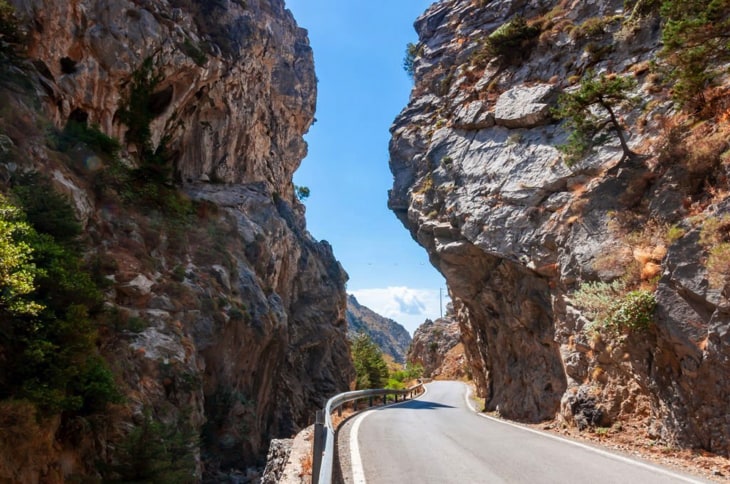 7. Kritsa Gorge
Krista Gorge starts just about in the picturesque village of Kritsa. It is 9.5 km southwest of Agios Nikolaos and ends at the Tapes village. Krista Gorge is 4 km long and its width is only 1.5 m in some areas. It is pretty much accessible, but visitors must climb over some big rocks. Kritsa Gorge has an impressive entrance to the gorge, as the mountain is torn in two, shaping the narrow passage of Havgas. Kritsa Gorge is a popular trail for hiking flanked by steep cliffs. There is a shorter route that follows the gorge for about 2 km, before going uphill. Follow the trail to the right, parallelling the gorge below the parking area. Tourist reviews include the gorge is easy to find and well-marked along the trail. Some reviews from tourists noted that Kritsa Gorge is a great hike for families with younger children. Tourists who love to hike must visit the stunning Kritsa Gorge. There are also restaurants around the area where they serve delicious Greek salads and moussaka. The best time to visit Kritsa Gorge is all year round, except when it has rained previously and the ponds are full of water which blocks the passages. Same with other places in Crete, wearing a mask is still mandatory and other health protocols. It would take about 2 hrs to complete a hike in Kritsa Gorge with a moderately challenging difficulty.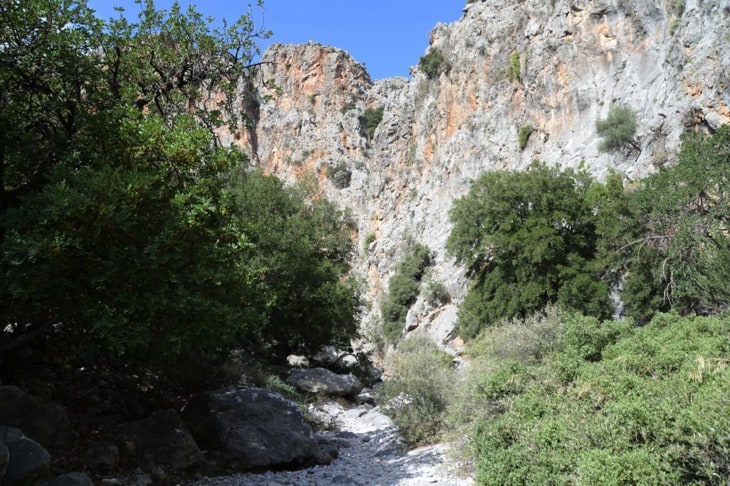 8. Aposelemis gorge
The Aposelemis Gorge is the longest and most important geological gorge in the northern part of Heraklion. The gorge exits at the settlement Agriana. It is crossed by the Aposelemis river, but the gorge has water only after heavy rain. The local municipality in recent years has created a very beautiful path along the bed, which makes walking enjoyable and very accessible. The easiest way to access the Aposelemis gorge is through its north exit. It is a great place for hikers where a lot of climbing is involved. There are taxis available in the area. It would take 2 to 4 hours to traverse the gorge. The Apolosemis gorge has excellent views and at the top, almost all of Crete can be seen. Some popular tourist reviews were about their hiking experience and the beautiful, quiet, and ideal place with friends. The best time to visit Aposelemis Gorge is during summer. There are health protocols that need to be followed on Aposelemis Gorge like the mandatory wearing of masks in indoor establishments. The Aposelemis Gorge would take 2 to 4 hours of hiking with medium difficulty.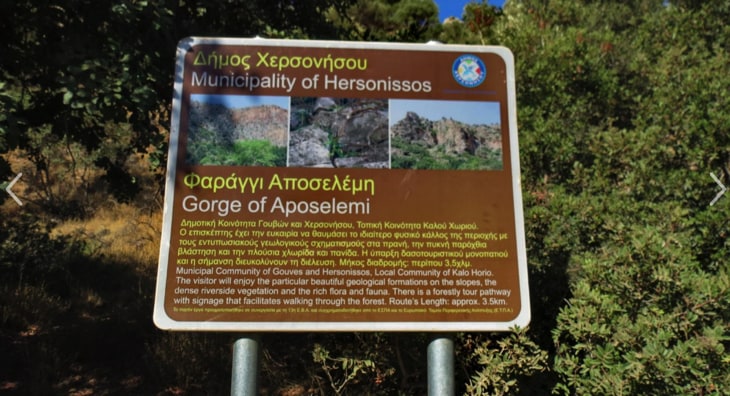 9. Chochlakies Gorge
The Chochlakies Gorge lies in the far east of the island. It gets across the village of Chochlakies to the scenic bay and beach of Karoumes. The gorges are full of amazing geological formations. The Chochlakies Gorge is very accessible by walking from the village of Agathias by Palekastro. After reaching Chochlakies, one can take the bus back to Palekastro and this 2nd route takes about 4 hours. There is a curve alongside the steep cliffs of Chochlakies Gorge, and it ends on the beautiful beach of Karoumes. Tourists who have visited the Chochlakies Gorge have nothing but good words to say about the gorge. What they love about it is the accessibility of the gorge and the lovely deserted beach of Karoumes. The green rocky landscapes are what make the charming Chochlakies a worthy tourist spot. The best time to visit Chochlakies Gorge is in all seasons. There are still Covid-19 health protocols in the area that tourists and locals must follow. Wearing a facial mask, especially in indoor public areas, is still observed. It would take 2 to 3 hours to walk in Chochlakies Gorge, and it has an easy level of difficulty.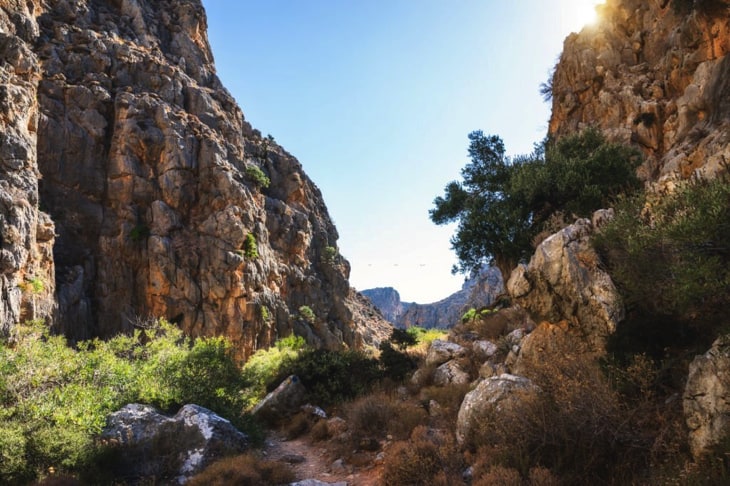 10. Gorge Sarakina Meskla
Sarakina Meskla is a gorge in the village of Meskla, in Chania. It can be easily accessed driving past Agia leading Omalos. The gorge is quite small and would take around 20 minutes to cross. The majestic rock formations are highly impressive and definitely worth the time to visit. The name sarakina comes from the faith of the locals that Saracenes used to hide there. It is hidden in a ravine with some big cypress and plane trees. Local authorities tried to promote the site, and they built trail paths that crossed the gorge starting from Meskla. Tourists and visitors would love the landscape that changes after the first 10-minute hike to boulders of limestones. It is a wonderful sight and a true miracle of nature. It receives high ratings from tourists due to its well-maintained trail with a perfect viewpoint at the top. The amazing rock formations and the tranquil silence, only interrupted by chirping birds during the hike, are what make it popular with tourists. The best time to visit Gorge Sarakina Meskla is in the month of May through November.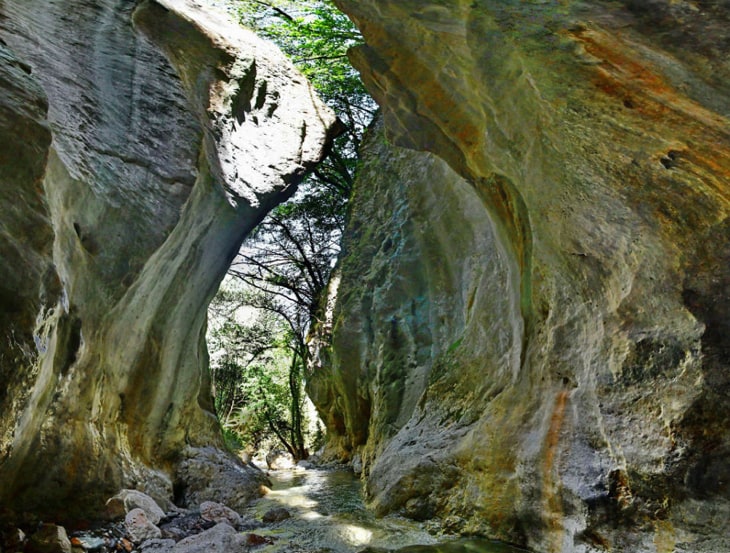 Tourists can enjoy the outdoors because the wearing of a mask is only required in indoor establishments. There are still health protocols concerning Covid-19 that must be followed. It would take an average of 2 hours and 30 minutes to complete the trail with a moderate level of difficulty.
Which are the best gorges in Crete for kids and families?
The best gorge in Crete for kids and families is the Gorges of Theriso. It is a very peaceful village with historical significance. There are restaurants that serve sumptuous meals that are made from locally made feta and olive oil. One way to enjoy Gorges of Theriso is by driving through the gorge. Kri-Kri goats are mostly seen on the road; kids will definitely enjoy seeing them.
Which are the best gorges in Crete for travellers on a budget?
The Samaria Gorge National Park is the best gorge in Crete for travellers on a budget. Samaria is one of Greece's National Parks. There are lots of good accommodations in several taverns where one can eat. There is a huge beach near the area that visitors will love. The entrance fee to Samaria Gorge costs five euros, and children under 15 years old get a free pass.
What do you need to know about Crete as a tourist?
Listed below are the things visitors need to know about Crete as a tourist.
Flying to Crete. There are three options for travelling to Crete since it has 3 airports. The main airport is Heraklion, with an average of 40,0000 international and domestic flights per year. If one is staying on the east side, it is better to fly to Sitia Airport. If staying in the west, one can book a flight to Chania Airport.
Getting a Ferry. Boat trips in Crete are more affordable than flying, although it takes longer. There are varieties of ferries travelling to Crete.
A place to stay. Planning a holiday or a quick trip to Crete requires deep research to find the best place to stay. It is recommended to stay in Chania for first-time visitors. Chania is close to some beautiful beaches, shops, and restaurants.
Best time to visit. Just like any tourist destination, the island of Crete can get very crowded and expensive during peak seasons. The best time to visit the island is from April to early November. When planning to visit the island, one can check the internet for a Crete travel guide.
How to travel around Crete. The main public transportation in Crete is buses and taxis. There are also boats available when planning to go to nearby beaches. In order to maximise the trip to Crete, it is highly recommended to rent a car. Renting a car will allow one to move around the island faster.
Food and Drinks. One way to enjoy a perfect holiday is by trying local delicacies and food. Food is a significant part of Greek culture. Cretan cuisine uses fresh ingredients and is grown locally. Crete is home to some local wines. A must-try important drink on the island of Crete is Raki. It is served free in every meal in Crete.
Do you need to rent a car to visit Crete Archaeological Museums?
Yes, visitors need to rent a car to visit Crete Archaeological Museums. In order to move around the places, renting a car is needed. Especially when travelling as a family, renting a car is beneficial to enjoy the beautiful places in Crete. Tourists can maximise their time and make their itinerary fit for their liking whenever they're driving a rented car instead of taking public transportation.
What are the factors to consider before renting a car in Crete?
Listed below are the factors to consider before renting a car in Crete.
Insurance. Crete car rental includes insurance for Collision Damage waiver, and a debit or credit card with the driver's name is required as a guarantee. Rental car insurance protects a passenger against the cost of damage that may happen when renting a car.
Driver's age. In Crete, the legal age needed for a car rental driver is 21 years old. A driving licence valid for at least 12 months is also required.
Driver's gender. As long as the driver is of the legal age of 21, driving regardless of gender is allowed in Crete.
Car type. Opting for a smaller car is best when driving in Crete. The main reason is that Greek roads are narrow. There are noticeable smaller cars on the roads too.
Documents needed for renting a car. Most people think that the only necessary document for renting a car is a driving licence. However, a debit or credit card with the driver's name must be provided.
How much does a car rental in Crete cost?
The car rental cost in Crete varies depending on the location, the number of passengers, itinerary, car type, and duration. The average cost of renting a car in Crete is around €30 to €40 per day. Renting a car for a whole week will cost on average €250, while renting for the weekend will cost around €78. Affordable car rentals in Crete vary depending on the car type.
How does Covid19 affect car rental in Crete?
The car rental industry in Crete has affected many industry sectors, especially car rental. Car rental in Crete was greatly affected, mainly as a result of travel restrictions and the lack of demand among travellers. There was a significant reduction in passenger numbers, resulting in zero flights, cancelled tours, and hotel bookings. During the pandemic, people were advised to just stay at home and limit their travels. One of the main fears during that time is contracting the virus during travels. Car rental operations in some countries were stopped or were forced to close down the business. Now that travelling is allowed in most countries, there is an improvement in car rental in Crete. Car rental companies around Crete follow specific guidelines in preventing the spread of the Covid-19 virus. They follow thorough cleaning procedures for each car after every rental. Only cleaning materials are allowed to be used, as mandated by the National Organisation for Medicine. There are specific guidelines for all employees involved in the process of vehicle delivery and collection. Employees are encouraged to always use hand sanitiser at all times. If an employee gets infected with the virus, the company must set up immediate disinfection of the vehicle and facility. There should always be a Crisis Management protocol in every company.
Do you need a map to visit the Gorges in Crete?
Yes, a map is needed when visiting Gorge Crete. It may sound old-fashioned, but a map is important, especially when travelling to a foreign land. Luckily, there are maps available using a mobile application that can be easily accessed using a mobile phone. The advantages of these modern maps are that they provide live traffic updates, directions, and available modes of transportation in a specific area. There are also available voice command maps, where users can receive spoken directions and cues that will help them navigate to their destination. Tourists can have easy access to the best locations and historical places on the island. One way of appreciating the Crete gorge is by understanding Crete history. Visitors can do that by checking historical areas and museums around the area.