Adrianos Gorge is situated in the Lassithi Prefecture, in the easternmost regional unit on the island of Crete, to the east of Heraklion. It is near Agios Nikolaos and Agios Konstantinos. Adrianos Gorge is listed as a challenging walk, although not particularly long. The walk starts at the Adrianos Village, with a long uphill ascent, moving onto a rough trail. It is necessary to keep an eye out for the yellow and blue markers and note if they have an arrow showing the direction to take. The path eventually takes above the small village of Adrianos, where it has to negotiate a steep descent. The elevation of the gorge is 384 metres. The route is 8 kilometres and the time to complete the trail is approximately 4 to 5 hours. Adrianos Gorge is rich in vegetation, rare caves, and unusually steep rocks. The caves along Adrianos Gorge are Maridon and Atziganospilios. Human bones and shells are found inside the Cave Atziganospilios, which is believed to serve as a burial place. Moreover, many touring and hiking companies organise the hike in Adrianos Gorge. Hiking the gorge needs to be physically fit and you have to wear a proper hiking outfit and equipment since there are risks in hiking gorges.
The best time to visit Adrianos Gorge is from September to mid-October. There are things to bring when visiting Adrianos Gorges, including footwear, a hiking backpack, proper weather clothing, food, water, safety first aid kits, and multi-tool. Adrianos Gorge has nearby attractions such as Knossos Palace, Aposelemis Gorge, Aposelemi Gorge, Skotino Cave, Karteros Gorge, Folklore Museum of Gouves, Cave of Maridon, and Cave Atziganospilios. Moreover, Car Rental Crete provides leisure and convenience when travelling to different places, such as the desired tourist destination, restaurants, or hotels. There are numerous car renting companies available all over Crete that offer various car models. A valid driving licence, a 21 year old driver, and a credit or debit card with the driver's name are essential to rent a car in Crete. Choosing an appropriate vehicle depends on the number of passengers. Car rental in Crete is available 24/7. The cost to rent a car ranges from €30 to €250. Furthermore, Adrianos Gorge is one of the important tourist destinations in Crete. To preserve the gorges, the government imposed laws and regulations.
What is the history of Adrianos Gorge?
Adrianos Gorge is defined as imposing, high slopes and gigantic stones. It begins in Adrianos village. The steep rocks across the gorge make hiking challenging, but not unattainable. The elevation gain of the Adrianos Gorge is 384 metres, and the length is 8 kilometres near Choumeriakos. There are caves adjacent to Adrianos Gorge, namely Maridon and Atziganospilios. The river gushing in the Adrianos Gorge is part of the Skoulikaris or Xeropotamos stream that collects water from the valley of the Potami village, and it drains, after several kilometres, near the stadium of the Agios Nikolaos town. There is a 60 metres high vertical stone in the centre of the Adrianos Gorge named "Portes". It is accessible only by rope.
What is the archaeology of Adrianos Gorge?
There are caves along the route to Adrianos Village, namely Maridon Cave and Atziganospilios Cave. The residents uncovered skeletal remains and shells within the tiny room of the Atziganospilios cave. It is deemed that the Atziganospilios cave formerly functioned for burial purposes.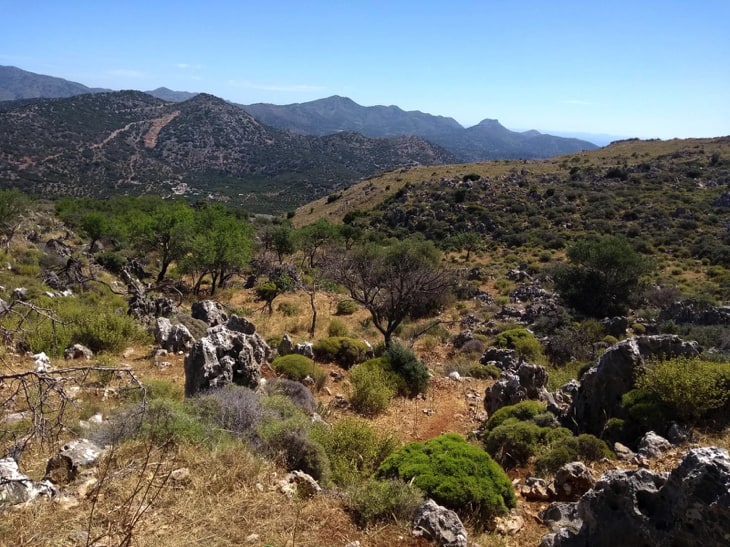 What are the myths about the Adrianos Gorge?
No particular myths refer to Adrianos Gorge, but the whole island of Crete is filled with myths and legends. One famous myth about the island is about Talos, a bronze giant made by Vulcan and offered to King Minoas as a gift. According to Cretan mythology, Talos was assigned to guard Crete. The giant went around the island three times a day. This giant monster set upon the foreign visitors by throwing rocks and wood and finished them off by burning them.
How was Adrianos Gorge formed?
Adrianos Gorge was formed similarly to any other gorges in Crete. According to scientists, the gorges in Crete were primarily formed in calcium carbonate rocks, such as limestone and marble. They have concluded that the extensive process of geological weathering of rocks by water erosion resulted in the creation of the Gorges in Crete. In addition, another reason for the formation of gorges in Crete is the tectonic activities that happened.
How is the Adrianos Gorge preserved?
Adrianos Gorge is one of the important gorges and holds significant history in Crete. Since tourism is one of the drivers of Crete's economy, the government imposed some laws and regulations to preserve tourist destinations. Generally, the Council of Europe legislation provides that from the beginning of the modern Greek State's foundation, holding cultural assets, such as the Adrianos Gorge, was a state duty. Law 3028/2002, "On the Protection of Antiquities and Cultural Heritage in General", is the primary piece of legislation governing the security of cultural heritage. It establishes a comprehensive and elaborated system of protection in relation to fixed and unfixed statues, relics, and intangible heritage.
How does the Adrianos Gorge map look?
Below is the image of the Adrianos Gorge map.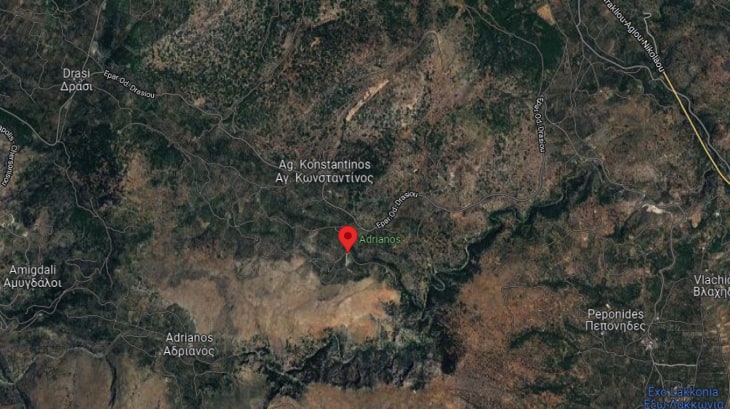 What are the hiking routes in Adrianos Gorge?
The main hiking route of Adrianos Gorge begins with a long uphill climb, going onto a rocky road course. It is necessary to be aware of the yellow and blue markers and observe the arrows that indicate the direction to follow. The trail leads over Adrianos' village. The path is a steep descent. Head left and observe the marks to the gorge. The course in Adrianos Gorge has little shades, and the pebbles are loose and challenging to hike on. There are two areas in Adrianos Gorge where a handful of passageways are very narrow, needing a couple of diversions to the sides of the gorge instead of carrying straight down the centre. The gorge's exit is close to the path to the village of Agios Konstantinos and hikers must descend through a rope. One section is about 5 metres high. Adrianos Gorge's route is a physically demanding walk and unsuitable for the unfit people.
How long is the hike to Adrianos Gorge?
Adrianos Gorge is an 8 kilometres loop trail; the average duration to complete the course is approximately 4 to 5 hours. Adrianos Gorge is one of the most challenging trails in Crete, but it is not impossible to hike. The minimum elevation of Adrianos Gorge is 789 feet (0.24 kilometres), while the maximum is 1,868 feet (0.57 kilometres). The trail type is a loop, and it is at a difficult level.
Do you need a guide to hike the Adrianos Gorge?
Yes, a guide is needed to hike the Adrianos Gorge. The routes in Adrianos Gorge are challenging and complex due to the steep rocks. Various touring companies organise the hike in Adrianos Gorge, including a guide, picnic, and equipment. Having a guide is more convenient and recommended. Hiking is one activity that requires physical endurance. A guide is essential in hiking the Adrianos Gorge because it makes the whole hike easier. Guides are the ones who navigate the trail and assist hikers with their needs. Visitors are able to avoid getting lost with the help of a guide by booking a guided tour in advance for a more leisurely hike. English and Greek are the languages that the guides use. The cost to hike the gorge ranges from €85. Hikers must be at the average fitness level before trekking Adrianos Gorge.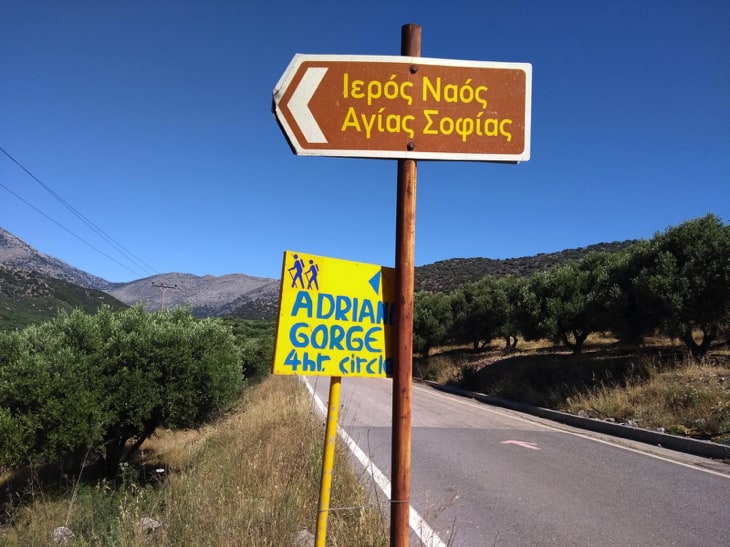 What are the risks of hiking Adrianos Gorge?
Many risks and possibilities, like medical circumstances such as strokes, cardiac arrest, and illnesses, happen when hiking Adrianos Gorge. Exhaustion, hypothermia, dehydration, and heat exhaustion. Injuries from slips and falls on the trail. Damages due to animals, snakes, and insects on the course. Hikers get trapped or injured by forces of nature such as flooding, veld fires, and lightning. Injuries brought about by criminal attacks, assaults, and robberies. There are quite a few mosquitos, so be wary of that. There are difficulties, and one needs to be aware that there is a lot of rock climbing. Adrianos Gorge has some risks. The paths in the Gorge are rocky and steep, according to the people who visited Adrianos Gorge. Hiking Adrianos Gorge requires wearing good shoes. The hike difficulty level of Adrianos Gorge is easy to difficult. However, it is suggested to be physically fit before hiking the Gorge or make sure that there are no severe health issues.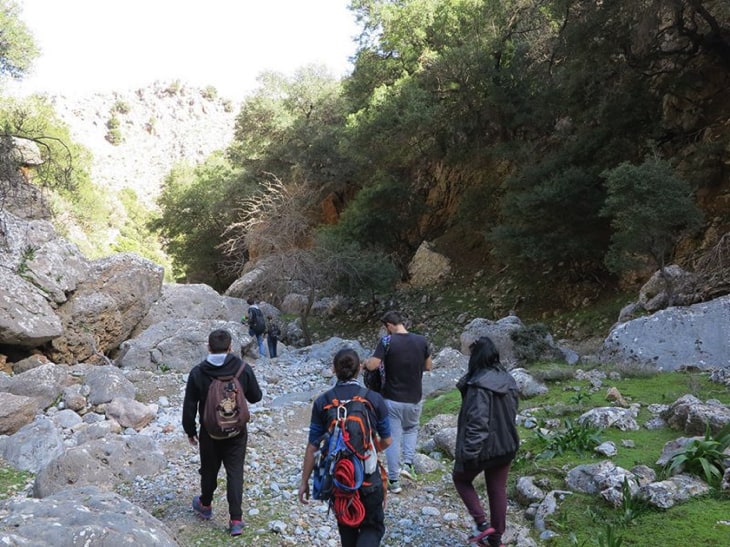 When is the best time to visit Adrianos Gorge?
The best time to visit Adrianos Gorge is Autumn, similar to any other gorges in Crete. Autumns in Crete are moderate, with common temperatures of 27 degrees Celsius in September. It starts to cool by October, with temperatures shifting from 25 degrees Celsius to 22 degrees Celsius. Rainy and chill weather starts in November. September to mid-October is the best time to explore the gorges of Crete.
What are the things to bring when visiting Adrianos Gorge?
Listed below are the things to bring when visiting Adrianos Gorge.
Footwear: Footwear specifically designed for protecting the feet and ankles during outdoor walking activities such as hiking
Hiking backpack: A large pack supported by an external or internal frame is necessary. It is used especially for carrying supplies when hiking and camping.
Rainy Weather Clothing: Water-resistant garment is worn on the upper body to shield the wearer from rain.
Proper Weather Clothing: Some cold weather clothes are long coats, coats, socks, caps, scarves and gloves. The basic clothing when hiking are T-shirts, an insulating jacket, socks, gloves and neck protection.
Food and Water: To be able to enjoy and endure the increased need for energy, the body needs more water and food
Health and Safety Items: Safety vests or brightly coloured clothing decant toiletries into smaller bottles, and Ziploc bags are hiking's best-kept secret.
Navigation tools: A compass helps to orient the map, identify land features and locate the position.
Knife or multi-tool: Besides an emergency or extreme situation. It is used to fix or repair camping gear and open packages or wrappers, or slice rope or cutting tape.
What are the nearby attractions in Adrianos Gorge?
Listed below are the nearby attractions in Adrianos Gorge.
Knossos Palace: Knossos Palace is a ritual and governmental centre of the Minoan civilization and culture. It is the biggest palace created by the Bronze Age Minoan civilization on Crete. Knossos Palace is popular due to its relationship to Greek Mythology. The structures of Knossos Palace were created to serve as a civic, religious, and economic centre. It is situated south of modern-day Heraklion, close to the north coast of Crete. It is around 150,000 square feet (0.01 square kilometres). The buildings at Knossos were about 1000, and the Palace had four wings around the centre of the courtyard. A maze of narrow stairs and corridors linked the structures.

Aposelemis Gorge: Aposelemis Gorge is situated in Analipsi and exits at the settlements of Agriana close to Hersonissos in Crete, Greece. The Gorge starts at an altitude of 120 metres near Xerokamares Village and directs west of the Agriana Village to the coast. The elevation gain of Aposelemis Gorge is 315 feet (96.01 metres), while the elevation loss is 59 feet (17.98 metres). The maximum elevation of Aposelemis Gorge is 349 feet (106.38 m), while the minimum height is 89 feet (27.13 metres). Aposelemis is possible to hike. The hike is about 8 kilometres to 10 kilometres. The trek difficulty level of Aposelemis Gorge is easy to moderate.

Aposelemi Beach: Aposelemi Beach is situated within the seaside resorts of Kato Gouves and Analipsi and a distance of 19 kilometres from Heraklion. The beach has brown sand and clear water. Aposelemi Beach is ideal for holidays and relaxation. It is accessible and free for all. The beach is where the Aposelemi River flows down to meet the Mediterranean Sea. The length of the beach is 750 metres. There are various restaurants, taverns, accommodations, bars, and café around Aposelemi Beach. The best time to visit Aposelemi Beach is during summer. August is the hottest month in Aposelemi Beach, with an average temperature of 29 degrees Celsius. It is as well the month that the sea is warmest.
Skotino Cave: Skotino Cave is a cave situated in Crete. It is elevated on a mountain Northwest of the town of Skotino. Skotino Cave is named as the Agia Paraskevi Cave. The depth of Skotino Cave is 160 metres, while the width is 36 metres. The entrance of the Skotino Cave is at an elevation of 225 metres. There is no admission fee to enter the Skotino Cave.
Karteros Gorge: Karteros Gorge is one of the largest Gorges in the East of Heraklion. Karteros Gorge has a length of 12.5 metres. The routes of the Gorge have remarkable natural, geomorphological and cultural features. Springs, lakes, and rock formations are the features of the Karteros Gorge. The Gorge is ideal and perfect for those who want hiking and mountain biking. Karteros Gorge is suitable for families and children since the paths and routes are unproblematic. The duration of the hike is 3 to 4 hours.
Folklore Museum of Gouves: The folklore Museum of Gouves is situated on the main commercial street of Kato Gouves. The museum has a massive collection of original items and photographs that shows how the ancient inhabitants of Gouves and Crete lived in the past, including their daily lifestyle and occasions. In addition, other items that are able to be discovered in the Folklore Museum of Gouves are furniture, tools, ceramic works, pottery, embroideries, and textiles. The museum was launched in 1958 AD by Professor Vasilios Kyriazopoulos. The Folklore Museum of Gouves is open from Monday to Sunday and starts from 9 AM to 6 PM.
Cave of Maridon: The cave of Maridon is situated around 300 metres east of Adrianos Village and is obtained via a brief trail. It is a small cave with a length of 20 metres, and the entrance is 5 metres high with 4 metres wide. A stone wall divides the entrance from the rest of the Cave Maridon, which stretches to 6 metres and is used as a goat pen.
Cave Atziganospilios: Cave Atziganospilios is situated in Agios Nikolaos near Maridon Cave and east of Chionistra. It is within a short distance from Adrianos village. Four large rooms and five small rooms are opened after entering the cave, with rich cave decor. The length of the Cave Atziganospilios is 48 metres, however, the route total is about 100 metres.
What is the contribution of Adrianos Gorge in the tourism of Crete?
One of the most beautiful global tourist destinations nowadays in Greece. The cities are bustling with tourists day and night, and the islands are also part of that. The island of Crete is one of the country's power stations for magnificent beaches and historical sites. With its diverse and cultural land packed with historical identity, visiting the island is more than just a typical holiday. International air travel in Crete in 2021 is 2.8 million, much more significant than before the COVID-19 pandemic.
Can you rent a car going to Adrianos Gorge?
Yes, visitors can rent a car to move around Crete. Crete Car Rental is needed to move around the places. Renting a car is beneficial to enjoy the beautiful attractions in Crete, especially when travelling as a family. Tourists maximise their time and make their itinerary fit for their liking whenever they're driving a rented car instead of taking public transportation.
What are the factors to consider before renting a car in Crete?
Listed below are the factors to consider before renting a car in Crete.
Insurance. Crete car rental includes insurance for Collision Damage waiver, and a credit or debit card driver is required as a guarantee. Rental car insurance protects a passenger against the cost of damage when renting a car.
Driver's age. The legal age needed for a driver is 18 years old in Crete (and Greece). A driving licence is also required. To hire a car, you need to be at least 21 and hold a driver's licence for at least 1 year.
Driver's gender. Driving is allowed regardless of the gender as long as they are at the legal age.
Car type. Opting for a smaller car is best when driving in Crete. The main reason is that Greek roads are narrow. There are noticeably smaller cars on the streets too. However, there are other factors to consider and help How to Choose the Right Car to Rent in Crete. There are activities in Crete that would require off-road vehicles for the exploration, in which Four-Wheel Drive (4WD) is needed. 4WD is known for more rugged terrain and typically consists of low and high options.
Documents required for renting a car. Most people think the only necessary document for renting a car is a driving licence. However, a credit or debit card with the driver's name must be provided, including a passport or a national ID card.
How much does a car rental in Crete cost?
The cost of renting a car in Crete varies according to the destination, number of passengers, itinerary, car's model, and length. The cost to rent small cars ranges from €14 to €54. The regular rate of Crete Car Rental is around €30 to €40 per day. The standard cost of renting a car for a week is €250, while for the weekend, the standard rate is around €78. Affordable car rentals in Crete vary depending on the car type.
Does overnight car rental in Crete allow?
Yes, overnight car rental in Crete is allowed. Most car rentals in Crete offer flexible schedules for car rental and are open 24 hours. They are able to pick up or drop off a car anytime. Renting a car is one of the essential things to make travel easy and make the most out of the time in Crete. Some car rental companies offer 24/7 road assistance and replacement of the vehicles just in case something happens, such as an accident or mechanical breakdown during the rental period. Rental days are calculated on a 24-hour basis. Rented cars must be returned on time to avoid additional charges. Clients are free to visit the websites of several car rental companies in Crete to access basic information regarding car renting.
Does renting a car provide you with the leisure you seek when travelling?
Yes, renting a car provides leisure when travelling. Renting a car is more convenient and offers the desired freedom, unlike public transportation. Renting a car allows one to maximise their trip without following a specific schedule. Travellers have the luxury of privacy when renting a car. They don't have to share a ride with the crowd as most tourist buses do. Renting a vehicle allows travellers to go to difficult-to-reach areas. Moreover, many rental companies enable clients to pick up or leave the car at different places in the same city at no extra cost. Additionally, cars are available for camping, which is an exciting and fun activity and cheaper than a hotel one-night stay.
What are the nearest traveller's accommodation options near Adrianos Gorge?
Listed below are the closest accommodations to Adrianos Gorge.
Aphrodite and Apollo Apartments: Aphrodite and Apollo Apartments are apartments in Agios Nikolaos Village, near Adrianos Gorge. It is near the beach. The apartment has one bedroom with one double bed and one twin sofa bed; 1 bathroom with shower, hair dryer or towels. It has a garden, barbecue grill, and furnished balcony or patio with a partial sea view. The kitchen has a refrigerator, stovetop, oven, coffee or tea maker, electric kettle, cookware, dishes, and utensils. There is limited on-site parking and free off-site parking. The apartment cost €59 per day.
Sea Breeze Hotel: Sea Breeze Hotel is located in Hersonissos, near Adrianos Gorge. The hotel has 17 rooms. They offer free Wi-Fi, air-conditioned rooms, a buffet breakfast every morning, a bar, a snack bar, and free off-site parking. It has access to the beach. They have concierge services, a front desk, tour or ticket assistance, multilingual staff, and daily housekeeping. The rooms are soundproofed, and they have a free crib, shower, hair dryer, towels, soap, shampoo, toilet paper, and mini-fridge. The hotel room cost is €39.
Du Lac Hotel: Du Lac Hotel is located in Agios Nikolaos, near Adrianos Gorge. There are 23 rooms, and they have various room types, such as a twin room with lake view, twin room with city view, studio with city view, family studio with city view, studio with lake view, and single studio with city view. They offer free Wi-Fi, air-conditioned rooms, daily housekeeping, and a bar. They have luggage storage, a front desk, and laundry facilities. The rooms have private bathrooms, furnished balconies, blackout curtains, and free cribs. The hotel room cost is €53 per day.
Elounda George Studios: Elounda George Studios is situated 9.29 kilometres from Choumeriakos. Six apartments have various amenities, including a fitness centre, terrace, garden, library, laundry service, concierge services, and laptop workspace. They offer free Wi-Fi, air-conditioned, a gym, free parking, air transfer, limited on-site parking, concierge services, tour or ticket assistance, or multilingual staff. The rooms are soundproof and have a refrigerator, stovetop, coffee maker, electric kettle, cookware, dishes, utensils, premium bedding, bedsheets, and memory foam. The hotel room cost €43 per day.
Is it possible to hire a hiking guide in Adrianos Gorge?
Yes, hiring a hiking guide is possible in Adrianos Gorge. However, it is not a requirement, but it is essential. Hiking in Adrianos Gorge is considered to be at a complex level. Experienced hikers mostly hike the area without a hiking guide. Adrianos Gorge is challenging, but it is possible to climb.
What kind of car should you rent when visiting Adrianos Gorge?
Any kind of car is able to rent when visiting the Adrianos Gorge. However, a small car like the Nissan Micra or Hyundai i10. It is perfect for a family of four or five. Nissan Micra or Hyundai i10 is a compact car that offers safe driving due to its aerodynamic shape and the Lane Keeping Assist System. It has air conditioning, ECO mood, and a deep compartment with a luggage capacity of 2 -3. Car Rental Crete companies are always available and offer convenience to the clients. It is available at the last minute, and they offer exclusive discounts.
Can elderly people hike the Adrianos Gorge?
No, hiking the Adrianos Gorge is not recommended for people with reduced mobility, like the elderly. Although hiking through the Adrianos Gorge is considered a manageable trail, it is not recommended for the elderly. Hiking Adrianos Gorge involves a lot of climbing and scrambling. Hiking in general is an activity that requires strength and endurance.
Can a couple hike the Adrianos Gorge?
Yes, couples can hike to Adrianos Gorge. The majestic landscape of Adrianos Gorge is perfect for couples. Though Adriano Gorge is moderately challenging to hike due to the steep rocks, the gorge is worth visiting. Couples are able to have new memorable experiences while hiking Adrianos Gorge. The gorge has rich vegetation, rare caves, and unique high rocks. The couples are going to appreciate the cave's beauty. Unlike other technical gorges of Crete, Adrianos Gorge requires no experience. However, hikers must wear a particular protective shoe ideal for hiking.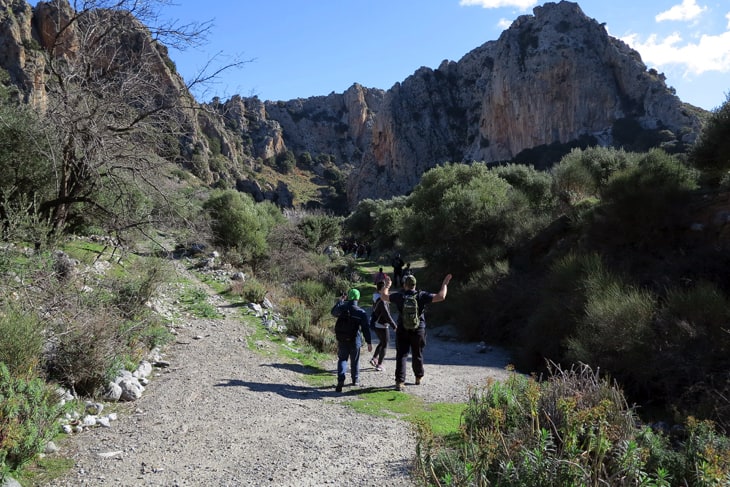 Is hiking Adrianos Gorge child-friendly?
No, hiking in Adrianos Gorge is not for children. Hiking the gorge is a physically demanding walk, and it is not suitable for the unfit, especially for small children. The route in Adrianos Gorge is challenging due to the steep rocks, and there is a vast vertical, 60 metres high and only accessible by a rope.