Elafonissi is not only one of the most famous beaches of Crete, and of Greece generally – this extraordinary destination has also made the lists of the top ten beaches in the world.
Elafonissi is a natural wonder. This is a unique, protected ecosystem — much more than a beach, Elafonissi is a precious natural habitat.
It is well worth the (gorgeous) drive to reach it.
Everything You Need to Know About Elafonissi, Crete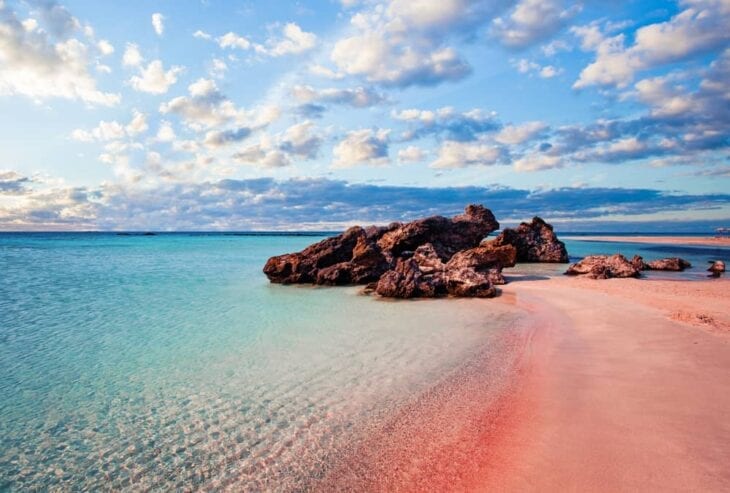 Where is Elafonissi, Crete Located?
Elafonissi is in the very southeast corner of Crete. It is a largely unpopulated area of the island, with very little to interrupt the natural beauty of the surroundings. This is an exciting corner of Crete to visit, with dramatic scenery and stunning vistas.
How to Get to Elafonissi, Crete
Elafonissi is in the region unit of Chania. There is a car rental company at Chania airport (Ioannis Daskalogiannis). Alternatively, if you will be arriving by boat at Souda bay, a car can be brought directly to you. Either way, you will be on the road in no time at all.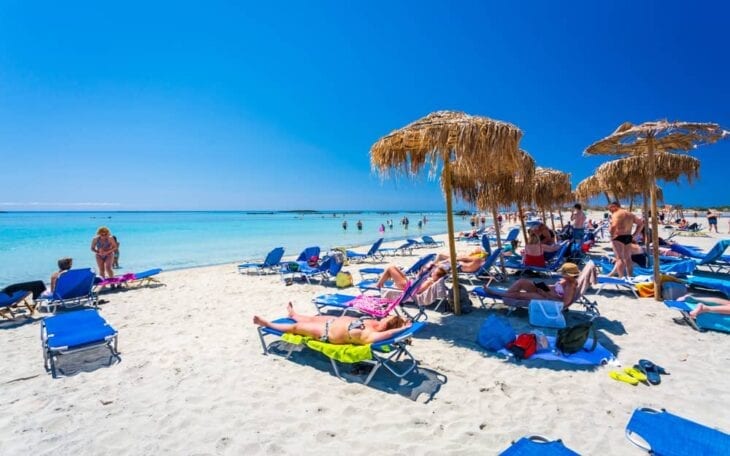 The drive is about an hour and 45 minutes. You will first enjoy views of the sea from the road hugging the northern coast of Crete. Then, you'll turn inland at Kissamos bay to cut straight across to the southwest corner of Crete. This route brings you through lush countryside and a few picturesque spots for a traditional meal in the shade.
Once you arrive at Elafonissi, you will find ample parking. From here, walk to the shores – one unprotected fronting the open Mediterranean, and the other on the bay formed by the island.
Elafonissi is often called Elafonisi Island, and the maps show it as an island, extremely close to the shore. The sea is so shallow here that you reach the island simply by wading through warm and extremely shallow turquoise waters. In fact, sometimes the currents move the sands such that you reach Elafonissi by walking across a strip of dry sand.
There is also KTEL bus service from Chania, but it is not frequent. You can check schedules here.
The History of Elafonissi
Those interested in the history of Crete in general will know that this beautiful island was much sought after throughout history. Crete's history goes back to the Minoans- the advanced Bronze Age society of Crete- and before. Between then and the present day, several foreign forces have occupied the island, with pirates invading throughout the centuries as well.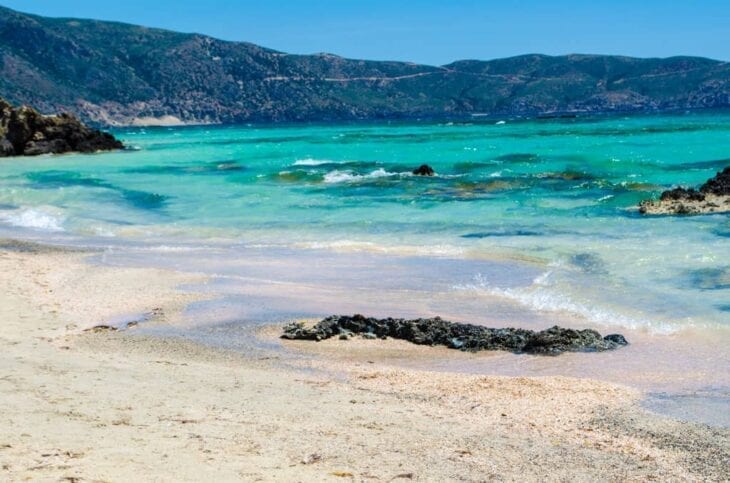 This means that even such remote looking spots as this are always touched by history. Elafonissi, is peaceful today, was the sight of a massacre of many Greeks hoping to escape the oppression of the Ottoman Turks during the Greek War of Independence. Hundreds of Greeks – between 650 and 850 – were hiding on Elafonissi and waiting for a rescue ship when they were discovered, on Easter Sunday of 1824.
This is also the site of a shipwreck. In 1907, the passenger ship Imperatrix off of the island, and its wreckage is still on the floor of the sea.
Despite tragedies though, the Elafonissi has an unusually strong positive energy, from the scenic beauty, the unbridled winds, and biodiversity.
What to See and Do in Elafonissi
This is a premium destination for lovers of nature. The island and surroundings are protected as part of the Natura 2000 network. This is a habitat for a variety of birds, amphibians, and reptiles, including the lacerta-trilineata, otherwise known as the Balkan Green Lizard, and the Hemidactylus turcicus – the popular Mediterranean House Gecko (some think these adorable lizards bring good luck). This is also a nesting area for the beloved Caretta-caretta sea turtles. Ropes protect the areas where the eggs are.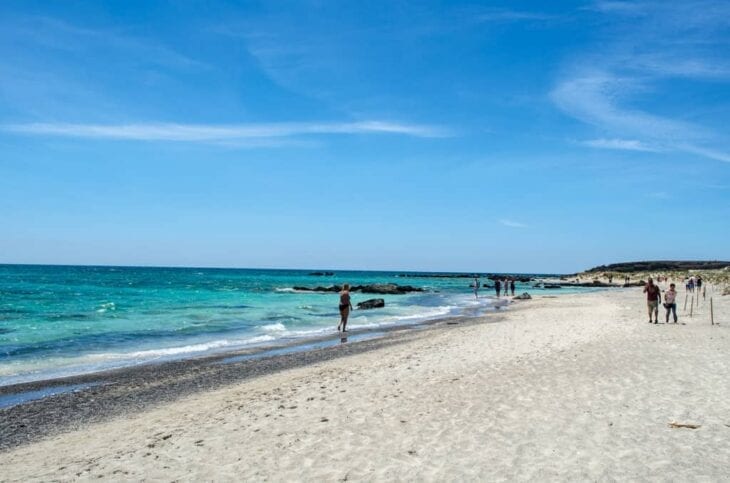 Elafonissi is not just a beautiful beach but it also covered in protected and rare plant species, set off by the glorious white and pink sands. Grasses and gloriously fragrant sea daffodils cover the dramatic sand dunes, along with other beautiful plant species like Viola scorpioides – the rare and lovely bright yellow scorpion-tail violet.
Elafonissi suits pretty much any kind of beach activity you can imagine. As soon as you enter the beach area you will give your choice of areas for sun loungers and umbrellas (for a fee), and cantinas for snacks and refreshments.
But if you are looking for a wilder type of beach experience, simply keep walking. The island is large and even on crowded days if you are willing to tramp through the dunes- a lovely thing to do anyway- you are sure to find some solitude.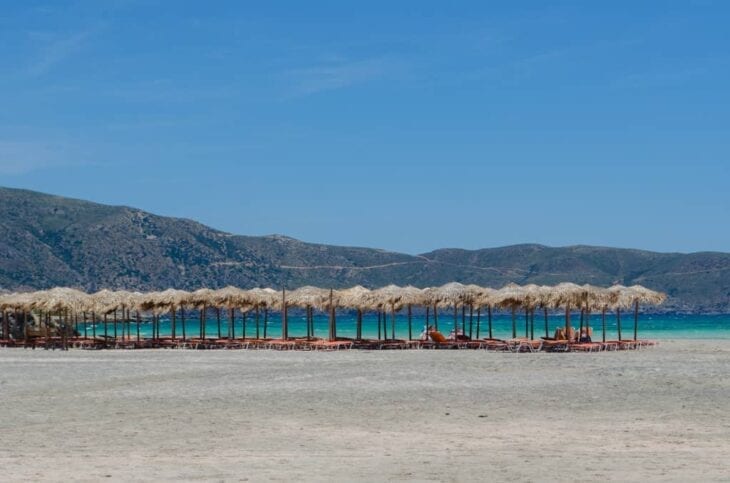 Are you visiting with children? Then you – and they – will just love the lagoon formed by the island. This lagoon, with a floor of silky white sand, has calm shallow waters, protected in part from the winds by the island.
The eastern side of Crete on the open Mediterranean is known for its winds, which makes Elafonissi a destination for windsurfers and others who want a more active and exciting seaside experience.
Gorgeous Beaches Near Elafonissi
Elafonissi is indeed a destination in itself, and you can easily spend a whole day here or even several, without tiring of those unusually clear turquoise seas, the white and pink sands, and the profusion of wildflowers trailing over the sand dunes.
But if you do have time, you will find some other very worthwhile beaches nearby to explore, and getting to them is half the fun. The interesting thing about this part of the island is the dramatic contrast of mountains and sea. Even though some of these beaches may be quite near as the crow flies, the coastal terrain in sometimes so rocky that it cannot be crossed by road, and you take a scenic mountain route inland.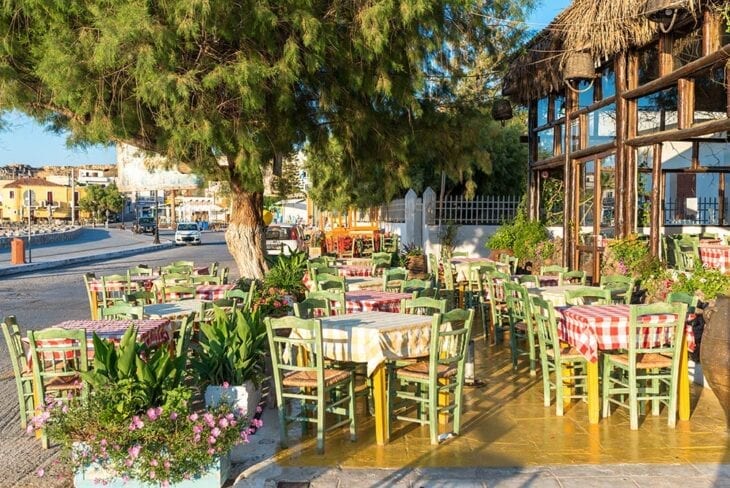 Paleochora is the closest well-known area to Elafonissi, and it takes about an hour and 10 minutes to reach by car. On the south coast of Crete on the Libyan sea, the town of Paleochora is located on its own small peninsula. Near here, you will find extraordinary beaches.
The beaches of the village Anydri – Gialiskari and Dialiskari – belong to a long stretch of beaches that begin just 4 km to the east of the town of Paleochora. Gialiskari can also be reached by a hike through a gorge from the village of Anydri.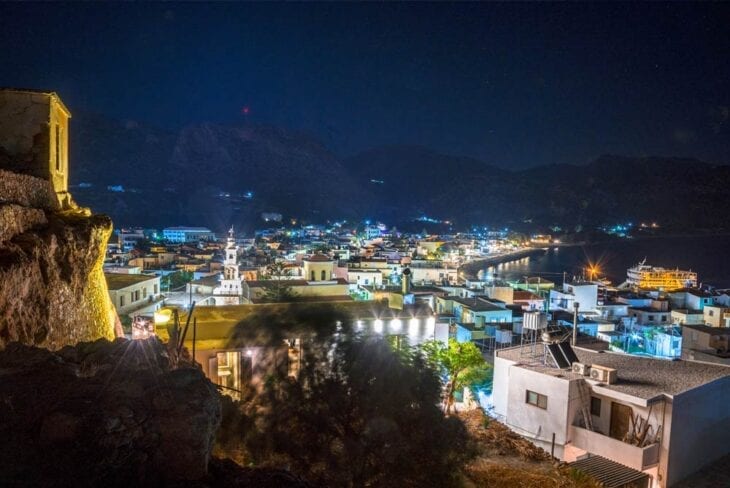 For a great swim, you can also visit the Blue Flag designated beach Pacchia Ammos– which means coarse sand. This is just west of Paleochora.
At Keratides beach, just a kilometer west of Paleochora, you'll find pebbles and rocks- it's a wilder beach, great for those wishing to escape the crowds.
Just west of Paleochora is another very famous beach – Sougia. To get here, you again need to take an inland route due to the dramatic rocky coastline. Straight from Elafonissi it is an hour and 40 minutes. From Paleochora– although it is so very close by boat – it takes about an hour. The drive is beautiful and dramatic. The beach itself, at the mouth of Agia Irini gorge – is long and although well-known in name it remains unspoiled. The sand is coarse and the waters crisp and deep. There is shade provided by tamarisk trees, and you will also find plenty of casual tavernas for an authentic meal, as well as rooms, and a mini market and other basic services. Sougia had a great hippie following in the 1970's, and retains much of that laid-back atmosphere.
Activities Around Elafonissi
Exploring the beaches is one of the most popular activities of all. Additionally, the mountainous and dramatic landscape nearby will give you plenty of opportunity for some exciting hiking.
Serious hikers will love the opportunity to hike a section of the European path E4. This path connects Paleochora to Elafonissi. It is a trail of approximately 10 km. The trail is not a difficult one, but hiking in the heat can be strenuous, and one should always take care to bring plenty of water.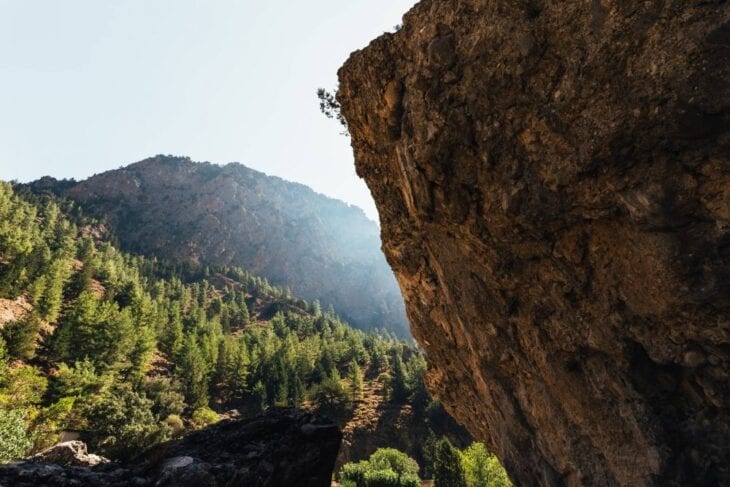 One of the most famous hikes in the world is also not far. The Samaria Gorge – 17 km long – is indeed a challenge. The path leads from the mountain village of Xyloskalo to Agia Roumeli, on the Libyan sea. Organized boats and busses bring you to Sougia or Sfakia from Agia Roumeli.
Cultural Excursions around Elafonissi
Just 5 km from Elafonissi is a famous Monastery: Chrysoskalitissa. The monastery, built in the 17th century. The monastery is 35 meters high on rocks with an astounding view. "Chryso" means "gold" and "Skalitissa" derives from the word for "Step"- of the many steps that one ascends to reach the monastery, the most devout will see that one is "gold."
Where to Stay in & Near Elafonissi
Elafonissi is an area that's flocked with tourists throughout the year. For this reason, there are several hotels and alternative accommodations for rent all around Elafonissi. However, the ones we've listed here are the top ones locals highly recommend:
Glykeria Hotel
Deemed as one of the best hotels in Elafonissi, Glykeria Hotel is located right on the beach. This luxurious hotel showcases elegant rooms equipped with modern amenities such as a satellite TV, a private balcony, and air conditioning. A pool, bar, restaurant, and a variety of sports facilities are also available.
Address: Elafonissi, Ελαφονήσι, Chrissoskalitissa
Website: https://www.glykeria.com/
Contact: +30 694 794 9614
Xasteria
If you're on a budget but still want to experience the distinctive beach vibe, Xasteria is the ideal place. This hotel has a homey ambiance to it that's great for people who wish to escape the crowded touristy areas. Guest rooms are clean and equipped with air conditioning, a TV, a private bathroom, and free wireless internet access.
Address: Chrisoskalitissa, Elafonissi, Crete
Website: https://www.facebook.com/xasteria/
Contact: +30 693 789 8526
Megim Hotel
Only 6.9 miles from Elafonissi, Megim Hotel is another top-rated accommodation in the area. It offers comfortable guest rooms with the latest amenities and at a very reasonable price. Lush gardens and a restaurant are available on site. Plus, it's just a few walks away from the beach, so you can always relax and explore the beauty of Elafonissi with ease.
Address: Palaiochora
Website: http://www.megimhotel.gr/
Contact: +30 2823 041656
Where to Eat in Elafonissi
Whatever you may be craving, be it seafood or local Cretan cuisine, Elafonissi has you covered. The restaurants in the area are known for their excellent food and great ambiance. Check out some of these recommended spots here:
Taverna Kalomirakis
A great place for families and friends found in Elafonissi Resort; Taverna Kalomirakis has a fun and lively environment suitable for all-day dining. Whether you're looking for fresh seafood or savory desserts, this restaurant is guaranteed to deliver great food with the best service. Plus, the area's lush vegetation will transport you to a relaxing state of mind.
Address: Elafonissi, Crete
Website: https://www.elafonisi-resort.com/
Contact: +30 694 228 3516
Kochilas
If you're craving seafood, trying out Kochilas is a must. The restaurant offers a fresh catch of the day at an affordable price, ensuring that you will enjoy your dining experience to the fullest. Vegetarian and gluten-free dishes are also available for your convenience.
Address: Elafonisi, Moni Chrisoskalitissis
Website: https://www.dianekochilas.com/
Contact: +30 2822 061288
Antigoni
Freshly baked pizzas and delicious pasta are just some of the items found in Antigoni. Many locals and tourists alike love this restaurant due to its friendly staff and cozy ambiance. It's the perfect place to visit if you're looking for mouthwatering dishes that are near Elafonissi.
Address: Moni Chrisoskalitissis, Crete
Website: https://antigoni-restaurant.gr/
Contact: +30 2822 061429
Explore Elafonissi
You'll love exploring the dramatic and wild corner of Crete by car – the scenery is beautiful, and the area is full of discoveries to make on your own.