Besides the white sand beaches and clear blue waters, Crete is an oasis filled with dense forests, hidden lakes, and even gorges. The Gorges in Crete are quite the attraction, with thousands of people visiting each year. It's an excellent place for hiking, camping, rock climbing, and sightseeing.
Crete has hundreds of gorges, and each one is as beautiful as the next. If you plan to go on an adventure, exploring these mesmerizing canyons should be on top of your list. With that said, here are the gorges of Crete that's worth seeing.
Kourtaliotiko Gorge
Patsos Gorge
Kolita Gorges
Kotsifou Gorge
Samaria Gorge
Aradena Gorge
Imbros Gorge
Agia Irini Gorge
Kounaviano Gorge
Agiofaraggo Gorge
Rouvas Gorge
Mylonas Gorge
Zakros Gorge
Sarakina Gorge
Topolia Gorge
Therisso Gorge
Gorges in Rethymnon
When it comes to adventures, Rethymno isn't one to miss. Despite being home to the island's highest peak, Mount Psiloritis, many gorges can be found scattered across the region. You're sure to have a fabulous time if you check out one of these gorges.
Kourtaliotiko Gorge
Best For Sight-seeing
Kourtaliotiko Gorge, found south of Rethymnon, is a magnificent gorge that's sure to take your breath away. The valley stretches from north to south, beside the road to Plakias and the monastery of Preveli. It is surrounded by rugged rocks and lush vegetation, giving off a beautiful scenic view.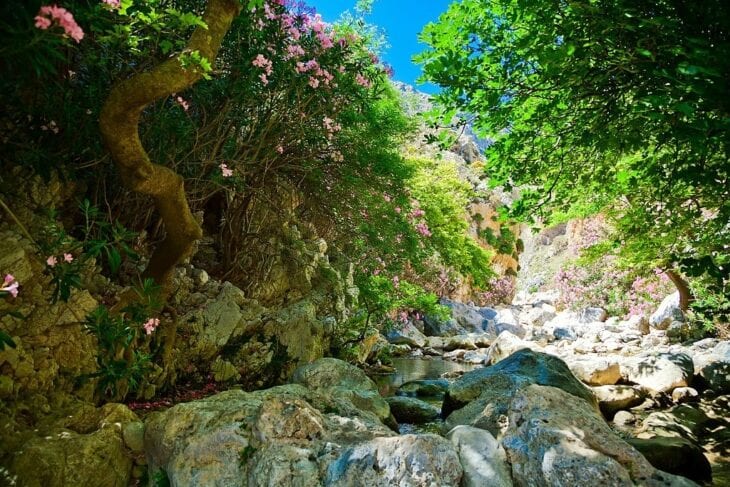 Among the things that make Kourtaliotiko Gorge popular are the stunning landscape, fountains, waterfalls, antique chapels, and monasteries scattered across the area. Various pathways lead to even more spectacular views of nature within the gorge, allowing you to immerse yourself in the sights and sounds of Crete.
For those who aren't too fond of walking, there is a cement road you can drive through the canyon. However, it's better to get there by foot since you can explore the area more and get to know Crete up close.
If you decide to hike all the way to Preveli beach, you'll be greeted with some of the clearest waters in Crete. You can go swimming or simply sunbathe on its white-sand coast. The area is also home to lammergeiers, birds, and some small raptors.
Patsos Gorge
Best For Kids
If you're looking for a kid-friendly gorge to explore in Rethymnon, then Patsos Gorge is the way to go. Despite being just 1.5 kilometers long, walking through the gorge will be an exciting adventure for your kids.
Walking is not the only thing you can do in Patsos Gorge; ropes, ladders, and various platforms are available for you to use while climbing the gorge. If you do bring your kids, be sure they wear proper footwear and clothing since the route can be a little tricky. However, the challenge becomes worth it once you see the beautiful streams, cliffs, rocks, waterfalls, and of course, the amazing view of Crete.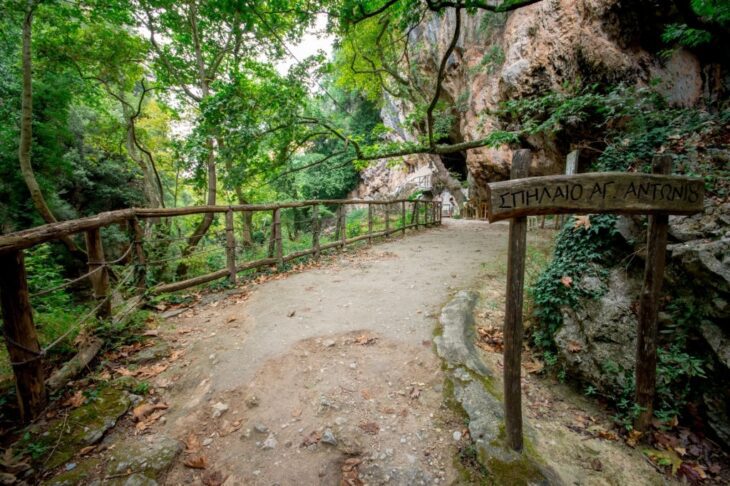 After the hike, you can have a hearty lunch at the local tavern found just at the entrance of the gorge. They serve unique home-cooked dishes with a great selection of mezes, desserts, and drinks.
Kollita Gorges
Best For Beginners
Kollita Gorges is made up of two parallel canyons that are connected by a circular road. That is why it's named Kollita, which means "next to each other" in Greek. The beautiful gorges are located southwest of Rethymno. It starts before Vilandredo Village and ends in Kato Poros, ranging up to 2.5 kilometers.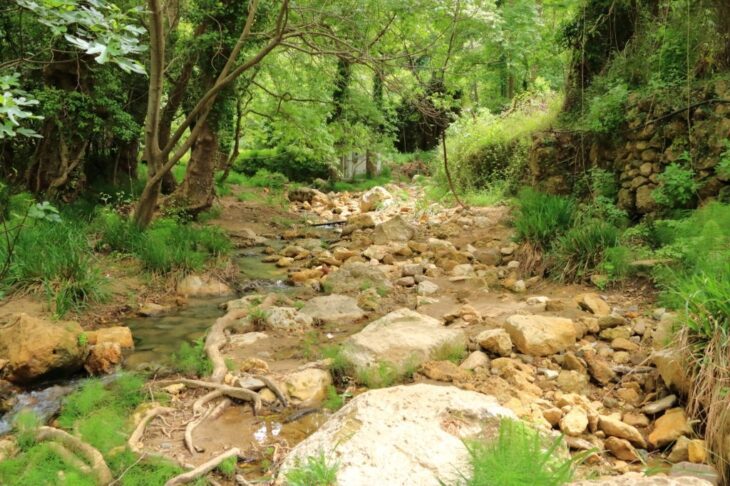 The gorges are full of stretches of green trees, heavily studded with rocks and caves. It's an ideal place for a small hike since no extreme climbing is required. You can enjoy nature to its fullest without worrying about getting lost.
The most attractive feature of the canyon is, without a doubt, it's top. The two towering walls of each gorge are virtually touching, leaving a very tiny route between them. The gorge's slopes are thickly forested with kermes oaks and fig trees. A genuinely out-of-this-world scene that makes it worth the hike.
Gorges in Chania
Chania is a bustling region in Crete filled with fun activities, and one of these is hiking to nearby gorges. Just a few minutes from the heart of Chania City, you can already find mesmerizing green landscapes and gorges for you to explore. Among the most popular are the following
Samaria Gorge
Ideal for All Hikers
Among the most visited gorge in Crete (and even in Greece) is the Samaria Gorge . This hiking trail in Crete offers both the experienced hikers and beginners a chance to explore its beautiful landscape with a fantastic view of the island. From early May until late October, tens of thousands of visitors tour the canyon each week. It is usually crowded during these months, but you can still visit during the off-season since the gorge still offers the same amazing view.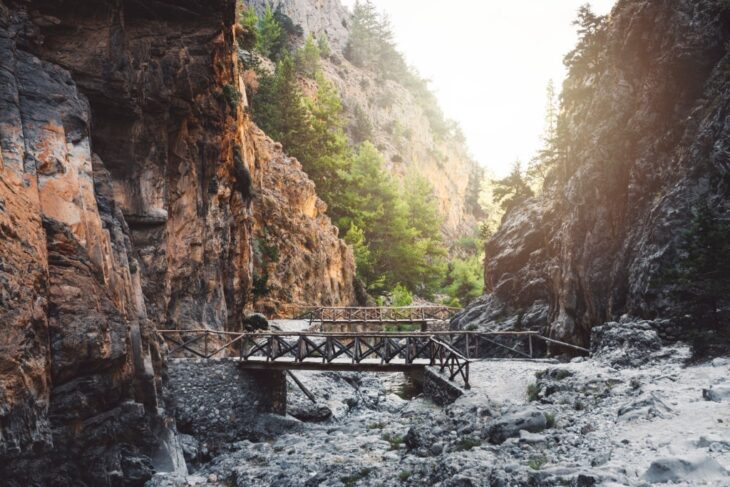 Mountains, forests, rivers with clear and clean water, lots of sunlight, and a pebble beach await anyone daring enough to complete the 6- to 8-hour hike. The experience is unlike any other, and it gives you a sense of fulfilment after all your hard work trailing.
The Samaria Gorge is ideal for those who want to experience the entire package, meaning, trekking and camping. Despite being the longest gorge in Europe, exploring the canyon is not tiring at all. The landscape is usually downhill, and with the right shoes, gear, and supplies, it will be a lot of fun.
When you arrive at Agia Roumeli (the endpoint of Samaria Gorge), you have the option of refreshing yourself at the crystal-clean beach and taking a nice swim or staying the night to rest in the little seaside village. Spending the night at Agia Roumeli and sailing back to Chora Sfakia the next day is definitely the best option. Your tired feet and aching body will surely appreciate it.
Aradena Gorge
Best For Experienced Hikers
If you're looking to avoid the heavy crowds of Samaria but still want to go hiking with your friends, head to Aradena Gorge, found south of Mount Patches (the highest peak of The White Mountains). This gorge measures up to 7 kilometers long and is excellent for more experienced hikers. Although being a challenging hike, pathways are well maintained, and oak trees surround the area.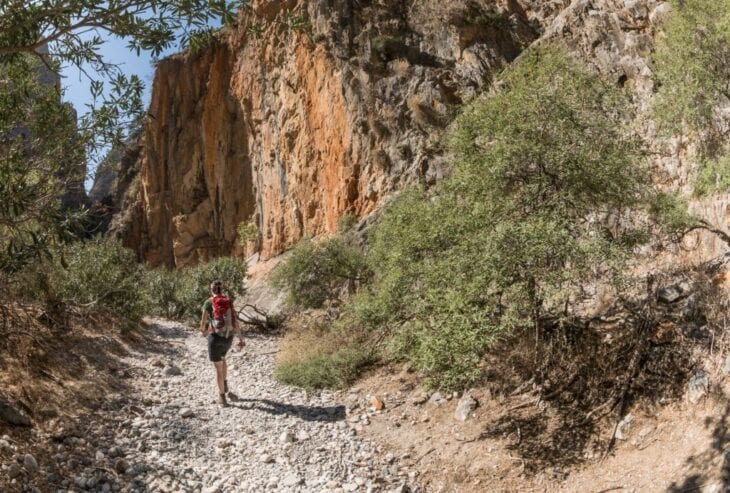 When exploring Aradena Gorge, you can expect to jump over some rock formations or even slide down some cliffs. This site is especially beautiful during the fall season with the changing colors of the leaves and water running through riverbanks. You can spend hours just looking at nature or stay after sunset to enjoy the stars that shine bright in Crete.
The hike can take around 3-4 hours to complete, depending on how quick you are at hiking. Once you reach the end of the gorge, you'll be welcomed with Marmara's pebble beach. You can take a refreshing swim or even grab a bite from the local tavern nearby.
Imbros Gorge
Best For Families With Seniors
If you want to explore some gorges in Crete but have a family to bring along, don't worry! The Gorge of Imbros is an ideal choice for the entire family. Suitable for the elderly, this gorge is only a 2-hour hike with narrow pathways.
You can see a vast range of plants and species of flowers as you make your way through the trail. The breathtaking view also adds up to the excitement, allowing you to feel closer to nature.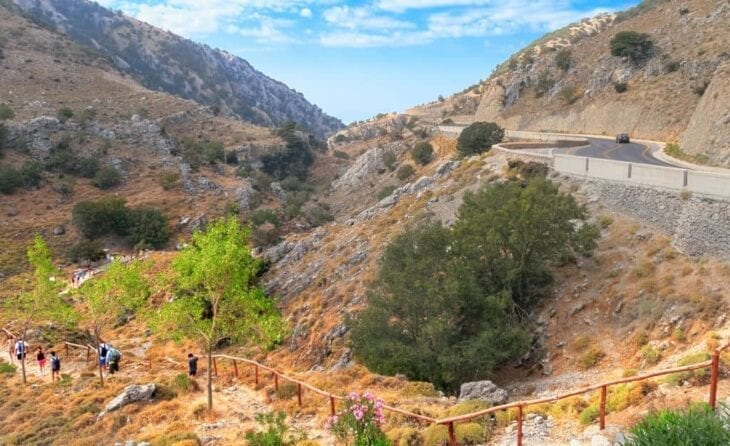 Another thing that makes Imbros Gorge great for families and kids is that the route is easy to follow, and the chances of getting lost are low. In addition, you don't have to worry about straying off the trail and ending up in accidents since trail pathways are well-maintained.
Agia Irini Gorge
Ideal For Those Physically Fit
Despite not being so popular like Samaria, Imbros, or Aradena gorges, Agia Irini is still worth checking out for its beauty. The gorge has various rock formations where you can go climbing and lots of vegetation that offers shade for those who are hiking during the summer months.
The Agia Irini Gorge can get a little crowded because it's easy to access and suitable for beginners. It can take up to 4 hours of hiking and isn't ideal for the faint-hearted since it has many ups and downs. In addition, you don't have to worry about getting lost either since clear signs of direction are shown along the trail.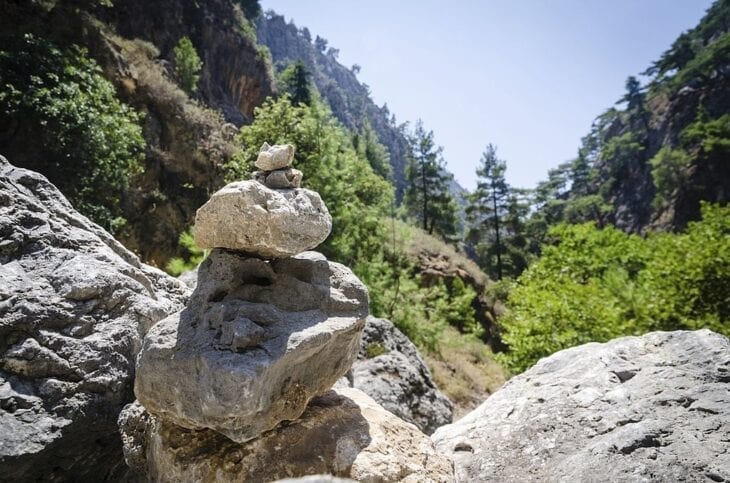 Once you reach the end, you'll discover a beautiful cafe where you can enjoy a coffee or snacks before heading back. If you don't feel like walking back, you can always call for a taxi. Many locals also offer their own transportation, so you won't have difficulty finding a ride back home.
Gorges in Heraklion
There's more to Heraklion than sandy beaches and great nightlife. If you love adventure, then these top 3 gorges in Heraklion are sure to catch your attention.
Kounaviano Gorge
Best For Beginners
Get off the beaten track and venture through Kounaviano Gorge, one of the most beautiful gorges in Heraklion. Although this gorge isn't as popular as the other gorges in the region, it still offers a tranquil atmosphere with only the sound of nature's beauty surrounding you. The route is not that difficult except for some areas where the path gets slippery. However, this will make your trip even more exciting and satisfying in the end.
The Kounaviano gorge can take up to 2 hours to explore and walk through – an ideal place to enjoy a day hike in Crete and explore other breathtaking landmarks along the way. Lush willow trees, oaks, and fig trees give hikers shade and make the route to the gorge even more enchanting.
Hiking in Kounaviano Gorge is relatively easy since pathways and bridges are available to guide and assist hikers. Also, some windmills, small waterfalls, and even fruit gardens can be found in the area, making it a great option for a weekend away.
Agiofaraggo Gorge
Ideal For Quick Hikes
The Agiofaraggo Gorge, or as the locals call it, "the gorge of the saints", is a 1.5-kilometer canyon found in the heart of Crete. It takes just less than an hour to cross the gorge, but the beauty it holds is worth every minute you spend in it.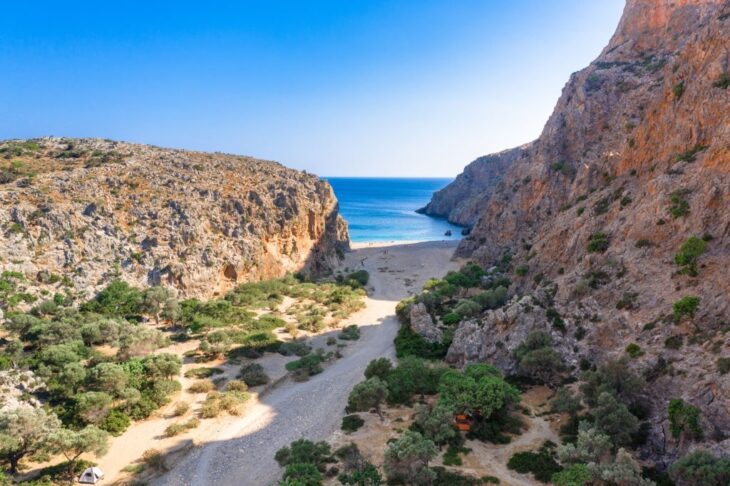 Agiofaraggo gorge is surrounded by olive trees, oleander bushes, and wildflowers that add to the experience. The path might be difficult at times, but the view makes up for all the effort you put in. A stream can also be seen while crossing the gorge, giving hikers a refreshing feel while hiking in Cretan's hot weather. Some areas are a bit steep, making this an adventurous hike perfect for people who want to test their limits.
At the end of your walk, the secluded beach of Agiofaraggo will be waiting for you with its clear waters. Overall, it's a magnificent trip for those who love nature and want to experience calm and peaceful surroundings without getting too far from civilisation.
Rouvas Gorge
Best For Extreme Hikers
For all those adventurers at heart, the Rouvas Gorge is the perfect hike. The entire journey can take anywhere from 3-4 hours, depending on how skilled you are. However, don't let the estimated time fool you because even if this gorge isn't as long as the others, hiking it would certainly be a tough and thrilling experience.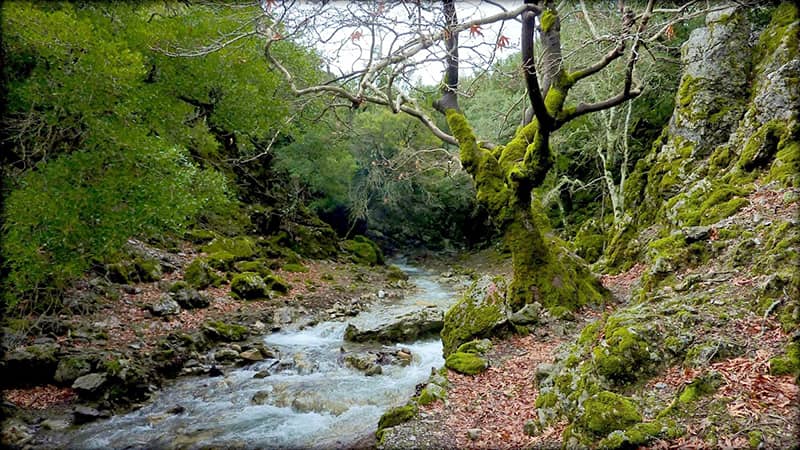 The path of Rouvas Gorge has a mix of easy and difficult spots. However, there are flat areas where you can stop to take a breather from the challenging parts of this hike. When hiking Rouvas Gorge, you will encounter superb terrains and a vast variety of flora and fauna.
You also won't have trouble finding your way around since the trail is well marked with signs. Every part of Rouvas's route is worth experiencing, so don't rush it. When you reach the end of your hike, the lake of Zaros will be waiting for you with its clear waters. The breathtaking view will make you want to stay here forever, so be sure to bring your camera along before making the climb down.
Gorges in Lasithi
Another place in Crete known for its canyons and gorges is Lasithi. The region never fails to bring out the adventurer in everyone thanks to the stunning features of its landscape. If you plan to hike through one of the canyons in this area, here are some that you should check out.
Mylonas Gorge
Best For Nature Lovers
The Mylonas Gorge, also known as Saint John's Gorge, lies 18 kilometers east of Ierapetra. It begins near the village of St. John, at an elevation of 500 meters, and ends at the Kakia Skala beach.
One of the things that makes visiting this gorge worth it is the beautiful 40-meter waterfall it houses. Tourists can marvel at this natural wonder as they hike through the terrain. In addition, green trees, rocks, and a stream that runs throughout Mylonas gorge make it a prominent destination for those who love nature.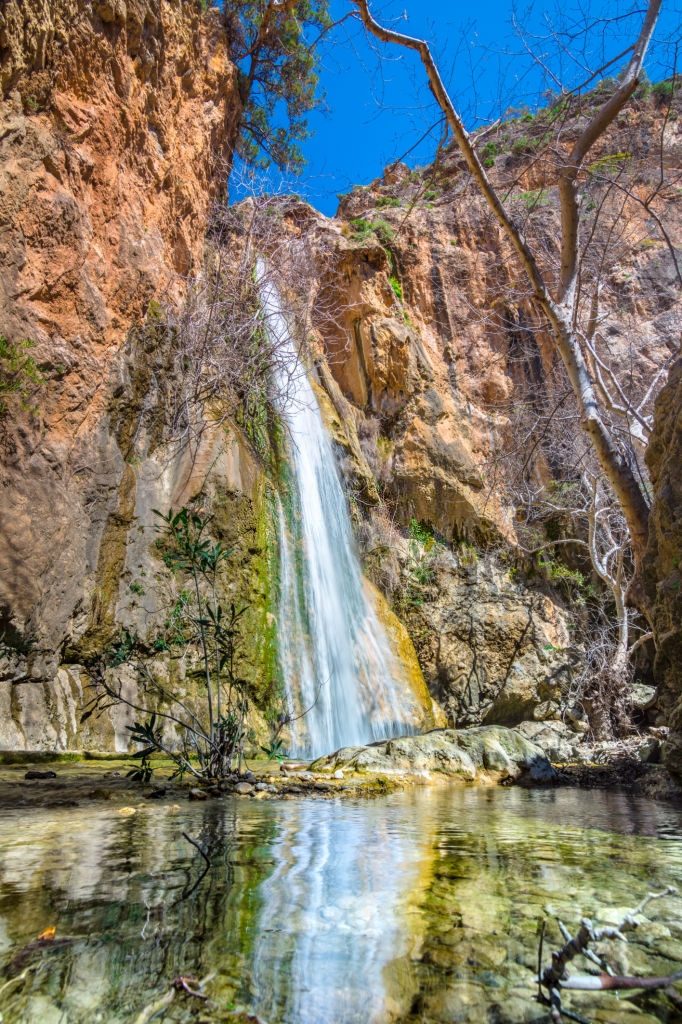 The hike through Mylonas gorge is not as strenuous as others found in Crete, but that doesn't mean it will be an easy trek either. There are parts of the trail where you will need to be careful where you place your feet, mainly due to loose gravel.
However, the view of the waterfall more than makes up for it. If you come during springtime, you may also see a variety of flowers in full bloom.
Zakros Gorge
Ideal for Those Who Don't Mind the Sun
Known as the "Valley of the Dead" because of its dryness, the Zakros Gorge is also one of the most famous in Lasithi. The canyon takes just under an hour to finish, making it best for those who want to see the sights but don't have that much time on their hands.
The small valley leads to the Kato Zakros village and its beautiful beach, which is surrounded by sheer, rocky cliffs. Since it doesn't have a lot of trees, it can be challenging to find places to sit and relax. Finding shade from the scorching sun is also tricky, so it's recommended to bring sunscreen and a hat to protect yourself.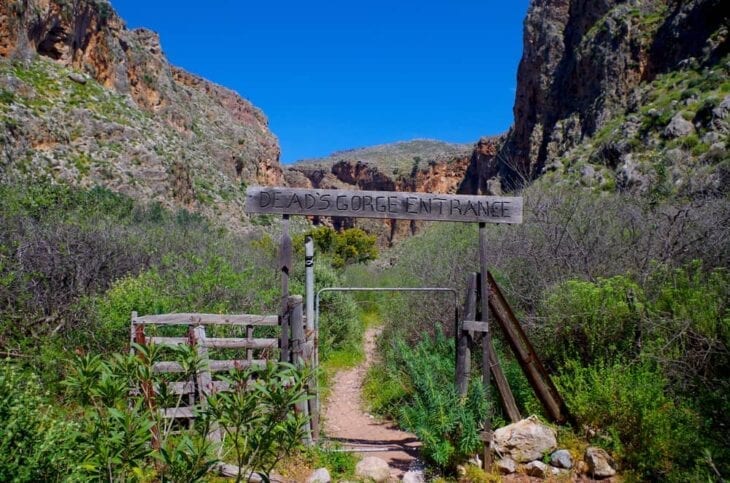 Despite this, the view of Zakros gorge and beach is certainly worth it. Once you reach the end of the trail, you can take a cool dip in the water to beat the heat and rest on the sand while enjoying your lunch.
Sarakina Gorge
Best For People Looking to Relax
Known to be one of the prettiest gorges on the island, the Sarakina Gorge is located in the south of mount Spathi. The canyon is rich in vegetation and has small lakes that give visitors a chance to swim and relax.
Sarakina Gorge is very narrow from the start, making it a favorite spot for those who love adventure. It will take about 2 hours to finish but make sure you bring enough water and food since there are no stalls along the path. In addition, waterproof shoes are also recommended since you'll be crossing rivers. Sarakina gorge also requires you to climb and jump a lot, so it's not ideal for those faint-hearted.
About 15 minutes through Sarakina gorge, you'll be greeted with a beautiful waterfall where you can get a refreshing dip. If you're looking for something quiet and relaxing, this is the perfect place for you to go to.
Gorges in Crete You Can Visit By Car
If you're not an avid fan of hiking and you've got a rental car , don't fret because you can still visit some of these gorges by car on a road trip. You can drive through these gorges while you enjoy the Cretan breeze. These are also great spots to stop by if you want to take some fun road trip photos.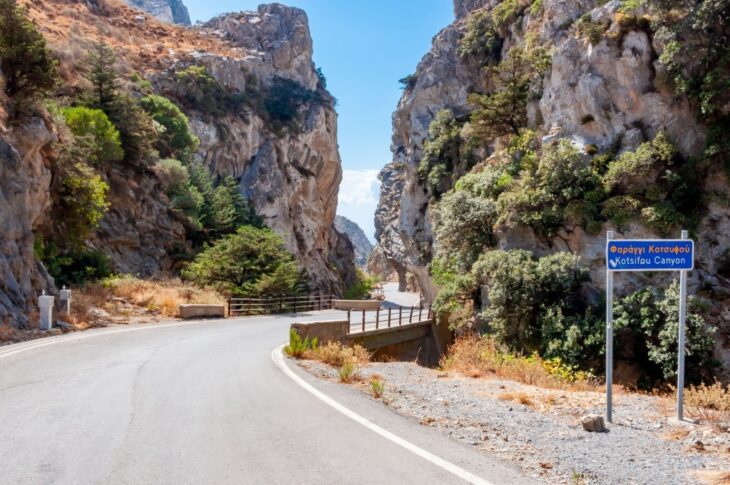 When going south to reach Elafonissi Beach , you may drive along the gorge of Imbros (Chania) and the gorge of Kourtaliotiko (Rethymno). You can also choose to drive over the Topolia Gorge (Chania), which gives you a great view of the valley.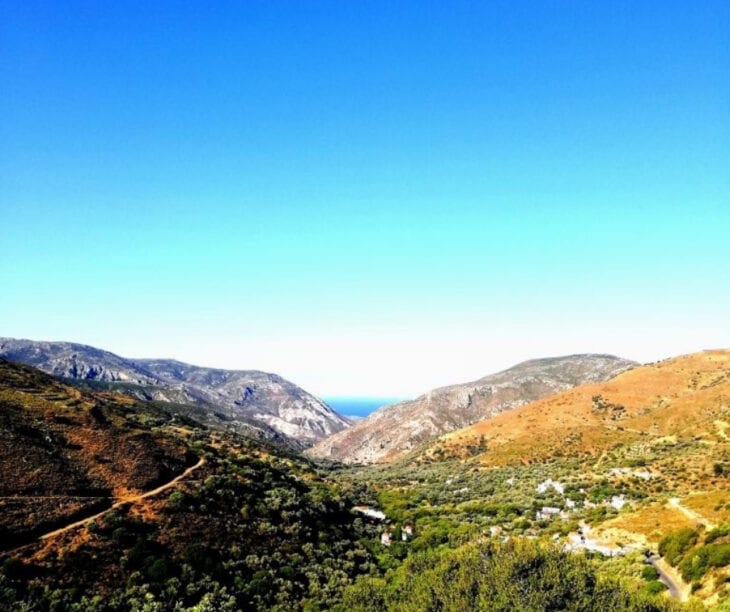 Another impressive canyon you can visit by vehicle is Therisso Gorge , which is also in the Chania region. Therisso gorge showcases beautiful mountains, green trees, and rock formations. So even if you're not hiking, you can still enjoy the scenery and even stop by to take pictures.