Your vacation in the beautiful town of Rethymnon is not complete without visiting some of its great bars and pubs. Offering a unique Cretan vibe, these local establishments provide stunning views as well as refreshing drinks to quench your thirst. So whether you want to enjoy an evening cocktail or grab a beer with friends, there's sure to be something for everyone on this list.
Bars & Pubs in Rethymno Old Town
The Old Town in Rethymnon is one of the most well-known places that both locals and tourists visit. Its picturesque streets are surrounded by a variety of bars and pubs that offer a range of prices as well as seating options – from casual seating on the sidewalk to more upscale accommodation on a rooftop; you're certain to find a great venue to spend your evening!
If you ever find yourself in the Old Town, be sure to visit these places.
Lux Cafe
With lavishing old stone walls and mysterious blue neon lights, the vibe Lux Cafe gives off makes it a spot you won't want to miss. Found inside a magnificent Venetian building, this is an excellent place for anyone who plans to have a night out in Rethymnon.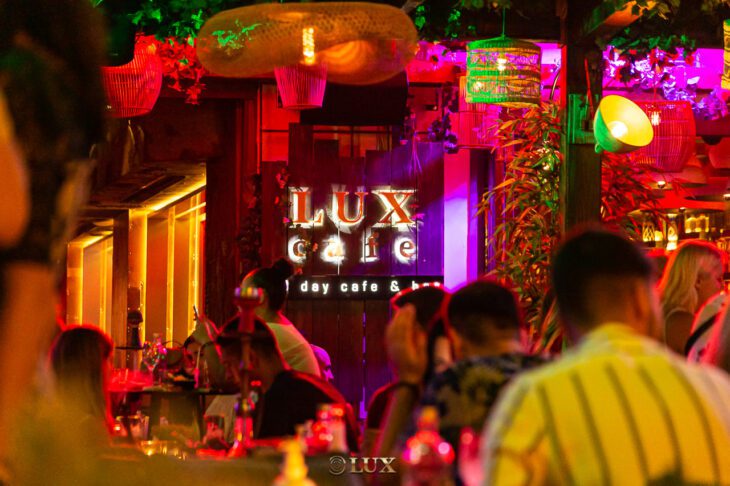 They offer creative cocktails that are sure to spark your taste buds, as well as a wide variety of beers for those who prefer something refreshing. During the day, you can enjoy their outdoor seating that's beautifully decorated with lavish plants. The ambiance here is great for anyone who wants to relax while gazing at the Old Town.
As night sets in, the DJs come out and turn this venue into party heaven. The music played here is mostly Greek, as well as international hits for those who love to sing along. So if you plan on having a night out with friends or family, Lux Cafe is the perfect destination!
Address: Eleftheríou Venizelou 65-68, Rethymno
Website: https://www.facebook.com/lux.cafe.rethymno/
Contact: +30 2831 020303
Living Room
This cafe-bar is a great lounge to visit if you want to enjoy a coffee or cold beer under the sun. Often frequented by locals, this cafe/bar is stylish and lovely with a gorgeously decorated open space.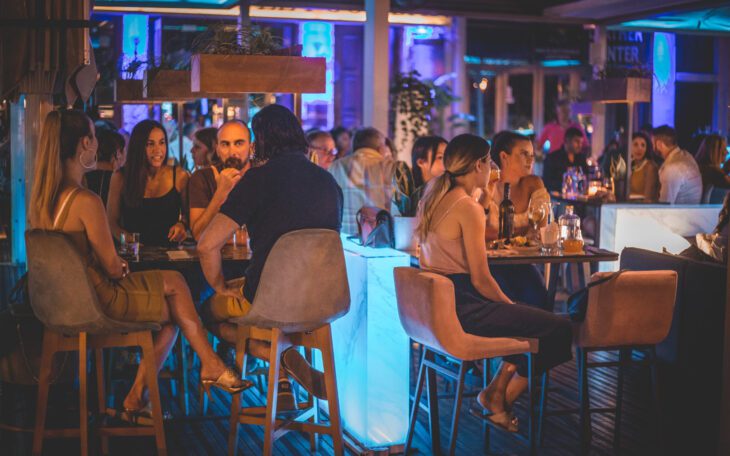 The Living Room's menu is filled with wines, cocktails, beer, and many more. If you find yourself with an empty stomach, you may also order food here. They offer a variety of dishes, ranging from snacks like burgers and french fries to desserts such as cakes and ice cream.
You're sure to have a great time lounging here. They have large tables that cater to many people, making them perfect for gatherings. In the evening, they turn into a bar and play lounge music with cool beats,
Address: Eleftheriou Venizelou 5, Rethymnon
Website: https://livingroom.gr/
Contact: +30 2831 021386
Queens Room
A place that's filled with African vibes and a touch of Cretan hospitality, Queens Room is a must-visit bar. This venue is famous for its delightful interior decoration, including wooden furniture, green plants, and other elements that give off a natural feel.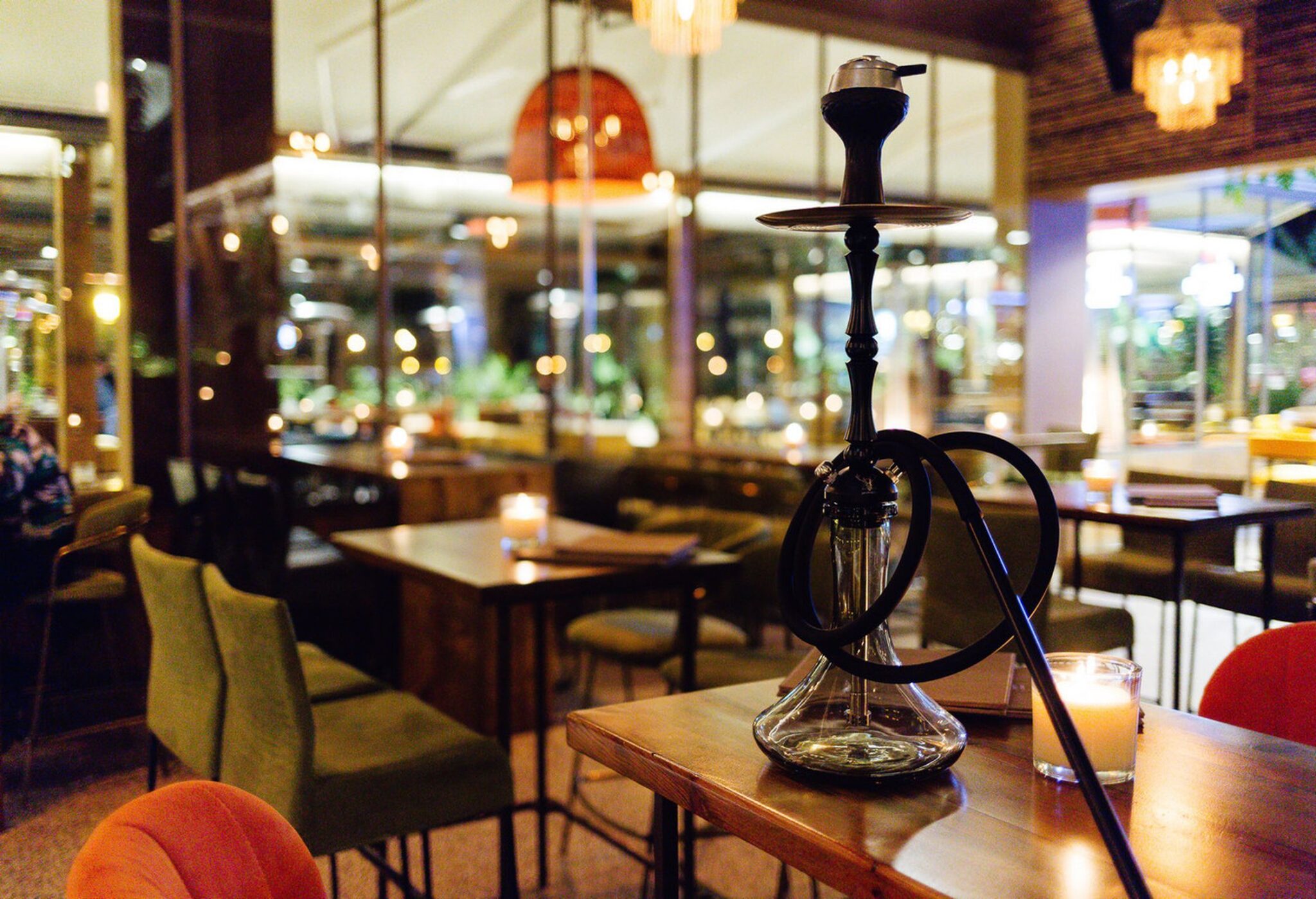 The bar is surrounded by ferns and other lush shrubs, adding to the relaxing atmosphere. Jazz music is played all throughout the day, as well as some Greek tunes to vibe to during the night.
In addition, Queens Room offers a wide selection of alcoholic beverages as well as refreshing drinks like orange juice and iced tea. The Mystique cocktails, a collection of four distinct cocktails with mystery ingredients offered every Sunday, are one of the most incredible things you can try here. They also serve sushi which is a major plus for Asian food lovers!
Address: Eleftheriou Venizelou 11, Rethymnon,
Website: https://queensroom.gr/en/
Contact: +30 697 282 2122
Fraoules
Fraoules is among the most popular destinations for Rethymnon youngsters and travelers. It can get quite busy in the evening, but that is what makes it so unique!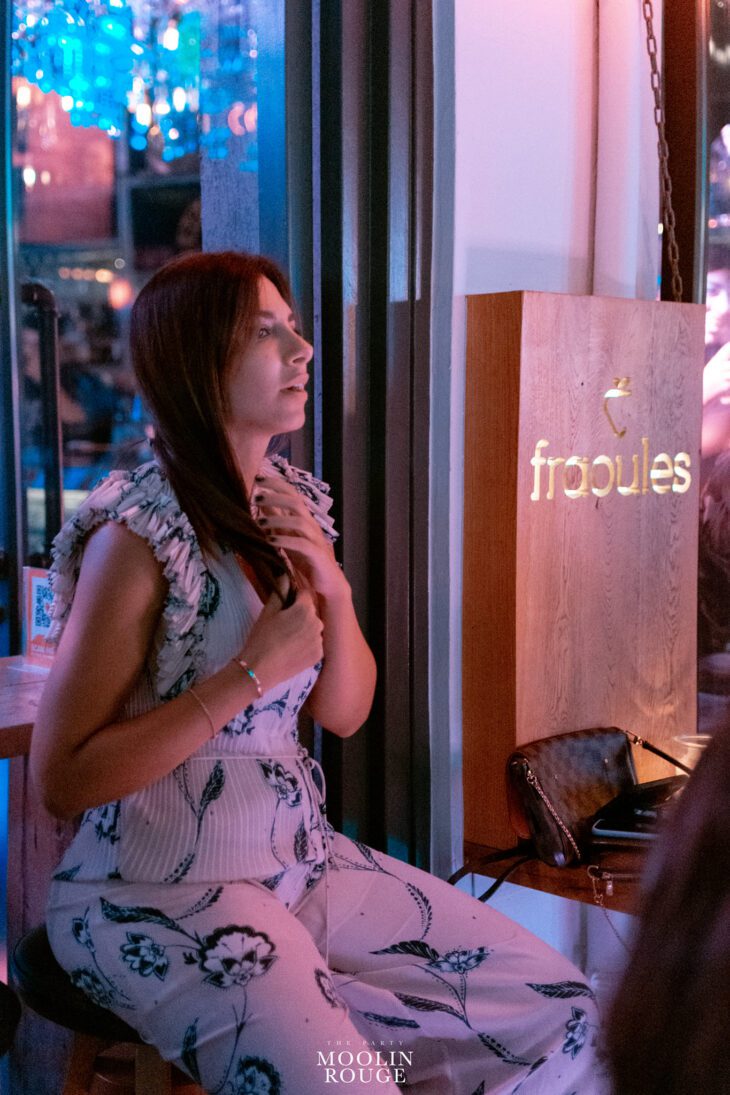 With a wide variety of cocktails, a lively and intense atmosphere, and an astonishing view, you're sure to have an unforgettable vacation.
In addition, the bar offers food too so you can chill and eat while catching up with friends. There is a large variety of dishes to choose from, whether you're in the mood for something light like a salad or something heavier like pasta.
Address: Eleftheriou Venizelou 62, Rethymnon
Website: https://www.facebook.com/fraoulescafe/
Contact: +30 2831 024525
Cul de Sac
At Cul de Sac, you can savor your drink while enjoying the famous Rimondi Fountain in the center of Rethymnon's Old Town. The place is outfitted with trendy furniture, plants, and decor, creating a sweet atmosphere.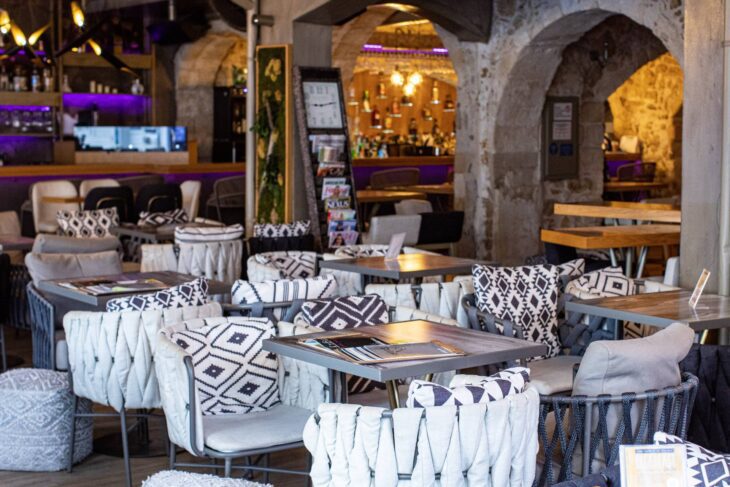 While the bar serves alcoholic beverages, it is also family-friendly since it offers various dishes that are certain to make your tastebuds feel like heaven. Their menu includes all types of drinks, from espressos and juices to cocktails and beers. In addition, they also serve snacks like burgers and fries.
Whether you decide to spend your day or night at Cul de Sac, you can be confident that you'll have a great time!
Address: Titou Petychaki Square 5, 7, 9, Rethymnon
Website: https://www.culdesac.gr/home.html
Contact: +30 2831 042315
Antika Irish Bar
The one and only Antika Irish Pub (once known as The Punch Bowl) is located in a small alley of the Old Town. Despite being a bit hidden, this place is one of the most popular bars in Rethymnon and has earned a distinguished reputation among the locals.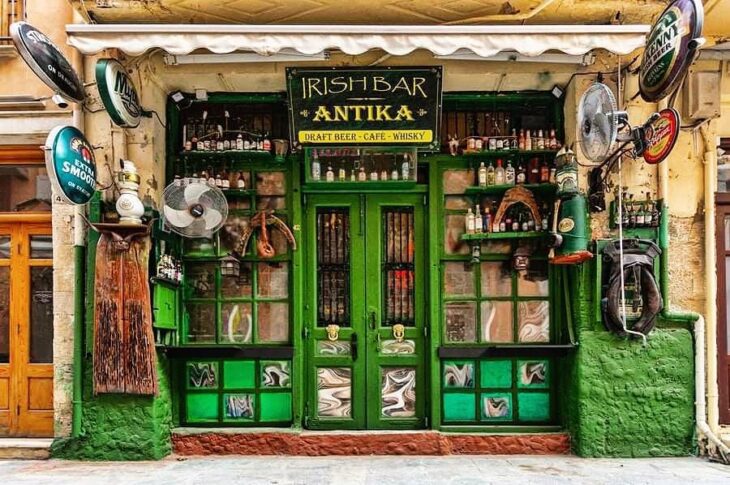 The interior design of this bar offers a chilled atmosphere with an Irish touch making it perfect for hanging out with friends and family. Irish decors and memorabilia cover every inch of the place.
Their drinks are super fresh, and they have a variety of beers for you to choose from. Craft beers, local beers, whiskeys, and cocktails like mojito are also offered to add to the place's ambiance.
Address: Arampatzoglou 42, Rethymnon
Website: https://www.instagram.com/antika_irish_bar/
Contact: +30 283 105 0320
Ali Vafi's Garden
If you want something different that'll give you a magical experience, Ali Vafi's garden is the perfect place for you. This bar is located in the Old Town, hidden in a secret garden of an old Venetian mansion.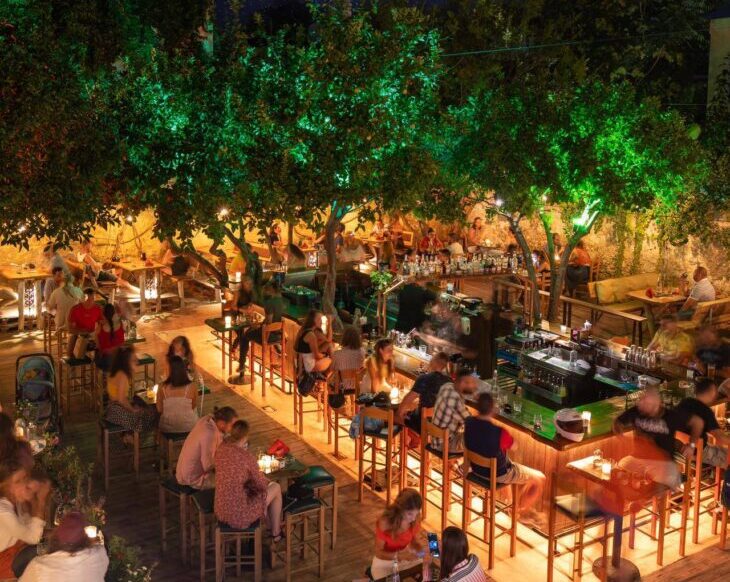 The ideal time to visit is at night when you can experience the garden's peculiar charm. The ancient walls are covered in vegetation, with a bar built right into the trees. Candles and lighting are strewn about, and even exquisite hookahs can be found in the place. All of the combinations create a really romantic mood.
Their signature cocktails are known to be some of the best in Rethymnon. They also serve snacks and food, which is a must-try for every visitor. The cozy garden and the specialty cocktails that Ali Vafi's Garden offers will make your stay in Crete memorable!
Address: Tzane Mpouniali 65 Petaladika, Rethymnon
Website: https://www.facebook.com/alivafis/
Contact: +30 697 207 3316
Metropolis Society Bar
Recognized as one of the top nightclubs and bars in Rethymnon, Metropolis Society Bar is a popular meeting point for the young and talented. The bar is located near the Old Venetian Harbor, and fun parties last till early in the morning.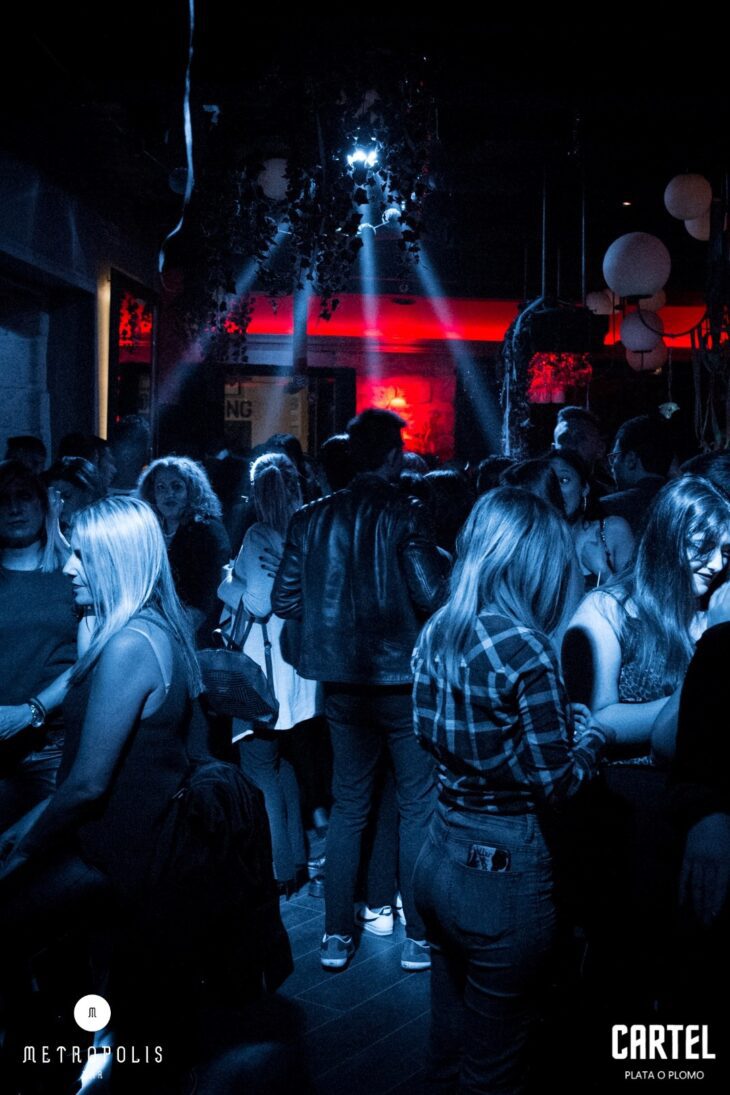 Their exquisite margaritas are exceptional, and they also offer a variety of cocktails to choose from. In addition, the bar's interior design is very modern, with neon lighting that matches the party mood.
DJs and famous Greek singers perform at the club frequently, making it a hot spot for many tourists. If you decide to visit the place, you surely won't regret it.
Address: Nearchou 15., Rethymnon
Website: https://www.facebook.com/metropolisreth/
Contact: +30 698 120 5899
The Roof Highrise Bar
As the name implies, the Roof Highrise Bar is found at the very top of the Brascos Hotel, a popular hotel located at the center of Rethymnon. It's a great place to enjoy the view of the city and is the only roof bar in Rethymnon that provides a clear sight of the Gardens, Fortezza, and even the Old Town.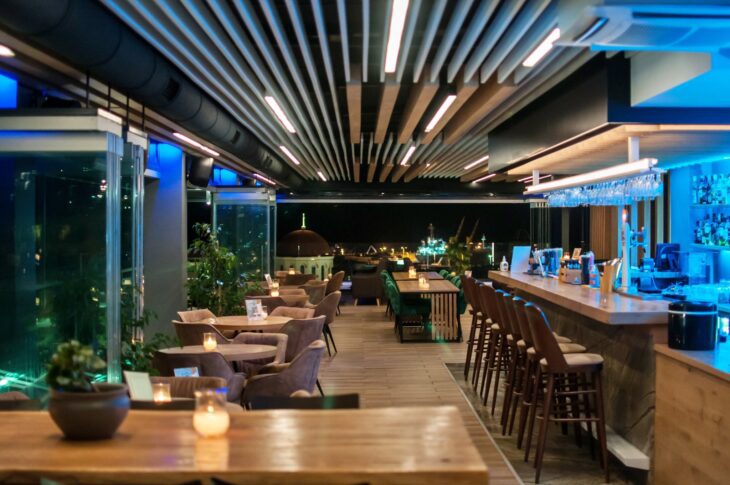 During the day, you can enjoy a pleasant cup of coffee or a delicious meal while enjoying the beauty of Rethymnon. At night, this place turns into one of the best bars in Crete with its unique cocktails and Cretan wines.
It's a good place to spend a romantic drinking session with your loved ones. The unique view adds to the charm of the bar and will make you feel like you're in Cappadocia or Santorini!
Address: Daskalaki 1, Rethymnon
Website: https://www.facebook.com/theroofreth/
Contact: +30 2831 023721
Chaplin's Rock Pub
Despite being small compared to other bars, Chaplin's Rock Pub offers a fantastic atmosphere that can be found nowhere else. The bar is situated on the seafront of Rethymnon and provides a great place to listen to awesome rock and roll music.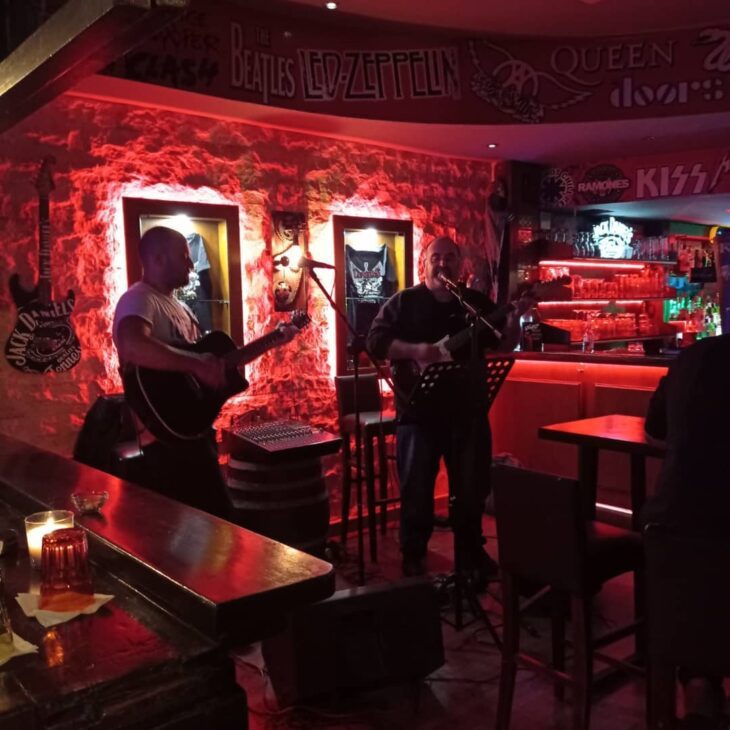 The interior design and decors are covered with rock signs as well as pictures showing how great they are to party with. DJs often perform live music in the pub, making it the ideal place to have fun. Their cocktails are also amazing, and they have a variety of beers for you to choose from!
Every day from 7 until 8 PM, they hold happy hours, offering all of their drinks at half the original price.
Address: Eleftheriou Venizelou 52 741 00 Rethymno
Website: https://www.facebook.com/Chaplinspubcafe-408169002597884/
Contact: +30 2831 024566
Fortezza Lighthouse Bar
If you want to party all night long in a place with astonishing dance floors and skilled DJs, Fortezza Lighthouse Bar is the right place for you!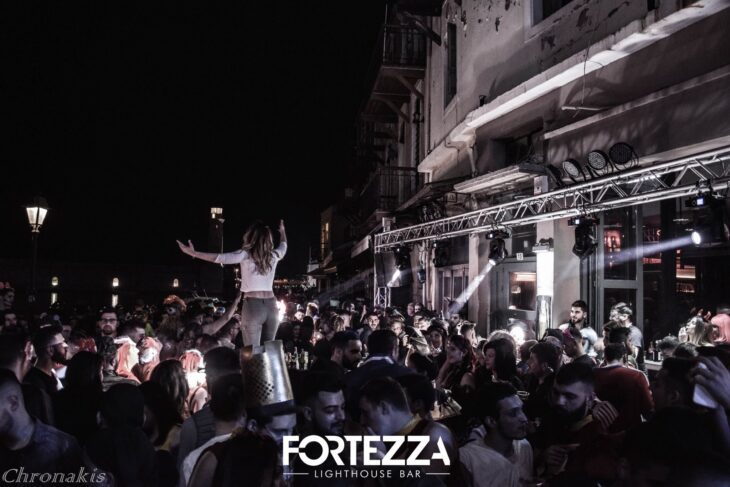 Accommodating a large number of people, this bar is very popular among tourists. Its friendly staff provides renowned service and all kinds of drinks. The music is thunderous yet amazing, which will definitely make you want to dance night after night!
If you're tired of dancing, take a drink and walk outside to admire the Egyptian lighthouse and the Venetian port. Feel the breeze and enjoy a private time with your friends while still having fun!
Address: Nearxou 14 Old Harbour, Rethymnon
Website: https://www.facebook.com/FortezzaMoreThanaClub/
Contact: +30 698 152 9245
Other Must-Visit Bars & Pubs in the Rethymnon Region
While Old Town is undoubtedly filled with fun bars and pubs, there are also some other party havens located in the other parts of Rethymnon. Here are some other must-visit bars you should not miss while staying in this beautiful city
Bell'Ellen Pub
This small cozy pub is ideal for people looking to spend an evening in a tranquil and pleasant environment. It is located on the old road near Adelianos Kampos village, just 4 kilometers from Rethymnon.
The bar is run by a local family and has a little garden where you can rest and chat with your friends. Their menu is comprised of a variety of snacks and traditional drinks such as cocktails and spirits. Their mojitos are surely a must-try!
What's more, there are cats, and kittens found all across the place since the owners love them very much. These adorable kittens will definitely make your experience more entertaining and enjoyable!
Address: 26 Adelianos Kambos, Rethymnon
Website: https://www.facebook.com/BELLELEN-PUB-223446067686427/
Contact: +30 2831071590
Vinzi Cafe
Another great place to hang out with your friends is in this amazing bar situated in the village of Panormos, which is just 20 mins away from the city. You can either go by bus or simply rent a car for better convenience. This place offers a cozy atmosphere and provides a variety of drinks for guests to choose from, whether alcohol, coffee, or refreshments.
Vinzi Cafe has a beautiful terrace outside where you can take a break from your busy day and enjoy the light breeze. You can also take some fantastic photos since the view overlooks breathtaking mountains and a beautiful sea.
If you happen to get hungry, indulge in their delicious dishes, including pasta, salads, and other snacks. They also provide delicious meals for people looking to enjoy something more filling.
Address: Panormos, Rethymnon
Website: https://vinzicafe.webs.com/
Contact: +30 2834 051354
Eyes Live Lounge
With a name that's unique as its interior design, Eyes Live Lounge is definitely one of the most popular bars in Rethymnon. Its warm lighting will surely make you feel welcome. This pub is found on the old road going to Heraklion, about 10 minutes from Rethymnon, in the village of Platanias.
The bar provides a great variety of drinks, including crafted cocktails. But, if you want something different, their Pina Colada is a must-try!
Every Tuesday evening, the bar provides fantastic background music and outstanding live performances. They also have karaoke nights that will allow you to sing your heart out.
Address: 206 Leoforos Machis Kritis, Platanias, Rethymnon
Website: https://www.facebook.com/eyeslivelounge/
Contact: +30 694 606 9966