Beach bars are a must-have destination for any tourist coming to Crete. It is no secret that the Mediterranean has some of the world's finest beaches, and it is only natural that those same beaches come equipped with some of the best beach bars as well. One place in Crete you're sure to find a great beach bar is Rethymnon.
Beach bars in Rethymnon have a fun and tranquil atmosphere that can't be found anywhere else on the island. So if you're looking for a place to kick back and relax, look no further- This list of Rethymnon's top Beach Bars is your answer.
Cactus Beach Bar
If you aim to spend your whole day having fun at the beach, visiting Cactus Beach Bar is a must.
This bar provides all-day entertainment, from morning to night, so you have plenty of time to squeeze it into your schedule. With cocktails, beer, refreshments, and snacks, this is the perfect place to relax with friends and have a good time.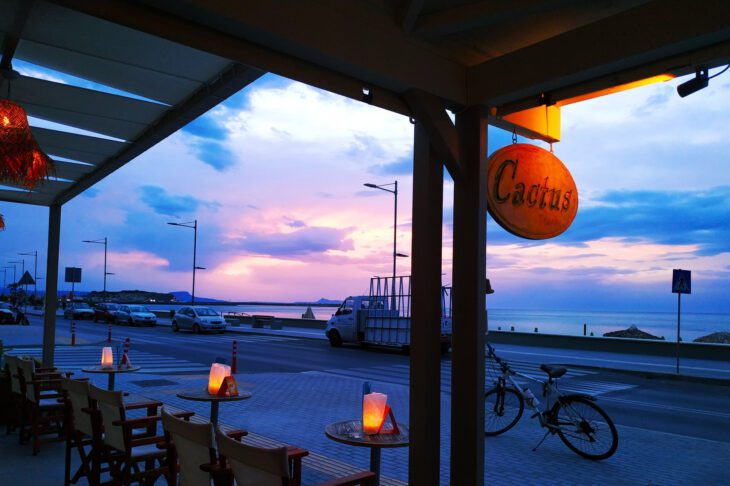 You can lay in your beach bed while looking at the stunning view of the sea or perhaps even do a bit of work on your tan. The bar is among the most affordable in Rethymnon and is a local favorite.
Address: 7 Velouchioti Ari, Rethymnon
Website: https://www.facebook.com/cactusbeachbar/
Contact: +30 697 339 8169
Bora Bora Beach
A bar that's tropically styled and themed, the Bora Bora Beach Bar is an above-average bar that's bound to amaze you and your companions.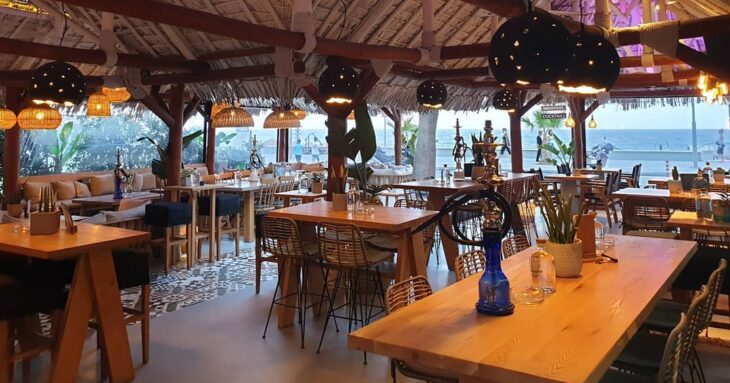 The bar has beach sofas where you can relax, talk with friends and enjoy the view. Also offering a unique mix of drinks, music, and tropical cocktails, Bora Bora Beach is the perfect place to have a cold drink and stare into the beautiful sunset.
At night, their DJs play some of the best music in town so you can dance your heart out while enjoying a refreshing cocktail. This bar is very popular with young travellers, and you're sure to have a great time here.
Address: Ari Velouxioti 42, Rethymnon
Website: https://www.facebook.com/boraborareth/
Contact: +30 2831 022875
Aiolos Beach Bar
Get away from the city for a day of relaxation at Aiolos Beach Bar. The place is located at Skaleta village, a 15-minute trip away from Rethymnon.
The beach features clear blue waters and a breathtaking view of the Cretan Mountains. Aiolos beach bar has a beautiful bar with an extensive drink menu and exceptional gastronomic options, including handmade cuisine.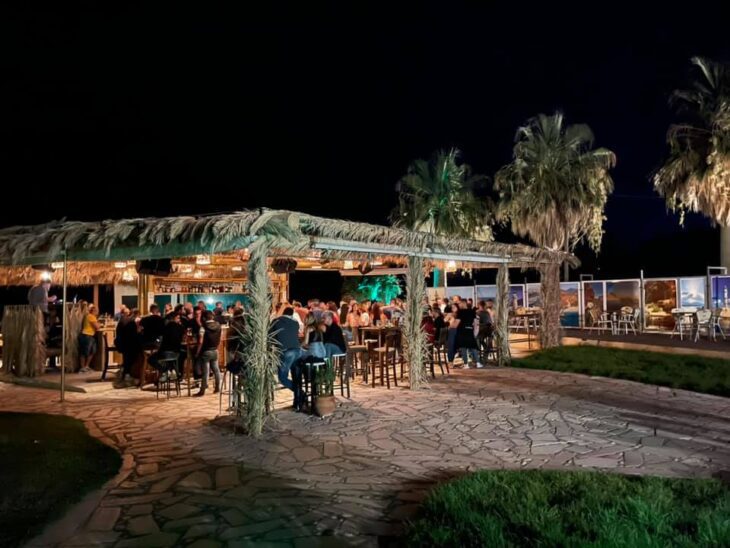 Whether you just want to fill your tummy or have a cold drink, you're certain to thoroughly enjoy this place. What's more, their sun-beds are free to use when you order something to eat or drink.
During Sundays, traditional Greek music and lamb grilled in an open fire are the perfect compliments to the pleasant setting. Overall, this spectacular beach bar has everything you need.
Address: Skaleta
Website: https://www.facebook.com/AiolosBeachBarRestaurant/
Contact: +30 697 401 0050
Baja Beach Club
If you're looking for a luxurious beach bar, the Baja Beach Club is for you. It is among the most expensive beach bars in Rethymnon but surely still worth every single euro/penny spent.
The place features a huge pool where you can lounge and enjoy the view. However, if swimming is not your thing, you can chill at one of their sunbeds and relax.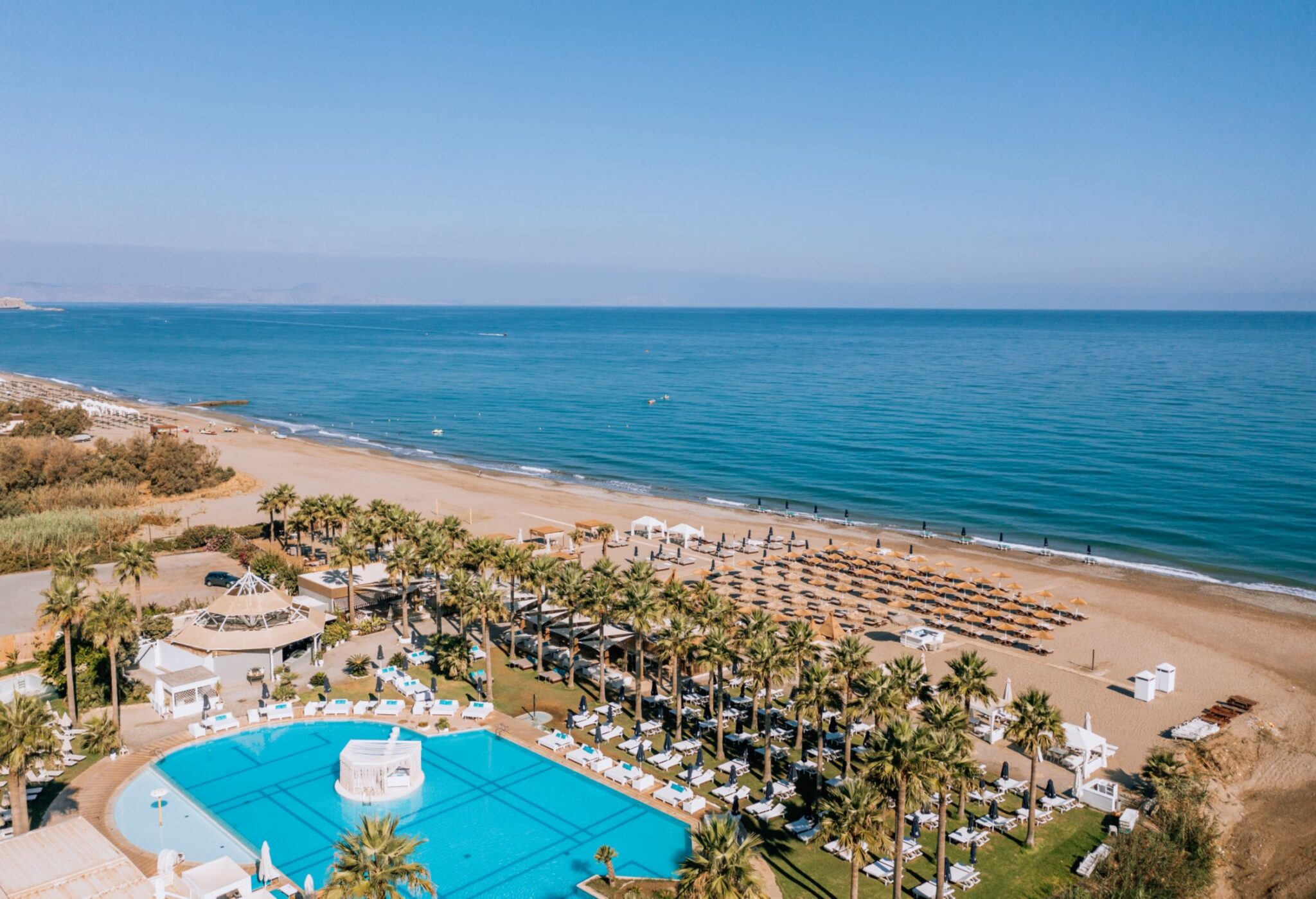 Their bar is also very spacious, and you'll find a wide selection of cocktails, beers, and more. Baja Beach Club's professional bartenders serve their clients with a positive and amiable attitude. They'll help you choose the right drink and be sure to make it exactly as you like.
At night, beach parties take place, and you can dance all night long under the stars with some of the best music and DJs in Rethymnon.
Address: Chiou 12, Rethymno
Website: http://www.bajabeach.gr/
Contact: +30 6972 822 111‬
Gold Pool Beach Bar
Gold Pool Beach Bar has become one of the most popular beach bars in Rethymnon with a name that's as unique as it is fun.
Located at Platanias Rethymnon, this place provides you with all you need for a relaxing day under the sun. Their pool, which is surrounded by deckchairs and umbrellas, ensures that every guest can relax comfortably while enjoying the view.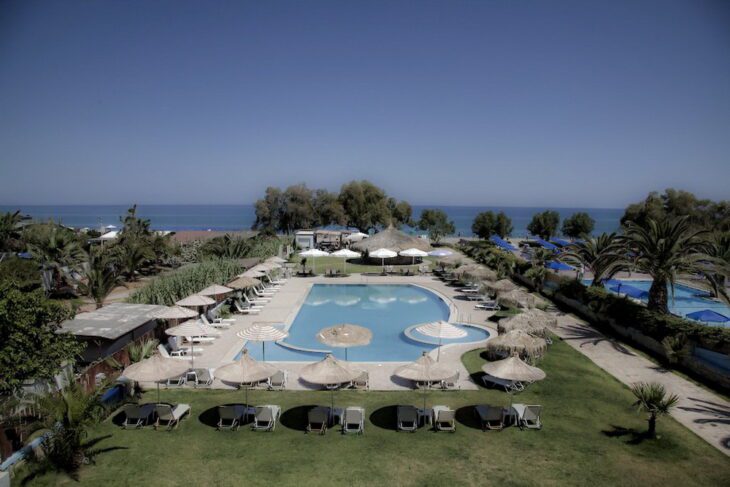 Their bar offers cold drinks and refreshing cocktails for everyone to enjoy. So whether it's just past noon or well into the night, you can hang out here with friends or family and have an amazing time.
In addition, they serve all sorts of food and snacks, so you can eat or drink whatever you like. If you're hungry, their menu includes dishes such as shrimp, meat, and vegetables. However, for those who prefer lighter meals, they also have salads and sandwiches.
Address: Mahis Kritis 200, Platanias, Rethymnon
Website: https://www.goldapts.gr/
Contact: +30 6937 805443
Lakis Beach Bar
Last but certainly not the least on our list is the Lakis Beach Bar. Situated at Platanias, this place is another terrific option if you're looking for elegant beach bars in Rethymno.
Visiting Lakis Beach Bar is a wonderful way to relax and take a break from the city while enjoying a swim. They also have sunbeds where you can lie down and get some sweet tan.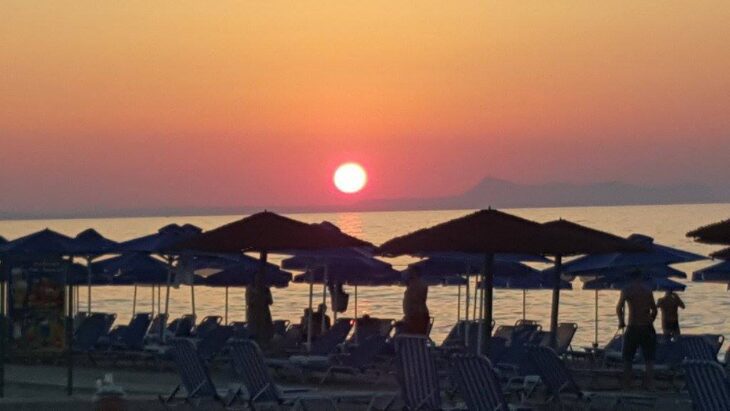 Lakis' bar offers a variety of cocktails, beers, juices, shots, and more. Their bartenders are well-trained in preparing all sorts of drinks, so they will surely not disappoint even the pickiest drinker out there!
If hunger strikes when you're having fun in Lakis Beach Bar, do not worry because they serve food too! You can enjoy either snacks or full meals that include beef, fish, and pork too.
Whether at night or during the day, there's no way you'll regret ditching your typical city bars for a cocktail or two at Lakis Beach Bar.
Address: Machis Crete Str 198, Platanias, Rethymnon
Website: https://www.facebook.com/LakisBeachBar/
Contact: +30 698 066 1008