Is this one of Greece's most Instagrammable beaches? Definitely. Seitan Limani is extraordinary and unique, and well worth seeing out.
Where is Seitan Limania Located?
Seitan Limani – also called the "Paralia of Stefanou" – is just outside of Chania, Crete, on the eastern coast of the Akrotiri peninsula.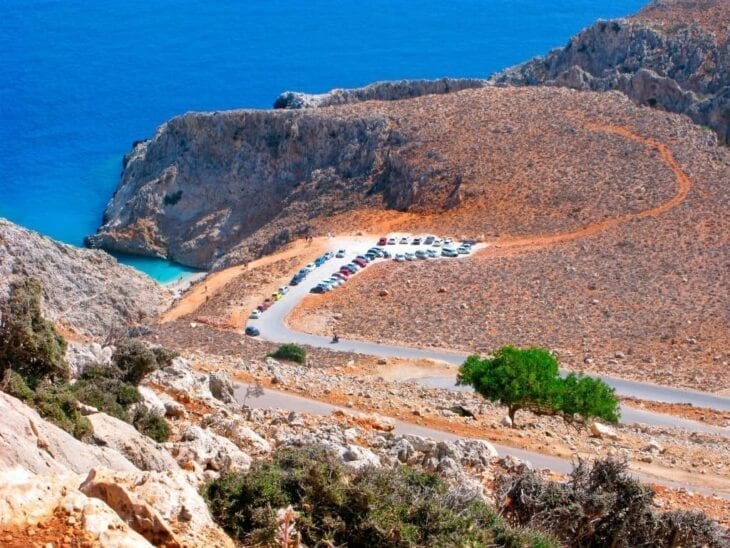 How to Get to Seitan Limania Crete
Coming directly from the Chania International Airport, Seitan Limani is incredibly easy to reach. In fact, the airport is closer to Seitan Limania Beach than it is to the center of Chania Town. However, as soon as you get there, you'll feel like you are at the very edge of the world. It's a magical place.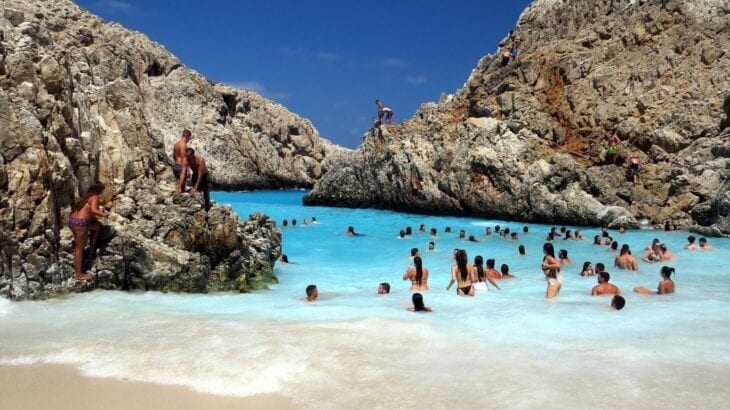 There is a car rental depot at Chania Airport, so you can be on the road in no time. The drive to Seitan Limania is less than 15 minutes. Alternatively, if you are arriving in Chania by ship, a car can be waiting for you at the port of Souda. From there, the drive to Seitan Limani is just over half an hour.
If you would like to get to Seitan Limania with public transportation, you can take the KTEL to the village of Chordaki – see the link here for more information. From here, you should see clear signs to the beach.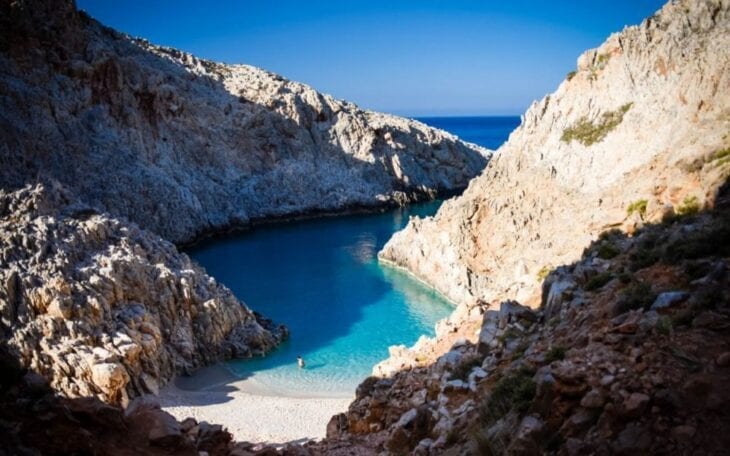 From the center of Chania, it is also a very easy excursion – a drive of half an hour through some very lovely countryside.
A note of caution – whether you arrive by car or public transportation, you would be wise to have sturdy shoes. There is a hike down to the beach, and sometimes you may even need to use your hands for support. But the effort is really worth it!
The History of Seitan Limania
Limani is the Greek word for "Harbor". "Seitan" is a name that has remained from the Ottoman Turks. It was said in fact to be a devilishly strong current near here, especially in the winter months.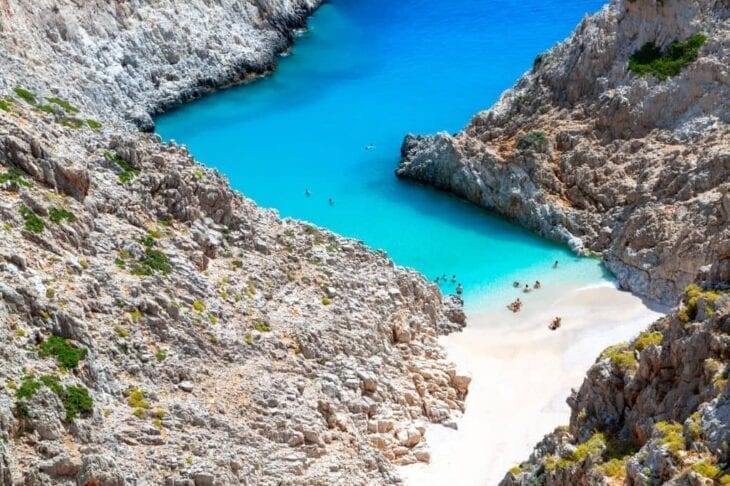 As a beach, Seitan Limani is something of a "newcomer" – it was until relatively recently known only to a few fishermen and some locals. Its popularity has spread quickly.
What to See and Do by Seitan Limani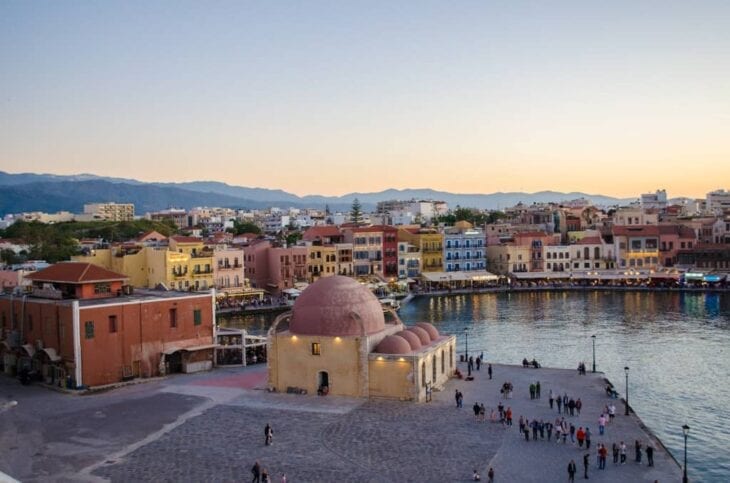 Seitan Limani is very close to Chania, one of the loveliest Venetian port cities of Crete and indeed of all Greece. Chania is one of Greece's premium cultural destinations. Start with a visit to its gorgeous port, lined with restaurants and cafes. To the east is the marina, with wonderful Venetian boat houses, some of which now hold cultural venues and cafes. From the port, you can wander in the tangle of alleys that is the old town. Traditional buildings in varying pastel shades line the paths, as sprays of bougainvillea and fragrant jasmine climb the walls.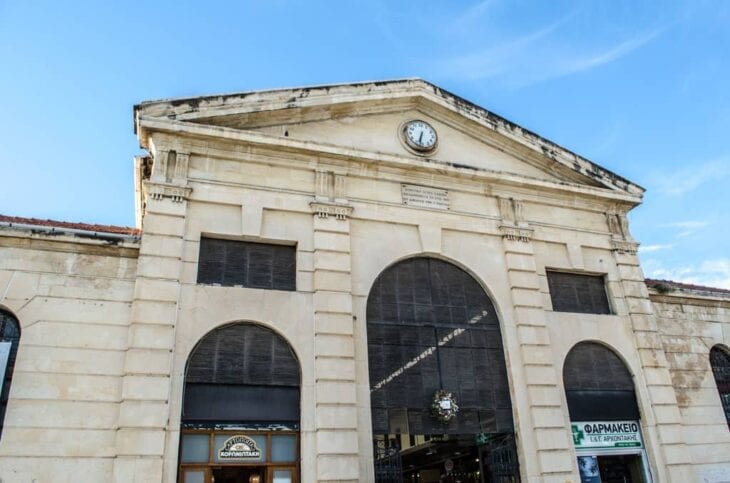 The shopping – for fashions, local crafts and beautiful jewelry – is exceptional. While in Chania you also won't want to miss the historic covered market, in the shape of a cross. One arm has fish, another meats, and you'll also find delicious local cheeses, olives, and other edible souvenirs. The casual restaurants right in the market are a great place to get a true taste of local culture.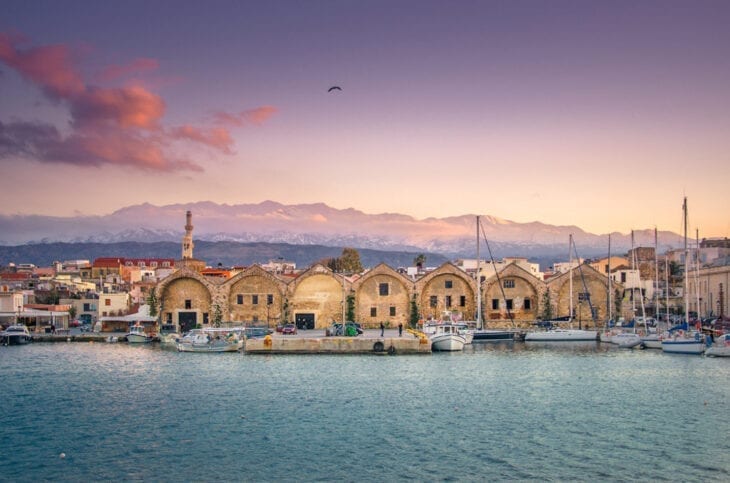 The neighborhood in the east called Halepa – a 15 minute walk from the city center – is a historic neighborhood with elegant neoclassical mansions. The heart of this lovely area above the sea is the Evangelistria church, the most elegant of the city. By night, seek out the ruins of the old tanneries on the water, long since closed, to find romantic restaurants strewn with lights – just like you can see in the film "The Two Faces of January."
Enjoy a Beach Holiday – Other Gorgeous Beaches near Seitan Limania
Chania is the westernmost regional unit of Crete and has some of the most famous beaches in all of Greece. Even if it's hard to pull yourself away from exotic Seitan Limania, it's well worth it. Each of these beaches has a very distinctive and unique character.
Elafonissi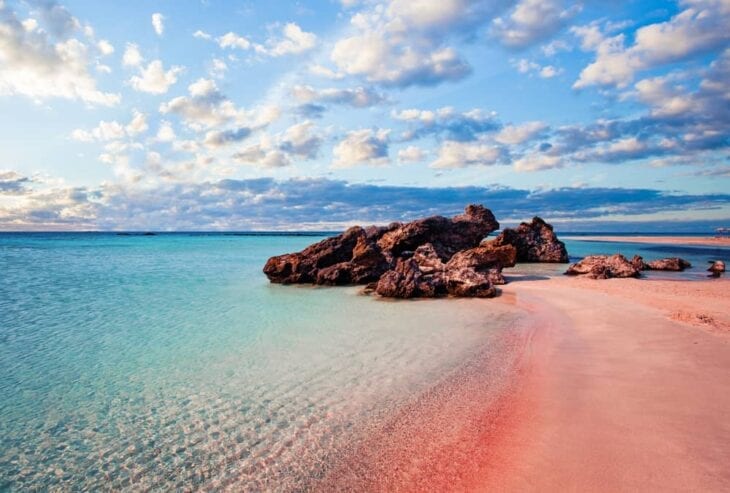 Elafonissi Beach on the southwestern corner of the island is a rare experience. The sands are pink, thanks to some beautiful corals. Elafonissi is a complete experience. There is an island of silky sands, covered with rare flora and protected by the Natura 2000 network. There is a shallow lagoon of sweetly calm waters (you wade through them to get to the island), and there's also a windy open sea that's ideal for water sports enthusiasts. The parking lot may be crowded, but this is a large area and if you are willing to walk a little you'll find your own private paradise.
Elafonissi is a two-hour drive through some of the most beautiful and lush scenery of Crete.
Balos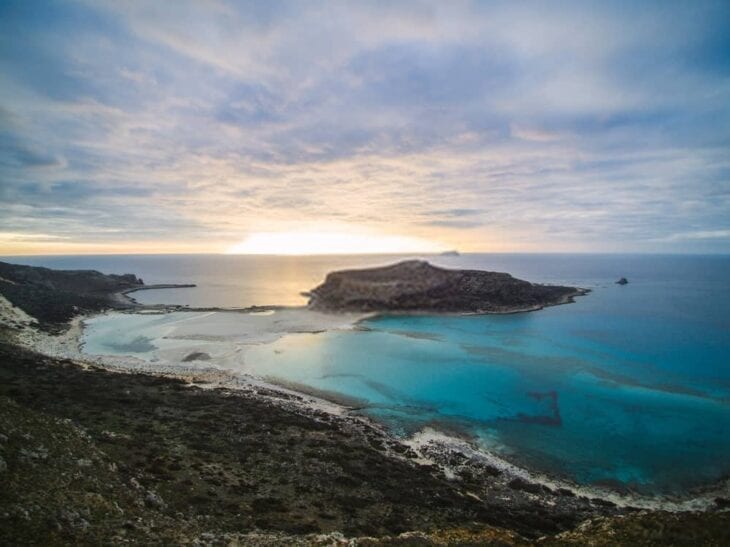 Another lagoon, island and beach combo, but with a completely different character. Balos is at the tip of the Gramvousa peninsula – the northwesternmost tip of Crete. To drive to Balos you need a 4×4 (and patience!) but you can also reach it by day cruise from Kissamos. This exquisite spot has the royal seal of approval – it was reportedly visited by Prince Charles and Princess Diana on their honeymoon.
Sougia
On the south coast of Crete on the Libyan sea, the incomparably pure and crisp waters of Sougia are a delight. The beach is lined with tamarisk trees and casual tavernas. There are a few sunbeds and beach cafes but for the most part this is where to have a more chilled-out, wilder beach experience in Crete. Sougia is just under two hours drive south, straight through the gorgeous mountain passes.
Activities Near Seitan Limani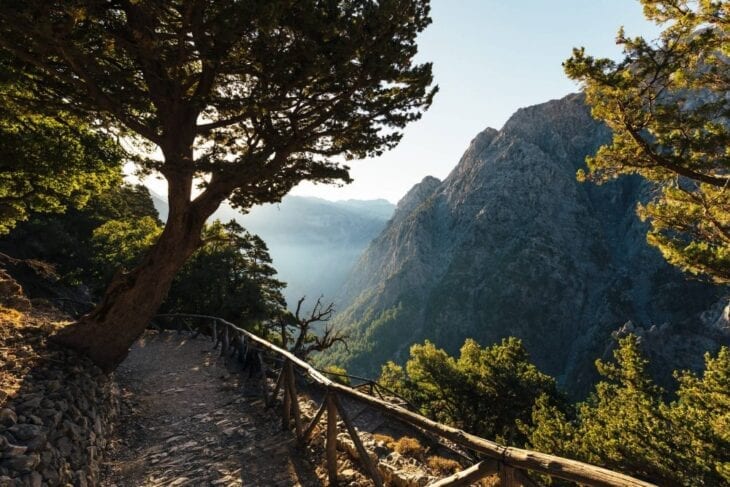 The beaches are so stunning it's hard to imagine going inland. But the hiking in Crete is extraordinary. Try the epic hike of Crete – the Samaria Gorge. You go by bus to the starting point at Xyloskalo at dawn, then hike 17 km – all downhill but pretty steep at the beginning. In Agia Roumeli on the Libyan sea, you can have a refreshing swim, eat a little lunch, then ferry back to Chora Sfakia where buses return you to Chania. This is a wonderful day adventure.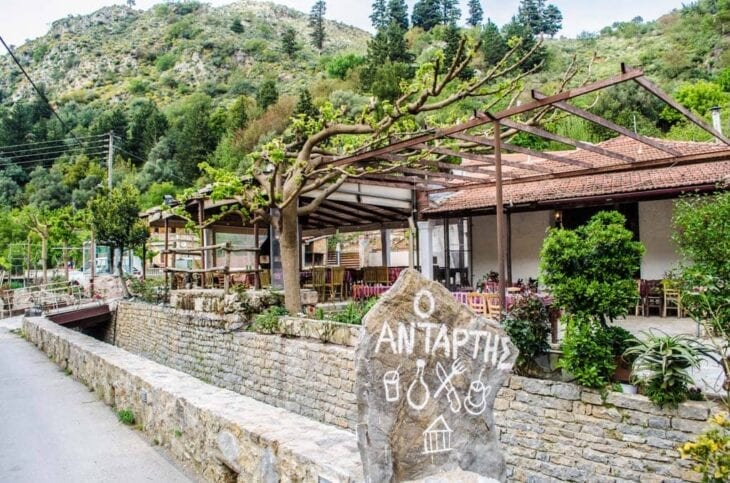 If you're feeling a little less adventurous (and a little more hungry) you can drive through the Therissos gorge – a beautiful scenic drive just outside of Chania. The road brings you to a scenic and historic small village that's famous for its meats.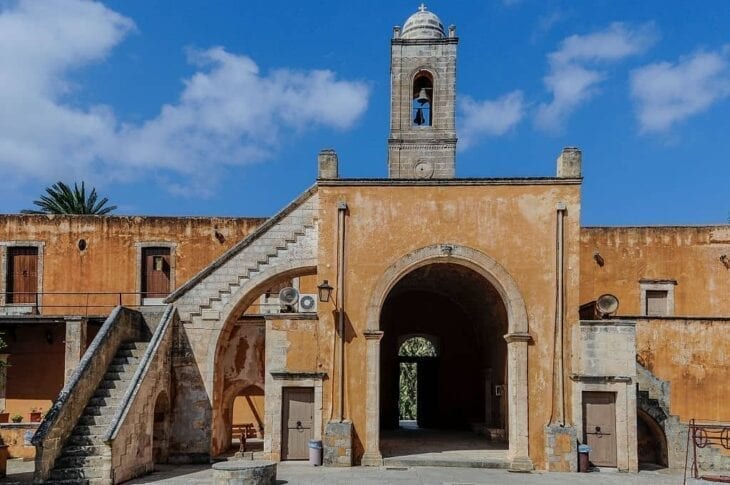 The Monasteries of Crete are unusually beautiful, the products of the Cretan Renaissance.
On the Akrotiri peninsula (the same peninsula as Seitan Limani) is the gorgeous 17th century monastery of Agia Triada (Holy Trinity), which was built by the wealthy Zangaroli family of Venice. In addition to the beautiful chapel, you'll see a museum with rare manuscripts. This is an active monastery and the monks produce wine and olive oil.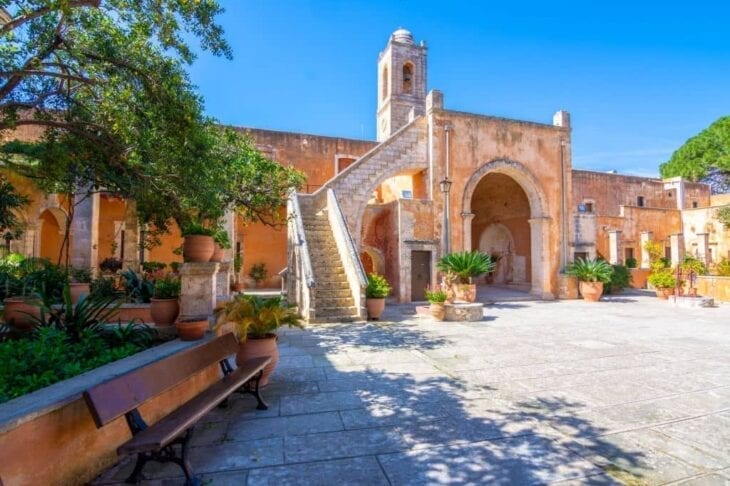 Very nearby you can also visit the Gouverneto monastery. From 1537, this is one of the oldest monasteries of Crete. From here, you can take a path to the Avlaki gorge, which runs down to the sea.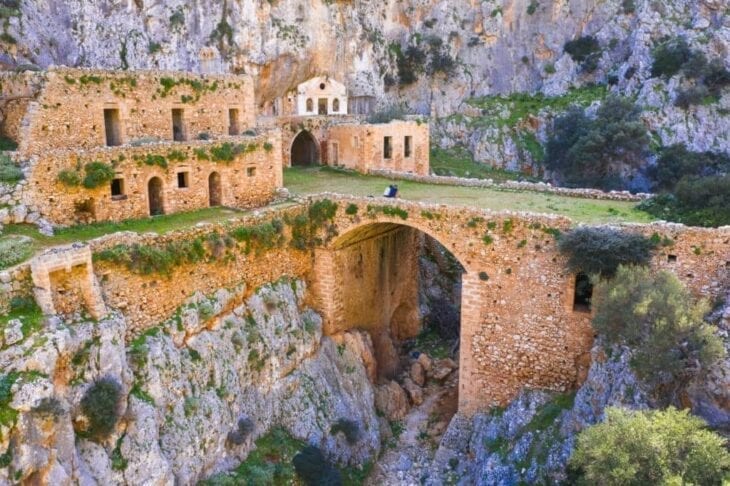 There are also many wineries in this beautiful region of Crete. Visiting them will take you into some lovely villages and landscapes, and you'll also get acquainted with some indigenous Cretan varietals. The Dourakis Winery in Aliakambos in Apokoronas produces organic wines. The Manousakis winery is at the foot of the white mountains, a majestic setting. Here you can not only have a tasting, but also enjoy a meal of local delicacies in their restaurant. They also offer cooking classes for a complete educational (and delicious) excursion.
We hope that you enjoy our travel guide to Seitan Limania and the surrounding wonders of Chania.