Located in southwestern Crete and only few kilometers from Hora Sfakion lies the beautiful and pristine seaside resort of Loutro. With a sea-only access, no roads, no motorbikes and only one single car that makes its home in this small village, there seems to be a sense of pure peacefulness that exudes nearly every inch of this place. With dozens of uniquely designed and placed white buildings with blue windows that line the shores, calm waters and breathtaking sceneries allows for this combination to be nothing short of the perfect destination for a holiday in Greece. Though small in size, Loutro is one place that offers its guests plenty of things to do and see while there. Without further ado, here are the top 5 best to consider while there…

1. Hike The Aradena Gorge
For those holiday goers whom enjoy getting their blood pumping in between relaxing days at the beach, hiking the Aradena Gorge is an absolute must. You will find yourself surrounded by massive red stoned walls, numerous view points and sceneries along the way and a place of solitude for those wanting to get out of the more crowded areas. Though not technically in Loutro, the gorge is within walking distance and despite the more difficult climbs and inclines that you will need to endure before reaching it, once there you will undoubtedly be glad you chose to make the journey.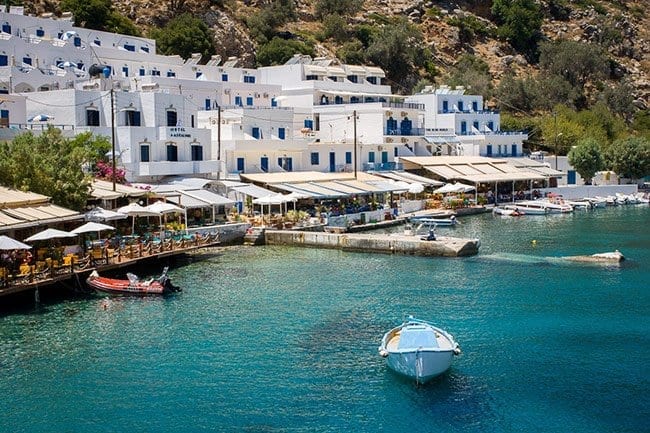 2. Discover the Venetian Castle
Though a tad bit of a hike there, this is far less tiresome than the before mentioned option seeing as children make this trek to the Venetian Castle. This sight is one of the most visited in all of Loutro, due to its magnificent and pure natural beauty. Although small, the opportunity to climb about the ruins of this place is something truly extraordinary. Not only will you have fun climbing and exploring this particular area, you will also get the chance to take in some of the best views of the sea and neighbouring towns. So, get your cameras ready for this one!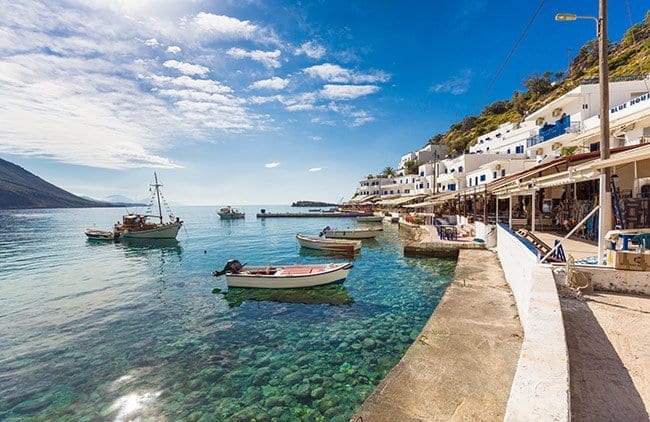 3. Spend A Day At Sweet Water Beach
Also known as Glyka Nera Beach, spending a day here means a time filled with relaxation, post card perfect turquoise waters, warm weather and plenty of fun to be had. Seeing as there are no umbrellas or facilities nearby, this is a place you are going to want to simply dig your toes in the soft sand and take in all of the beauty that surrounds you. Whether you want to go for a dip in the rather cooler water or simply soak up the hot sunshine, this is one beach you are guaranteed to enjoy.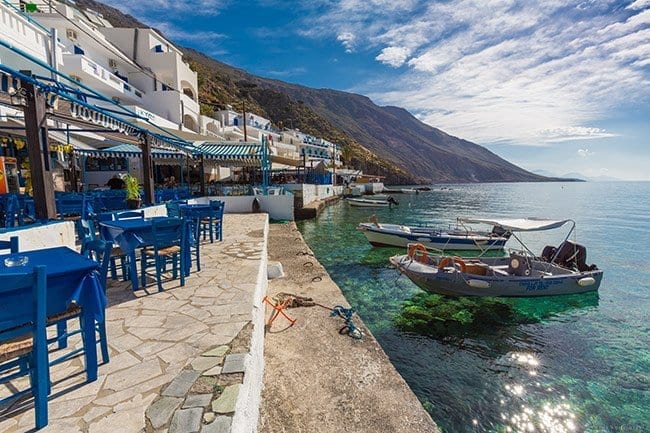 4. Explore The Village By Foot
Of course there really is no other option seeing as there is no other way to get around this place but heading out from either your hotel or the ferry dock you just arrived at provides the best way to see all that Loutro has to offer its guests. A stroll along the beach, a visit to a lovely coffee shop, a stop at one of the many great restaurants and a sip from one of the many great drinks offered at the bars will have you wishing you could stay for days on end. The fact that this particular area is smaller than most places that visitors tend to head to allows for you to truly stop and appreciate what makes this place so incredibly special and unique from the rest.
5. Rent A Boat
After you have seen nearly all there is to see in Loutro from the hikes, shops, restaurants and beaches, then why not head out to sea on your very own rented boat? This is an excellent option for those who simply love to be out on the waters and explore more than just the lands of Greece. By renting a boat, it gives you the absolute freedom to head nearly anywhere your heart desires while visiting and stopping at the surrounding areas and towns. There are so many amazingly breathtaking sights to see and explore in this part of Crete and being able to visit numerous of them will only allow for your holiday here to be that much better.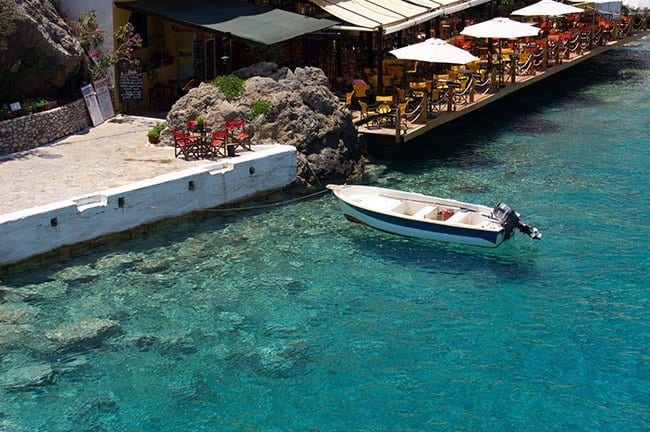 Wherever you decide to go or however long you are able to spend in this beautiful part of Greece, you are guaranteed to have memories that will surely not be forgotten and will most definitely last for years to come.
How to get there
Just 15 minutes. That is how long the boat need to get you from Chora Sfakia to this little village. Loutro is secluded, peaceful, with just one bar, a few shops and some rooms to spend the night. Here there are no roads leading to or away from downtown. The whole village is downtown.
Where to stay
Porto Loutro
A very cute hot in the picturesque fisherman's village of Loutro. It is, basically, a two building hotel. The first is in the right on the beach, where the rooms almost 'swim', and the second just above, facing the bay and the surrounding mountains.
⚐ Loutro, ✆ 0030 28250 91433
Website: hotelportoloutro.com
Daskalogiannis
Excellent service, greek hospitality and comfortable rooms by Mr Daskalogiannis. This is one of the best upcoming resorts in southern Crete.
⚐ Loutro, ✆ 0030 28250 91514
Website: Daskalogiannis on Facebook
Sofia Rooms
Sofia rooms has five comfortable rooms fully renovated and decorated in simply, aegean style (white & blue). Located in the heart of Loutro, just a few metres away from the sea.
⚐ Loutro, ✆ 0030 28250 91354
Website: sofiarooms-loutro.gr
Where to eat
Blue House
Blue house is a family restaurant-tavern, where you can enjoy all the Cretan specialties and much more. You should not miss to try 'kalitsounia' with local cheese, 'sfakiani' pie, local roasted lamb, mousaka, pastitsio, stuffed vegetables and stew.
⚐ Loutro, ✆ 0030 28250 91127
Summary
Reviewer
Review Date
Reviewed Item
Author Rating