Located in southwestern Crete, and just a few kilometers from Hora Sfakion, lies the beautiful and pristine seaside resort village of Loutro. Its name is derived from the Greek word for 'bath', due to the ancient baths that were discovered there. It is a quaint little place literally on the sea, with its typical architecture and a marvelous little bay to call its own. Peaceful and quiet, this place suits those who seek to destress, reconnect and reset. It can only be accessed by sea, and with a prohibition of motor vehicles except for one, Loutro exudes an unmatched tranquility and a tactile authenticity that permeates every inch of the tiny settlement.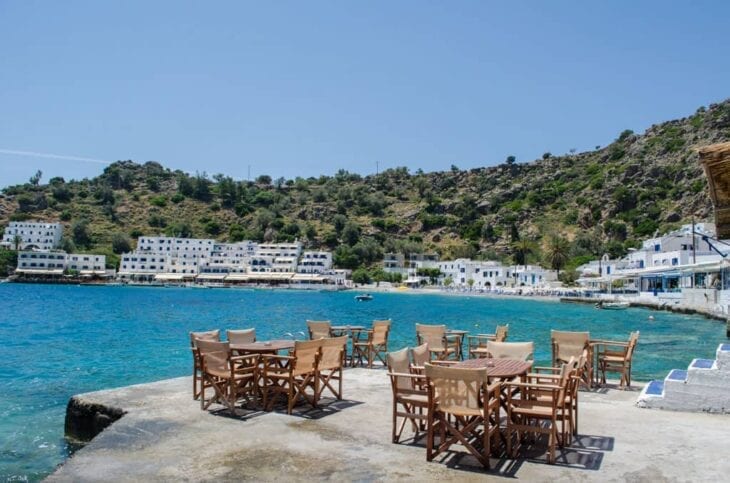 Its waterfront is glistening, its picturesque tavernas are welcoming and its laid back mentality is palpable. With a picture perfect array of dozens of uniquely constructed white buildings with blue windows that dot the shoreline, calm waters and breathtaking scenes of natural beauty, Loutro combines some incredibly attractive attributes, making it a hidden gem to discover on your next holiday in Crete. Though small in size, Loutro is can offer its visitors plenty of things to do and see during their time there. When you next find yourself there, be sure to check out the top 5 must do's while in Loutro.
1. Hike The Aradena Gorge
For the more adventurous types who seek to experience a few thrills in between lazy days under the sun, why not consider trading the beach for a gorge? Hiking the Aradena Gorge is an exciting activity that will reveal Crete's distinctive natural beauty, albeit with a little bit of effort on your part. It is a pristine sanctuary amidst massive red stoned walls and dense vegetation that will provide numerous vantage points and impressive scenery along the ravine's entire stretch.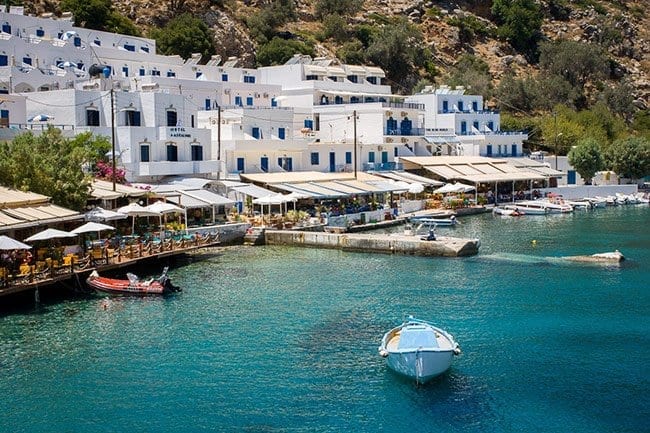 For a duration of 3,5 hours, you will follow a trail that takes you on an internal journey to solitude, through a natural wonder that will leave you in awe. Diverge from the beaten path, retreat to this place in the bosom of mother earth and recenter yourself. Though not technically in Loutro, the Ardena Gorge is within walking distance and despite the somewhat challenging climbs and steep inclines that you will need to overcome, once you conquer the hike, you will undoubtedly be glad you chose to make the journey.
2. Discover the Venetian Castle
The Venetian Castle in Loutro occupies a sensational location, perched on a summit and basking in astonishing panoramic views. Its position makes reaching it also a bit of a trek, but it is a trek that children can easily follow. Families can make a day out of visiting the Venetian Castle in Loutro, one of the most popular sites in town and justifiably so. It is a captivating spot that commands not only magnificent views but also has the undeniable charm of history echoing between the ancient walls. The castle is not an expansive yet the opportunity to climb about the ruins of its grounds is something truly extraordinary. Not only will you have an exciting time climbing through remnants of a bygone era as you explore the landmark, you will also be rewarded by some of the best views of the neighbouring towns and the far reaching sea. So, get your cameras ready for this one!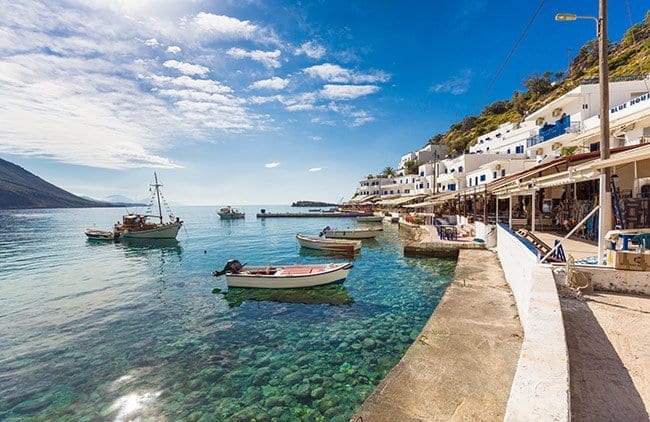 3. Spend A Day At Sweet Water Beach
Also known as Glyka Nera Beach, spending a day there means a time filled with relaxation, enjoying the azure, crystalline waters on this white pebbled beach. You can reach Glyka Nera primarily by sea, although there is a 30 minute path that leads to it from Hora Sfakion for the more active ones among you.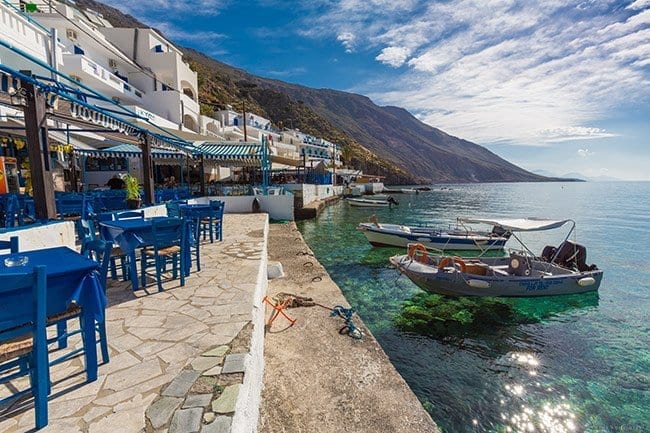 You will find a wonderful little eatery on the beach catering to your needs selling snacks, lunch and refreshments as well as renting out sunbeds and umbrellas, while the spring there offers beach goers fresh, potable water. Given its limited accessibility, this is a generally calm beach that will offer you an entire day of seaside serenity. Facilities that provide the essentials, yet do not overwhelm the place with noise or clutter of other more popular beaches. Perfect for families or couples, seeking a quiet day under the sun.
4. Explore The Village By Foot
The seaside village of Loutro is built in such a compact way that keeps everything connected, with only a few major roads crossing through the settlement.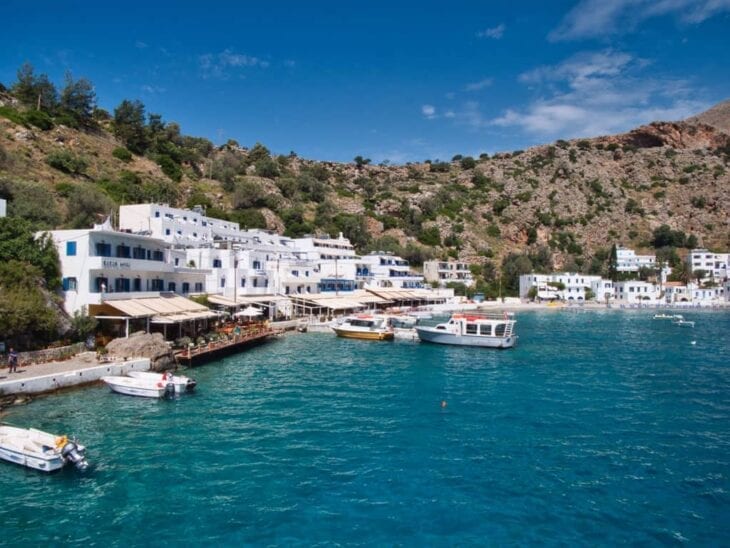 After strolling up and down them a few times, you will begin to sense the vibe of this unspoiled place. Its small size cultivates a feeling of belonging amongst its visitors, through warm greetings shared by locals and foreigners alike, with a heartfelt 'Kalimera' during the day or a 'Kalispera' in the evening. Let the lazy moments linger a little longer as you stop for a delicious beverage in the shade taking a break from the glorious sun at midday at a local coffee shop, or as you casually saunter along the shimmering beach at sunset, perhaps savour the delicacies at one of the tavernas before a nightcap at one of the bars as you gaze up at the stars.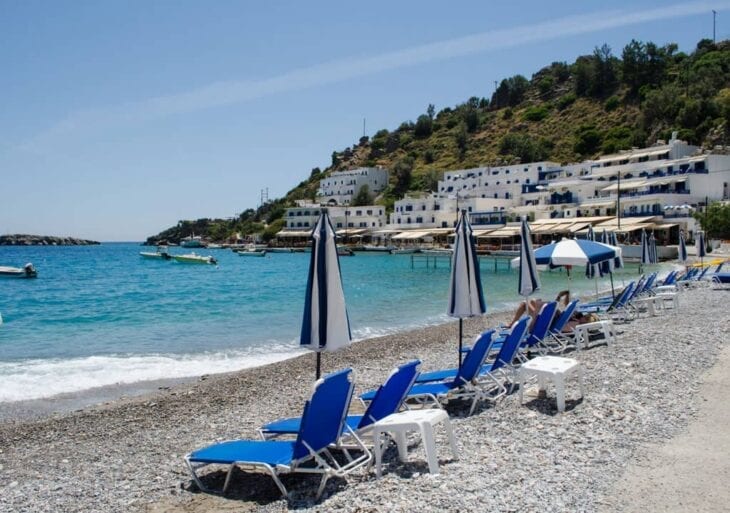 A joyful little routine you could certainly get used to. In Loutro the days go by slower, allowing you to hit the pause button and fully appreciate the little things that actually have immeasurable value.
5. Rent A Boat
After you have spent a few days in Loutro, interchanging visuals between rural and natural beauty, engaged in seeing the sites of the Venetian Castle or the marvel of the Aradena Gorge, explored the colourful little shops, tavernas and nearby beaches, why not head out to sea on your very own boat? Greece was born of the sea, and with an incredibly long coastline in addition to its innumerable islands. So spending a day discovering its marine enchantment by renting a boat is definitely one of the most quintessential experiences to have on your Cretan holiday.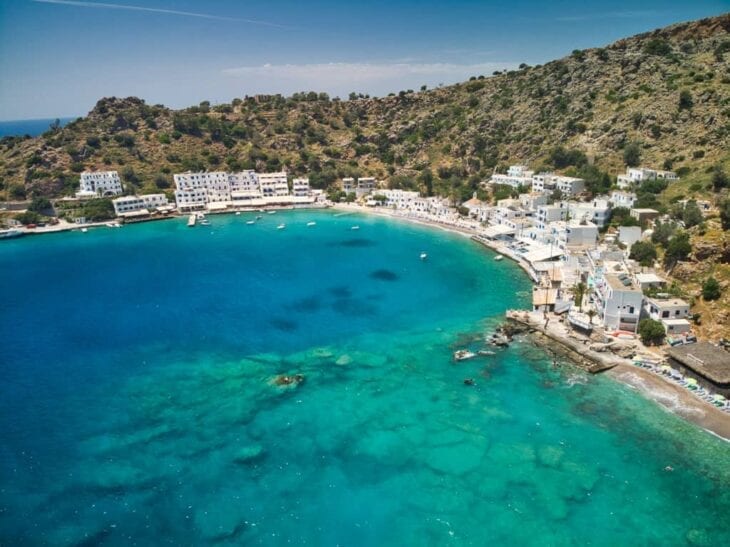 Therefore, one of the top 5 must do's in Loutro is to take to the seas, an excellent option for those who simply love to be out on the waters and discover the hidden treasures that the sea harbours. Sailing gives you the absolute freedom to head nearly anywhere your heart desires, visiting secluded coves and stopping at the surrounding areas and towns. There are so many spectacular sights to witness in the south part of Crete, and being able to visit numerous spots in a short period of time via sea will enrich your holiday beyond expectation.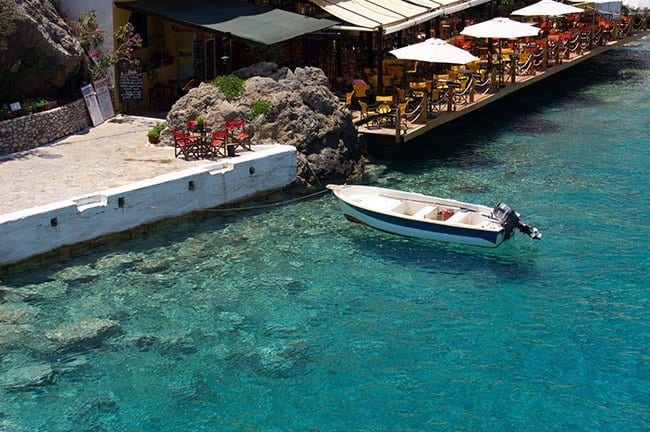 However you decide to spend your days in Loutro or in the greater region of southern Crete, whether its leisurely moments or ones with a more adventurous touch, you are guaranteed to make memories that will be cherished for years to come.
How to get there
Within just 15 to 20 minutes by boat from Hora Sfakion you can arrive at this little gem of a place. It is the first stop on the ferry that connects Sfakia to Loutro, Agia Roumeli, Sougia, Paleochora and Gavdos. They run every 30 minutes to an hour, so check the local ferry timetables here.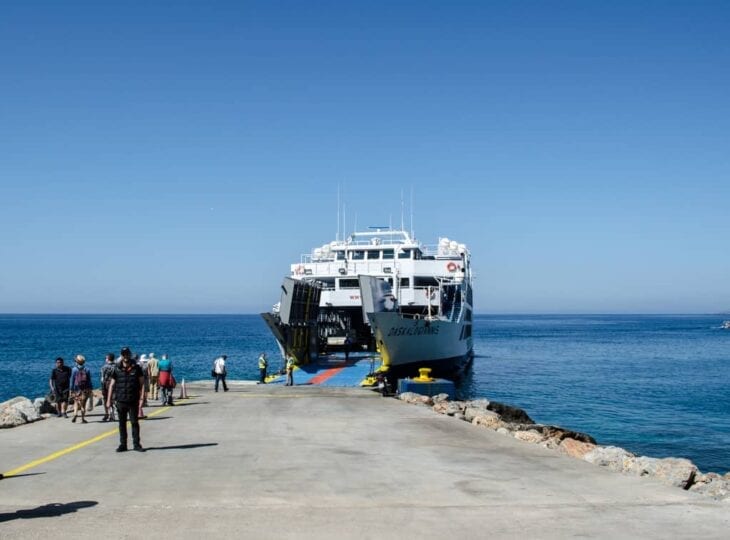 Loutro is secluded, peaceful place with just one bar, a few shops and some accommodation options. Here there is no system of roads leading to or from Loutro, and it is only accessed via sea. It is a sensational location to spend a few days in a calm environment, where you set the pace of your holiday, and immerse into the genuineness of this seaside, traditional little village.
Where to stay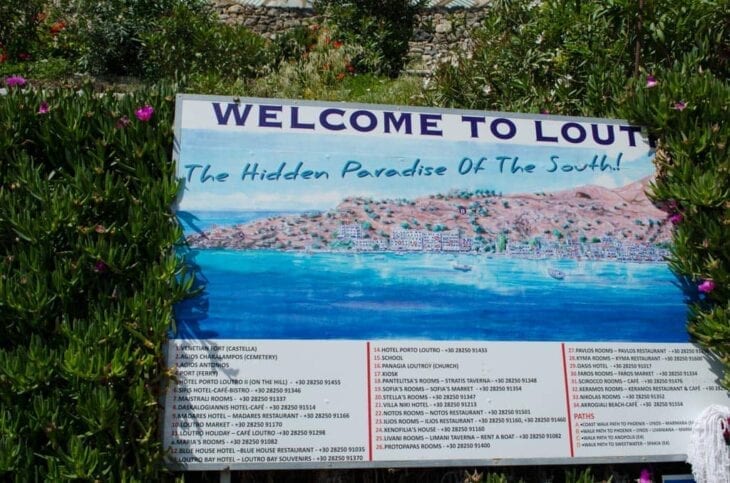 If you do decide to stay in Loutro and not overlook it by treating it as part of a greater itinerary, you will be rewarded. All things considered, you should not be surprised that the accommodation options are pretty scarce. Given it is such a small place, you should not expect massive resort type hotels. This is why Loutro has managed to retain its unspoiled charm, which can only be fully experienced if you give it a chance. It has a vintage, rustic feel to it that will give you a sense of travelling back in time.
Porto Loutro
Porto Loutro is the largest hotel in the picturesque fisherman's village of Loutro. With a total of about 20 rooms across two hotel buildings, it offers guests with a decent accommodation option of two star hospitality. One building is right on the beach where the rooms almost 'swim' in the sea provide amazing views, while the second is located just above the first facing the bay and the surrounding mountains.
⚐ Loutro, ✆ 0030 28250 91433
Website: hotelportoloutro.com
Daskalogiannis
At Daskalogiannis Hotel, guests can expect excellent service, heartfelt Greek hospitality and comfortable rooms facing the seafront. With a great review score, guests here value the cleanliness, the location, and the hotel service. Good wifi and a great breakfast offered at Daskalogiannis, and while rooms may appear a bit retro, they are tidy, fully capable of offering guests the essentials when it comes to spending a few days in Loutro.
⚐ Loutro, ✆ 0030 28250 91514
Website: Daskalogiannis on Facebook
Sofia Rooms
Sofia Rooms offers five comfortable rooms that have been fully renovated and decorated in a traditional Aegean style colour palette of white & blue that will soothe your senses. Sofia Rooms are located in the heart of Loutro, just a few metres away from the sea.
⚐ Loutro, ✆ 0030 28250 91354
Website: sofiarooms-loutro.gr
Where to eat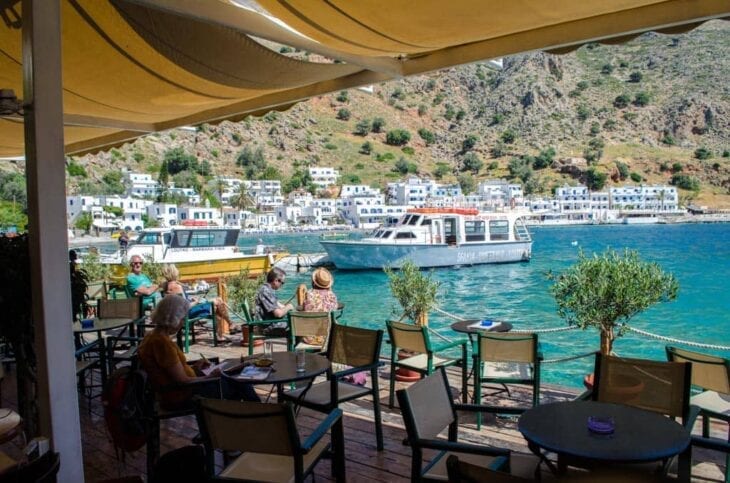 Blue House
Blue House is a family restaurant-tavern, where you can enjoy all the Cretan specialties and much more. You should not miss to try 'kalitsounia' with local cheese, 'sfakiani' pie, local roasted lamb, moussaka, pastitsio, stuffed vegetables and stew.
⚐ Loutro, ✆ 0030 28250 91127
Pavlos
One of the highest ranking restaurants in Loutro, Pavlos is a great choice for enjoying fresh fish as well as some popular Greek meat dishes, such as 'kontosouvli'.
⚐ Loutro, ✆ 0030 2825 091336
Akroyiali Beach Bar
Found at the end of the bay, Akroyiali Beach Bar provides a refreshing alternative in Loutro. It is essentially a beach bar shack that offers beach goers refreshments and snacks during the day, as well as sunbeds and parasols. It is a laid back place although it may get crowded as it is the only venue of its kind in Loutro.
⚐ Loutro, ✆ 0030 2825 091032