Considered one of the most beautiful and picturesque beaches in Crete and even the world, the Palm Beach of Vai, also known as Finikodasos is simply astonishing. The greatest highlight of this destination is the largest palm forest in Europe, growing naturally all the way to the beach. With about 6000 trees, this natural wonder greatly increases the charm of the sandy beach, offering shade a nice walking area. Vai Beach sits on a remote and sparsely populated peninsula in northeastern Crete. Awarded with the Blue Flag for its amazing location and perfect sand, Vai Palm Beach is one of the most fascinating destinations of Crete.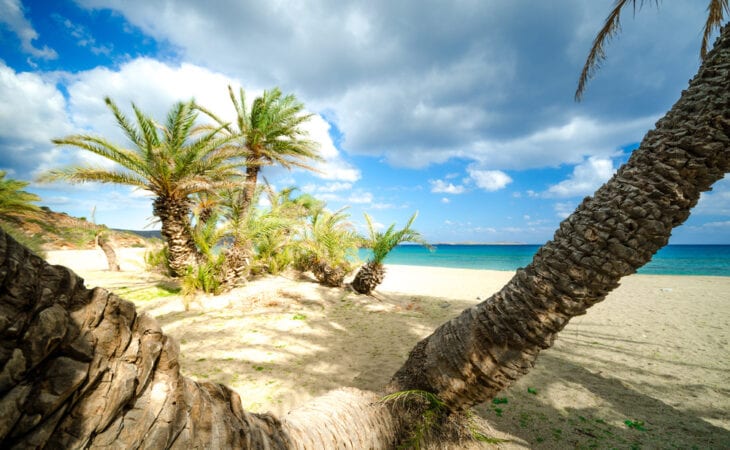 Where is Vai Beach
Vai Beach is located in the northern part of Crete's eastern coast, in a remote part of the island. The beach is quite far from any human settlement, increasing its charm and quaint atmosphere. The town of Sitia is located about 24 km to the west, while the village of Palekastro is located about 8 km to the south. If you arrive at Heraklion airport, the best option is to rent a car and drive there. There are a lot of amazing things to experience along the way and especially in the area around Vai Palm Beach. You can choose to stay in one of the villages further south and visit Vai Beach and other remote places each day.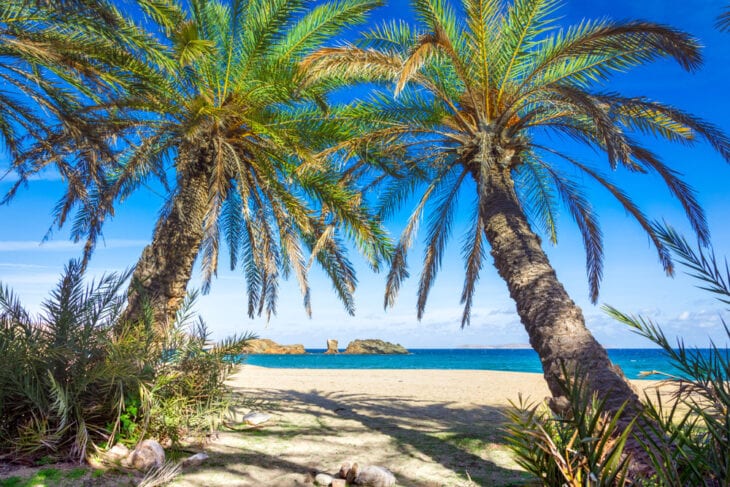 How to Get to Vai Beach
The only way to reach Vai Beach is by car, as there are no major towns of villages around this secluded place. You can visit Vai Palm Beach with a car rental from Heraklion and drive for about two and a half hours towards the east along the coast of Crete. The distance from the capital if 150 km and you will pass through Agios Nikolaos and Sitia along the way. If you wish to stay close to this spectacular beach, there are plenty of accommodation options in the villages located 10-20 km to the south. Vai Beach is easily accessible as there is a road that goes right there. There is also a large parking space south of the beach, where you can find a bar and a tavern. There is no public transportation to this destination and the only option would be to take a bus to Sitia and take a taxi or find other means of transportation, but this is quite difficult in comparison to having your own rental car at all times.
Best Things to Do in Vai Beach
Vai Beach is one of the most beautiful beaches in Crete and the Mediterranean, earning its fame several decades ago when it was discovered and became a favorite destination of the hippie community. Nevertheless, it shortly became overcrowded and filled with garbage, so the area was designated as a protected natural area. It was soon cleaned and organized as a superb beach backed by the largest palm forest of Europe, starting right at the edge of the sandy beach. One theory is that pirates brought the date palms here and it developed through the centuries, yet the scientific facts say that it is an endemic species. You will find the Vai Palm Beach in perfect shape, with superb golden sand backed by idyllic palm trees that create a unique atmosphere.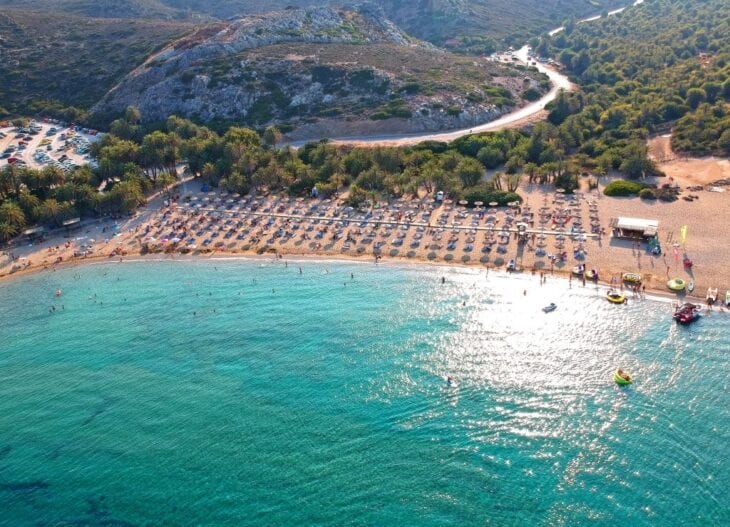 The beach has been awarded with the Blue Flag and it features perfect conditions for sunbathing and swimming. There are sunbeds and umbrellas, as well as a parking lot and dining options right next to the beach. There are also water sports available on the beach, while you can also climb a set of stairs on the southern side and have a beautiful panorama of the Vai Beach and further up the coast. The palm forest is protected and nearly enclosed, but you can walk through and admire the environment. From Vai Beach, you can also take a 5-minute walk towards the south and reach the superb Psili Ammos Beach, while walking to the north, there are other more remote beaches along the coast.
Explore Ancient Itanos Ruins
Just a short walk to the north of Vai Beach lies the beach of Itanos, with the ruins of the ancient town of Itanos located nearby. Itanos used to be one of the most developed and powerful cities of ancient Crete, having its own coin and dominating the eastern Crete region. It was also a commercial crossroad, being famous for its Tyrian purple dye produced in Koufonisi Island. Today, you can still see some of its former glory in the number of ruins present everywhere in the area, including ancient temples and early Christian churches, among others. Itanos also features splendid beaches in three small bays next to the ruins and if you want a unique experience, some of the ruins continue underwater and can be admired by snorkeling.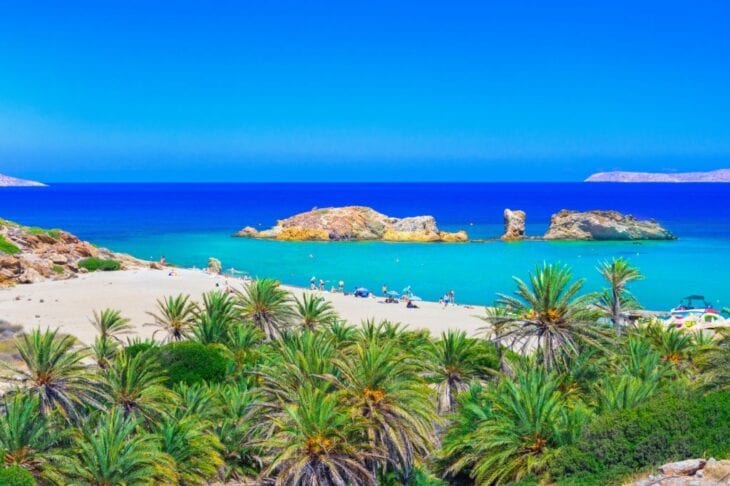 Visit the Monastery of Toplou
One of the most important and impressive monasteries in Crete, it is located between Vai Beach and the town of Sitia, a few kilometers from each. The majestic monastery of Toplou or the Great Monastery as the locals know it owns much of the surrounding area, including the Palm Forest of Vai. With its imposing stone structure that resembles a fortress, it features 10 meters strong walls and an inner fountain in case of sieges. You will be able to admire beautiful architecture and interesting works of art, including the inner basilica and old icons. Apart from the interesting museum, you can also buy olive oil and wine produced by the monks of the monastery in the surrounding hills. There is also a charming little gorge close to the monastery that is worth exploring.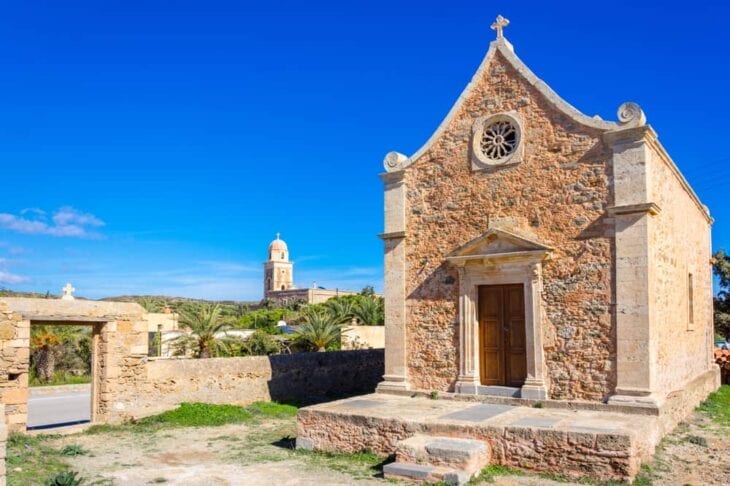 Visit the Ancient Roussolakos Ruins
Located a few kilometers south of Vai Beach, close to the village of Palekastro and the beach of Chiona, the ancient town of Roussolakos flourished during the Minoan Age and you can still admire some of the old ruins, including the ruins of the famous temple of Diktaian Zeus and other interesting buildings. Legends say that in these areas the Argonauts fought with Talos. Most of the artifacts found in this archaeological site can be admired inside the Archaeological Museum of Sitia.
Explore other beaches near Vai
Along the wild coast of this peninsula, you will be able to find many more beaches, although most of them pretty small and unorganized. Nevertheless, their dramatic beauty is unique and you might even find some remote coves without any other visitors. Towards the north, there are three small beaches of Itanos, next to the ruins of the ancient town. Further along, there are many small beaches along the craggy peninsula leading into the Kyriamadi Natural Park, some of them with difficult access. South of Vai Palm Beach, you can walk to the Psili Ammos Beach, while further along, you can find the small beaches of Kedromouri and Maridati, leading up to a larger gulf with the long beaches of Kouremenos and Chiona.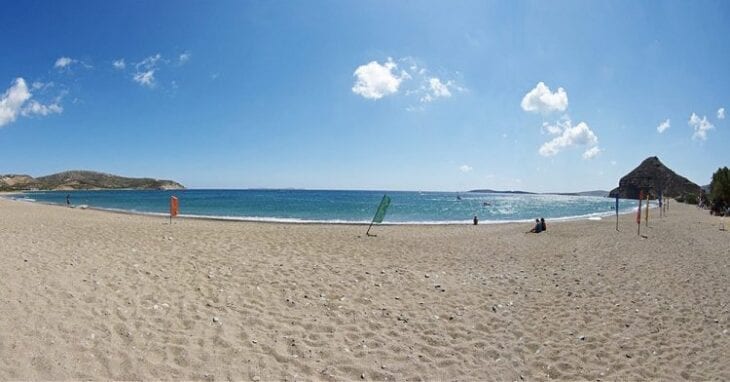 Where to Stay near Vai Beach, Crete
The stunning Vai Beach is quite remote and far from any settlements, so you will have to book accommodation in one of the villages further to the south around Palekastro. There are plenty of villas, apartments and even hotels about 10-20 km south of Vai Palm Beach, perfectly reachable in a few minutes with a car. This is one of the most beautiful and popular beaches in Crete and despite its remoteness, there are a great number of tourists arriving during the peak season, so a good idea would be to book well in advance and maybe choose a less crowded period.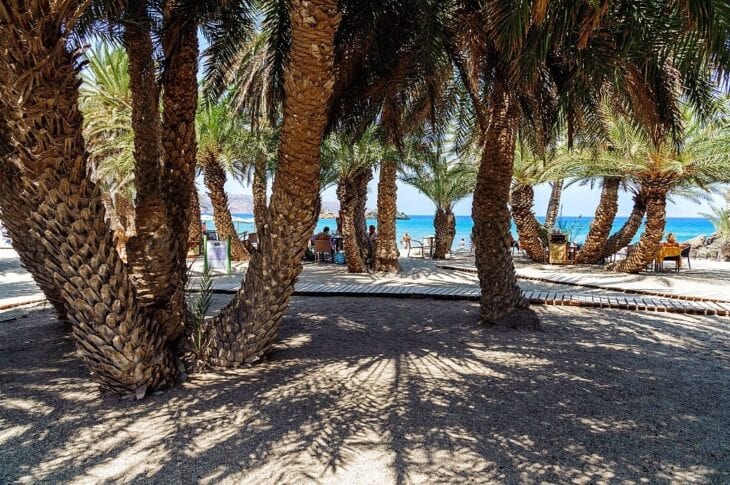 Castri Village Hotel
Located just 6 km south of Vai Beach, this spectacular hotel is surrounded by olive groves and is close to the large Kouremenos Beach. It features splendid Cretan architecture and comfortable studios and apartments with panoramic views, a traditional restaurant and a pools bar.
website
☏ +30 28430 61100
Marina Village
Ideal for families, this highly rated hotel offers a nice atmosphere, being located among olive groves, just minutes from the ruins of Roussolakos and beaches of Chiona and Kouremenos. It features five bungalows surrounded by gardens, with all the necessary amenities, as well as a snack bar and a swimming pool.
website
☏ +30 28430 61284
Porto Heli Apartments
Surrounded by the charming olive groves on the outskirts of Palekastro, this traditional accommodation is just a few kilometers south of Vai Beach and just minutes from the Kouremenos Beach. It offers fully equipped apartments with private bathrooms and kitchens and great views, being surrounded by lush greenery.
website
☏ +30 28430 61424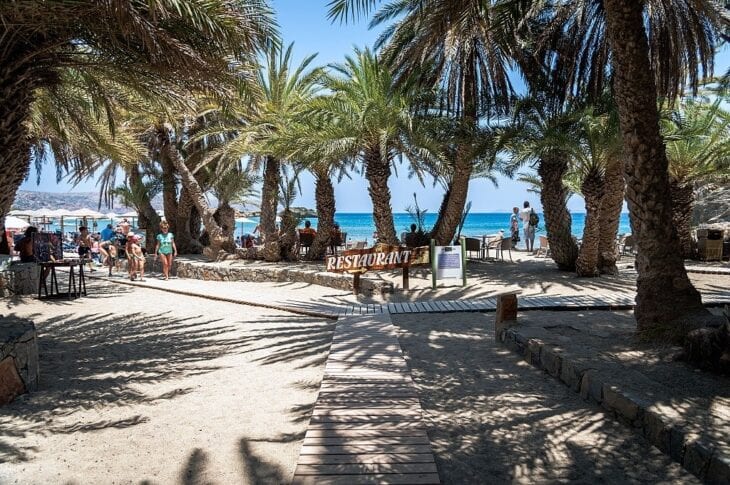 Where to Eat near Vai Beach
Palm Beach Vai
Overlooking the superb beach of Vai, this amazing restaurant is a great choice right on location, offering delicious traditional cuisine, including a variety of seafood and lamb specialties.
website
☏ +30 28430 61129
Metohi Tavern
Located just about 1 km from the beach of Vai, this authentic Cretan tavern offers some of the best food in the area, confirmed by hundreds of visitors. It offers seafood, oven lamb and Greek salads among other delicacies.
☏ +30 28430 61071
Hiona Tavern in Chiona
Located right on the beach of Chiona, about 10 km south of Vai Palm Beach, this traditional tavern is highly appreciated by its customers, offering great food and an amazing location upon the sea.
☏ +30 28430 061228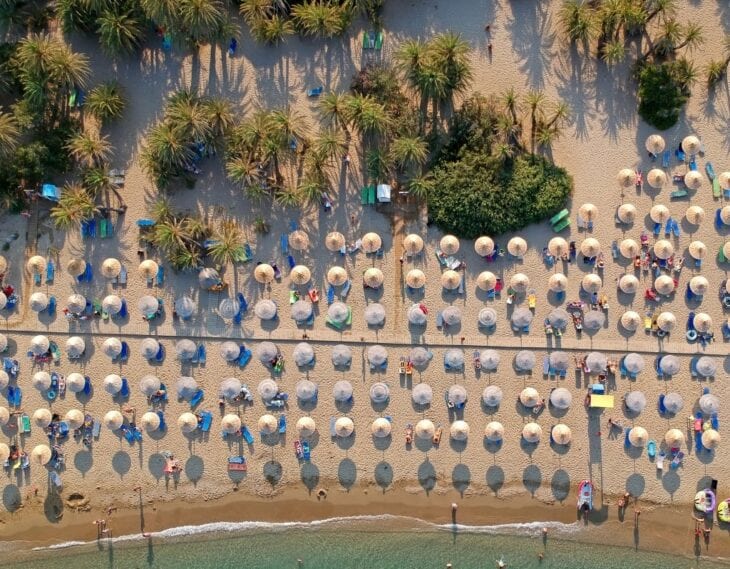 Best Time to Visit Vai Beach
Weather is quite nice in Crete most of the time, except a few months in winter when it is too cold and humid for the amazing beaches on the island. The peak of the tourist season is in July and August, but this could also mean more visitors of Vai Palm Beach. You might want to try visiting during the spring or autumn months for a more relaxed atmosphere, uncrowded beaches and lower prices. The weather is also more pleasant during these months, as it can get quite hot in peak Cretan summer.