Archanes lies graciously between the peaks of Mt. Psiloritis and Mt. Spathi offering stunning views of the surrounding countryside. It is one of the most historic and beautiful villages of Crete which we can't wait for you to discover. Here's everything you need to know about Archanes before planning your trip to Crete.
Where is Archanes, Crete Located?
Archanes is located in the Heraklion regional unit of Crete, about 15 kilometers from the city of Heraklion. It is mountainous, beautiful terrain. Archanes has an elevation of about 400 meters, and is located somewhere between the peaks of Mt. Psiloritis and Mt. Spathi. The town is ideally located for exploring both the fascinating interior of Crete, and for easily accessing the gorgeous beaches of the coastline, both north and south. Archanes commands a beautiful view of the surrounding countryside.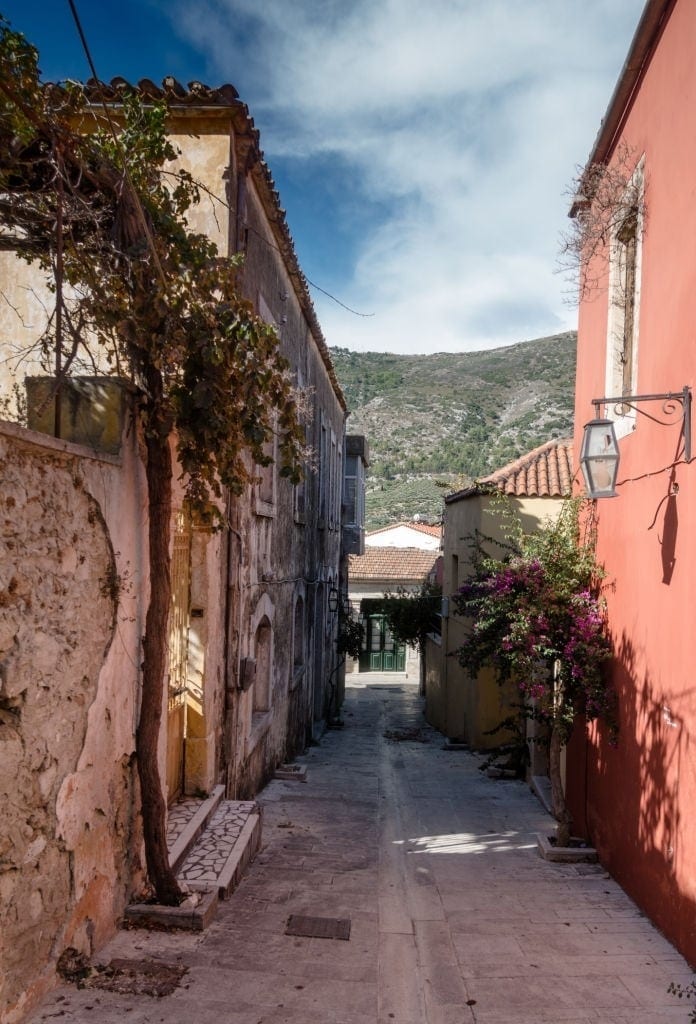 How to Get to Archanes
It is extremely easy to get to Archanes from Heraklion. If you are arriving at the Nikos Kazantzakis International Airport, you'll find a car rental directly at Heraklion Airport where you can pick up your car and be on the highway in no time at all. The drive from Heraklion Airport takes only about 20 minutes. If you're arriving by ship, a rental car at Heraklion Port can be waiting for you. The drive from the port is also about 20 minutes. If you would prefer to take public transportation, you will find several departures daily from the Heraklion KTEL bus station. Schedules can be found here.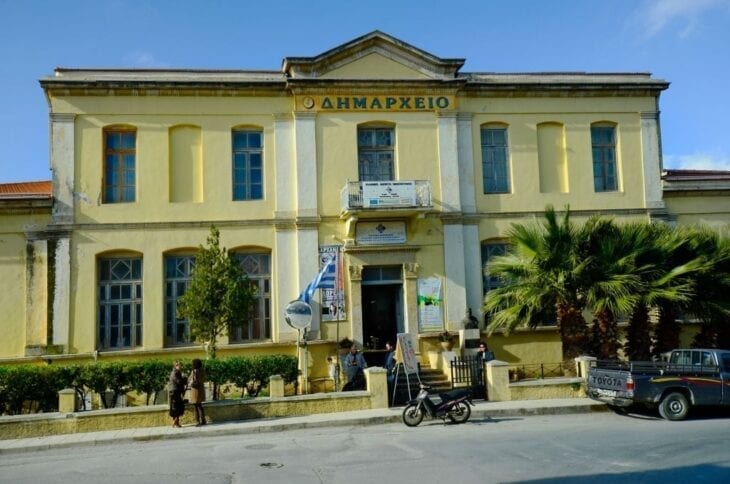 The History of Archanes
Archanes is one of Crete's more historic villages. Its history dates back to the Minoan era – the Minoans being the fascinating and sophisticated Bronze-Age civilization of Crete, which thrived from 3000 BC to around 1450 BC (an entire Millennium before the Parthenon of Athens was built). Many archaeological findings in and near Archanes reveal a Minoan summer palace, a villa and olive oil production facility, and places of worship, as well as tombs of different Minoan eras.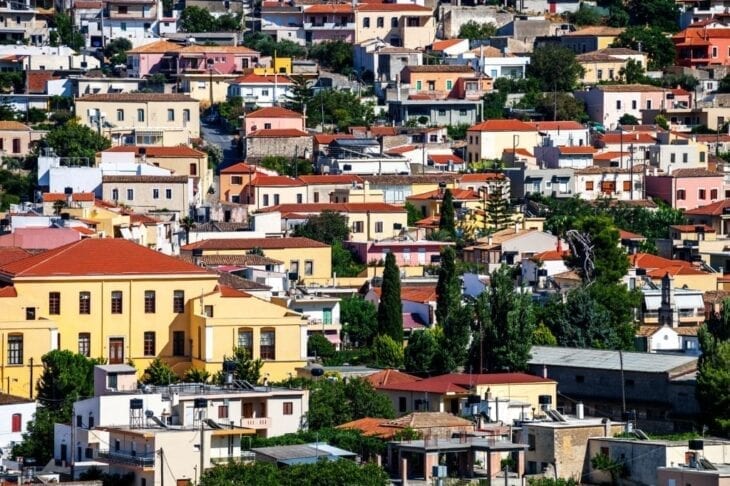 Archanes also has a rich history dating from the Byzantine Era. In 961, Nikiforos Fokas defeated the Arabs who had control of Crete. Then the Venetians controlled the island, starting in 1205. During this period, beautiful churches were built in Archanes. Later, Archanes distinguished by being a key location in the revolt of 1897 against the Ottomans. A defence committee coordinated military operations against the Ottomans throughout eastern Crete from Archanes, which ultimately led to the liberation of the island in 1898. Later still, like much of Crete, Archanes was an important place of resistance during the Second World War. This was the center of command for the German during the occupation, and so it was also a center of espionage. It was from here that, famously, the German commander General Kreipe was abducted by the Andartes – the Cretan rebels – and British agents (the events are the subject of the book and subsequent film titled "Ill Met by Moonlight" – one of several films set or filmed in Crete).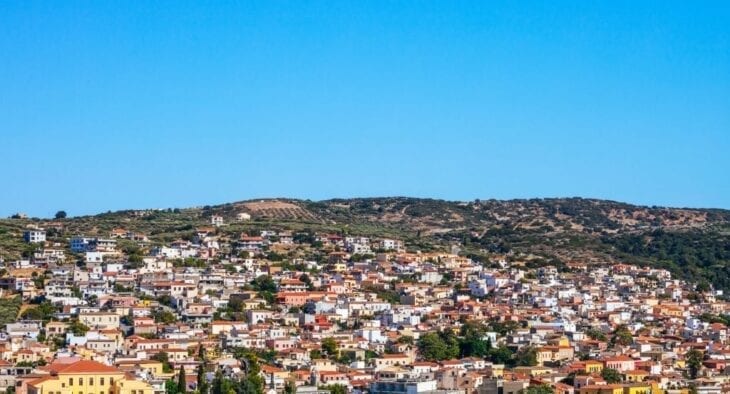 What to See and Do in Archanes, Crete
There is plenty to see and do in Archanes itself – this is one of the most fascinating and beautiful historic villages in all Crete. Starting with history, Archanes is an ideal location for visiting archaeological sites. In the center of Archanes, at a place called "Turkogeitonia" ("Turkish neighborhood"), are the remains of a group of buildings thought to have been a Minoan palace. In nearby Vathypetro a Minoan villa was excavated. Here there was evidence of pottery production and the making of olive oil and wine.
There are beautiful churches of the Byzantine and Venetian periods in Archanes, including the Panagia church, Agia Pareskevi, Agia Triada, and Agios Giorgos. But these are not the only architectural treasures of Archanes. This village is famous for the excellence of its neoclassical architecture, which is otherwise not so common in Crete. This started during the 19h century, when Crete was still under Ottoman occupation. After the liberation of much of Greece after the revolution of 1821, Cretans embraced the style of neoclassicism to express their cultural identity and solidarity with liberated Greece. There are over 200 listed protected buildings in Archanes. The restoration work has been extensive and very beautifully carried out, in part with European support. In fact, Archanes is an award-winning village, based on the excellence of the work and harmonious and authentic atmosphere the village maintains. This truly is like stepping back into history and it's wonderful.
Archanes actually has stayed true to its identity over the millennia. As we saw this was a center for the production of wine and olive oil during the Minoan period, so it is still today. Grapes and olives account for most of the agricultural production of Archanes – the backbone of the economy. You will taste both at all the many delightful small tavernas and traditional "kafenia" of the village. The agricultural cooperative of Archanes was established in 1931 and is one of the oldest in Greece. It has over 1,000 members.
Archanes is dedicated to its natural surroundings, and the local as well as the global environment. In 2002, the Environmental Education Center was established. It's housed in one of those magnificent restored neoclassical buildings.
The best way to really get the feel of Archanes is just to live like a local for a while, enjoying the welcoming atmosphere at the traditional cafes, strolling along the charming alleys, shopping for local wines and oils, and trying the finest in Cretan specialties at the excellent local tavernas.
Enjoy a Beach Holiday – Gorgeous Beaches Near Archanes, Crete
Archanes is a prime location for exploring some of the most fabulous beaches in Crete. If you are looking for the convenience of a full-service beach, including loungers, beach bars – some with music, and water sports facilities, then you will find the north coast of Crete ideal.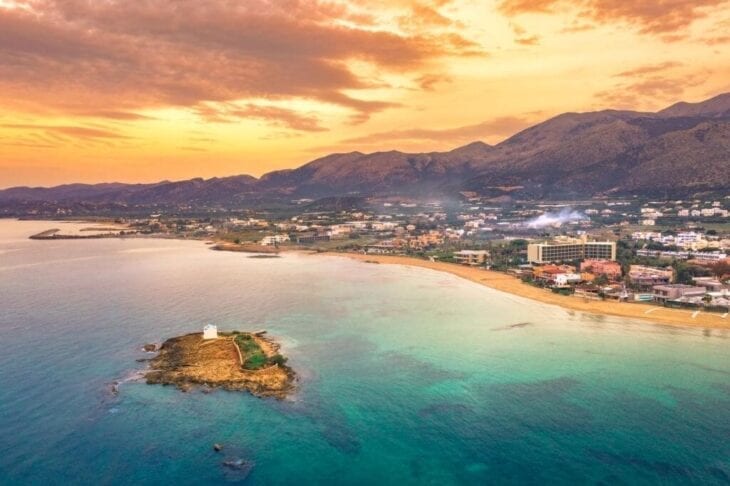 Especially east of Heraklion town, you will find many lovely sandy beaches with crystal clear waters and plenty of fun activities. Famously fun Malia is one of the most famous of these – just right if you are looking for a "party" beach. It's about 38 kilometers east of Heraklion. On the way, you'll also pass the family-friendly Ammoudara Beach (just 5 km from Heraklion) and then the also family-friendly Amnisos beach (9 km east of Heraklion), and, closer to Malia, there is Chersonisos beach, which has a diving club.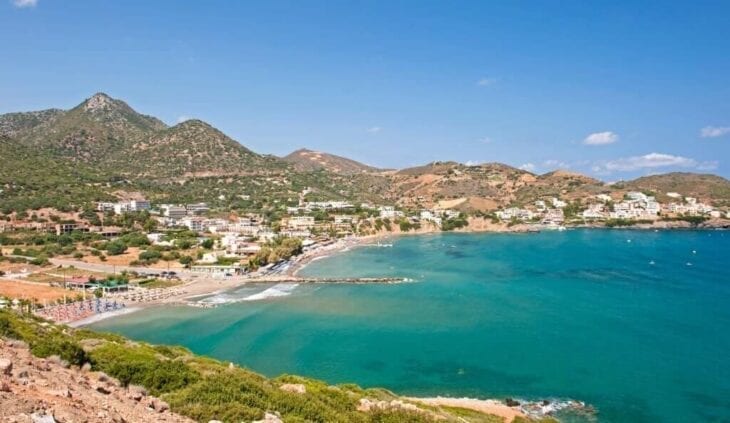 To the west of Heraklion is one of the more spectacular beaches of the north coast. Bali beach is actually a string of little bays all facing east for protected waters. These enchanting beaches are just a little over an hour from Archanes. On the way, you'll pass Agia Pelagia – a non-organized beach popular with locals.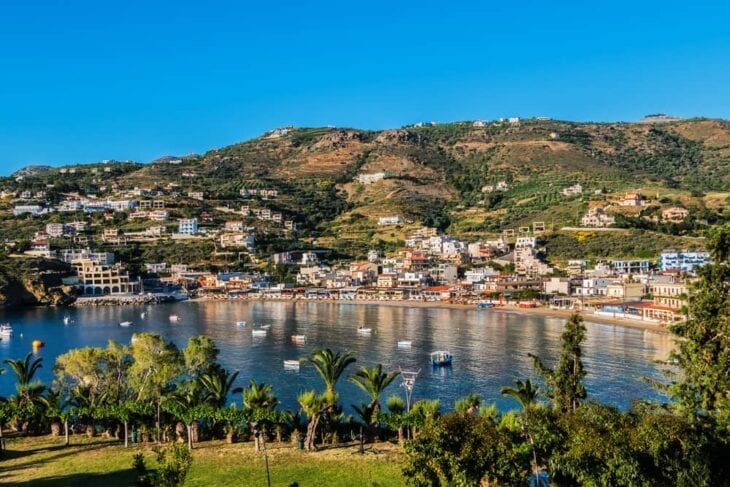 The south coast of Crete has many excellent beaches that are famous for their natural beauty, and are well worth the (gorgeous!) drive. Matala – the famous beach discovered by the hippies in the 1960's – has drawn free-spirited travels from all over the world for decades. Join them to swim in the crystal waters and see the famous caves in the cliffs where the hippies used to camp. Matala is about an hour and 20 minutes from Archanes.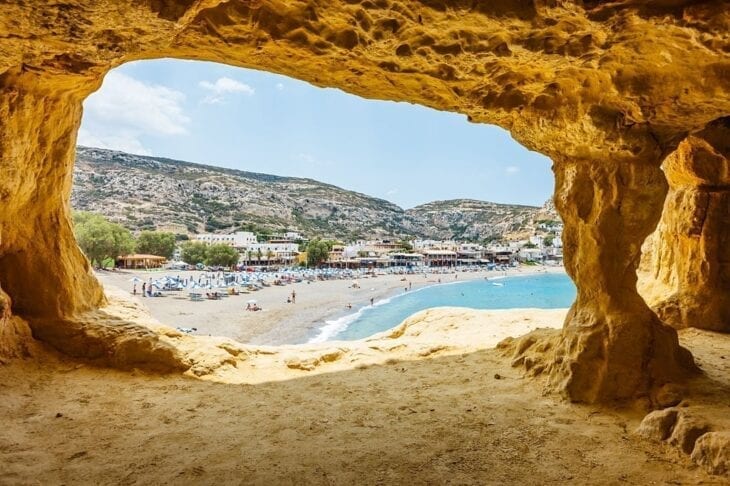 While you are exploring the south coast, other beaches of note include Kalamaki, Tympaki, and Agia Galini.
Activities Near Archanes
To get more of a feel for local culture and also to get to know the locals, try to arrange to be in Archanes for either the grape harvesting season or the olive picking season. Through your accommodations or just by asking around, you could participate in these age-old traditions for a truly unforgettable experience.
Mt Giouchtas is about 5 km from Archanes. Here are the ruins of what is thought to have been a summer palace for the Minoan kings. Come for a hike – it's a little over 800 meters in elevation and the scenery is gorgeous.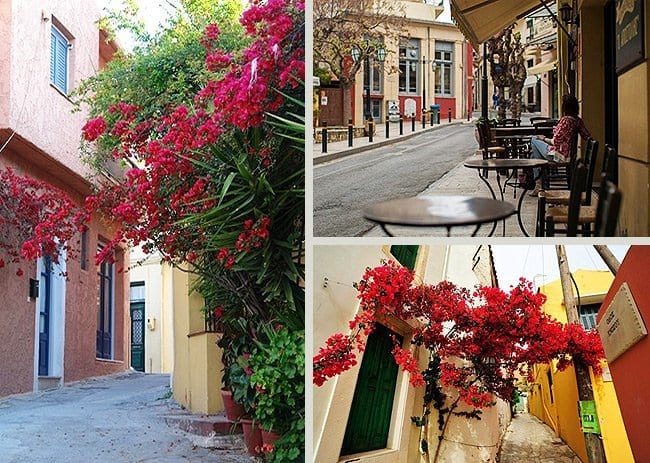 Also, if you are not here for the grape harvest, you can still get in touch with local culture by visiting a winery. Many Cretan wineries are boutique, family-run operations, and they even specialise in the cultivation of ancient Cretan grape varieties like Mandilari and Kotsifali – this is truly a way to connect with Crete's ancient past.
Cultural Excursions around Archanes
This was the very heart of Minoan civilization. When in Archanes, a visit to the world famous archaeological site Knossos is an absolute must. This site, passionately – and, according to some, perhaps a bit too enthusiastically – excavated and in part restored by Sir Arthur Evans in the early 20th century, remains one of the most exciting archaeological sites of Greece.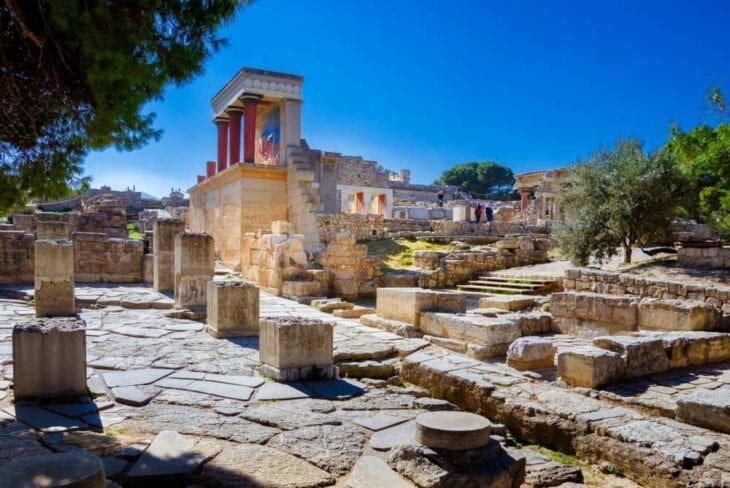 You can get a clear picture of Minoan civilization at this outstanding and elegant site, complete with reconstructions of the superb murals. After a visit to the site, one can see the amazing treasures excavated here, as well as the originals of the murals, at the Archaeological Museum of Heraklion. Knossos is just 20 minutes' drive from Archanes, and the Archaeological Museum of Heraklion is 23 minutes away.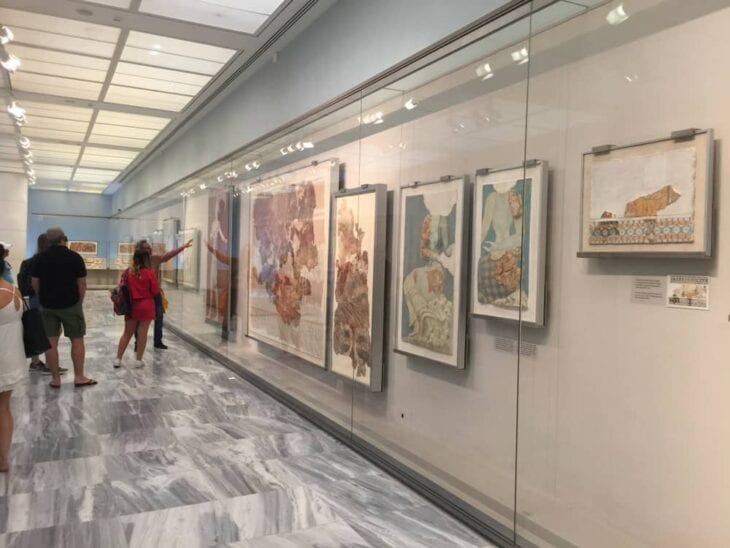 While in Heraklion, one can also visit the many splendid sights of the city! These include many Venetian monuments, such as the Rocca Fortress, the old Venetian harbor, the Loggia, and Lion's Square with the famous Morosini fountain.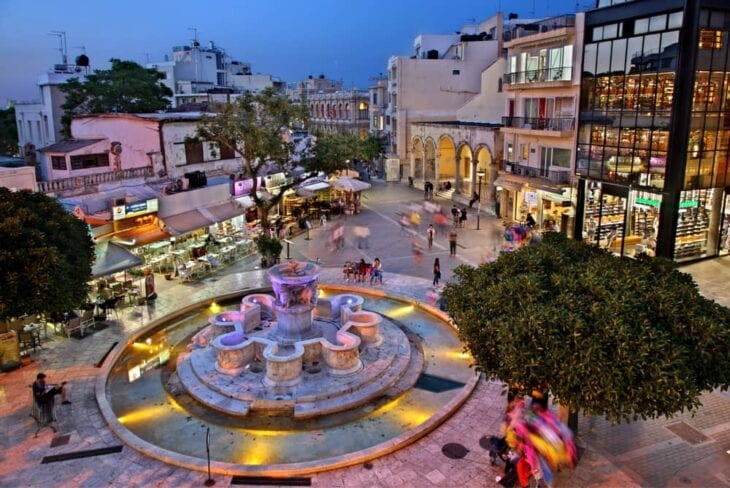 Where to Stay in Archanes
Archontiko Archanes
Built in 1893, this block of traditional bungalows where restored with taste that preserves the culture and ambience of the vicinity-village. The rooms are decorated in a vintage style with antique furniture with embroideries and handcrafts. The scenery in the courtyard is captivating. There you can enjoy a cup of greek coffee, raki or rakomelo, herbs tea and local delicacies.
⚐ Ano Archanes, ✆ 0030 2810 752985
Website: arhontikoarhanes.gr
Kalimera Archanes Village
Located in the center of the village, "Kalimera Archanes" is block of 3 independent buildings (Drosostalida, Aura, Zephyros). All of them where recently restored and renovated to match the architectural style of the village. Optionally, the cook can come to your room to prepare a traditional lunch or dinner. Breakfast is served in the garden.
⚐ Archanes, ✆ 0030 2810 752999
Website: archanes-village.com
Trullos Traditional Houses
These 3 traditional houses where built in 1871 in "Tourkogitonia" (Turkish Neighbourhood). They were completely rebuild and renovated and now consist 10 beautiful one or two bedroom apartments, maisonettes & two-story lofts. Most of them feature a fireplace, wooden floors and antique furniture, plus a small kitchen to cook your own meals. The houses are surrounded by high stone courtyards, full of trees, wood ovens, barbecues and a large wooden deck. The panoramic views of the nearby mountain Youchtas is a must see.
⚐ Ano Archanes, ✆ 0030 2810 753153
Website: troullos.gr
Where to Eat in Archanes
Bakaliko
Bakaliko is a bistro-deli, in the central square of Archanes village. Chefs Agnes and Suzanna created a unique blend of local ingredients and international cuisine flavours. Bakaliko offers light sit-down menus as well as local products to take home – wine, raki, rusks, olive oil and paste, carob products, cheese, charcuterie and more. You definitely should try the vine leaves stuffed with bulgur or just "dolmades", and the lemon-mint tzatziki. Plus, every Tuesday (May-Oct) you can attend a special cooking class by the chefs of Bakaliko
⚐ Archanes Central Square, ✆ 0030 2810 751117, ~ €13 per person
Website: bakalikocrete.com
Kritamo
Chef Dimitris Mavrakis and his wife, Mary, cook for one of the best restaurants in the area. At the captivating yard you can eat "chortopitakia" (spinach pies), various greens from the local market, veal with mushrooms, smoked cheese and mashed potatoes.
⚐ Archanes Central Square, ✆ 0030 2810 753092, ~ €15 per person
Website: kritamon.gr
Spitiko
In the square Mrs. Georgianna cooks and serves next to the fireplace great local food. Excellent "dolmades", braised goat, pork in the oven and cheese-pie that you should not miss. We should mention that all the ingredients come from the local market of the village
⚐ Archanes, ✆ 0030 2810 751591, ~ €15 per person
We truly hope that this post has inspired you to pay a visit to Archanes — see you in Crete!