Escape the hustle and bustle of cities and experience a world of peace and tranquillity in some of Crete's most stunning mountain villages. From picturesque ancient churches to lush Mediterranean greenery, these breathtaking locations are ideal for anyone looking to discover the unique charm this Greek island has to offer. Whether you're seeking adventure or just want to relax and unwind, here we explore some of the top mountain villages in Crete that will surely offer something for all tastes!
What are the top mountain villages of Crete?
Whether you're seeking adventure or just want to relax and unwind, here we explore some of the top mountain villages in Crete that will surely offer something for all tastes! Here are the top mountain villages of Crete that you should visit:
Archanes
Archanes is a stunningly beautiful part of Crete, situated in the Heraklion regional unit and just 15 kilometres from Heraklion city. Sitting at an elevation of roughly 400 metres, hikers and adventurers alike marvel at the spectacular views it offers between the peaks of Mt. Psiloritis and Mt. Spathi. Visitors can also revel in the beauty of Archanes itself, with its lush green valleys, olive groves, vineyards, and rich history that gave birth to some of Crete's most impressive monuments.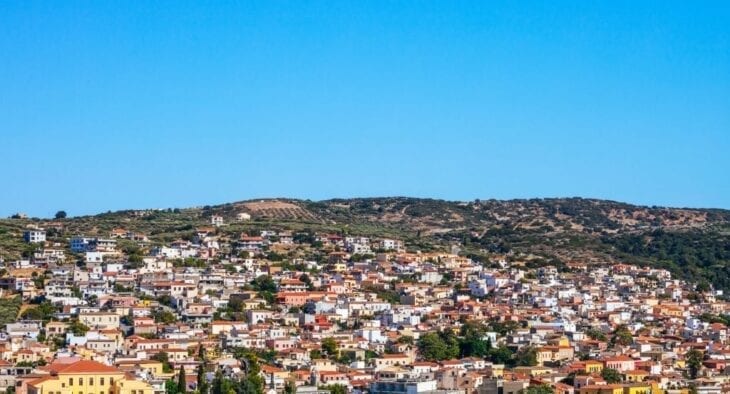 Visiting Archanes from Heraklion is a breeze! You can rent a car directly from the Nikos Kazantzakis International Airport or Heraklion Port to make it an easy 20-minute drive down the highway. If you'd prefer to use public transportation, there are pleasurable daily departures to Archanes from the convenient Heraklion KTEL bus station. Either way, you'll soon arrive at your destination and enjoy ready access to the vibrant city of Archanes.
Archanes is a captivating, historic village in the beautiful Crete region, and there's plenty to see and do when visiting. Deeply steeped in history, Archanes makes for an ideal spot to explore archaeological sites where it is possible to uncover the secrets of ancient civilizations. A Minoan palace is believed to have once been located at 'Turkogeitonia' in the center of Archanes. At the same time, nearby Vathypetro offers further evidence of an illusive past, with its excavated villa displaying remnants of ancient pottery and relics from the production processes associated with olive oil and wine.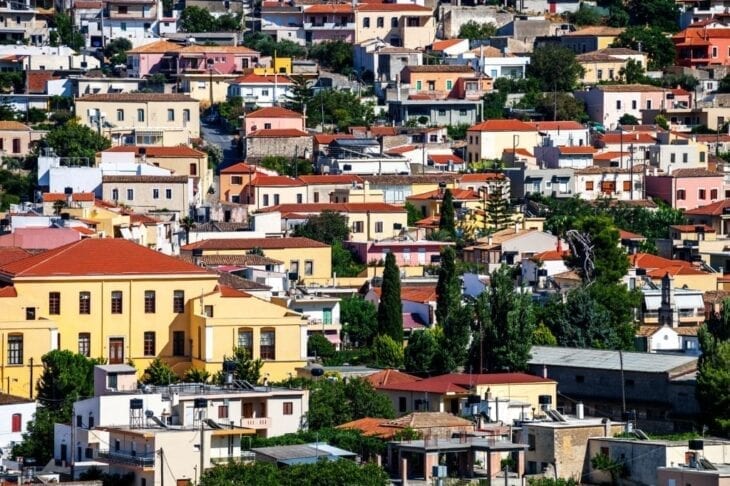 Archanes is more than just a village with some of the most beautiful churches from the Byzantine and Venetian periods. It is also an outstanding example of neoclassical architecture, something quite uncommon in Crete. This remarkable style became popular in Archanes during the 19th century when Crete was still under Ottoman rule. After the liberation of much of Greece following the revolution of 1821, Cretans chose to express their unique cultural identity and solidarity with liberated Greece through neoclassicism – resulting in over 200 listed protected buildings in Archanes today. This makes this mountain village unique and significant.
Much of the restoration efforts have been funded by European assistance, and all works have been conducted with great care and attention to detail – making Archanes a stunningly preserved rural village steeped in historical architecture that stands out as a major tourist attraction on the island. So no matter what type of journey you're taking on your visit to Archanes, you'll be sure to take some truly remarkable memories away with you!
Zaros
Zaros village is best described as a hidden slice of tranquillity nestled away in the mountains of Crete. The nearby lake and gorge provide a tranquil landscape and make it an ideal place to relax away from the hustle and bustle of other places on the island. This part of Crete is loved by locals, who often drive up to enjoy a volta or leisurely walk while taking in all their natural surroundings.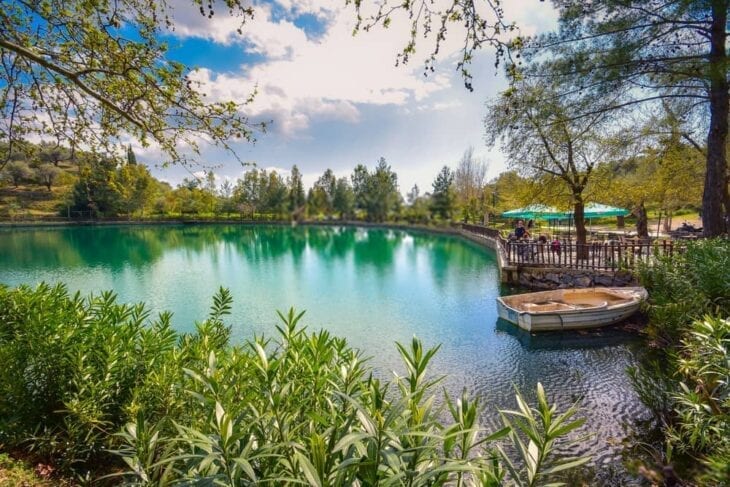 Zaros lies 44 km from Heraklion, at the southern foothills of Mount Idi – Psiloritis, in an area known as the Kainourgiou region in Moires that's part of the Heraklion Region. Locals here live off what they produce, such as olive oil, grapes, vegetables, and spring water; there are also traditional water mills still working since the 16th century that can be found here. Additionally, Zaros has many archaeological sites and monasteries to explore around its perimeter.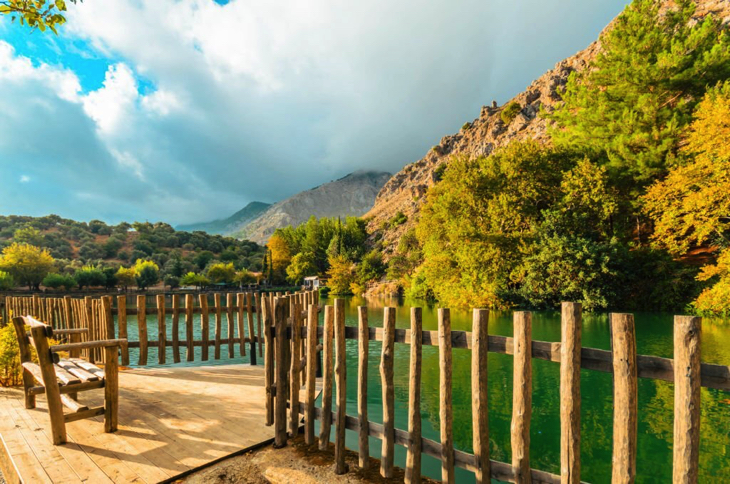 The stunning local scenery surrounding the area makes it a wonderful spot to visit, with eye-catching attractions such as fish farms full of fresh trout and salmon, perfect for feasting on delicious traditional local food in a beautiful courtyard. 1.5 km from the village is Lake Votomos, an idyllic spot to picnic and enjoy refreshments at one of the cafes by the lake shore. Rouvas Gorge is part of the Psiloritis mountain range and forms part of the E4 European Walking Path. Take a leisurely stroll among thriving kermes oaks, plane trees, pines, and maples – set against a steep backdrop for an unforgettable time. Experience fresh mountain air and unwind with amazing views to make the stay one you won't forget!
Anogia
Anogia's long and storied history makes it an attractive destination for tourists. The mountain village is located in the heart of the Idi ranges, a mere 39 km from Heraklion Town and International Airport. It has earned a reputation as a resilient and independent place and is renowned for its strength of character and spirit. Though often blanketed in snow during winter, Anogia stands tall amidst the Psiloritis Mountains with its peak, Mt Ida, offering visitors the chance to witness the famous Zeus Cave or Ideion Andron and Nida Plateau. All while exploring its Crete folk music heritage—dating back to ancient times—and learning more about the region's role in World War II when it became a stronghold for Cretan Resistance fighters.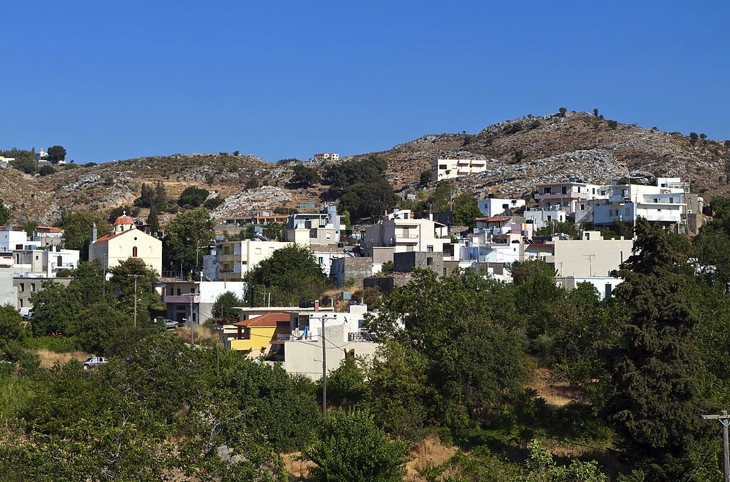 Taking a visit to the high mountains of Crete can reveal a lot of fascinating cultural insights to visitors. One will have the chance to try their luck at snow sports and experience traditional living up close. From local tavernas serving deliciously fresh food to handmade crafts such as clothes and embroidery – there is something for everyone here. Visitors may even come across sarikia, the headscarf, which is part of the traditional Cretan folk dress. To truly understand the heart of Kriti and her music, one must visit Nikos Xilouris House in Anogia, for it was here that beloved folk musicians Nikos Xilouris and his brother Antonis Xilouris grew up and created music from their families' rich traditions. A visit to these mountaintop villages offers a glimpse into a life filled with vibrant culture and music immersed in history and tradition. Those on vacation looking to immerse themselves in culture and tradition should certainly include Anogia on their list – this mountain village will leave an extraordinary imprint on all who visit. Do not miss to taste the famous Galaktoboureko Anogion which is a traditional Greek dessert made with layers of phyllo dough filled with a creamy custard mixture and soaked in a sweet syrup. It is a popular dessert in many parts of Greece, including the island of Crete.
Zoniana
Zoniana is a quaint and incredibly charming village with a unique story. Situated 43km away from Heraklion and within close proximity to Rethymnon, the village was founded under the ancient name of Zeus' Pit – in honour of the God Zeus himself. Those who visit its traditional tavernas can appreciate its natural beauty, which has likely been like this for centuries. Unbelievably Zoniana also houses an amazing museum – the Potamianos Wax Museum – with eighty-seven figures that represent Cretan culture from various eras. It's easy to see why so many people view Zoniana as one of Crete's most beautiful places to explore!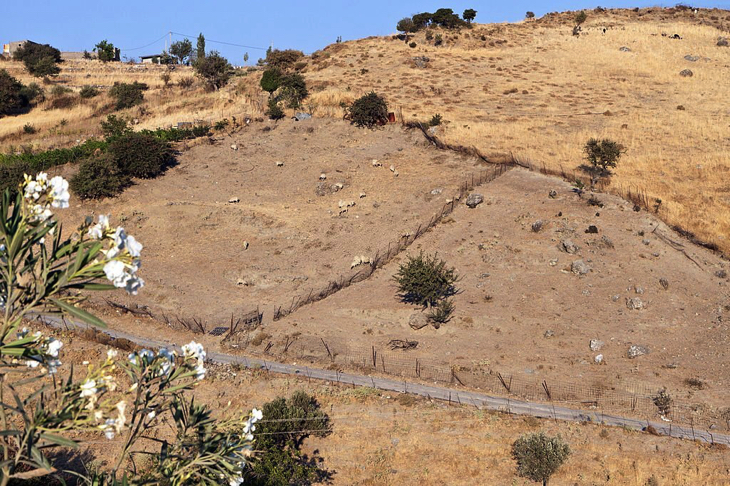 If you're looking for an awe-inspiring adventure near the village, look no further than Sfendoni Cave. Located on the mountain road and signposted clearly, this remarkable cave is known for its impressive natural decoration – think magical stalactites, stalagmites, and other captivating rockscapes! But it's not only the cave that makes a visit to Sfendoni worthwhile – events like 'Sfentonia' offer theatrical performances and Zoniana lyricists, while the annual Shepherd and Cheese Festival ensures a unique experience with traditional tastes from this area of Crete. Whatever your reason for visiting Sfendoni Cave, set aside time to take in all this incredible destination has to offer.
Krousonas
Krousonas is set in the stunning hills and ravines of the Heraklion region of Crete, just 27 km from the capital. It's a picturesque village near Mount Psiloritis with traditional architecture, rich cuisine, and local culture. Best known for its centuries-old olive grove and for the ancient plane tree in the village center, Krousonas is also noted for its many churches, some dating back to the Byzantine period. The surrounding countryside is beautiful and tranquil – ideal for restful walks and hiking in more challenging terrain further up into the mountains. With several nearby beaches, lively cafes, and easy access to archaeological sites such as Knossos Palace, Krousonas is a great mountain destination if you plan to visit Crete during the winter.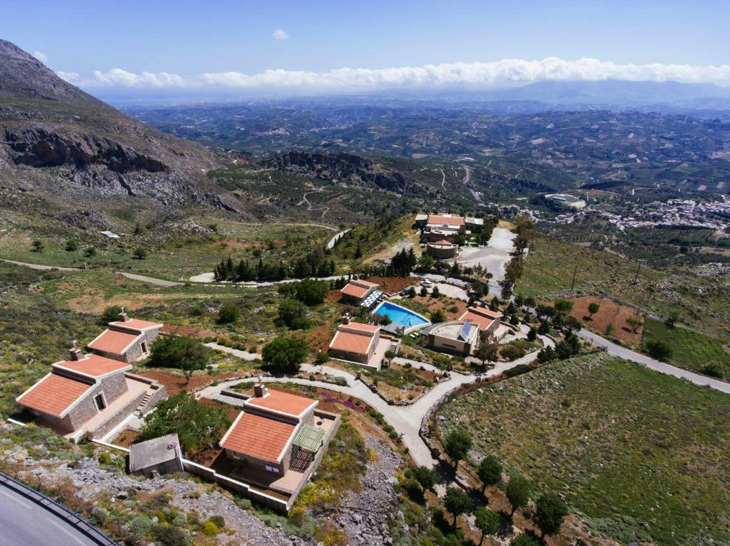 The small mountain village of Krousonas has plenty to offer! Start with the coenobitic Monastery of the nuns of Agia Irini before continuing on to the mountainous region of Livadi, known for its thousands of apple and pear trees. As you meander through Vromonero, be sure to visit its beautiful forest of Prinos. And there's more! After exploring, don't miss the chance to re energize at one of the local agritourism infrastructures or traditional taverns featuring amazing food. Finally, enjoy some shopping at "Krousaniotissa", a Women's Cooperative selling local products in Krousonas. This is the perfect destination for anyone wanting an authentic Greek experience in a stunningly scenic location!
A great place to stay in Krousonas is Aetovigla Guesthouses. Aetovigla Guesthouses is a charming and welcoming property located in the traditional village of Aetovigla on the island of Crete. It offers a range of comfortable and tastefully decorated guest houses that are ideal for couples, families, and small groups. Each guesthouse features a fully equipped kitchen, a living area, and a private terrace with breathtaking views of the surrounding mountains and countryside. Guests can relax in the lush gardens or take a refreshing dip in the outdoor pool. The guesthouses are conveniently located close to the village center, where guests can find a range of tavernas, cafes, and shops. The property is also an excellent base for exploring the island, with several popular beaches and attractions within easy reach.
Kapetaniana
Kapetaniana is a charming village situated in the Asterousia range, west of the Κophinas peak at an altitude of 800 metres that offers visitors a delightful mix of mountain and sea elements. Among its traditional buildings that combine Minoan stylistic influence and monastery architecture, one can find exterior and interior walls made up of stones sourced from nearby hills, wood, and marble. It's well worth taking the time to tour its narrow alleys, perhaps even visiting the 10th-century frescoes at the Church of Panagia as you take in the astonishing views across the Libyan Sea.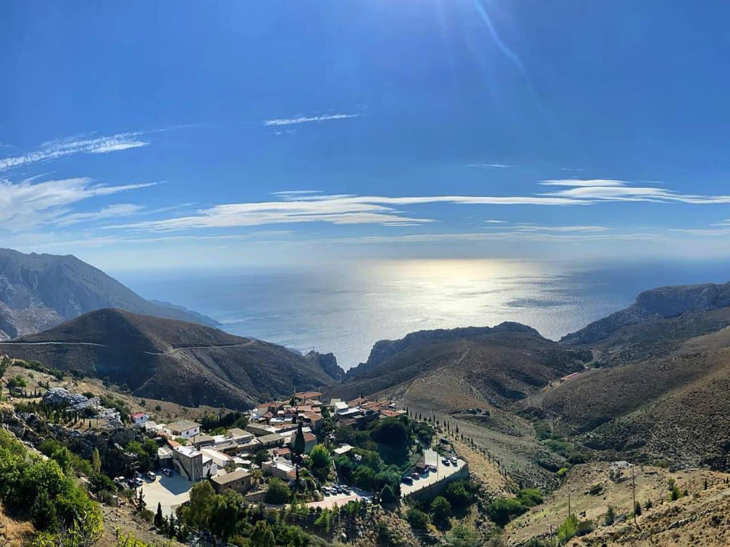 Visiting Kapetaniana is an experience that shouldn't be missed. With an off-road vehicle, travellers can explore the extensive network of mountain roads in Kofinas Mountain – a Minoan sanctuary world-renowned for its beauty and solitude. The area also has ultimate secret beaches, including Agios Ioannis and Moni Koudouma, any traveller looking for a true Crete experience should take advantage. Not to mention the rare Gypaetus Barbatus birds that can be seen flying above the Asterousia Mountains. Markos and Popi from Thalori Traditional Village have experienced bird watchers and can teach travellers all about the area's wildlife in person. Plus, they are well-connected with beekeepers, which makes it possible to learn even more about honey production in Crete.
You can also enjoy the live music nights with Markos and his friends playing the Cretan mandolin and Lyra for a bit of fun. Wash down the delicious local spirit, raki, with a view of the bright stars twinkling in the night sky as you make your way home. Then, explore some of the oldest monasteries of Koudoumas and Odigitrias, which add even more history to this incredible island. So stop by Kapetaniana and get ready for some unforgettable experiences!
Asites
Ano Asites is located 24 kilometres away from Heraklion, Greece, and is surrounded by the forests of Psiloritis. It is situated 480 metres above sea level amidst many caverns, gorges, and the E4 European long-distance path, which ends at Profitis Ilias. In terms of historical interest, one can find the ruins of Rizinia along with 680 graves from the Minoan Era to the 6th century up until the Roman Era. Also, in Siderospilia, there are ruins demonstrating a thousand-year-old human presence in this region.
Visiting Asites is also a great way to explore traditional Greek culture. For one, you can go to the local Folklore Museum, where you can learn about the history and customs of the area; here, you can find stories and artefacts brought to life. You should also take the time to visit Kouvdi, which houses a perennial oak tree – a unique sight that won't be found anywhere else. Lastly, Ano Asites celebrates its patron saint, Agios Ioannis, with an incredible feast on August 29th. During this event, you can expect various sports and cultural activities and enjoy the delicious local cuisine. This village is a well-kept hidden treasure full of environmental and archaeological interests that is definitely worth discovering!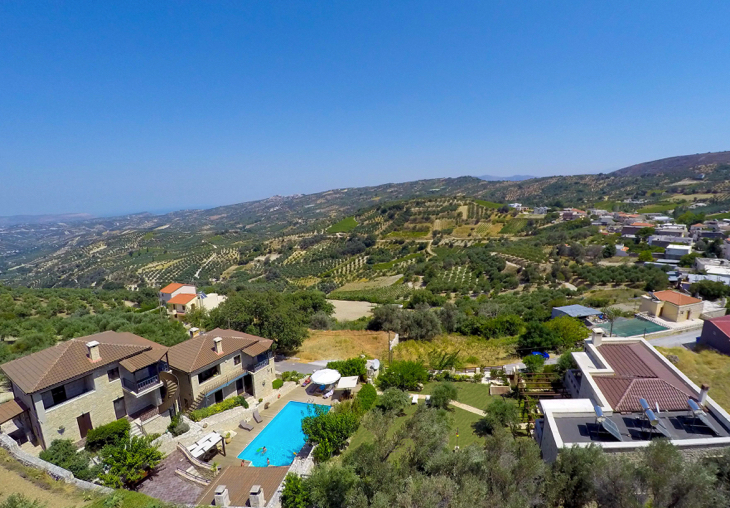 If you consider spending a night in Asites, Asion Lithos is the best place in the area. Asion Lithos is a charming bed and breakfast located in the village of Asites. It offers comfortable and stylish accommodation in a peaceful and welcoming setting. The property features a range of rooms, including traditional Cretan-style studios and apartments, all of which are tastefully decorated and equipped with modern amenities. Guests can relax in the cosy common area, which features a fireplace and a library, or take in the stunning views of the surrounding mountains and countryside from the sun terrace. Guests can also enjoy a range of activities in the surrounding area, including hiking, cycling, and birdwatching.
Milia
Milia is a charming village situated in the prefecture of Chania, located at the center of Kissamos province in Greece. It sits in beautiful surroundings – nestled among verdant mountains and with the picturesque Topolia Gorge a mere 5 km away and the E75 European Route 14 km away. Set high up, overlooking the Topolia canyon that lies beneath it, Milia Mountain Retreat is surrounded by chestnut and arbutus trees that paint its hillsides a vivid green. This creates an idyllic setting for anyone wishing to experience Greek culture in a quintessential nature spot.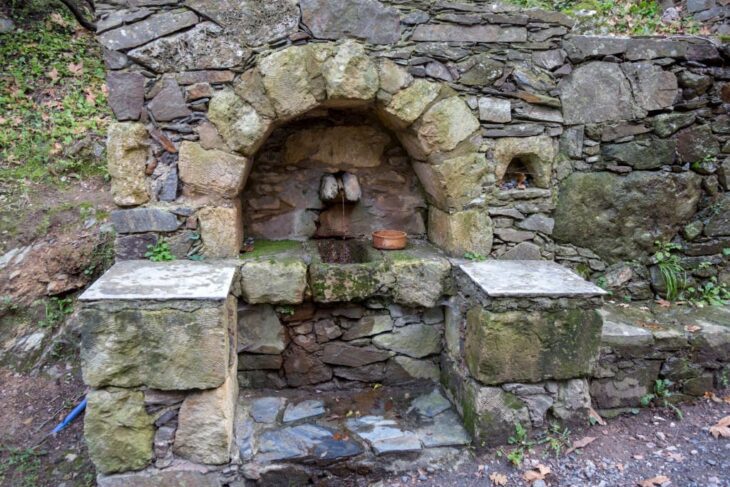 It has long been a popular destination for those looking to reconnect with nature and escape the stresses of city living. Ideal for relaxing strolls, there is no shortage of peaceful walking trails that meander around the village and its surrounding hamlets. Along these trails, you will come across magnificent gorges, lush forests, and awe-inspiring mountain peaks. But Milia is more than just natural beauty – it also has an intriguing past. During WW2, it was used by resistance fighters as shelter; today, evidence of this history can be seen in its restored buildings hidden away in the winding streets.
For a truly unique experience, visit Milia to hike the Topolia Gorge. This gorge is home to some of the most exotic and endemic plants in the area and even holds species not found anywhere else on Earth. The adventure doesn't end there, though; there is plenty more to do around Milia. Paralia Dumitopia is a nearby beach made up of small pebbles, making it ideal for swimming, sunbathing, or just enjoying the view. Kolymbari Port also has boat rides going to Gramvousa Fort, a 15th-century fortress built by Venetians to protect from pirates – now a popular tourist destination. So if you're searching for an unforgettable setting with both idyllic views and interesting historical sites to explore, then make sure to head over to Milia!
Therisso
Theriso, a 16 km drive from Chania town, is a small and fascinating village with a remarkable history deeply rooted in the independence and freedom of the Cretan people. With its majestic mountain scenery and lush gorge, Theriso sits at an impressive 580m at the foothills of Lefka Ori, or the White Mountains to the west of Crete. From the road that meanders through the tranquil riverbed accompanied by towering trees of chestnuts and oaks, visitors can take in this dramatic gorge extending up to 6 km before them. Avid climbers, too, can use Theriso Gorge as their starting point to ascend high peaks such as Pachnes. With its rich cultural heritage, incredible nature, and opportunity for outdoor activities, Theriso really is a sight worth visiting on your travels.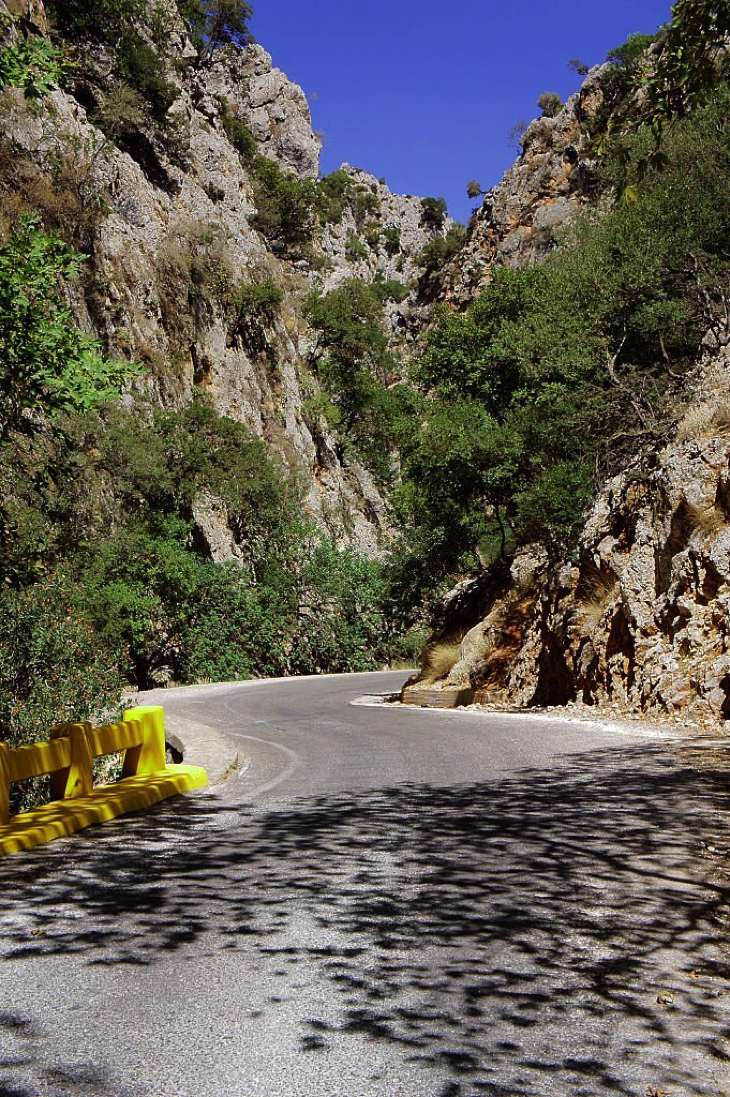 Located approximately 2 km north of the village, Sarakina Gorge provides a fascinating adventure for history enthusiasts and those who love to explore. Thanks to archaeological excavations, visitors can see artefacts and evidence from the Neolithic, Minoan, and Geometric ages preserved inside this unique cave. But those looking for a relaxing activity will be pleased with their visit to the gorge and forest nearby. For sure, don't forget to check out the Eleftherios Venizelos Centre for Independence or the Therisos National Resistance Museum if you're looking for an educational experience too! As an added plus, visitors can indulge in some delicious Cretan cuisine at one of the traditional tavernas found in this small village. A day trip to Theriso from Chania is definitely worthwhile, as it provides something for everyone!
Argyroupolis
Argyroupolis is a unique destination with something for everyone. Straddling the beautiful Rethymnon prefecture close to the white mountains, its location offers both a gateway to the area's spectacular beaches as well as to the stunning town of Rethymnon itself. Ranking midway between Chania and Rethymnon town, Argyroupolis is the perfect place to enjoy peace, quiet and beautiful scenery in close proximity to vibrant seaside resorts while being able to dip into lively city life when desired.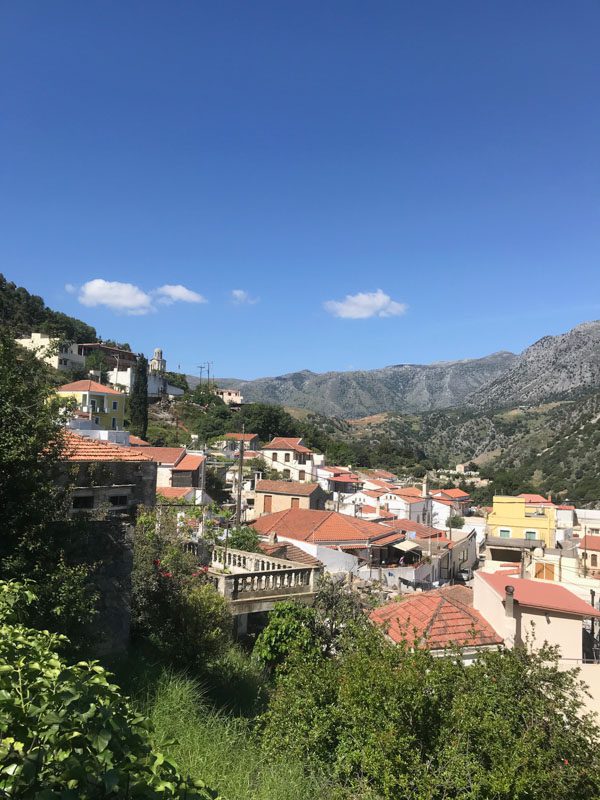 Argyroupolis offers plenty for the discerning traveller, showcasing its prosperous history through grand Venetian mansions and the foundations of much older buildings dating back to the late Geometric period. There's also the chance to marvel at Roman mosaics, as well as classic traditional Cretan Village architecture. When exploring this inimitable destination, it's not hard to feel an "archontiko" atmosphere – a combination of awe-inspiring sights and cultural depth that perfectly encapsulates this singular location. Whether discovering its past or appreciating its natural beauty, there is something special about Argyroupoli that will enthral visitors.
Argyroupoli may be known for its beautiful architecture and ancient history, but its natural wonders are definitely something to brag about too! Flowing fountains and towering plain trees contribute to a wonderfully refreshing atmosphere, while the Holy Power chapel hides an enigmatic cave with particularly sacred water. For a dose of culture, go visit the Church of the Five Virgins – they were martyred for their legendary deeds, with an annual celebration to honour them.
Nearby Lake Kournas offers the largest freshwater lake found in Crete! So grab your friends and explore Argyroupolis' nature – it's ready to surprise you!
Elos
Elos is a village with an idyllic location just outside of Kasteli, Kissamos. Sitting halfway between two scenic roads – one connecting Chania to Elafonisi and the other to Falasarna – it is the perfect place for a rest stop. Here, visitors can take in plenty of fresh air from under the shaded plane trees and enjoy a peaceful breakfast or lunch. The name of the village itself alludes to its abundance of water, which flows from Agios Dikaios Job into the area and makes it an oasis during summertime. If that wasn't enough, it's also located conveniently close to Chrysoskalitissa and Elafonissi beaches, making Elos a terrific vacation spot any time of year.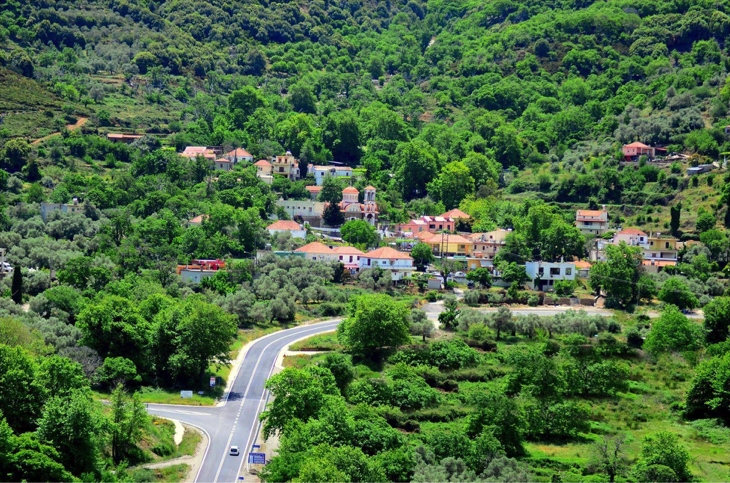 Nestled in an area in the province of Kissamos lies Elos, home to many plane trees and a forest of chestnuts – in honour of which the Chestnut Festival is held every October. But this small area has plenty more to explore and delight its visitors. For those wanting a sense of adventure, there is a signposted path starting from Elos, ideal for hikers and climbers, that leads up to Mount Agios Dikaios – the highest peak in the province at 1180m! When the sky is clear, visitors can see an impressive view from Paleochora in Chania all the way out to Elafonisi, Kedrodasos, Falasarna, Kasteli, Chania, and even Kythira! Atop Mount Agios Dikaios sits a church built in 1870; it was dedicated in honour of Righteous Job and celebrated his life on May 6th each year.
Kritsa
Kritsa is a traditional village located 11 kilometres inland from Agios Nikolaos. As you approach Kritsa, you will be delighted to find yourself set in a picturesque bowl of rolling hills beneath the colourful red overhang of rock known as Kastellos. In the distance, you can marvel at the Sea twinkling along the shoreline and gaze upon the soft curves of the Thripti Mountains and vast groves of olive trees that produce award-winning oil. Every moment spent in Kritsa will leave your heart bursting with beauty and wonder.
Nestled in the mountain foothills, this charming village is known for its skilled weavers and embroiderers. Many come to this small town to admire the beautiful lacework and craftsmanship of their handmade textiles, such as tablecloths and cloths for sale in the narrow lanes of the village. Not to be missed at this picturesque spot is the nearby ruin of Dorian ancient city Lato, which flourished between the 5th and 4th centuries BC. To complete your journey, you can experience the spectacular landscape at the nearby gorge of Lato or explore further within the Dikti Mountains up to Lasithi Plateau.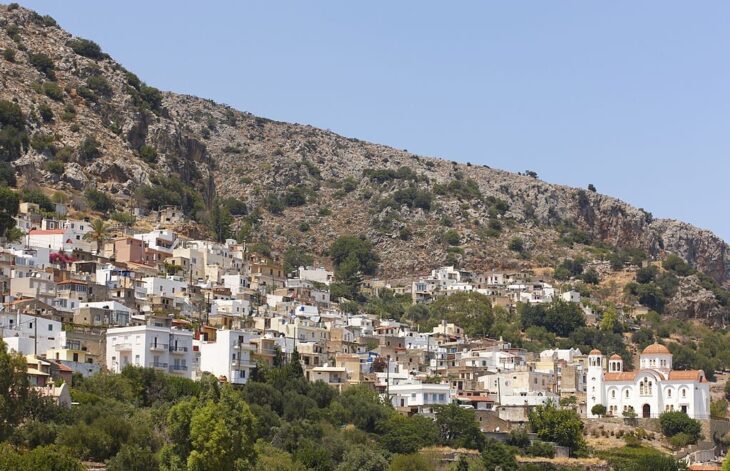 If you're looking for an idyllic Greek village, Kritsa should be at the top of your list! Picture-postcard white-washed homes make this village look like it's straight out of a movie – which may actually be true! It was once the set of the Italian-French production "He Who Must Die" in 1957. Not only that, but the backdrop brought history to life by illustrating elements from Cretan author Nikos Kazantzakis's novel Christ Recrucified. But visiting Kritsá isn't just a treat for the eyes; its past is steeped with culture and adventure! The famous freedom fighter Thriliki Kritsotopoula was born here and tragically died in the Battle of Kritsa in 1823, fighting against Turkish occupation. To learn more about her brave story, visit the Kritsotopoula Museum at 168 Kritsotopoula St. So, if you have a penchant for film-worthy locations and fascinating history, do not skip a trip to Kritsa!
Krasi
If you're looking for the perfect place to break away with a little bit of rural magic, head north to Krasi village — the traditional mountainous village set at an incredible altitude of 600 m! Located 46 km from Heraklion and 8km after Mochos, you'd be taken on a wondrous journey on a winding road leading up to the village, all while admiring the north coastline of Hersonissos. The main attraction here? It's a lush forest containing evergreen oaks and kermes oaks, popularly found only in Crete!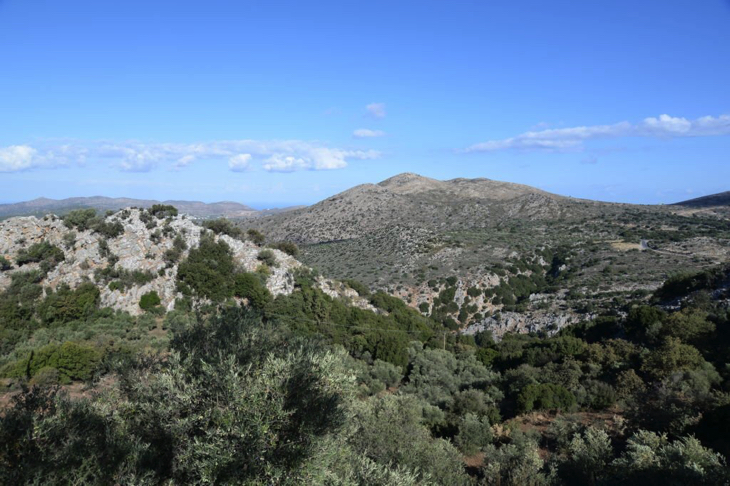 Set deep in the gorgeous landscape of Krasi, the village has attractions to please all ages, regardless if you're into archaeology or trees! For those interested in ancient cities, you won't want to miss the Early Minoan Tomb from 1929- it comes with a side of history. Those who just wanna take in nature's beauty can hang out next to Megali Vrisi, the large water fountain, and one of three huge plane trees – this particular one is said to be 2400 years old! So whether you're coming for some culture or just need some quality time with Mother Nature, Krasi is sure not to disappoint. Get out of your mundane city life and experience Krasi's idyllic beauty today.
Males
Around 28 km from Ierapetra and 40 km from Agios Nikolaos, this village has an exciting past (two and a half thousand years ago, it was its own city-State!) and its perfect location on a green slope with olive groves overlooking the Valley of the Myrtoys – as well as the Libyan Sea and neighbouring mountains – adds to its charm. Whether you're just passing through or enjoy spending plenty of time in this vibrant village, it's sure to be a memorable experience no matter what Era you find yourself in. Don't miss out on all that North River Valley Perithori has to offer – like Venetian rule during its time as one of the largest villages in the province of Ierapetra or Ottoman inviolability – it's a must-see!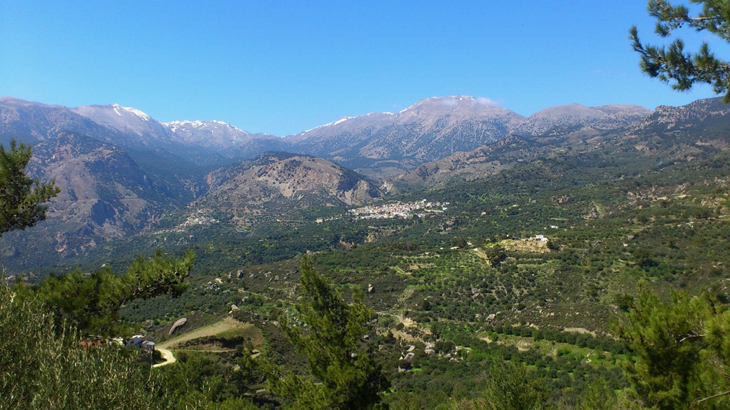 Today, Males is a joyous village that overlooks the crystal blue Libyan Sea and the vibrant landscapes of its grand mountain terrain. Everywhere you look, you can find breathtaking natural beauty – from towering pines on Selakano to the rolling hills of Katharo. If you have an eye for adventure, Males is the perfect launchpad! Take in the views with morning hikes, then head for Retikoy Sources for an afternoon picnic. Here at Males, nature truly takes center stage – take the time to appreciate it!
The Males region is an adventurous paradise just waiting to be explored! The area boasts a stunning array of historic sights and natural beauty. From the deserted village of Agios Georgios Loutra to the Monastery of the Joint and the Metropolitans who are buried there, anyone looking to experience authentic rural Greek heritage won't be disappointed. But that's not all – you've got chapels and Temples which feature magnificent wood carvings from Lassithi. Then there are nature paths leading you towards your destination of Katharo plateau with its source at Retikoy. Finally, visitors can discover Palaiologos Temple, Agios Nikolaos Diklyto Church, Agios Charalambos, and Afentis Christos- each with their own unique stories about the rich culture and folklore of this wonderful region in Greece.
Exploring the Mountain Ranges of Crete
Crete is home to several mountain ranges, including the Lefka Ori, Mount Stroumboulas, Giouchtas, Asterousia Mountains, Lassithi Mountains / Dicte Mountains, and Thrypti Mountain.
The Lefka Ori, also known as the White Mountains, are the highest mountain range in Western Crete and are renowned for their diverse topography, including the highest summit of the region, Pachnes.
Mount Stroumboulas is an impressive mountain located near Heraklion that offers breathtaking views of the country.
Giouchtas is a small mountain in the western part of Archanes known for its gorgeous landscape and peaceful atmosphere.
The Asterousia Mountains extend across the south side of Heraklion and are marked by diverse terrain and unusually warm temperatures.
The Lassithi Mountains, also known as the Dicte Mountains, are located on the east side of Crete and are home to the largest plateau in Crete, the Lasithi Plateau. This mountain range has a rich history, with many versions of Greek mythology stating that Zeus was born in a cave located on the northern side of the range.
The Thrypti Mountain range stretches out from Ierapetra and is known for its rich flora and fauna, as well as its hiking trails.
Hiking and Exploring Crete's Legendary Landscapes
Hiking in Crete is a truly unique experience – and a great way to get the most out of your vacation! From the white-washed cliffs of Rethymnon to the lush sugar-cane fields of Iraklio, you'll be surrounded by stunning natural beauty at every step. Whether you take on tame trails made for beginners or challenge yourself to some more adventurous hikes, exploring Crete's diverse and legendary landscapes has something to offer any outdoor enthusiast. Spend your days winding through breathtaking gorges and meandering through fragrant green valleys while soaking up the sun and breathing in crystal-clear air. Read more about hiking in Crete and the the most popular hikes of Crete by clicking here. A nature lover's paradise awaits!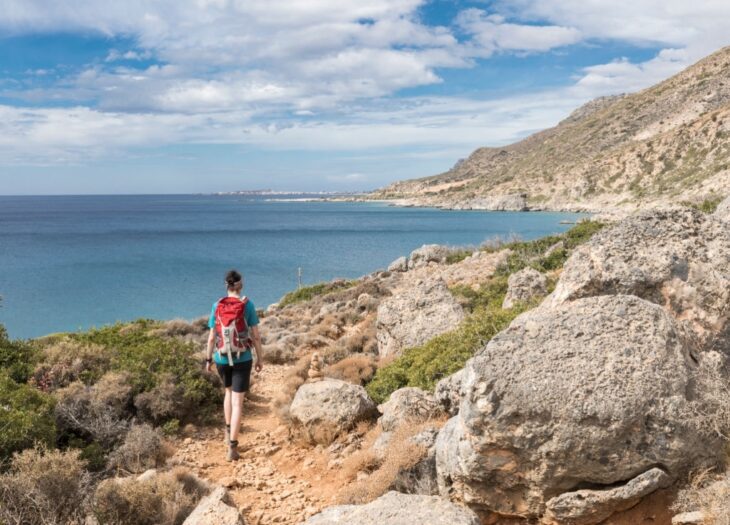 How to get to the mountain villages
Reaching the beautiful mountain villages may seem like a challenging task, but don't let that stop your exploration. While public transportation might be a convenient option for travelling to some areas, in the case of remote mountain villages, it's not really practical. In Crete, hiring a car is the way to go if you want to make sure you reach your destination on time and without any hassle! That way, you'll also get to enjoy the scenic beauty along the way with no need to worry about fares and schedules. Can't wait for your mountain village escapade? Jump in the car and start driving — these charming places await.