You may have visited Crete once, you may not. The only sure thing is that at the end you never come to Crete only once. We are here to bring you the Top 49 Experiences you should do on your first (or second, or third!!!) visit to Greece's biggest island, Crete!

Tick off the activities/experiences you have already done.
Visit CretAquarium – one of the largest and most modern aquariums in Europe
Walk to Elafonissi Beach – a tropical paradise
Hike down to Seitan Limania beach with clear emerald water
Be a Victoria Hislop's character in "The Island". Where? In Spinalonga of course
Spend a night (and a day) without cars and any means of transportation in Loutro
Learn about the bravery of Cretan People in the Sacred Monastery of Arkadi
Swim in the green waters of Voulismeni Beach near Agios Nikolaos
Visit Knossos Palace. The ruins of the Minoan Civilization
Walk the Samaria Gorge. Altitude of 1250m & 18kms long
Get Yourself a special deal!
Book early, avoid disappointment! This is the way to get the best deal. Use our promo discount coupons or save big with our last minute flash sales.
Appreciate Crete's history in Heraklion's Archaeological Museum
Pray with a unique view in Moni Preveli (Monastery)
Take your kids (or yourself) to a day of fun in a WaterPark (Acqua Plus, Watercity or Limnoupolis)
Become hippy of a day in Matala
Rent a pedal boat in Kournas Lake
Check Fodele. The birthplace of Domenikos Theotokopoulos (aka El Greco)
Reach the top of Lassithi Mountain to see the Zeus Born Cave -Dikteon Cave- and enjoy the view in Psychro
Visit Kritsa Village and buy ceramics on your way out.
Have a relaxing coffee or tea in Agios Nikolaos Lake
Party like there is no tomorrow in Malia or Chersonissos
Be romantic. Get an evening Horse Carriage in Chania Old Town Harbour
Taste the chocolate pie in Koukouvagia Cafe in Chania – BTW great view
Get the best Cretan food in Anogeia or Geni Gkave
Foam party in Star Beach Waterpark in Chersonissos – 3 times a week
Visit the museum of Nikos Kazantzakis in Myrtia
Kitesurf in Falasarna
Sunbath in Vai Beach – Finikodasos
Take the ferry from Ierapetra to Chrissi Island. Spend as much time as you can!
Watch the 10.000 Windmills in Lassithi Plateau
Be a guest in a traditional Cretan Wedding
Join a summer festival anywhere in Crete – Matala Festival, Dafnes wine festival, Yakinthia, Houdetsi or Festivalaki-
Visit Santorini for a daily boat trip
Eat Crete's biggest Crêpe in Rethymno – Crêperie Harris
Forget Mousaka, eat Gyros or Souvlaki in Lion Square in Heraklion
Peace-of-mind insurance policy
We always include "fully comprehensive" insurance with €0 excess in our rental quotes. Think again before trusting anyone else. Worry-Free deals at Rental Center Crete
You know Frozen Yogurt? It comes from Greece! Slurp it then!
Admire the nature and waterfalls in Argyroupoli, near Rethymno
Buy Cretan Herbs in Kouses Village in Messara
Visit the pirate island of Gramvousa
Cruise to Balos Beach from Kissamos
Shop at Chania's Indoor Market
Trekking in Agiofarago (Gorge of Saints)
Admire the 2000 Years old Tree in Vlatos Kissamos
Learn the history of humankind in Homo Sapiens Museum
Dine like a local Cretan in Archanes
Choose your favorite Cretan Wine in a local winery
Forget Syrtaki! Learn how to dance "Siganos", "Chaniotis" and "Pentozalis"
Never forget the fallen soldiers! Souda Bay War Cemetery
Visit the Turking Mosque in Ierapetra
or the Etz Hayyim Synagogue in Chania old town
Return to Crete on more time because you loved it so much the previous time
You have experienced cool things in Crete!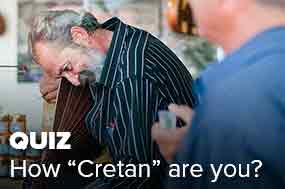 You've ticked a few things off the list, but there's still loads more you have to visit. Why not start off with something simple and easy? How about dinner in Archanes! The most traditional village in Crete. Or eat Gyros in Heraklion's Lion Square? There, most restaurants are Tripadvisor recommended.
You have experienced cool things in Crete!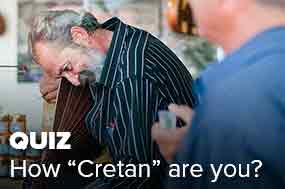 You've got a few stamps in your "Cretan passport" and are heading straight to become a Cretan citizen. Why not visit next a little more off the beaten track place? Dance "Pentozali" in the summer festival in Houdetsi or Wine festival in Dafnes.
You have experienced cool things in Crete!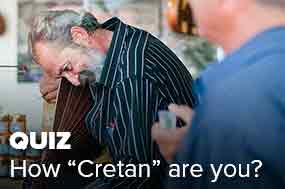 You've been well and truly bitten by the Cretan travel bug. You've done most of our list – and probably bought the "Raki: Connecting People" t-shirt. Right? We're probably preaching to the choir here, but why not try off-touristic destinations, like Agiofarago trekking? What? Not a trekking fan? Samaria Gorge then… The lazy road of course!
You have experienced cool things in Crete!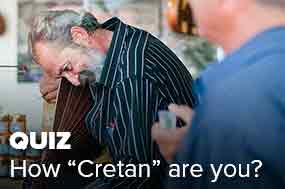 Wow! You're a Cretan citizen already. You know Crete like the back of your hand. However, look twice and there might be a spot or wrinkle that you've overlooked. How about exploring Crete for a second/third/fourth time? Change your budget: Be poor for a day in Crete. Or, for a change, be rich for a day. You know that Crete combines all sizes of wallets/budgets and all types of vacation! Mountain and beach, partying or family gateways!