Chrissi island is famous for its rich natural setting — dominated by the aromas of the lush cedar trees, crystal clear waters and glorious white sandy beaches. Chrissi in fact means the Golden island, its name derives from the golden sand which covers the island's beaches. Others refer to this land as Gaidouronisi — the island of the donkeys. It is here that the locals from Ierapetra would bring their old donkeys, to spend their last days in pristine surroundings. If you wish to enjoy a day trip to this natural paradise, here is everything you need to know about Chrissi island.

Where is Chrissi island?
Situated 15 kilometres (8 nautical miles) south of Ierapetra, Lasithi — the island of Chrissi is 7 km long, 2 km wide and its shores are surrounded by the Libyan Sea. The island's spectacular scenery and unique ecosystem are protected by the Natura 2000 Networking Programme, collection of stones and shells on the island is strictly prohibited.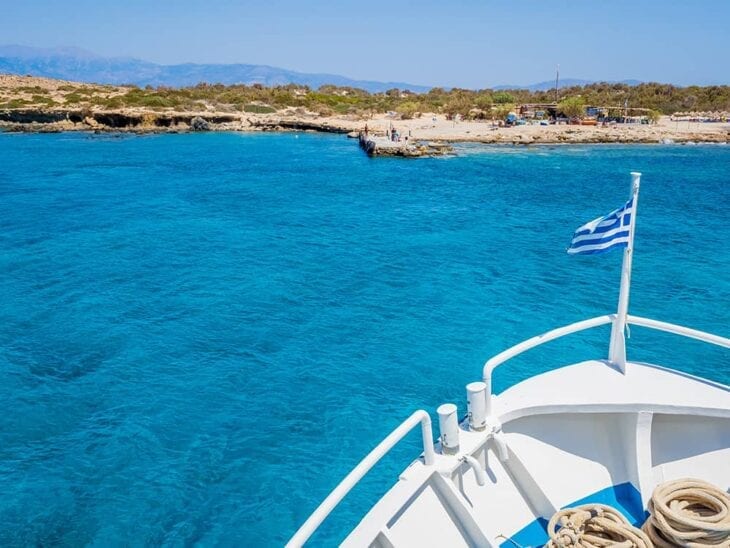 How to Get to Chrissi island
The best time to visit Chrissi island is somewhere between mid-May and October. Small boats depart from the ports of Ierapetra and Makrigialos on a daily basis. Tickets can be purchased in advance or directly on the boat. The journey lasts approximately one hour. There are tour companies which arrange private cruises to Chrissi island.
The History of Chrissi island
For most of its history, the island of Chrissi remained uninhabited, however recent archaeological excavations have recorded human activity on the northern side of the island as early as the Minoan era. Some of the archaeological discoveries revealed traces of buildings and artefacts which tell that the people were involved in fishing, salt extraction and processing shells to make a dye called Royal Purple. The type of dye which was made in classical antiquity was extracted from a mucus produced by a spiny dye-murex snail also referred to as the purple dye murex. This snail species usually live in the Mediterranean Sea.
On the northwest part of the island there is a church dedicated to Saint Nicholas (Agios Nikolaos) which most likely dates to the 13th century. The wider region surrounding the church features remains of short, stone-built walls, wells and sculptured graves (the biggest date to the Roman Empire) — all indicating traces of human activity.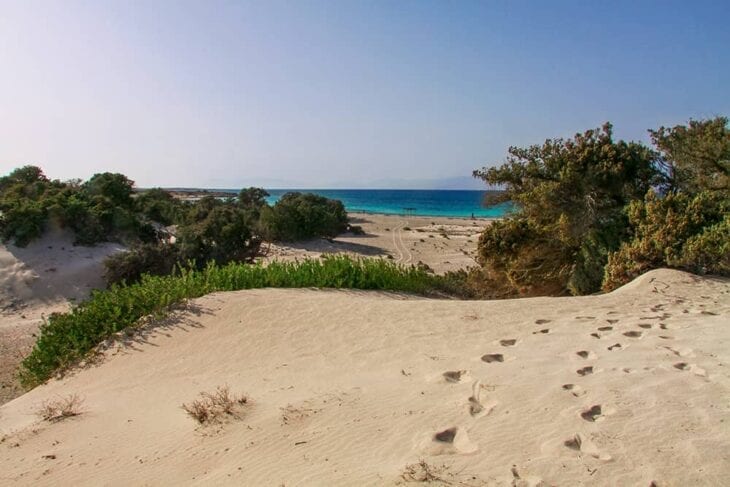 Later on the pirates made Chrissi island their base and this is evident from the ruins of pirate and merchant ships lying on the bottom of its seabed. More concrete information about this special island began surfacing when the first travellers set foot on its shores. During the 19th century Stasiasmus wrote about the island that belonged to Ierapetra and that it had a harbor and drinking water sources. The French geologist Felix-Victor Raulin commenced his work in Crete in 1845 — his findings were published in ten articles focusing solely on the physical features of Crete.
Italian Franciscan priest and traveler, Cristoforo Buondelmonti who was a pioneer in promoting his knowledge of Greece and its antiquities — referred to Chrissi as a "flat and almost uncultivated island, beautiful, with hermits and lentisks and cedars…"
What To See and Do on Chrissi island
Admire the Cedar Forest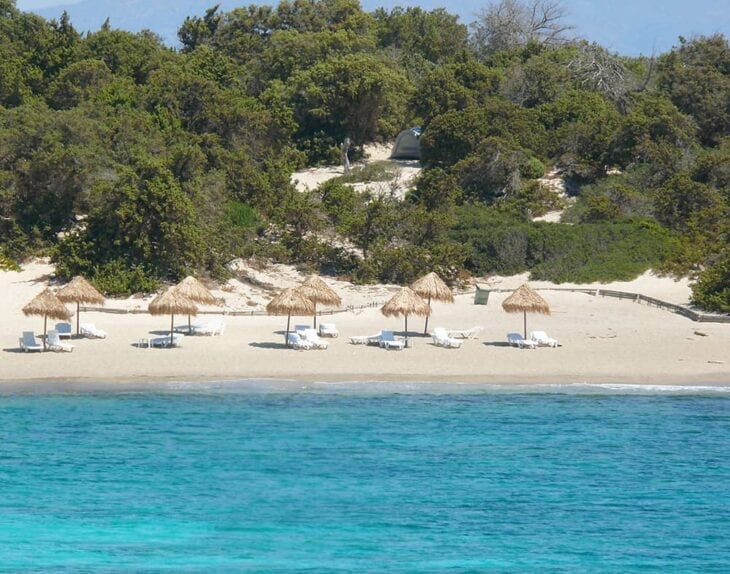 Chrissi island is home to the largest naturally formed Lebanon cedar forest in Europe. Almost 70 percent of the island is covered with a cedar forest. The Lebanon cedar holds an important place in ancient history — its wood was used for shipbuilding by the Egyptians, the Ottoman Empire applied it to the railway construction while in the Bible, Solomon acquired cedar timber for the construction of the Temple in Jerusalem. The forest is protected by a fence, therefore visitors may only admire its beauty by following the designated, paved paths.
Discover the Beaches of Chrissi island
The island of Chrissi is dotted with numerous bays with inviting, shallow turquoise waters — ideal for swimming, diving and water sports. All the boats come to the southern side of the island, a small pier known as the Vougiou Mati (Eye). Here visitors will find a local tavern to enjoy a traditional lunch. To get to the nearest beach you must follow a road that passes the cedar forest.
The most famed beach on the island Belegrina or Chrissi Ammos (Golden Sand) is a short 5 minute walk from the harbor. Made out of thousands of small shells which make the spectacular pink and white sand that the Chrissi island is famous for. The beach is organized with umbrellas and a snack bar selling refreshments.
The next beach you will come across after Chrissi Ammos is the Chatzivolakas, which is a rocky beach with calm waters. This beach is ideal for nature lovers, where you can enjoy the pristine surrounding while sitting under the 200 year old cedar trees. Next to the beach you will find the chapel of St. Nicholas, the ancient salt lake and the lighthouse.
Kataprosopo Beach is located east of Chrissi Ammos. As its name implies face-to-face it is located right across from Mikronisi — the small island situated east of Chrissi is a shelter to thousands of birds.
The southernmost beach of the island is the Kendra Beach, it is mainly rocky and there is no vegetation for shade. This beach is closely located to the church of Agios Nikolaos and the lighthouse.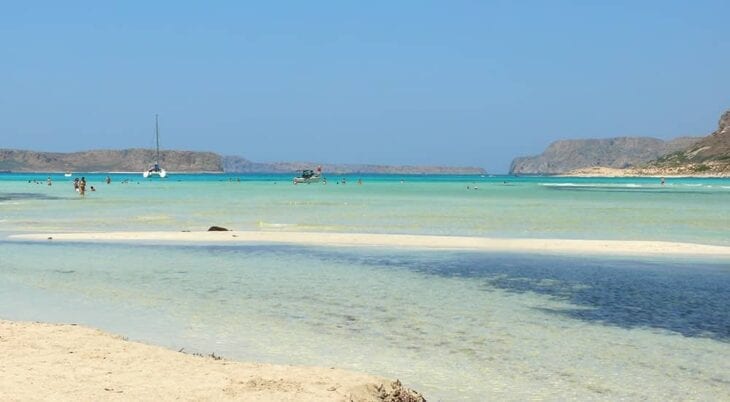 For those seeking a more secluded escape, the Vages Beach on the south side of the island is the ideal choice. Most of its bottom is rocky with strips of sand on the eastern edge.
Visit the Church of Agios Nikolaos and the Lighthouse
One of the most important religious sites on the island dates back to the 13th century. The church of Agios Nikolaos (St.Nicholas) was constructed on the site of an ancient building. The temple acted as a religious centre to the hermits who lived on the island. There is also a well near the church as well as ancient graves, some of which date back to the Roman Empire.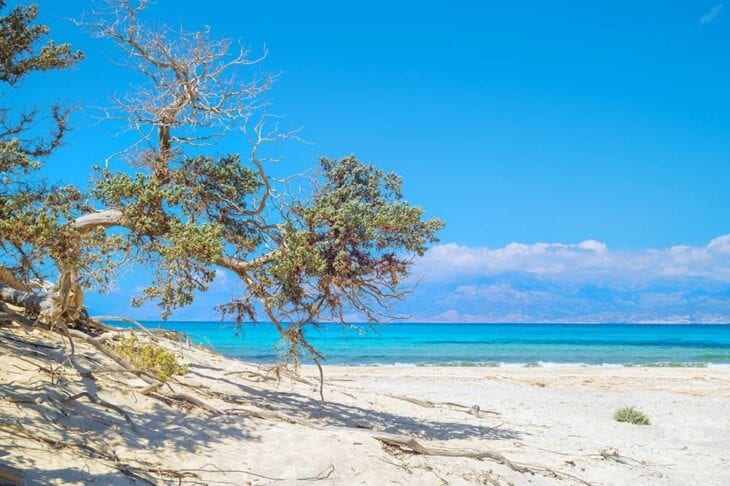 A short distance from the church you will come across the small lighthouse powered by photovoltaic panel.
Explore the Salt pan of Chrissi
Findings have shown that there was once a salt production activity on the island — the old salt pan which is located next to the only house on Chrissi, is there to remind us of the past. In winter the salt pan turns into a small pond and is a popular spot for many migratory birds.
Where to Stay near Chrissi
Many accommodations near Chrissi Island offer many amenities and services, ranging from affordable yet comfortable rooms to upscale villas. If you don't know where to stay when visiting Chrissi, be sure to check these hotels out:
Enorme Santanna Beach
Found in Ierapetra, this luxury hotel is only a few kilometers away from Chrissi Island. The Enorme Santanna Beach offers modern amenities and traditional Greek hospitality, making it an ideal choice for those who want to experience the best of both worlds during their stay. A pool, a restaurant, a bar, and a spa are among the amenities offered by this hotel.
Address: Ierapetra-Sitia Road, Ierapetra, Crete 72200 Greece
Website: https://www.enormehotels.com/en/hotel-enorme-santanna-beach.php
Contact: +30 2841 701938
Hotel El Greco
Another hotel worth checking out is the Hotel El Greco. Located in Ierapetra, it provides guests with easy access to Chrissi Island, as well as beaches and other local attractions. This hotel is designed with comfort and relaxation in mind, making it an ideal choice for your stay in Crete.
Address: Mixahl Kothri 42, Ierapetra, Crete
Website: https://www.elgreco-ierapetra.gr/
Contact: +30 2842 028471
Tylissos Beach Hotel
Only a few meters away from its own beach, Tylissos Hotel offers guests an outdoor swimming pool and poolside bar for that utmost relaxation. There is also a snack bar found at the private beach with free sun loungers for you to use. Their rooms come with AC systems and furnished balconies providing fantastic views of the sea.
Address: City Beach Road Ierapetra to Sitia, Ierapetra
Website: https://www.tylissosbeach.com/
Contact: +30 2842 080546
Where to Eat near Chrissi
Your experience in Crete will never be complete without sampling the local cuisine. This region offers several places where you can eat and drink at your heart's desire, as well as experience traditional Greek culture firsthand.
ΒΟΗΕΜΕ cafe – bar – restaurant
If you're looking for a laid-back place where you can eat and drink while enjoying the beautiful view, then BOYEMME cafe – bar-restaurant is for you. This modern-themed cafe offers a great selection of sandwiches, meat dishes, salads, and appetizers that will surely satisfy your taste buds.
Address: Plateía Eleftherías 1, Ierapetra, Crete
Website: http://www.bohemecaferestaurant.com/
Contact: +30 2842 027900
Vira Potzi
A restaurant that offers fantastic views of the Cretan sea, Vira Potzi is an excellent spot for some good food while you're on the island. From traditional Greek cuisine to seafood, this restaurant serves some of the best dishes in Crete. The staff are very friendly and offer their service with a smile, making it an ideal place to dine in when visiting Chrissi Island.
Address: Stratigou Samouil 82, Ierapetra, Crete
Website: http://www.virapotzi.gr/
Contact: +30 2842 028254
Levante Restaurant Fish tavern
Seafood is by far the best when in Crete, and Levante is a great place for this. Although the rates might be a bit pricey compared to other restaurants, their servings are huge and worth every cent. This restaurant is open seven days a week, so it's convenient for tourists who want to eat seafood when on the way to Chrissi Island.
Address: 38 Stratigou Samouil, Ierapetra, Crete
Website: http://www.levante-taverna.gr/
Contact: +30 2842 080585
Have you discovered the natural beauty of Chrissi Island? If not we've compiled this guide to Everything You Need To Know About Chrissi Island — so you can start planning your next holiday to Crete.