Chrissi, which translates to "golden", alludes to the gorgeous sand on the beaches of this island, which is located 15 kilometres south of Ierapetra on the island of Crete. This tiny, secluded island is approximately 7 km by 2 km in size, and its highest point is barely 30 metres above sea level. Numerous beaches on the rocky island are visited from spring to fall by tour boats and watercraft. With its white sand beaches and African Cedar-woods, not to mention the crystal clear turquoise sea ideal for snorkelling, Chrissi island almost resembles heaven and is a tourist destination that must be on your itinerary.
Where is Chrissi island?
Situated 15 kilometres (8 nautical miles) south of Ierapetra, Lassithi — the island of Chrissi is 7 km long and 2 km wide, and its shores are surrounded by the Libyan Sea. The island's spectacular scenery and unique ecosystem are protected by the Natura 2000 Networking Programme, collection of stones and shells on the island is strictly prohibited.
The Nature on Chrissi Island?
Chrissi Island, a 4,743 sq km (7 km long and 2 km broad) designated nature reserve, is part of the European Natura 2000 program. It has a significant ecology and is home to non-poisonous snakes, lizards, worms, and rabbits, as well as Caretta-Caretta sea turtles and the Monk Seal Monachus-Monachus, which also visit the island.
Seventy percent of the island is covered by a unique, 200–300-year-old cedar forest, which is the biggest naturally occurring Lebanon cedar forest in Europe and has trees that are 7–10 metres tall and one meter in diameter. Forty-nine types of fossils have been found on the island, which were produced after being trapped by hardened lava between 350,000 and 70,000 years ago when the island was still under water. These distinct natural features make this island stand out from other islands on Crete.
History of Chrissi Island
For most of its history, the island of Chrissi remained uninhabited; however, recent archaeological excavations have recorded human activity on the northern side of the island as early as the Minoan era. Some of the archaeological discoveries revealed traces of buildings and artefacts, which tell that the people were involved in fishing, salt extraction, and processing shells to make a dye called Royal Purple. The type of dye that was made in classical antiquity was extracted from a mucus produced by a spiny dye-murex snail, also referred to as the purple dye murex. This snail species usually lives in the Mediterranean Sea.
On the northwest part of the island, there is a church dedicated to Saint Nicholas (Agios Nikolaos), which most likely dates to the 13th century. The wider region surrounding the church features remains of short, stone-built walls, wells, and sculptured graves (the biggest date to the Roman Empire) — all indicating traces of human activity.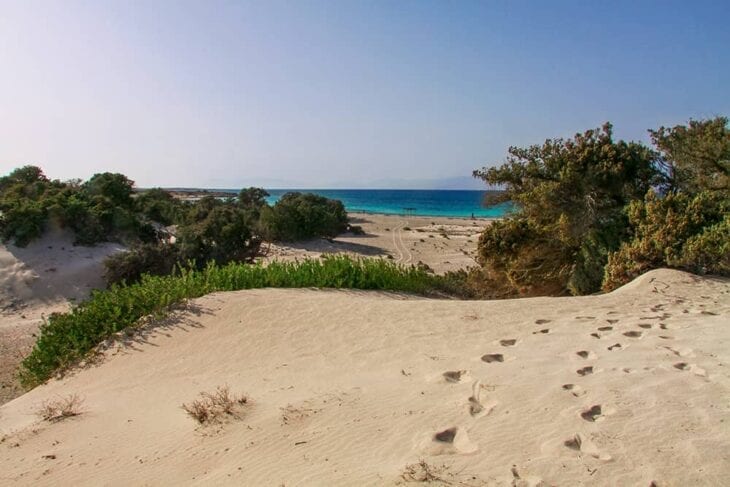 Later on, the pirates made Chrissi island their base, and this is evident from the ruins of pirate and merchant ships lying on the bottom of its seabed. More concrete information about this special island began surfacing when the first travellers set foot on its shores. During the 19th century, Stasiasmus wrote about the island that belonged to Ierapetra and that it had a harbour and drinking water sources. The French geologist Felix-Victor Raulin commenced his work in Crete in 1845 — his findings were published in ten articles focusing solely on the physical features of Crete.
Italian Franciscan priest and traveller Cristoforo Buondelmonti who was a pioneer in promoting his knowledge of Greece and its antiquities — referred to Chrissi as a "flat and almost uncultivated island, beautiful, with hermits and lentisks and cedar".
The Sea Turtles
The sea turtle Caretta caretta has been seen several times on the island, although there are no known instances of nesting. This is the most well-known species of sea turtle in Greece, also known as the loggerhead sea turtle, which is strictly protected by Greek legislation. Its average and maximum adult weights are somewhat higher than those of the green sea turtle and the Galapagos tortoise, making it the biggest hard-shelled turtle in the world. The Caretta turtle is between 100 and 120 cm in length and has a strong shell with five scutes on each side. The lifetime of a turtle is 47–67 years, and its weight typically ranges from 100–150 kg but can occasionally approach 450 kg. It mostly consumes mollusks, crabs, jellyfish, and very sometimes, algae.
How to Get to Chrissi island
The only way to get to Chrissi Island is by ferry, which leaves from the Ierapetra Smaller Harbour. It departs early in the day and returns in the late afternoon. The ferry ride is nice and comfortable, although, during the busiest holiday seasons, which lasts from July to August, it may get quite crowded. The ferry leaves twice a day, the first time at around 10:30 and then later sometime between 11:30 and 12:30. It would be a smart move to arrive at the harbour half an hour before departure so that you may get your tickets and board the ferry in time for a decent seat.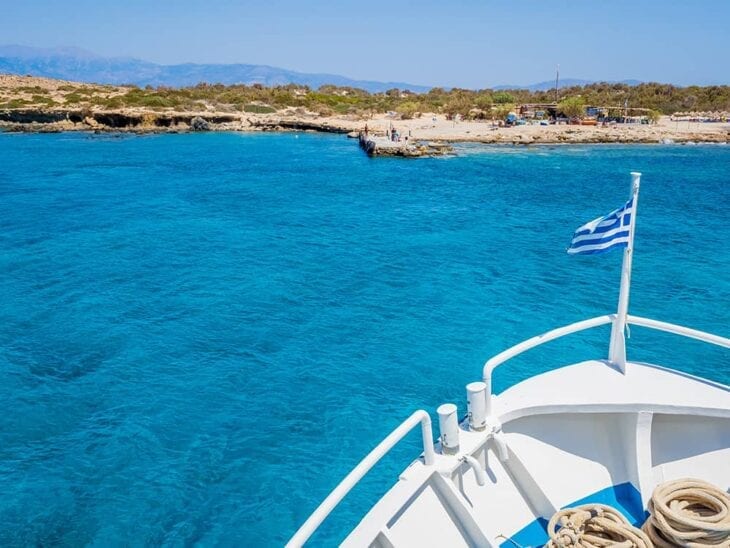 You also have the option of taking a tour of the island, which normally lasts around seven hours. The actual boat ride lasts for around 60 to 75 minutes, and you can spend the remaining four to five hours relaxing at the beach.
What To See and Do on Chrissi island
Admire the Cedar Forest
Chrissi island is home to the largest naturally formed Lebanon cedar forest in Europe. Almost 70 percent of the island is covered with a cedar forest. The Lebanon cedar holds an important place in ancient history — its wood was used for shipbuilding by the Egyptians, the Ottoman Empire applied it to railway construction while in the Bible, Solomon acquired cedar timber for the construction of the Temple in Jerusalem. The forest is protected by a fence. Therefore, visitors may only admire its beauty by following the designated paved paths.
Beaches on Chrissi Island
The island of Chrissi is dotted with numerous bays with inviting, shallow turquoise waters — ideal for swimming, diving, and water sports. All the boats come to the southern side of the island, a small pier known as the Vougiou Mati (Eye). Here visitors will find a local tavern to enjoy a traditional lunch. To get to the nearest beach, you must follow a road that passes the cedar forest.
The most famed beach on the island Belegrina or Chrissi Ammos (Golden Sand) is a short 5-minute walk from the harbour. Made out of thousands of small shells, which make the spectacular pink and white sand that the Chrissi island is famous for. The beach is organised with umbrellas and a snack bar selling refreshments.
The next beach you will come across after Chrissi Ammos is the Chatzivolakas, which is a rocky beach with calm waters. This beach is ideal for nature lovers, where you can enjoy the pristine surroundings while sitting under the 200-year-old cedar trees. Next to the beach, you will find the chapel of St. Nicholas, the ancient salt lake, and the lighthouse.
Kataprosopo Beach is located east of Chrissi Ammos. As its name implies face-to-face, it is located right across from Mikronisi — the small island situated east of Chrissi is a shelter to thousands of birds.
The southernmost beach of the island is Kendra Beach, it is mainly rocky, and there is no vegetation for shade. This beach is closely located in the church of Agios Nikolaos and the lighthouse.
For those seeking a more secluded escape, the Vages Beach on the south side of the island is the ideal choice. Most of its bottom is rocky, with strips of sand on the eastern edge.
Which beaches you should visit on Chrissi Island
If you are fond of beaches, we have listed a few of the best beaches you may visit while you are on Chrissi Island: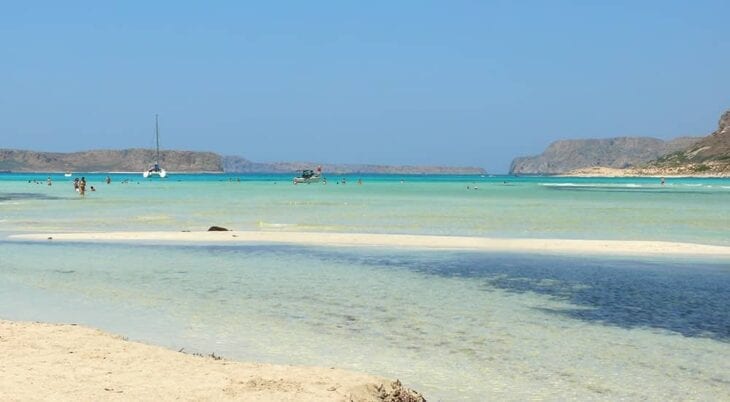 Kendra Beach
The tiny Cape Kendra and the island's southernmost beach are located at the western and southern ends of Chrissi, respectively. While the bottom is mostly rocky over the whole island, there is no high vegetation to provide shade. You may take a walk to Kendra beach after visiting the lighthouse and Agios Nikolaos.
Chatzivolakas Beach
Chatzivolakas beach, which stretches west of Belerinna's main beach, is the island of Chrissi's longest beach. Since the majority of island visitors are Belegrina, the beach's mostly stony bottom is perfect if you are looking for a more isolated and peaceful time at the beach.
Kataprosopo Beach
The lovely beach of Kataprosopo, which faces the island of Mikronissi, is located at the easternmost part of the island of Chrissi. The beach is actually split in half by a tiny stretch of rocky terrain, and the juniper vegetation is obviously less abundant than on the other beaches in the eastern section of the island. The depth of the sea here is just 5 metres, making it a perfect place to visit if you want to go snorkelling.
Vougiou Mati Beach
Vougiou Mati is where the boats bring tourists from the Ierapetra stop on the southern side of the island of Chryssi. When the island's most well-known beach, Belegrina or Golden Beach in the north, is wave-ridden, people choose this long, rocky beach that forms on the east side of the quay.
Vages Beach
The vast Vages beach is formed by the eastern and southern ends of the island of Chryssi. Except for the eastern side, which is covered with sand, Vages' bottom is mostly made up of rocks and is one of the many beaches on the island of Chrissi.
Belegrina or Chrissi Ammos
The majority of the tens of thousands of tourists that arrive by boat each day from Ierapetra to Chrissi Island come for Belegrina or Golden Beach. Anyone can fall in love with this location because of the clear blue waves, white sand that has pink tints from the hundreds of shattered shells, and towering junipers that hold the sand in place.
Visit the Church of Agios Nikolaos and the Lighthouse
One of the most important religious sites on the island dates back to the 13th century. The church of Agios Nikolaos (St.Nicholas) was constructed on the site of an ancient building. The temple acted as a religious centre to the hermits who lived on the island. There is also a well near the church as well as ancient graves, some of which date back to the Roman Empire.
A short distance from the church you will come across the small lighthouse powered by photovoltaic panel.
Explore the Salt pan of Chrissi
Findings have shown that there was once a salt production activity on the island — the old salt pan which is located next to the only house on Chrissi, is there to remind us of the past. In winter the salt pan turns into a small pond and is a popular spot for many migratory birds.
Is Chrissi kids and family friendly?
If you have kids and are worried whether Chrissi Island is family-friendly, do not worry because the island is a great place for children as well. However, avoid taking children under the age of five since the facilities for babies are very limited.
Can you camp in Chrissi?
There are no rules allowing you to camp in Chrissi, but if you plan on doing so at night, the authorities are not so strict about it.
Can you overnight on Chrissi?
While people normally visit Chrissi island during the day and return in the evening, there are exceptions. Officially, you are not allowed to spend the night here. However, you can face the problem of securing a return ticket the next day. But, of course, no one can stop you from spending the night here.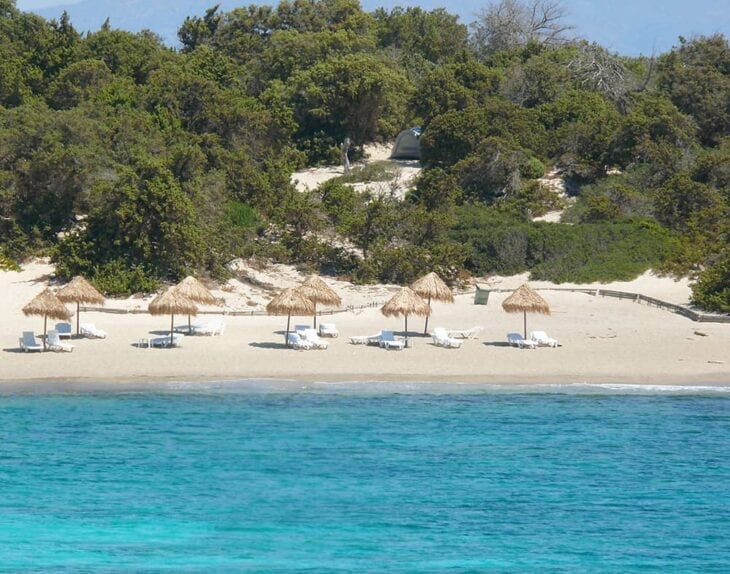 Where to Stay near Chrissi
Many accommodations near Chrissi Island offer many amenities and services, ranging from affordable yet comfortable rooms to upscale villas. If you don't know where to stay when visiting Chrissi, be sure to check these hotels out:
Enorme Santanna Beach
Found in Ierapetra, this luxury hotel is only a few kilometers away from Chrissi Island. The Enorme Santanna Beach offers modern amenities and traditional Greek hospitality, making it an ideal choice for those who want to experience the best of both worlds during their stay. A pool, a restaurant, a bar, and a spa are among the amenities offered by this hotel.
Address: Ierapetra-Sitia Road, Ierapetra, Crete 72200 Greece
Website: https://www.enormehotels.com/en/hotel-enorme-santanna-beach.php
Contact: +30 2841 701938
Hotel El Greco
Another hotel worth checking out is the Hotel El Greco. Located in Ierapetra, it provides guests with easy access to Chrissi Island, as well as beaches and other local attractions. This hotel is designed with comfort and relaxation in mind, making it an ideal choice for your stay in Crete.
Address: Mixahl Kothri 42, Ierapetra, Crete
Website: https://www.elgreco-ierapetra.gr/
Contact: +30 2842 028471
Tylissos Beach Hotel
Only a few meters away from its own beach, Tylissos Hotel offers guests an outdoor swimming pool and poolside bar for that utmost relaxation. There is also a snack bar found at the private beach with free sun loungers for you to use. Their rooms come with AC systems and furnished balconies providing fantastic views of the sea.
Address: City Beach Road Ierapetra to Sitia, Ierapetra
Website: https://www.tylissosbeach.com/
Contact: +30 2842 080546
Where to Eat near Chrissi
Your experience in Crete will never be complete without sampling the local cuisine. This region offers several places where you can eat and drink at your heart's desire, as well as experience traditional Greek culture firsthand.
ΒΟΗΕΜΕ cafe – bar – restaurant
If you're looking for a laid-back place where you can eat and drink while enjoying the beautiful view, then BOHEME cafe – bar-restaurant is for you. This modern-themed cafe offers a great selection of sandwiches, meat dishes, salads, and appetisers that will surely satisfy your taste buds.
Address: Plateía Eleftherías 1, Ierapetra, Crete
Website: http://www.bohemecaferestaurant.com/
Contact: +30 2842 027900
Vira Potzi
A restaurant that offers fantastic views of the Cretan sea, Vira Potzi is an excellent spot for some good food while you're on the island. From traditional Greek cuisine to seafood, this restaurant serves some of the best dishes in Crete. The staff are very friendly and offer their service with a smile, making it an ideal place to dine in when visiting Chrissi Island.
Address: Stratigou Samouil 82, Ierapetra, Crete
Website: http://www.virapotzi.gr/
Contact: +30 2842 028254
Levante Restaurant Fish tavern
Seafood is by far the best when in Crete, and Levante is a great place for this. Although the rates might be a bit pricey compared to other restaurants, their servings are huge and worth every cent. This restaurant is open seven days a week, so it's convenient for tourists who want to eat seafood when on the way to Chrissi Island.
Address: 38 Stratigou Samouil, Ierapetra, Crete
Website: http://www.levante-taverna.gr/
Contact: +30 2842 080585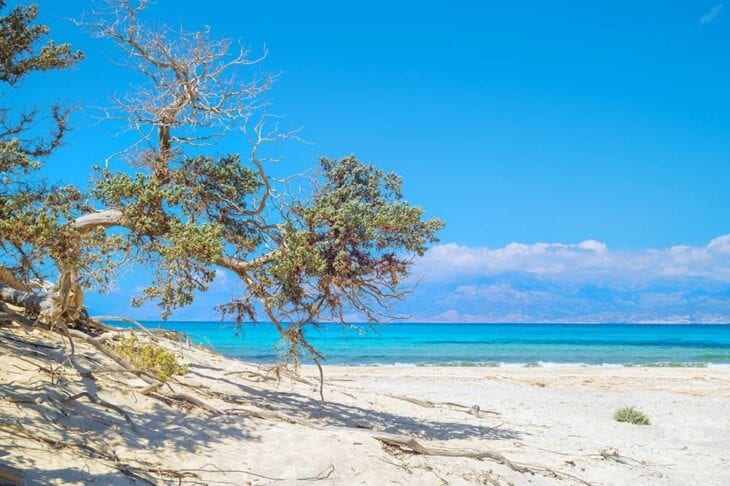 Explore Eastern Crete
While you are visiting Chrissi island, take the opportunity to explore Eastern Crete as well. We recommend the following places you should visit if you decide to do so:
Spinalonga Island, which is only a 30-minute boat ride from Elounda, is evidence of the history this island has seen. The island has been fortified and has played different roles over the years due to its advantageous position. The Venetians constructed the fortification in 1579 on the remains of a former acropolis. After Crete had been conquered by the Ottomans, they were able to maintain control of it for over fifty years. Later, this was the location where lepers from all across Greece were segregated. It would be a great idea to visit the island by boat and take in the beauty of the vast blue sea that surrounds it.
A road trip on the Lassithi Plateau. You'll forget you're on an island as soon as you start driving through the twisting roads on the Lassithi Plateau. In addition to the surrounding natural beauty and 18 charming villages, the white-clothed windmills are a major attraction. You can hike up and then take a tour of several lakes, Zeus's Cave, and some of the tiny settlements with vibrant flowers. If you don't feel comfortable driving through the area's narrow roads, we advise scheduling a tour to the Lassithi Plateau, which departs from either Ierapetra or Agios Nikolaos.
Vai Beach is a stunning, secluded beach on Crete's far eastern edge with fine sand and rocks. It boasts a distinctive and lush palm grove made up of a species that is exclusively found in Crete. It is a stunning beach with clear, clean water, fun snorkelling, and space for everyone. The lovely tiny beach of Psili Ammos, which is accessible via a walk across the headland from the south of Vai Beach, is a favourite place for jet-skiing, wind-surfing, and nudist swimming.
Visit Ierapetra
Ierapetra, which is in southeast Crete, is in a very strategic location, falling between both the Libyan Sea and the island's southern shore. Ierapetra has traditionally been a significant island centre, favourably positioned and endowed with ideal natural conditions. It has developed into the biggest town in south Crete and a significant travel hub.
Ierapetra is the best place to go if you want to spend your vacation in a crowded tourist area with a vibrant nightlife despite its tiny size. Couples and young people who wish to combine a bustling town with magnificent beaches and excursion options will find Ierapetra to be the perfect vacation destination.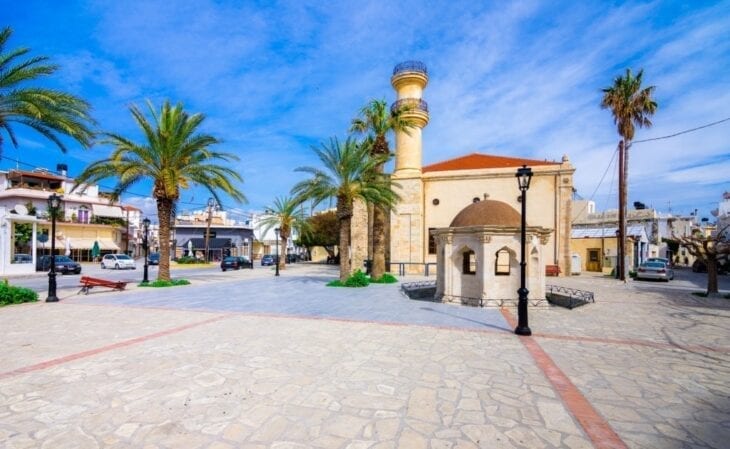 Families should visit Ierapetra since it has a lot of big hotels and can meet all of their demands. Holidays in Ierapetra are perfect for people who wish to discover the south of Crete, with its lovely, scenic villages, gorges, and sandy beaches in or near Ierapetra, as well as take in the grandeur of the Libyan Sea.
Traveller Tips before visiting Chrissi Island
If you plan on visiting Chrissi Island, we have a few tips to make your trip even better:
Expect the boat trip to be a bit rough, especially if you visit on a windy day.
On average, it takes about 25 to 50 minutes to reach the island on a boat, which can vary slightly depending on the vessel.
Come prepared for the sun with a hat and lots of sunscreens since you won't find much shade on this island.
Even though the visit to Chrissi island is a day tour, you will get ample time, normally 4 to 5 hours, to relax on the beach.
Pack some light snacks with you since you will have to pay for lunch and snacks on the boat ride there.
Take care of the beauty of mother nature. Make sure you take all your rubbish, leaving behind only footprints of your amazing trip!