One of the beaches you must see when in Crete is Kaminaki beach, which is situated at the southernmost point of the Asterousia Mountains. The surrounding wild mountains form a distinctively Cretan backdrop with impassable gorges, barren rocks, towering cliffs, and the beautiful remote beach, offering a unique experience.
Where Is Kaminaki Beach?
The beautiful Kaminaki Beach is found at the southern edge of the Asterousia Mountains along the southern coast of Crete. It is at a distance of 58 km south of Heraklion, making it 63 km away from Heraklion airport.
Things To Do In & Near Kaminaki Beach
Depending on your tastes, you may select from a variety of activities at Kaminaki Beach. One of the best parts about this beach is its intriguing and stunning landscapes, which give every visitor a unique experience. It is small and has multiple bays with clear blue water and light, fine pebbles. It is appropriate for a variety of people, including hikers, lone travelers, fans of relaxing getaways, etc.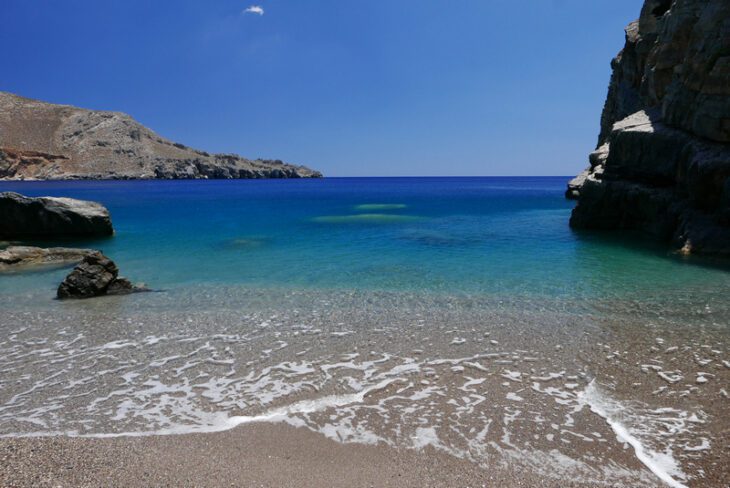 The beach is situated in a picturesque setting among the mountains, cliffs, and gorges. Since this beach is not well known, it is ideal for leisure and isolated relaxation. Your mood would be lifted by the beach's remote location and pristine waves, and your taste buds would be satisfied by the local dining experience. Even at the height of the tourist season, the area remains practically empty. In addition to swimming and sunbathing, there are additional activities you may engage in. These include Kayaking, snorkelling, and fishing.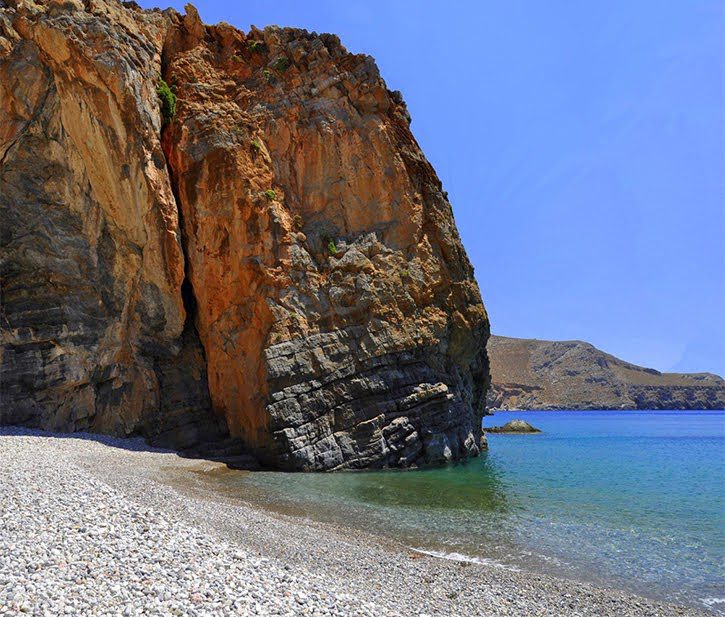 Other Beaches Near Kaminaki Beach
Although Kaminaki Beach is charming in its own right, there are more gorgeous beaches close by. Check out the following beaches nearby if you visit Kaminaki beach.
Kommos Beach
The beach in Kommos is not like other beaches where there are numerous people, cafes, and restaurants. Due to the Ephorate of Archaeology's prohibition on construction in Kommos and other protected archaeological zones, development is extremely constrained. Owing to the length of Kommos Beach, there is never a problem with congestion because there is always space for everyone to take a swim in the crystal-clear seas of southern Crete. There are a few umbrellas at the southern end of the beach and a taverna immediately behind them.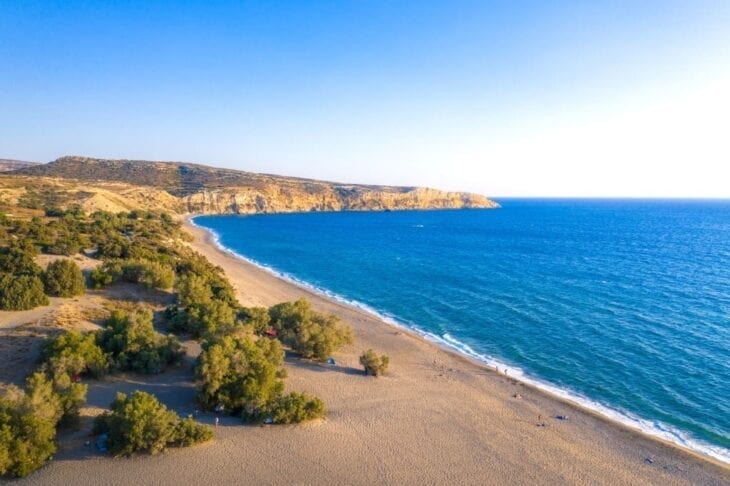 Tris Ekklisies
Another breathtaking beach close to Kaminaki beach is Tris Ekklisies, which is also isolated on the island's southern shore. The little town and its beach, which are tucked away at the opening of the magnificent gorges of Ambas, are incredibly beautiful, especially when viewed from above when traveling along the perilous road that winds its way down the slopes from the village of Paranymfi. Tris Ekklisies' beach is pretty attractive even though it is not equipped with umbrellas or loungers. More people began traveling to the village once the access road was upgraded, but it continues to be a real getaway.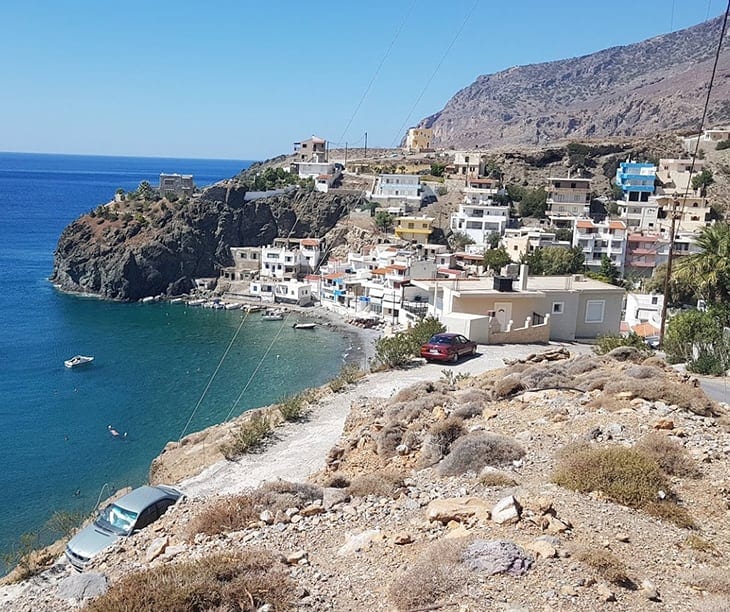 Maridaki Beach
West of Tsoutsouras on the southern coast of Crete lies a little coastal community called Maridaki. It's a unique location that's small and isolated, with a magnificent beach and a laid-back atmosphere. Due to the stream of water that flows through the village and onto the beach, the lovely beach features smooth pebbles and cold, crystal-clear water. There are usually spots with shade to hang out on a hot day or to take a quick snooze in between swimming because it is surrounded by towering cliffs and rocks.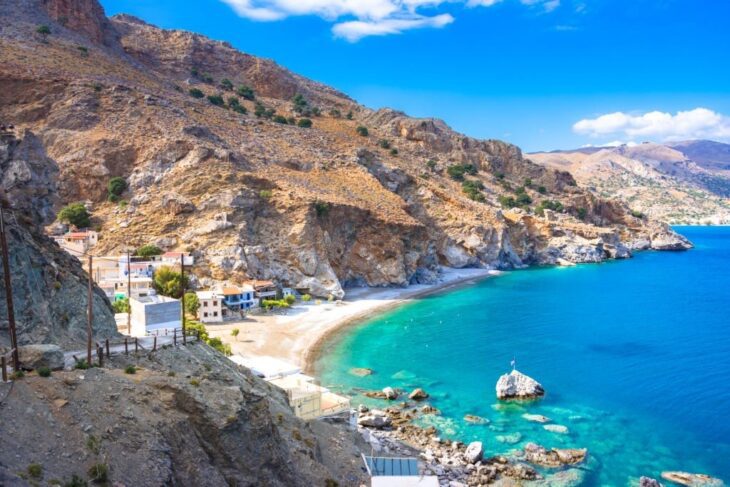 Listis Beach
Listis beach is situated 69 km southeast of Heraklion, between Kastri (2 km to the west) and Tsoutsouras, Listis is a tiny beach may not be that famous, yet it often gets crowded throughout the summer. Its sand and shallow clean waters make this beach a beautiful place to visit. The large rocks in the water and along the shoreline are what make it unique. Although there are a lot of pebbles in the water, the majority of the seabed is sandy, making it perfect for swimming and splashing around in. You may also visit a little sandy beach, Xirokambi, nearby, which has a refreshing spring. In addition to this, the beach is also known for its enormous Listis rock.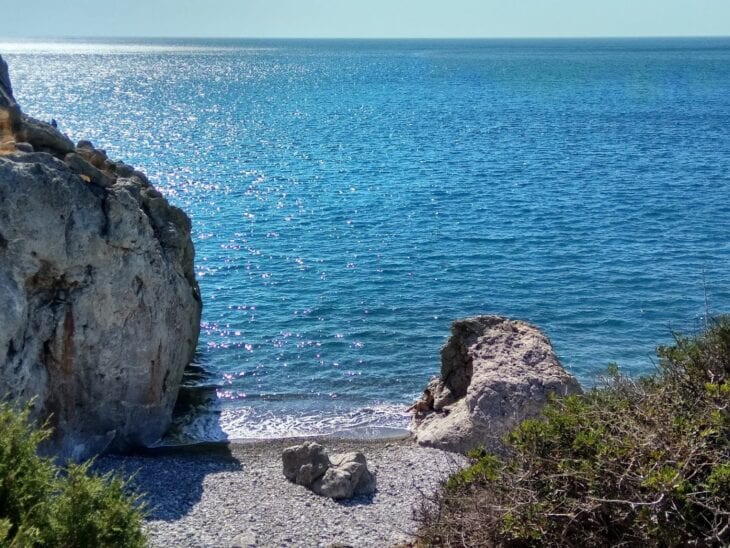 Lendas beach
On the southern slopes of the massive Asterousia Mountains, 74 km south of Heraklion, is the remote beach town of Lendas. It is a lightly developed tourist destination that provides incredibly pleasant vacations. There are several beaches around that are popular with nudists. The original port of Lendas, which has since been relocated to Loutra, was located on this beach. It is the busiest beach in the region, is only loosely managed, and provides just the most basic amenities, including loungers, umbrellas, showers, and water sports. In addition, there are a number of bars and lodging options along the shore. The beach is also known for its ducks, which strut around in the other direction. If you visit Kaminaki beach, it is highly recommended that you take out a day to visit Lendas beach as well.

Koudoumas beach
Koudoumas Beach is one of the most beautiful beaches in Crete. It is located 74 km south of Heraklion, on the west side of Cape Martelos. To get there, you must drive a long dirt road starting from village Sternes. You can reach the beach of Koudoumas either by taking a bus, renting a car, or taking a taxi. The best time to visit Koudoumas beach is from May to September. During this time, the beach is busiest with locals and tourists alike. If you prefer a quieter and more relaxed atmosphere, visit in April and October.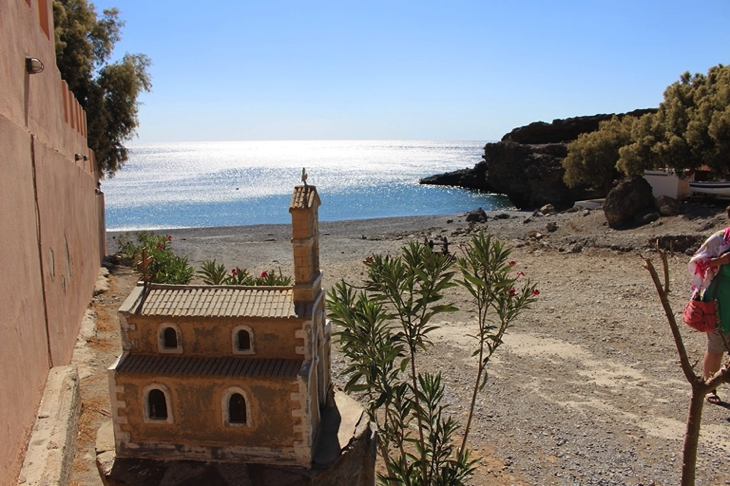 How To Get To Kaminaki Beach
In Crete, visitors have a variety of transportation choices to choose from, making getting about the island simple and comfortable. You may take a bus, a car, or a taxi to go to Kaminaki Beach.
By Bus
Due to the huge number of tourists that visit the island every year, Crete has developed a bus network that connects all of the major towns on the island. Taking the KTEL bus to get around is a great idea if you are traveling on a budget, but there are more comfortable and convenient options as well.
By Car / Rental Car
Avoid the headaches of public transportation by renting a car to get to Kaminaki beach.By using your rental car, you may travel at your discretion without having to base your itinerary on bus timetables. You may travel without compromising your privacy and worrying about finding a taxi at locations where the buses don't go. In addition, you may make stops at other locations along the trip. Make the most of your time in Crete by renting a car with Rental Center Crete .
By Taxi
Taking a bus or driving oneself may not be the ideal decision if you want to truly enjoy yourself while on vacation. To sit back and unwind on your journey to Kaminaki beach from Heraklion, hire a taxi. Even if it can cost a little more, the convenience it offers completely justifies it.
Best Time To Visit Kaminaki Beach
The best time to visit Kaminaki Beach is in the late spring, summer, and early fall. You will fall in love with the experience of the summer months on the glistening blue beaches when the weather is absolutely perfect.