At some point in our life, a beach break is a much needed vacation. With the stress of work, school and just the challenges of living, it's great to take a break once in awhile. One beach in Crete that's guaranteed to give you peace and serenity is Kouremenos Beach. You're in for a great treat when visiting the area since even other people from different places in the world travel miles just to see its beauty. Fine brown sand, shallow, clear turquoise waves, and tamarisk trees surround the beach. Some parts are slightly organized, with beach umbrellas, showers, and beach bars.
While the beach in itself is lovely, the major feature of Kouremenos is the wind. Indeed, the wind is so powerful here that windsurfers and kite surfers from all across Europe flock here. It is no accident that the area is home to some of Greece's largest wind turbine parks, which take advantage of the enormous wind potential.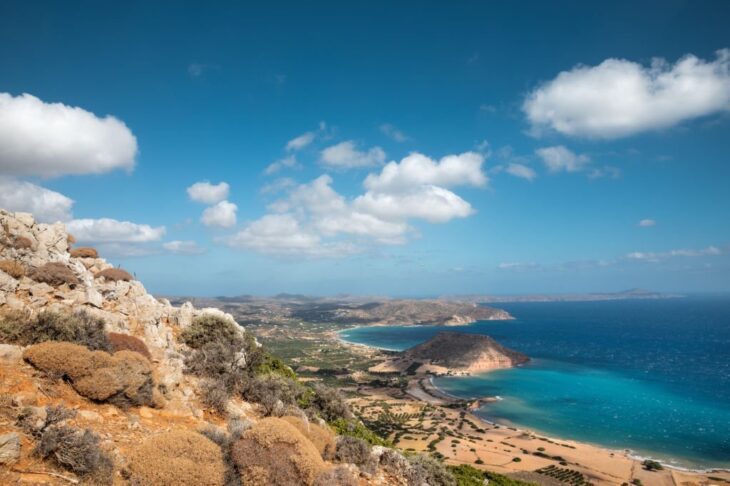 To find out more about Kouremenos Beach, check the guide below:
Where is Kouremenos Beach Located?
Kouremenos lies 91 kilometers east of Agios Nikolaos and 21 kilometers east of Sitia, just 1 kilometer east of Palekastro. There are more options for lodging, dining, and entertainment in Palekastro, but there are also some new hotels along the shore. The beach, which is 1.5 kilometers long and is bordered on the north by Cape Tenta and on the south by Cape Plaka, is the longest in the area.
Things to Do in Kouremenos Beach
You'll certainly have fun exploring the beach of Kouremenos and while the standard swimming and sunbathing is popular, it's a great idea to also try other activities. Some of the most popular things to do in Kouremenos include:
Windsurfing
This activity cannot be left unsaid since the beach of Kouremenos is popularized because of the strong winds. The best time to go windsurfing is during the months of July and August when the winds are at their strongest. There are many schools in the area so it's easy to find one that offers lessons for beginners. You can also rent the equipment you need or participate in the competitions that are being held in Kouremenos.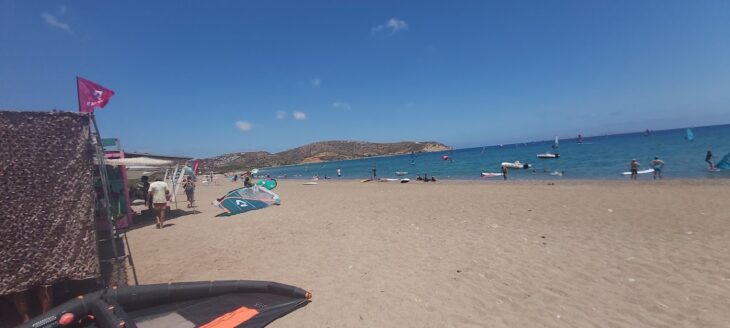 Visit Dadoulas Cave
The Cave Dadoulas is a remarkable underground river located in the Dadoulas region, on the outskirts of Vrysidi town, in the Sitia Geopark. It has a total length of routes exceeding 760 meters, a depth of 260 meters, and ends at a siphon (steep well), enabling further exploration. It includes opulent design and is described as a "living museum of the region's geological history". It's not too far from Kouremenos, and visitors can still enjoy the beach while taking a day trip to explore the Dadoulas Cave.
Ancient City Itanos
If you love history, Itanos should not be missed. It was one of Crete's most powerful cities, especially throughout the Hellenistic and Greco-Roman periods. It takes its title from its founder, Itanos, a Phoenician. Itanos is one of the Ancient cities in Crete. Its domain extended from Cape Samonio (now Cape Sidero) to Cape Erythrae at its maximum (current Cape Goudouras). Glass commerce, fishing, and the trade of Tyrian purple, a scarlet dye made from shell extract, helped the city thrive. Today, you can still see some of the ancient ruins, which is a great sight for history buffs.
Getting to Kouremenos Beach
By Car
Each person is different, while some may want to sit back and relax, there are others who find joy in driving through the streets of Crete. If you're the latter, renting a car is definitely the best choice. Not only will you save on transportation cost, but you can also visit the other surrounding area at your own pace. There are many rental companies in Crete and you can book a car in Heraklion since they can be found there. Once you get your rental car, just follow the route to Agios Nikolaos, then Ierapetra and then going to the village of Kouremenos. The whole trip will take you 2 hours and 11 minutes.
By Taxi
Another way to reach Kouremenos Beach is by taxing a taxi. Taxis can be found anywhere in the island, especially major cities such as Heraklion. If you're arriving in Heraklion Airport, taxi services outside the arrivals area can be seen. We strongly suggest to prebook a private taxi online as the price is fixed and you can select your vehicle for the ride.
The trip will also take around 2 hours and 11 minutes. If you don't want to deal with long lines, taxi transfers are also an option. You can expect to pay around €104 for a trip.
By Bus
An affordable and convenient way to get to Kouremenos is by bus. The starting point would be in Heraklion Central Bus Station, which is located near the port. From there, you have to ride a bus going to Sitia. The whole trip will take around 3 hours and 30 mins since the bus will make several stops along the way. Once you're in Sitia, take another bus to Palekastro, which will take 35 minutes.
There are no direct buses from Heraklion to Kouremenos so you'll have to transfer. Once you're in Palekastro, you can take a taxi to Kouremenos.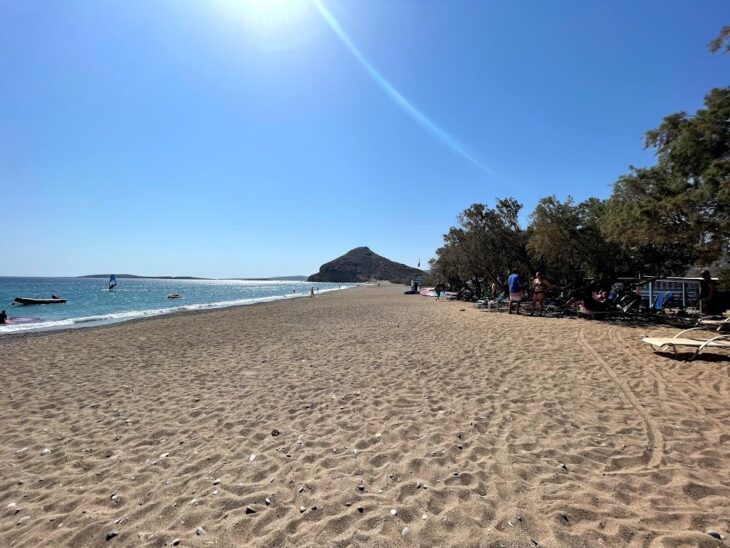 Beaches In and Near Kouremenos Beach
Although the beach of Kouremenos is definitely a great place to spend your summer days, there are other beaches in the area that are worth visiting. Here are some of them:
Maridati Beach
Maridati is a lovely pebbly beach located in Palekastro's secluded green valley. This is 90 kilometers east of Agios Nikolaos, 21 kilometers east of Sitia, and 5 kilometers north of the well-known Kouremenos windsurfing beach. The beach is sculpted by two rocky capes and is only a few hundred yards long. You can swim in peace and quiet here, away from the crowds. There is a tiny freshwater marsh in the region that attracts avifauna, as well as some tamarisk trees 50 meters from the beach.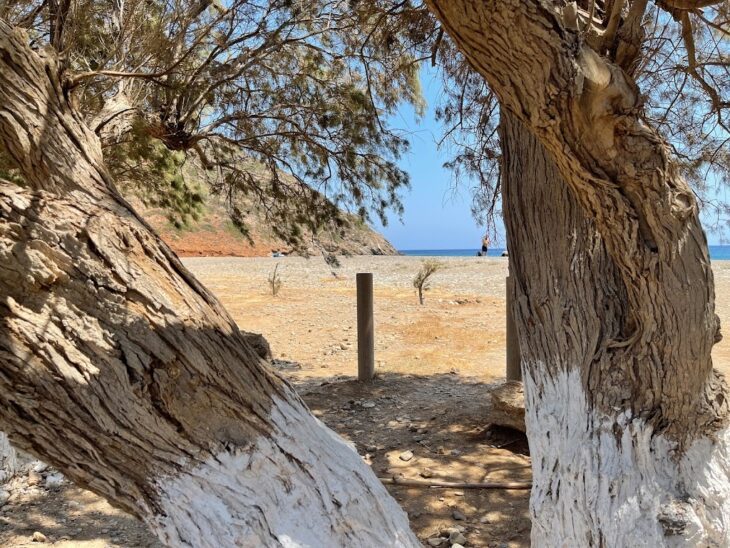 Kedromouri Beach
If you travel down the coast north of Maridati until you reach the Vai palmgrove, you will come across several little bays that are completely hidden and only accessible by boat or foot (it takes 2:30 hours to reach Vai). The most beautiful beach is Kedromouri, which means junipers' cape in Greek, and is located in the center of the distance (Vai–Maridati). It's ideal for couples who want to enjoy a romantic break from crowded beaches. The beach here is covered with pebbles and has clear water, which makes it ideal for snorkeling among the rocky sea bed that rises just 50 meters offshore.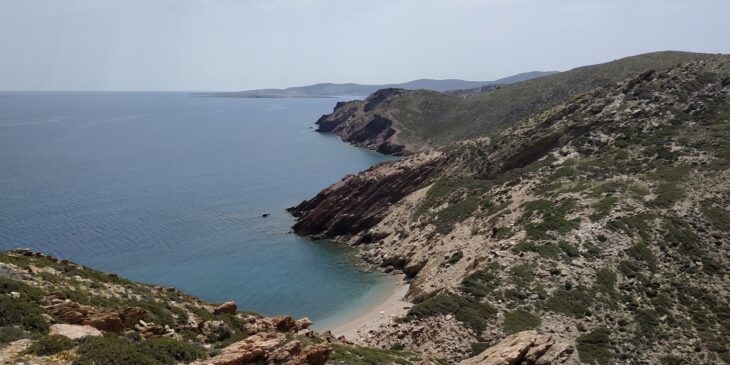 Itanos Beach
Itanos is 96 kilometers east of Agios Nikolaos and 26 kilometers east of Sitia, it is immediately north of the famed Vai palm forest. The name is derived from the nearby ancient city of Itanos. The three bays of Erimoupoli are located next to the Itanos archaeological site. As a result, you can combine your archaeological tour with a dip in the cold waters. It's worth noting that a section of the old Itanos has been discovered underwater. Snorkeling above the ruins is thus a unique experience.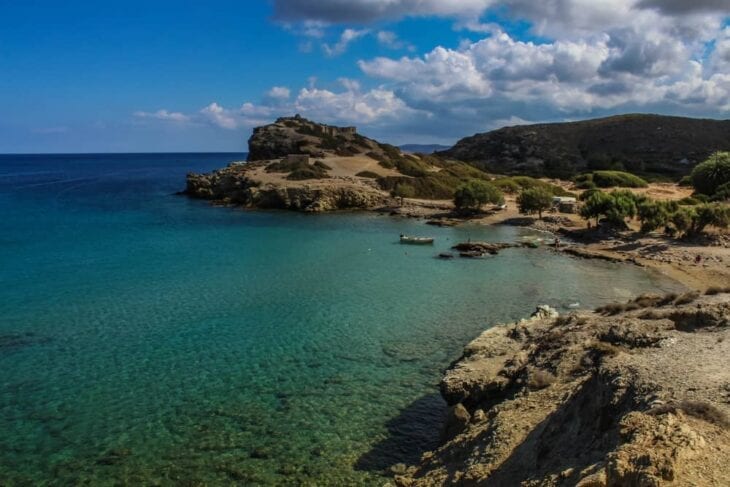 Where to Stay in Kouremenos
Accommodation will never be a problem when you visit Kouremenos. You can choose to stay in any of these hotels:
Olga Beach Villas
If you're on a budget but would still like to enjoy a luxurious stay, then you should check in to Olga Beach Villas. They offer beautiful and clean rooms that will make you feel right at home. The staff are also very accommodating, and they're always willing to help you with anything you need. You can also enjoy the stunning view of the sea from the comfort of your room.
Address: Kouremenos 723 00, Greece
Website: https://www.kouremenos-villas.gr/
Grandes Sea Front Apartments
Another place in Kouremenos that you should consider is the Grandes Sea Front Apartments. It's in a good location and offers rooms with amazing views of the sea. The staff are also very friendly, and modern amenities are provided in each room. You'll definitely enjoy your stay here.
Address: Kouremenos Beach Rd, Palaíkastron 723 00, Greece
Website: https://grandesapartments.gr/en/
Contact: +302843061496
Where to Eat in and Near Kouremenos
Food should never be a problem when you're in Kouremenos. There are several restaurants that serve amazing dishes here. Trying these restaurants is a must when you visit Kouremenos:
Anediasma Tavern
You'll never go wrong trying the food at Anediasma Tavern. They offer a wide variety of dishes that will tantalize your taste buds. The staff are also very friendly and accommodating, which makes dining here a great experience. They're well known for their delectable seafood dishes, so be sure to try them out.
Address: Kouremenos – Plakopoules Road, Sitia 723 00, Greece
Contact: +302843061540
Hiona Taverna
Found in a beautiful setting with great views of the sea, Hiona Taverna is another great place to eat in Kouremenos. The food here is also amazing, and you'll definitely enjoy their wide selection of international and local dishes. It's a perfect place to go to if you want to have a romantic dinner with your significant other.
Address: Hiona Beach, Sitia, Crete 723 00 Greece
Website: https://www.hiona.gr/
The Best Time to Visit Kouremenos
Depending on your preference, the best time to visit Kouremenos is during the summer months. You can enjoy the warm weather, and you'll find that there are quite a lot of people around. If you want a more quiet and peaceful atmosphere, then you should visit during the offseason. You'll still be able to enjoy the beautiful scenery and beaches, but there won't be as many people around.